3 Problems with Epoxy Countertops
Epoxy countertops have recently had a huge jump in popularity because they are a quick way to finish countertops or cover damage on already existing countertops. However, the process can be difficult and expensive. If not done correctly, the whole process will have to be redone, costing you even more money. If you do decide to use epoxy countertops, make sure to hire a reputable professional that can hopefully avoid the common problems with epoxy countertops. Many people try to do it DIY and end up making mistakes or not following the steps properly. 
Does Not Spread Easily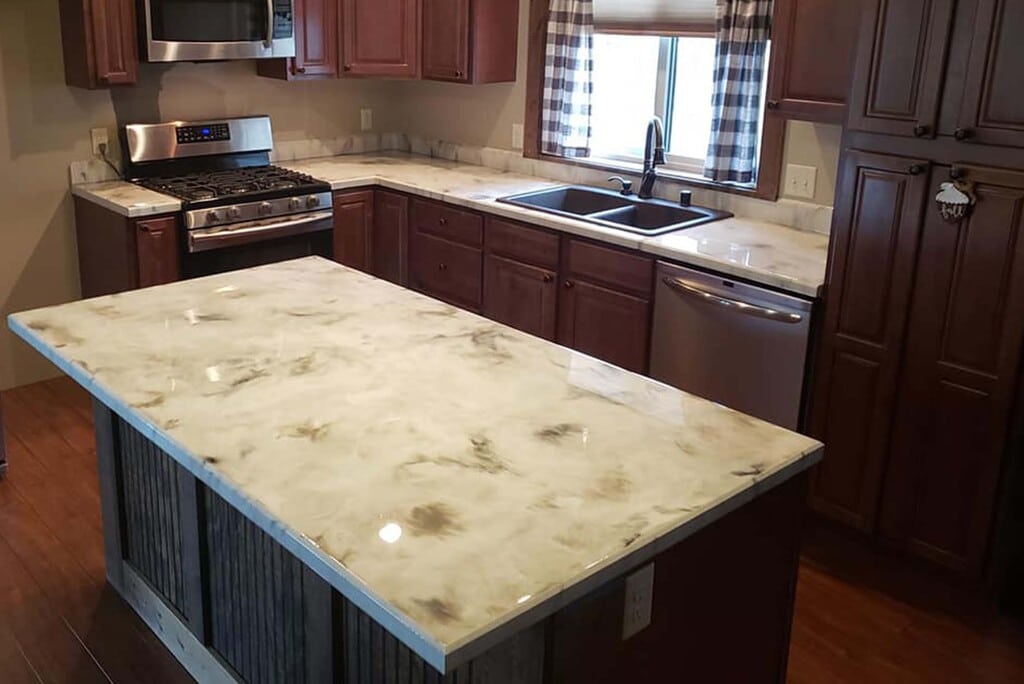 Source: 406epoxy.com
Most epoxy has two parts, the resin, and the hardener. As they combine, the chemicals in the products mix and begin to produce heat. The mixture needs to be poured quickly and efficiently or it hardens too quickly. 
This makes it extremely hard to spread onto the desired surface. Once poured, you only have about 30 minutes to an hour to finish the spreading and the project. 
Fisheyes
This can occur when the epoxy is too thin. It sounds exactly like the name. There will be a crater with a dark spot in the middle just like a fisheye. The best way to avoid this is to purchase extra epoxy. 
Epoxy should cover your entire surface area to at least 1/8 of an inch. If you accidentally get a fisheye appearance, add more epoxy to the area before it dries. If it is already dry, you will need to repour over the entire area. 
Air Bubbles 
Bubbles are the most common issue and can cause by several different problems. 
Air Not Released After Coating 
Immediately after the pouring is completed, the epoxy will need to torch. The best way to avoid bubbles is to torch in a swift and continuous option. Do not torch the vertical edges or the color on the edges will begin to thin and streak. 
The final product will not be very appealing if this happens, so be careful when torching. A room between 70-75 degrees Fahrenheit will make your torching and drying process much easier. 
Mixing Too Fast or Too Hard 
The harder and faster you mix, the more air bubbles you will create. Try to mix slowly and at a consistent pace. If you are using a drill, make sure it is always in the lowest setting. Alternately, use a paddle and hand stir. 
Air Comes Through During Sealing 
Materials such as wood and concrete are porous. Any porous material should have a skim coat of epoxy on it before pouring the entirety of the epoxy. If the surface will not seal, many air bubbles will create. 
After skim coating, wait six hours before pouring the rest of the epoxy. 
Choose Quartz Instead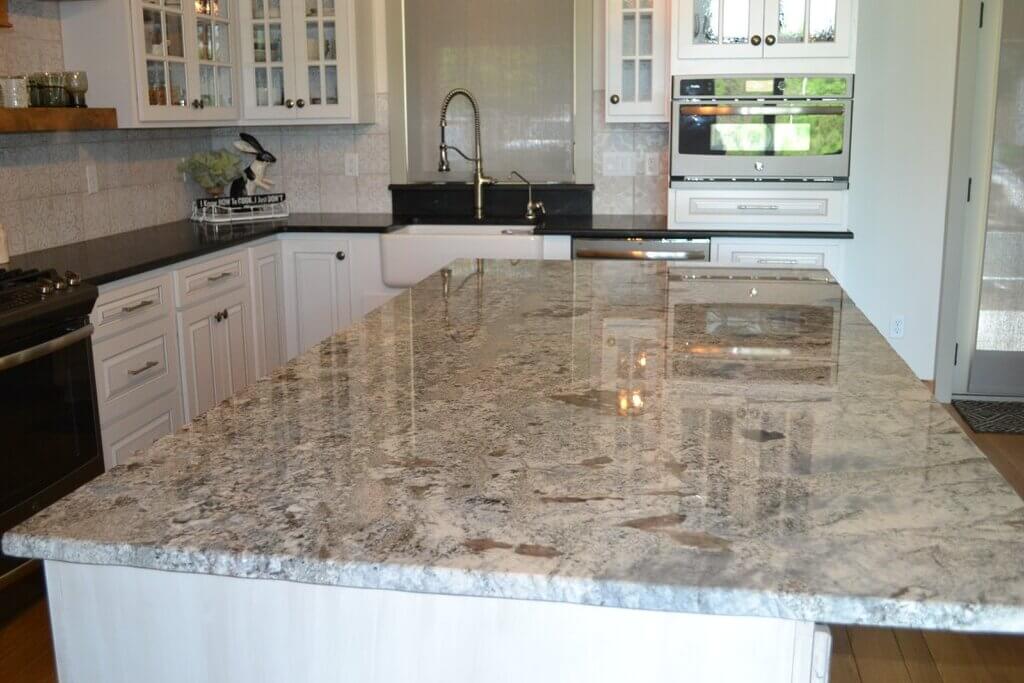 Source: qualitygraniteandmarble.com
Epoxy can be an easy DIY project if you have the right materials and enough epoxy to cover your area. You will need to follow directions very carefully and address any problems promptly. Alternatively, you can hire a professional for a better end product. 
Despite its cheaper cost and ability to place over already existing countertops, many professional designers urge homeowners to practice caution before using epoxy. This is because of the messy installation process and the need for great attention to detail. 
Designers and other homeowners alike may tell you to get quartz instead, and we agree. Quartz has many obvious advantages that add value to your home and take away much of the headache of epoxy installation. 
Easy Installation 
Quartz is engineered to fit your style and color scheme. Professionals can make the slabs to custom fit all your wants and needs. They can also easily install in one day. Almost all of the engineering and customization is not done at your home, which means your kitchen can stay clean and able to use throughout the whole process. 
Durability 
While epoxy can be very durable if done correctly, quartz is much more well-known for having maximum durability. It also does not need to reseal or refinish. So once it installs, it is good forever, unless you decide to redesign your kitchen. 
Quartz is also resistant to virtually any element. Your countertops will not dent, scratch, or stain. They also do not require any special cleaning supplies or disinfectants. Hot water and soap will do all the cleaning tricks. 
It is resistant to acid though, so if you want to use a household cleaner, you can. Its scratch-resistant qualities make it a natural cooking surface and the best option for families with children and teenagers. 
Also Read: Make A Luxurious Kitchen With These Kitchen Countertop Ideas
Bacteria Resistant 
Its nonporous material makes it naturally resistant to mold and mildew. No extra cleaning or work needs to be done to make quartz resistant to bacteria. Water damage and humidity also do not affect quartz. 
Caesarstone also has a comprehensive guide of the pros and cons of epoxy. 
If choosing quartz, Caesarstone has the best options for quartz countertops. Their prices and professionalism are unbeatable. They commit to bringing the best design quartz countertops into your home, changing your kitchen forever. 
Other options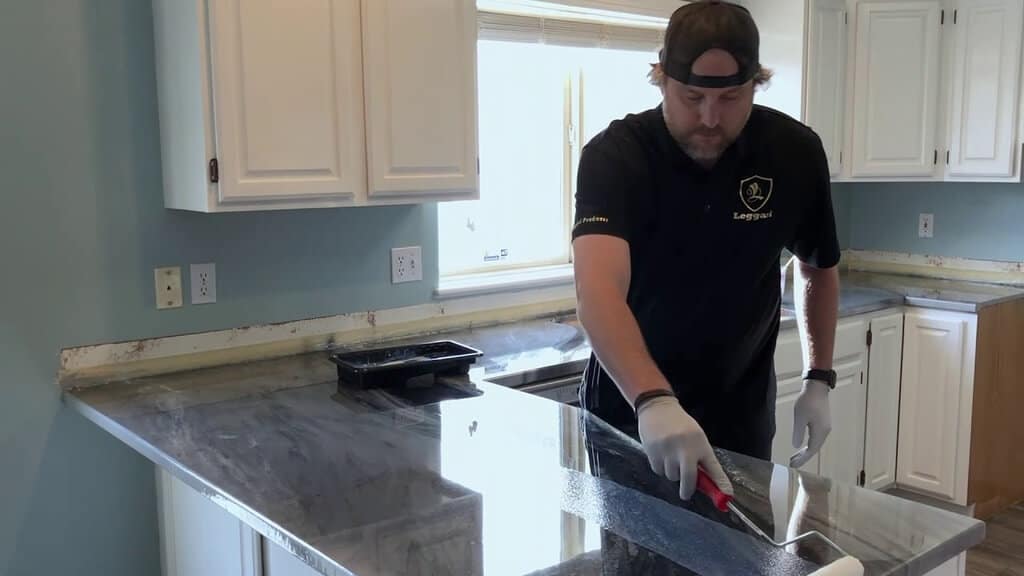 Source: ytimg.com
If you are looking for a different option other than epoxy and quartz, there are some other options for new countertops. 
Tile 
If you are dead set on doing a DIY project but epoxy seems to complicate, tile counters could be a good choice. Many ceramic tiles are easy to install and seal. This is true even for people who have never done a home project before. 
Keep in mind that the grout will need to clean regularly to avoid bacteria. Tiles can be made in a huge variety of colors and designs. 
Concrete
If you are looking for durability, concrete is a great choice. Concrete is not as easy to clean as quartz though and can hold in some bacteria, so make sure to clean up messes and spills as soon they happen. 
Concrete can be a cheaper option but is not a DIY project. Make sure to hire a professional for this one.