Tiny House Interior: 15 Creative Ideas for a Tiny Space
Living in a tiny house is an experience that teaches us how much is enough and how much energy we can save by adapting to the necessity of the hour. For a single person, there is no need to build an expansive mansion or even a proper house. A tiny house will suffice.
Depending on one's need, you will think to incorporate only the essential items in such a space as well. Thus, the interiors become a handpicked composition that only consists of unique elements to you making it stand out from every other interior. 
There are several ways to start planning the same and here is some inspiration for you to take to set up your tiny house interior.
15 Inspiring Tiny House Interior Design Ideas to Indulge 
1. Elaborate Kitchens in a Tiny Home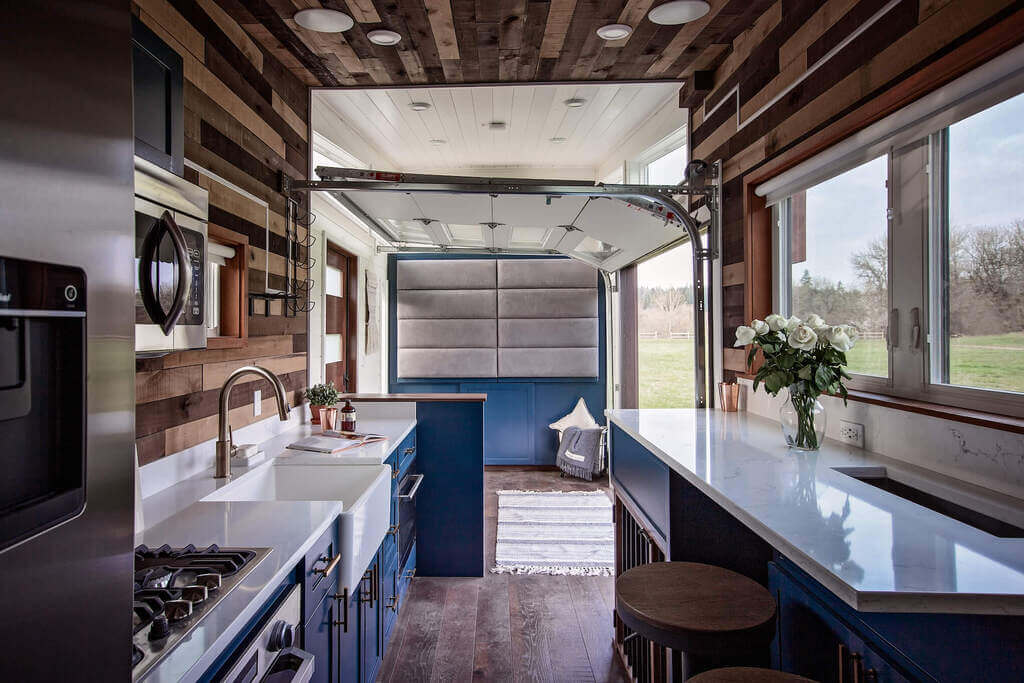 Source: extraspace.com
If you are someone who enjoys cooking full-fledged meals this kind of spatial division is what you need. Especially if you are a chef by profession, you will be thankful for the extra counter space, which can include a 4-burner stove and around 12 feet of common space in the kitchen.
This gives one ample space to cook on the stove and assemble on the countertop. You can also seat the guests or use the counter space as the dining area. Appliances can be brought in for handy usage as well. The kitchen being the heart of any home gives a spacious and luxurious vibe when it takes up a major portion of a tiny home design.  
2. All-Round Minimalism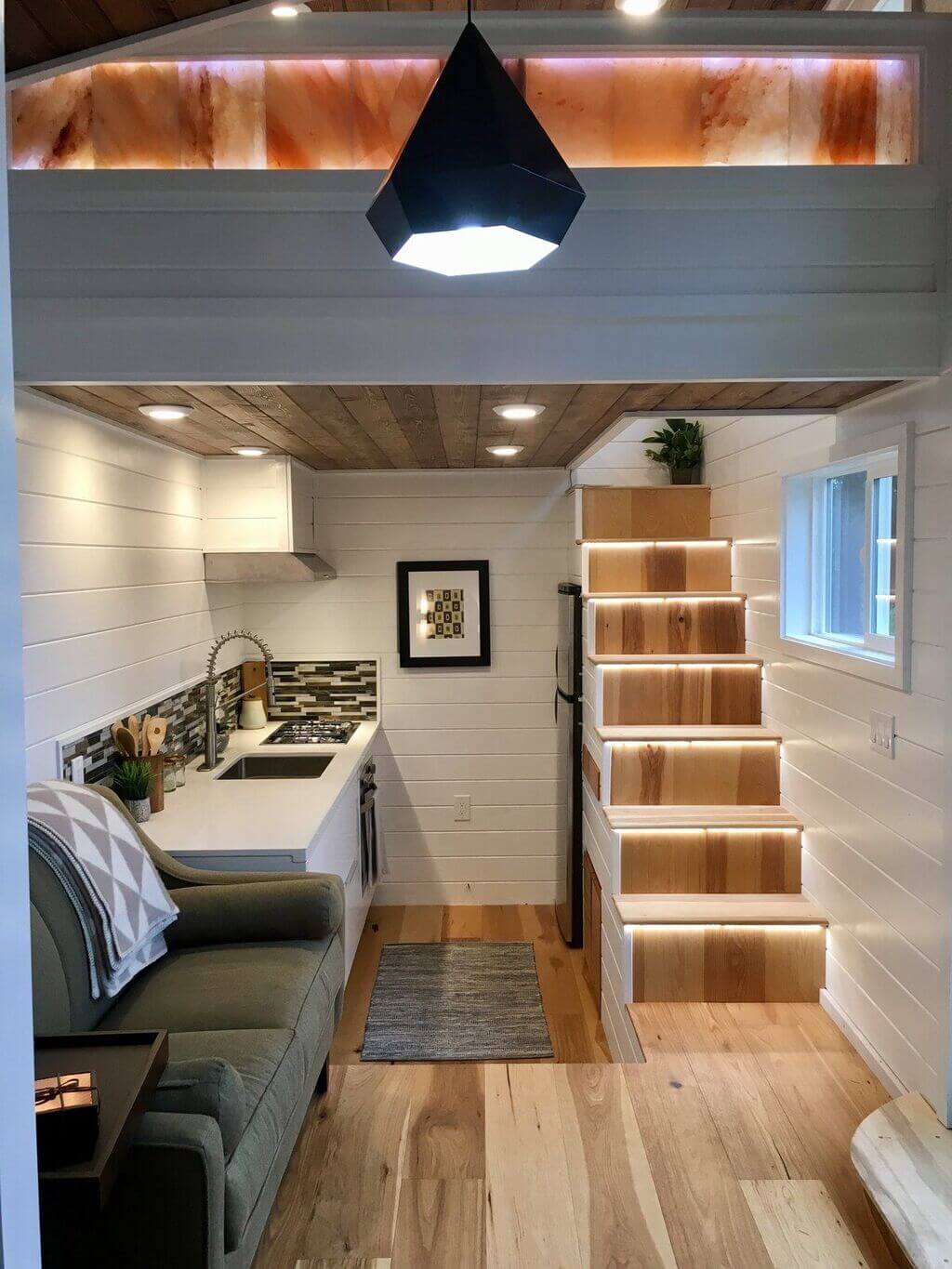 Source: webflow.com
The concept of a tiny house is an approach to living grounded in minimalism. With the limited space available, the smart way to go about designing house interiors is to keep the number of items that will go to a minimum. This allows you to play with different tiny house interior design ideas that associate with the clean and sleek look the interiors will offer. With less clutter and objects around, you will also get ample space to move about. 
The tiny house interior can feature minimalistic accent elements for furniture and lighting options, that make the space shine better. This becomes visually easy to untangle yet gives an appeal of sophistication. It also gives a peaceful ambiance that becomes the best space to unwind for the day.
3. Creative Explosion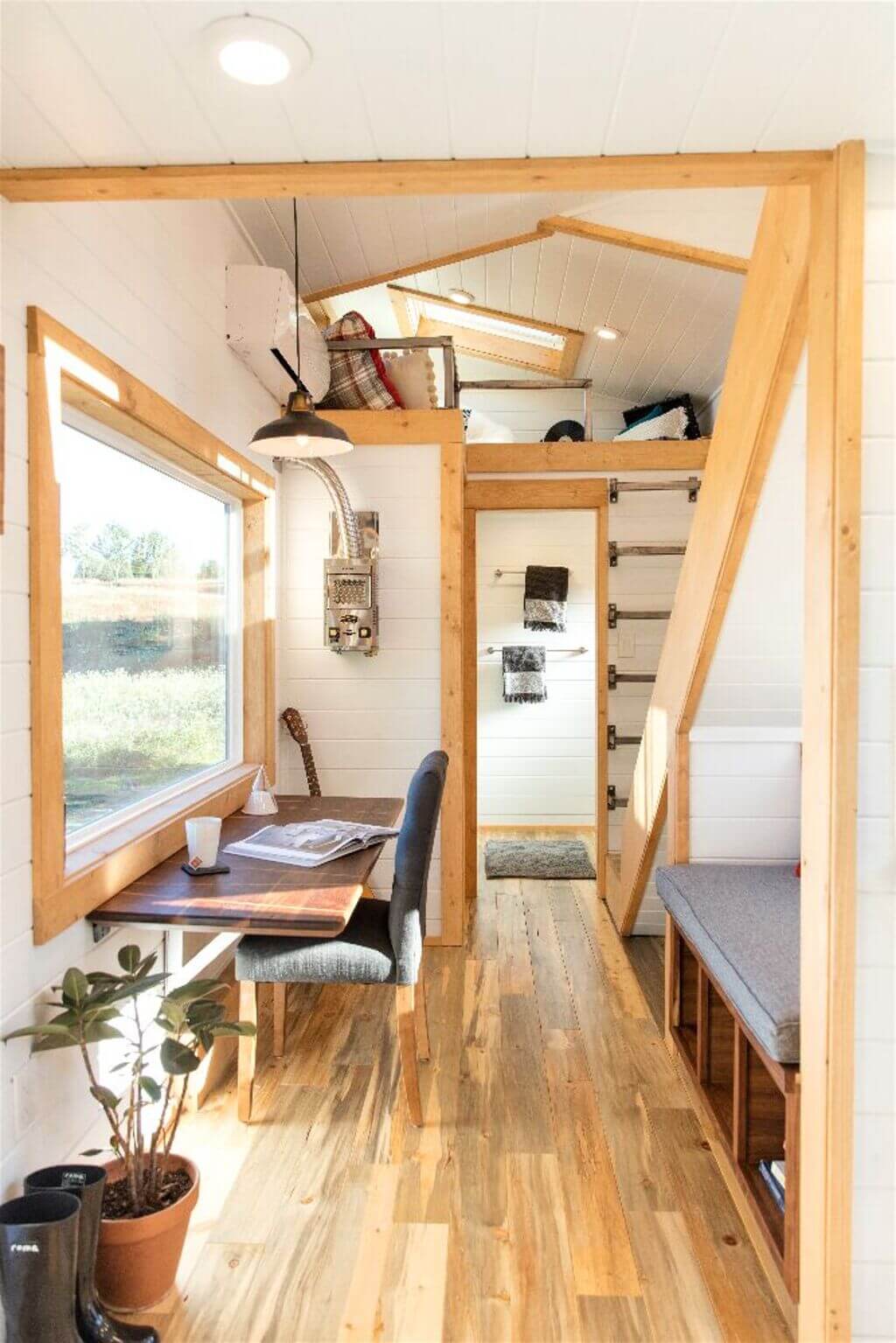 Source: pinimg.com
With individuals ready to explore the various possibilities a tiny space can bring in, there is a creative way of approaching it. You can add in features like bunk beds and cozy nooks inside the space that will be a space to nurture your inner talents. Whether it is a reading nook with a big armchair or a computer system set up for video games. You will be able to enjoy your fun activities in the tiny space. 
This not only showcases your talent in the field but also brings about a unique perspective to the space. These spaces add character to the space and also lets you think about how to place them. As the space available is limited, it forces you to think differently and tweak the layout to fit in your nooks.
4. Modernity Embodied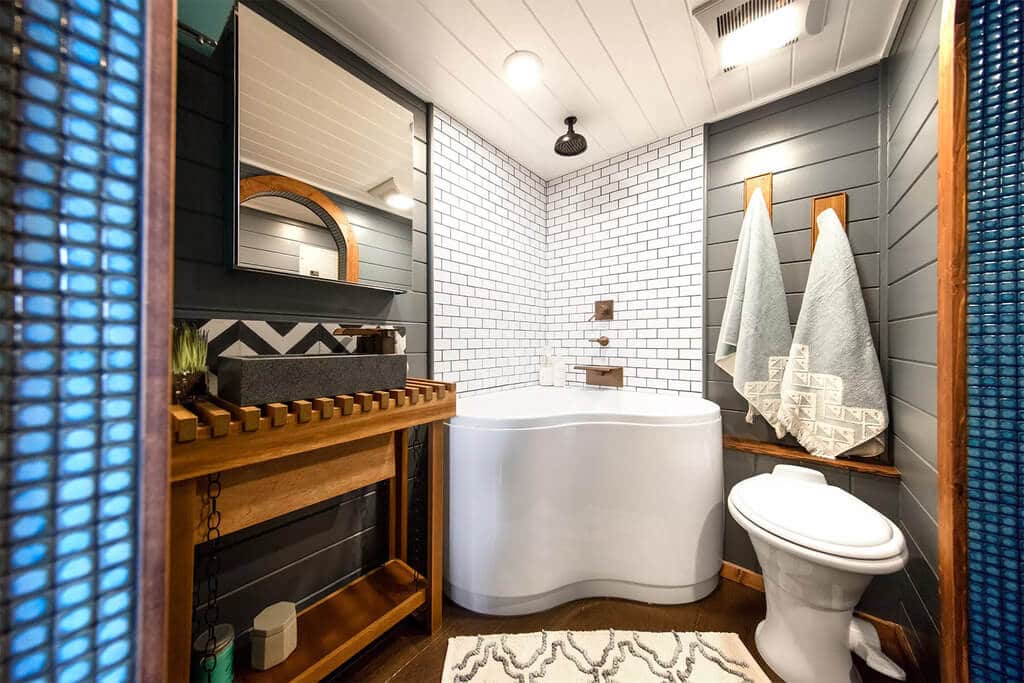 Source: spokesman.com
Even with a small and compact space, you can explore the theme of modernity with different tiny house interior design ideas. With furniture and accent pieces made into classy tiny designs, It will offer a classy and formal yet fun twist to the limited space available. 
You might relate a modern space to the spacious one. This can be changed as a tiny house interior can be designed to hold the same in a smaller space.
5. Tiny House Design and Nature Lovers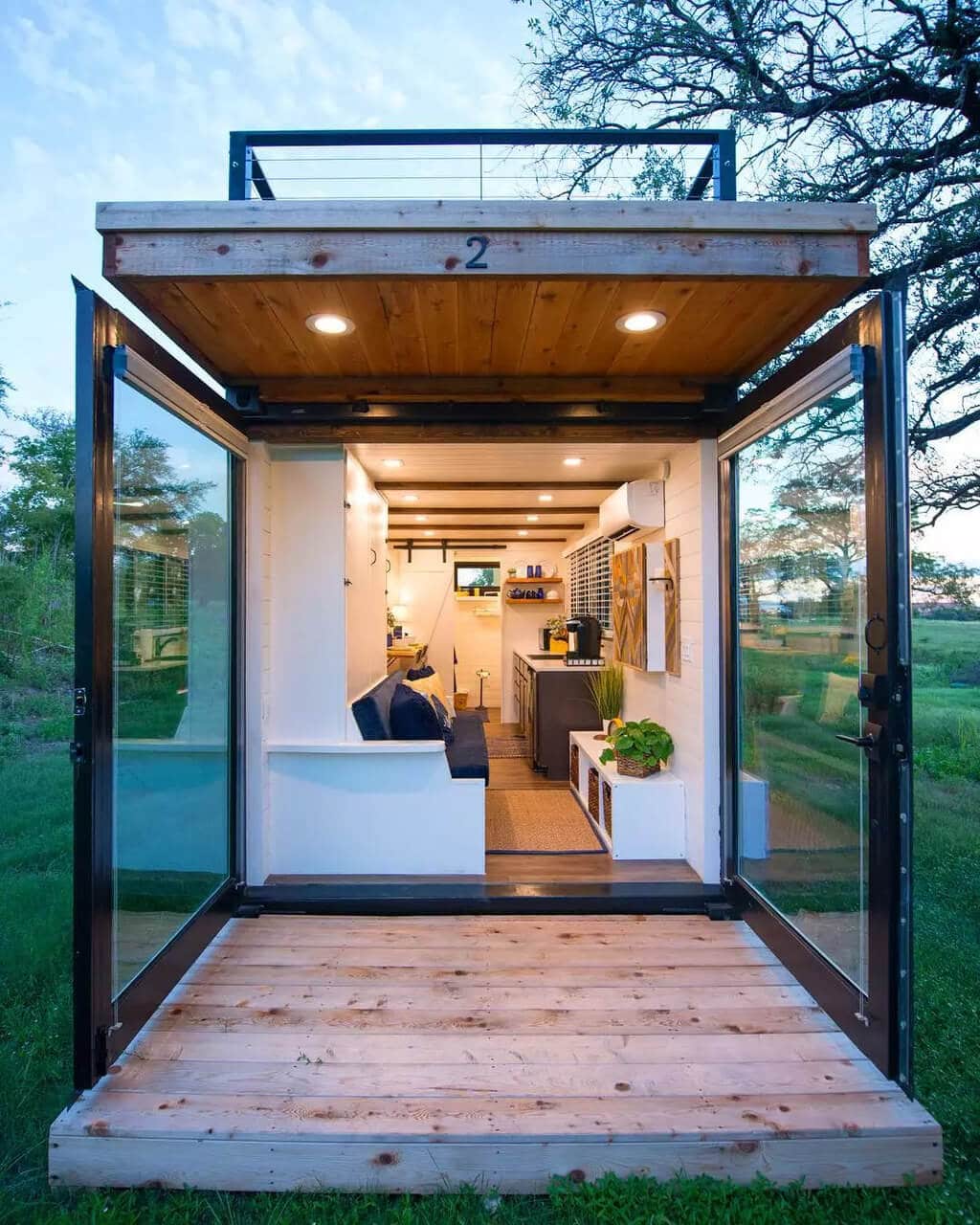 Source: extraspace.com
For a user group that is more inclined toward nature, this type of interior arrangement will suit best. Incorporating plants and featuring other aspects that support an eco-friendly design creates a holistic structure that is environmentally conscious. 
It is also a way of living amongst nature when it comes to interior decor that is inspired by one. The home will be connected in a way that is through more openings that lead to a porous and open plan. Incorporating natural materials such as wood, plants, etc brings in the natural aspect as well 
6. Natural and Muted Color Palette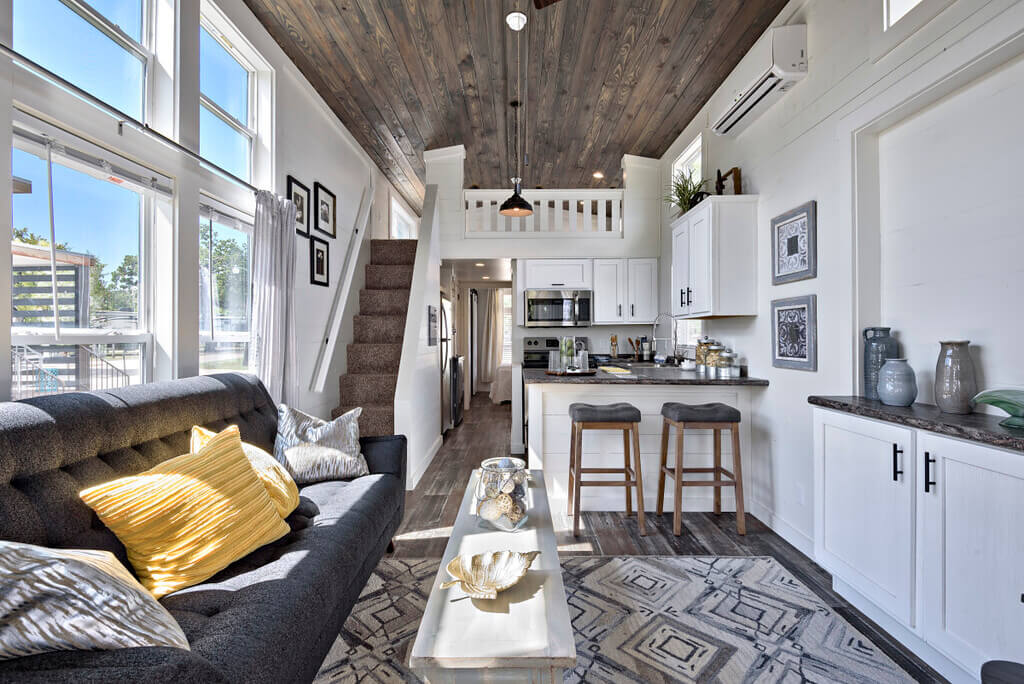 Source: villagefarmaustin.com
Being a small space, one of the main elements that can make it seem big ar the shade of walls used. Using lighter and muted colors will visually expand the space, bringing more light to the tiny house designs. Colors such as grays, beiges, whites, etc can be used. 
This will also make room for any feature walls or pop of color you would want to add as furniture, lighting fixture, etc. You can follow a theme of grey that would extend to the sofa, wall pictures, vases, etc, and add a pop of color with subtle yellow for pillows. you can provide a grey flooring but something that isn't plain.
7. Patterns and Colors Altogether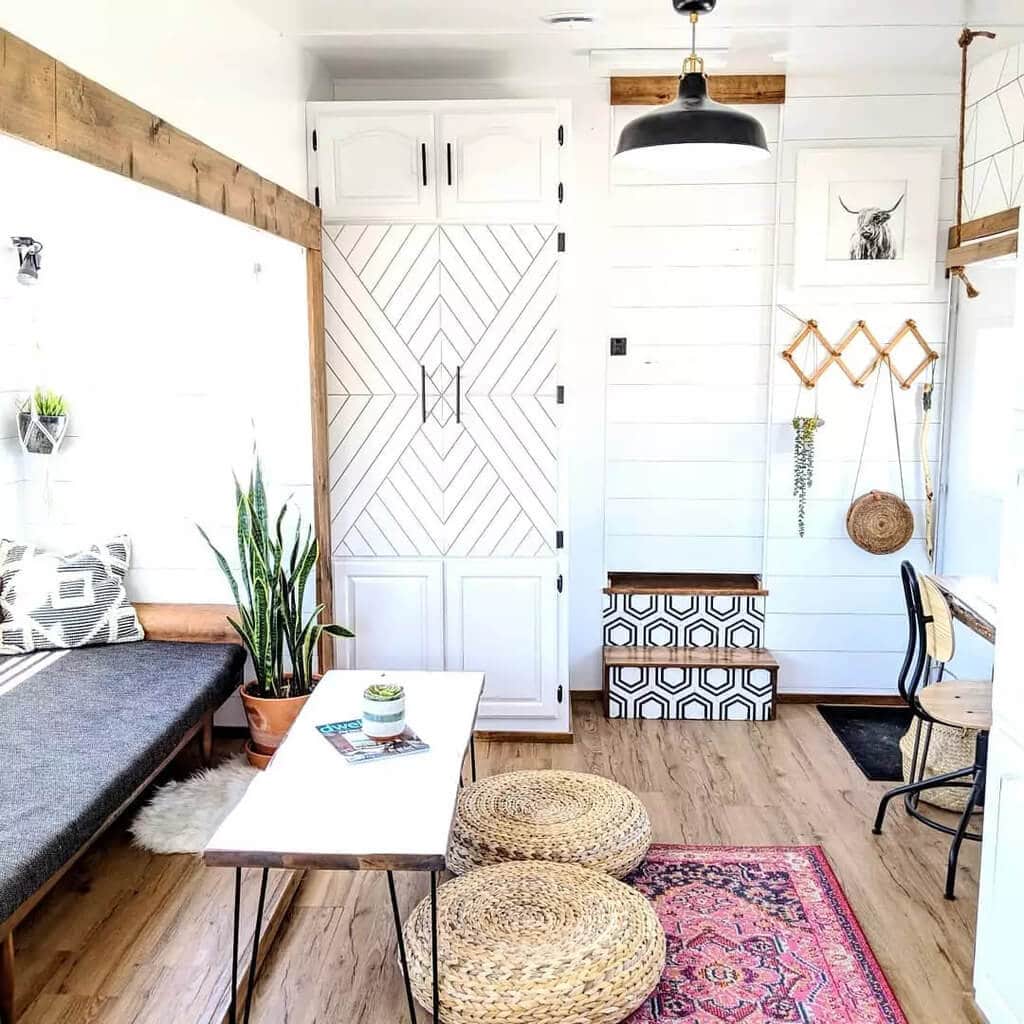 Source: extraspace.com
You might think that adding colors and textures to a single space will be chaotic in a tiny house interior. But using complementary colors and subtle patterns will make it stand out in the bigger picture. The Monotony will be broken with geometric shapes and subtle yet a pop of color.
8. Mix It Up with Natural Accents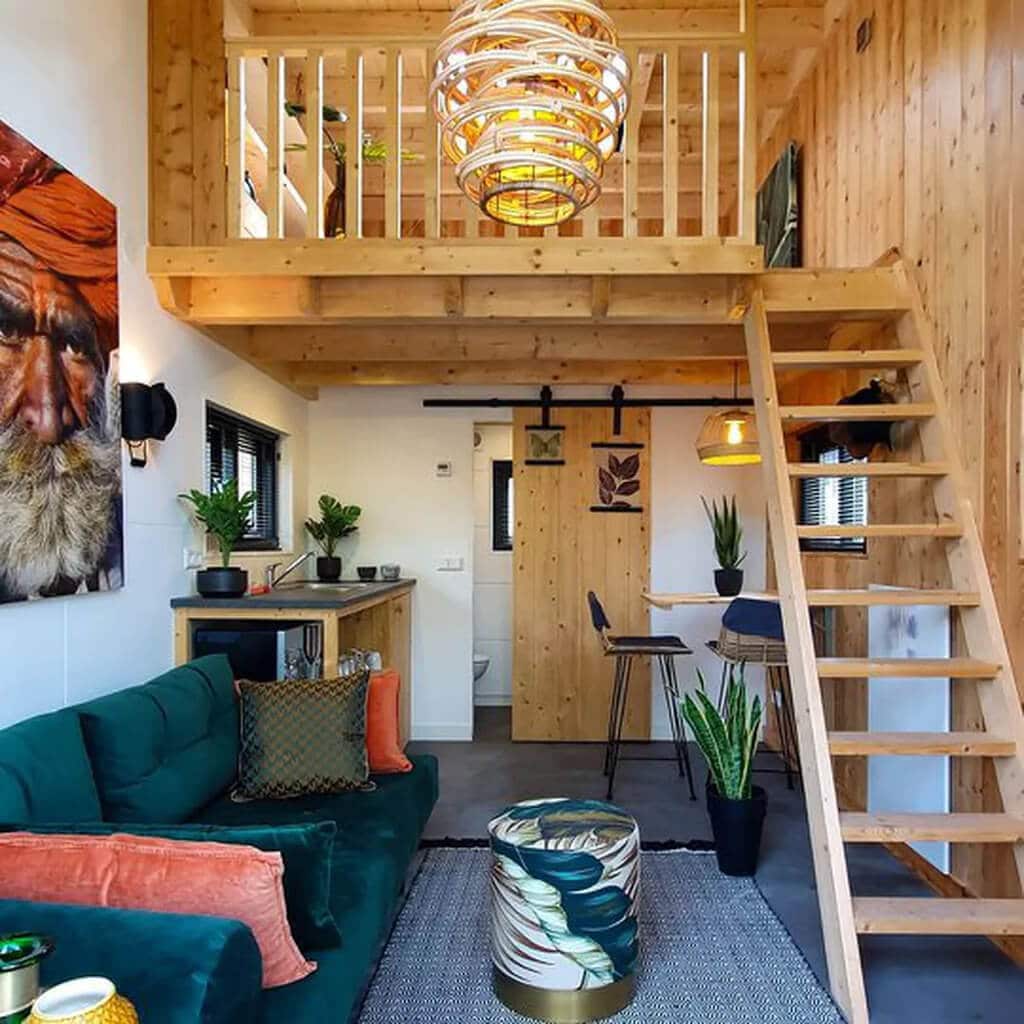 Source: onepropertee.com
Bringing in a combo of natural textures like wood and elements like plans along with colors and other features can bring in a unique combination for the space.
Spaces can hold furniture that sits in a tropical vibe that will go with the addition of wood as a material and plants.
Wood can be used as doors and tabletops, as well as be used for a whole upper level. This highlights the use of wood in the design and brings in the connection to nature. Ambient lighting can be added to bring everything together. 
9. Vertical Expanding of Spaces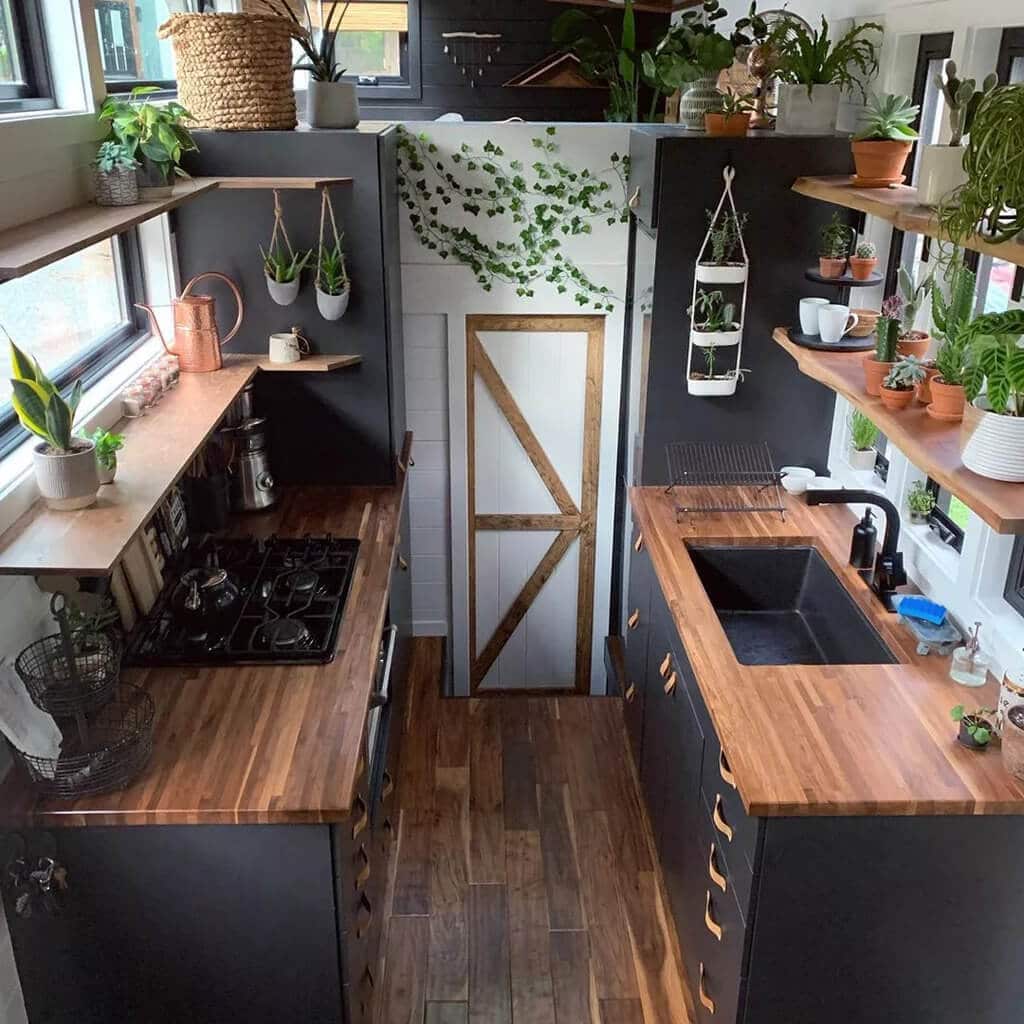 Source: extraspace.com
A tiny house interior poses the problem of the spatial width being limited. This can be resolved by looking at the vertical space that it can provide us with. Complete upper levels if not mezzanine floors can be provided if there is ample space to be explored vertically. 
Moreover, the vertical walls can be used for storage purposes which will save space on the floor for more functional needs. The partition walls of the space could be extended only to a certain extent so that it might be possible to store or accentuate it on top by keeping plants.
10. Open up to the Outdoors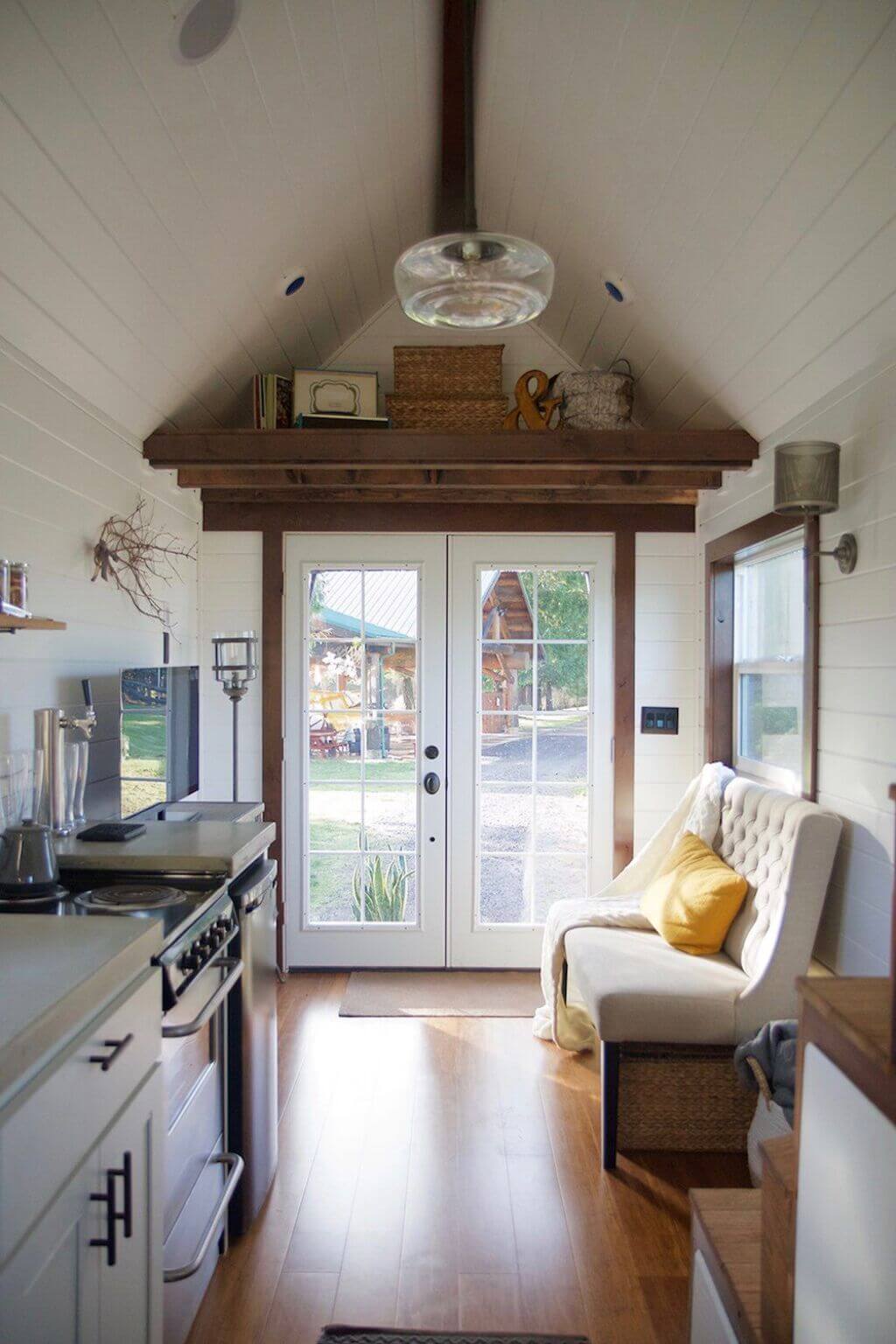 Source: pinimg.com
The space frame of a tiny house interior is small and thus, the only aspect that can expand its space is the openings it possesses. Thus giving access to the outside wherever possible can be a lifesaver when it comes to the house being spacious. 
These openings can be unrestrictive full-length doors that open up a portion of the wall thus establishing a seamless connection to the outdoors. You can install french doors for the same which adds an aesthetic element to the same as well.
11. Merged Spaces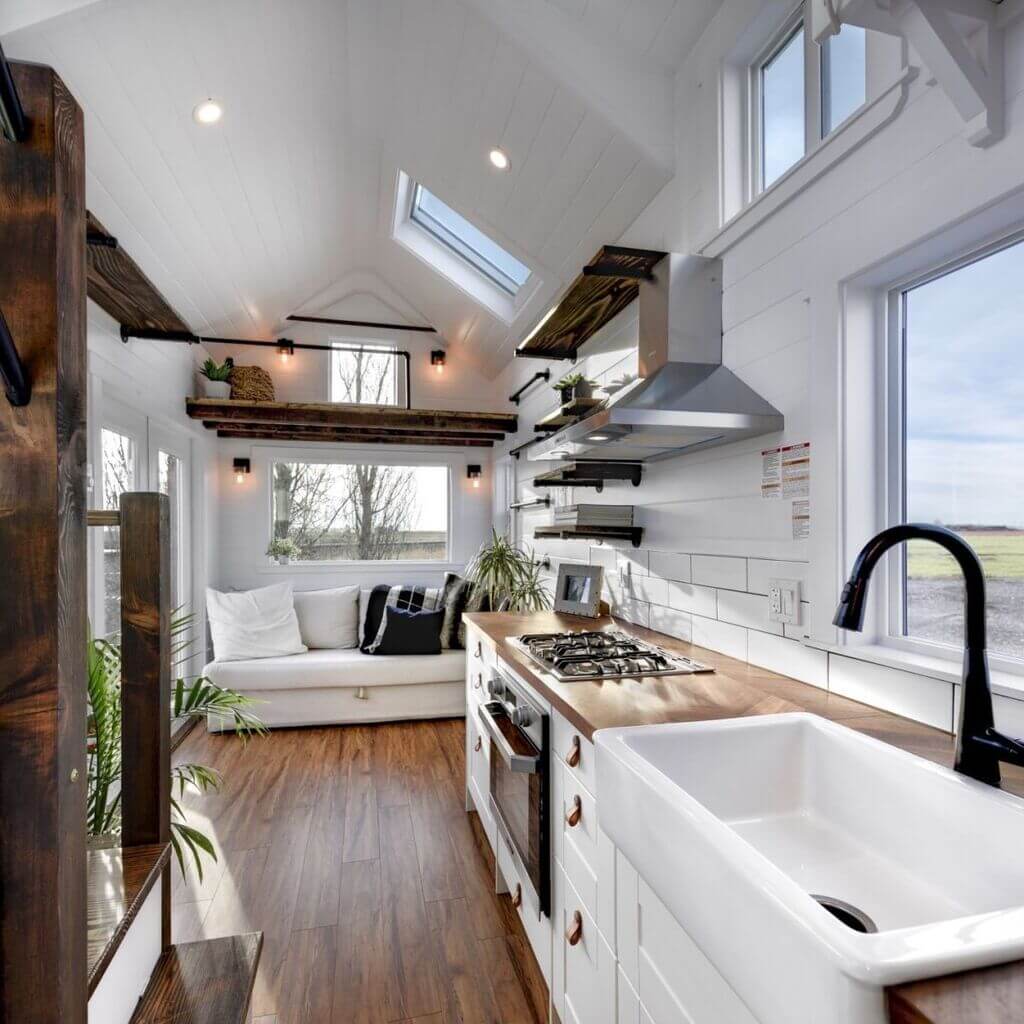 Source: pinimg.com
A continuous array of spaces without any clear distinction can work in your favor in setting up an efficiently spaced-out tiny house interior design layout. The living area with the sofa could be placed right next to the kitchen space. Vertically on top of the living space could be the makeshift bedroom accessed by a wall-mounted ladder.
This can be done for compact spaces with movement flow only being till the end of the kitchen table. The opposite wall that doesn't hold the kitchen counter space, can be opened up to the outdoors to let in light and air. With a clean white aesthetic, one can go for an accented wood finish on the floor, countertop, and shelves.
12. Play with Minute Levels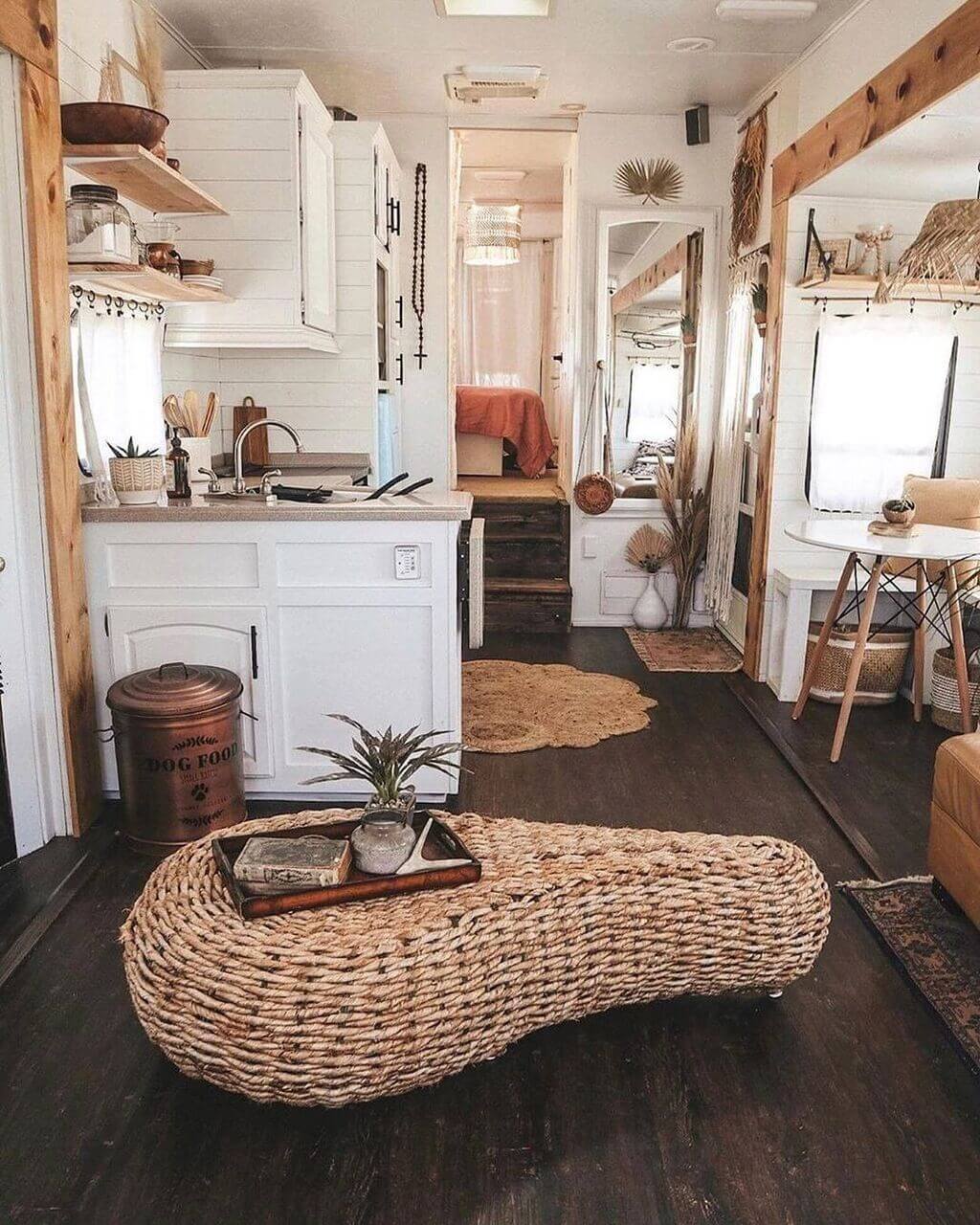 Source: pinimg.com
Adding a bit of lair to the continuous stretch of floor space in a tiny house interior, you can also differentiate it by giving a step or two of a riser to separate spaces. Private spaces like the bedroom can be provided on the ground floor which is raised by a step or two. 
Living space can replace this area to even open up completely, stepping down from which you will enter the kitchen and the on top of which, the bedroom can rest. This provides privacy for those in need. You can add textures of the same accent color for lifting the space. If wood is chosen to be the accent texture, copper pots, beige and warm shaded sofa, etc can be included
13. Using Sustainably Sourced Wood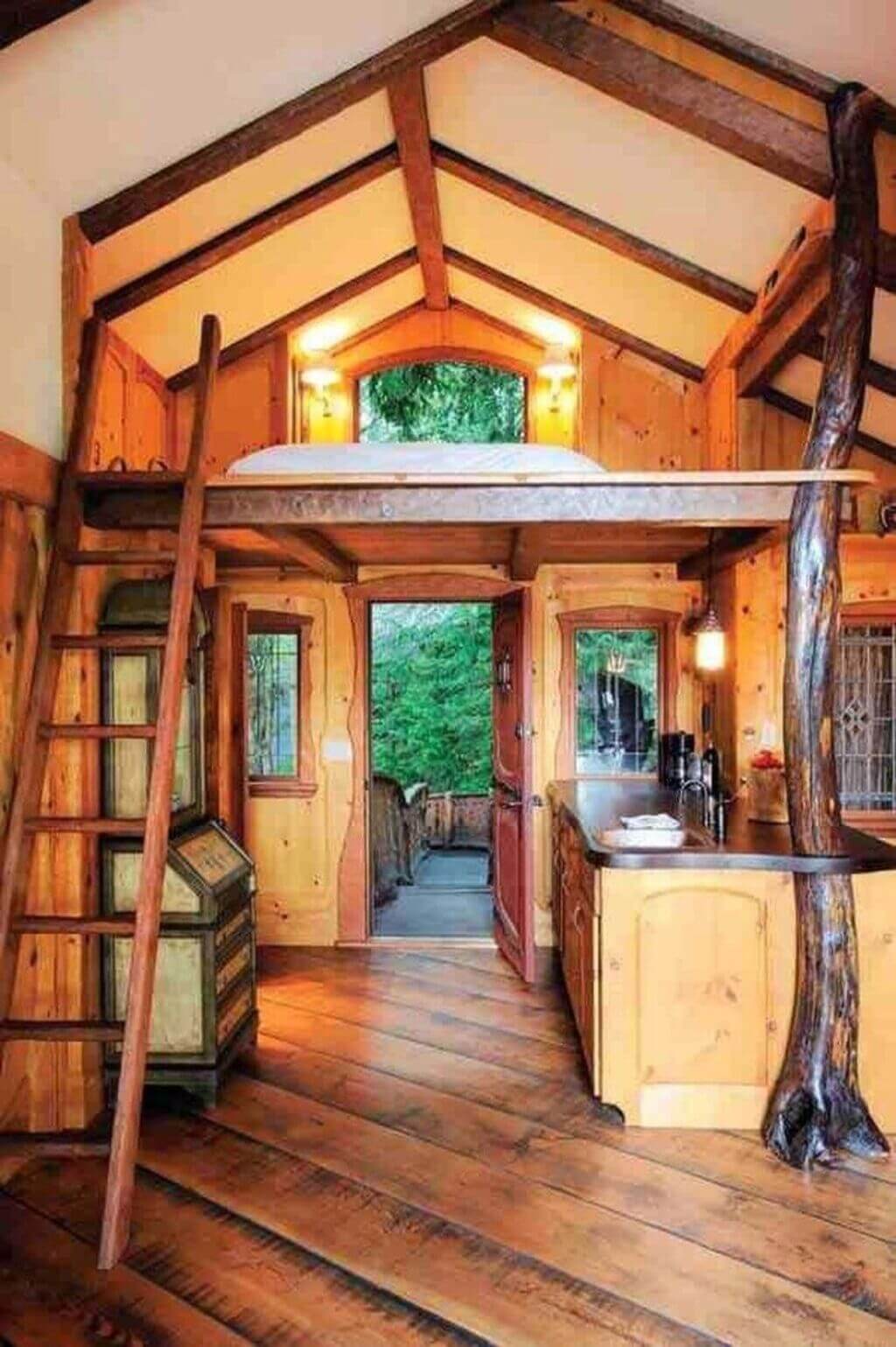 Source: pinimg.com
Creating rustic tiny house interior spaces with discarded pieces of wood is a sustainable way of incorporating accent pieces. Other materials can also be reused where the flooring could be made of colorful glass pieces or refurbished wooden planks, while decorative elements inside the house could also be sourced from thrift shops and second-hand stores. 
This way you would be using the once thrown out pieces Thus leading an eco-friendly example for others to follow. You can even include tree trunks as a whole to elevate the spatial essence of a home to one that is supported by a tree.
14. Bring in Elegance with the Furniture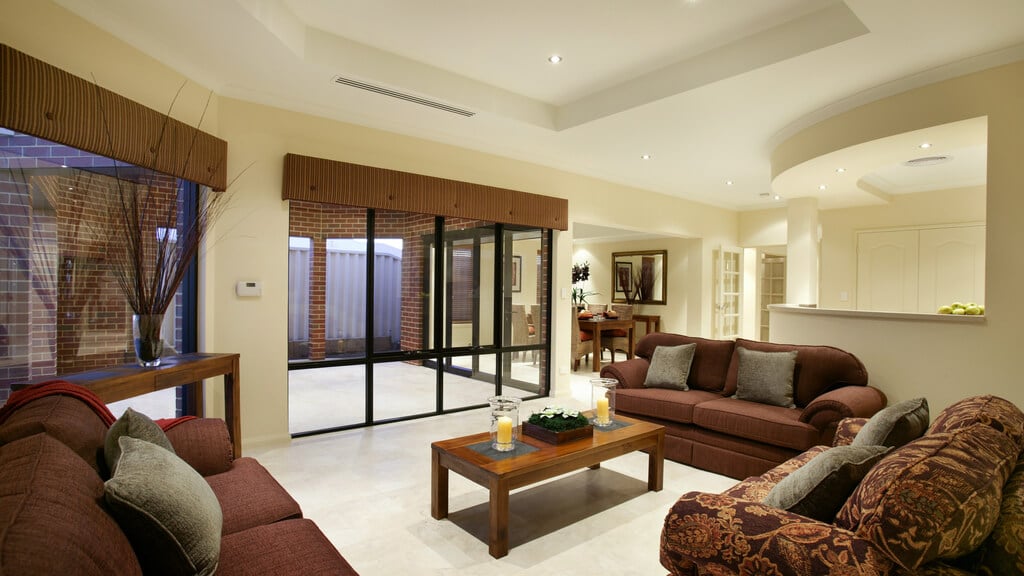 Source: wallpapersafari.com
Luxury can be found in the smallest spaces like a tiny house interior as well. Going by that, a tiny house's interior design can have an opulence aspect to it. This will be about the textures and colors you choose to play with. 
With clean pearl white or rich off-white walls, you can include having rich textured and colored sofa upholstery. Carpets and Rugs can also be included to enhance the same. Bedding could follow the same theme while kitchen space could be left for a sleek white and stone textured look.
15. Multi-Purpose Furniture to the Rescue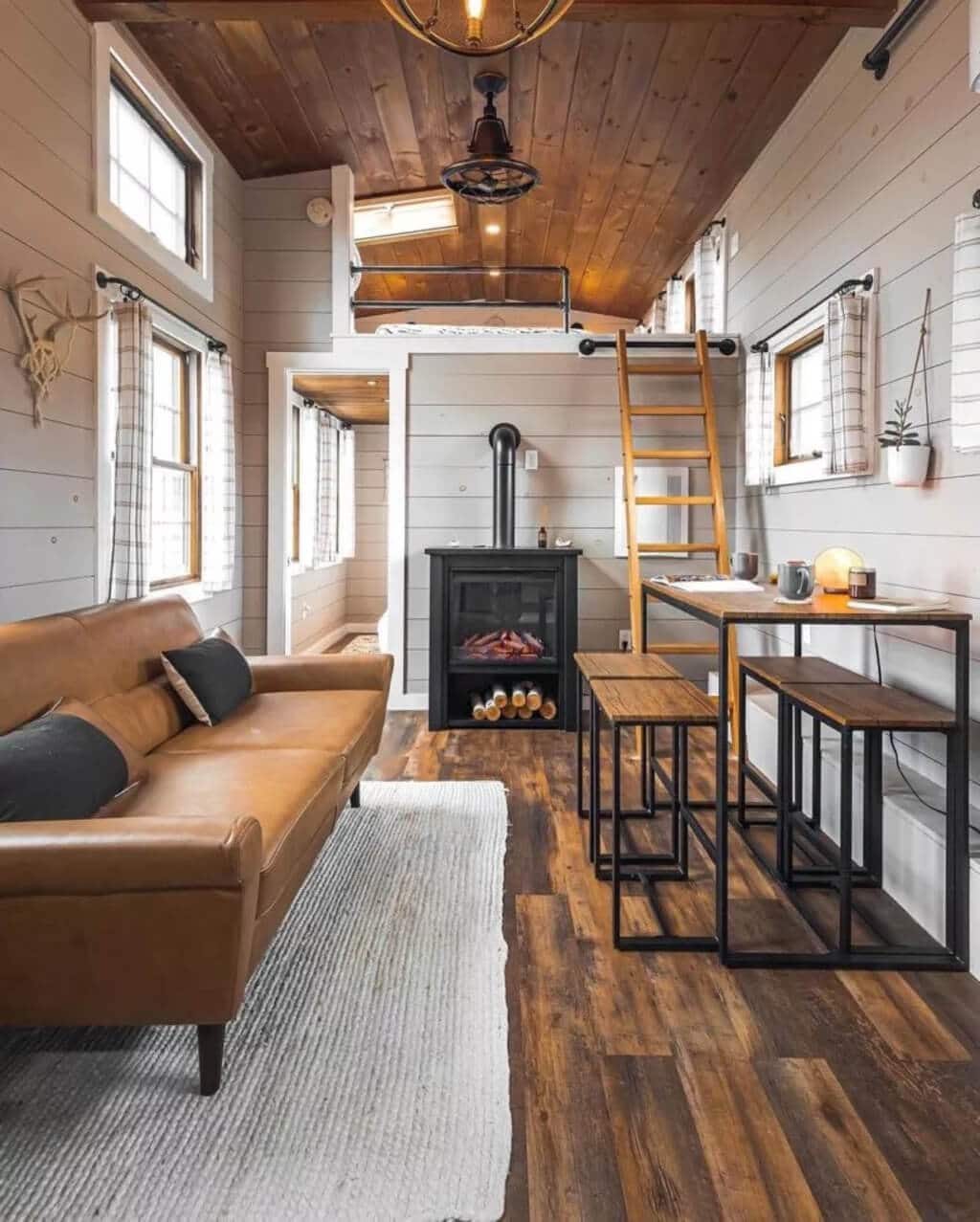 Source: extraspace.com
If you are confused about how to save space especially when you need to fit so much furniture, here is a simple solution. Try finding furniture that takes up little space but is multi-functional when it comes to usage. It could save you a ton of space and give you a cleaner after a look at your tiny house interior.
You can also see only incorporating pieces you need, so you'll have space for more things. From furniture that folds into a different purpose to ones that close up into a box, the options for the same are endless.
With the number of options from arranging the spaces in different ways to decorating them according to your liking, a tiny house interior can crank up the way you think. Incorporating those unique elements in the space with the functional ones can seem difficult at first. But as you get a sense of the space and how you want to experience it, the elements come together into a whole picture.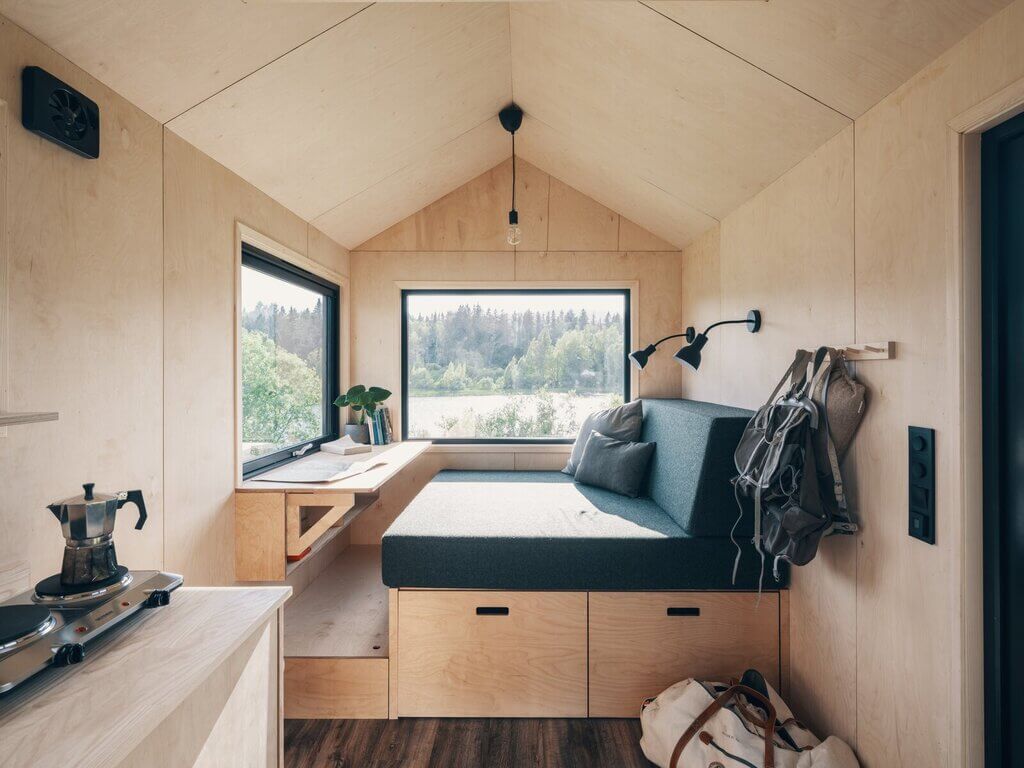 Source: dwell.com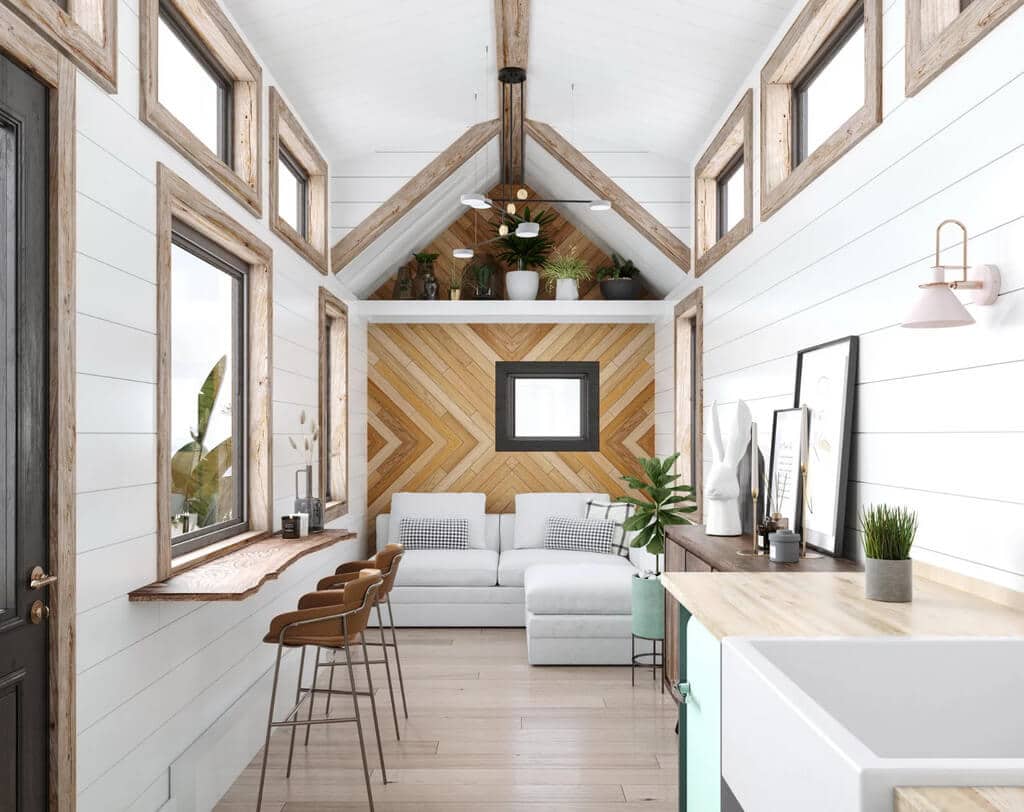 Source: tinyhomebuilders.com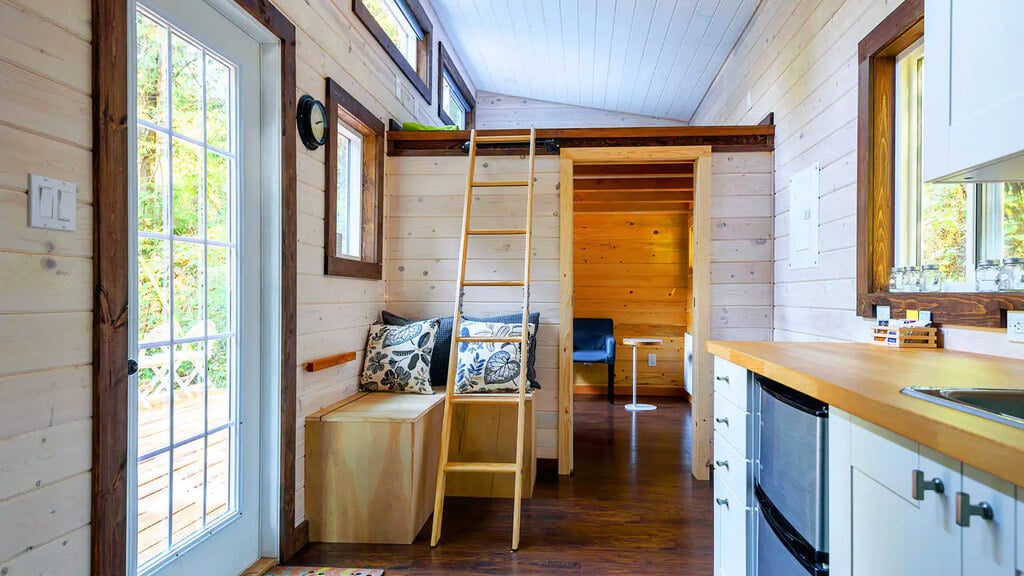 Source: angi.com
Source: blogspot.com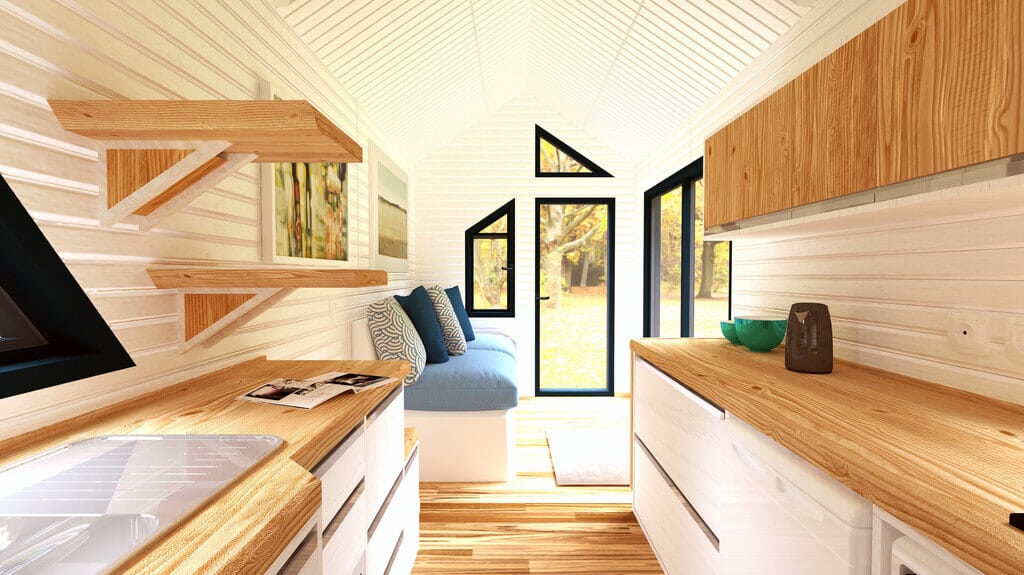 Source: artstation.com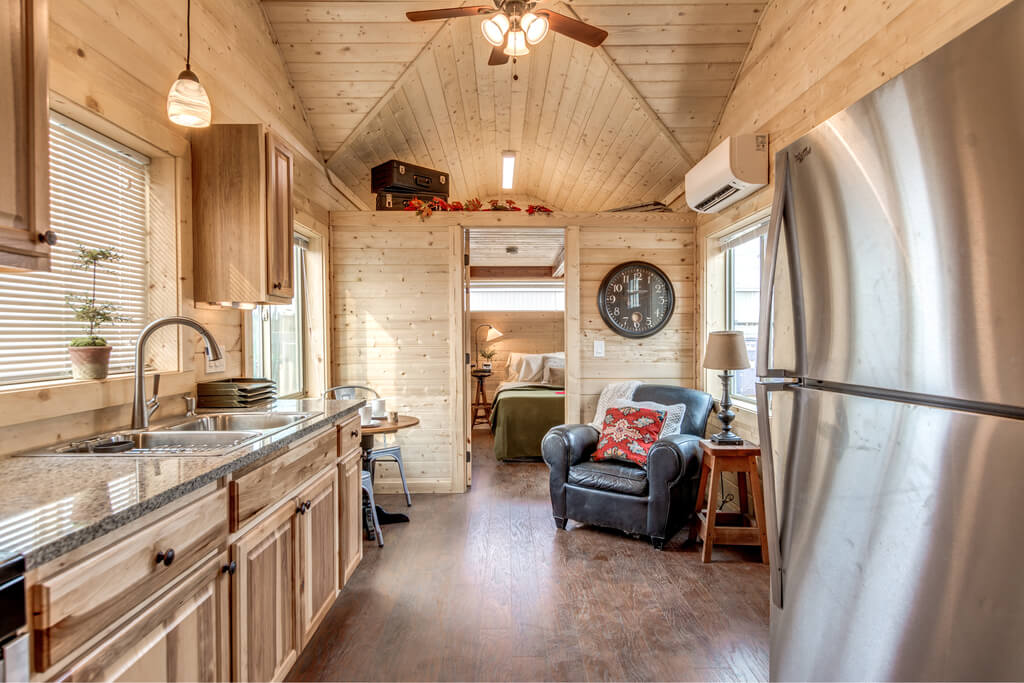 Source: wolfind.com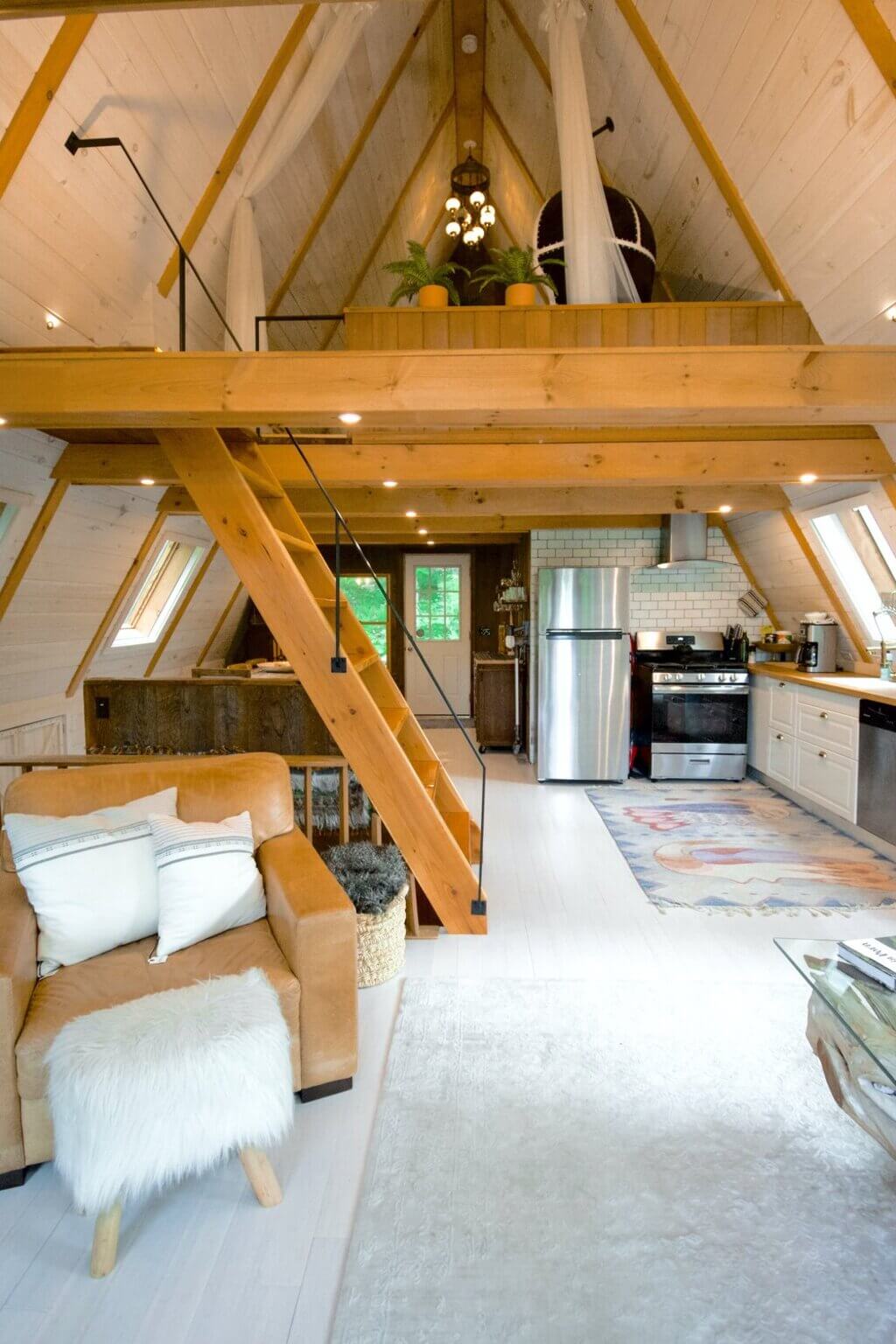 Source: squarespace-cdn.com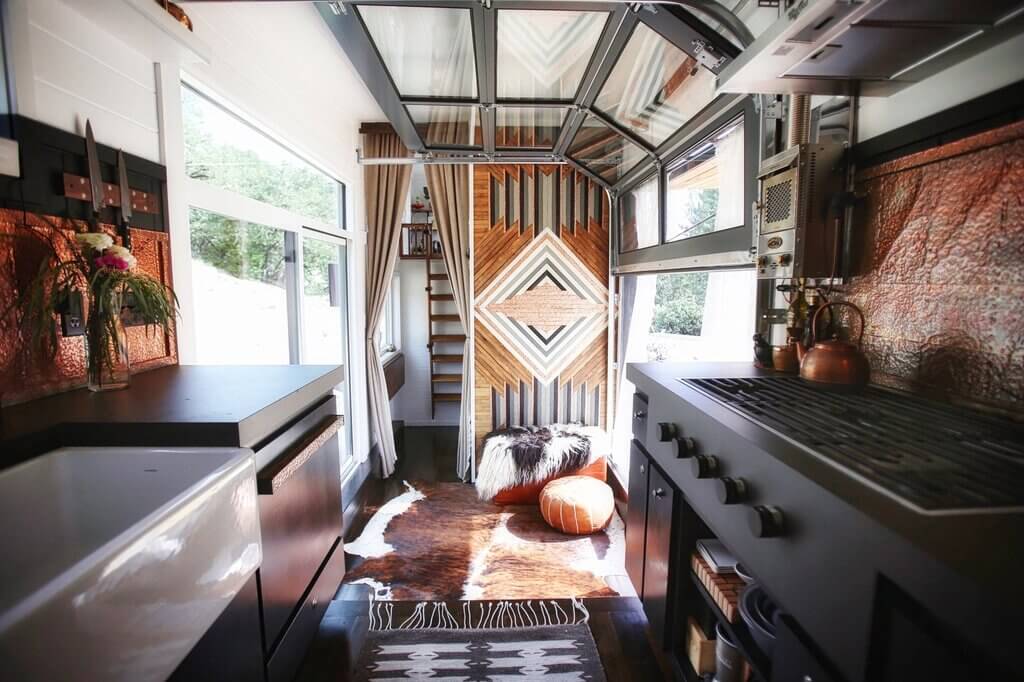 Source: dwell.com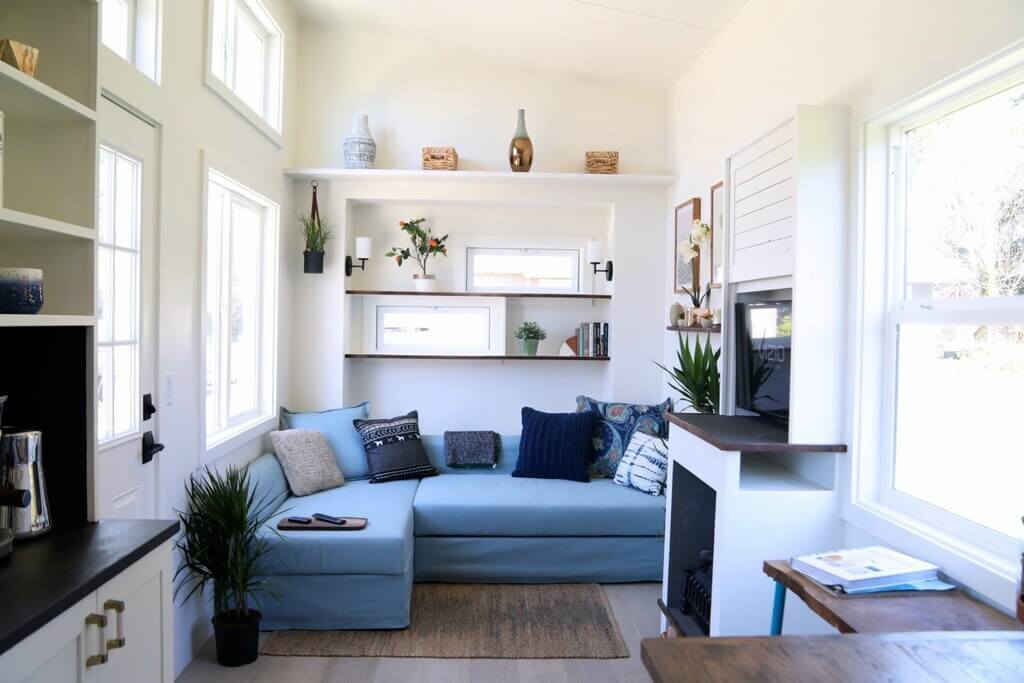 Source: homestratosphere.com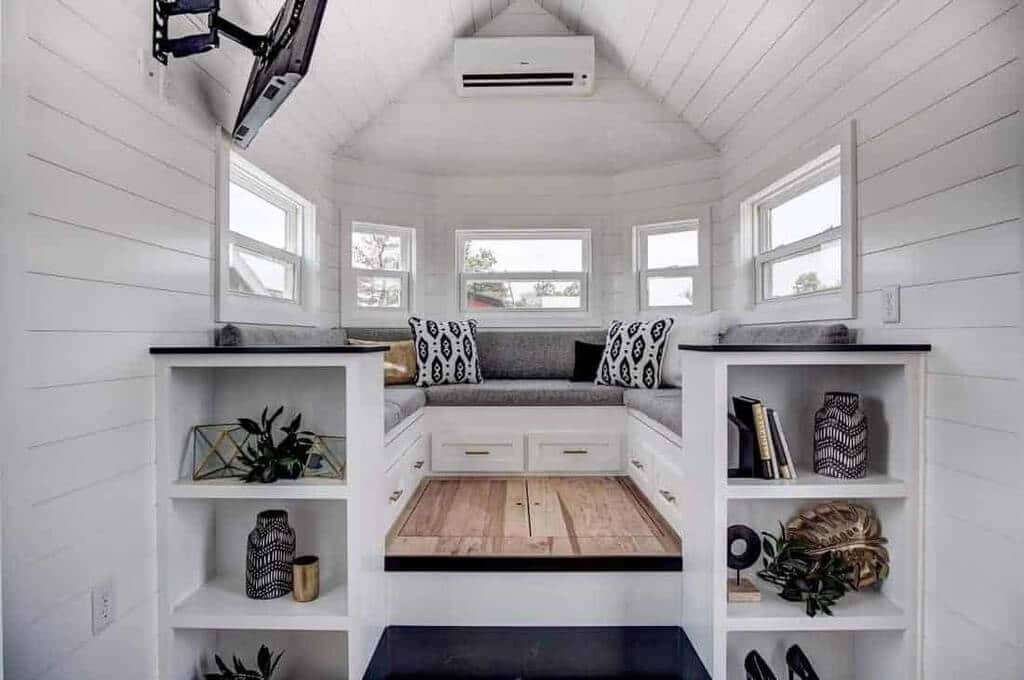 Source: homestratosphere.com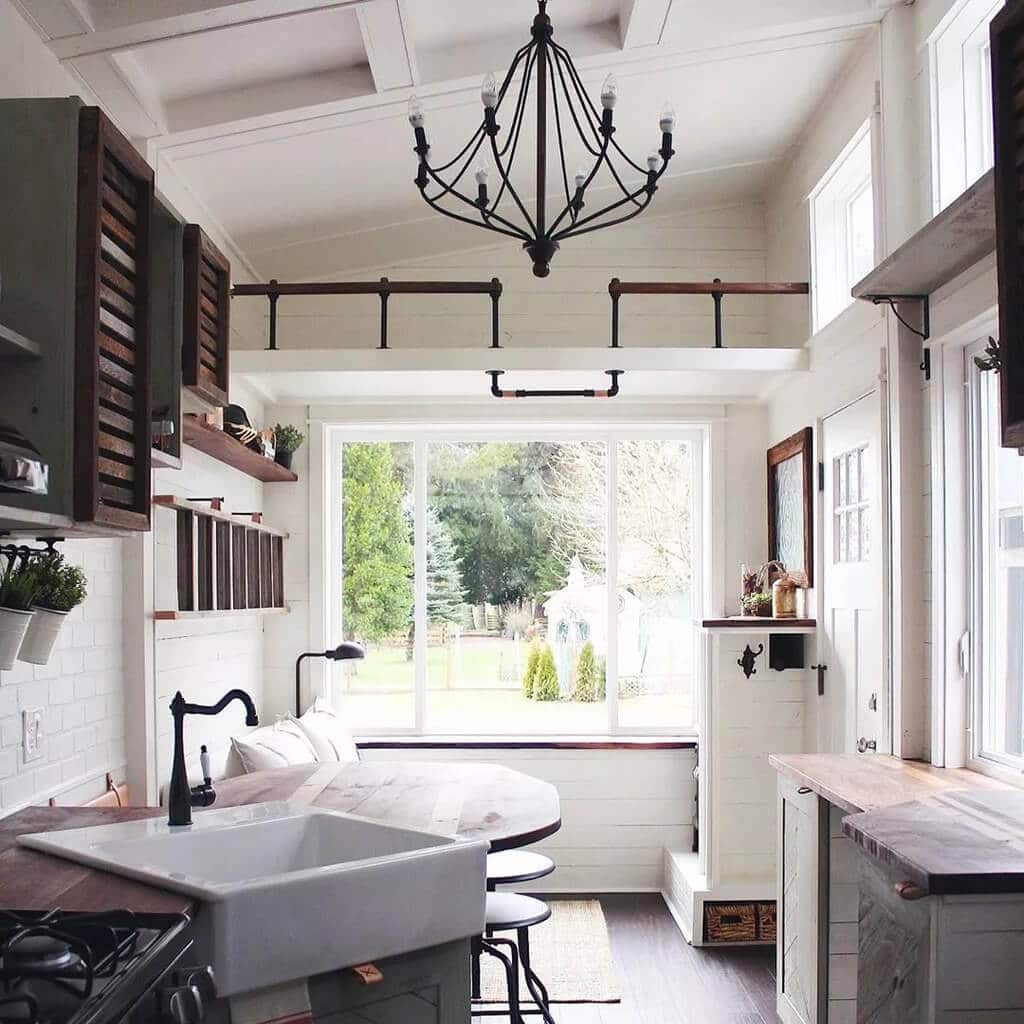 Source: extraspace.com
Also Read: 30+ Adorable Tiny House Designs That Will Tempt You To Build One
FAQs 
1. Is Simple Tiny House Interior Too Small for Two People to Stay    In?
No, If you plan out the separate spaces efficiently, two people can comfortably live inside a tiny house. Defending the size of your tiny house interior you can even divide spaces among yourselves to keep some privacy for personal needs.
2. Can Big Equipment Like Washing Machines Be Placed in a Tiny  House?
Yes. There is no restriction on what can be put in a tiny house interior. The only aspect to keep in mind is the efficient use of space. If you are bringing in a washing machine see to it that it fits in an efficiently placed space and doesn't interrupt the daily activities around the house.
3. What Are the Walls of a Tiny House Commonly Made Of?
Tiny houses aren't a particular type of model house. This makes every tiny house interior unique and the material used for its wall is different as well. It can range from plywood to drywall to even the wall of a trailer. Any small space can be converted into a tiny house, or it can be made from scratch with whichever material you would like as well.
4. How to Efficiently Use the Space in a Simple Tiny House                Interior?
To efficiently use the tiny house interior, you need to make use of space you wouldn't consider otherwise. Spaces under the stairs and nooks and corners can be used as storage spaces for small to large items.
Tiny house interior organizes and brings in only the items you will use and need inside the house. Maximize your shelf space vertically and incorporate spaces horizontally that wouldn't interrupt each other. Include openings that will visually expand the space.
To know more about Home improvement ideas, Cleaning, and decoration tips visit ArchitecturesIdeas.
For daily updates, follow us on our Instagram page @architectures_idea.