The most important thing to do when renovating a home is deciding the colour. Then be it for the kitchen or living room. Those times are gone when one colour could satisfy every member of the house. You would want a greyish colour, your wife will demand white, and children will cry for purple, pink, or blue colour. An increase in the opinion giving member will increase the confusion. You can't stop them from giving suggestions that are their fundamental rights.
The trend of having privacy and the personal room has diminished the problem of whining over the colour from the children's side. They basically want their' needs to be addressed'. Still wat about the kitchen, obviously the colour or whatever changes are to be selected by the one who is going to spend more time there – Your dear wife or mother. Now remains the living room.
The most challenging task is to decide which colour to select for the living room. Living is the place where the guest will be seated. Everyone coming to your home is going to notice your living room and will judge you on the basis of that (that's the bitter truth!).
One colour for the entire living room is so old that oldies too don't like it. Currently, the interior industry is praising over the Two Colour Combination For Living Room. These colour combination can be displayed either on walls or using furniture.
Are you realizing, you are step by step getting closer to your destiny (finalizing the colour palette)? Now all you need to know is the colour combination that is trendy and can go for the living room. Congratulations, you are on the right article, this article is all about the colour combination. From subtle to pop-up, everything is mentioned in this article.
Check our prepared list on the colour combination for the living room and decide which one suits your personality and your home's.
Let's get painted then,
Different Color Palette
If you are ready to experiment and go bold without thinking twice, then following are the colour for your living room.
Olive + Plum
Source: gratevilledead.com
When plum colour adds the darkening effect to your room, the olive colour will reflect the natural light to your room. To make your living space more homely, add a floor rug. Make it feel even by adding furniture in the same colour palette.
Orange + Yellow
Source: pinimg.com
Go bold with Orange and Yellow. Tell your artist to paint two walls in orange colour and the remaining two in yellow but in an alternate pattern. As for furniture, you can go for a white and black or grey combination. You can even add a pinch of brown colour effect to your living room.
Blue + Pink
Source: hearstapps.com
Pinky is too girly and blue is too boyish, this is what we hear when we talk about these colours. Let's make them neutral by using both the colour as a combination for each. Go for a lighter shade of both colours; it will give a calming effect to the living room.
Red + White
Source: mydecorative.com
First things first, white is a universal colour and can go with any of the colour. The subtlety of white and intensity of red will add a charming effect to your living room. You can use red colour in two ways, either as an accent colour or as a dominating one. Use red colour for your backdrop wall or add an accent placing red colour's furniture.
Blue + White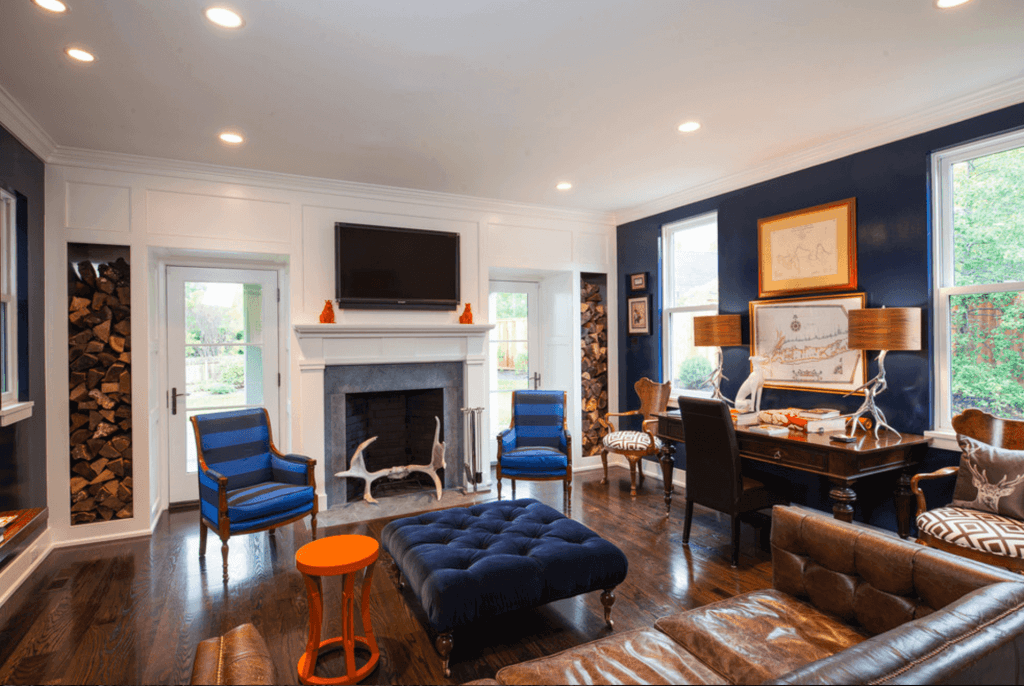 Source: thespruce.com
If there is any safest option in this list of two different colour palette ideas, then it is of blue and white. Not just the most reliable option, it is also the option that can provide you with a different perspective with the different shades of theirs. Royal Blue and White will add a royal and loud effect while a Lighter shade of blue and white will make your room look subtler and silent.
Black + White
Source: homesthetics.net
Black and white is the primary colour combination that doesn't need a second thought. Whenever we are confused about the selection of a colour combination of clothes, we go with this option only. But this is your living room, will it look good? After all, it is going to stay for a longer time. If you are a person with a retro personality, then this is your type only. You can play with the patterns, keep it simple, or try painting it in stripes.
Purple + Creamy White
Source: vondells.com
Have you seen the F.R.I.E.N.D.S web series? Obviously, what a silly question? Haha! You got what I am talking about, right! Mon's apartment had the purple and creamy white colour themed living room. Recreate the most loved and wanted living room using these colour palette.
Monochrome Color Palette
If you want to be at a safe side while selecting the colour scheme for the living area, go for monochrome shades. Single colours are the most reliable, but they are old and boring too! So we have found a substitute for it.
Shades of Blue
Source: wpengine.com
Play with the shades of blue, from metallic to aqua blue. For adding a classic effect to your room use furniture of natural wood or white colour.
Shades of Yellow
Source: trendir.com
From lemon yellow to bright yellow, play with yellow colour on walls. Add contrasting furniture of red, black, blue, pink, green, anything.
Shades of Green
Source: dreamingcroatia.com
Go green! Nature's colour that adds freshness to the living room. Try any shade of it, and you will never feel like you went overboard with the colour choices.
Shades of Pink
Source: aprar.net
No, it won't look girly; not every shade of pink is pure girly. Select from the lemonade pink to hot pink for the walls and maybe accessories too. But as for furniture, the contrasting colour will give you a satisfying feel.
Shades Purple
Source: decoratingroom.net
Every colour has a shade, be it the primary colour or secondary colour. Purple also has its shades, from Pale Purple to Palatinate Purple.
Shades of Black
Source: starer.ru
Shades of black include shades of grey as well. Clearly, black is the darkest colour, and its lightest colour is light grey. Go for a shiny or matte finish; both will look classy.
Shades of White
Source: trendir.com
What? Don't get this shock! White does have shades; we can even name them. They are Cream, Eggshell, Vanilla, Ivory, and Navajo white. Pair them and paint your walls.
Here are some Living Room Decor Ideas 2019 for your living room.
The End
While writing down the colour combination, we realized that colour combinations are not limited; their limit is the sky. You can create any colour palette. You have to decide just one thing, subtle or loud. Once you are done in choosing between one, then you can select any of the colour from the ocean like options. We hope our article helped you in finalizing the colour palette. For more on Interior or exterior decor, visit Architecturesideas.