How to Design a Kids Bedroom That Grows with Them?
For adults, a bedroom might just be a relaxing sanctuary post a hard workday. But with kids, every space is a playground. Their creative imagination could help them visualize it as anything from a Mars Rover to a kingdom and that's why it needs to be synergized with child psychology.
Creative designing could influence their development and above anything carve a memory of special childhood moments that they'll cherish for the rest of their lives. However, adapting the decor to their whimsical interests and rapidly changing needs is an exhausting and expensive process for most parents.
If seeking solutions to creative kids' bedroom designs with the superpower of staying relevant to their ever-changing moods is your current concern, help yourself with our fine filtered 4 tricks and 6 tips!
1. Opt for Furniture That Survives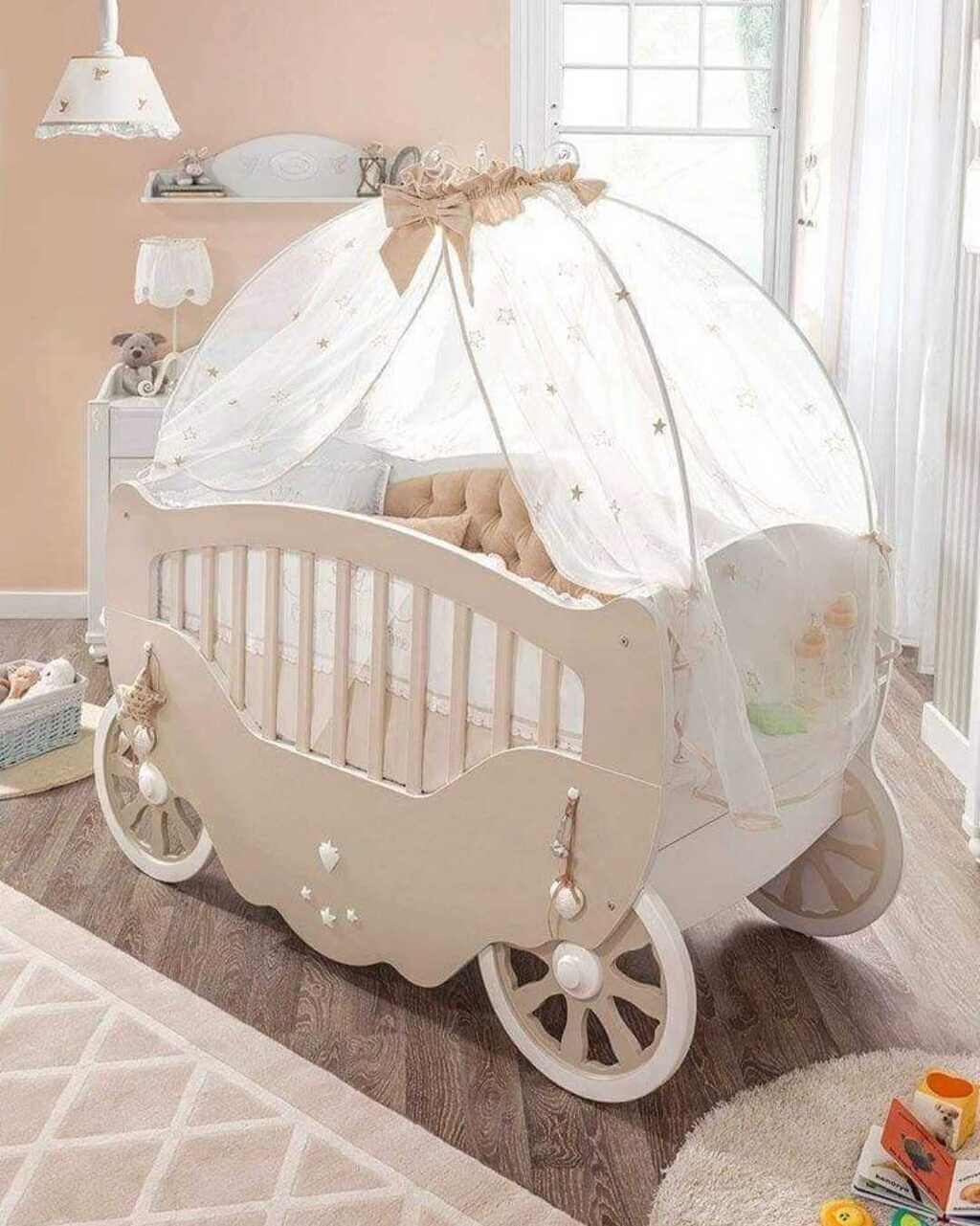 Source: googleapis.com
It's natural to be smitten by cute and quirky furniture options for kids' bedrooms, however, aiming for highly practical and adaptable furniture can be a wiser decision. Kids grow at a rapid pace, each stage demanding additional and varying spatial and functional requirements, be it for their endless collection of toys and clothes or additional bed space for playdates and sleepovers.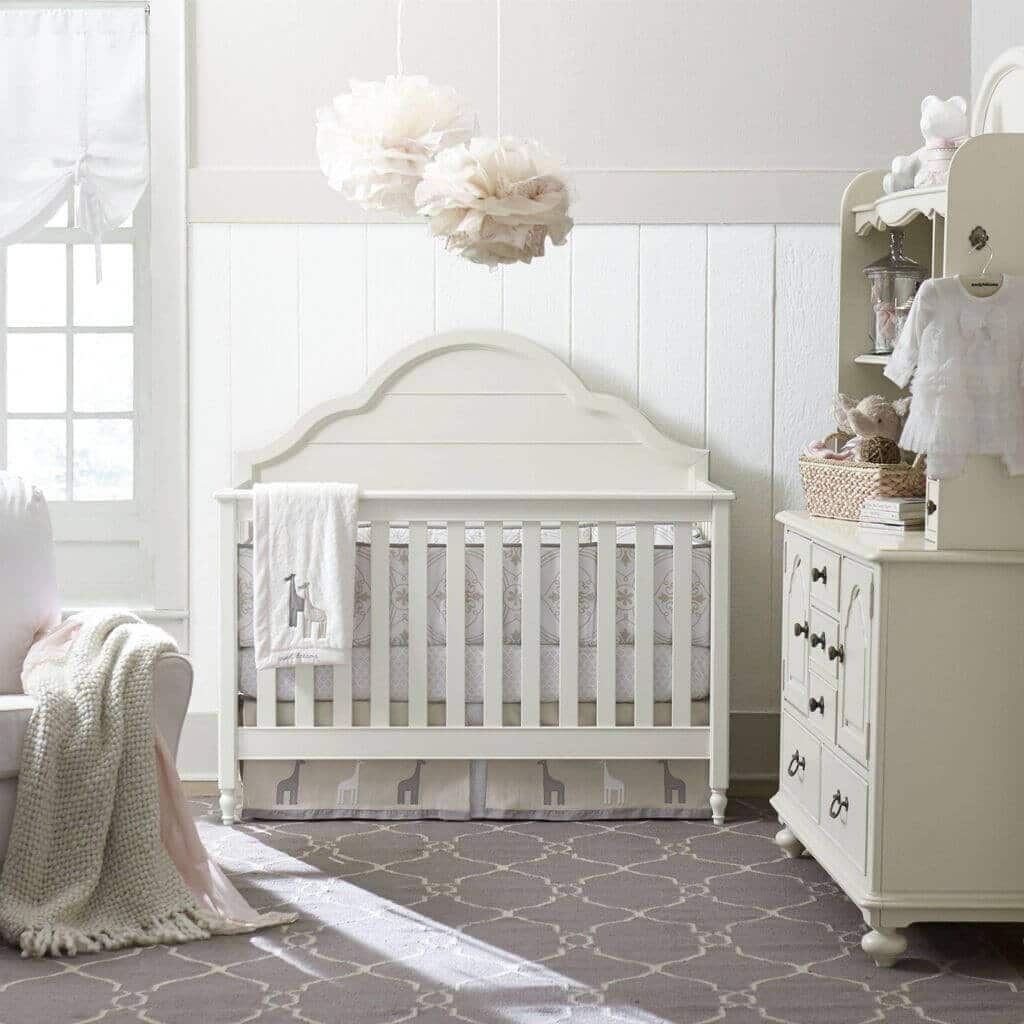 Source: pinimg.com
So while shopping, purchasing items that don't cope with these summing demands can put you to a task of regular shopping and furniture rearrangement that is gonna burn a hole in your pocket. Wondering how to address the problem? 
Opt for smart furniture like a convertible crib that provides you with a comfortable infant bed but can later be transformed into a toddler and daybed as the child grows. Similarly, instead of bringing a child-sized storage closet, buy a size that will cater to the dress lengths and storage space for a longer time.
2. Go for Versatile and Adaptable Units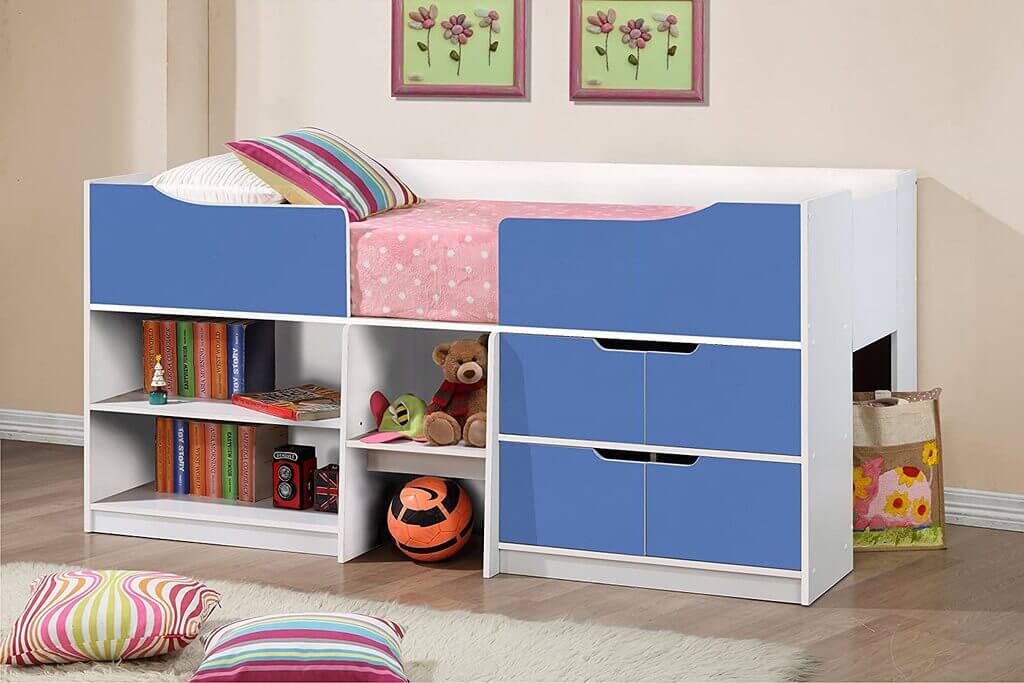 Source: amazon.com
Looking after kids can be challenging. Sometimes, it involves being on a constant run and multi-tasking to keep up with their energy and needs. This follows buying new items to accommodate further needs while worrying to find storage space for the older items. 
With an absolute understanding of burnout, the market is introduced with product designs that can cater to multiple tasks. Explore adjustable changing tables that convert to a student desk and also a bookshelf to be useful as your child grows. There are foldable playpens fitted with reversible nappers to serve as diaper changing stations. 
Similarly, look for beds that facilitate underneath storage to be used later when your child runs out of space to store their toys.  
3. Where to Go Frugal?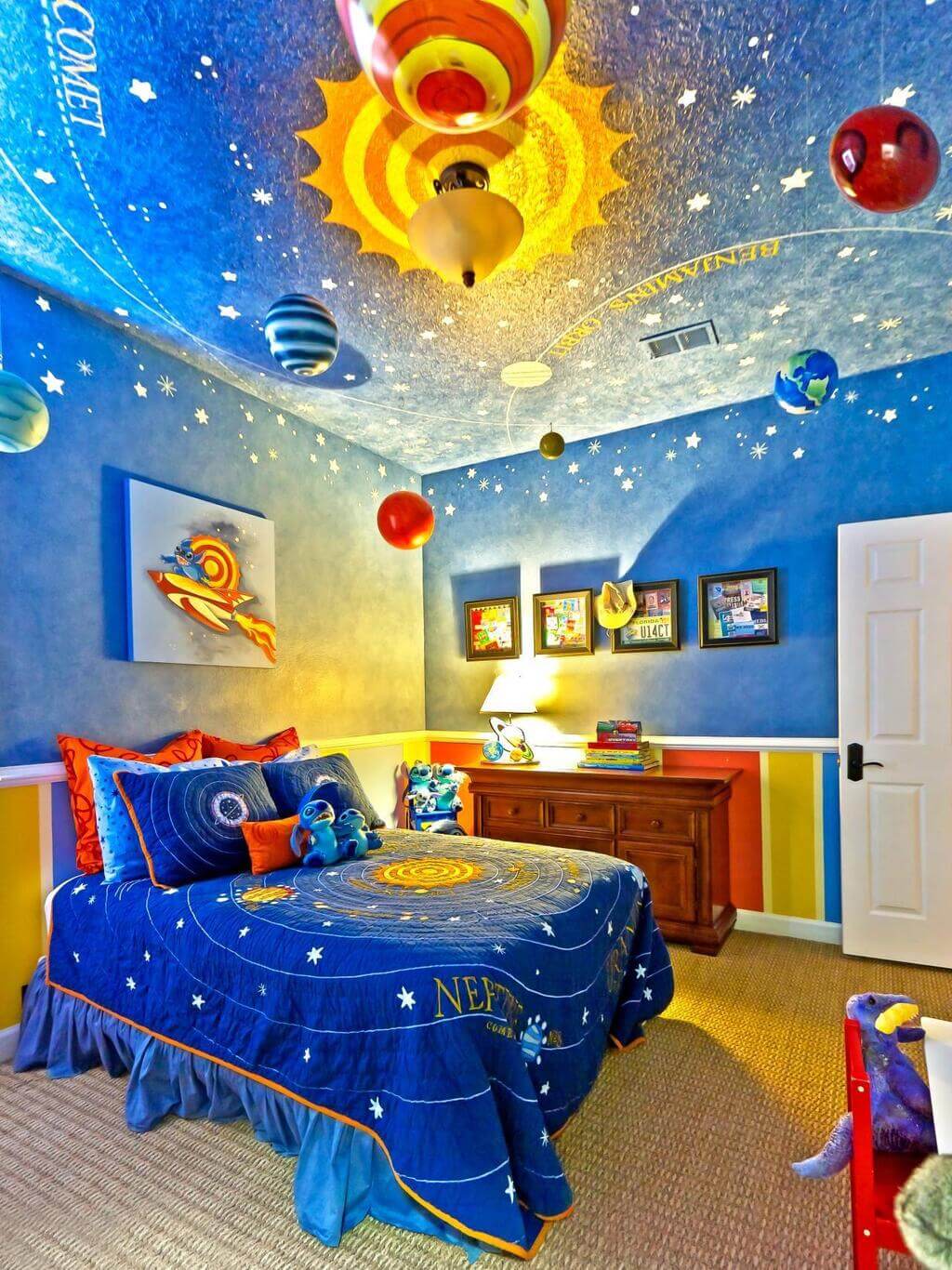 Source: decoratorist.com
Having a kid can be exciting and every parent wants to go the extra mile to make rooms interesting for their children. But, this desire requires a lot of financial input and too many parents' unawareness, it can be achieved within the budget limits with some careful choices.
The room has varying interior elements that can be played along with for your desired effect, so going gender-neutral with choices around expensive investment zones like flooring material, wall color, and costly furniture pieces can be a smart choice.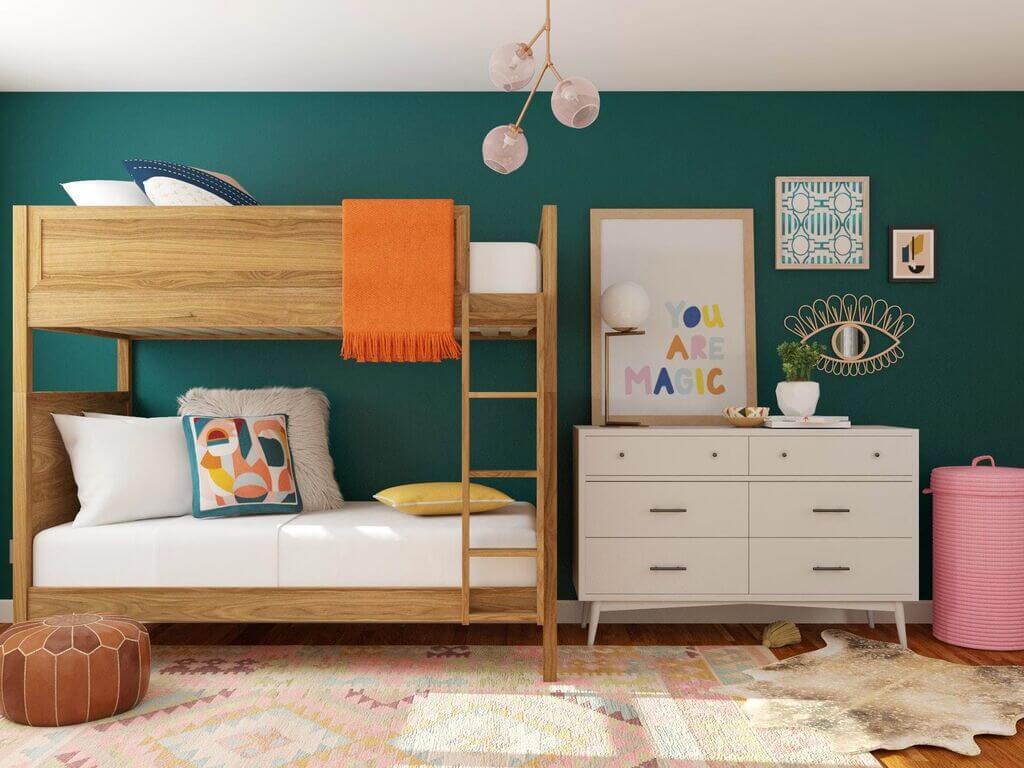 Source: pinimg.com
Going with stereotypical gender-based color choices or cartoon theme-based beds could be compelling as an initial investment but your child will sooner or later have a change of interest. It's a matter of just another Frozen or Thor movie that they could have their new favorites.
So, with items that involve huge money, try to attain some neutrality where they neither grow outdated nor too remain dominating to be accommodated with other accessories. 
Also Read: 8 Most Attractive Kids' Room Designs You Must See
4. Syncing Decor to Kids' Whims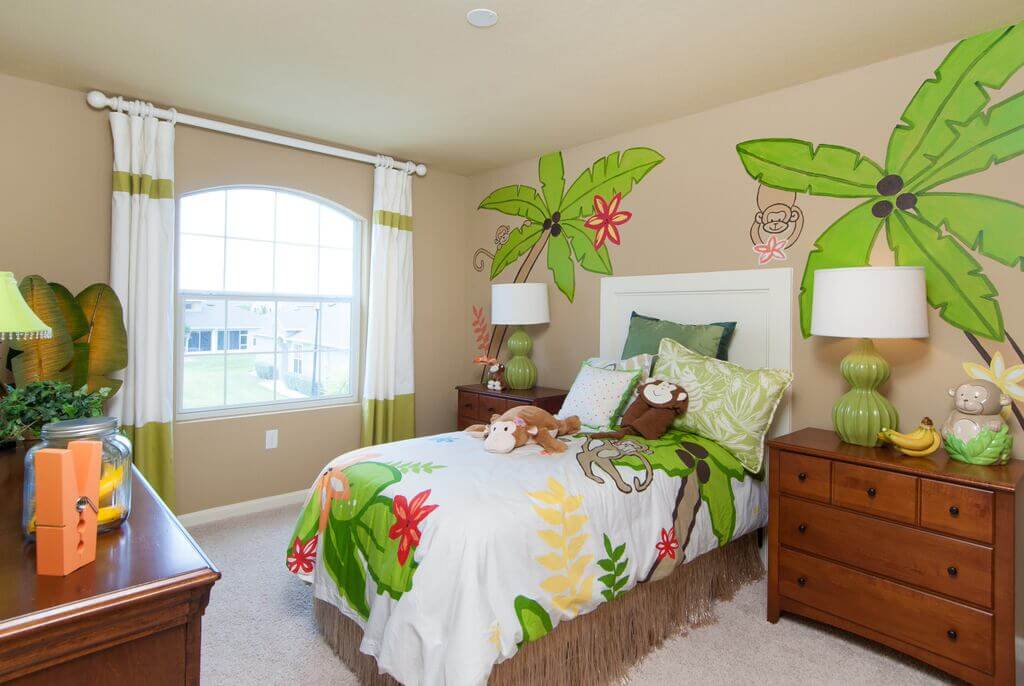 Source: hzcdn.com
We highlighted the importance of interior design in aiding kids' development and creativity. It is essential to ensure that you let them explore and express their personalities. It's just about using the right resource that is pocket friendly for parents to allow flexibility for their constant development. This is where the accessories come in handy. 
There is a myriad of options from rugs, printed bed sheets, throw pillows, human-sized toys, wall hangings, picture frames, stickers, and more that can be used to set up a temporary decor based on their current likings. Kids toys from Papaya are the best way to entice your kids into a fun play space.  Swapping these on intervals wouldn't cost you heavily while having them will sufficiently provide you with the bliss you want your child to cherish.
6 Tips on Sprucing up Kids' Bedroom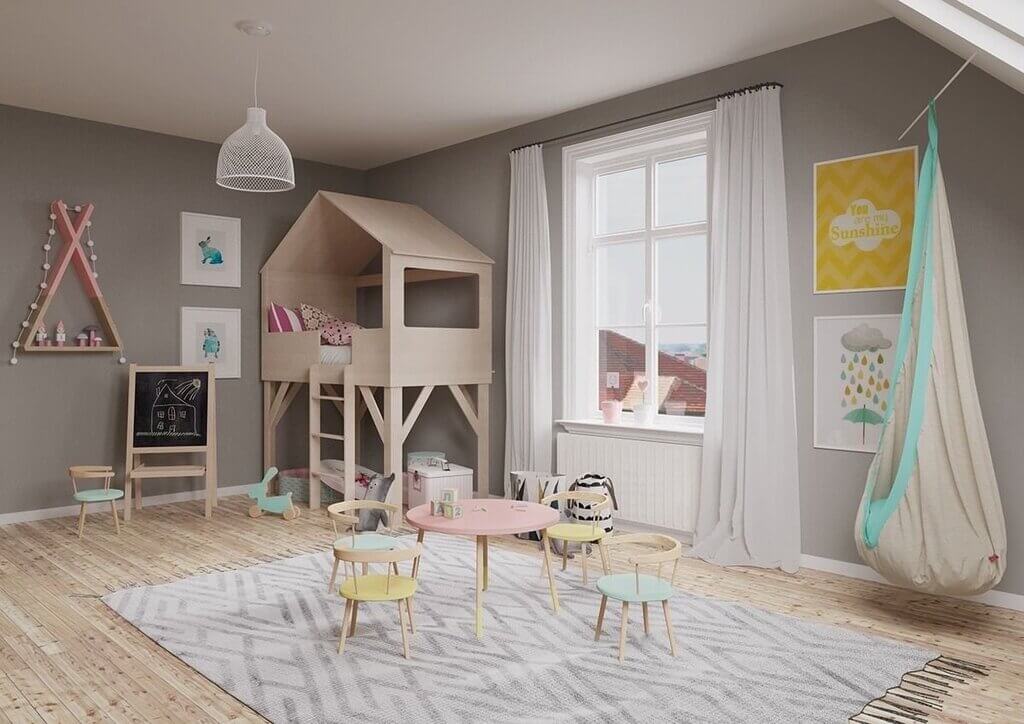 Source: idei.club
Now that we know, the task is to create a functional and fun room. The design strategy for a kid's bedroom is to identify their current demands while keeping a track of their future needs. An important thing to remember is that with kids nothing is permanent. 
As the bottom line to this article, we have summarized for you the strategy you need to remember when you plan your next kid bedroom interior.
1. Everything Permanent Stays Simple
As far as your core spatial elements like walls, floors, ceilings are concerned, try to have a neutral approach. Prefer not getting enticed by too specific themes to avoid any major remodeling as your kid grows. 
2. Add Furniture That Supports Their Hobbies
Kids spend a lot of time at home and keeping them in their bedrooms is the easiest way parents can ensure an organized home. But let this be supported with fun play. Try adding valuable furniture items that kids can utilize for their hobbies.
3. Space Efficiency Is Critical
Kids might wish for the whole solar system to fit into their rooms but parents need to be careful with their furniture picks. An item that can be adapted for multiple uses and is easy to accommodate and store should be the ideal criteria. 
Also Read: DIY Toddler Bed Ideas: 11 Beautiful Handmade Bed Designs for Kids Bedroom!
4. Storage Space Is Welcomed in Every Piece of Furniture
Kids might seem tiny in size but their storage needs are as big as any adults. From toys to clothes to what not, running out of storage always remains a fear. Adding furniture that offers an extra storage unit hence is an all-time favorite.
5. Use Color, Textures, and Patterns to Enliven the Room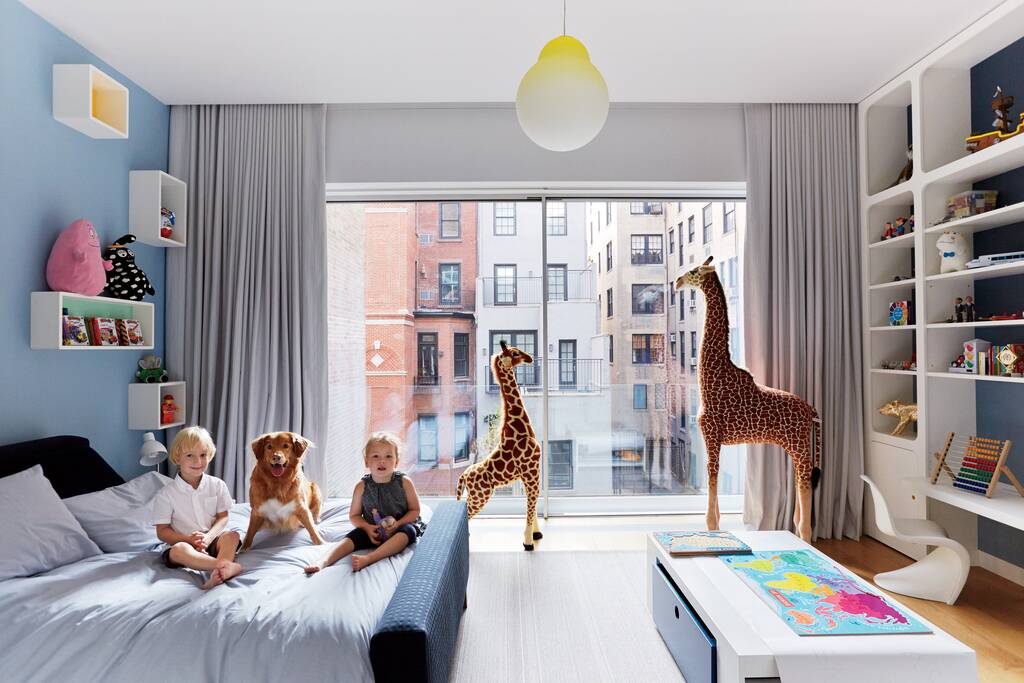 Source: architecturaldigest.com
A budget or cost-effective room in no way means one lacking any personality. Bring in accents and highlights through color, wallpaper, pattern, and let the bright pops add joy to your kids' routine.
6. Theme It to Their Choice with Accessorization
Utilize the diversity of product range in accessories to cover tracks for all you saved up on going neutral with the core. Craft a pocket-friendly scheme so that you are always open to new setups.
So, with an effort of a few smart choices efficiently assemble a kids' bedroom designs that grows with them!