7 Bunk Beds With Stairs Ideal For Your Children [With FAQs]
Bunk beds are perfect if you have two kids. The needs of the growing kids expand as months pass by. They grow and need more as well as private space. So, the solution is a bunk bed, as they are still too young to have a separate room. Also, bunk beds with stairs are much safer than those with ladders.
Due to the same reason, I decided to look for kids' bunk beds with stairs, and the options available in the market overwhelmed me. After much research, I finally selected the best one for my sweetie pies. It's your time to select the best design for your kids. This is why we have listed all the different types of bunk beds with stairs for you to choose from.
Do you know an average of 36,000 bunk bed-related injuries happen annually to children in the United States? (Nationwide Children's)
The reason stated in the research is lack of safety. Hence, whenever you are planning to buy a bunk bed for your children, pay attention to safety first.
What are the Bunk Bed Safety Features to Look For?
Bunk bed with stairs (Instead of a ladder)

Strong guardrails (at least 5-inches above the mattress)

Keep the bunk bed away from the ceiling fan

Strong mattress foundation

Right mattress size used.
Advantages of Bunk Beds with Stairs:
#1: Safer Option
With handrails and more space to climb, kids' bunk beds with stairs are a safer option. This means that there is almost no chance of your kid falling off just because he missed a step.
#2: Extra Storage
When you build or get a bunk bed that has stairs, you are welcoming the extra storage space as well. The stairs can be converted into drawers or can be used as a space to store kids' books, toys, clothes, or anything.
#3: Multifunctional
We have seen kids using stairs as a seating area when they are having friends gathering or lazily spending time reading or listening to music.
Were you aware of these benefits? No? Now, you are!
Having said that, without wasting another second, let's move ahead to our actual topic:
Different Style In Bunk Beds With Stairs:
1. Twin Bunk Beds with Stairs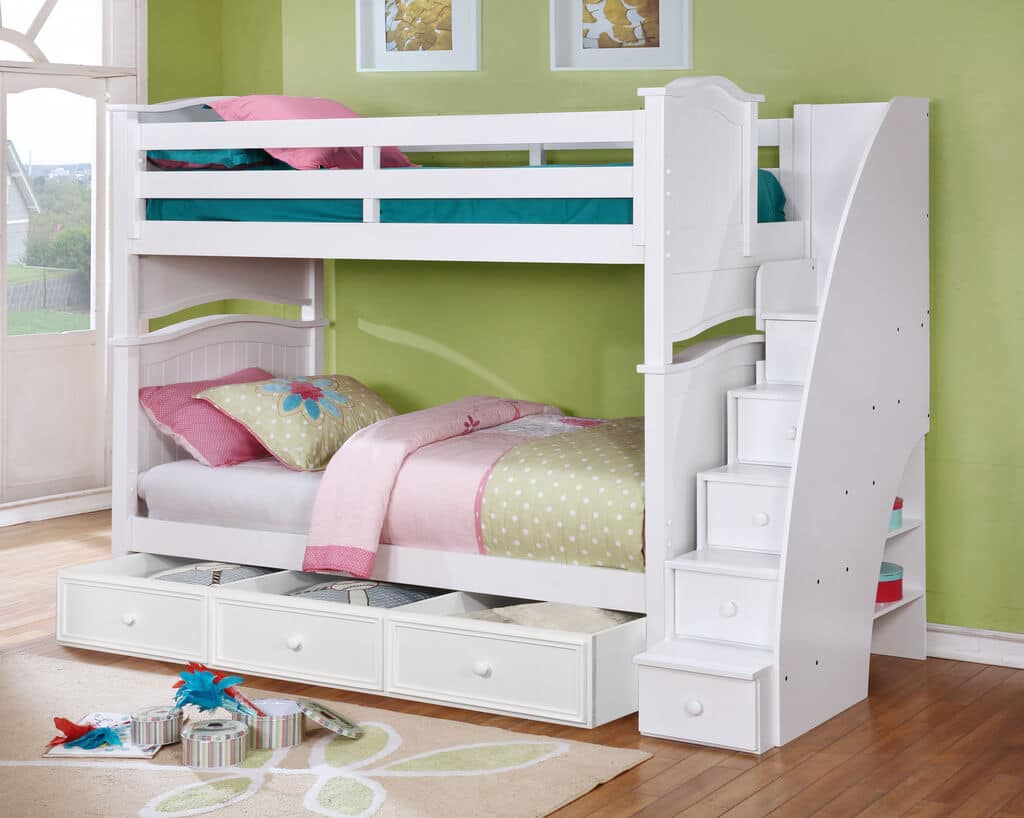 Source: kidsonlyfurniture.com
The twin over twin bunk bed with the stair is an ideal option if you have kids between 5 to 10 years. This bed is designed to save space since both beds (above and below) are the same size, and the stairs are on the side. 
There's also a twin bunk bed with drawers at the bottom of the floor bed to store your kids' books, toys, and clothes. Many beds have storage built-in on the stairs in the form of drawers.
Best For: Parents looking to buy the twin bunk bed for a small room and still save a lot of space to keep the closet or the study table.
2. Bunk Beds with Storage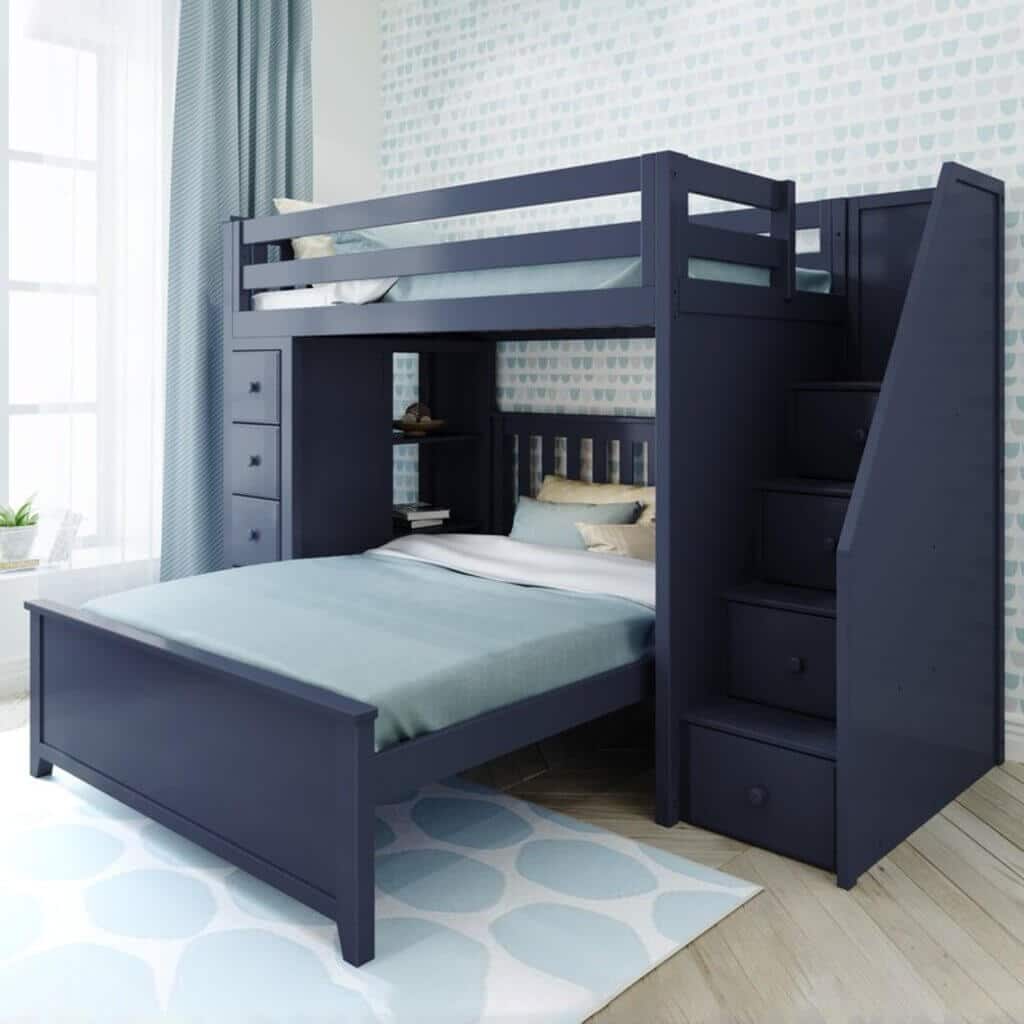 Source: wfcdn.com
If you are looking for bunk beds with storage, read this one. The design in the image has 8 storage drawers and two shelves to showcase children's art pieces. You can also see the design of the bunk bed is in L-shape.
So, if you have children, one toddler, and another teenager this is the bed you should get. One is a twin bed, whereas the other is a queen-size bed.
Best For: Parents looking to buy a classic piece of bunk bed that has enough storage to hold all the clothes and books of their kids.
3. Full Over Full Bunk Beds With Stairs
Source: bigcommerce.com
The full over full bunk beds are ideal for kids of age between 10 to 15. Get the one with storage options given in the form of drawers. Make sure it has guardrails too. The full over full kids bunk beds with stairs will save your space and accommodate your teenagers.
As for colors, you can go for the lighter shades as now your children understand that they shouldn't paint on a bed. 
Best For: Parents need to accommodate teenagers and their essentials in a room and at the same place.
4. Twin Over Full Bunk Beds With Stairway Storage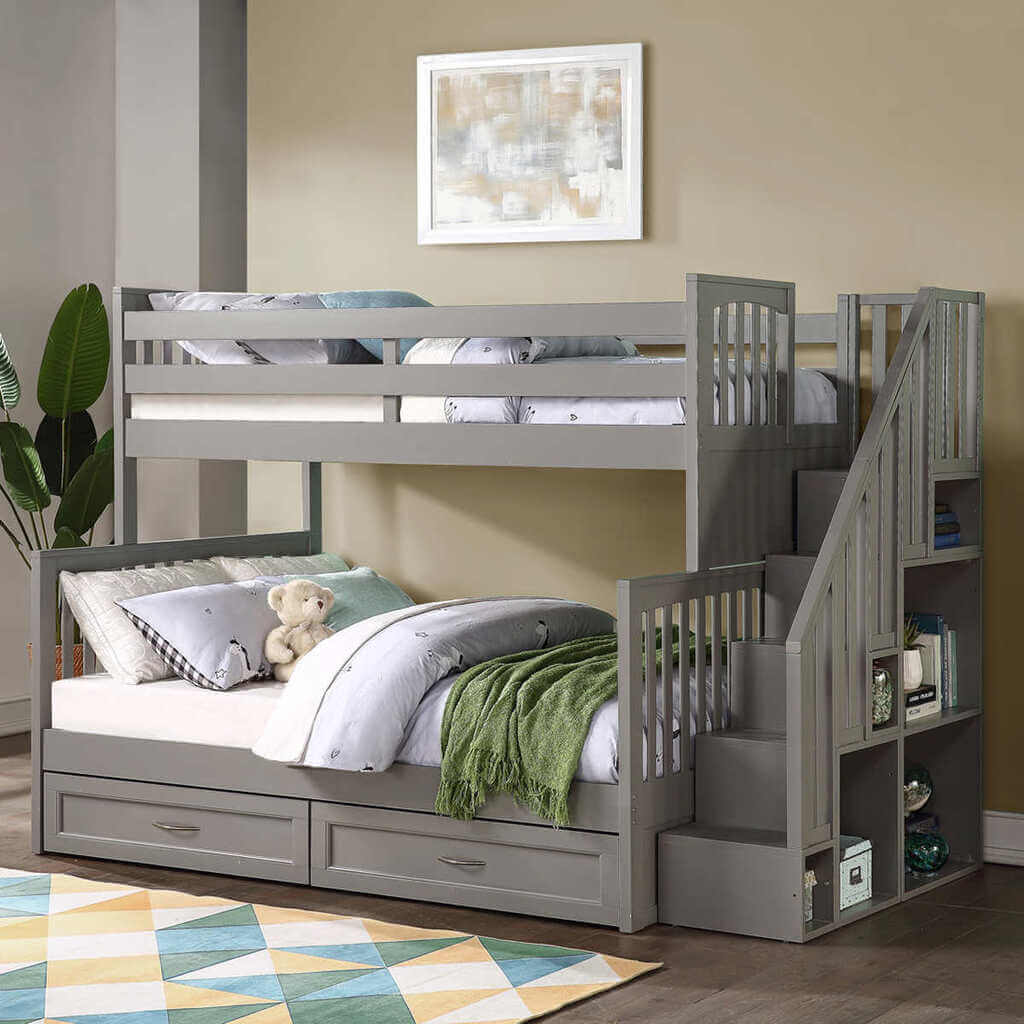 Source: richimage.com
Not every bunk bed comes with stairway storage, you will have to ask. You will see the best designs available in the market for twin over full bunk beds. The reason is it gives an extra space to fit in storage or shelves.
Check the room available between two beds. However, you will have to pay close attention to the size of the guardrail. We have seen shorter ones in this style of bed.
Best For: Parents who want an additional storage option but are looking to save space and can accommodate a teenager and a toddler.
5. Bunk Bed with Shelves on Stairway's Side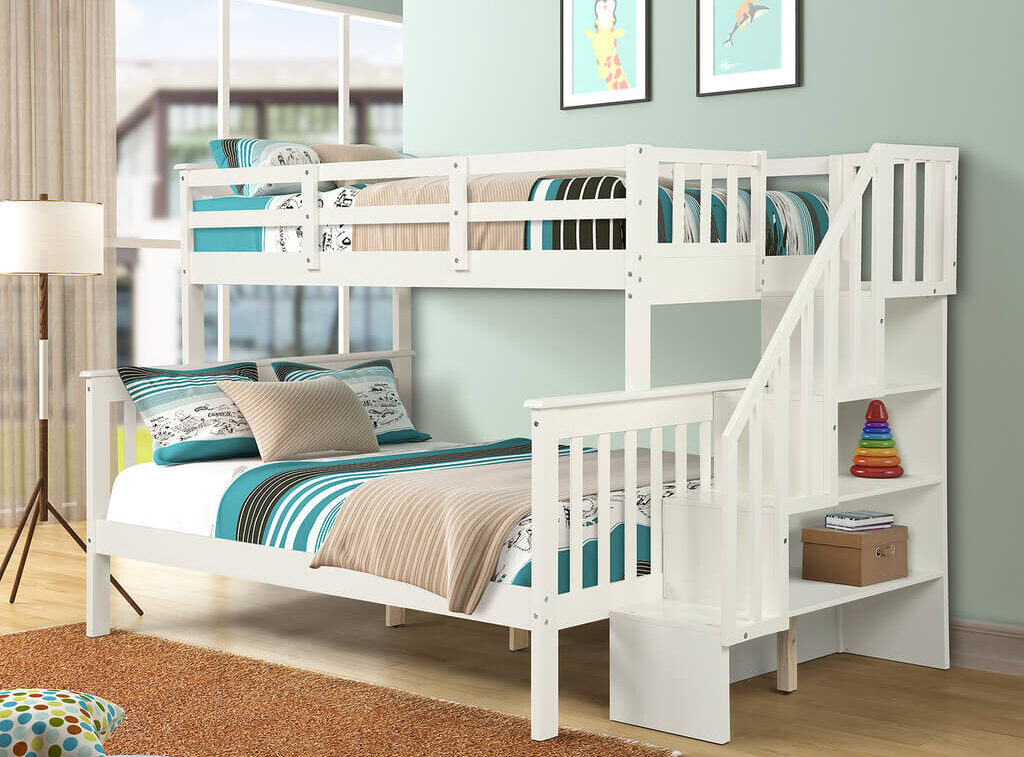 Source: walmartimages.com
What do you think about the bunk bed that has stairs and shelves on its side? Wouldn't it be great if stairs have drawers for the additional storage option? This is no dream, it's real. You will get an option like this in the market.
This design option is available for every style, whether you want a twin over twin or a twin over full bunk bed. You can store books and toys on the side shelves.
Best For: Parents whose preference is a bunk bed with storage options on the side and stairs to keep the place neat and clean.
6. Bunk Bed with Study Table and Stairs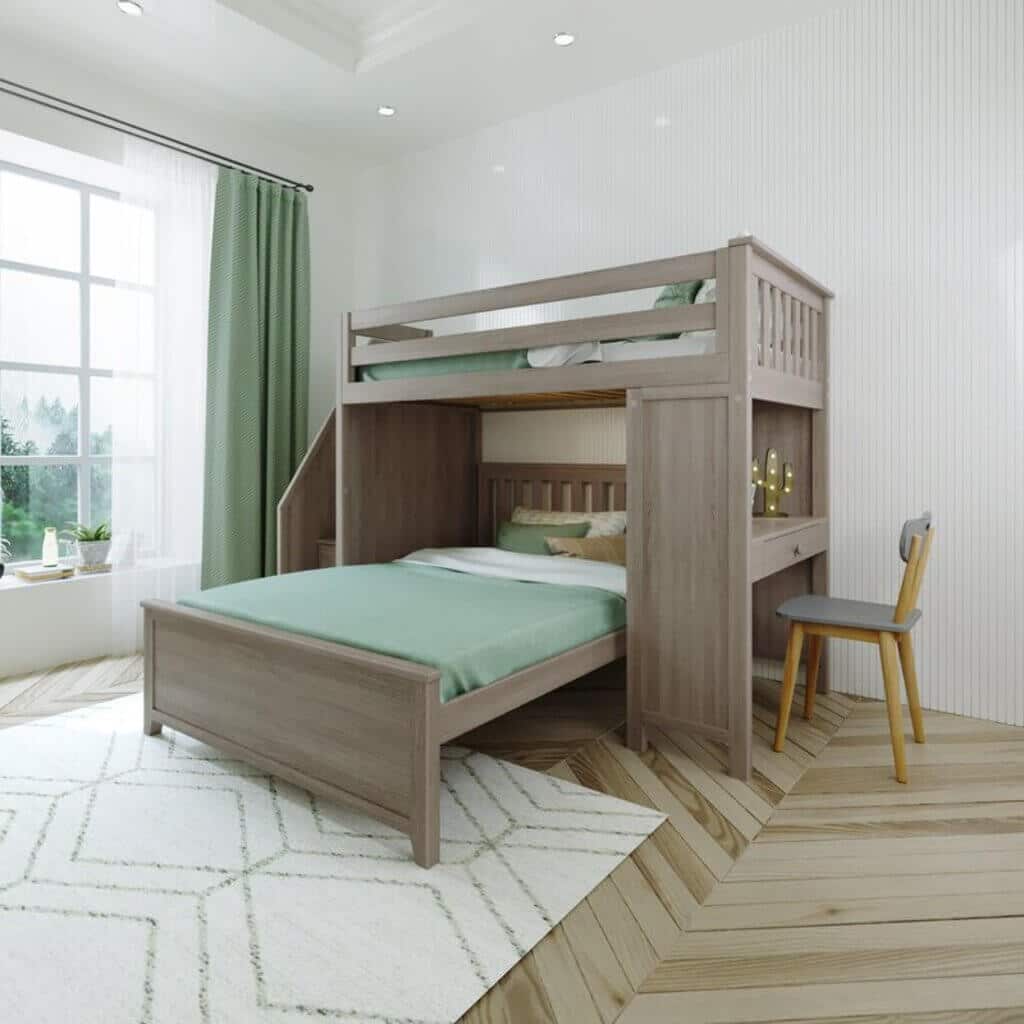 Source: wfcdn.com
Have a very small bedroom space and want to get your both kids' needs sorted? We guess the design of this style is done for that only. You get a bunk bed, storage, safety stairs, and a study table with a chair.
This one comes in L-shaped and is a solid wood bunk bed with stairs and a study desk. As for the storage option, you will get 5 drawers – 4 on the stairs and 1 on the study desk.
Best For: Teenager's and toddler's room with enough space that can fit a bunk bed that has stairs and a study desk on both sides.
7. Extendable Bunk Bed With Staircase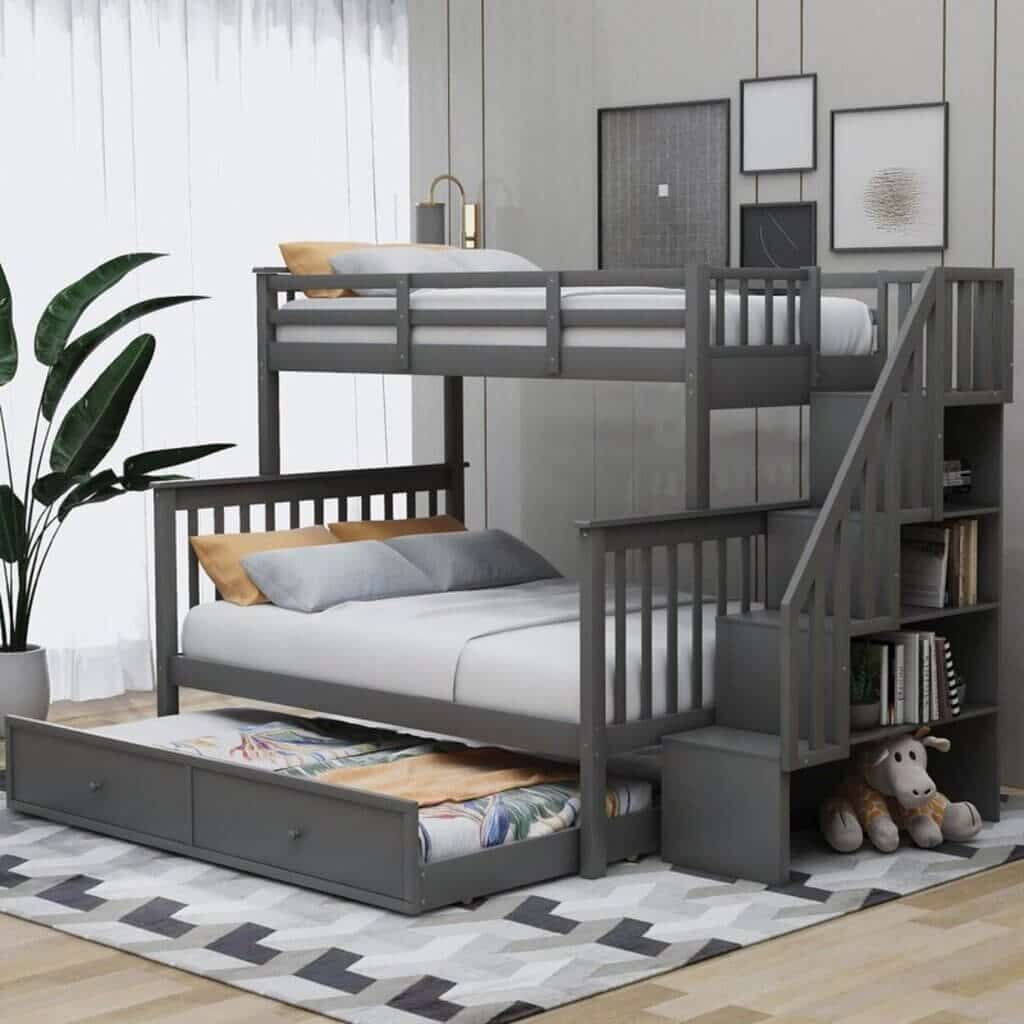 Source: wfcdn.com
Do you have three kids? If yes, then you will need a triple bunk bed. However, if you want to save space then you should go for the extendable bunk bed. It has one rollable bed that you can move back under in the morning.
The only drawback is you will have to say goodbye to storage space, as it is consumed by the third bed. However, you still get drawers on the staircase and shelves on its sides.
Best For: Parents with three children and want to accommodate everyone in a single room, but with low space acquisition.
FAQs on Bunk Beds With Stairs
1. Can You Separate Bunk Beds with Stairs into Two?
Normally, yes. You can always separate the bunk beds into two in the future when kids grow up. However, it will also depend on its manufacturing. If you are assembling, then yes you can separate them. 
There are inseparable bunk beds also available in the market, so look out!
2. Which One Is Better: Bunk Beds with Staircase or Ladder?
Bunk beds with both staircase and ladder have their own benefits. If you are looking for safety, then staircase one is the best. If you prefer lower space consumption, choose one with a ladder.
3. Do Bunk Beds Need to Be Against the Wall?
That's entirely your choice. There's no rule or regulation that bunk beds should be parallel to the wall only. Parents prefer keeping it that way for safety purposes, to save space, and for an aesthetic look.
4. Are Bunk Beds for Kids Only?
No, not at all. Even grown-ups can stay on bunk beds. All you have to do is check its capacity or get the one customized that way.
5. Are Bunk Beds Comfortable?
Yes, they are super comfortable. Bunk beds are the bed design, the comfort is added with the mattress. You can use the most comfortable mattress. Another factor that affects the comfort zone is the bed's length, so check what age the bunk bed is suitable for!
Get Bunk Bed With Stairs Today!
This article had all the things you needed to know about the bunk beds with the stairs. Now, you can select the best one for you or your kid. In this blog, you read about the advantages of bunk beds with staircases, their styles available in the market, and frequently asked questions about the same.
What are you still waiting for? Go and get the best bunk bed for your kid today!
To know more about Home improvement ideas, Cleaning and decoration tips visit ArchitecturesIdeas.
For daily updates, follow us on our Instagram page @architectures_idea.