10 Best Triple Bunk Bed to Spruce Up Your Space
A Bunk bed is a typology of furniture that follows the stacking of a one-bed frame on the top of another, which allows two or more beds to be placed in the same space through the vertical access. These bed frames are supported with the help of four pillars and a ladder is used to climb up to the upper levels. The upper bunks are bordered with a railing as a safety measure to prevent falling out of a user. There are different categories of bunk beds like a standard bunk bed, triple bunk bed, L-shaped bunk bed, etc. The most common frame or structure, however, for any typology is a wooden frame or metal frame. 
What Is a Triple Bunk Bed?
To furnish a room in a cheap, efficient and space-saving manner, one can go ahead with the triple bunk bed. This typology of bunk beds accommodates two additional levels of bunks on top of the lowermost bed. A triple bunk bed is perfect and of great value, to put in three people and offer a fun experience in the footprint of one bed.
Choosing from a sea of options of the triple bunk bed plans to furnish a bedroom is an inexpensive measure for a sleeping arrangement that is fun and exciting. There is a diverse range of triple bunk bed ideas which can be considered to suit the needs of kids and adults alike. The triple bunk beds come in varying designs and in a variety of materials. These range from simple metallic framed beds to sophisticated designs with attached workstations and various amusing features.
Check out this list to find the best triple bunk beds to spruce up your bedroom space.
Queen Bunk Bed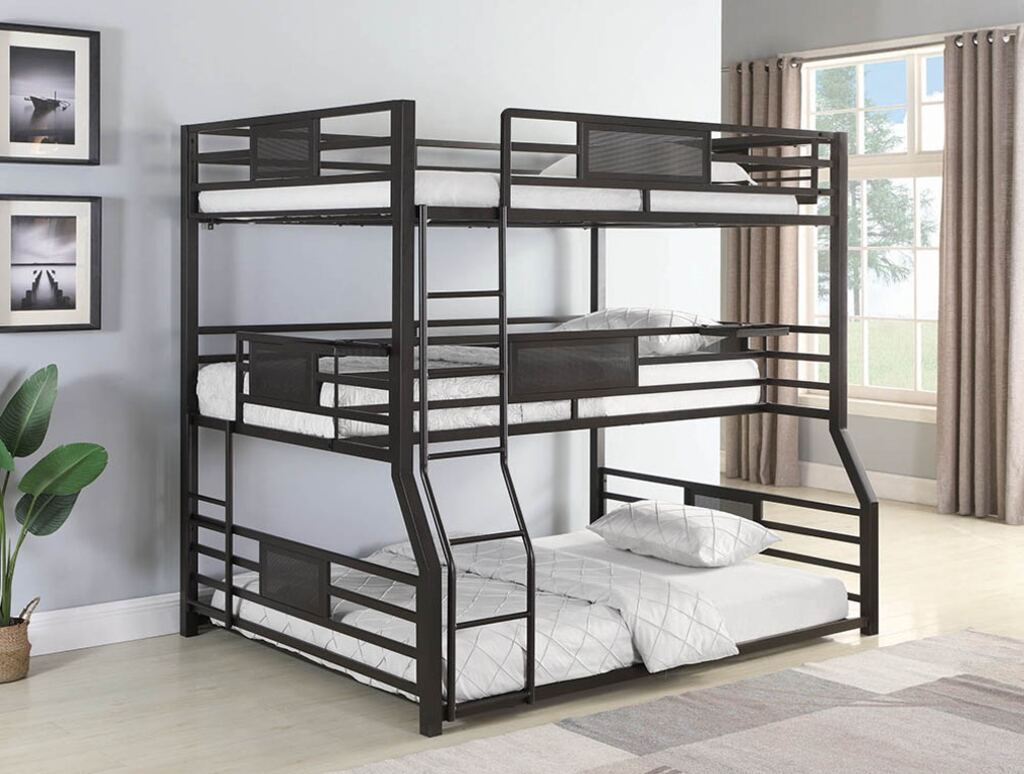 Source: Just Bunk Beds
A Queen bunk bed is the best option for saving up space with a stylish furniture piece. This bed comes with guard rails on all four sides of the bunk. This type of triple bunk bed, apart from being stylish, is also safe and sturdy, and the heavy-duty metal frame suits and complements any room decor.
This bed comes with a feature of convenient removable trays that can be attached to the bunk easily. The top bunks are accessed through a built-in ladder and have a capacity of holding up to 400 pounds. The bed guarantees a safe, sound and comfortable sleep.
Triple Bunk Bed With Storage
Source: Nord Architecture
A wooden triple bunk bed with attached storage is an excellent pick that along with giving a classic look, provides great stability. This bed comes with a deal of offering a lot of storage space, moreover, a dresser can be employed under the bed's space. This is the best option to generate a classic and clutter-free interior.
Triple Twin Bunk Bed
Source: Wayfair
Triple twin bunk bed in solid wooden material is a strong choice to furnish space. This bed offers dual ladders for easy access to the upper bunks. The bunks are safeguarded with full-length rails for security. The bed has an additional feature of separating the frame to convert it into a low loft bed and a twin bunk bed.
Space-Saving Triple Bunk Bed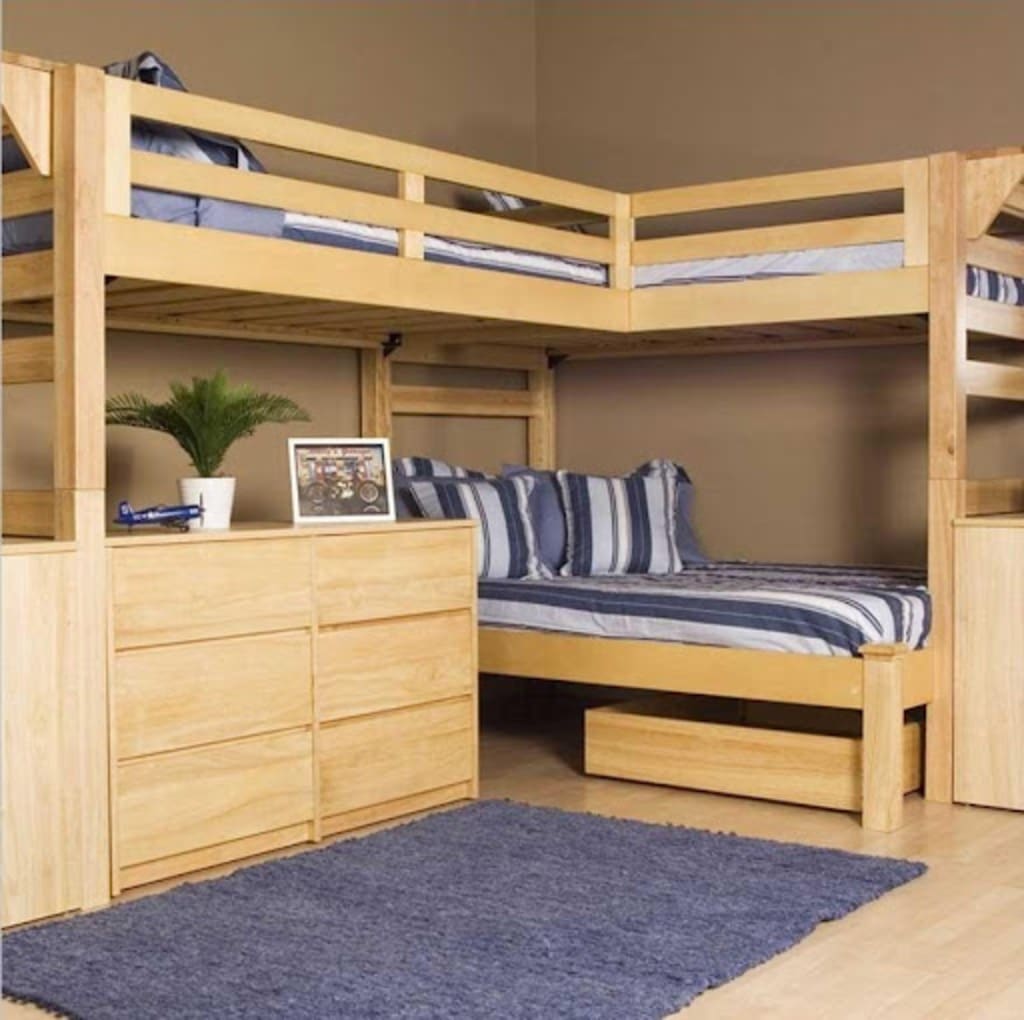 Source: Nord Architecture
Justifying the name, this L-shaped triple bunk bed is a space saver ideation framed out of natural wood. This design comes with square posts and simple rails, creating an elegant minimalistic design. A six-drawer chest attached to the bed is a convenient storage space for easy access and creates a perfect, comfortable sleep area in the lower bunk.
Rustic Triple Bunk Bed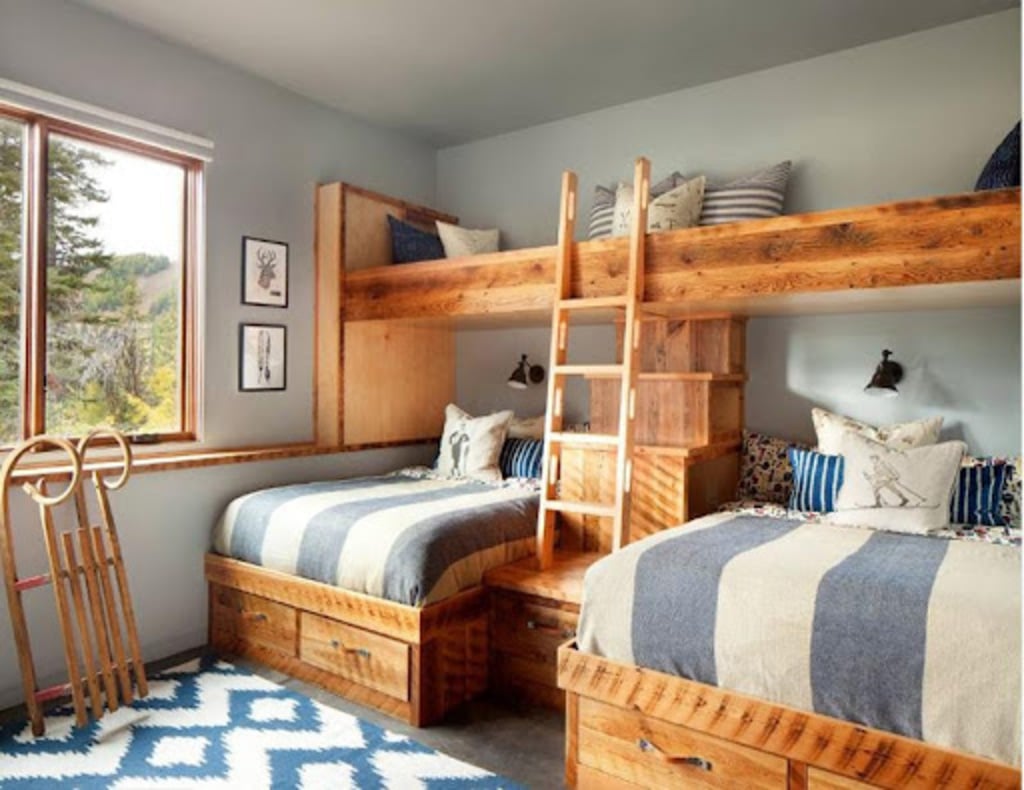 Source: Nord Architecture
This is a different approach to the triple bunk bed design which accommodates two full-sized lower bunks with two twin beds on top of it. The rustic finish complements the interiors and adds to the overall appeal of the design.
Triple Bunk Bed with Trundle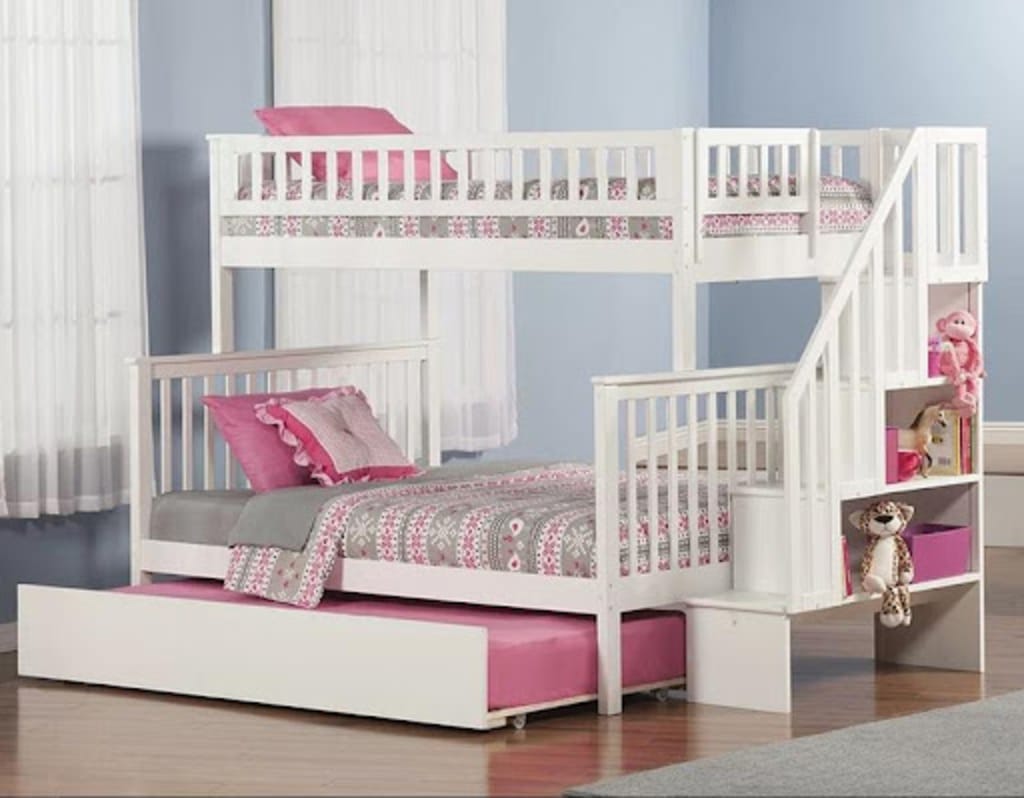 Source: HomeDesignLover.com
This is a beautiful addition to a kid's space offering an enjoyable and cosy sleeping space. A shelf on either side of the bed offers a storage space that acts as an aesthetic and efficient display in the bedrooms.
Triple Twin Bunk Bed: Triplet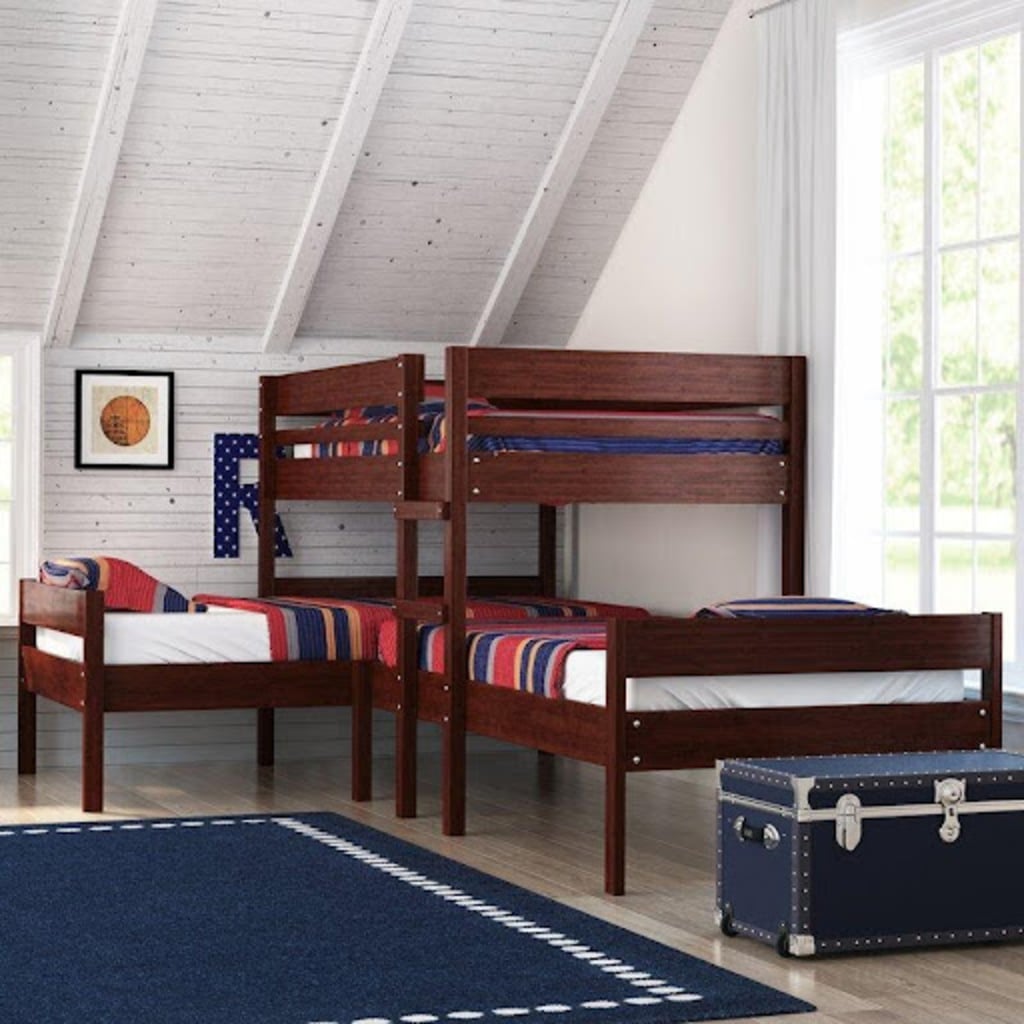 Source: Wayfair.com
This design comes with an arrangement of two lower beds and one upper bunk. This bed can be used for mixed-use by adults and kids, where adults can occupy the bottom bunks and kids can take the upper bunk. 
It offers comfort in a beautifully crafted wooden style. It provides a spacious sleep room with an attractive and durable design.
The Triple Decker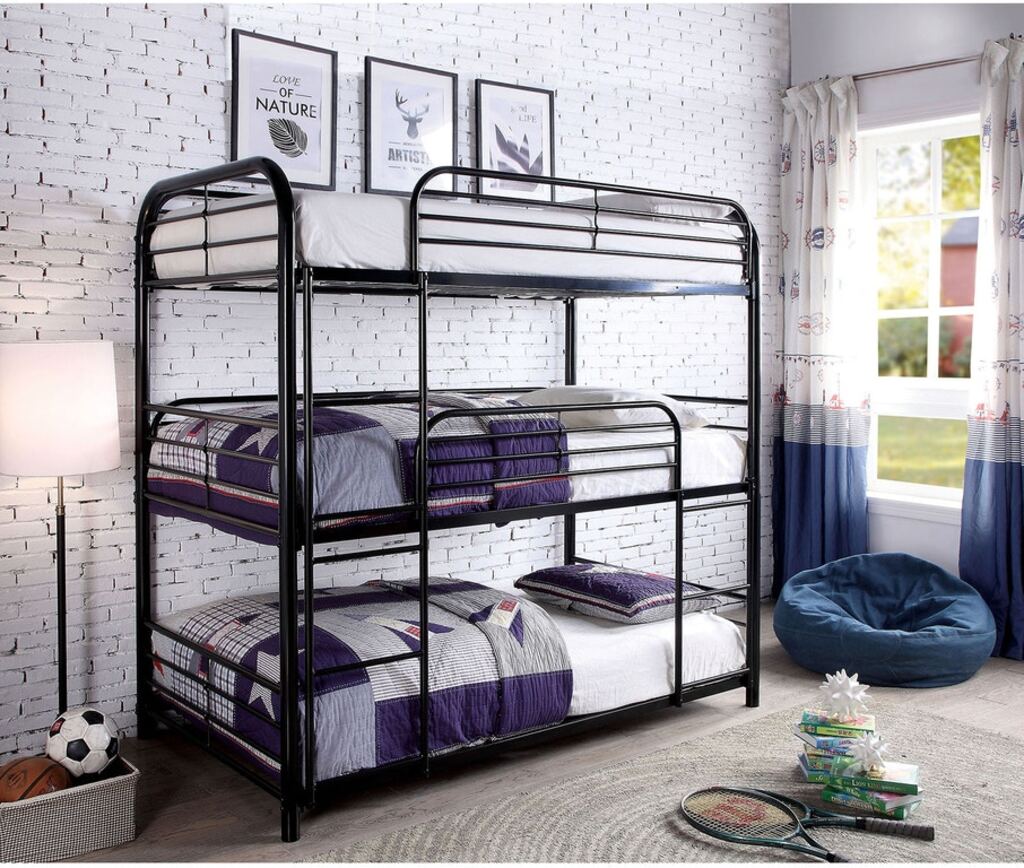 Source: NordArchitecture.co.uk
A triple-decker bed is an item of space-saving furniture apt for small homes and studio apartments. It is a simple arrangement of three beds placed on top of each other with safety rails all over the periphery of the bunks.
Bold Solid Triple Bunk Bed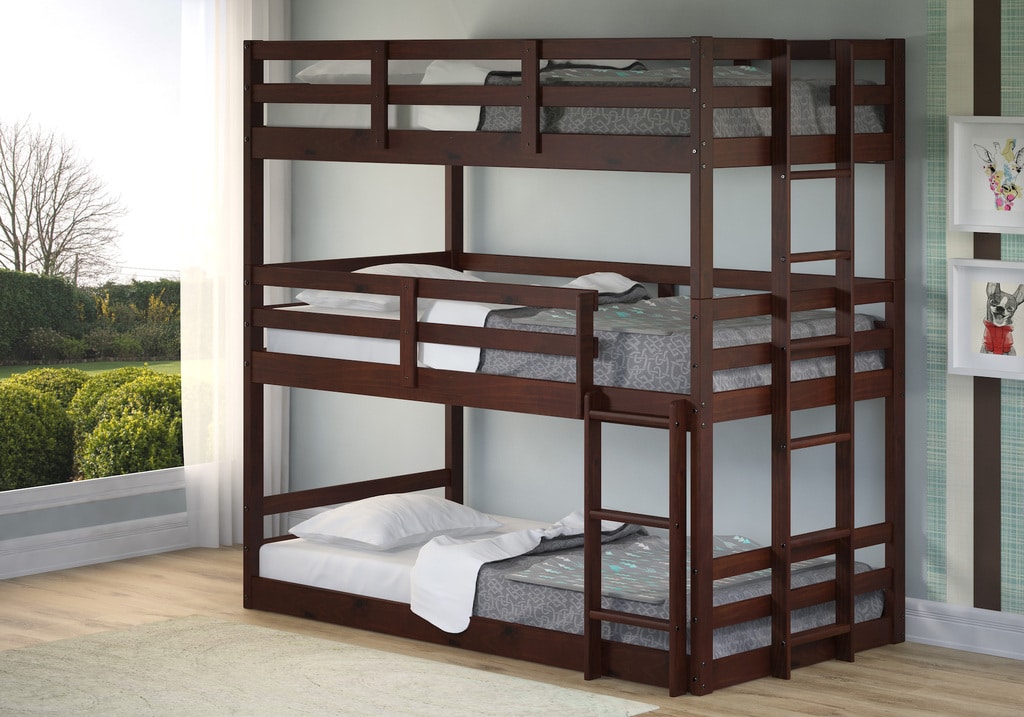 Source: Nord Architecture
This is a bold bunk bed option that gives character to the room. The bright colours impart a happy ambience to the room and the visual connection between the middle bunk to the other two bunks ensures a fun experience along with visual security.
Triathlon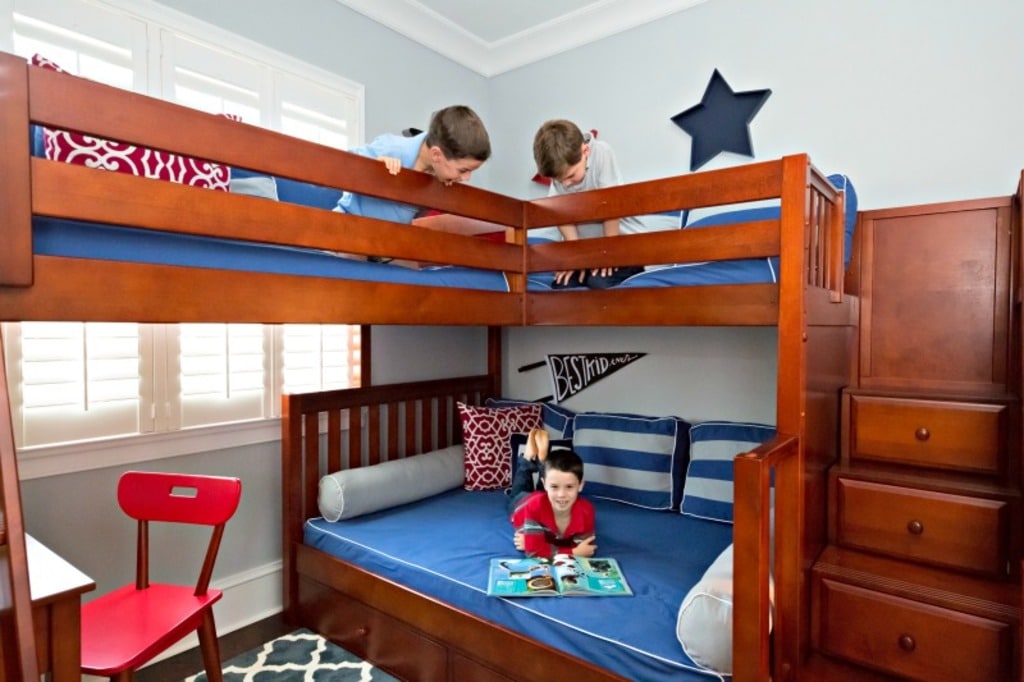 Source: Home Design Lover
This is a space-efficient design that holds two corner twin beds on the top bunk and one full-sized bed on the bottom bunk. The ladder and staircase make the upper level accessible, where the staircase has built-in drawers that provide extra storage space. 
The bottom space can accommodate a study table or play area. Tucked in one corner, this bed gives an overall stylish look to the room.
Why go for Triple Bunk Beds?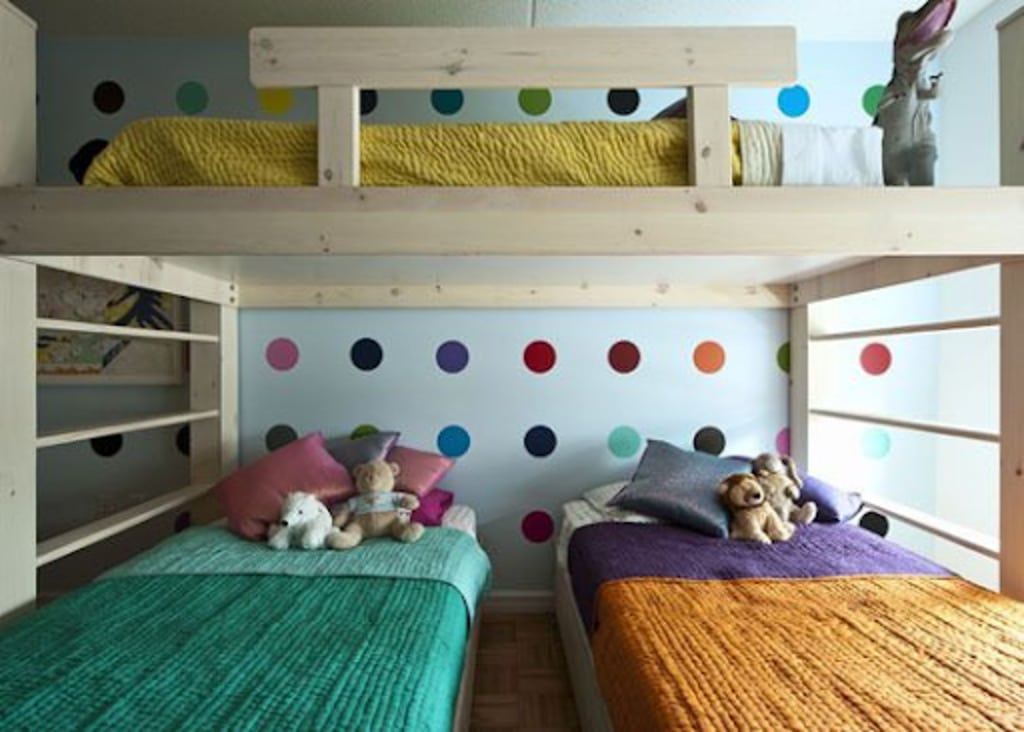 Source: Pinterest.com
The triple bunk beds allow you to tuck in the users in one single room, instead of providing a separate and secluded room for each one. It is the most efficient space-saving method that leaves room to add on more interior elements to enhance a space. These bunks aren't only efficient in terms of planning and designing, but also leave a positive impact on user's interpersonal development with the value of sharing and staying together. They create an interactive space and a nurturing bond amongst the children. 
While it provides each individual with their own zone, the collaborative design also nurtures bonding time through common access or storage, making it an ideal buy for your children.
To know more about cleaning tips, home improvement tips visit Architecturesideas.
For daily updates, follow us on our Instagram page @architectures_idea.