Whether you live in a small space or just your kids really like to share a bedroom together, bunk bund is the perfect solution for both scenarios. Bunk beds are an innovative solution to the sleeping arrangement that can save a lot of space and also make your children happy.
From compact bunk beds to queen bunk beds and bunk beds with built-ins, there are various types of bunk beds available in the market. Not only kids but adults of all ages can also enjoy sleeping in these creative beds.
One of the benefits of these beds is that they can fit anywhere. Yes, from small rooms to attics, guest rooms, or any other compact room, you can literally install these cute queen bunk beds. These bunks beds are also available in various sizes, so you can select the one according to your space and requirements. They're highly functional and practical. Plus, they allow you to maximize your space, and you can invite more guests to your home without worrying about the space.
Today in this blog, we're going to tell you everything about bunk beds. From their types, sizes to their benefits, we've covered everything. We've also gathered up some of the best bunk bed ideas of 2023. So keep on reading and find the red bunk bed for your home. Let's start with various types of bed designs.
Types of Bunk Beds
Depending on their design or style, bunk beds can be divided into multiple categories. Here are some common types of beds available in the market:
Standard Bunk Beds
These beds have two Twin beds stacked on top of each other. You can remove the top bunk if you want.
Loft Bunk Beds
This type of bunk has a top bed, and the space under it is empty, which can be used for many purposes. People usually turn this space into a play area, study, or work area or can be used for extra storage space.
Triple Bunk Beds
A triple bunk bed is almost similar to the standard bunk bed. The only difference is that here instead of two beds, three beds are stacked upon each other. These beds can also have two adjoining bottom beds and another one on top of them.
Trundle Bunk Beds
Trundle beds are a little bigger in size as compared to standard bunk beds. They can easily accommodate three people. It has two Twin-sized mattresses, and a third one is concealed inside a drawer located on the bottom side of the bed.
L-shaped Bunk Beds
L- shaped is a high-level bunk with a sofa bed style. Here two beds are stacked perpendicularly on a bottom bed to make an L-shape structure. They also have extra storage space underneath.
Built-In Bunk Bed
These types of bunk beds are just like the standard twin bunk beds, but they're permanently connected to the walls. They can't be moved from one place to another.
Futon Bunk Bed
This bunk bed has one bed at the top and a sofa or futon seater at the bottom. The bottom part can be used both as a bed as well as a sofa.
Different Types of Bed Sizes
Before finalizing the bunk bed, another thing that you should know is the size of the bed. Yes, just like normal beds, there are also various sizing options available for the bunk beds. So, what types of bed sizes are there?
Do you need a twin or a twin XL bunk bed? Does a king or California king will fit into your bedroom? A bed in the wrong size will make your room look even smaller, and you won't get any floor space. That's why it's vital to know the right size before going for bunk bed shopping.
Here are some common bed sizes available today in the market:
Twin
A twin is the smallest size bed on the market. This is a great space-saving bed and is perfect for single sleepers, kids, and bunk beds. Its dimensions are 38 inches wide and 75 inches long.
Twin XL
As compared to a twin mattress, twin XL is five inches longer. This makes twin xl bunk beds ideal for taller teenagers, dorm rooms, and single sleepers. Its dimensions are 38 inches wide and 80 inches long.
Full
Also known as double, a full mattress is 16 inches wider than a twin, making it perfect for young adults or recent grads. Its dimensions are53 inches wide and 75 inches long.
Queen
Queen mattresses are perfect for master bedrooms that are at least 10 x 10 feet. They offer plenty of space and are great for both single sleepers and couples. Its dimensions are 60 inches wide and 80 inches long.
11+ Comfy Twin & Queen Bunk Bed Ideas For Your Room
Now you know the various types of beds and their sizing options. So finally, we can dive into the latest and cool bunk bed designs. From queen built-in bunk beds to bunk beds with desks underneath and bunk beds for adults, there is a bed design for everyone on the list.
Take a look at some of the best queen bunk beds 2023 for bedroom:
1. Queen Bunk Bed
Who said bunk rooms are only for kids? You can add one in your room to enjoy a comfortable and relaxing sleep. You can make one or two of your bunk beds a queen or get a full over queen bunk bed. You can notice the difference as a queen bed will make your bed more versatile.
2. Queen Over Queen Bunk Bed
Do you like sleeping with your kids? This can be fun, but sometimes there is a lack of space which can ruin sleep. Here's the perfect solution for you: Queen over queen bunk bed.
These beds will provide you with enough space so that you can peacefully sleep or spend time with your family comfortably. These beds are generally made with solid wood and are pretty sturdy as they're tested to withstand up to 800 pounds. This way, you can sleep with your kids while providing enough privacy.
3. Twin Over Full Bunk Bed
Suppose you're looking for something permanent. Try this idea. It's a twin bed over a full-size bed. Perfect for both young kids and teenagers. This is a twin over queen bunk bed that your kid can grow into as an adult. The bunk bed with queen on bottom will provide them with enough space to play and do other activities. Try soft colors for the bed to make the room feel youthful.
4. Twin Bunk Bed Over Two Queen Bed
Does your bedroom have enough space? If yes, why not build more bunk beds. The more, the merrier! Instead of putting two queen beds, add twin bunks crossing overhead them. This way, you can maximize the sleep space without taking much floor space and breaking your budget.
5. Twin Bunk Beds
This is another design of a traditional version of bunk beds. They come with solid railings to provide comfort to parents of small children. Bunk bed ladders are safer as the ladder can easily come off of the side. This makes climbing easier and safer at times. So, if you're looking for a traditional style bunk bed with safety, go with this one.
6. Triple Corner Bunks in Queen Sizes
These days queen bunk beds, especially triple bunk beds, are quite popular. They're available in many configurations, including stacked ones. You can change the layout and make it a corner "L" set up as a triple corner bunk bed.
Look at the above room; here, two Twin XL bunks up top and a Queen size bunk at the bottom have been placed in the room. This bunk bed with stairs provides easy access to reach the top bed.
7. Twin Over Twin Bunk Bed
Are you looking for bunk beds with storage? Look no more and get this amazing twin over twin bunk bed! Take a glance at the above bed; here, a bed with traditional vibes has been used. This is a twin size bunk bed with trundle and drawers. It has a clever and storage-efficient design. It also features a staircase instead of a ladder with a set of three built-in drawers.
8. Twin Over Twin Over Twin Bed Triple Bed
You may have seen a twin bunk bed or a triple bed, but have you ever seen a twin over twin over twin bunk bed? Yes, bunk beds are also available in this configuration. While taking the floor space of one, this triple bunk has three separate beds. These types of beds for small rooms and compact spaces.
If you have more than two kids or small bedroom space, this bunk bed idea will be perfect for you. This sturdy bed design has slender ladders attached to the front to access the top and middle beds.
9. Bunk Bed with Bookshelves
Is your room's interior modern or contemporary? If yes, the furnishings and decor should also be modern so that they complement each other. Look a
t this creatively designed bunk bed. This is a twin bunk bed over a full-size bed. It features stairs and built-in bookcases. We're pretty sure that your kids will love this timeless bed design.
10. Queen and Twin Bed
Apart from the children's bedroom, these types of bunk beds are ideal for guest rooms. Designed by Kristina Crestin, this setup consists of a queen-sized bed together with a twin bunk bed. Perfect for a small family or for four kids can easily fit into a bed setup.
Here the metal railings have been used to create rustic and farmhouse vibes. You can also change the decor and style according to your home interiors and your personal taste.
Here are some more queen bunk bed ideas and inspirations for you: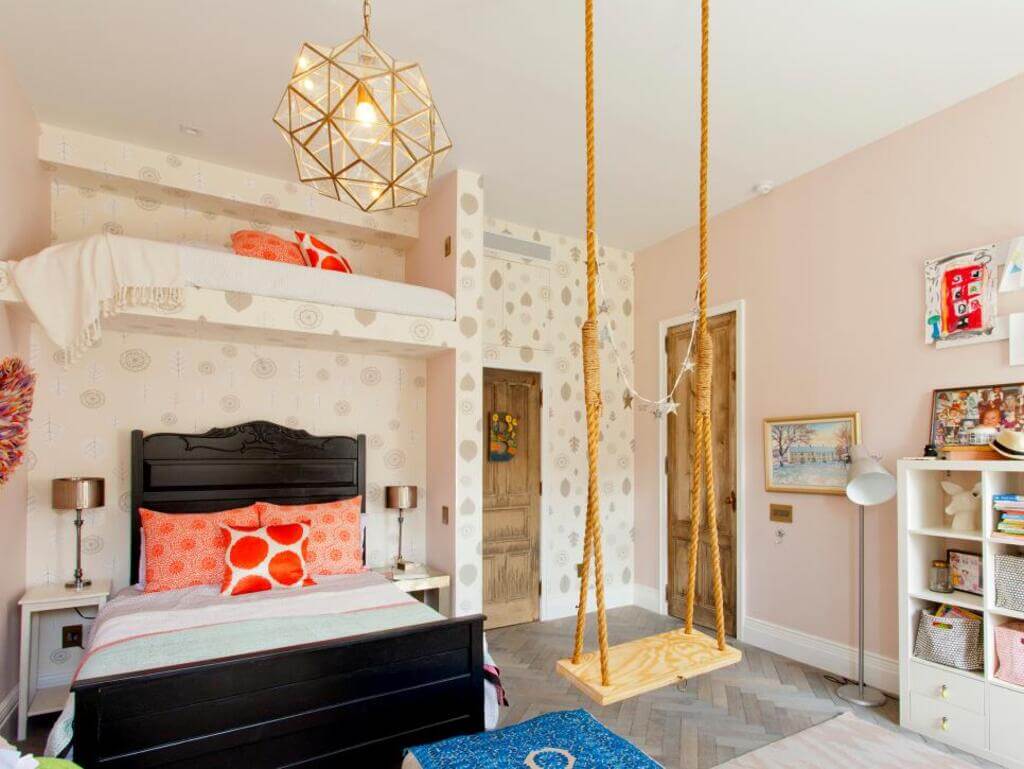 Pick the Right Bed For You
So which bunk bed design do you like the most for your bedroom? Different types of beds around the world has different purpose. There are a lot of things to consider before finalizing the bed for your room. Ask yourself questions like: Do you want a bed with storage? What material do you want for your bed? Do you want a twin or queen bunk bed? Also, consider your current bedroom decor and interiors and find a suitable bed to match!
So, this is all about the queen bunk beds for adults and kids. I hope you've found this guide of awesome bunk beds helpful in identifying exactly what you may want for your home. Apart from these styles and designs, you can also customize the bed exactly what your kids want. If you found this blog interesting and inspiring, share it with your friends and family so that they can also spice up their bedrooms with these amazing twin and queen bunk beds.