Styling Options and 5 Design Ideas for Queen Loft Bed
A loft bed is a bed that is accessed through stairs or an in-built ladder and has room beneath it for either a desk, fort, storage, or a play area. It gives a compact room more extra space and for a kid's room, placement of a loft bed can make the child truly feel like the king of his castle.
Since queen size loft bed allow you to optimize space in the room, loft beds are a great pick for youngsters, teenagers, and even grownups. Since these beds are raised off the floor, you can place a desk, dresser, or tiny sitting space below them—or an additional bed if you choose.
When you have a queen loft bed in a space, it will add luxury to a bedroom space. It's a joyful, comfortable environment, and the design should reflect that. Safety is a major issue when buying a loft bed queen size. Whether it's wooden or metallic, you'll want to seek a bed that's composed of robust materials that can handle getting climbed on every day. 
Other factors to take into account are the dimensions of the bed and any built-in amenities, such as a desk, storage, ladders, or even a slide.
Considerations Before Opting for Queen Size Loft Bed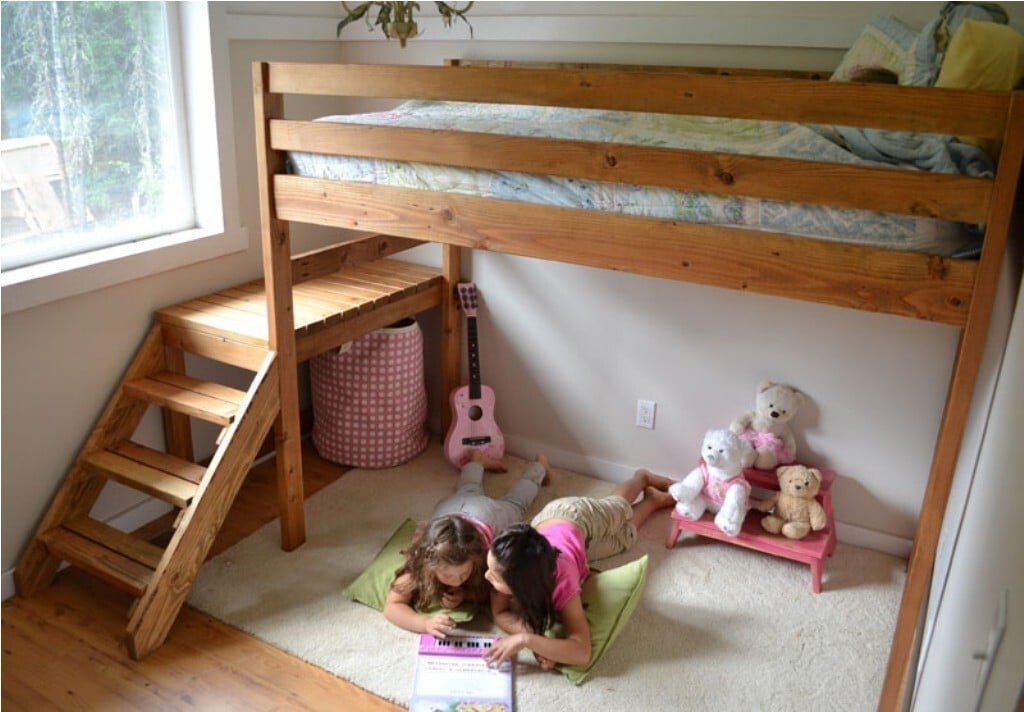 Source: Pinterest.com
Lofting your bed provides more room, which is very important in tiny dwellings. This may mean finally buying that stylish home office setup you've always wanted or adding a sleeping sofa for weekend visitors. 
Many design options are explorable with queen loft bed, however, there are a few key considerations to keep in mind before buying one:
Size
Loft beds aren't only built-in twin sizes for kids; full-size loft beds are also offered for older users. Pay close attention to the weight limitations while you're looking for your queen-size loft bed.  Some loft beds can support up to 1,000 pounds, while others are limited to roughly 250 only. When you're completing the math, don't overlook the weight of your bedding.
Material
Durability is crucial when it comes to materials. You want to ensure it's well-made and doesn't have a cumbersome design. It should have resources and elements enough to keep it stable and secure, but not too many additions that it takes up more space than necessary.
Although some contain parts of medium-density fiberboard (commonly known as MDF) or engineered wood, the most prevalent materials for queen loft bed frames are metal or wood. Metal frames are often lighter than wooden frames, but they have a relatively low weight limit and maybe less pleasant than timber ladders or stairs.
Additional Features
The goal of loft bedding is to free up the space in the room for additional activities, and some loft bed designs are better equipped to do so than others. Underneath some lofted beds, you'll find desks, closets, or storage. Although these beds are more pricey, if you want to have all of your furniture coordinated, it may be worth investing in one with all of these added amenities.
Distance between Loft Bed and Ceiling
Generally, there should be a minimum of 30 inches gap between the mattress and the ceiling. It will give the bed's occupant adequate space to sit comfortably. If you're not confident if a queen loft bed will fit in your house, read the description of the product carefully since most raised beds have a minimum specified ceiling height.
Advantages of Incorporating Loft Bed Queen Size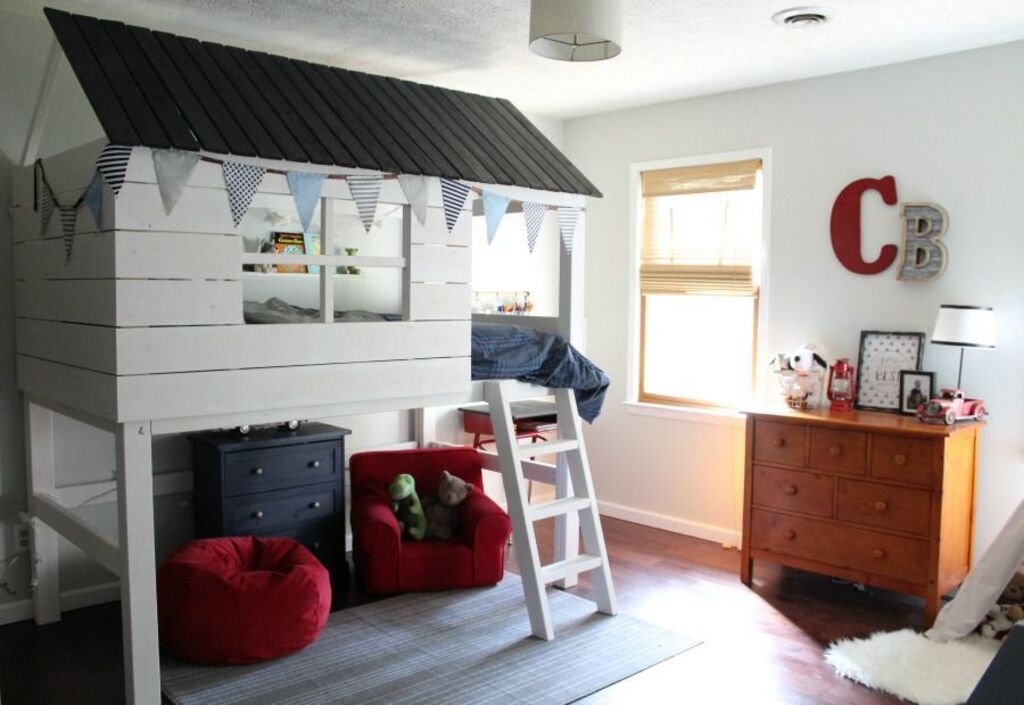 Source: Thesprucecrafts.com
The major advantage and purpose of adding a loft bed are that it frees up space to incorporate additional activities. Other than acting as a comfort space for naps or resting, loft beds offer versatility by incorporating various functions.
A queen loft bed with a desk can serve as your work from home spot or me space allowing you to concentrate and focus better. As the bedding is elevated from the ground, it gives you the option to arrange other furniture items below the bed.
Either the below space can act as additional seating or work area, or it can serve as extra storage space in a compact room setting. It can act as a play zone if the queen loft bed is installed in a kid's room.
A queen loft bed provides a comfortable space for adults to sleep as twin-size or full-size beds generally prove to offer discomfort. The aesthetic and unique bed design can transform any bland room into an interesting one leaving a statement.
Thus this space-saver option allows you to take advantage of the extra space by setting it up and arranging it as per needs and personal preferences. 
How to Build a Queen Size Loft Bed?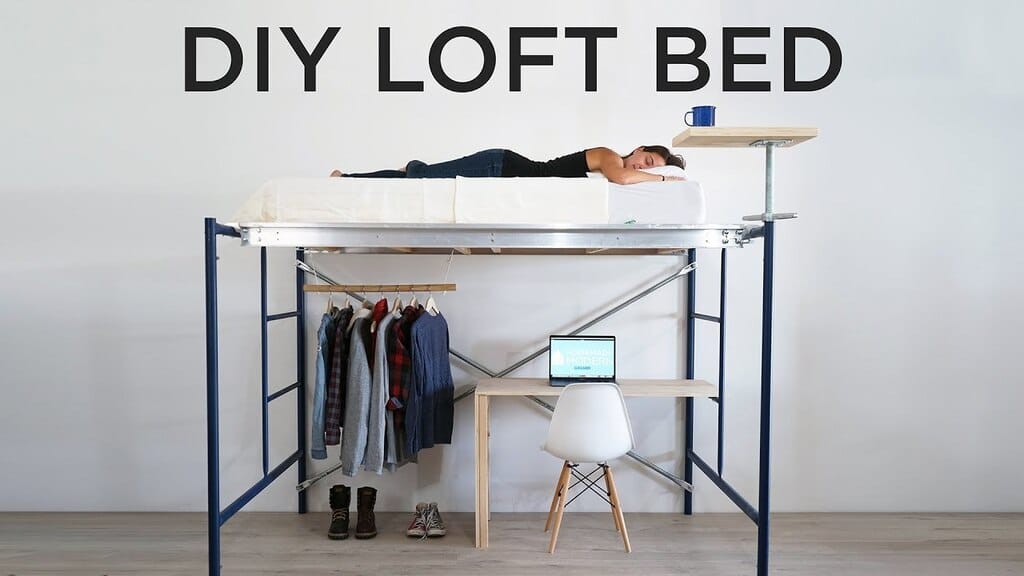 Source: Thesprucecrafts.com
The key feature of a loft bed is that it is elevated from the ground. A simple elevated bed can be constructed and additional detailing can be done like adding a drape, curtain, or rope ladder.
These changes can be customized as per personal taste and requirements. No matter what material you opt for, make sure the dimensions match the queen size and the space serves as your personal comfort nook in the bedroom. 
7 Ideas to Amp Up the Aesthetics of Your Queen Loft Bed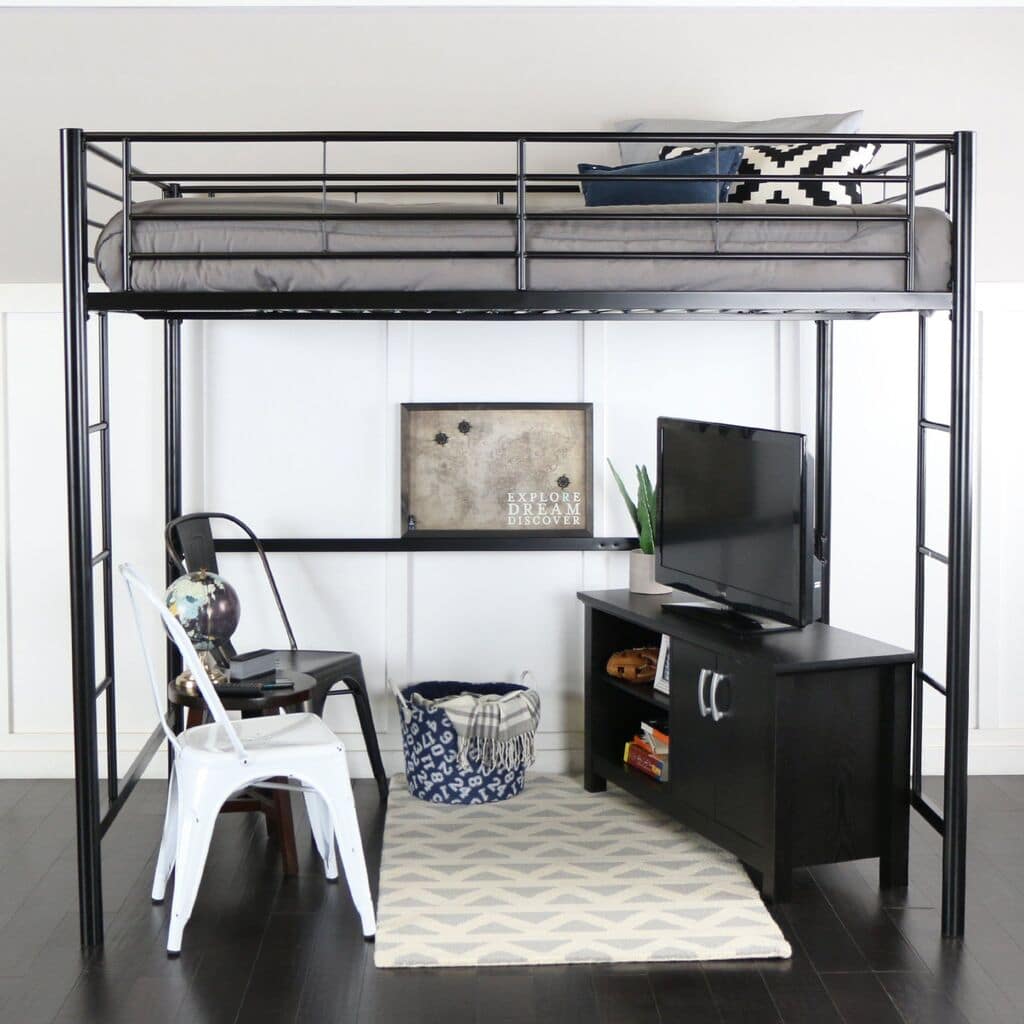 Source: Pinterest.com
A raised bed also offers a lovely alcove with many decoration possibilities, and it might be the key to giving your cramped sleeping quarters a more sophisticated appearance. 
To create a trendy upstairs compartment, check out these 7 inventive methods:
Add Indoor Plants
Plants improve the quality of life in a variety of ways. To add some gorgeous foliage to your space, add a trailing ivy plant on the border. To avoid any unpleasant falls, you might also choose an artificial version.
Place a Hammock
The supreme life aim is to relax in a hammock, so why not make it a reality using the area beneath your queen loft bed?
Mismatched Materials
To achieve that designer decor style, consider substituting pieces of your loft bed, such as the wooden staircase with a milder tone or the metal railing.
Add Curtains
If you choose to utilize the bottom room as storage, a set of curtains will screen out any unpleasant sounds and conceal your belongings.
Clashing and Contrasting Carpets
To define the area between your bed and the remainder of the room, choose two distinct area rugs. For extra drama, use contrasting patterns and colors.
Hang Tapestry
If you don't want to invest in curtains, a tapestry is a more adaptable option. It may be stretched over the ceiling as an umbrella or placed behind the bed as a temporary curtain.
Place Futon
On the bottom bunk, there are beds with inbuilt futon designs. However, you may always do it yourself and use your preferred sitting mat, which can be readily detached when not in use.
5 Functional & Appealing Queen Loft Bed Designs
With the latest trends and designs, choosing the perfect queen loft bed for yourself might be overwhelming. The final goal is to have a cozy and welcoming space with the benefits of additional space in the room.
Here are 5 great queen loft bed designs to aid you in finding the perfect bed for your comfort. 
Metallic Queen Size Loft Bed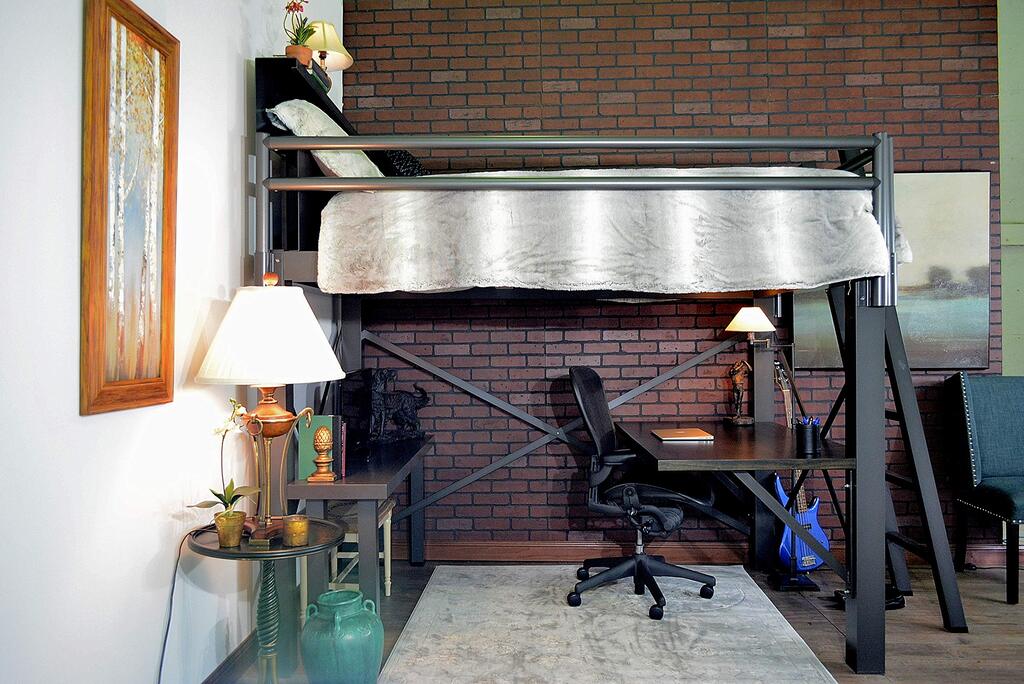 Source: Abedderworld.com
This metallic queen loft bed frame accommodates a mattress on the upper end and a ladder for convenient access. It is one of the most durable loft beds, capable of supporting up to 2,000 pounds. The metallic frame is only available in the queen size of the loft. The design focuses on adult-style bed setups that give more space and are made to withstand even the heaviest folks every day.
Wooden Queen Loft Bed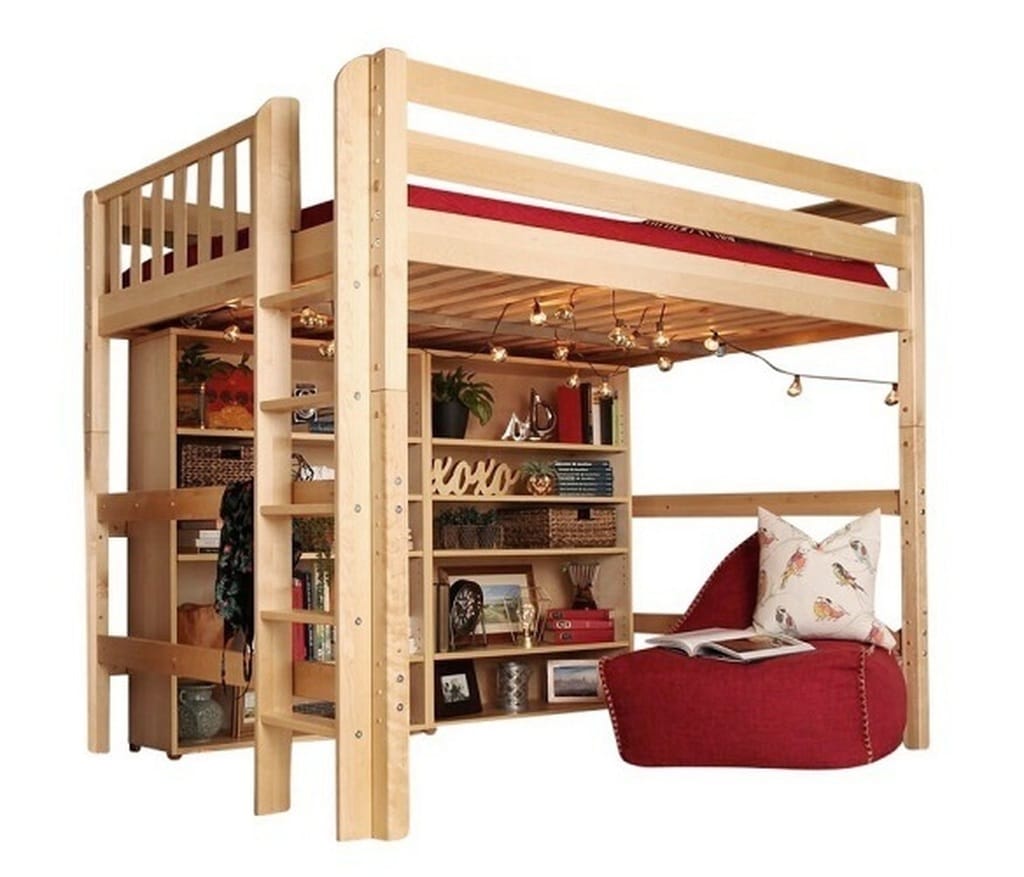 Source: Abedderworld.com
Wooden queen loft bed offers a wide range of designs with several accessorizing components and add-ons. You may select from a variety of workstations, ladder types, and heights, among other options. This loft is the most adaptable and cost-effective.
Chicago Loft Bed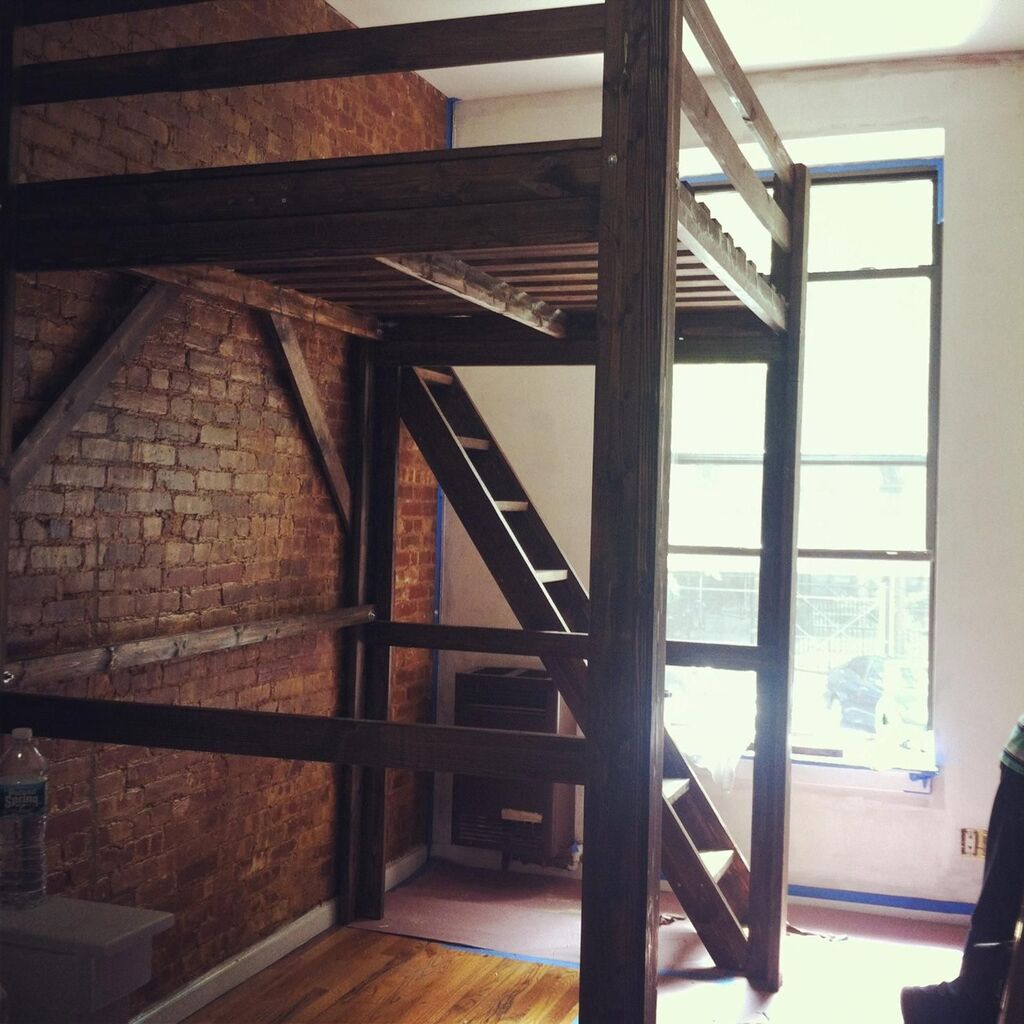 Source: Abedderworld.com
This queen size loft bed is handcrafted and may be adjusted to match your unique design and height needs. It is available in a choice of colours and finishes. The longevity and strong construction of this bed make it worth considering. 
Solid Hardwood Queen Loft Bed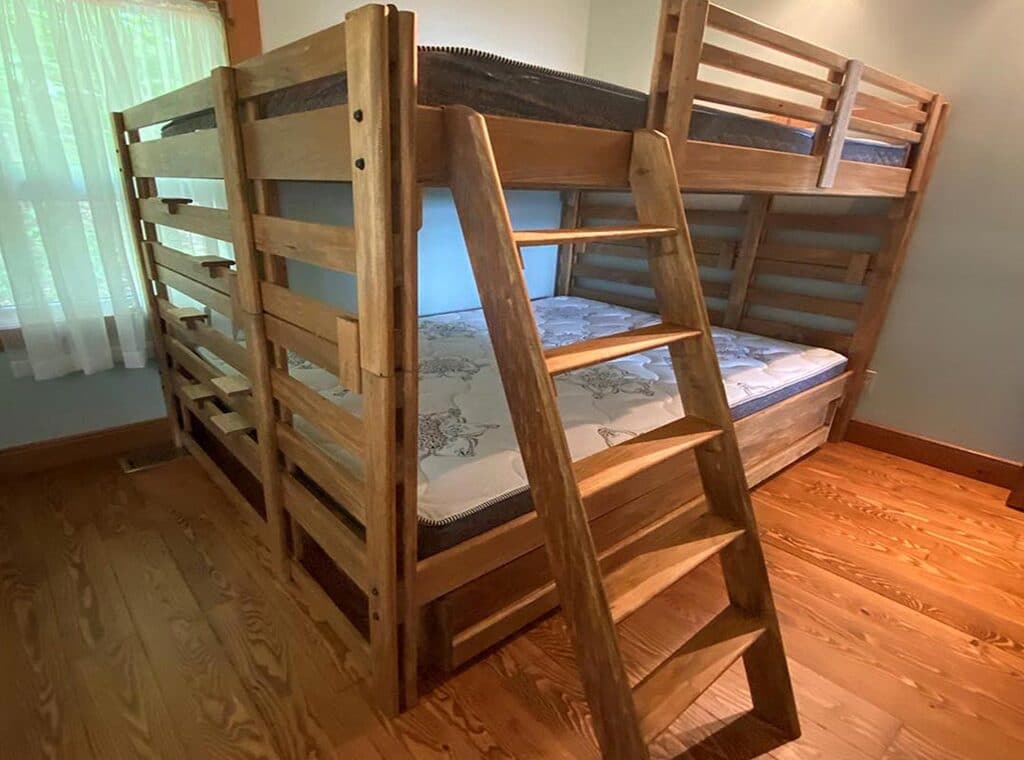 Source: Abedderworld.com
This bed makes the most of the available space. A queen loft bed is included, as well as a built-in workstation, ladder, and shelf unit. You basically get a two-in-one bed and workstation setup. This bed is available in a range of sizes and finishes to complement any decor.
Wall Loft Bed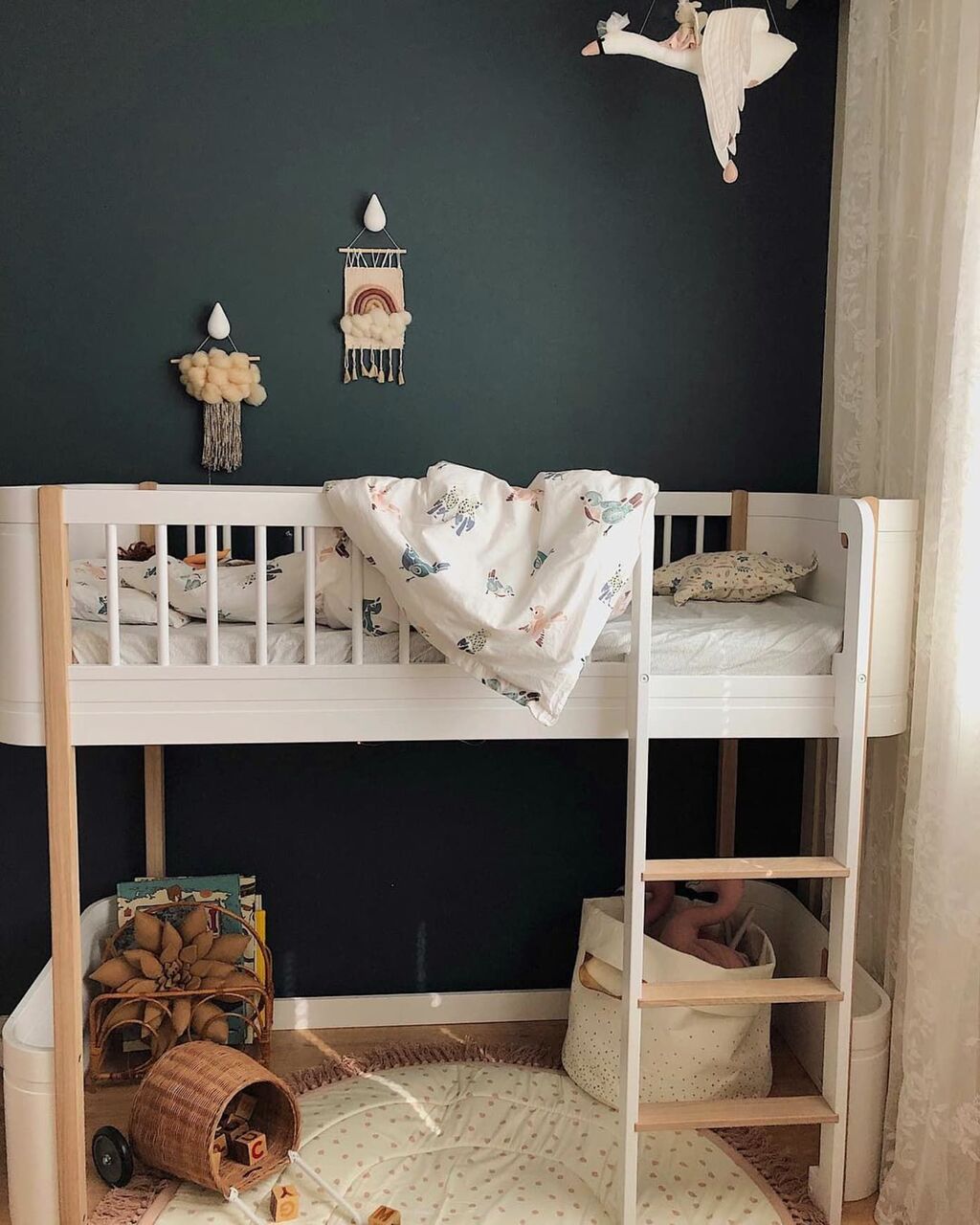 Source: ApartmentTherapy.com
A snug nook is a great location to read and even a better place to relax. This loft bed is designed to resemble a contemporary wooden cube, allowing it to act as both a fascinating focal point while being subtle.
Stylish Getaway- Queen Loft Bed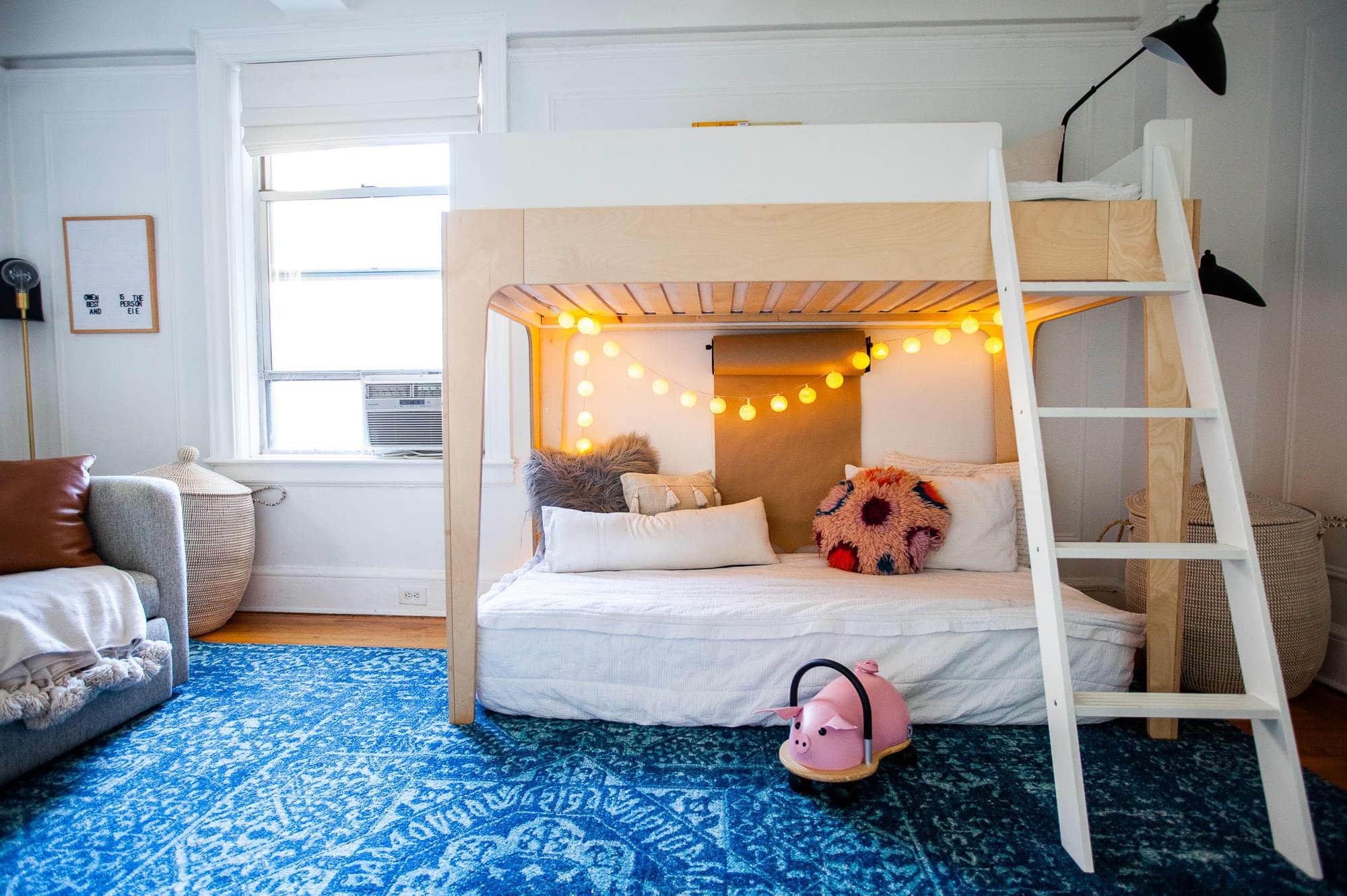 Source: ApartmentTherapy.com
Queen loft bed is a uniquely appealing escape from the daily hustle into the world of comfort and dreams. Make sure to opt for the option that saves you extra space in the room and fulfil the set of requirements along with offering a great relaxation spot.
To know more about Home improvement ideas, Cleaning and decoration tips visit ArchitecturesIdeas
For daily updates, follow us on our Instagram page @architectures_idea.