The Secrets to Making the Bedroom Without a Bed Frame Look Good
Though many people prefer adding a bed frame to their bedrooms, you can still enjoy a good night's sleep by choosing a floor bed. Such beds may seem untidy, but styling them well can make the bedroom stand out. You don't have to sacrifice comfort by overlooking the bedframe. Here are some of the décor tips that you can use to elevate a bedroom without a bed frame.
Add Rugs
Some people like sleeping on the floor due to the extra comfort it comes with. This can also help people with back problems. You can make such a bedroom stand out by adding a rug. This great design element can make the bedroom look good even when it does not have a bed frame. 
You can place an elegant-looking rug under the mattress. This can set the tone of the room and create a great ambiance. It also prevents the mattress from being in direct contact with the floor.
Get a Good Mattress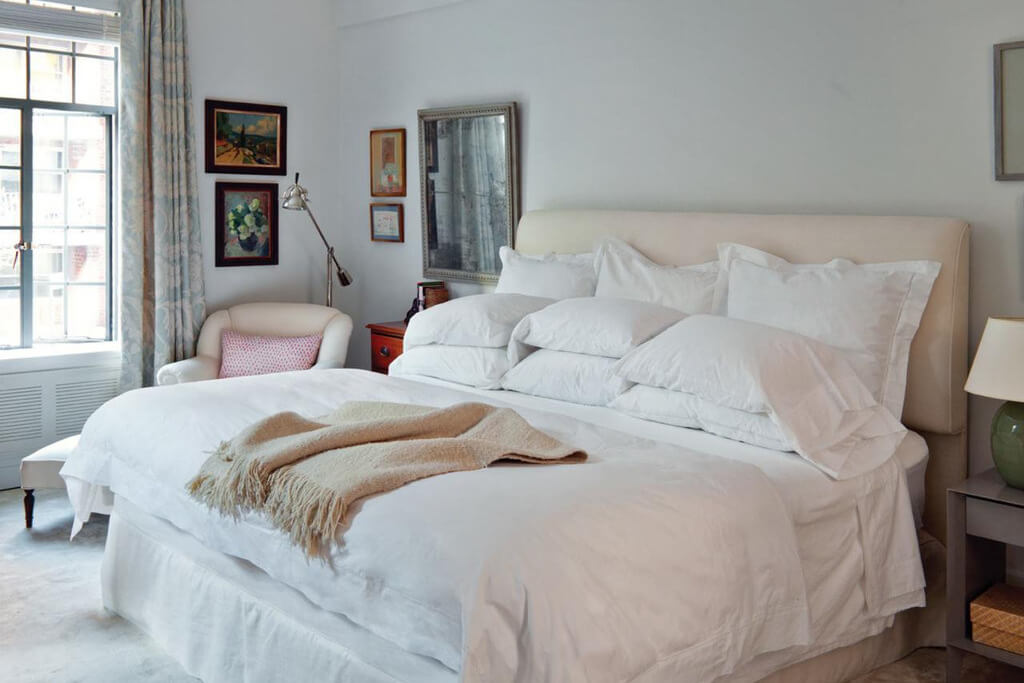 Source: alomuabannhadat.vn
The kind of mattress you choose can determine if you enjoy sleeping without a bed frame. Go for a quality mattress that you can use without the need for a bed frame. Consider the materials used in making the mattress and also compare the prices of different models before making the purchase. Paying attention to Shifman customer ratings can help you find out whether a certain mattress is worth purchasing. 
Pick the Right Bedding
When you don't plan on investing in a bed frame for your room, you should ensure that you get the right bedding. This can pull the bedroom together and create an attractive space for relaxing. Consider linen bedding since it is soothing and it can help dress up the bed. 
You can also style the bed with various textures. Consider adding a few pillows to the bed to make it cozy. You can also add a luxurious comforter to the bedroom. Pick colors that blend with other elements in the bedroom. You can even match different patterns from a similar color palette. 
Add Plants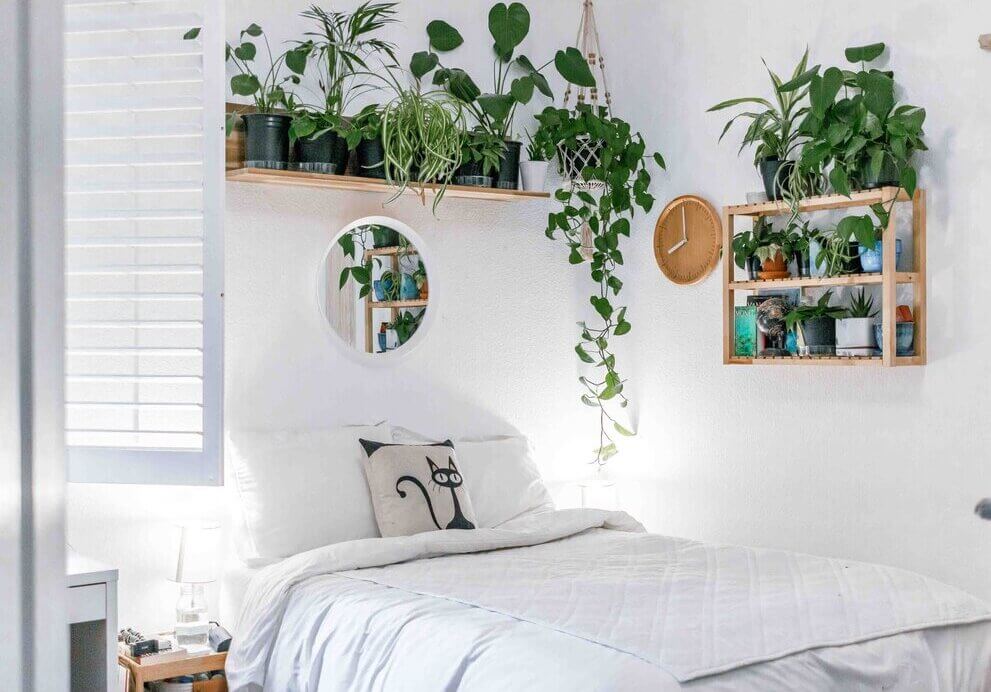 Source: squarespace-cdn.com
You should also consider adding plants in a bedroom with no bed frame. This is a versatile element that helps in decorating the room and purifying the air. If you have a favorite plant, consider adding it to the bedroom. This can make the room feel alive and fresh. 
Feel free to display plants in different ways in such a bedroom. For instance, you can choose to place the plants on a shelf or hang some of them in planters. As you look for the right indoor plants for your bedroom, you can also get some decorative pots to place them. Choose pots with different textures, shapes, and colors which go well with your bedroom's aesthetic.
Invest in Some Art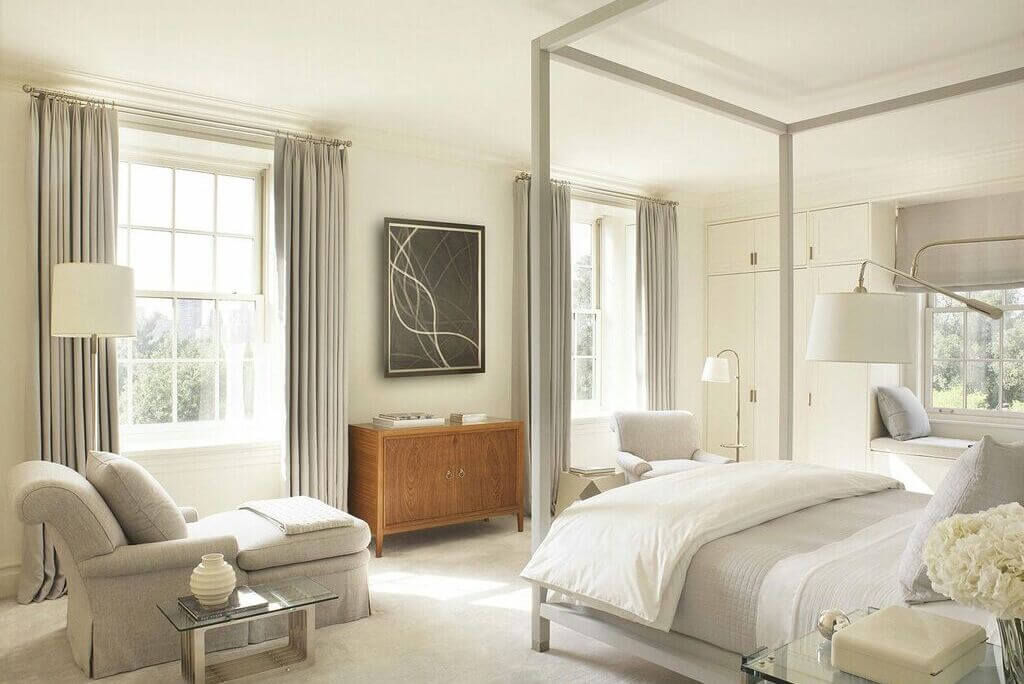 Source: wattpad.com
A bedroom without a bed frame does not have to feel empty and boring. You can make it appear classy by hanging some art. Wall art does a great job of adding vibrancy and color to a bedroom. You can also use wall art to express your style and make the bedroom feel personal. 
Take your time to find great art that you can hang in your bedroom. Select the prints you like most as you consider other elements in the bedroom. You can also choose wall art in different frames. For instance, oak frames and gold frames make bedrooms with no bed frames look fantastic.
Also Read: 11+ Latest & Stylish Bedroom Ceiling Designs & Styles
Get a Bedside Table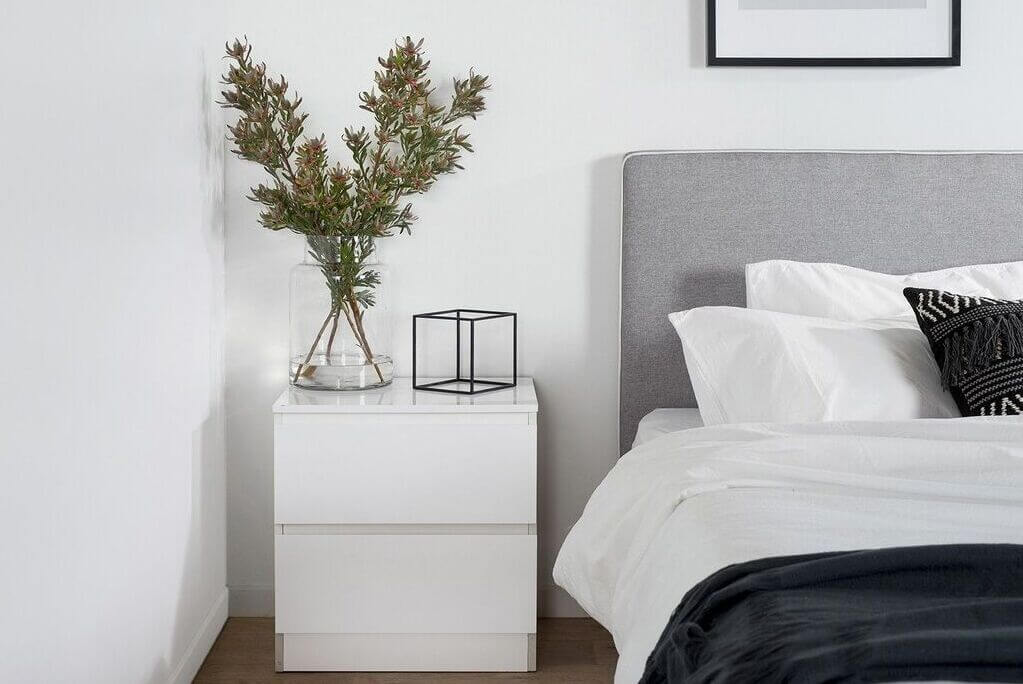 Source: pinimg.com
Just because you are foregoing a bed frame does not mean that you don't need a bedside table. You can still have a floor bed and a bedside table next to it. This can help you place the essentials that you use at night, such as glass, a watch, or a phone. You make the bedroom more stylish by choosing a good-looking bedside table. You can, for instance, go for a classic table or a coffee table that will not occupy too much space in the bedroom.
Decorate with Vintage Objects
Complete the bedroom by including some vintage objects. This can help decorate the room and make it unique. Most vintage pieces add character to a bedroom that does not have a bed frame.