Drift Bridge: A Floating, Curved Branch Looking Pedestrian Bridge in Texas
Every day, new mind-blowing structures in various parts of the world are unveiled by brilliant architects and designers. We always try to give you in-depth and recent updates on these latest buildings and architecture. Yes, you guessed it right, today we've come up with another incredible architecture. Designed by Volkan Alkanoglu, this is a sculptural timber bridge known as 'Drift.'
Just look at the above picture; isn't it a fabulous piece of art with meaning and practicality? Let's know more about this amazing building.
Drift Bridge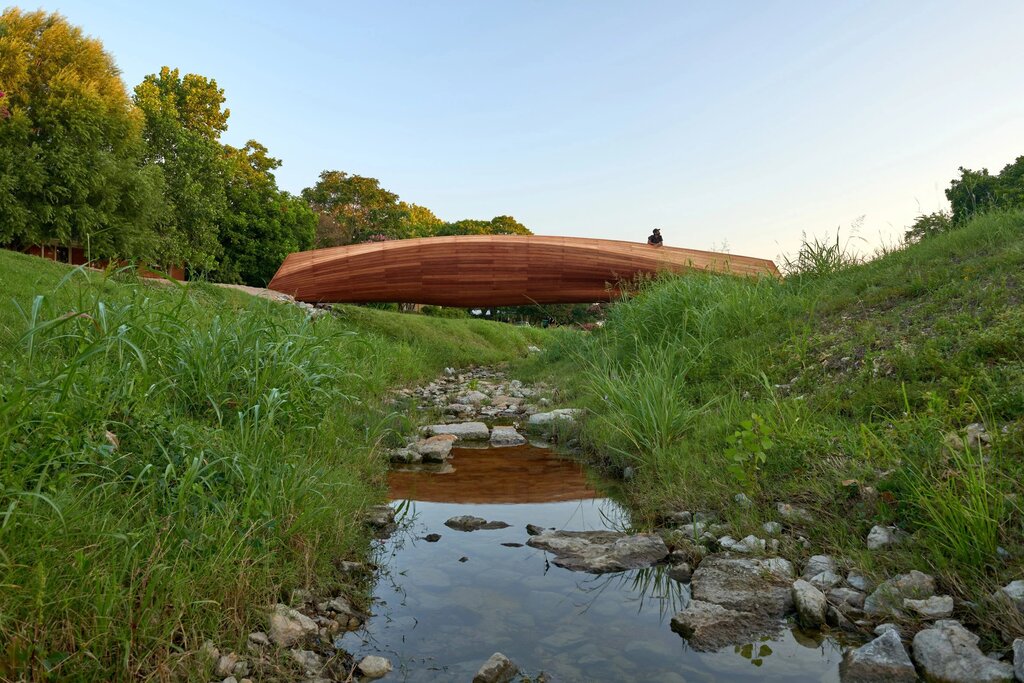 Source: dezeen.com
Project Title: Drift
Architects: Volkan Alkanoglu
Location: Fort Worth, Texas, US
Year: 2021
Type: Pedestrian Bridge
Located in Fort Worth, Texas, United States, this structure is a sculptural wooden pedestrian bridge, "Drift." Designed and developed by Portland designer Volkan Alkanoglu, it is explicitly built to cross a small stream in Fort Worth. 
Design & Concept Of Timber 'Drift' Bridge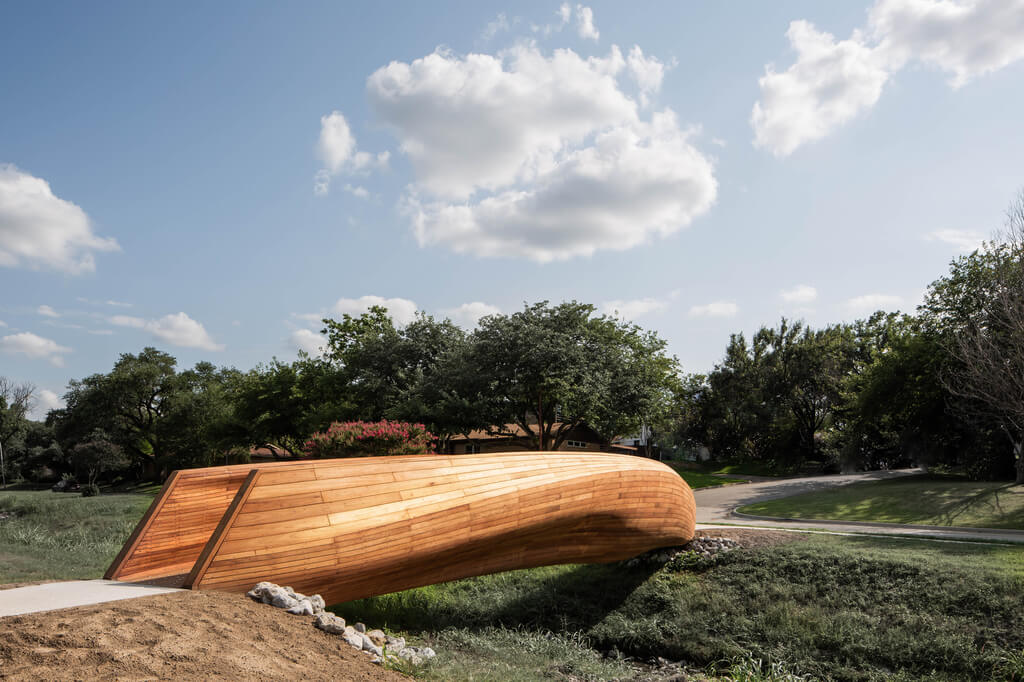 Source: adsttc.com
This bridge is made entirely from timber and steel. You'll be surprised to know that this has been fabricated off-site. Later all these parts have been installed on the site and the entire process took only a few hours. Pretty impressive, right? 
From a design and construction point of view, this bridge is an innovative and perfect example of plug-and-play urbanism. This could be an inspiration and the subsequent emerging sustainable and affordable design strategy in the field of architecture.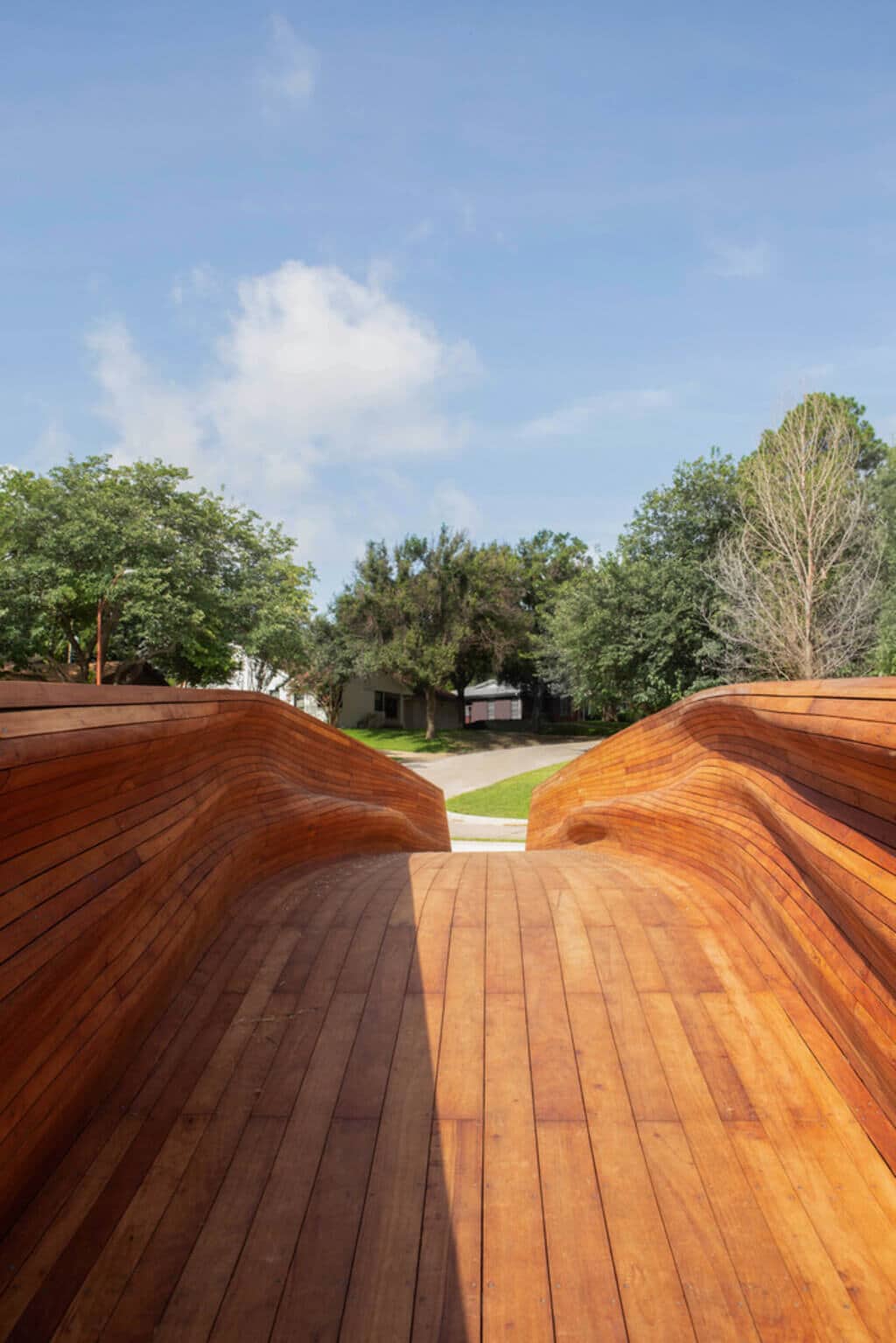 Source: adsttc.com
This strategy proposes a process in which all the building infrastructural elements will be constructed off-site and later fixed or dropped into the desired place. 
Studio Explains, "Each plank was custom cut, then stack-laminated into one large, volumetric, undulating form."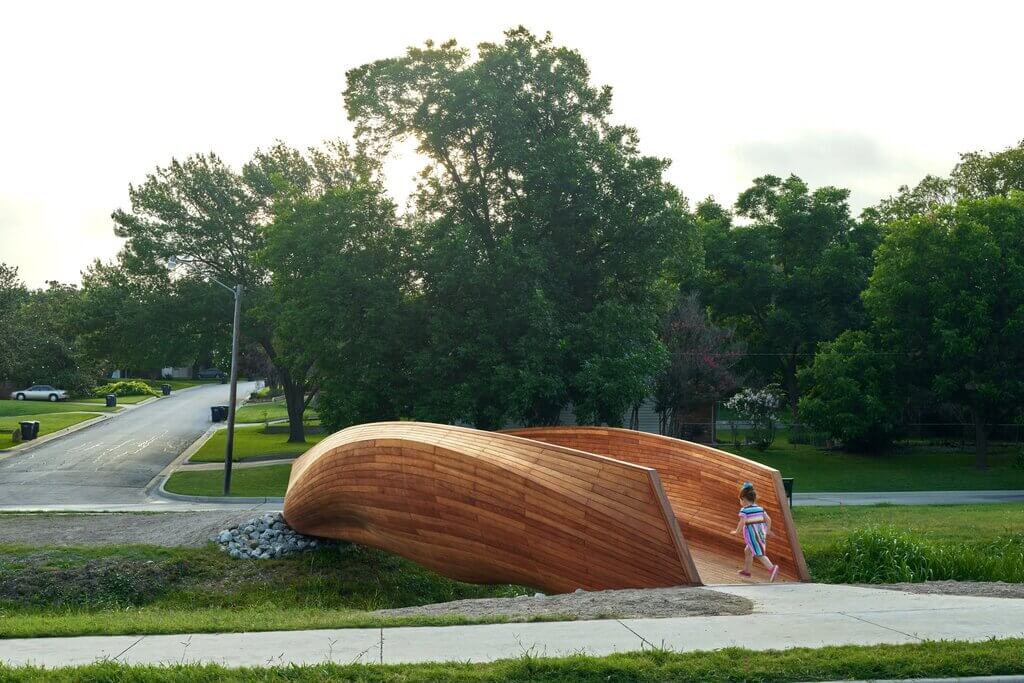 Source: dezeen.com
We can say that the fabrication and installation techniques can now be applied to a wide range of communities at the same time. 
Alkanoglu explained, "In this way, the bridge could be fabricated off-site, transported to the location by an oversize truck as one piece, and lifted into place with a crane." He further added, "The installation took no longer than a couple of hours."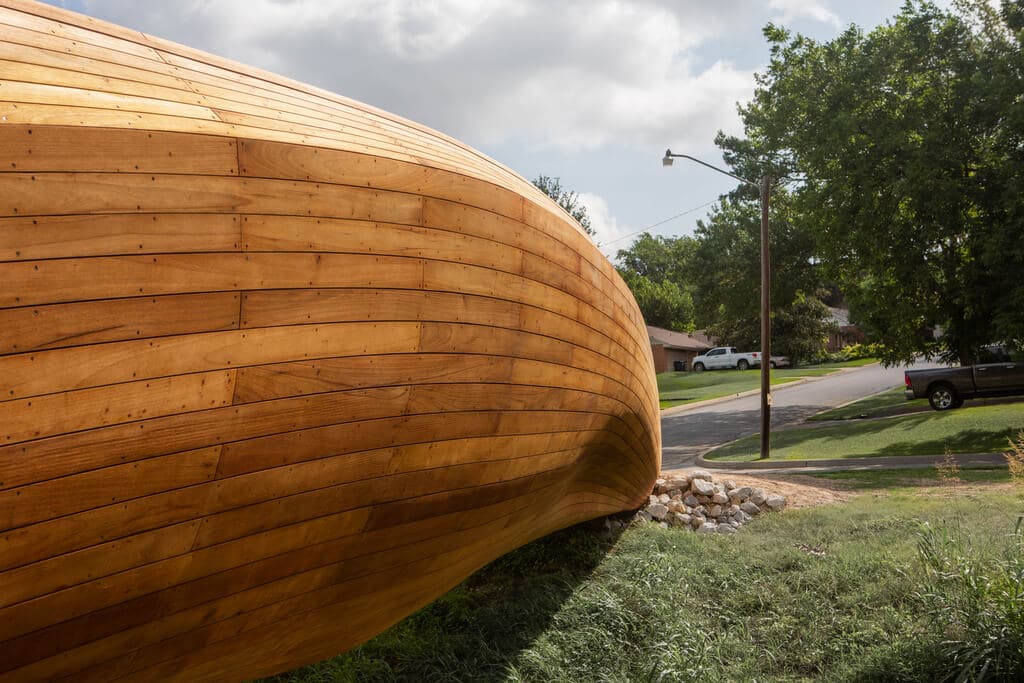 Source: adsttc.com
Construction Process of Drift Bridge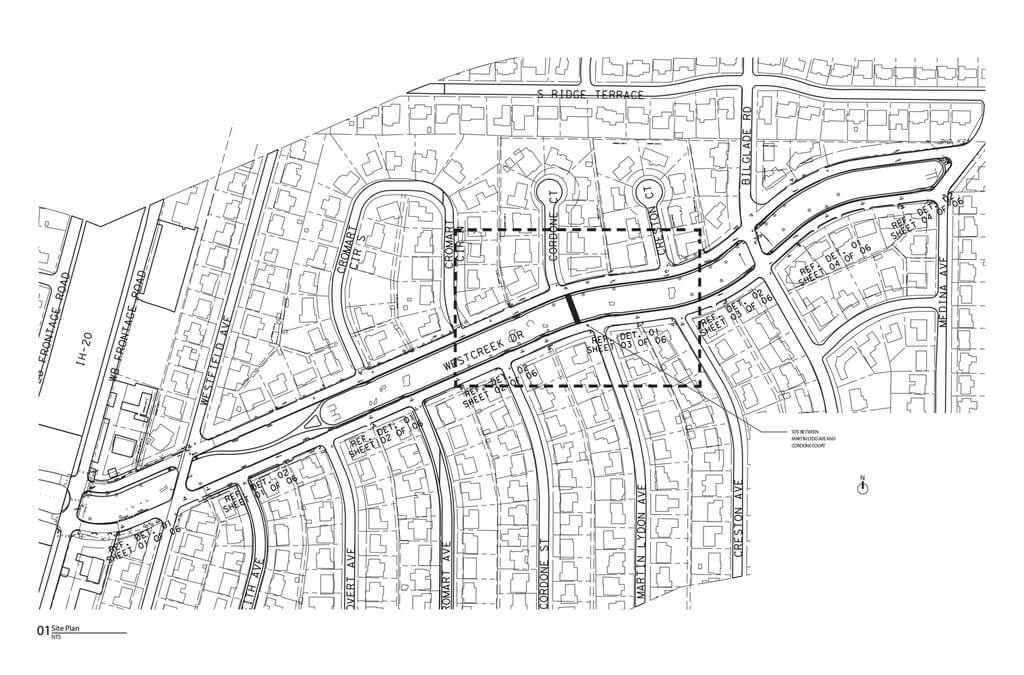 Source: adsttc.com
As we already told you that this bridge was built over a lake to connect the two areas. Actually, on one side, the city's South Hills residential area is present, and to connect with the two parks and communities along with the Trinity River Trail system, architects have come up with this idea.
According to architects, "DRIFT stands at the intersection of public art, civic design, architecture, and infrastructure. It is a community-driven, site-specific project that bridges a physical divide — a creek — between two halves of one neighborhood."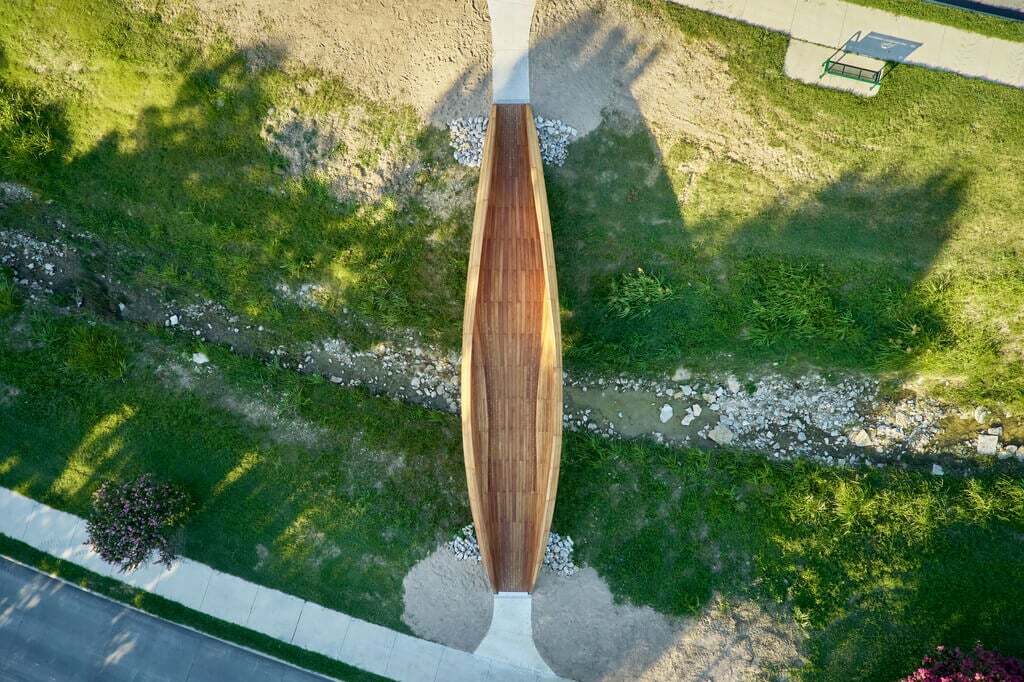 Source: redd.it
This residential area has mostly modest post-war ranch-style homes. This cedar bridge project has been specifically developed and commissioned by the city to connect these two communities. It is also part of a Public Arts Programme.
At first glance, this 62-foot-long (19 meters) bridge will appear like a boat from underneath and a tree branch from overhead. Some people also say that it resembles a smooth, curving branch of driftwood or a bowed bentwood splint.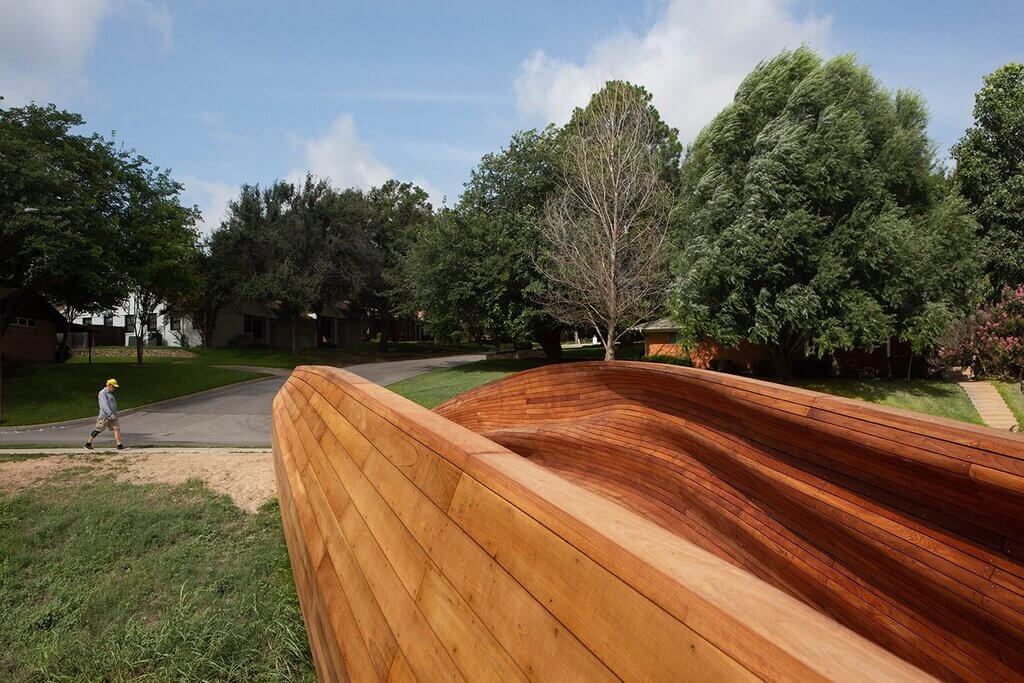 Source: archilovers.com
Whereas when you look from the other angles, it will appear like a ship's hull, with a convex underbelly. This concave hull also contains a pathway, benches, and railings. This is because the overall design is highly inspired by the intricate construction of shipbuilding and shipbuilding techniques.  
Alkanoglu explains, "We used a series of digital and algorithmic software to design the bridge, including the steel substructure and the timber planks. Each piece of the bridge is unique and custom fabricated."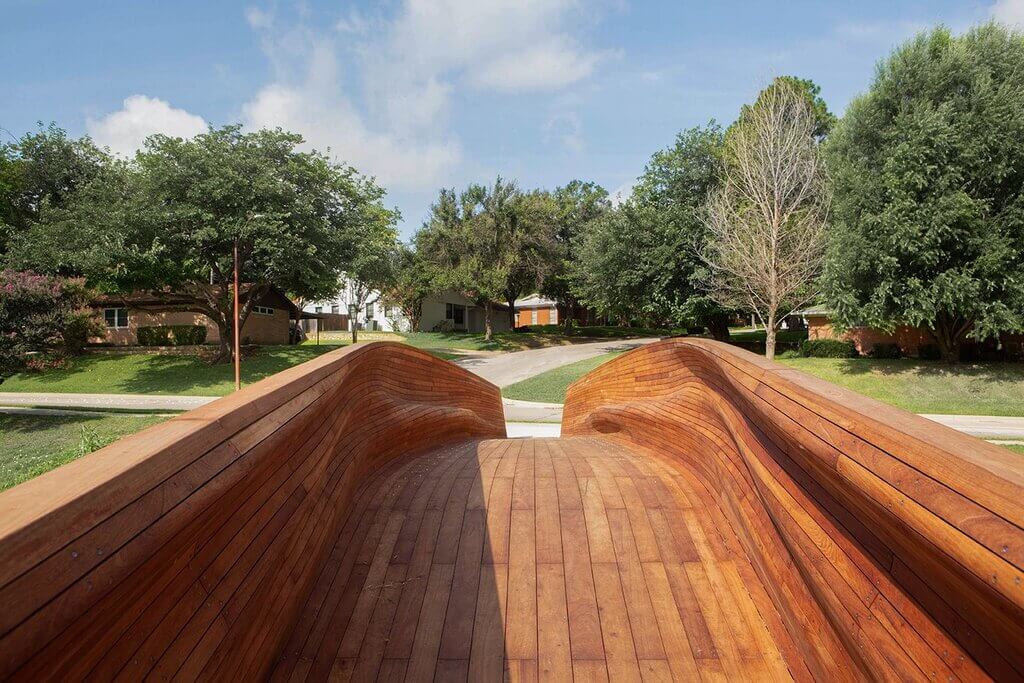 Source: archilovers.com
Interiors & Exteriors of The Wooden Bridge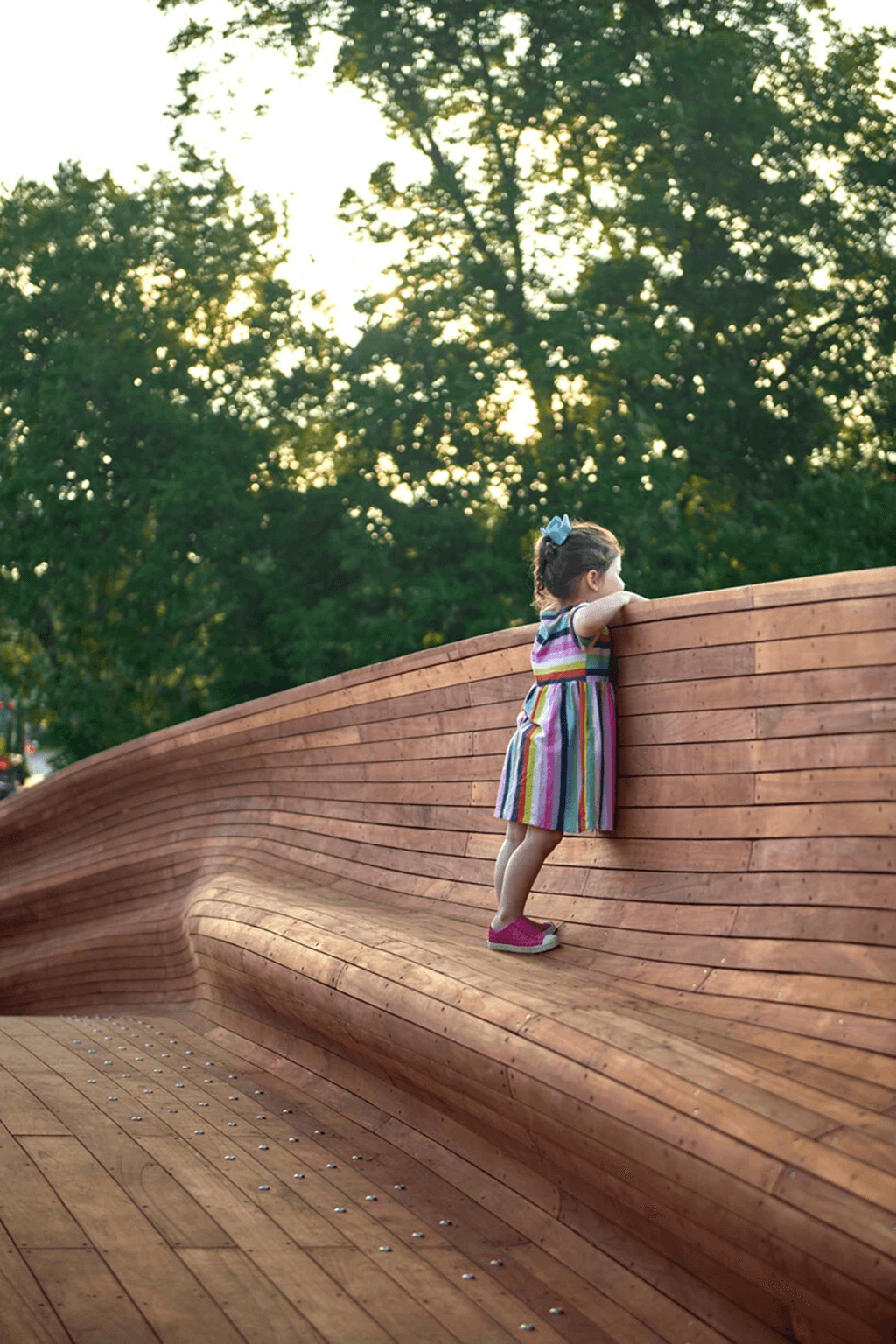 Source: pinimg.com
Look closely at the inside of the bridge structure; you'll see a series of contours. These lines create the final structure that also looks like one continuous wave. Along with that, the drift bridge also has irregular undulations and curves for seats and support.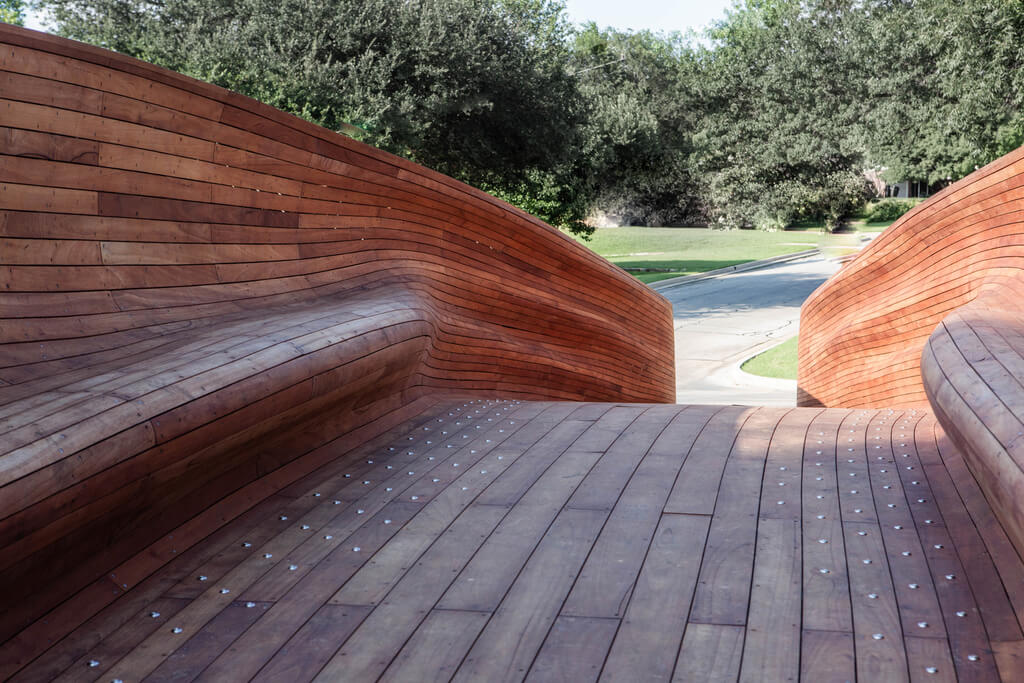 Source: adsttc.com
There is an 80-foot-wide culvert at this location, and there is no place to cross these seven blocks. That's why Oregon-based designer has come up with this bridge idea and implemented three central design principles.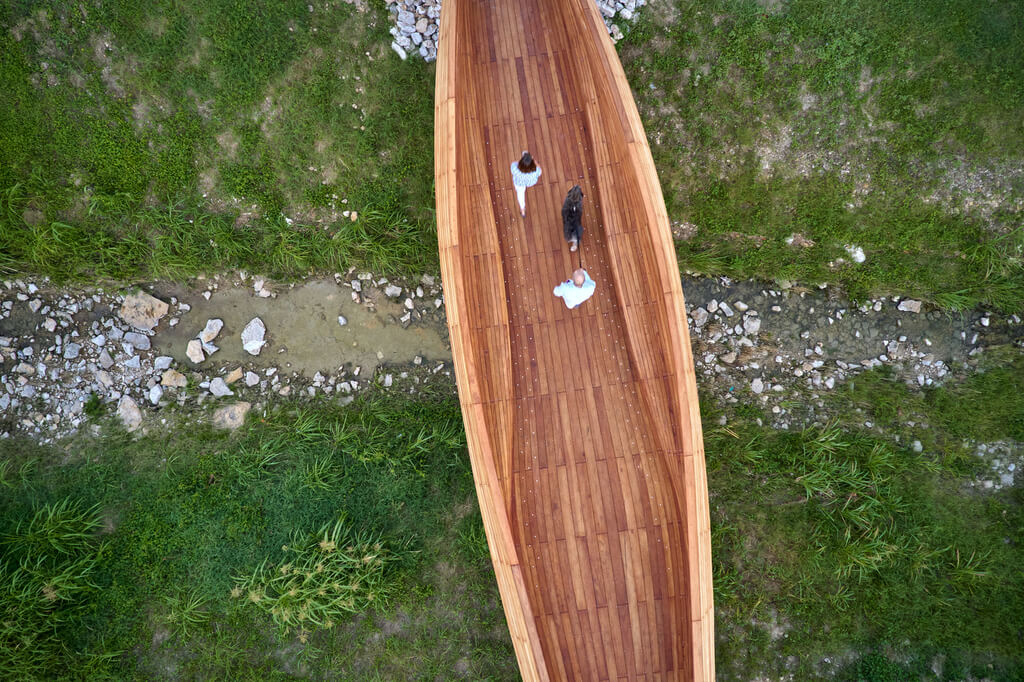 Source: adsttc.com
According to the designer, these design principles are:  
Use sustainable material and minimize the impact on natural habitat on-site; 

Reduce project cost through

innovative design

and project logistics; 

Create a sense of place and connect the community.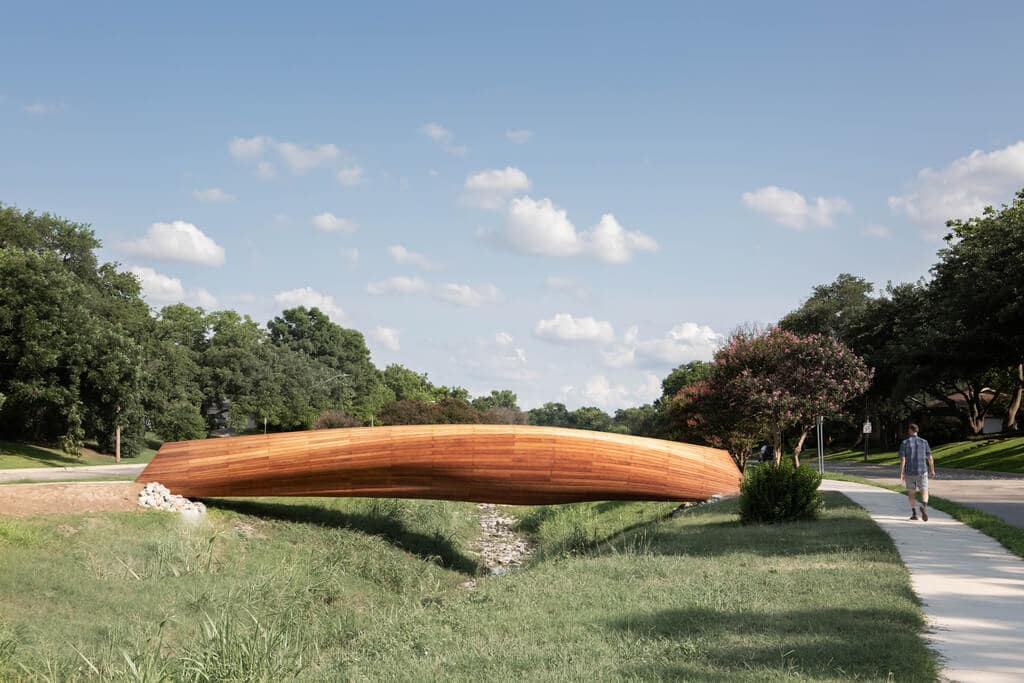 Source: adsttc.com
Construction Cost of Undulating Wooden Bridge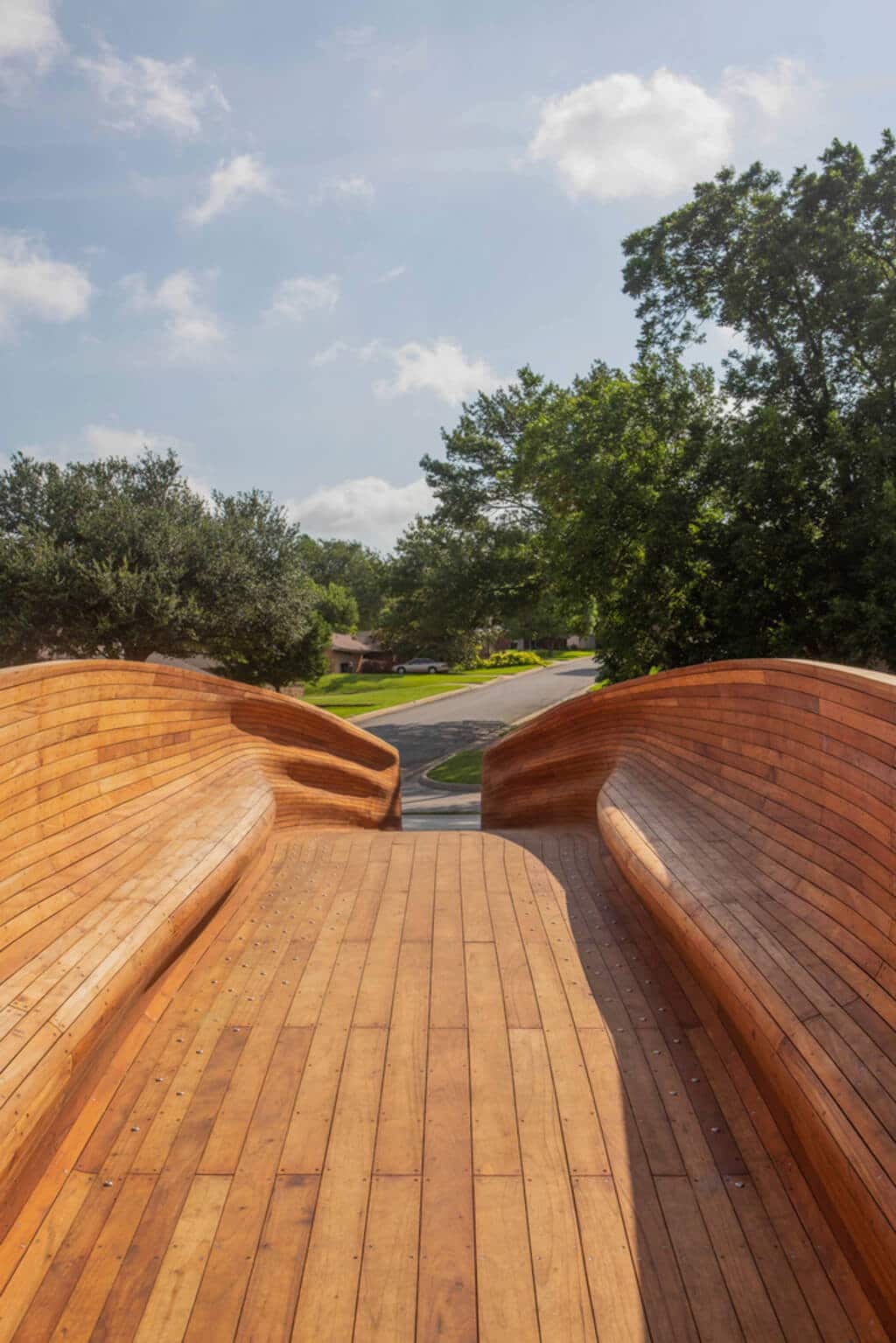 Source: adsttc.com
Can you guess the overall building cost of this bridge? It's is around $375,000, which is a fair sum for an infrastructure project like this at this scale.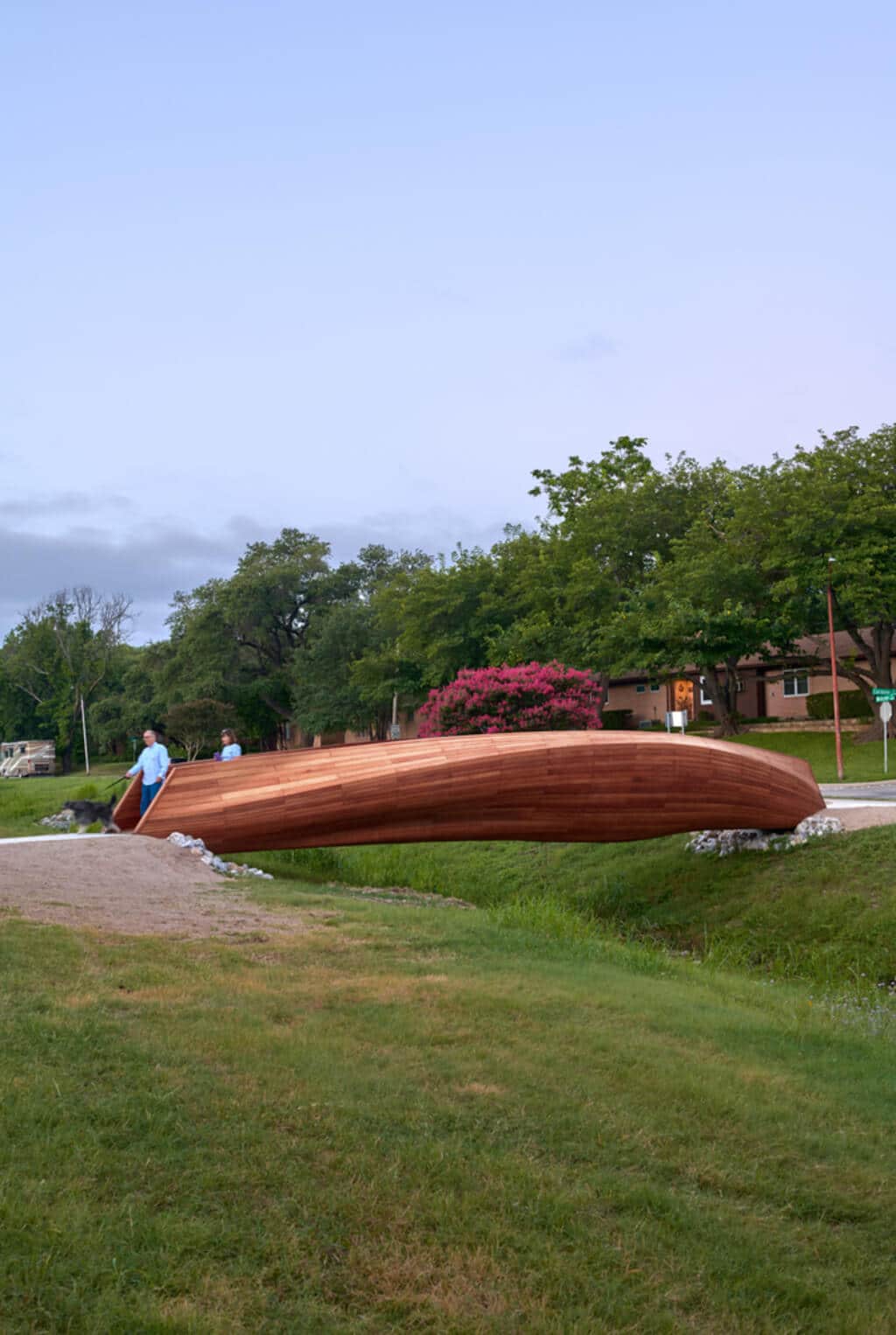 Source: adsttc.com
This boat-inspired design is finalized from the other three finalist proposals. All of them are inspired from the Westcreek site and its immediate surroundings. Another fascinating about this project is that it can change according to the season! Yes, you've read it right! 
According to the designer, "This creek bed shifts from a container for flowing water to a dry basin filled with driftwood and felled plants."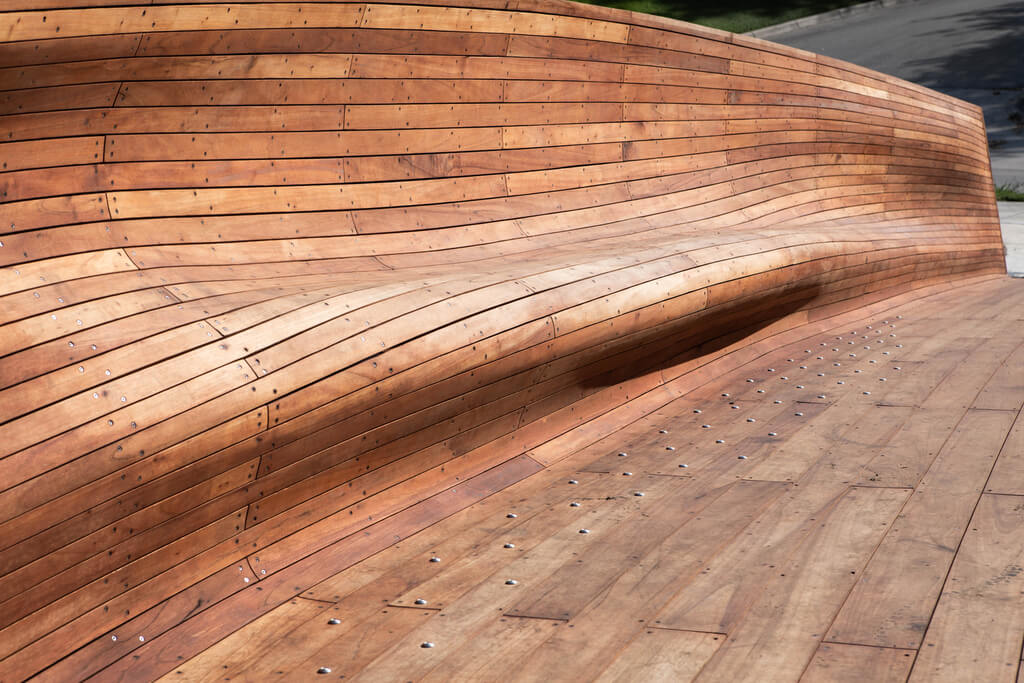 Source: adsttc.com
Architects have specifically included railing and benches in the design. These are located along with the length of its curved sides. This will allow the pedestrians to pause and enjoy the beautiful scenery and surroundings.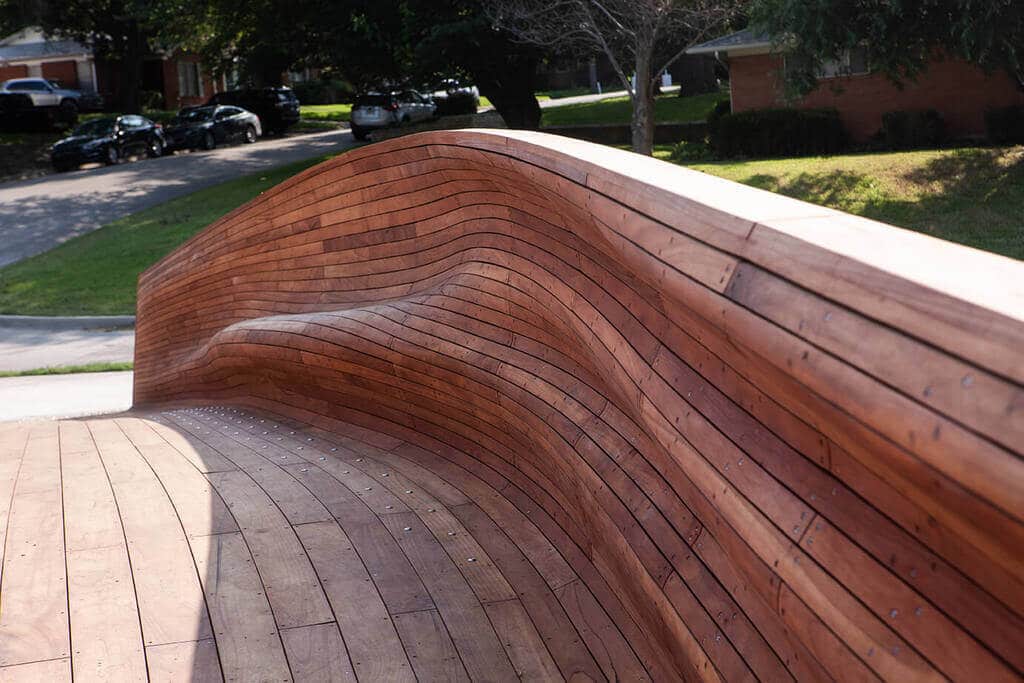 Source: archpaper.com
The entire wooden frame is beautifully and perfectly balanced on piers. They act as foundations on either bank. This structure also consists of a rip-rap drainage system, which mainly helps to minimize the structure's footprint.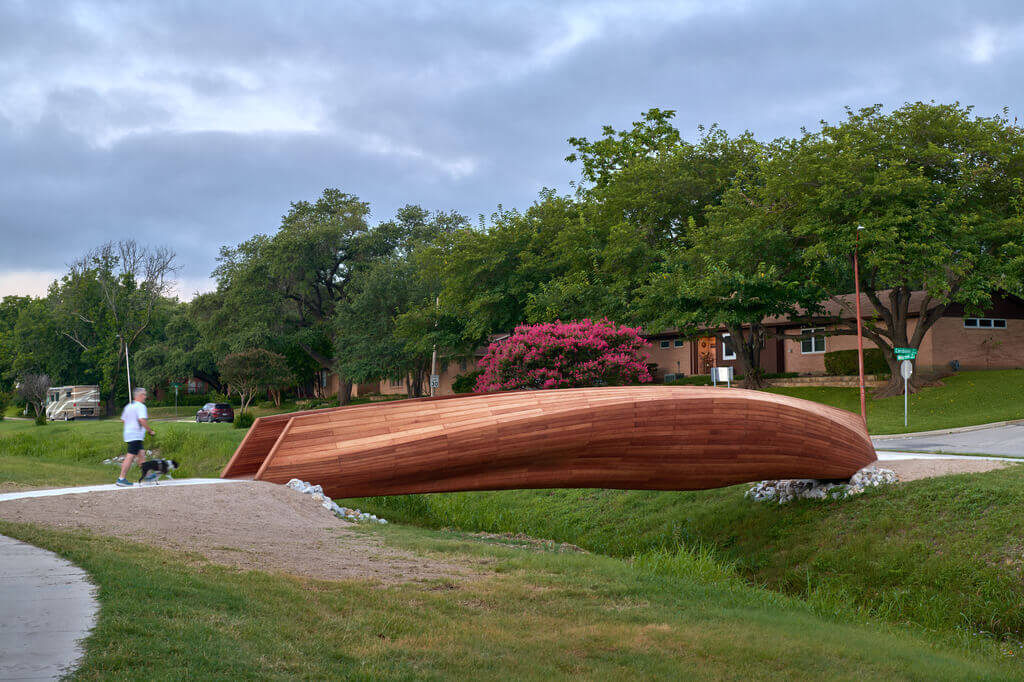 Source: pinterest.com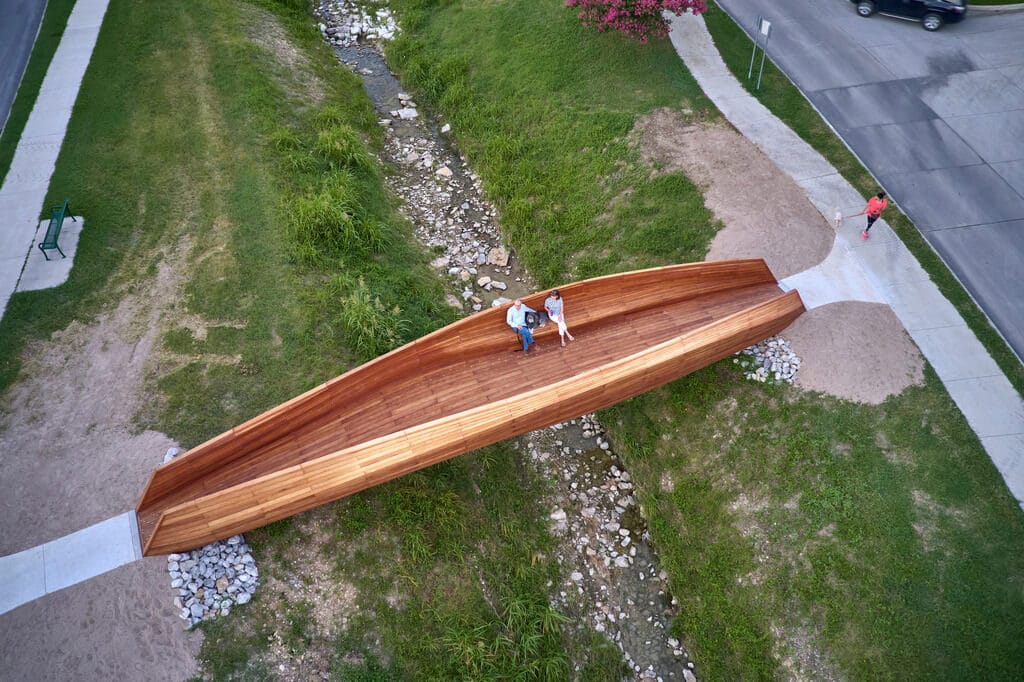 Source: blogspot.com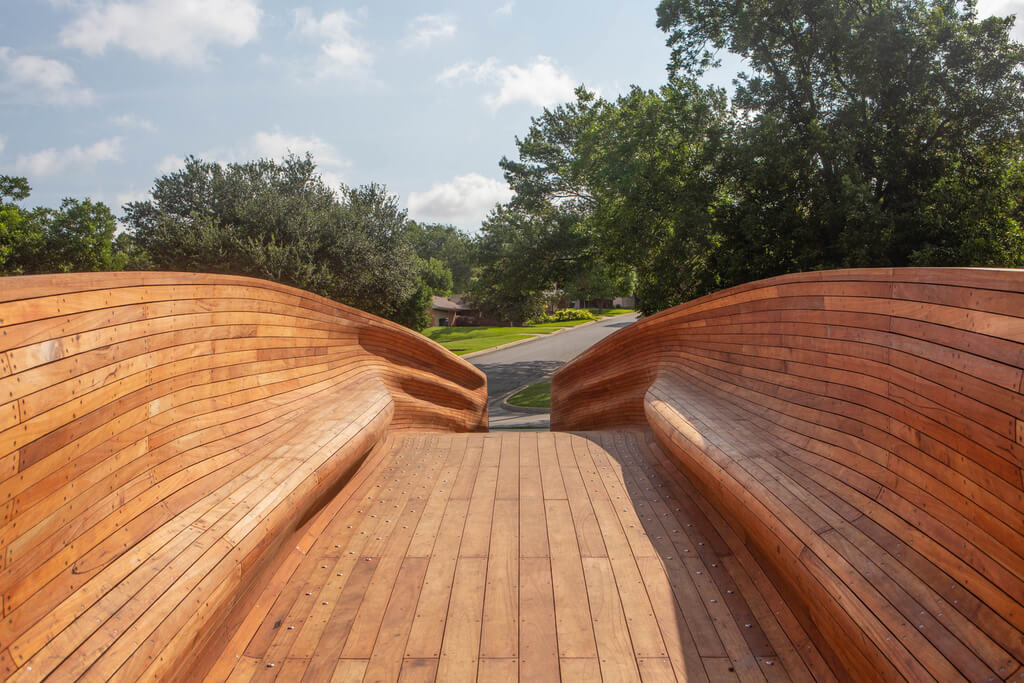 Source: adsttc.com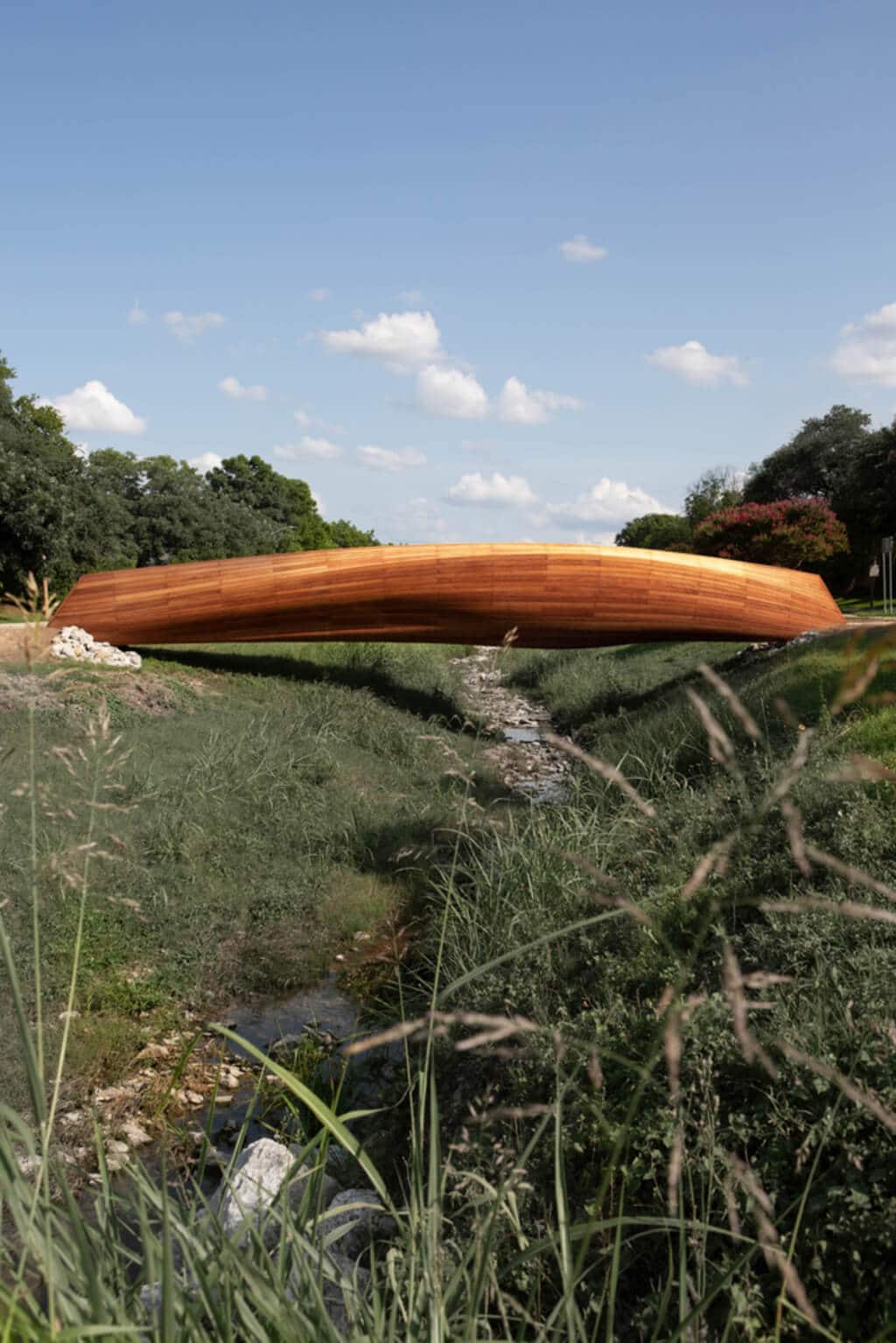 Source: adsttc.com
The Bottom Line
So, this is all about the Drift Bridge designed by Volkan Alkanoglu. If you see the previous works of Alkanoglu, you'll notice that most of his work includes several sculptural interventions. They all are specifically built and are intended to transform the built environment through inventive material explorations. 
Drift Bridge has inspired other architects and designers to experiment with unusual shapes and materials and create something unique even from the basic materials. 
Want to know more about these types of unique and unusual houses or places located in various parts of the world? If yes, read our previous blogs, such as Striatus Bridge, Pencil Tower Hotel (Australia's Thinnest "Pencil" Skyscraper), Pegasus Trail, and many more. 
I hope you liked this blog about the Drift Bridge. Don't forget to share this blog with your family and friends or with anyone who loves to explore unusual and wonderful architecture and sculpture art pieces around the globe.
For more information about the various types of architectural techniques and styles or home improvement ideas, keep exploring Architecturesideas.
For daily updates, follow us on our Instagram page @architectures_idea.