Striatus Bridge: A 3D Printed Concrete Structure in Venice
You may already have seen a 3D printed map or building model or toys, but have you ever seen a 3D printed Bridge? Yes, you have read it right, 3D printed bridge! Recently, the world-famous architect Zaha Hadid Architects and Block Research Group have created a freestanding, unreinforced pedestrian bridge in Italy. Let's see striatus bridge.
This bridge is built from 53 3D-printed concrete blocks, and it is the first of its kind of 3D concrete printed bridge. It is now open for leisurely foot traffic in Venice. Are you excited to know about this unique structure? Keep on reading to find mind-boggling facts about this bridge.
Striatus Bridge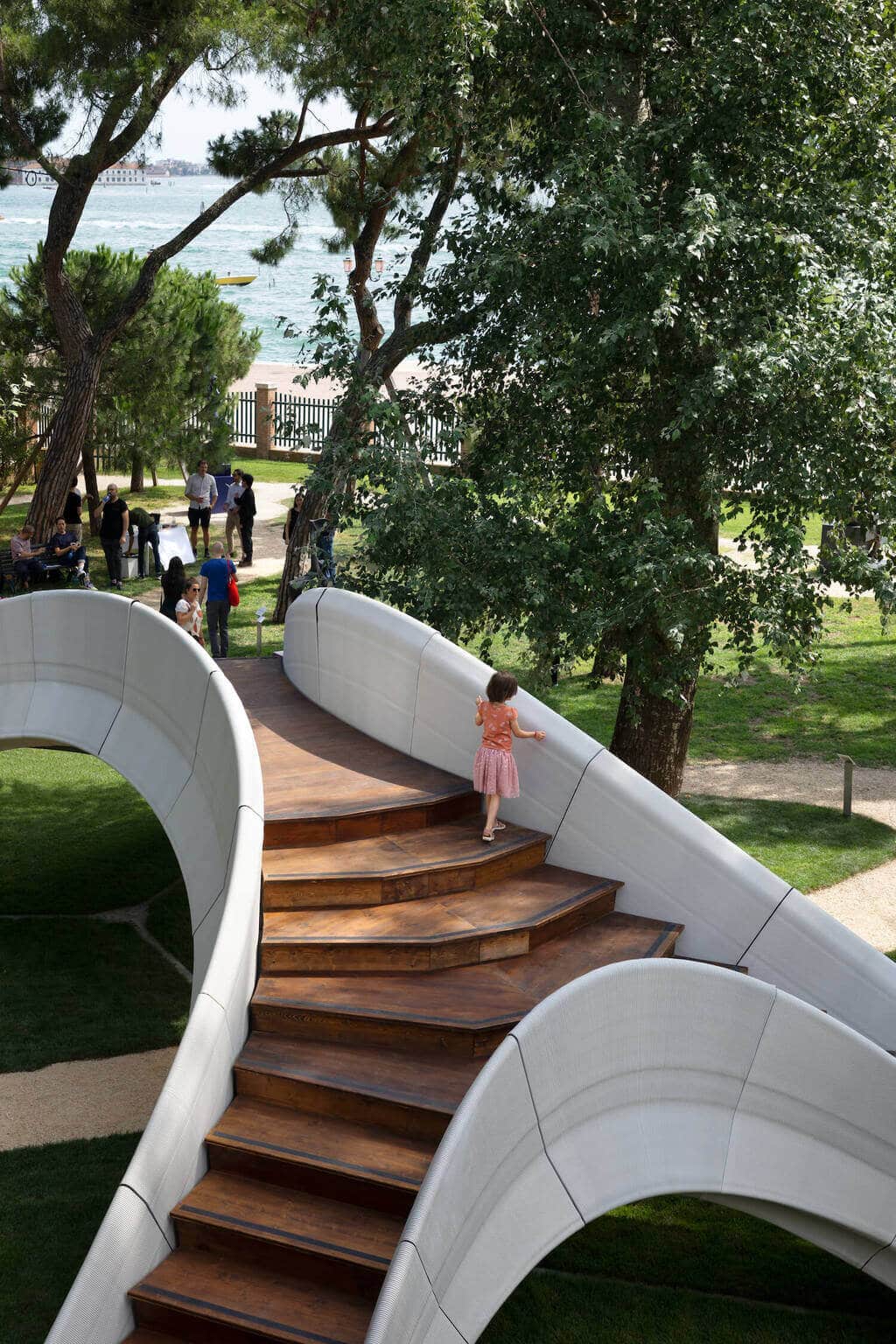 Source: amazingarchitecture.com
Architects: Block Research Group + Zaha Hadid Architects
Location: Venezia, Italy
Area: 50 m²
Year: 2021
Status: Built
Typology: Bridge
The Block Research Group at ETCH and Zurich Zaha Hadid Architects Computation and Design Group (ZHA CODE) have collaborated with the incremental 3D (in3D) and Holcim for a project. They have recently unveiled an arched concrete masonry footbridge. Located at the Giardini Della Marinaressa in Venice, Italy, this bridge is quite unique in itself. 
This project is known as "Striatus," which is exclusively built for the "Time Space Existence" exhibition, which was organized by the European Cultural Centre (ECC) during the Venice Architecture Biennale 2021. This exhibition opened on 22 May 2021 and it will remain open till November 2021, for the public. 
The footbridge size is around 6 x 12 meters or 40-by-52-foot; however, you'll be surprised to know that it was developed as "the first of its kind." Let's know more about this remarkable construction. 
What is Striatus?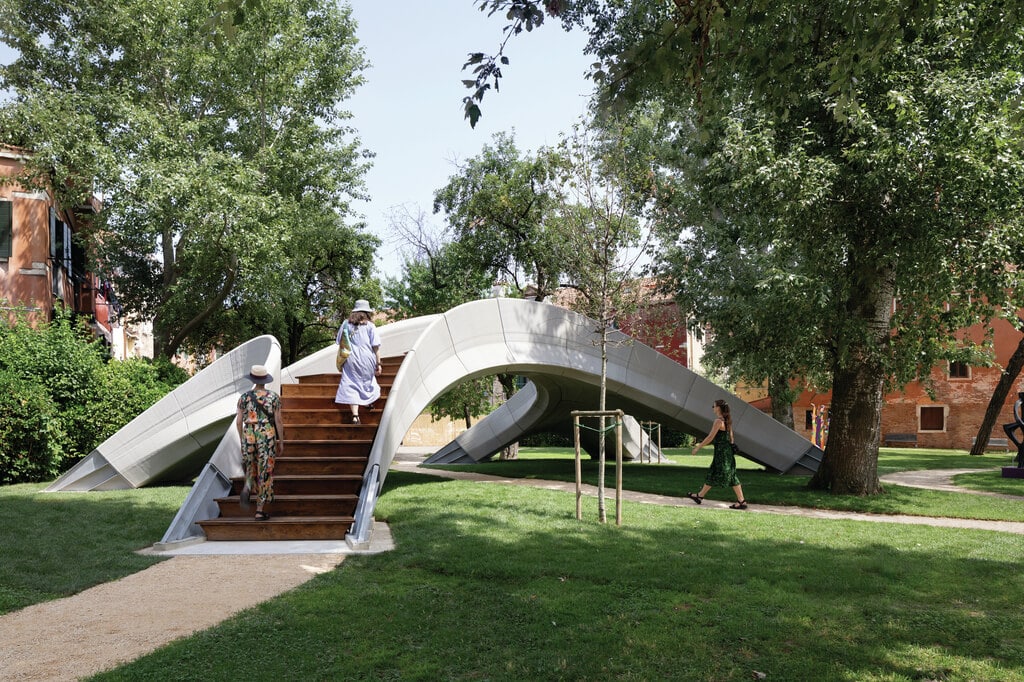 Source: cdnassets.hw.net
"Striatus is an arched, unreinforced masonry footbridge."
This entire structure of the footbridge is made from 53 3D-printed concrete blocks. The most bizarre thing about this construction is that all the blocks were assembled without mortar or reinforcement. Pretty shocking, right?
Do you know what the name "Striatus" reflects? According to the architects, Striatus reflects its structural logic and fabrication process.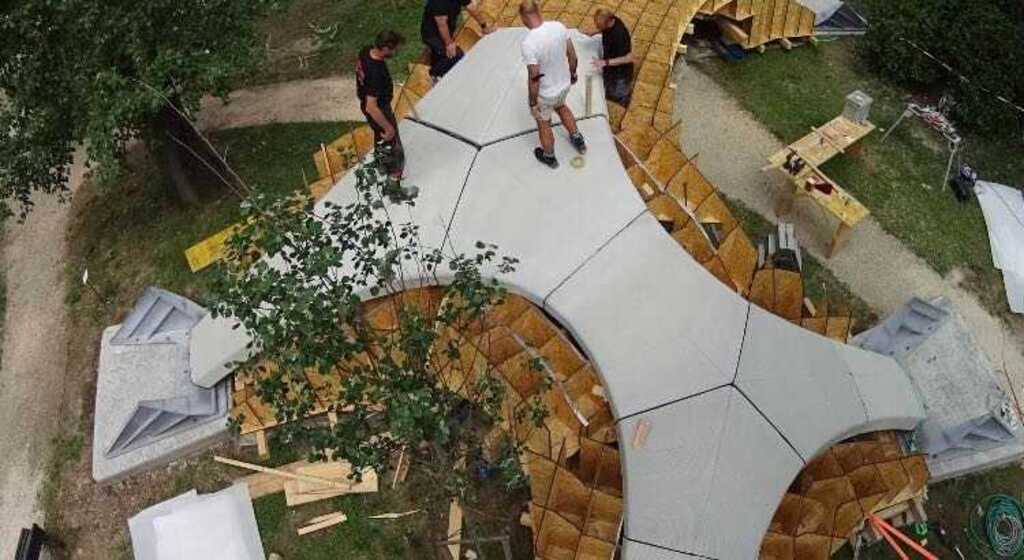 Source: adsttc.com
Not only this, but the construction methodology combines traditional techniques of master builders. This also includes advanced computational designing, engineering, and robotic manufacturing technologies.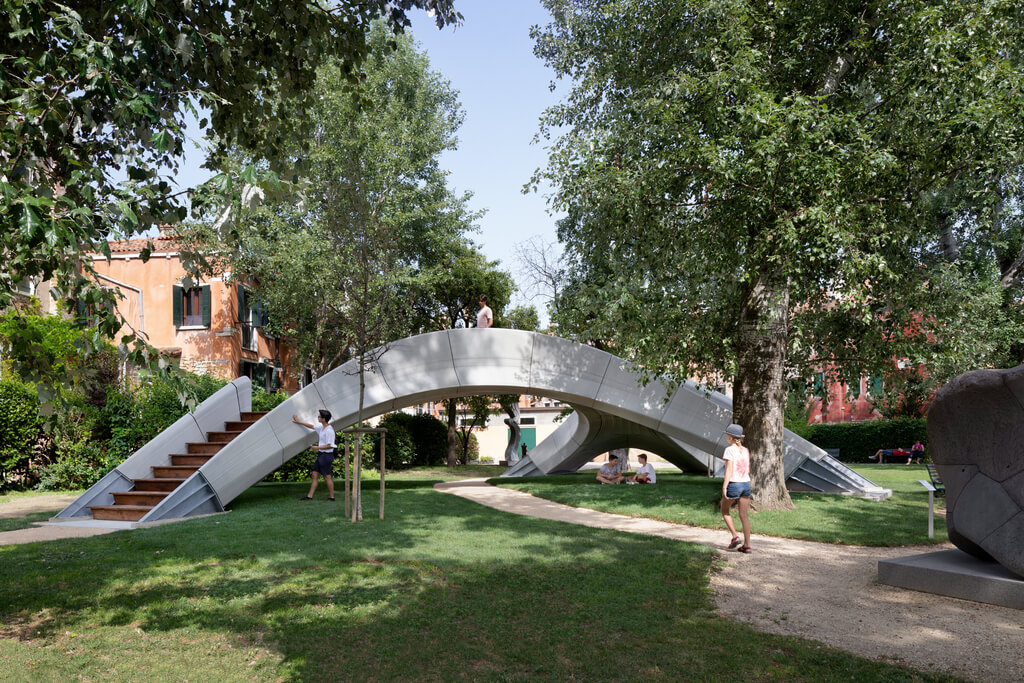 Source: zaha-hadid.com
Philippe Block, co-director of the Block Research Group at ETH Zurich, said, "In arched and vaulted structures, the material is placed such that forces can travel to the supports in pure compression. Strength is created through geometry, using a fraction of the materials used in conventional concrete beams. This, furthermore, opens a breadth of opportunities to build with lower-strength and in a more ecologically friendly way."
Design: A New Language For Concrete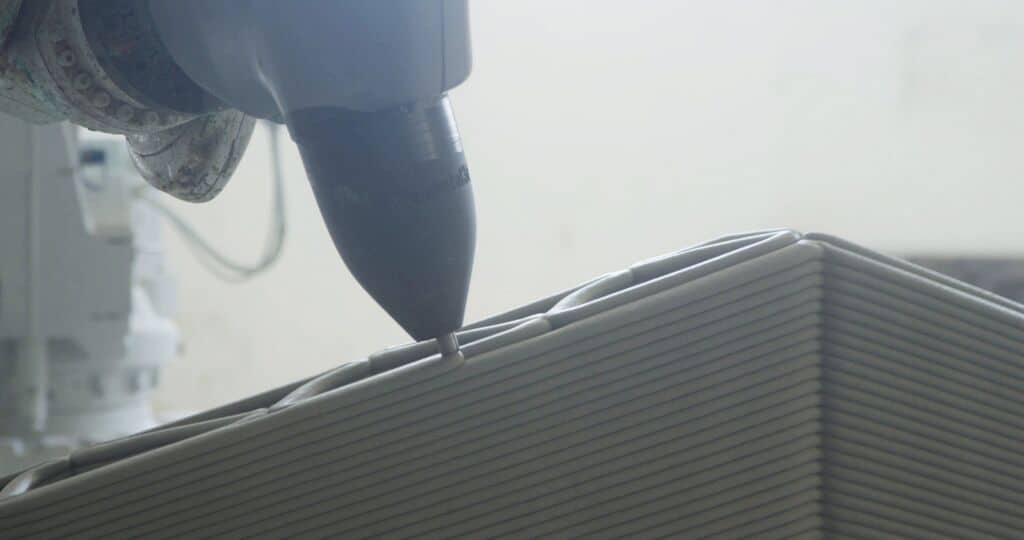 Source: amazonaws.com
The bridge's design proposes a new language for concrete. This mainly refers to the structural fabrication technique and a way to ecologically and precisely placed blocks so that we can build more with less.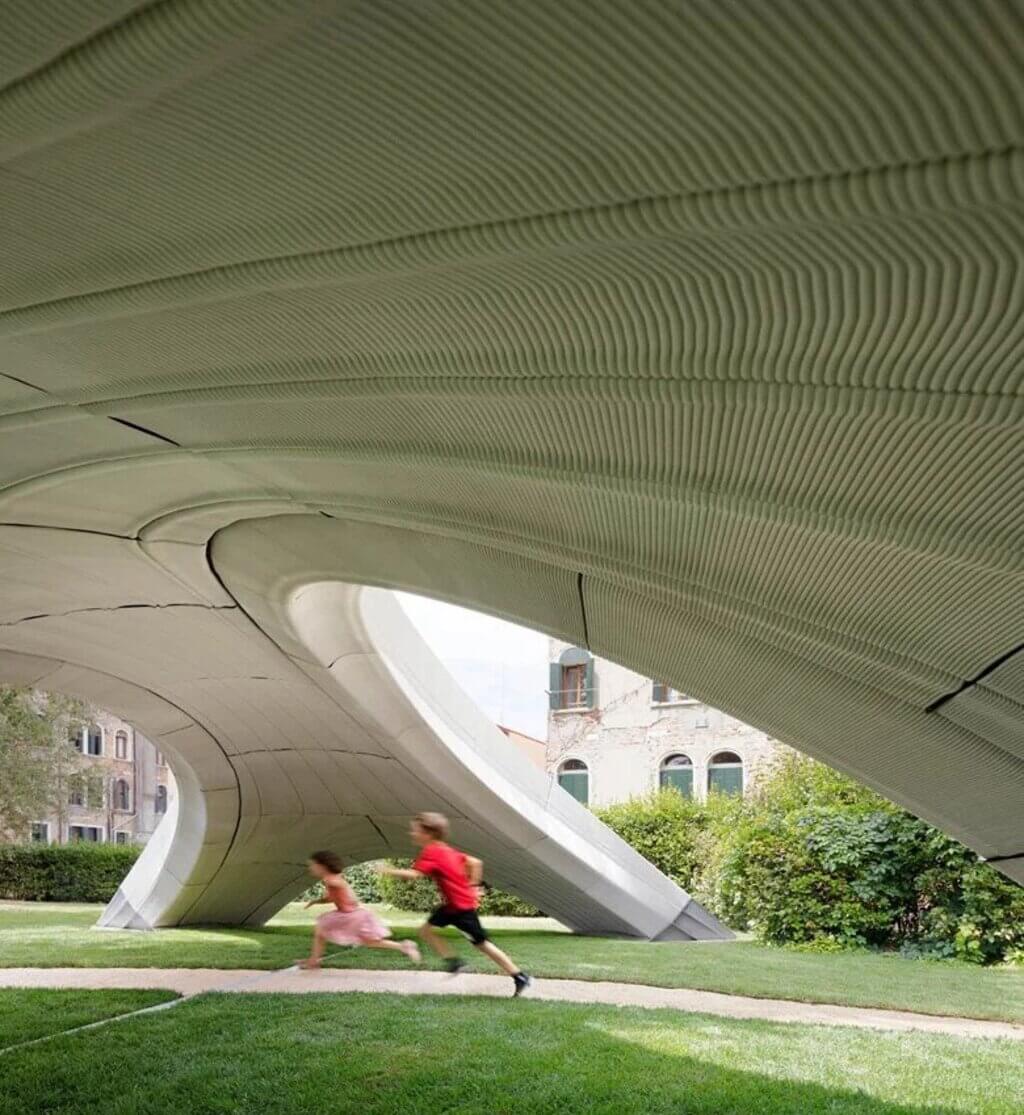 Source: archilovers.com
Every day millions of structures around the globe have been constructed with the use of reinforced concrete. Due to this, large amounts of CO2 emissions occur in our environment. Along with that, materials like steel are being used for reinforcement and cement for the concrete. All these things severely harm the environment in which we're living and all these things are absolutely problematic for nature.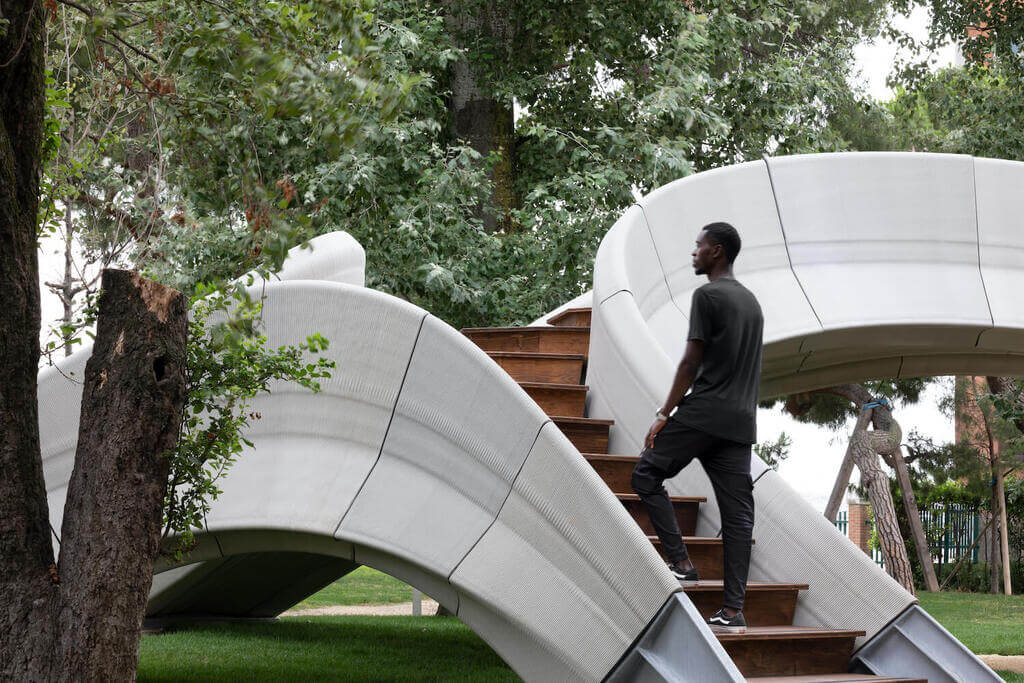 Source: amazingarchitecture.com
Through the project, Striatus, ETH researchers have now presented a way to reduce both. The construction was built with concrete blocks that form an arch that is already known in traditional masonry bridges. This compression-only structure technique has allowed the forces to travel from everywhere to the footings. All of them are lastly tied together on the ground. 
3D concrete printing (3DCP) and contemporary design present to the world an effective and brilliant alternative to traditional concrete construction.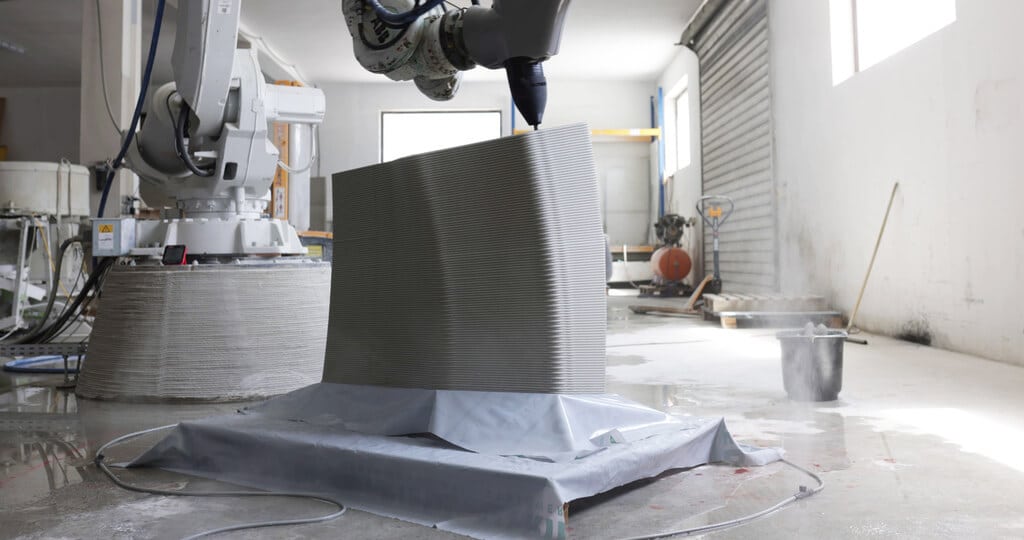 Source: adsttc.com
Here the concrete is printed in layers that are orthogonal to the main structure. This way, it creates a "striated" compression-only funicular structure that can be built without reinforcement. This project shows how 3D printing can be used to build load-bearing concrete structures. These buildings will require significantly less material and no steel reinforcement or mortar.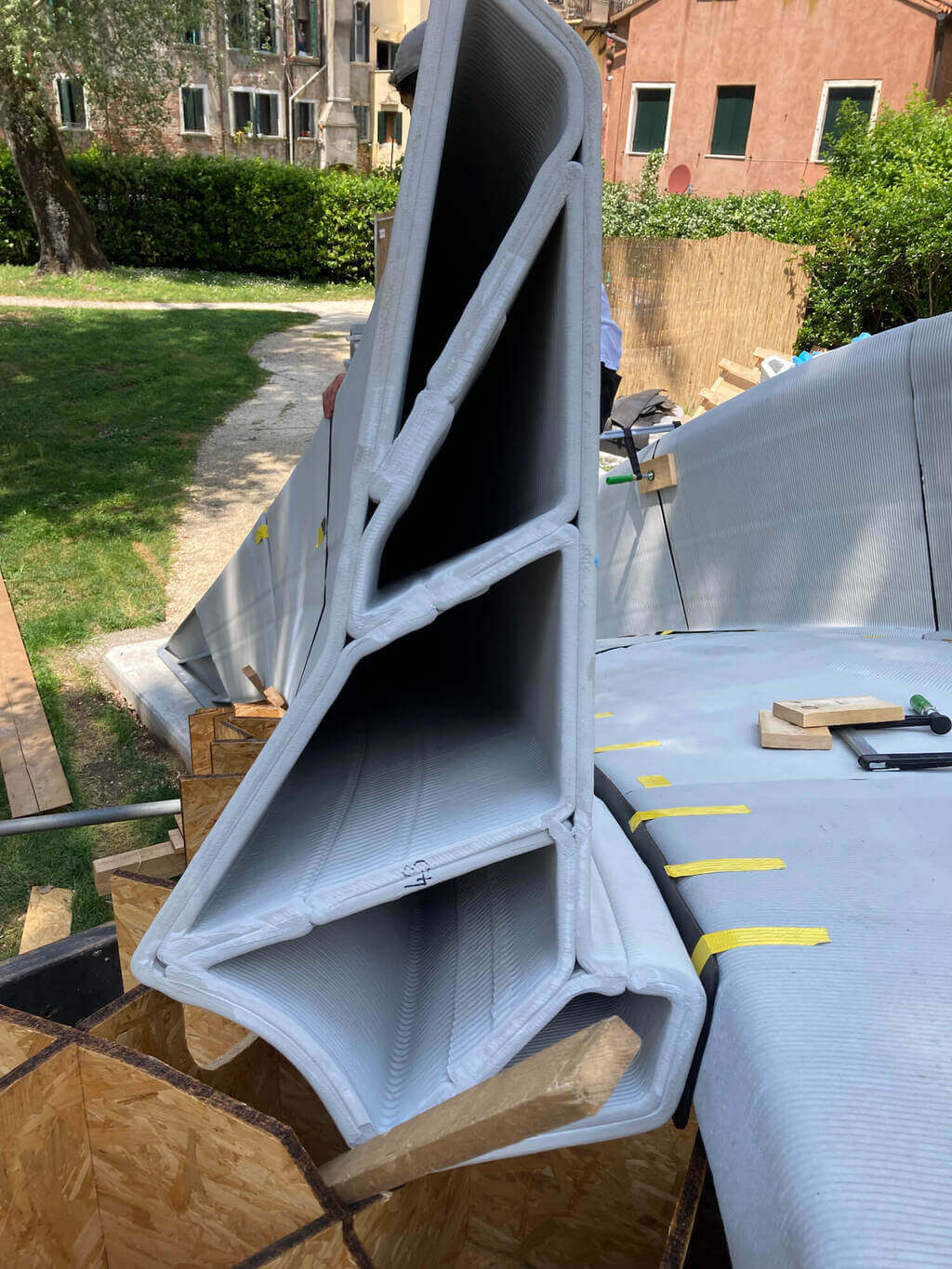 Source: amazingarchitecture.com
Zaha Hadid Architects said, "Striatus optimizes the properties of masonry structures, 3D concrete printing (3DCP) and contemporary design; presenting an alternative to traditional concrete construction." 
Concept: The Striatus Bridge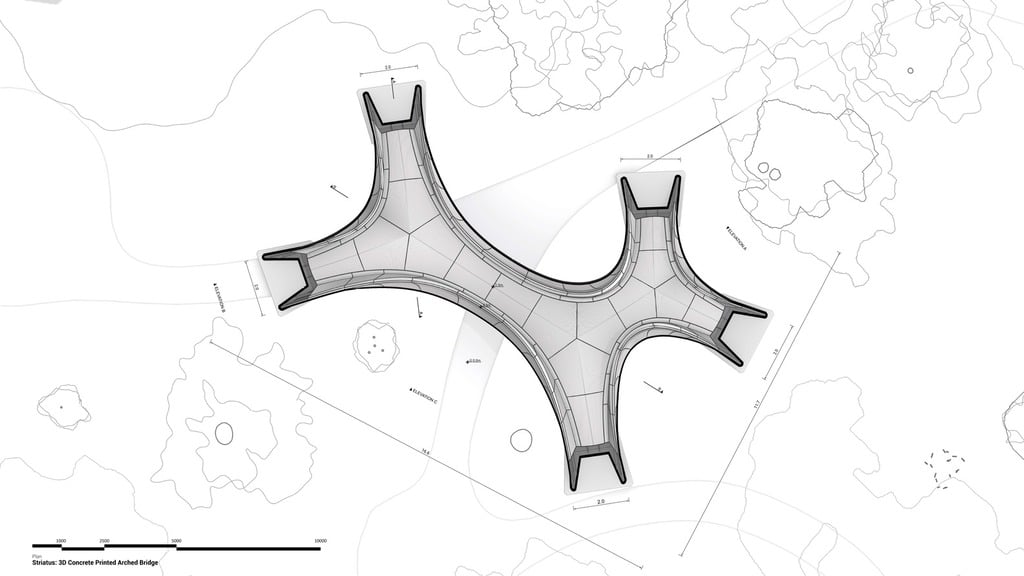 Source: adsttc.com
The Striatus bridge represents the 3 R's of the circular economy – Reduce, Reuse, Recycle and it also shows us how this technique can easily be applied consistently to all the concrete structures worldwide.
REDUCE: The bridge is designed in such a way that only a few or minimal materials have been used to get maximum strength without wasting anything. 
REUSE: Every block or component is designed to be disassembled and reused.
RECYCLE: All components of the bridge can be easily recycled with only a limited amount of energy and cost.
Source: cloudfront.net
As there are no reinforcements, glue, or binders in the structure, so no materials sorting is needed; hence the recycling process automatically gets simple and cost-efficient.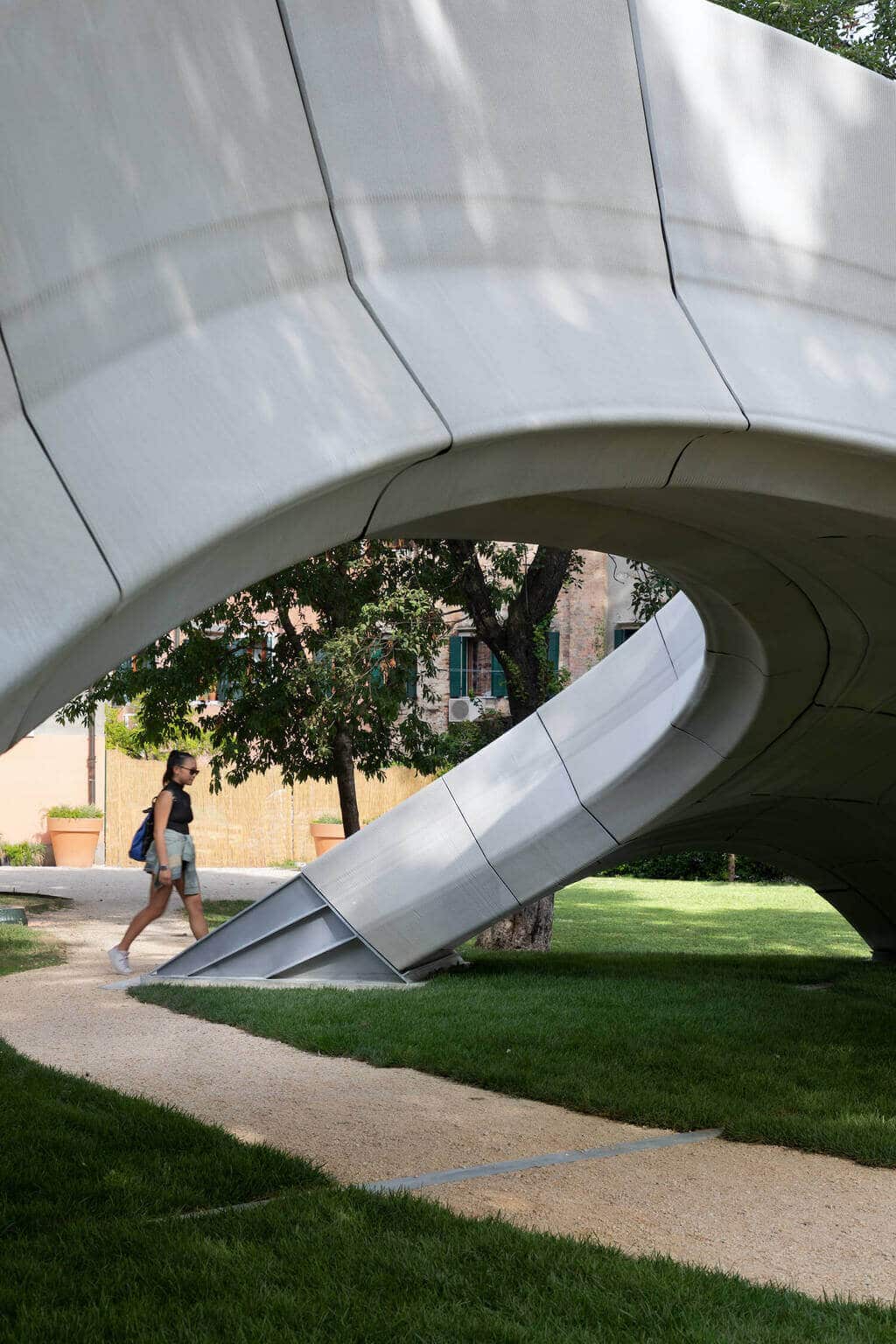 Source: amazingarchitecture.com
Jan Jenisch, CEO of Holcim: "Striatus was designed by some of the best architectural and creative minds in their fields. It demonstrates the infinite possibilities of 3D Concrete Printing to enable more sustainable, faster, and effective building structures without compromise on aesthetics and functionality. Its digital and circular design uses concrete at its best, with minimal material use and blocks that can be repeatedly reassembled and infinitely recycled."
Construction: Robotic 3D Printing of Concrete
Source: adsttc.com
We all have already seen many 3D printed buildings, such as TECLA, which is a Clay 3D Printed House. However, the new thing about the Striatus Bridge is the type of 3D-printed concrete, which the researchers developed together with the company Incremental3D.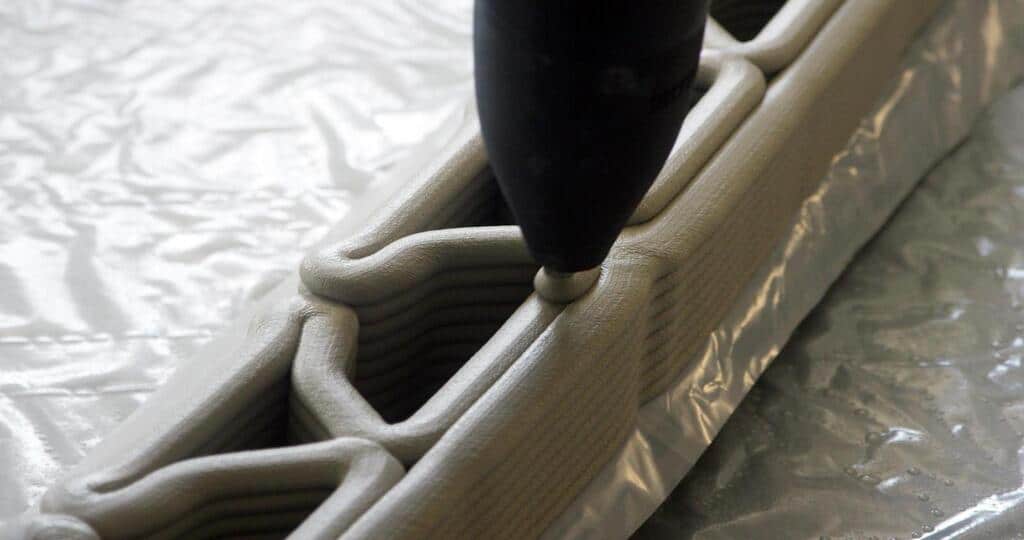 Source: unitycms.io
Here the concrete is not applied horizontally in the usual way. Instead, it is applied at specific angles so that they are orthogonal to the flow of compressive forces. This way, all the printed layers in the blocks are nicely pressed together, and that too without any need for reinforcement or post-tensioning. Amazing, right?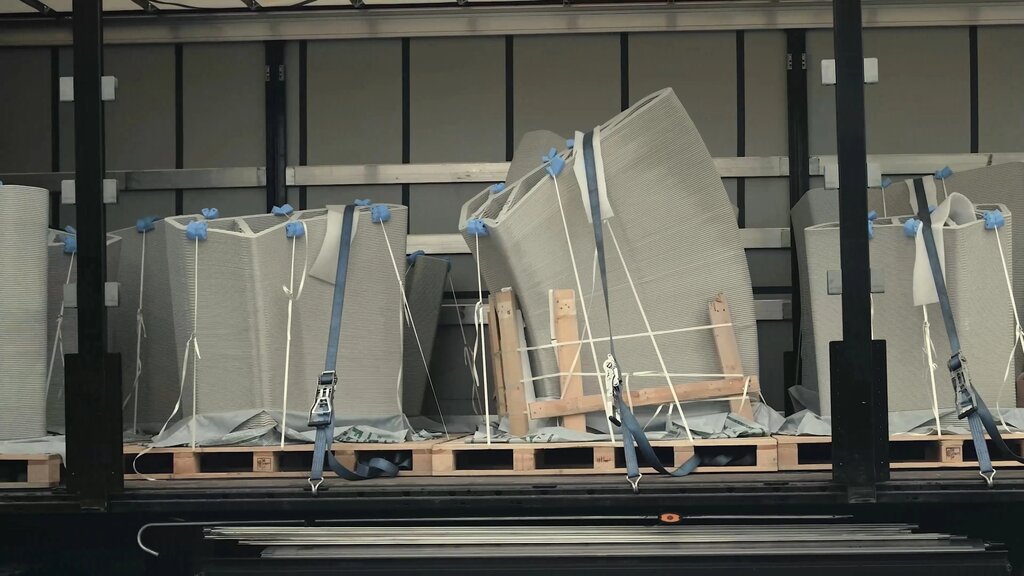 Source: archilovers.com
The two-component (2K) concrete ink for the 3D printer, which is used to print the blocks of the bridge, was exclusively and precisely developed by the company Holcim. Even though it's a dry-assembled construction still it is finely stable due to its geometry only.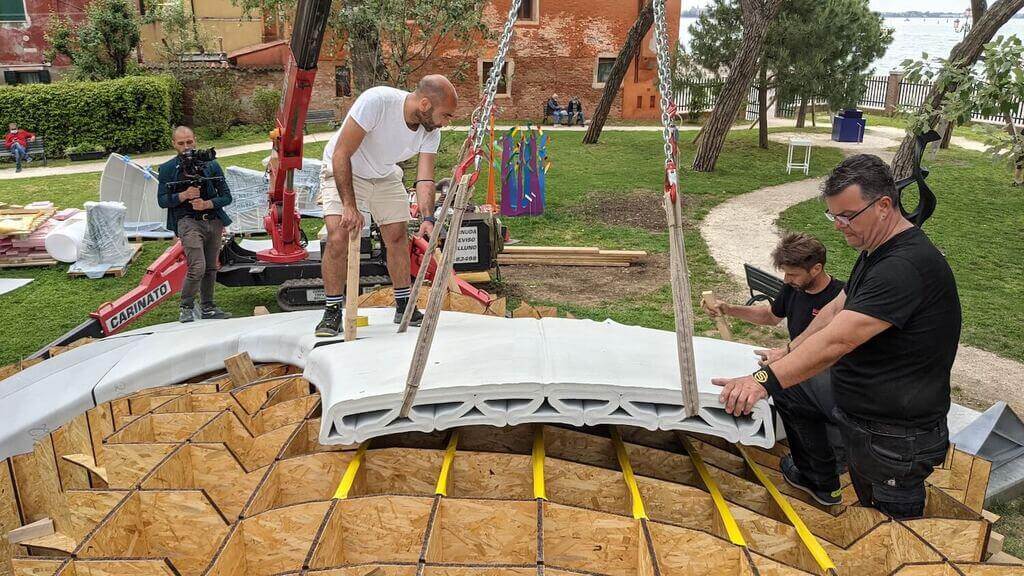 Source: amazingarchitecture.com
Another benefit of not using a single amount of mortar in the construction is that the blocks can be dismantled and the bridge reassembled again and again at various locations. 
Shajay Bhooshan, Head of CODE, Zaha Hadid Architects' Computation and Design research group, explained, "Striatus stands on the shoulders of giants: it revives ancestral techniques of the past, taking the structural logic of the 1600s into the future with digital computation, engineering, and robotic manufacturing technologies. Its tactile quality, aesthetics, and strength reflect our principal partner Patrik Schumacher's vision that beauty is a promise of performance."
Assembly: 3D Concrete Printing and Installation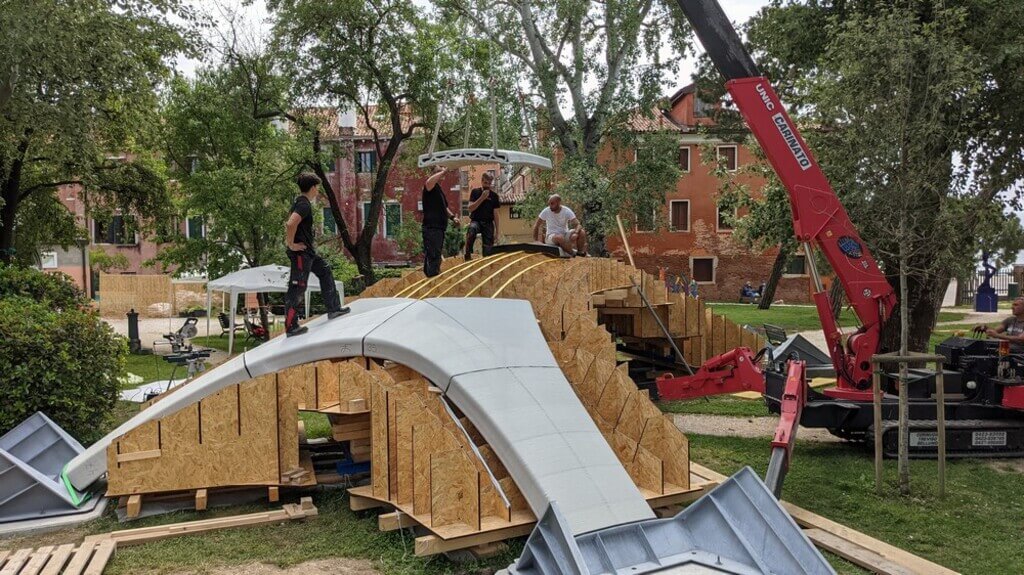 Source: e-architect.com
All the 53 3DCP voussoirs or the concrete blocks of the bridge have been produced using non-parallel print layers. All the layers are orthogonal to the dominant flow of forces. As these layers are held together in compression, it avoids the delamination between the print layers.
No block has been produced with a solid section because architects wanted to reduce the amount of material needed as compared to subtractive fabrication methods or casting.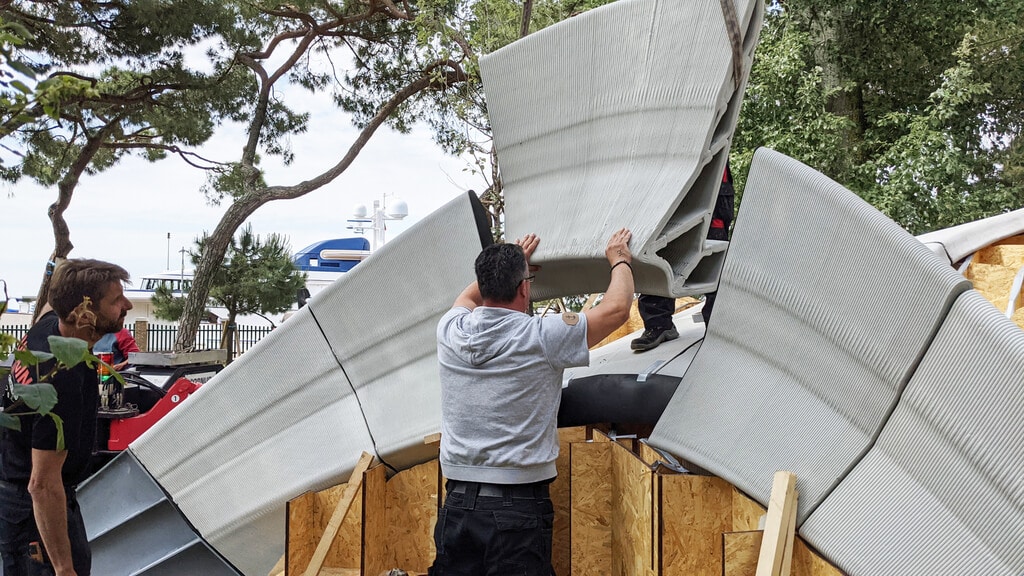 Source: adsttc.com
This pedestrian bridge follows masonry structural logic on two levels.: As a complete bridge and As small blocks. 
The entire bridge behaves like a series of leaning unreinforced voussoir arches and also follows the same structural principles as arched Roman bridges in stone. Whereas on the level of the voussoir or blocks, the 3DCP layers behave as traditional brick masonry evident in the inclined rows of bricks within Nubian or Mexican vaulting.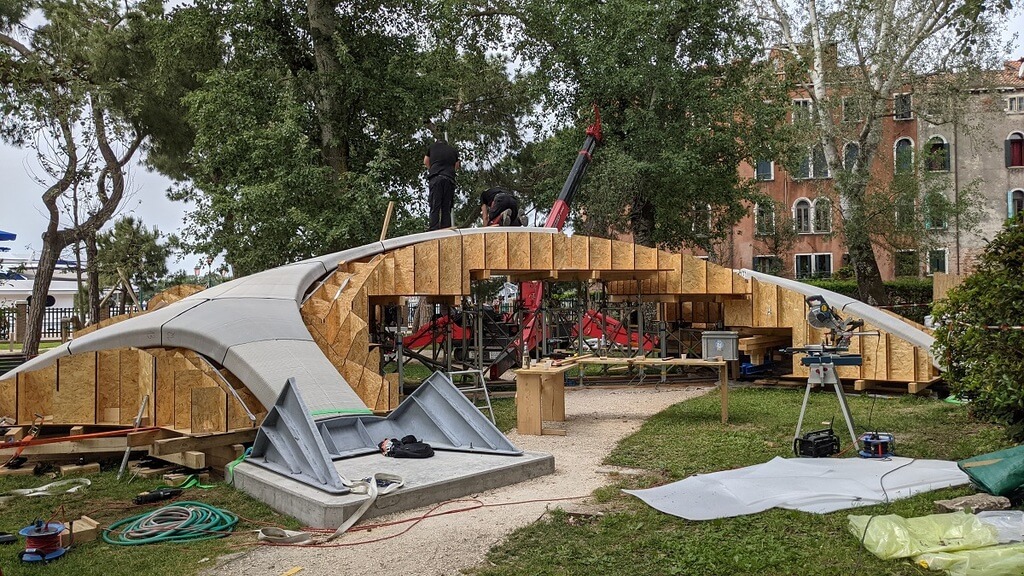 Source: virginradio.ro
The Striatus freestanding bridge offers a great alternative to the standard inefficient floor slabs within any structure.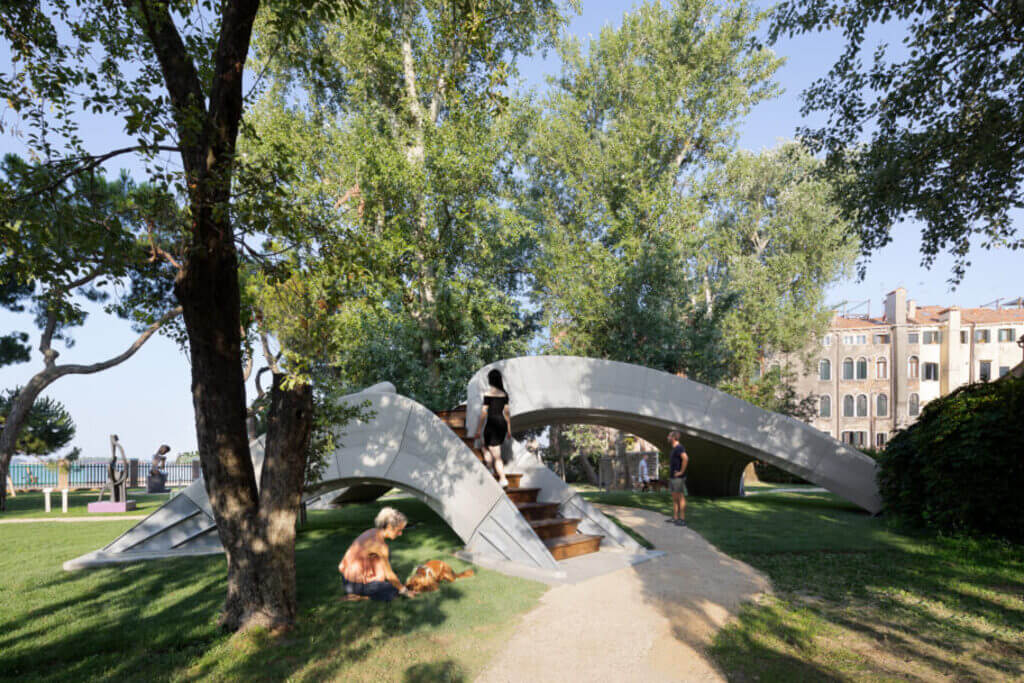 Source: zaha-hadid.com
You'll be surprised to know that as compared to typical reinforced concrete flat floor slabs, this new floor system uses only 30% of the volume of concrete and just 10% of the amount of steel! 
The structure is prefabricated and dry-assembled; hence it is fully demountable and reusable. Even the floor system can easily and cleanly also be recyclable at end-of-life.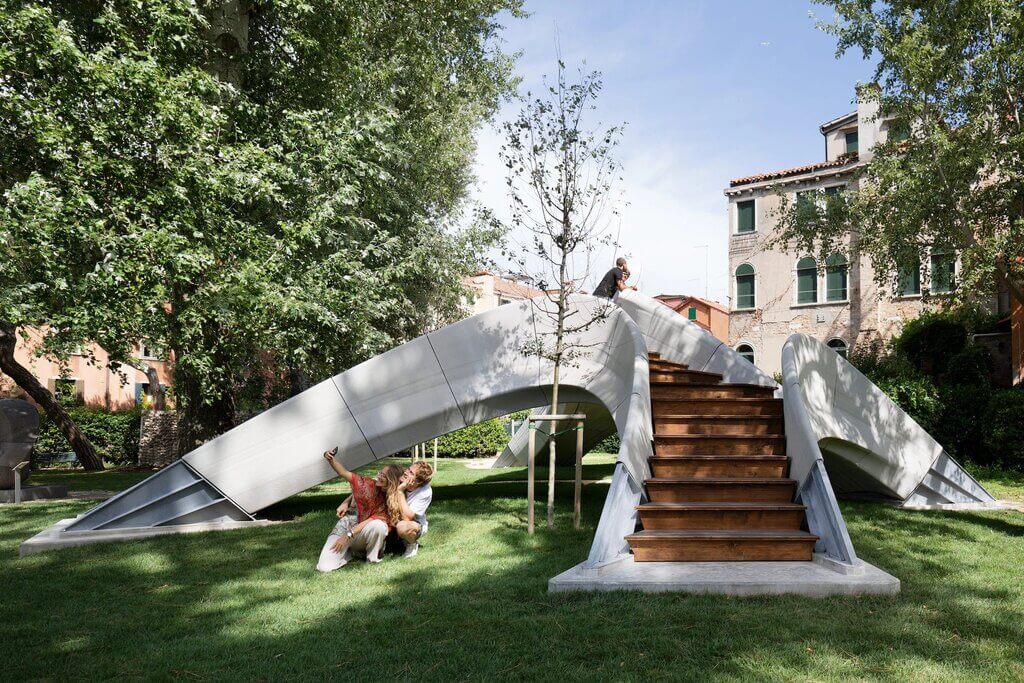 Source: akamaized.net
According to the architects, around 300 billion square meters of floor area are to be constructed worldwide over the next 30 years. These floors can hold more than 40% of the weight of most high-rise buildings (10+ storeys).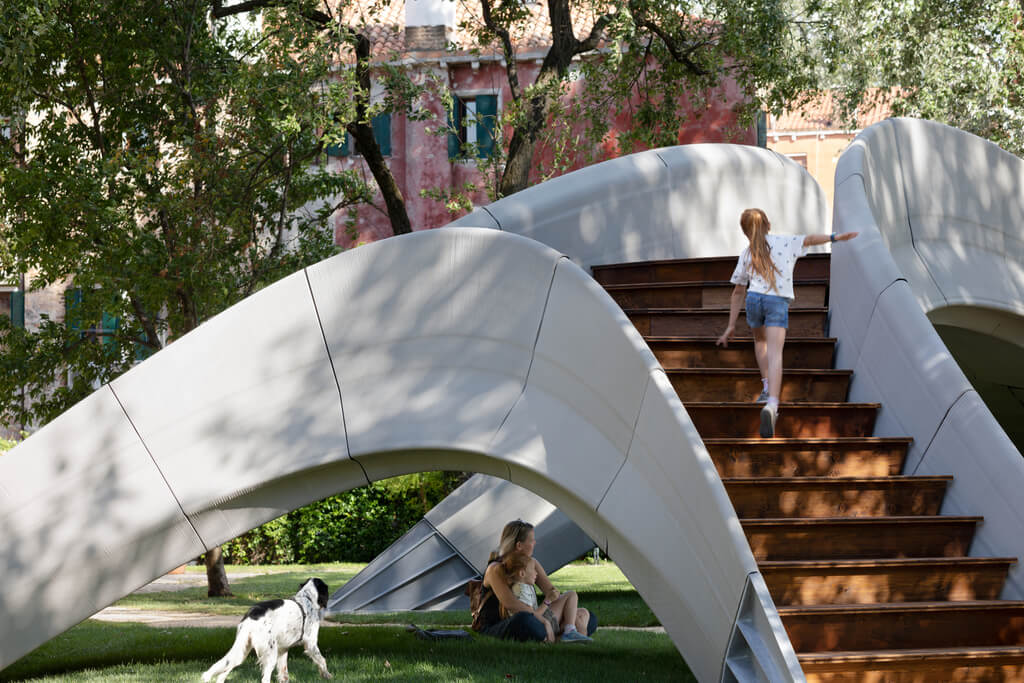 Source: adsttc.com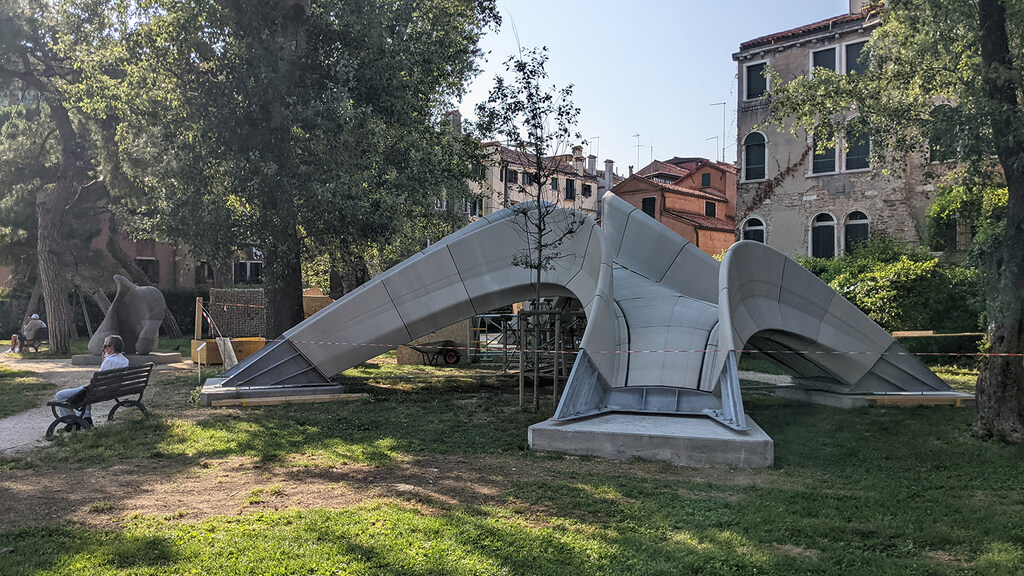 Source: zaha-hadid.com
Also Read: Top 10 Spectacular Modern Farmhouse Exterior Design Ideas
The Bottom Line
So, this is all about the Striatus Bridge designed by Block Research Group and Zaha Hadid Architects. We can look at this bridge structure and know that it is possible to use 3D printing to create load-bearing concrete structures. The best thing about this method is that there is absolutely no requirement of any significant materials and also no steel reinforcement or mortar. 
If the buildings are constructed with this new floor system, a lot of materials can be saved and recycled, which is highly beneficial for our planet. Striatus will completely transform the construction techniques in the future. It also positively impacts our thinking and now we will be more focused on how we design and construct structures in a sustainable and eco-friendly way. All these things will build a new sustainable environment for our era.
If you want to know more about these types of unique and unusual houses or places located in various parts of the world, read our previous blogs, such as Pencil Tower Hotel( Australia's Thinnest "Pencil" Skyscraper), Pegasus Trail, Central Park Tower, and many more.  
I hope you liked this blog about the Striatus Bridge. Don't forget to share this blog with your family and friends or with anyone who loves to explore various types of architecture around the globe.   
For more information about the various types of architectural techniques and styles or home improvement ideas, keep exploring Architecturesideas.
For daily updates, follow us on our Instagram page @architectures_idea.