Pegasus Trail: An Urban Playscape For The City by 100architects
Have you ever visited or seen a park that is made for every age group? If not, today, you will get to know about the ultimate space. Located in Chongqing city, this open public space is for everyone. No matter which age group you belong to, you can visit and enjoy this amazing park. Let's see Pegasus Trail. 
Want to know more about this? If yes, keep on reading to find out more fascinating facts about this unique structure.  
Pegasus Trail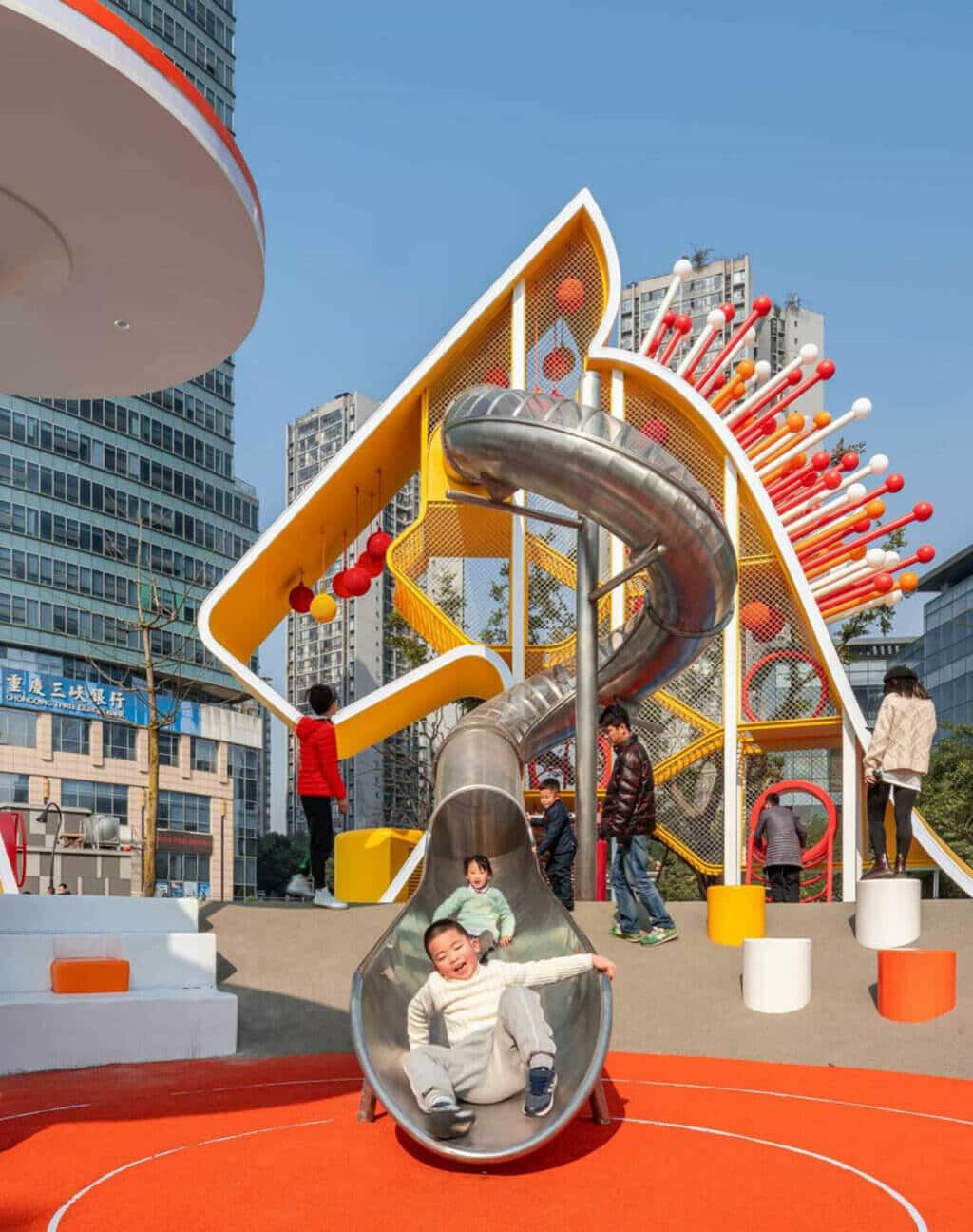 Source: piri.net
Project name: Pegasus Trail
Architect:100 Architects (Shanghai)
Location: Chongqing (China)
Year: 2020
Size: 3,600m2
Pegasus Trail is a uniquely designed space that is filled with playground adventures, including toys and many more amazing things. Located in Chongqing, China, Pegasus Trail is a new milestone in the typology of urban public interventions in the Public Realm.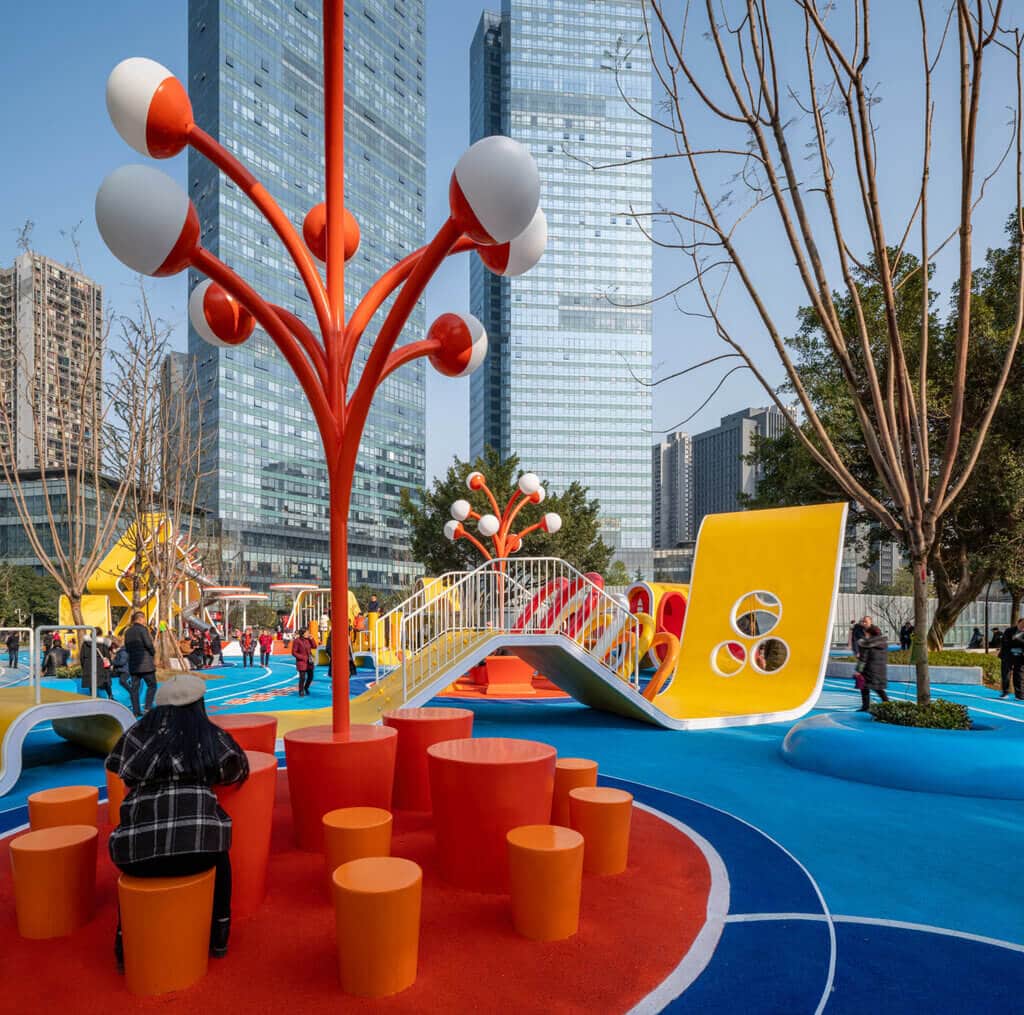 Source: landscapefirst.it
Designed by 100architects, the total area is about 3,600 square meters. This is not a regular playground that you can see on every other corner of the street; Pegasus Trail is something different, something so unique.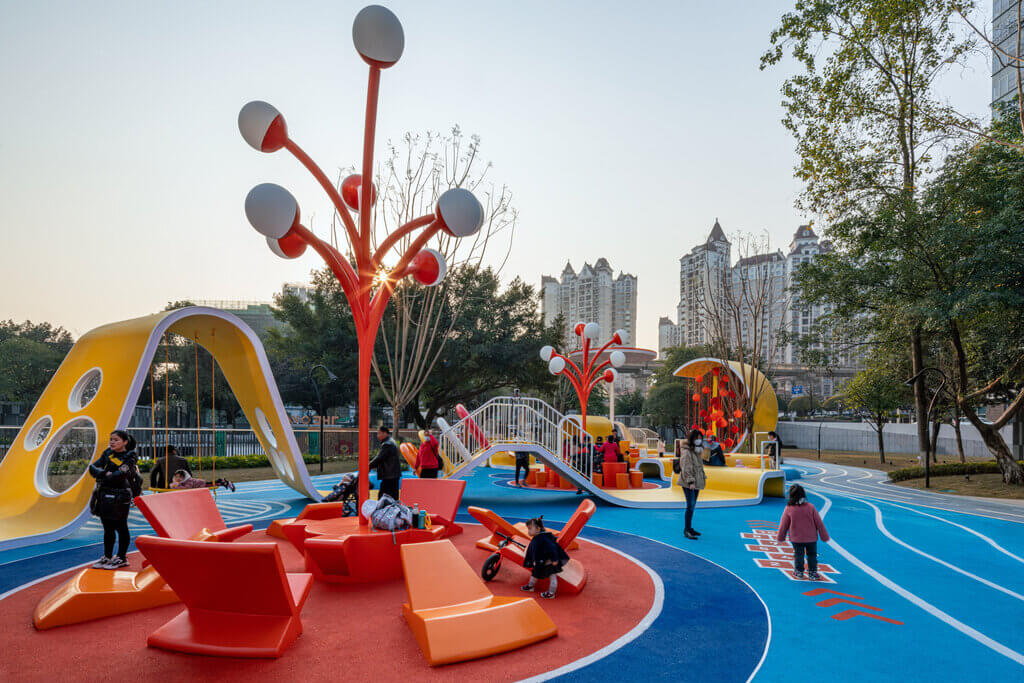 Source: landscapefirst.it
This place is filled with many adventurous things, from long slides, see-saws to swings and many other games. Let's know more about this playground and why it is constructed in the middle of the busiest city of China.  
About the Architect: 100architects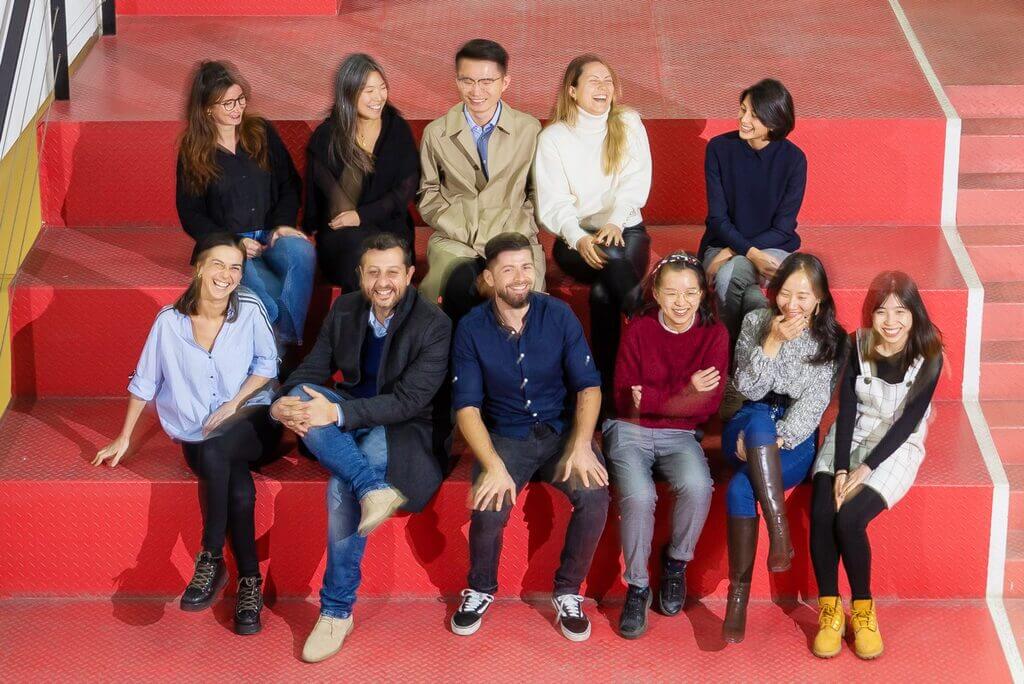 Source: revistaestilopropio.com
100architects is a Shanghai-based architecture firm founded by Marcial Jesus and Javier Gonzalez in 2013. The firm is currently led by three partners –Javier Gonzalez (Spain), Jenny Fan (China), and Marcial Jesus (Chile).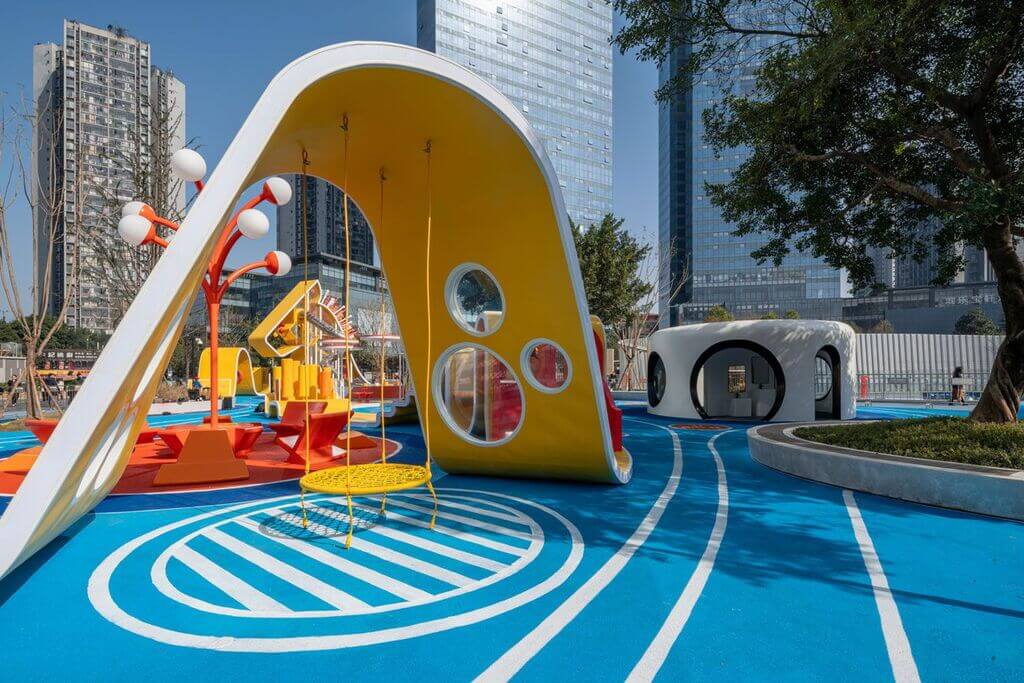 Source: pinimg.com
The office team consists of 16 young creative architects and designers. The firm mainly works on place-making, street art, landscape architecture, and urban interventions. Now they're establishing an international collaborative workshop with talents from the US, Italy, Spain, Chile, Colombia, Indonesia, Nigeria, and China.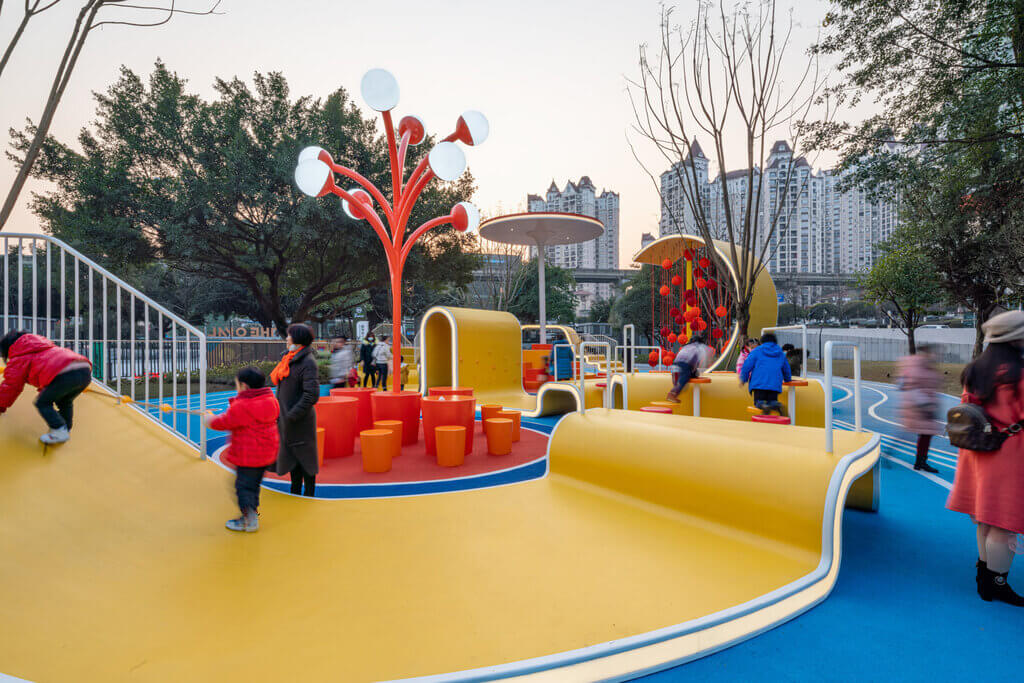 Source: landscapefirst.it
Pegasus Trail is one of the special projects of the 100architects. They designed it very carefully so that kids from every age group can fully enjoy the playground. The project is for their client, Dowell Real Estate/ Dong Yuan Dichan Properties.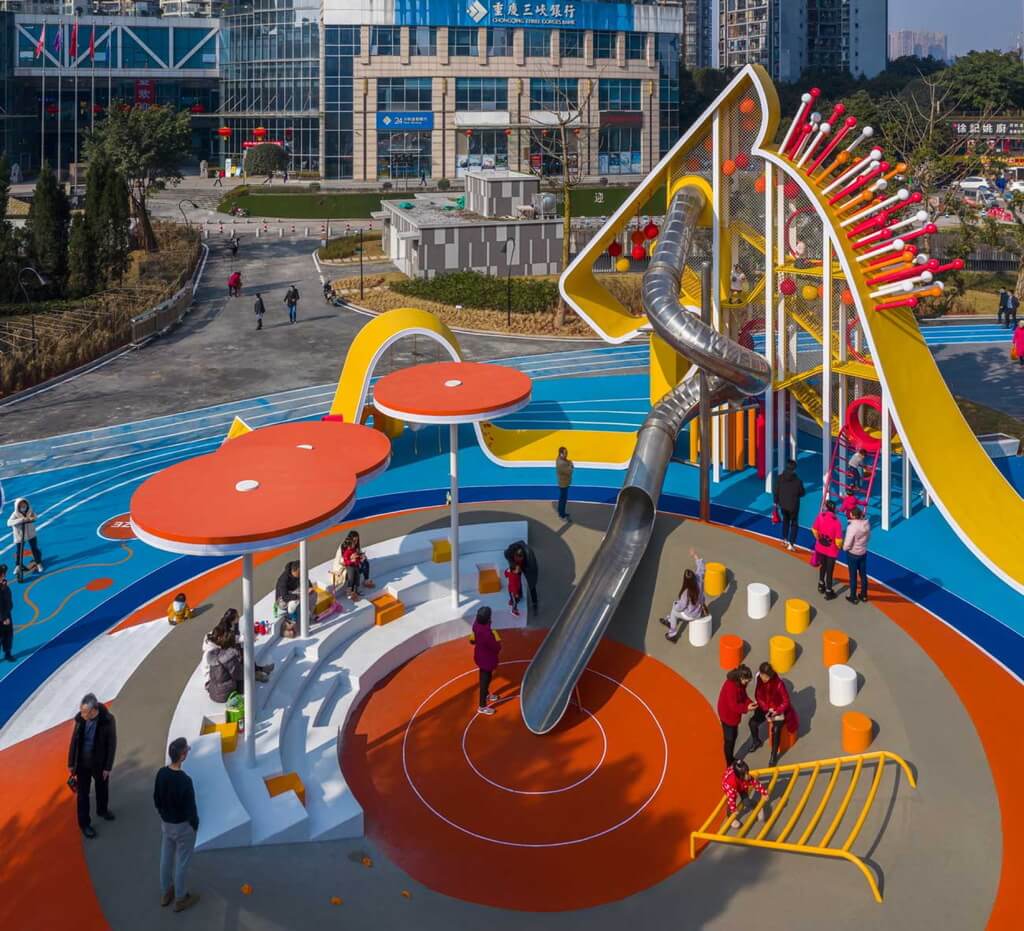 Source: floornature.it
For this project, the design team includes Marcial Jesus, Javier Gonzalez, Monica Paez, Lara Broglio, Keith Gong, Cosima Jiang, Ponyo Zhao, Elena Michelutti, Hayley Huang, Jango Zhang & Yuntong Liu. Also, Jenny Fan, Nicholas Lv & Eva Jiang have been included in the Project management team. 
Location: The Shanghai City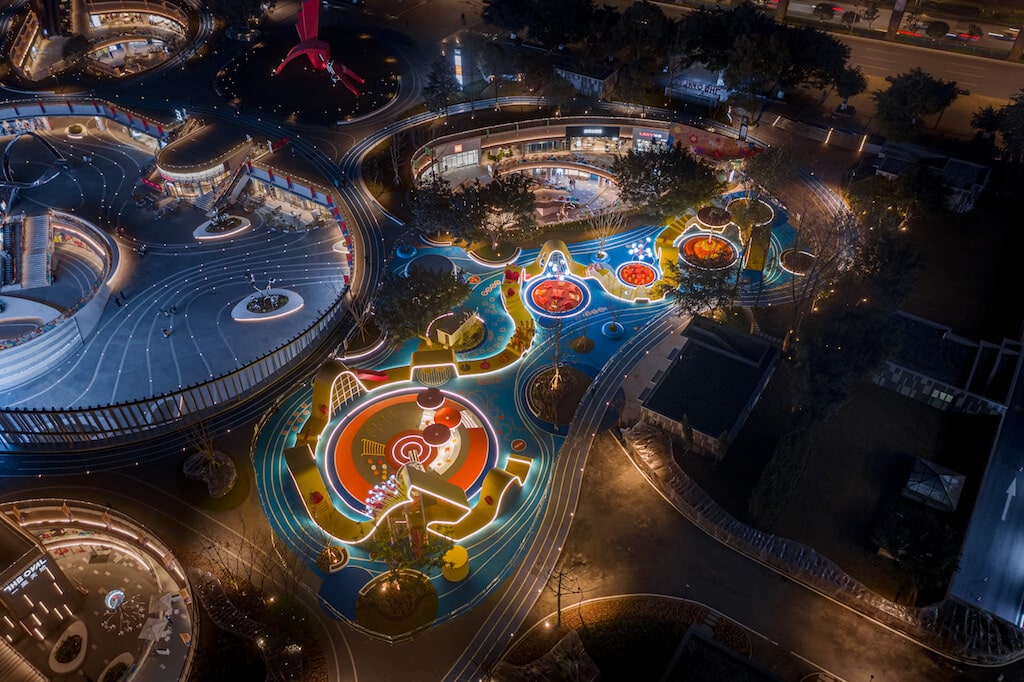 Source: de51gn.com
You might be wondering why architects have chosen the city "Chongqing" to build this park?    
Chongqing is China's third-largest city and one of the Chinese megacities that have grown exponentially in the past decade. This metropolis city in southwestern China has a population of over 34 million.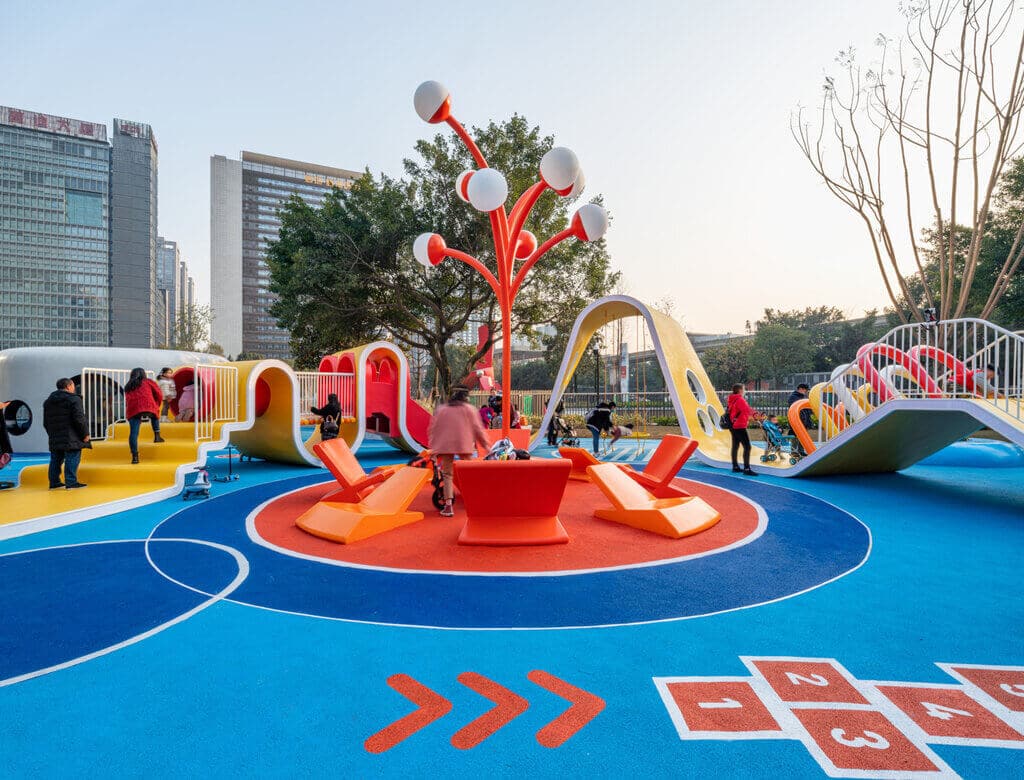 Source: landscapefirst.it
According to the designers, "A brightly colored playground is a new milestone in the typology of urban public interventions at the neighborhood scale."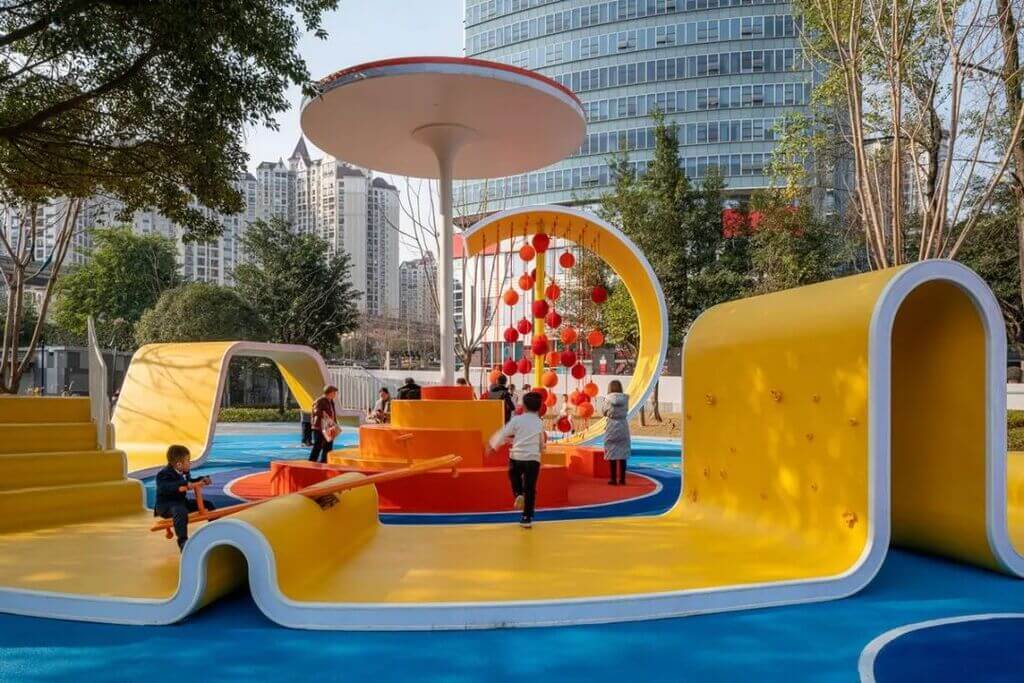 Source: aisoutu.com
This novel type of intervention has been only implemented on a medium scale, within a limited area. This way, it will impact both its immediate urban surroundings and the urban dynamics of the entire neighborhood. Also, it will become an urban landmark and local attraction for social interaction.
Concept Behind The Pegasus Trail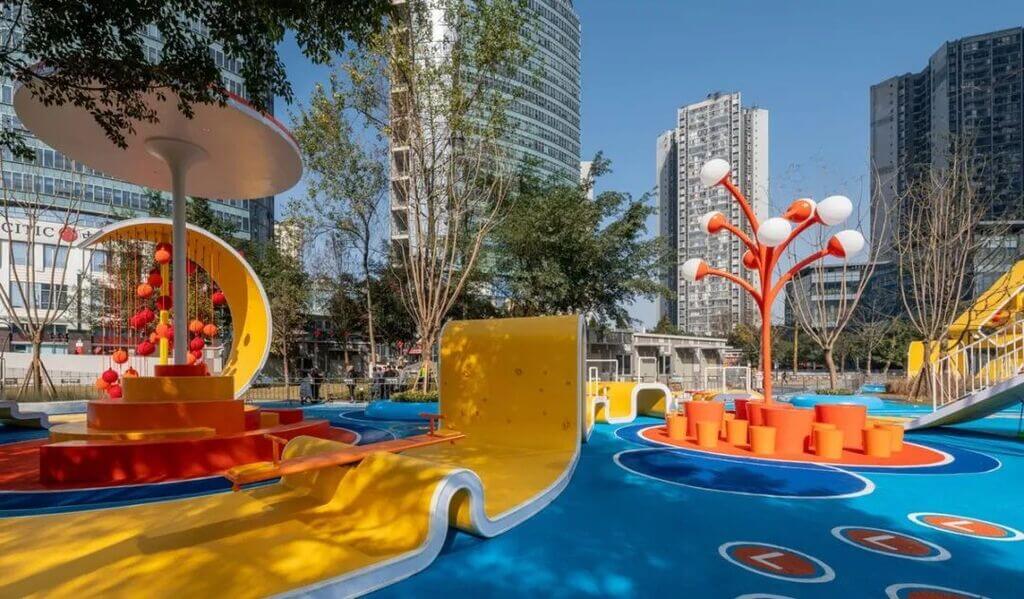 Source: aisoutu.com
Pegasus Trail is constructed to be a new typology of public space: "an urban toy for the city." The studio believes that a playground should not be only for kids; everyone should enjoy this place, regardless of their age.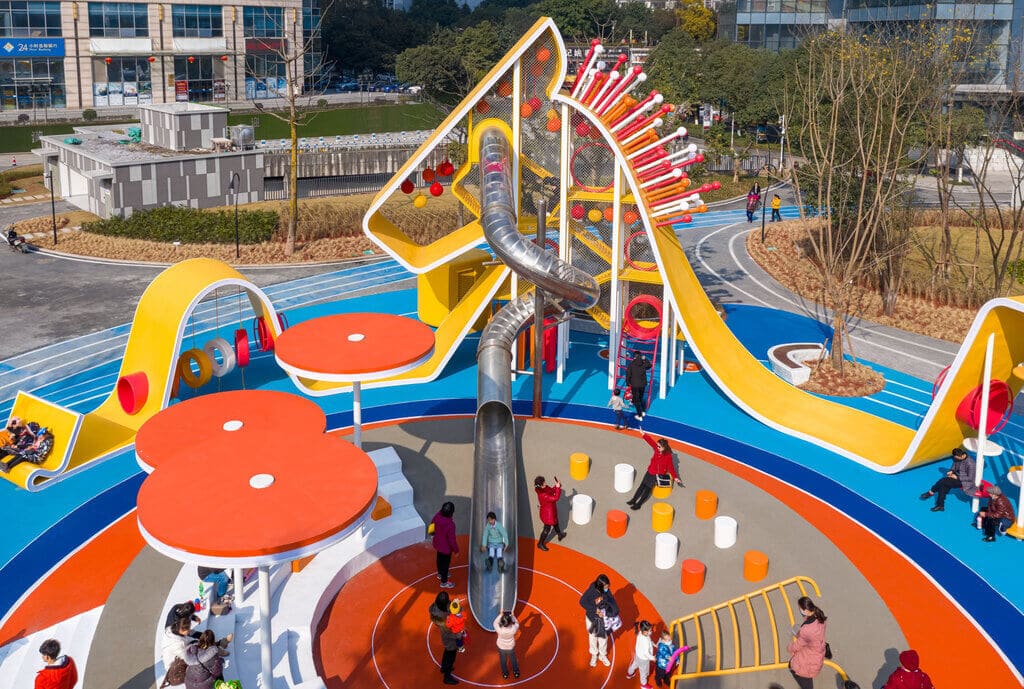 Source: landscapefirst.it
That's why they have designed  this area known as the "urban playscape for the city." The best thing about this playground is that it is for all its citizens; anyone can enjoy and visit it regardless of their age.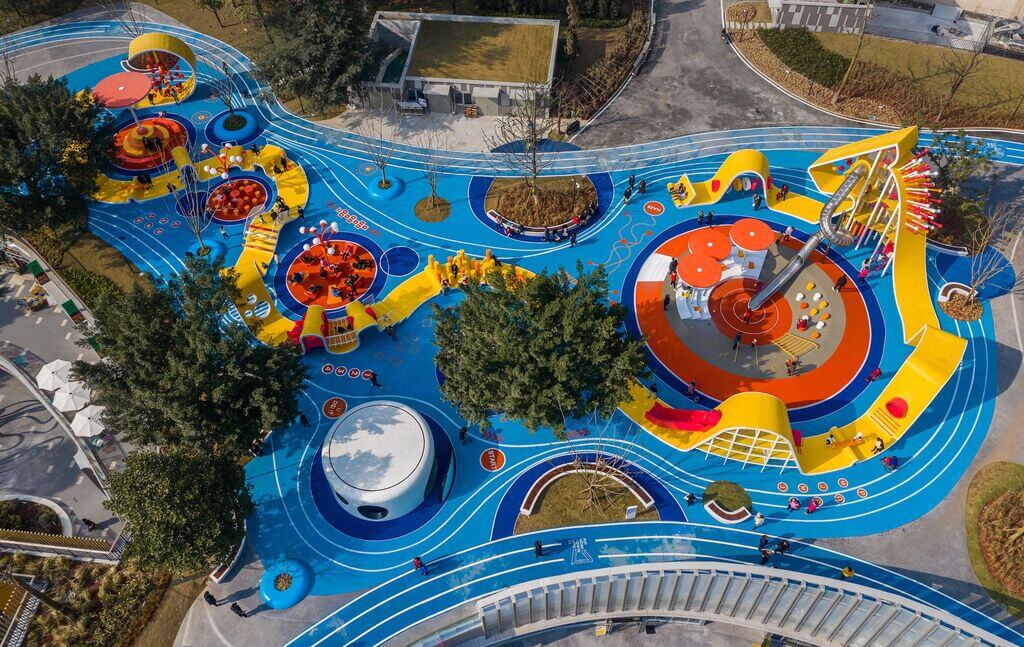 Source: pinimg.com
Did you know that The Pegasus Trail is named after the mythological flying horse? Yes, it falls into the category of "urban toys," and this space is a result of a blend of different tactics ranging from playgrounds to landscaping.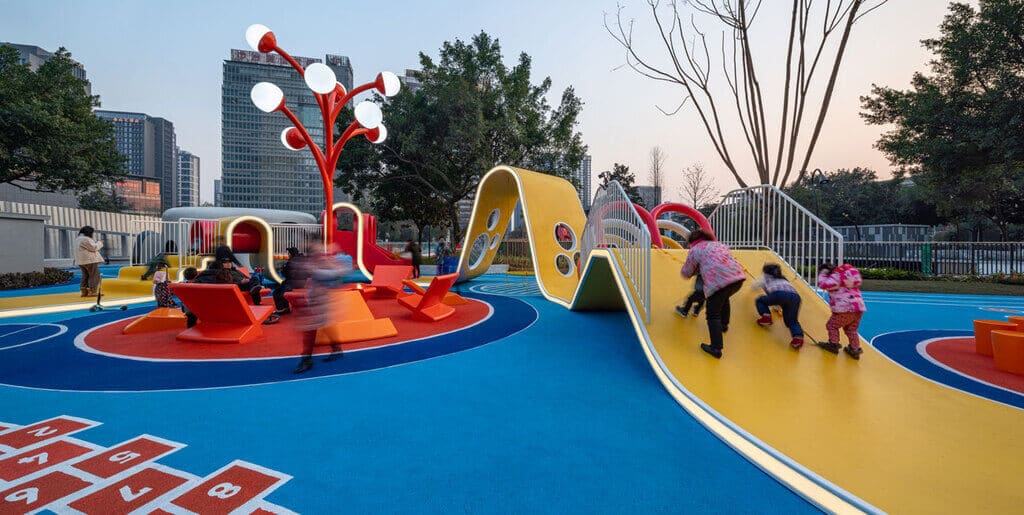 Source: 100architects.com
The main object of this space is to attract the public's interest in the place with its bold visual impact. The entire structure is permanent, which somehow will encourage an increase in public footfall and eventually become an urban landmark.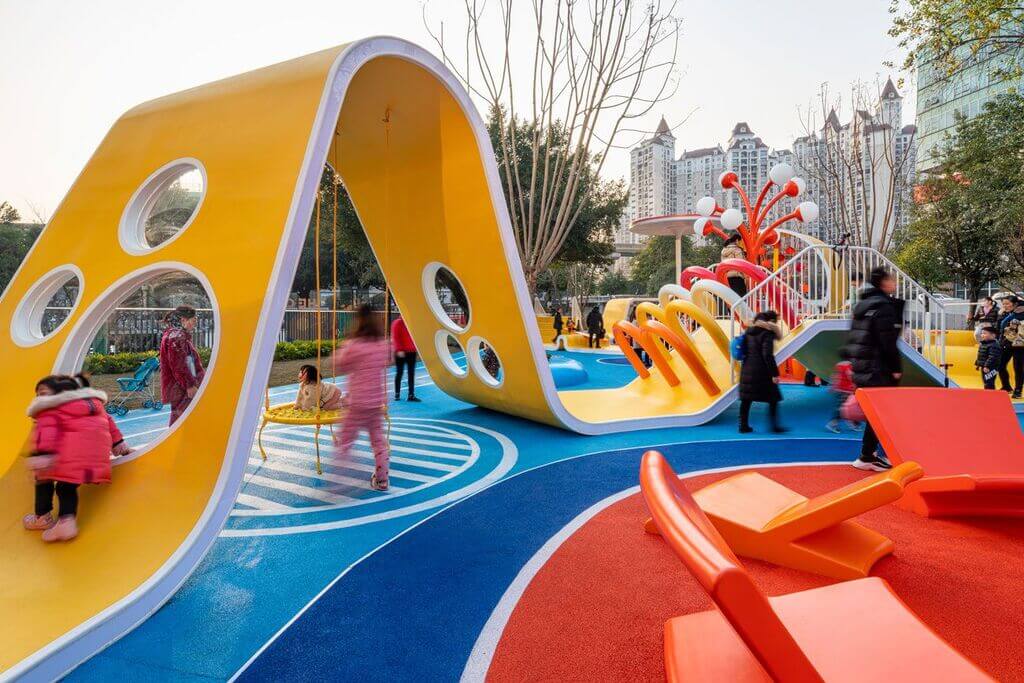 Source: pinimg.com
It is not wrong to say that it acts as an urban attractor that is merged with the cityscape. It beautifully blurs the boundaries between the play area and the surrounding cityscape and presents an open and accessible space for everyone.
Design & Structure Of Pegasus Trail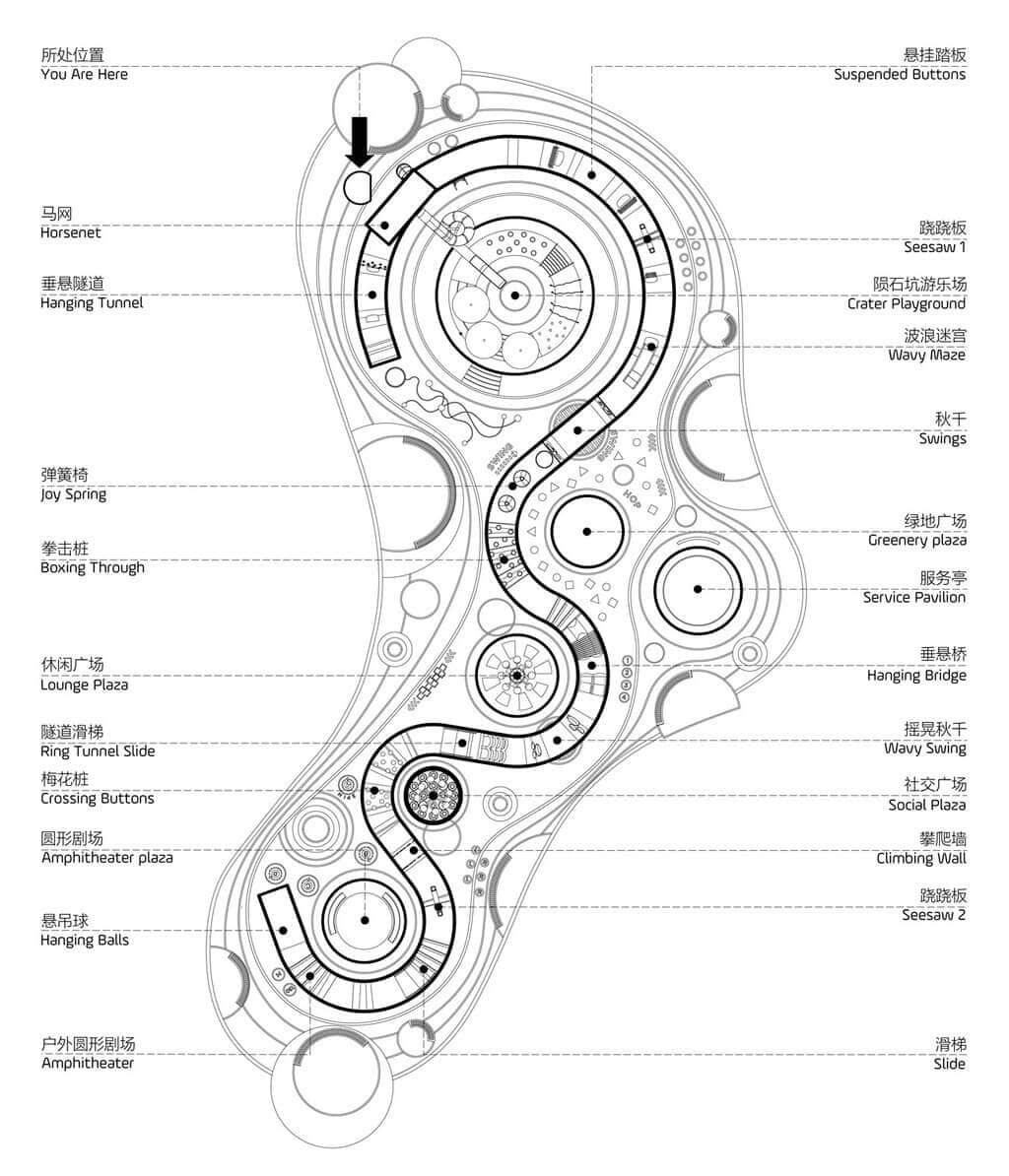 Source: 100architects.com
The design of this multifunctional playscape is inspired by equestrian sports, in which the horse is the central feature of disciplines such as "dressage" and "showjumping." That's why it is named Pegasus. 
Source: pinimg.com
This gorgeous mythical winged horse metaphorically leaves a magical yellow trail behind him in this project and also meandering accurately around circular mini-plazas. These serve as platforms for leisure and social interactions and where adults and children alike can relax.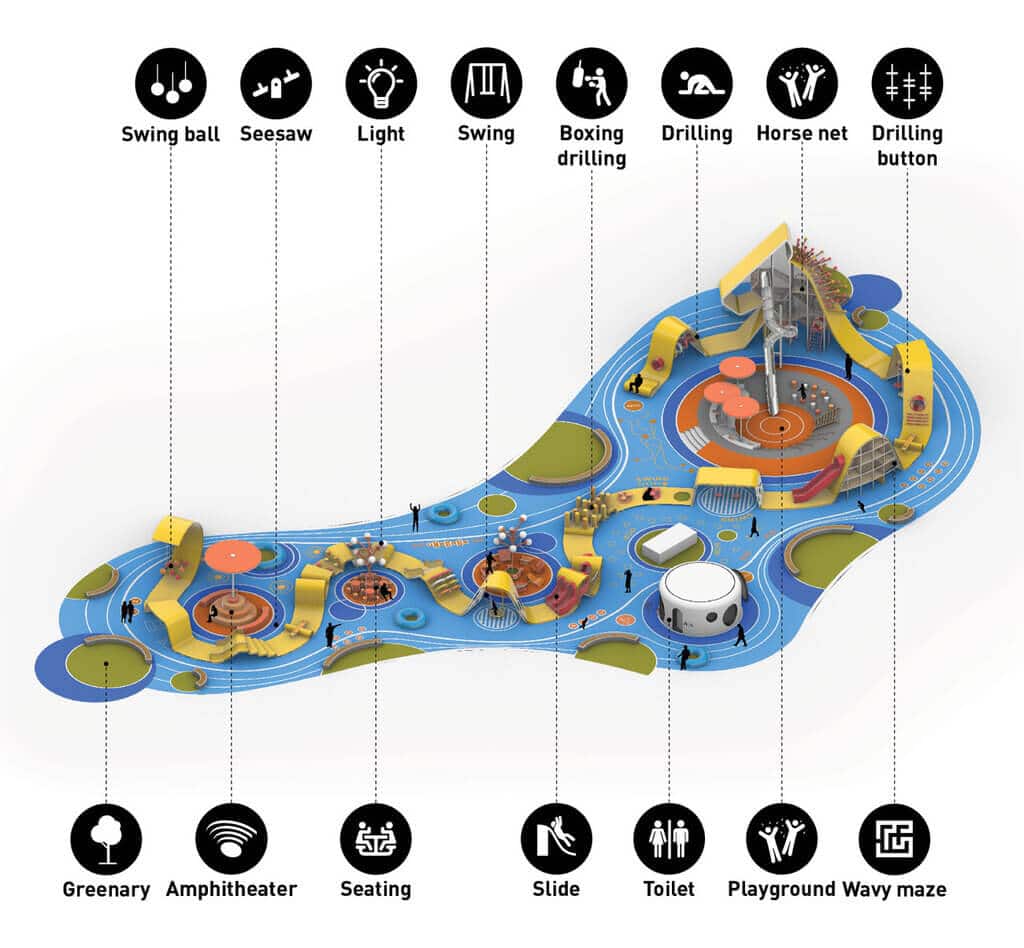 Source: 100architects.com              
All these remarkable designs turn the playscape into a multifunctional public space to be enjoyed by kids and adults alike. Like equestrian sports, the design of the Pegasus Trail is completely based on a challenging obstacle course in which users can climb, clamber and slide their way through and overcome all the difficulties.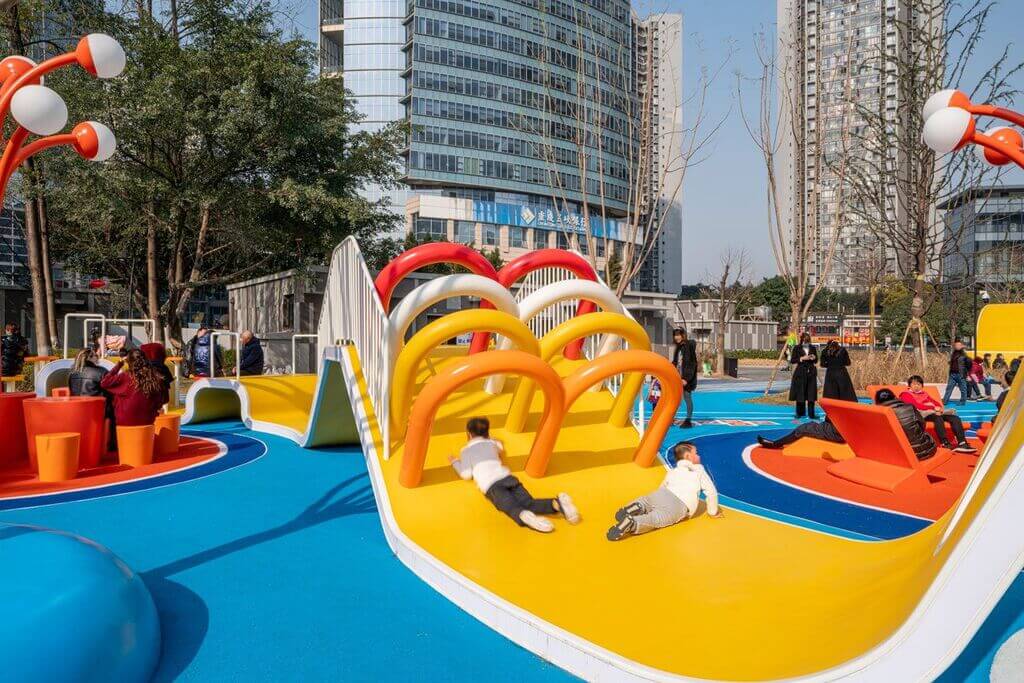 Source: pinimg.com
All these activities turn the playscape into a fun "Play Route." These challenging activities are specifically designed and distributed along the path of the yellow ribbon. This will really help to develop and challenge the physical abilities and cognitive skills of those who take it on.
The Play Route in Pegasus Trail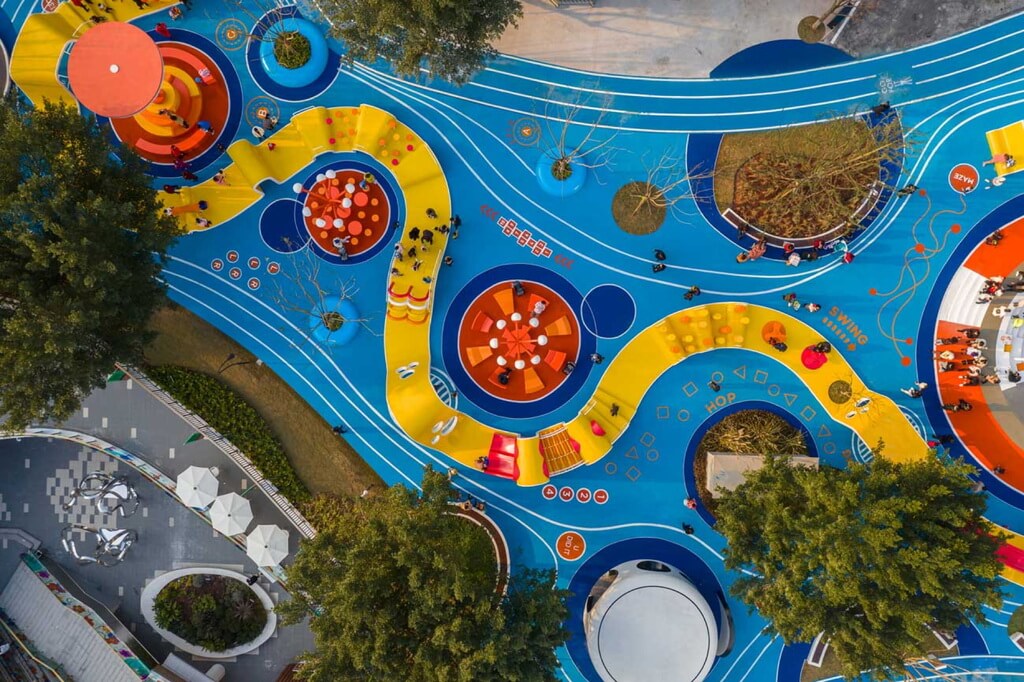 Source: floornature.com
All the playful components of the Play Route have been carefully studied and designed. They have split the play route into different sections and created a sequential circuit of events. 
These levels are composed of challenging activities to be executed one after the other linearly and consecutively. Each section has different levels of complexity corresponding to different age groups.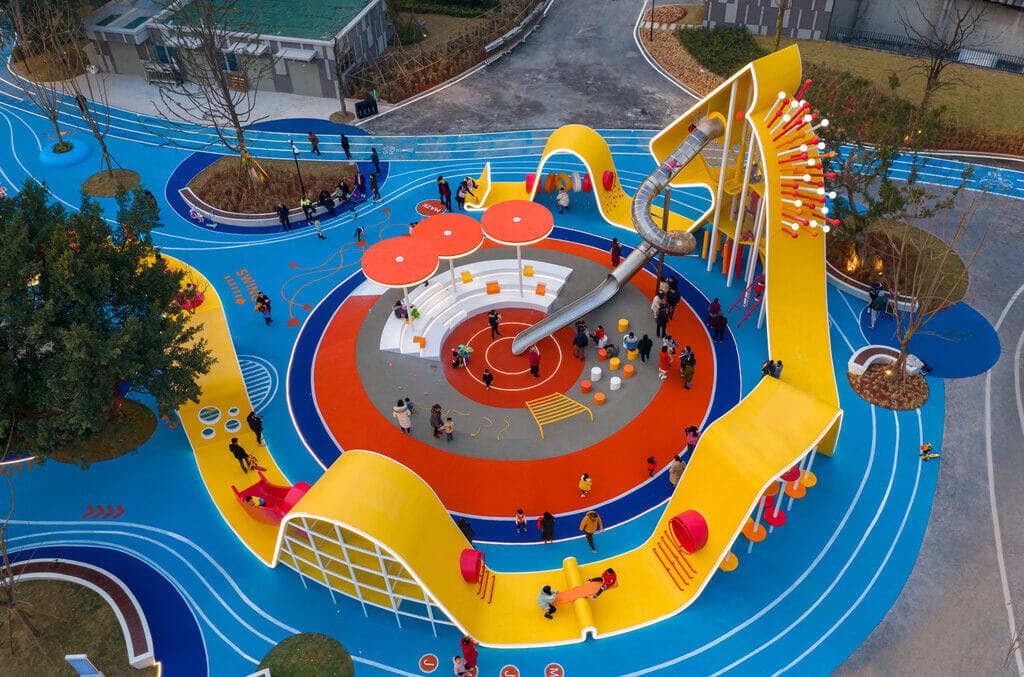 Source: landscapefirst.it
So the easier level of complexity in the active components is at the horse's tail. It is for kids from 3 to 6 years old. As the level increases, the difficulty increases at the horse's head for kids from 6 to 14 years old.   
Playful & Bright Color Scheme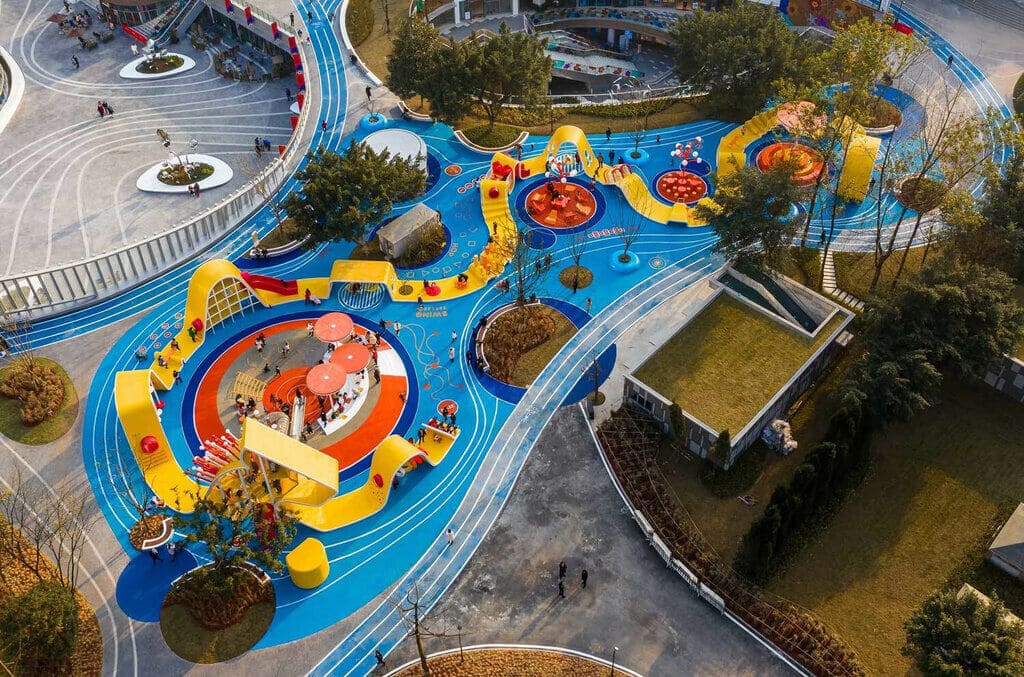 Source: img.piri.net
The playground is adorned with a ribbon that meanders around three circular mini-plazas with different typologies of urban furniture for resting. This functions differently for various age groups. For example, the ribbon represents "play and action" for kids, and it also acts as a "rest and a calm space" for parents and adults.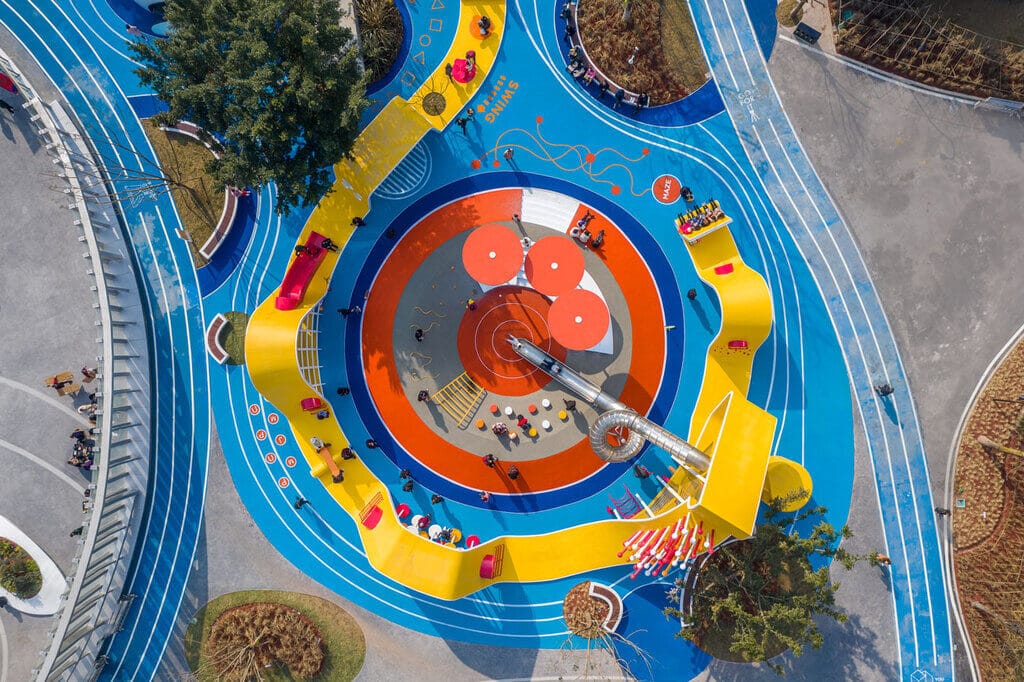 Source: 100architects.com
Designers have specifically chosen the red and yellow color combination for the playground. The bright and intense yellow color will make the ribbon eye-catching and distinct from its surrounding background.
It gives energetic vibes and easily grabs the attention of passers-by. This will also evoke a sense of happiness, vitality, and optimism.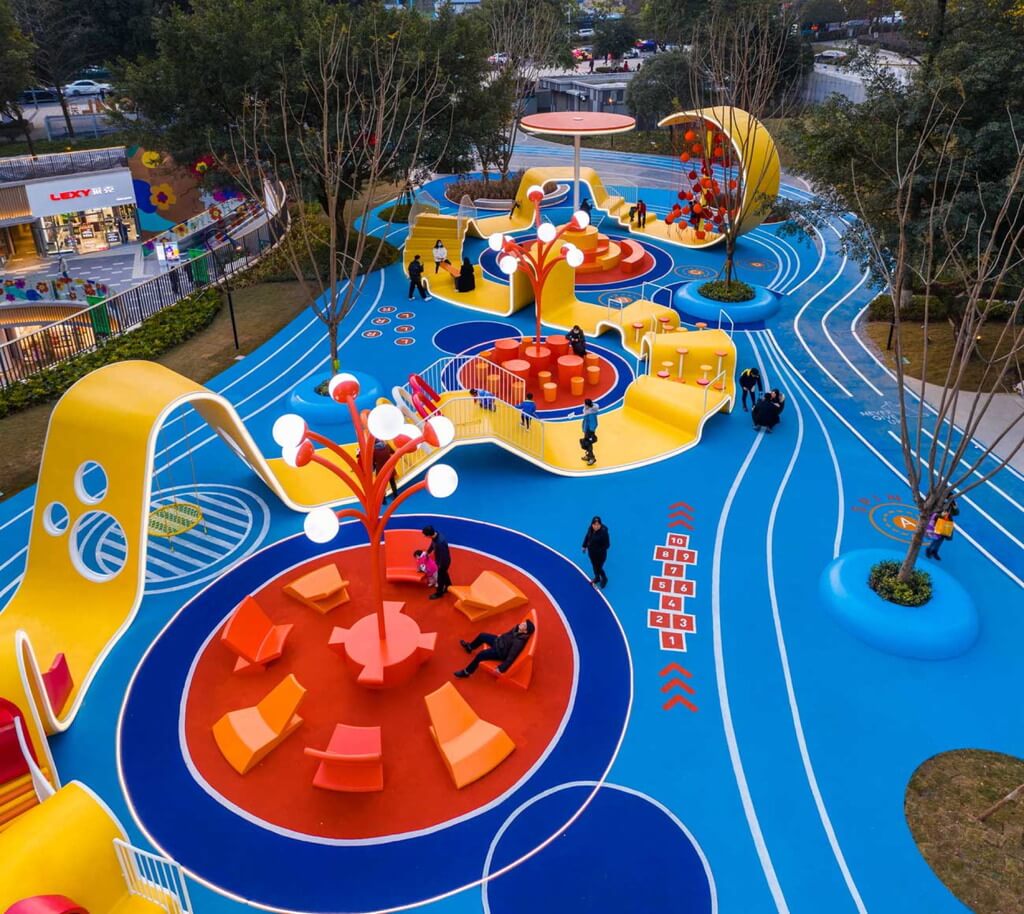 Source: floornature.it
The floor is covered with the ethylene propylene diene monomer. Why only this material? Because it can easily absorb all the impacts that users can leave while playing.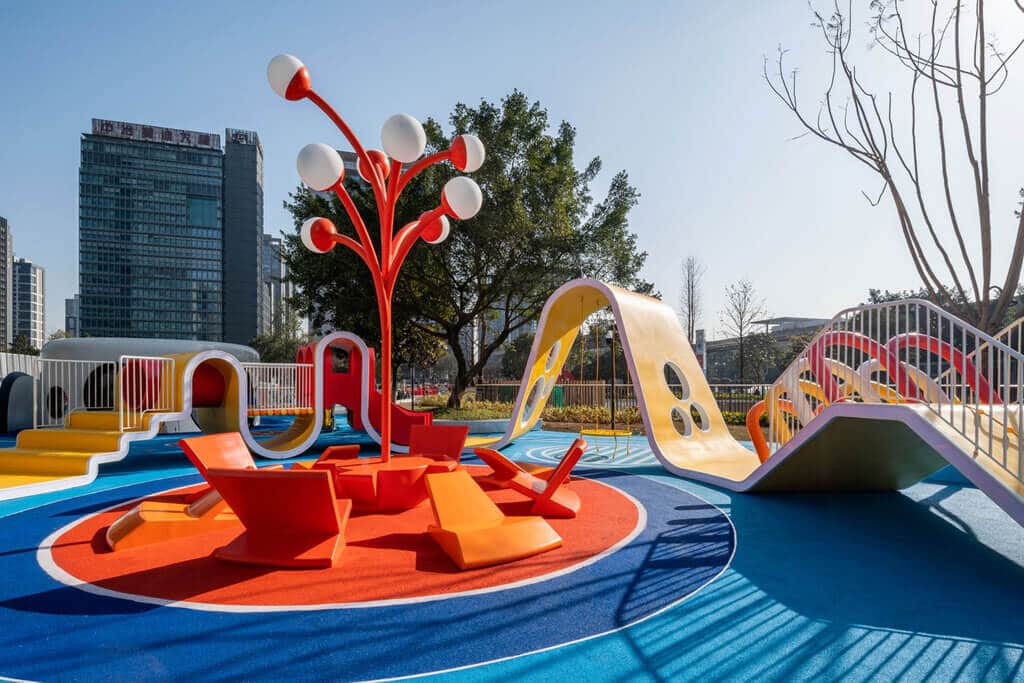 Source: 100architects.com
The floor also has a wide range of patterns, graphics, and interactive games, which help to connect the different spaces and activities on the ribbon.
Also Read: Most Terrifying Glass Bridges In World: China Glass Bridge Is Highest Among All
The Night View of Pegasus Trail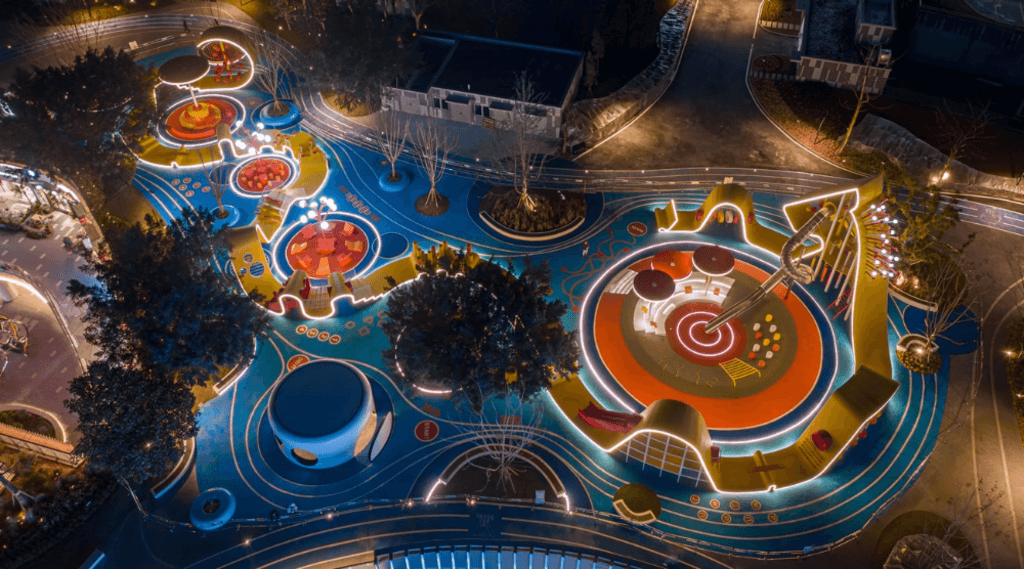 Source: pinimg.com
At night, this playground looks even more beautiful and mesmerizing. The entire ribbon part is embedded with LED warm lightboxes. The lights equally cover both borders of the ribbon.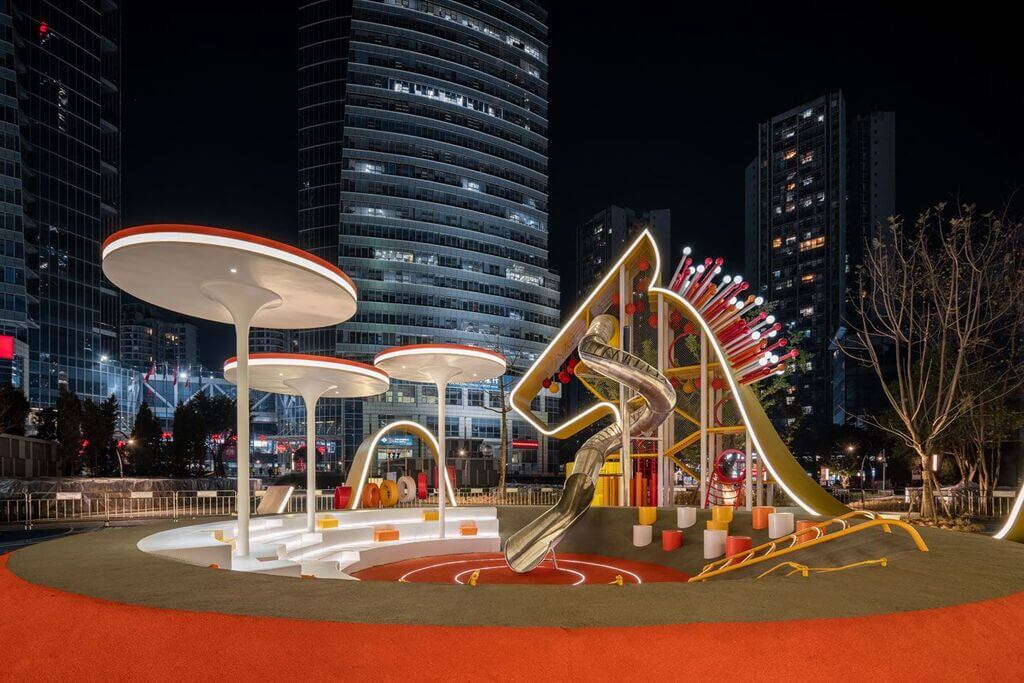 Source: pinimg.com
Other LED lightboxes are embedded in the floor highlight as well the perimeter of the circular plazas. This will provide enough lighting and visual effect at night. 
Here are some more breathtaking pictures of this unique and adventurous playground: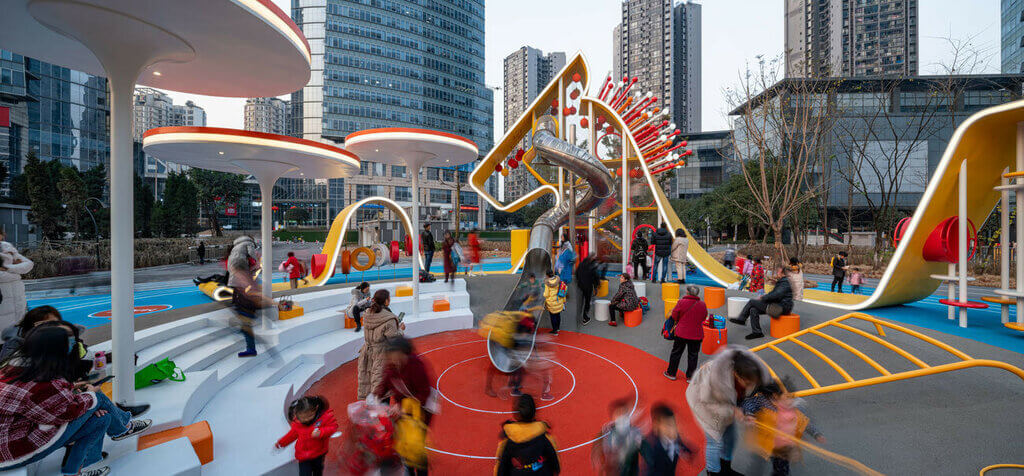 Source: img.piri.net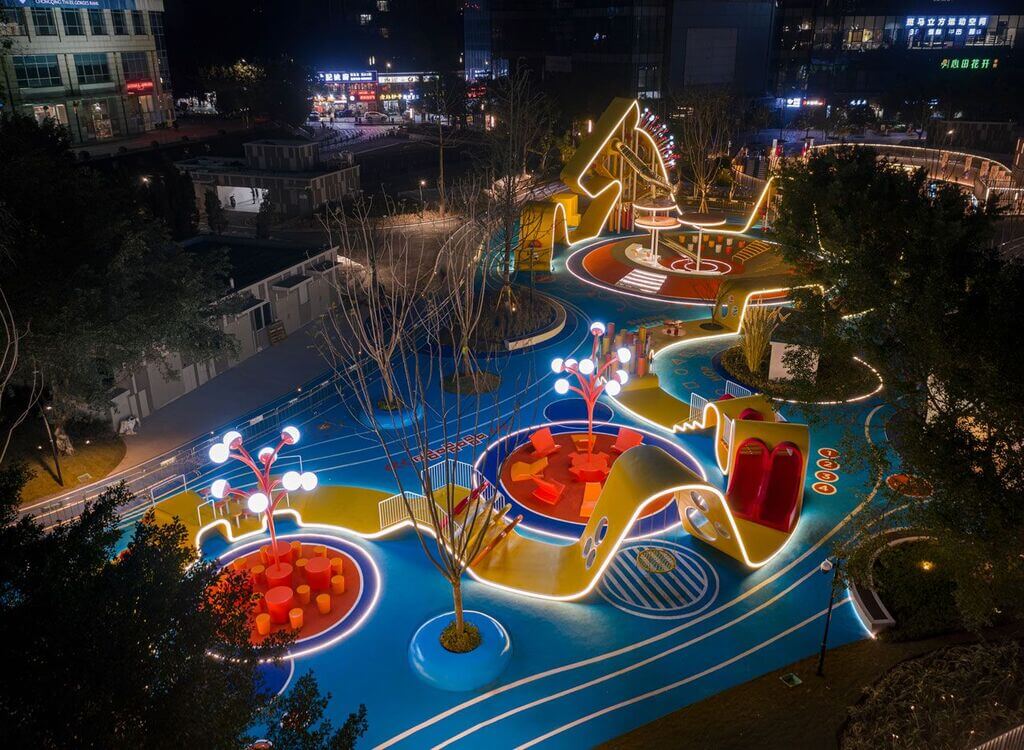 Source: pinimg.com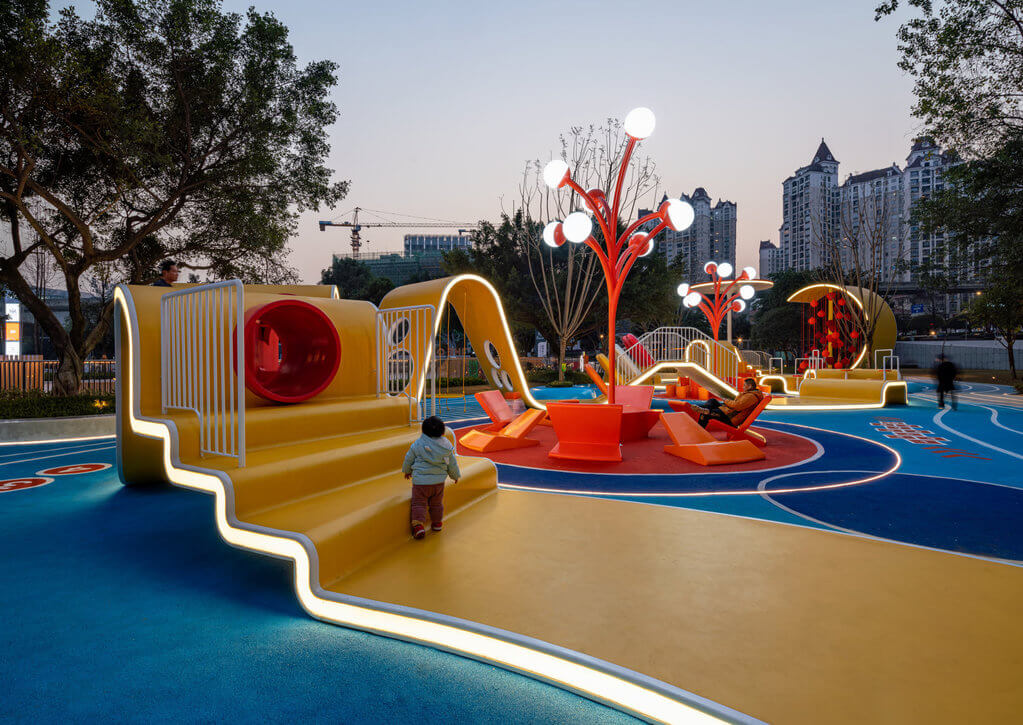 Source: landscapefirst.it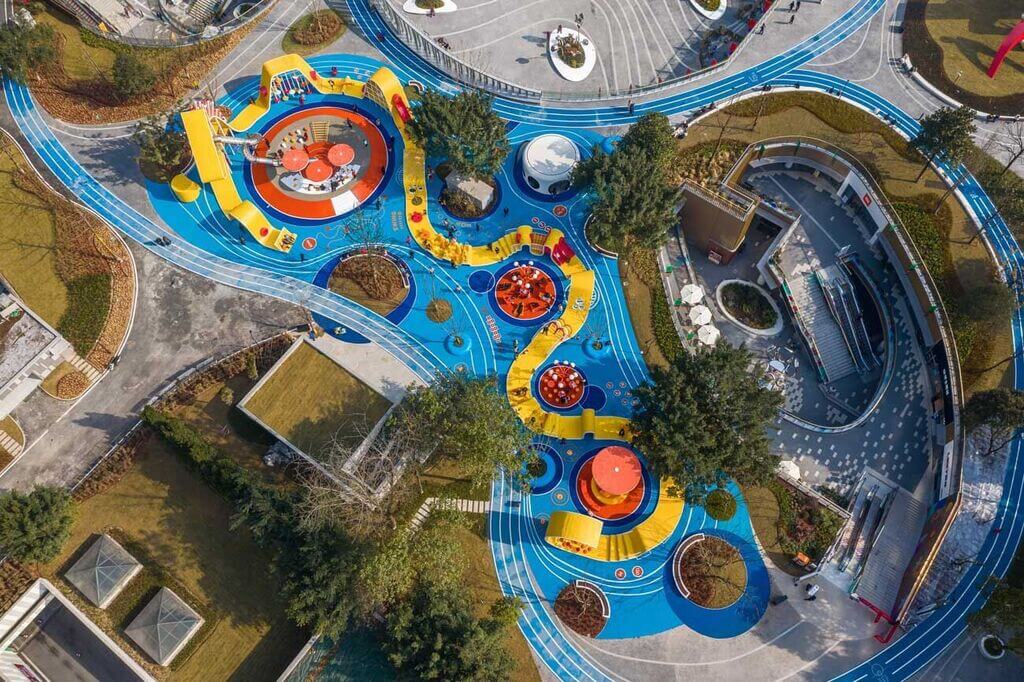 Source: amazonaws.com
Do you want to know more about the other amazing architecture in China? If yes, read our previous blog on the Top 10 Incredible Modern architectures in China.     
The Bottom Line
So, this is all about the Pegasus Trail. This is one of the best projects in China as an urban architecture because it attracts both young and old, day and night.   
The playground looks very attractive and eye-catching in the daytime, but it looks more flattering and enchanting at night. Its serpentine profile with warm LEDs are embedded in both edges of the ribbon and the marks on the ground create a fairytale effect. 
All these little details make this place ideal for social interaction and to do outdoor fun activities during these challenging times of the year. 
I hope you liked this blog about the Pegasus Trail by 100architects. Also, don't forget to share this blog with your family and friends. 
If you want to know more about unique and unusual buildings and constructions in the United States, read our previous blogs on Black Villa in Harriman State Park, Rendezvous House in Teton Village, and Healdsburg House in California.
For more architectural guidance and decoration ideas, keep visiting Architecturesideas. For daily updates, follow us on our Instagram page @architectures_idea.