Hello crafters! How are you doing? How's your crafting going on? Struggling with the storage problem? I can understand. This case was for me a few years back, but now I am totally equipped with lots of craft table with storage space and a work area.
How did that happen? Obviously, by arranging things in an organized manner and getting the craft table with storage. Even I took ideas from YouTube and blogs. So don't worry, you are following the right process.
Here in this article, I will share all the possible ideas related to the craft table and its storage solutions. So get ready to be the organized artist of your time. Do you know why organizing art supplies is necessary before crafting anything?
In my opinion, it will allow you easy access to the products, saving much more time. And you can utilize that time in painting, crafting, or designing whatever your forte or niche is! There are many artists who transformed their craft desks and are so much happy with the result.
So without any delay, let's move to the creative craft table with storage ideas:
Best Craft Table with Storage Ideas
From folding to large and DIY, you will find each type of craft desk here in this list!
1. Folding Craft Table with Storage
Have a compact space for keeping the colossal craft table, don't worry, there's always an option for the folding one. They don't only save space but can be the multi-taskers as well. You won't even need an entire room dedicated to the crafting and will have enough space to store all your supplies.
2. 4Craft Island for Jewelry and Fashion Designers
When you are making jewelry or designing apparel, there is one thing that is needed: a free surrounding space to move around. The craft island is the best one for you. Store all the essential equipment and materials on the shelves located under the tabletop. Other things can rest around in different cabinets. Isn't it a great way to stay organized?
4. A Small Cube Craft Table
Are you doing crafting just for fun or as a hobby? If you are one of them, you might not need the large craft table, and a small cube craft table will do wonders for you. Store all your art supplies in the drawers and cabinets below them, place a chair, and tada, you are good to go.
5. DIY Craft Table with Storage
If you don't want to purchase the table, go for DIY. Yes, you heard it right. You can indeed make a workstation on your own. Use different sizes of bookcases to make under shelves on both sides and screw the tabletop on top of them. And, here you have the craft table ready for your artistic work.
6. Be Practical with the Large Craft Table Choice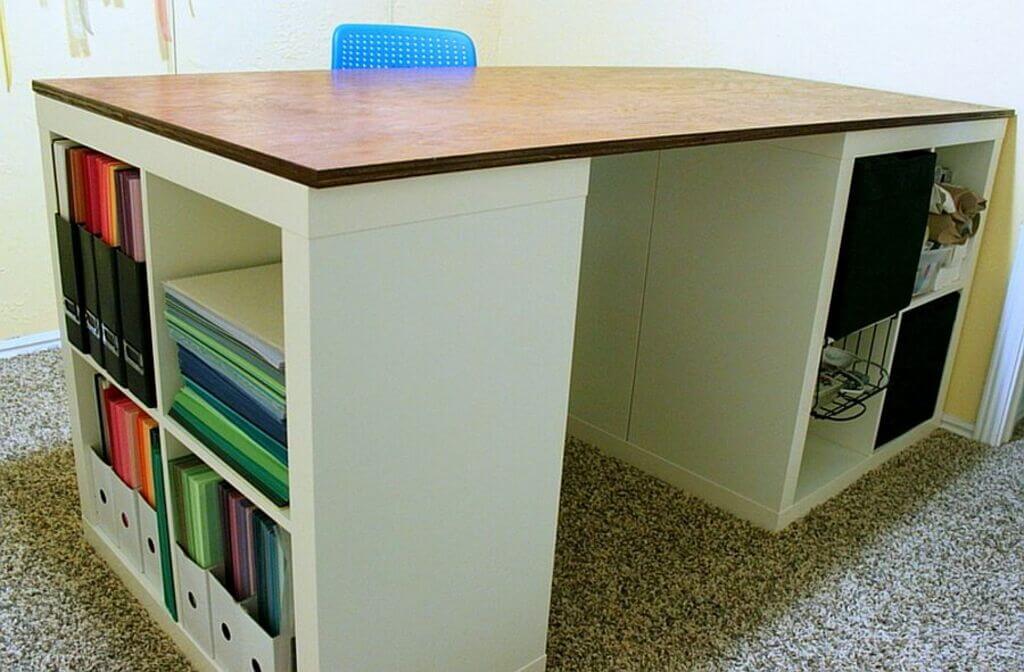 It isn't always necessary to have vast storage options with large crafting tables. If you can get your hands on baskets and boxes, then two horizontal shelves with the tabletop will also be a great choice.
7. Bistro Style Craft Table
If you just need a few storage shelves, then bistro style is an ideal choice for you. As it has two to three frames on the side and enough open mid-space to rest your feet. You can also store other things in the basket over there (if you wish to)!
8. Two-Person Craft Table with Storage
This can be the best choice for the ones who take one-on-one art classes or have a two-member team to complete the task. The shelving options on the sides are plenty enough to store all the essential art supplies and will also blend in perfectly with the room's aesthetics.
9. Cute and Customized Art and Craft Table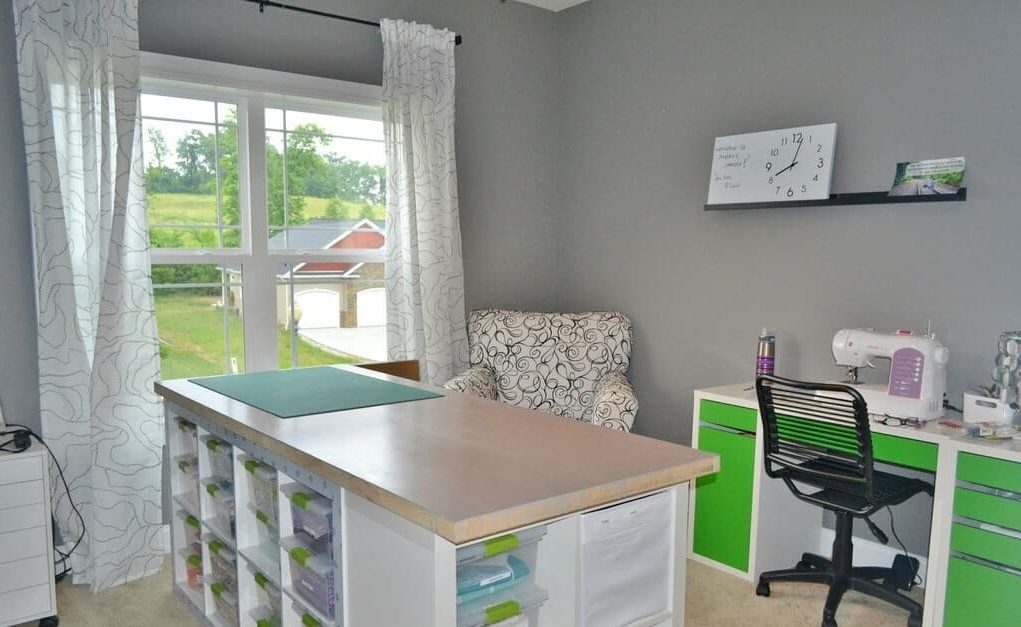 You can customize your art and craft table using colors and designs of your choice. Being an artist has its own benefits. You don't have to look for thousands of designs to decide on one. Just a cup of coffee and fresh air can instill creativeness.
10. Custom Craft Table
Turn the desk into a craft table by adding necessary bookcases or any storage-related thing underneath. You can also stick the to-do task board on the wall, and a small pen or brush stands on the side. This isn't exactly the DIY, rather a transformation.
11. Kids Craft Table with Storage
Kids are usually into art and craft things. So, it will be beneficial for them if they have a crafting work table in the room. This will be the place where they will enjoy every moment and learn to stay organized as well.
P.S: You must teach about staying organized and promote cleanliness values in them, right from childhood. It does benefit everyone!
12. Four-Tower Craft Table with Storage Ideas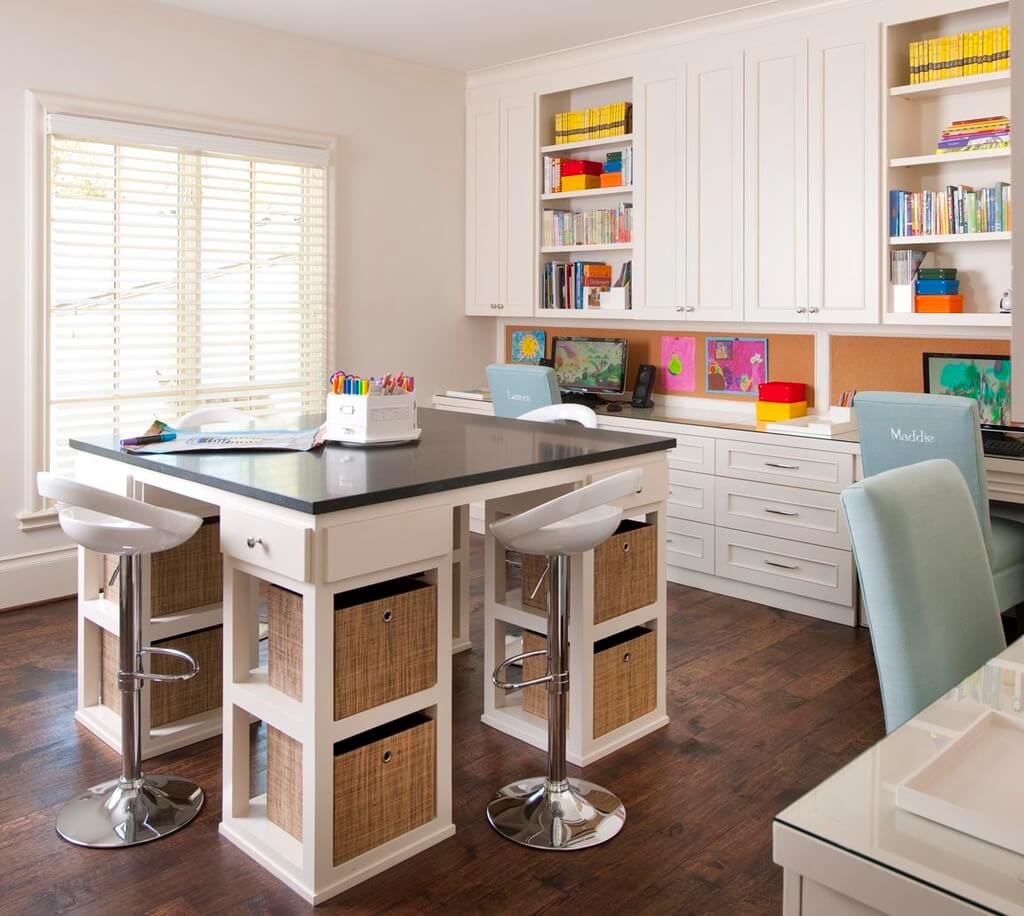 This table isn't suitable for everyone, but the adults and professionals, who work with a team on the project. The four tower craft table has storage capacity like no other, right from the tiniest equipment to the huge materials store everything at a hands distance. You can even turn the table into a dining space for the break times (but remember to clean it properly before resuming the work).
13. Multifunctional Large Craft Desk
This table is ideal for every type of artist working as a team or is a one-person army. Why? Arrange different things on the table at a certain distance, and you will be able to know where you are and where you have to move. This one is ideal, especially for fashion, interior, and jewelry designers.
14. Centerpiece Craft Table
Even though this centerpiece crafting table doesn't have many storage options, it can be the best for your art room. How? Look for the craft room wall shelving ideas and you will understand. If you feel like bending and getting supplies is too much for you, wall shelving will act as a rescuer.
15. Built-In Craft Table
If you are planning to get the renovations done, go for the built-in craft table or desk. It will not only save the area in the room but will also match the room's theme. It can be the study table for your kid and a work table for you. Add as many drawers and cabinets as you want, without any restriction.
16. Sewing Table with Storage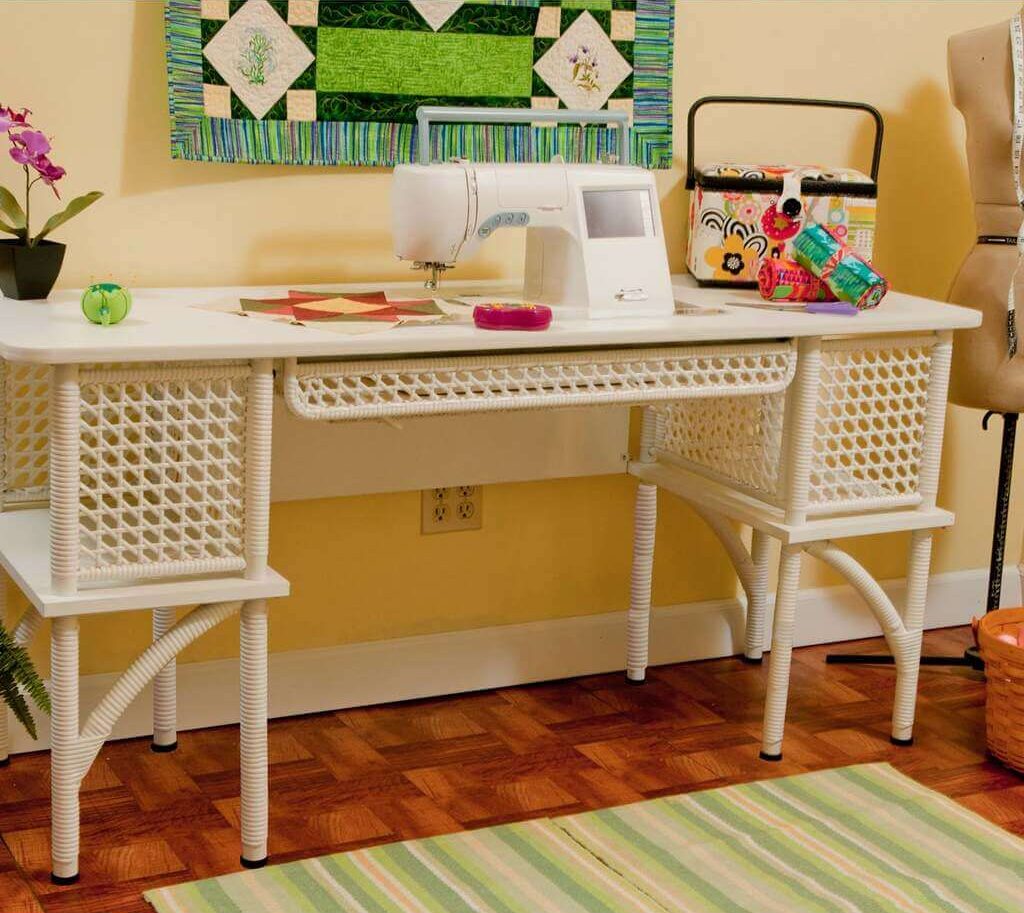 Sewing is also one kind of craft where you work with fabrics instead of paper, canvas, or stones. Usually, the sewing table is compact with less space on the workspace, let alone the storage options. So, get the craft-cum-sewing table with storage to keep materials at bay.
17. Counter Height Craft Table
If you are a fashion designer, a counter-height craft table is an ideal choice for you. Deciding patterns and cutting them requires lots of space to move around. The height of the table allows you to work comfortably even while standing.
18. Small Craft Desk
It isn't necessary to have a large craft desk. If you have less space and there's no need for a storage area as well, then a small craft desk will be the exact one. From painting and crafting to designing apparel and making jewelry, you can do anything you want.
19. Huge Foldable Cabinet Craft Table
You already read about the folding craft table, but this one is a cabinet with ample storage. Buy a cabinet and get the built-in craft table free! Yes, this furniture screams that only. You can store all the art supplies from the tiniest to the huge canvas.
20. Portable Craft Table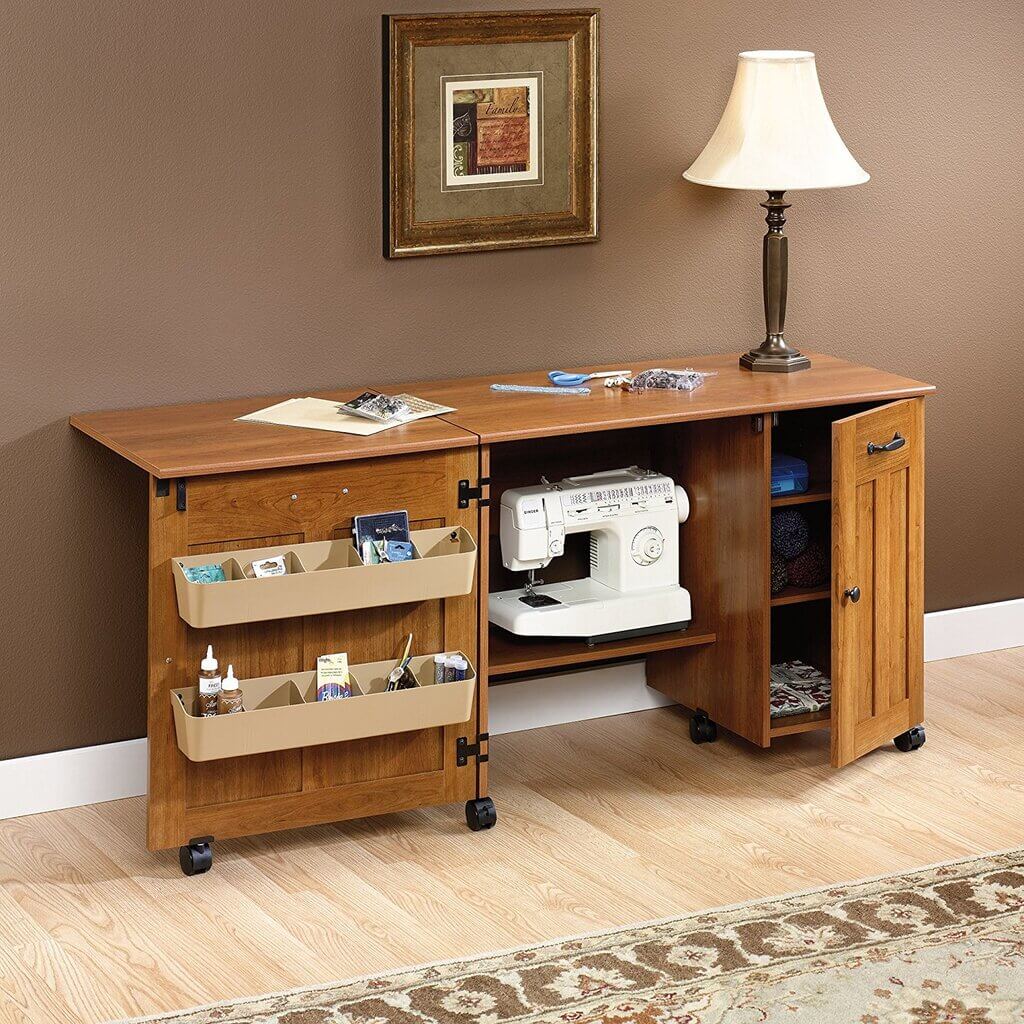 Portability is the fact that everyone prefers. Yes, you can even port the craft table from one to another room, without much effort. What makes them portable? The answer is simple, Wheels! Roll the table here and there freely to complete the task, without disassembling it. You can find them in small and large sizes as well.
21. Wall-Mounted Craft Table with Storage
Last but not least is the wall mounted craft table. You can opt for this while renovating the room or house and even after that as well. The benefit of a wall mounted craft table is you won't have to bend or walk around the table to get the supplies.
Everything will be there at one hand's distance. You also don't need to decorate the wall, as the shelves on the wall will do most of the work. Isn't that great? It will be a classic piece in your household.
Get Craft Table With Storage to Ease Your Crafting
These were the 15 best craft tables with storage ideas. Whether you are a newbie or professional every desk on the list will help you out in staying organized and ease the process. You can merge two or more ideas to get the best outcome. What are you still waiting for? Get yourself a table or make one!