7+ Solid Wood Coffee Table To Enhance The Beauty Of Living Room
Neither you nor can we deny the fact that solid wood is in trend, from floorings to furniture and even exteriors are being adorned with the solid wood. Its maintenance is a bit demanding, but trust us you won't regret giving your time when it will last over a decade.
Here in this blog, we are here to talk about one of the common pieces of furniture that are mandatory in a home. What is it? What is it? A Coffee Table! Yep. So a coffee table enhances the beauty of the living area. 
It is that furniture, where you are going to keep your drinks, and legs around it, there are going to be many memories. You might spill something over it or may adorn it with plant pots. The base needs to be firm, and hence we are here with a solid wood coffee table.
We are damn excited about it, are you? Here are several options when it comes to the selection, you will find thousands of results for the term "solid wood coffee table." However which one is genuine and which one is just pretending, you never know. 
To help you with this situation we have done thorough research on the same to get better results. The main consideration point was the customer review. No consumer would declare a product to be good if it isn't! So apart from everything that is another thing you should consider, while buying. Especially, if it is an online purchase.
Without delay let's dive in,
Solid Wood Coffee Tables For Your Space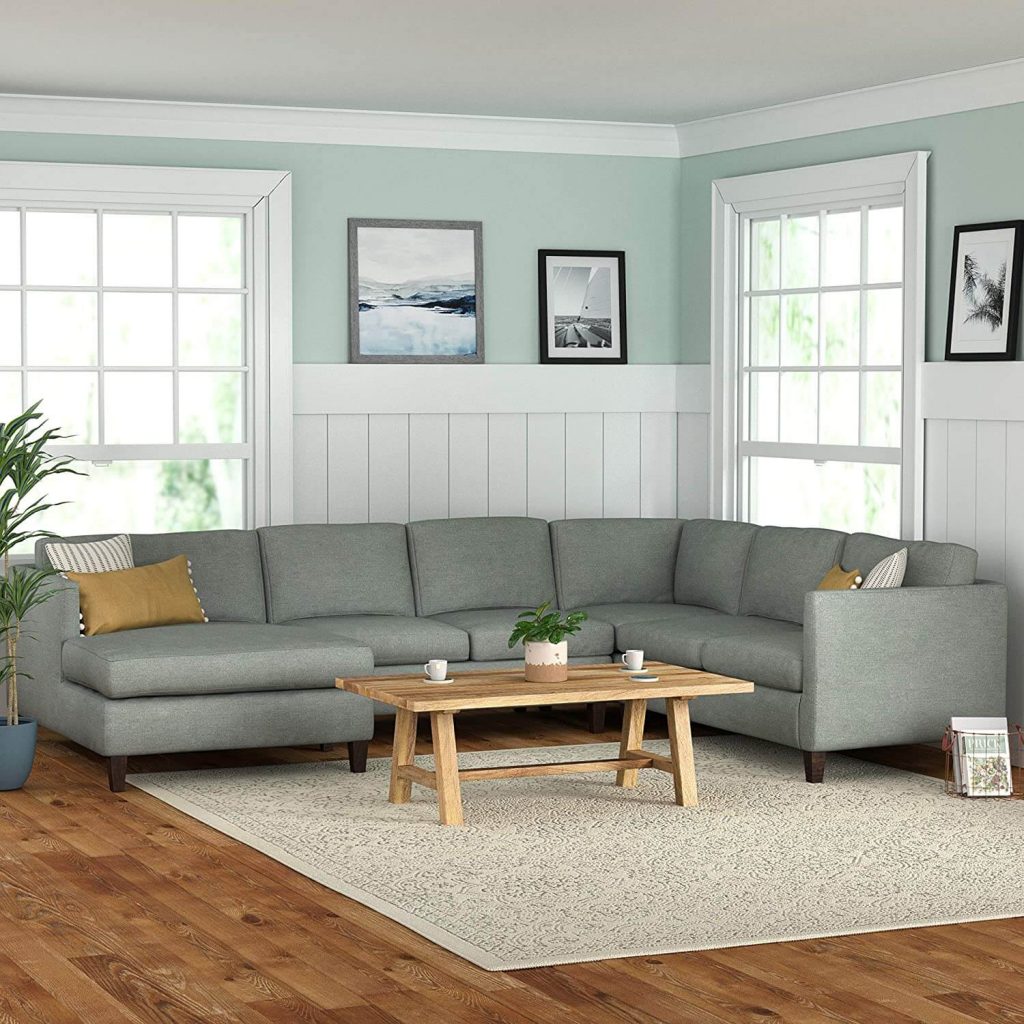 source: amazon.com

Stone & Beam, Amazon's brand has an amazing table with the trestle-style base. You can't deny the fact about the old style being in trend again. The size of the table is 51.97″ x 29.92″ x 17.91″ (W x D x H).
If your house has a farmhouse themed decor, or you want to go for the industrial piece, then my friend this one's for you only. The dinette is made using solid mango wood and has durability as premium quality.
The pro point of the table is you can assemble it in a few minutes like 10 to 15 min. The reviews for this product revolves around its durability, texture, and heavyweight (which is a good thing).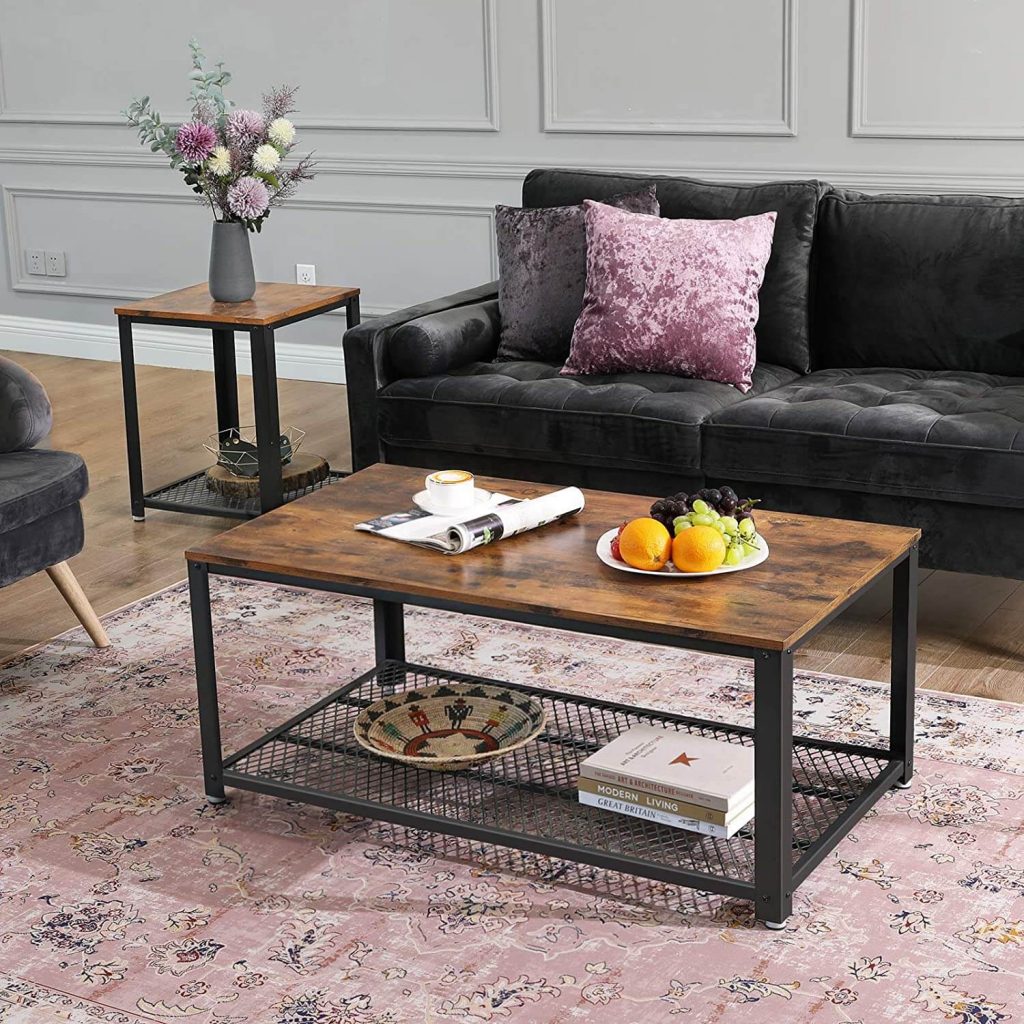 source: conforama.fr

The combination of metal and wood has always created a perfect and attractive product design. The coffee table from VASAGLE is the best example. With its warm wood tone and vintage style design, it will earn you fascinating looks.
The size of the table is 41. 8″L x 23. 7″W x 17. 7″ H. It has matte-black rust iron frame and robust tabletop. Most of the customer reviews are based on their looks, durability, and easy-to-assemble.  Many customers have even tagged it as a 'highly recommended'.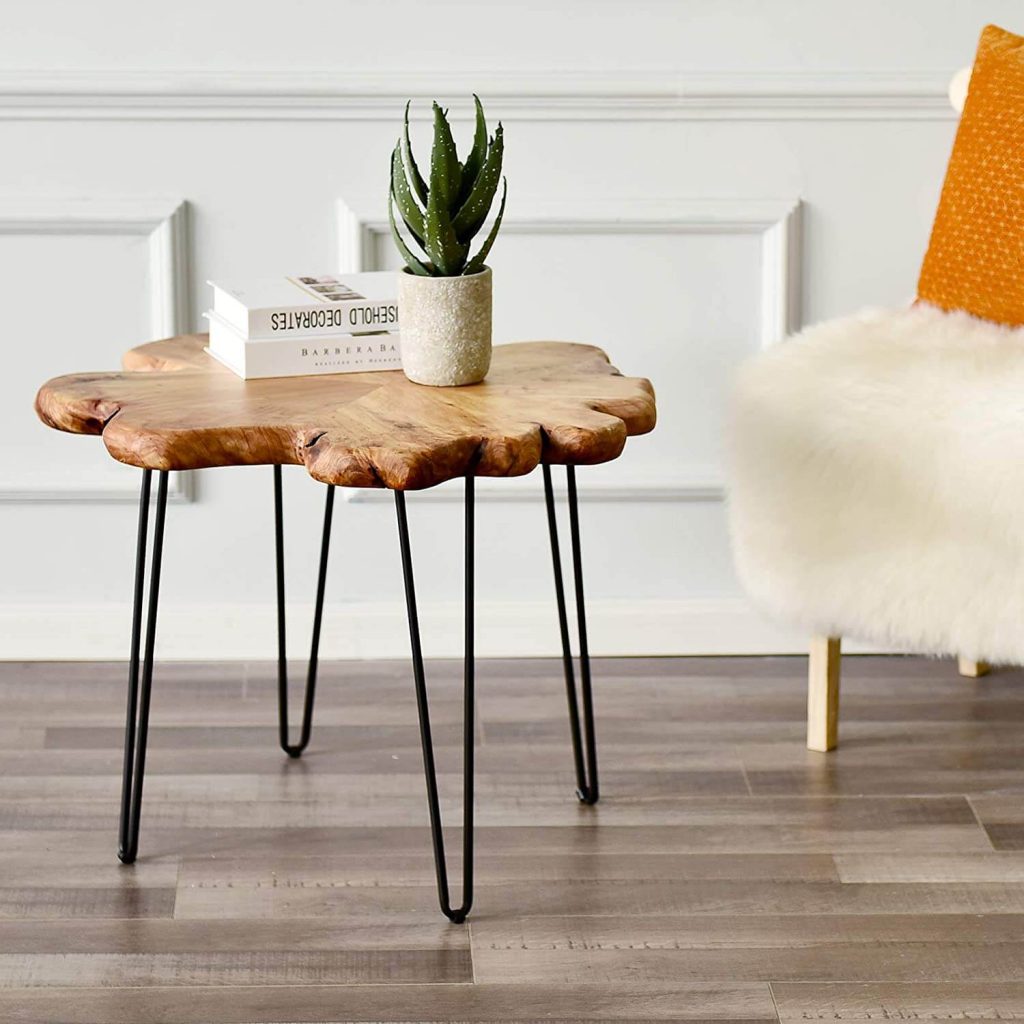 source: ebay.com

This coffee table is one of our favorites. Why? Because of its design. The flower-shaped table with a metal stand will definitely steal the glances from the family, friends, and even guests. It will look best on a faux fur rug.
The size of the table is 32" L x 32" W x 20.5" H. It's a bit smaller than the others but is worth it. This is the only reason it has multiple usages, you can keep it in a bedroom, living room, entrance, hallway, anywhere.
The customers have given it five stars for its durability. Other factors like, sturdiness, easy-to-assemble, and value for money are also rated around 4.5 stars. A good product overall!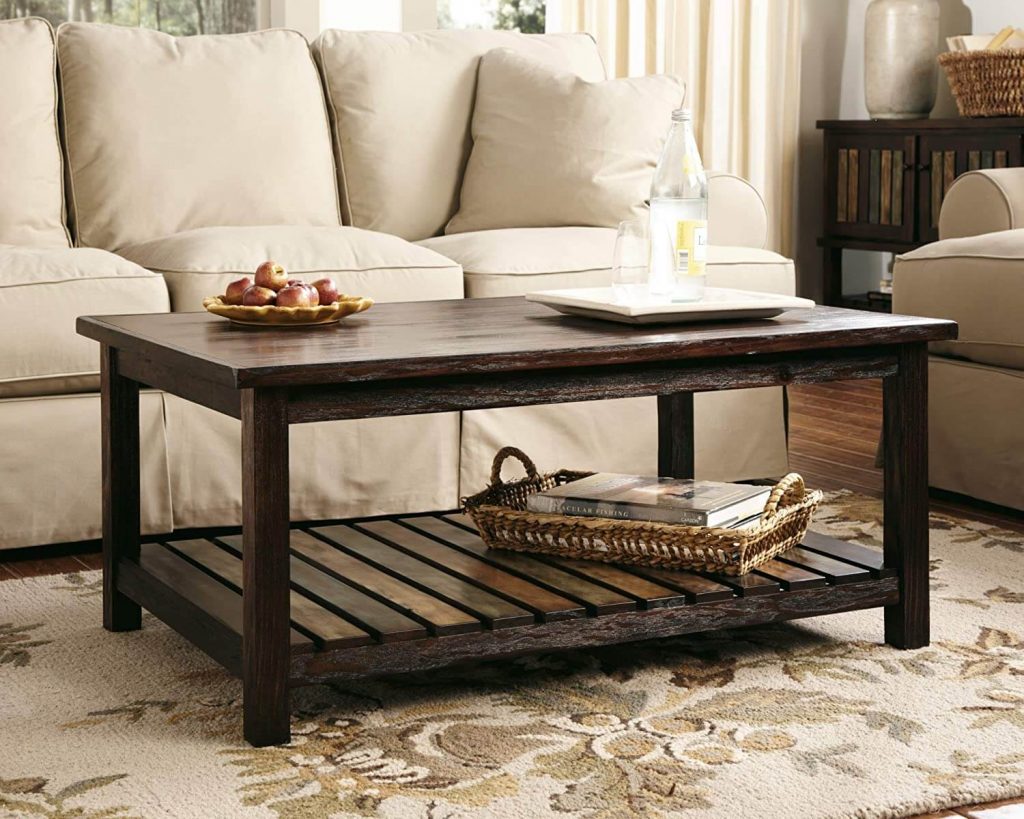 source: amazon.com

If you want a rustic and chic look in your living area. You are in the right place, man! This coffee table from Signature Design by Ashley is known for its rustic style design and its chic outlook. This is a multi-purpose table with a storage shelf beneath.
The size of the table is 42″ W x 28″ D x 18″ H with the shelf opening of 39.25 inches. The construction of the table is done with the veneers, wood, and man-made wood. This one is an easy-to-assemble product, which comes with its instruction manual and tools required for the same.
Many customers have loved the setting for colorful wood panels on the bottom shelf. It really uplifts the entire look and gives it a different vibe.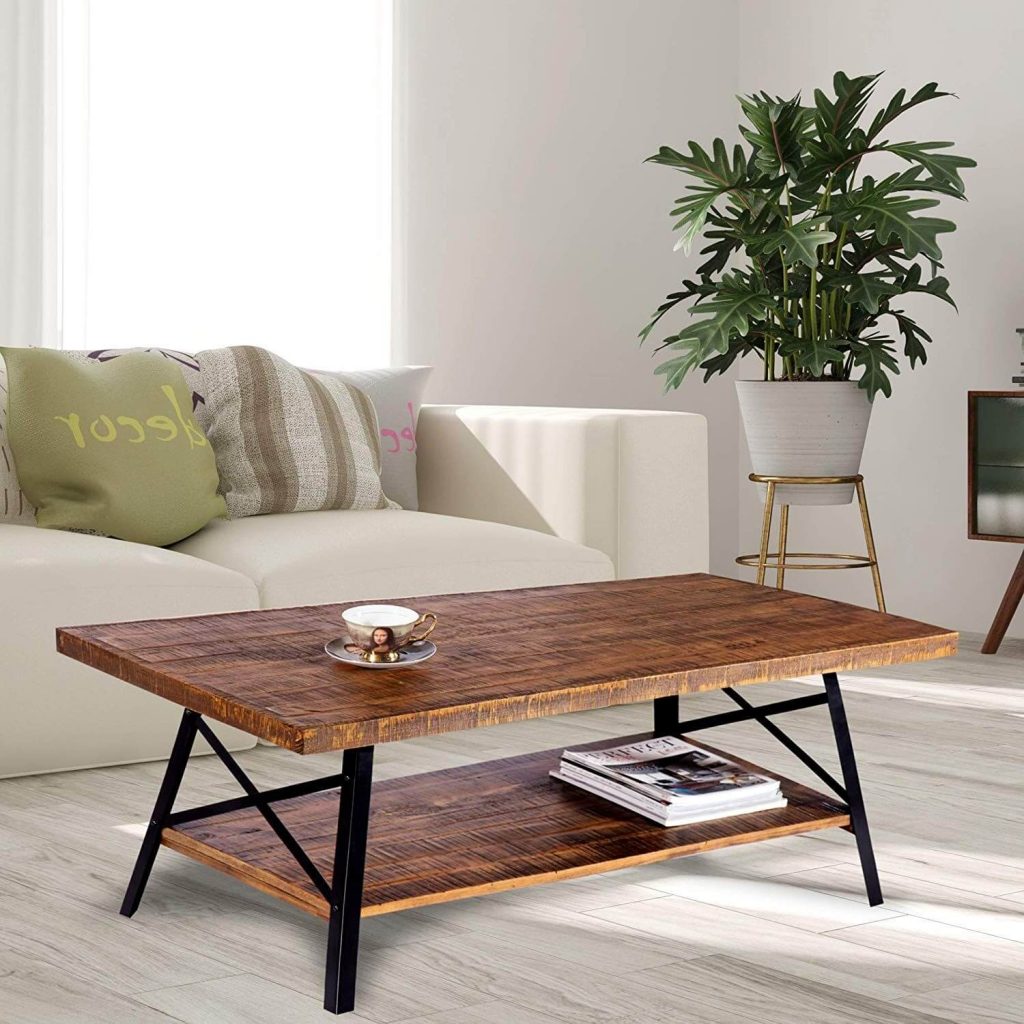 source: pinterest.com

One more metal and wood combo! This coffee table from Olee Sleep is made up of solid and hard pine wood of natural tones with strong steel legs for the sturdiness. The attractive point of this product is its flexibility to set with any room be it farmhouse themed or the industrial.
The dimensions of this cocktail table are 46" W x 24" D x 18" H. This one also has the wooden shelf at the bottom, which provides plenty of space for storage. To make the coffee table stand, you only have to screw in the bolts and it's done.
It is a highly recommended product by many of the customers due to its unique feature of easy to install, and value of money. You will never regret getting this one, plus it will look good with any of the settings of your room.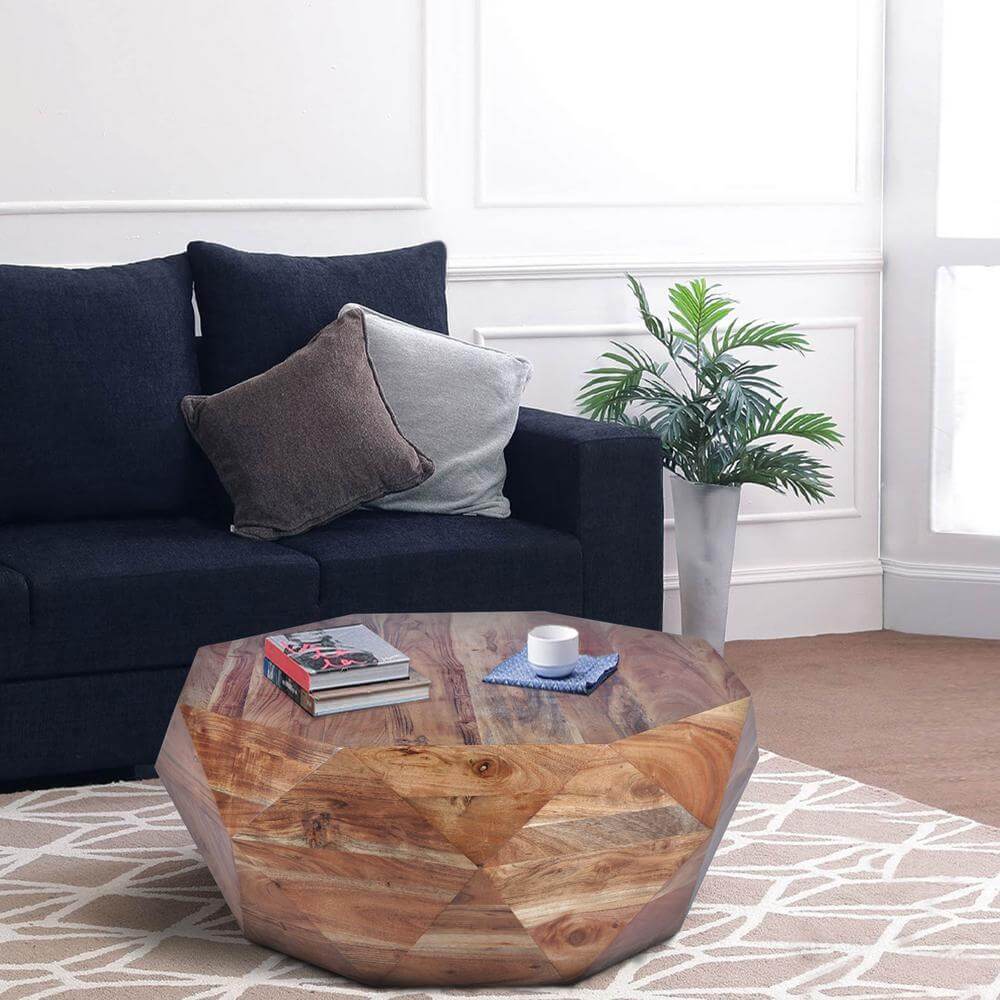 source: homedepot.com

Sometimes it's okay to think out of the box, the same way it is also okay to switch the usual shape of the table to something unusual like this one. The urban port has come up with the hexagonal coffee table.
This amazingly unique coffee table is made of acacia wood and has three shades in brown, dark, natural, and light. The dimension of the product is 35 inches in diameter and 15 inches of height. You can complement it with relaxing armchairs around it.
Customers are happy over the heels for their geometrical shape and smooth finishing. Plus it goes well with the ambiance of the living room, consumes less space, and is perfect value for money.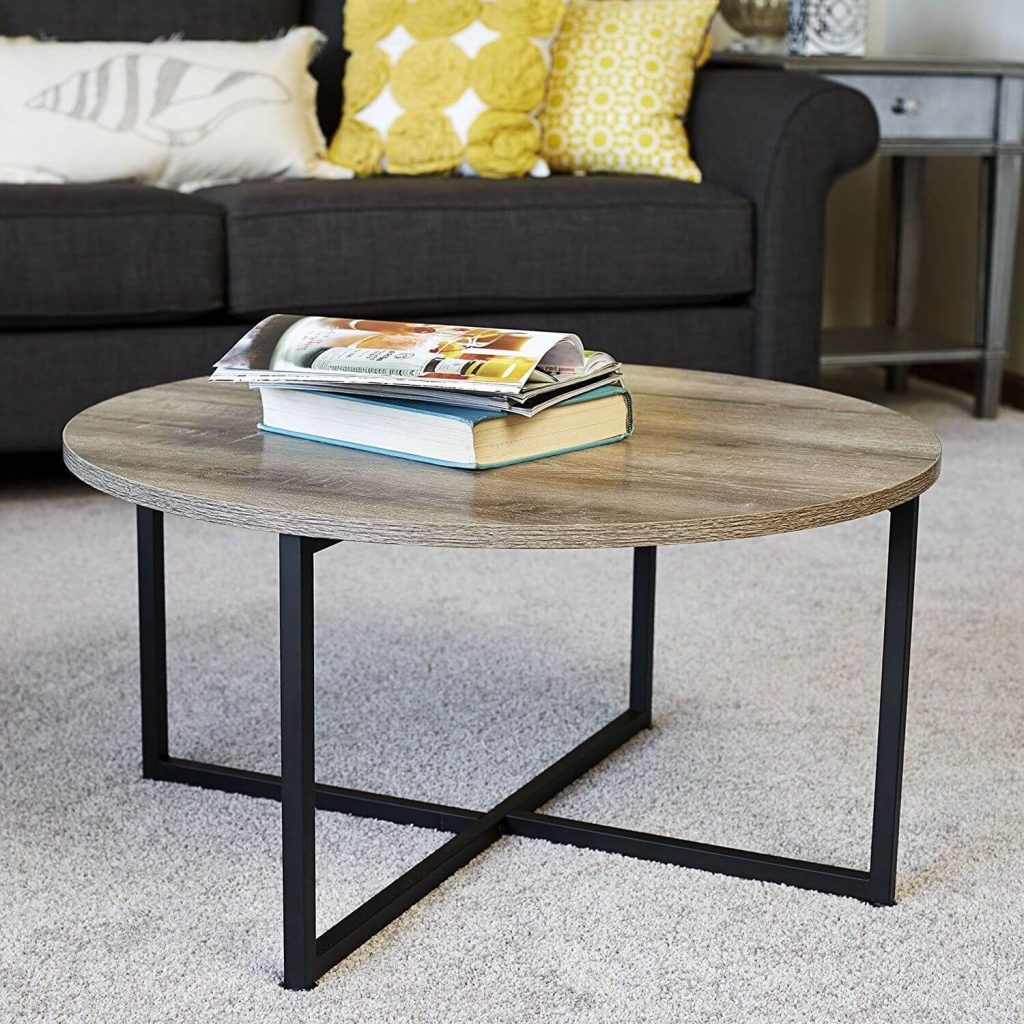 source: runtoradiance.com

If your choice is simple and elegant, Household Essentials' grey top round coffee table will fulfill your demands. It has a metal frame and a wooden tabletop which makes it more durable.
The top of the dinette is made of distressed ashwood. The design is so functional and practical that you will love it instantly. There is an x-leg metal frame that provides stability and enough space for legs for kneeling or seating.
The size of the table is  31.5"  W x 31.5" D x 16" H. The customer reviews about this modern coffee table is about its sleek appearance and lifelong durability. 

source: amazon.com

Traditional is always accepted. Right? This coffee table has oak wood finishing with the construction from pine wood, which gives a real and authentic wooden feel to it. It is from the Amazon-owned brand Ravenna Home and has three colors, white, black, and brown.
The size of the table is 23.6" W x 23.6" D x 24" H. The shape, color, and design of the table will work with both the modern and transitional home decor. As for cleaning, you will need to do it with a soft and dry piece of cloth.
Customers do believe that it is an ideal coffee table to have in a living room. This product is also known for its price value, sturdiness, and easy to assemble. We can't forget that assembling can sometimes turn into a heck of a thing to do, so always go with the one that is easy to set-up.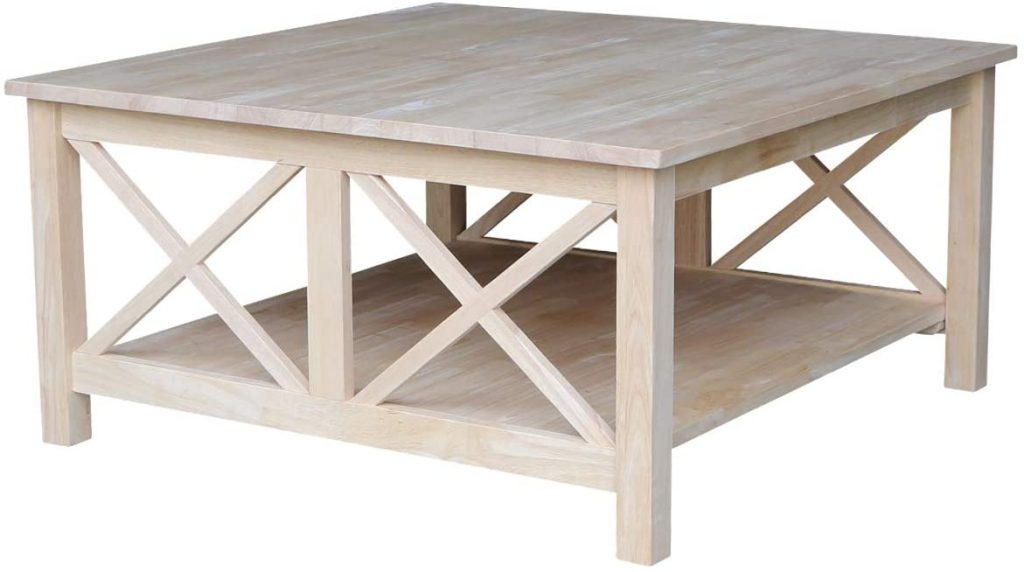 source: decorist.com

The square coffee table by CHOOSEandBUY has an unfinished look and shelf at the bottom, which creates an awesome storage area. Square furniture has its own lovers, as it evens out everything in the room.
This table is made from solid parawood. The dimensions of the cocktail table are 36" W x 36" D x 18" H. It is a great example of decorative and design together making functional furniture for the living room. The manufacturer claims it to be the durable one.
We didn't find any customer reviews about it, as it is new in the market, but trust us it is worth it.
Also Read: 40 Charismatic And Budget-Friendly Modern Center Table Design For Every House!!
Modern Minimalist Wood Cube Block Coffee Table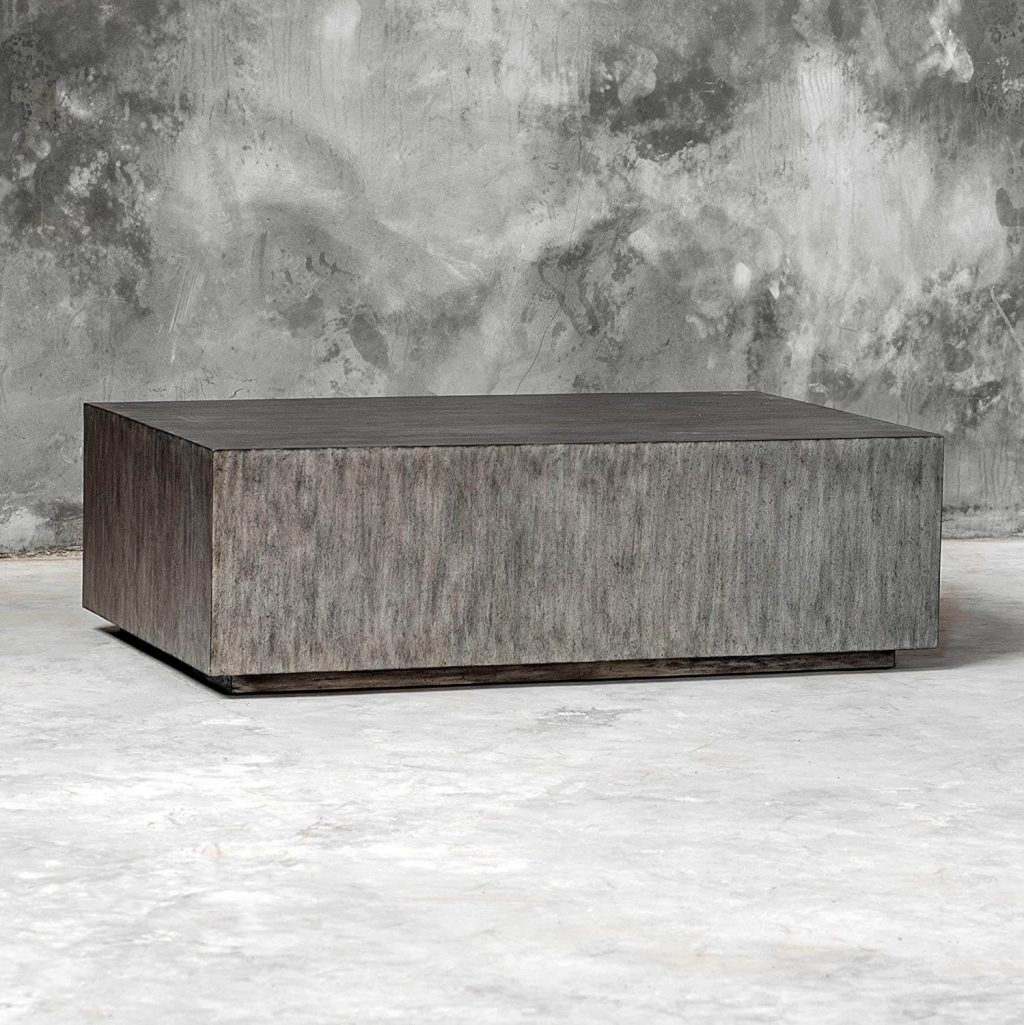 source: amazon.com
One more modern coffee table, but this one is with a minimalistic look. If you are the one who loves to stay minimal when it comes to decorating rooms, then you will love it. This product has a natural wood look with a smooth surface. The unique quality of it makes it stand out.
The size of the cube block coffee table is 52.25″ L x 32.25″W x 16.25″H and is made of hard finish premium java wood and MDF. It can even hold heavy objects, so it is okay if you and your friends sit on it for more closer gossip sessions.
The color of the wood is metallic grey. This product also had no reviews on Amazon, seems like it is a new product on the platform. Trust on this you will love the design and view it creates with its presence in the room.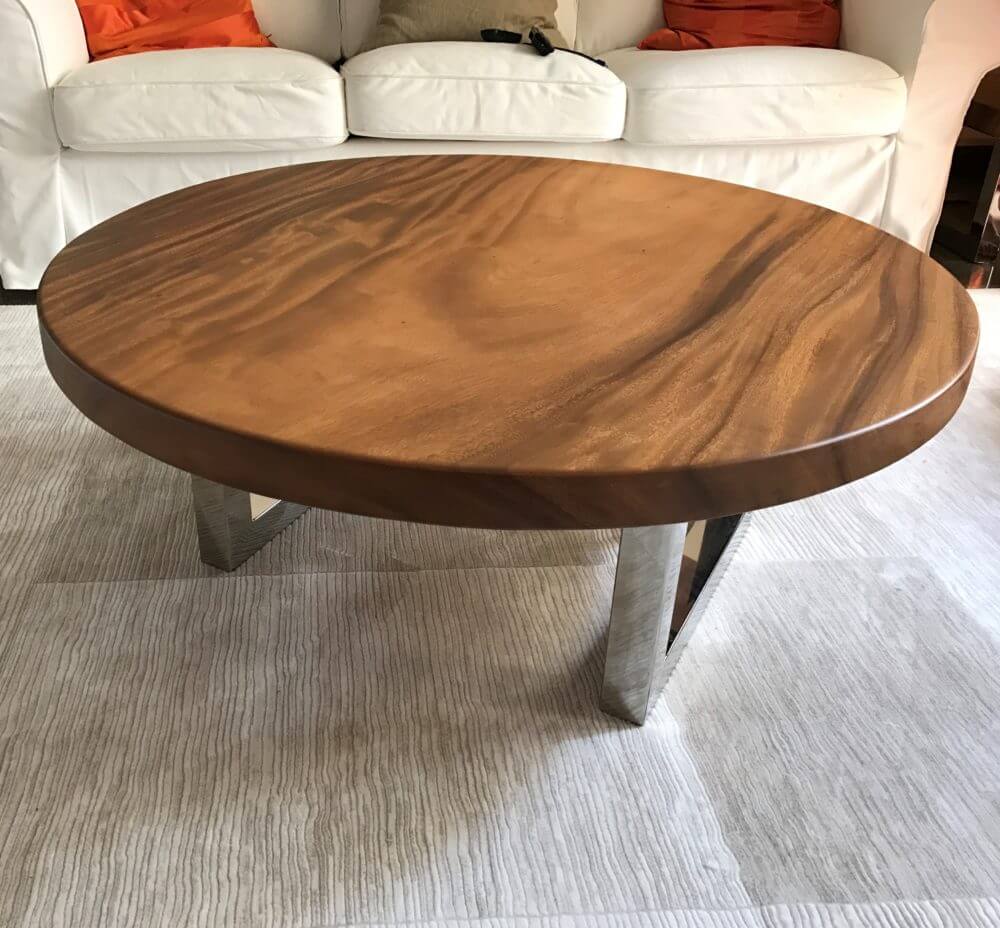 source: solidwood.sg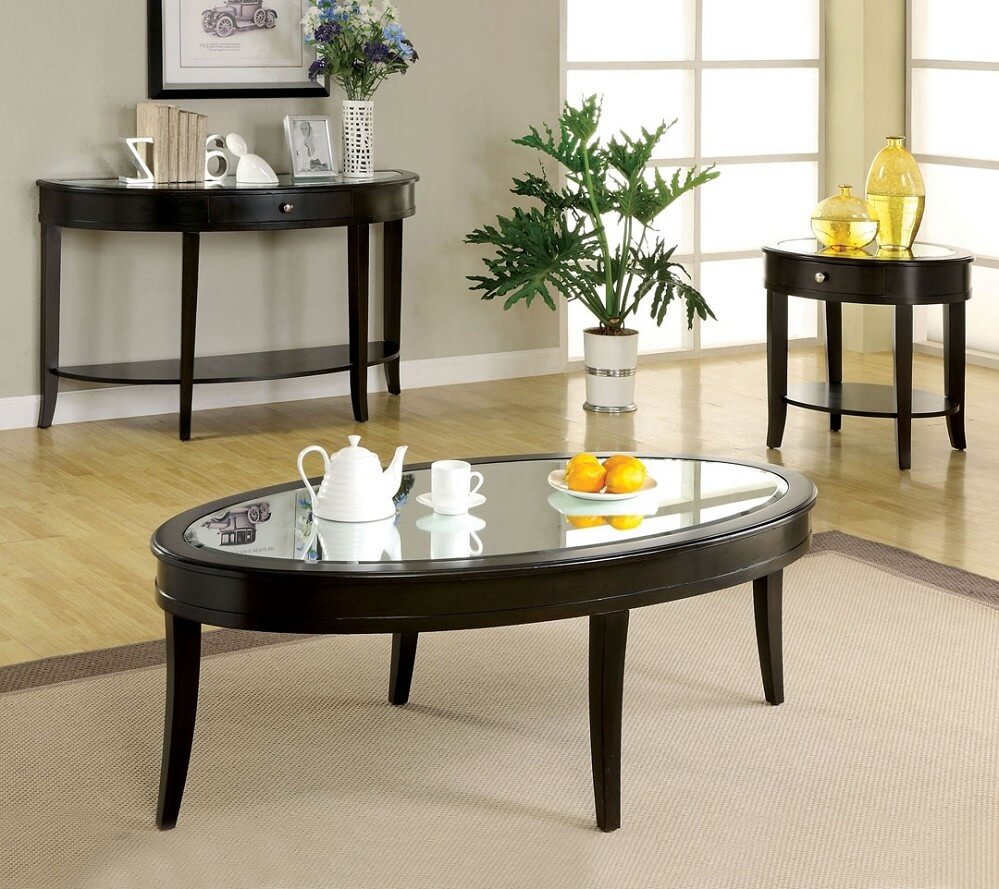 source: sofaslosangeles.com
source: craftatoz.com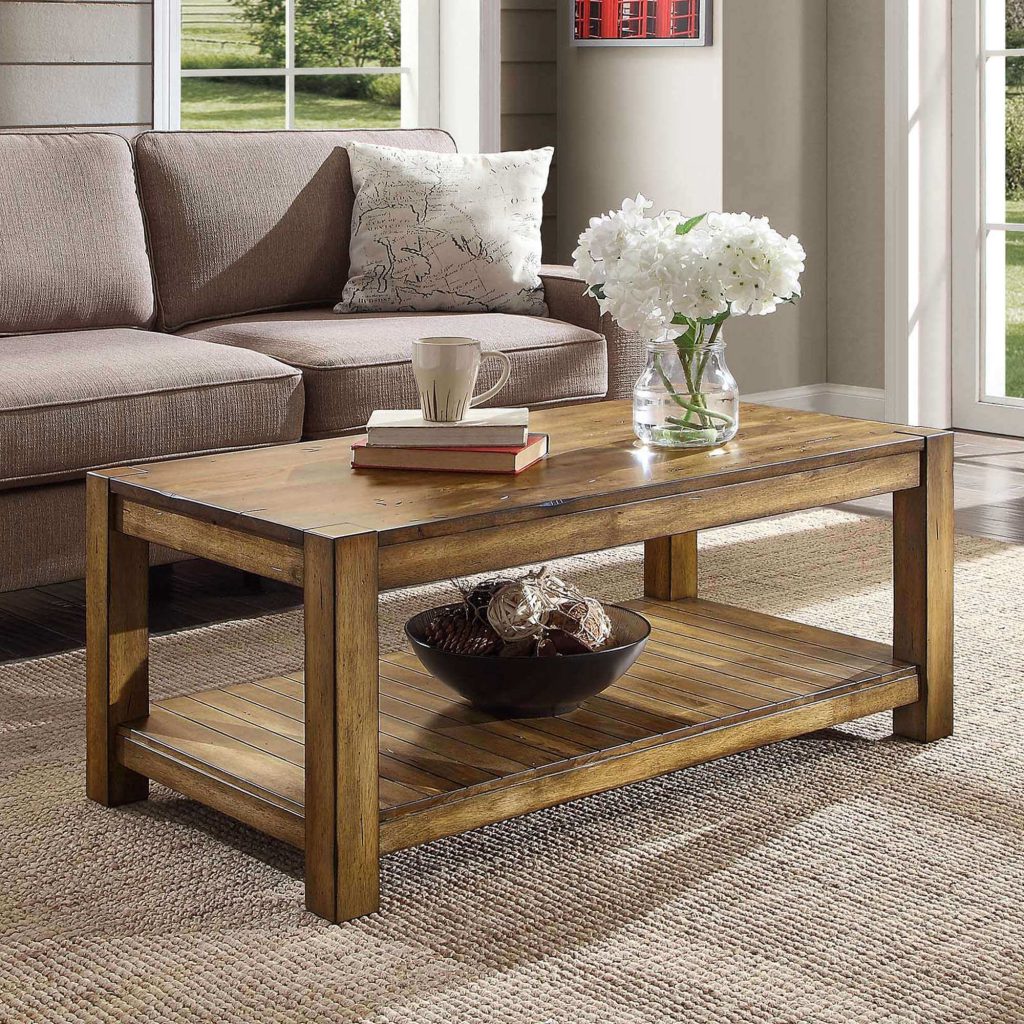 source: walmartimages.com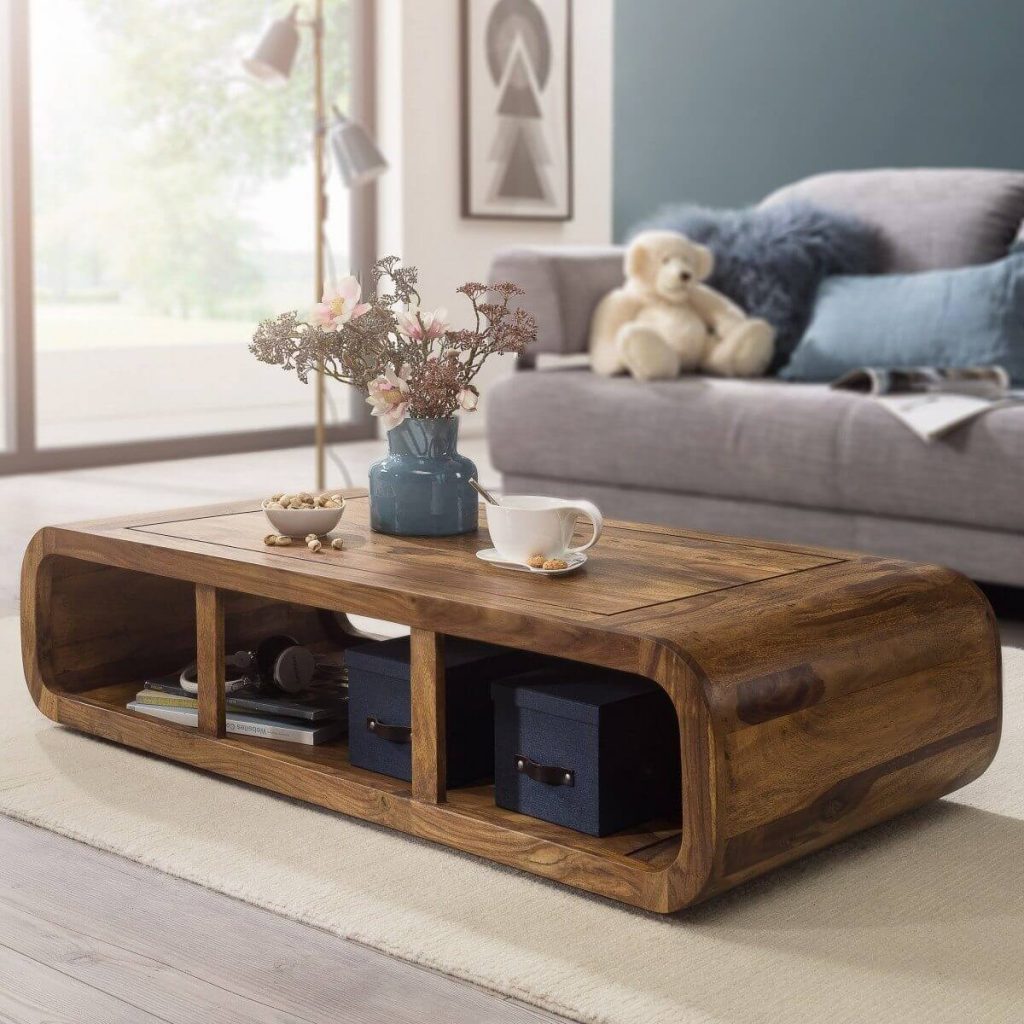 source: shopify.com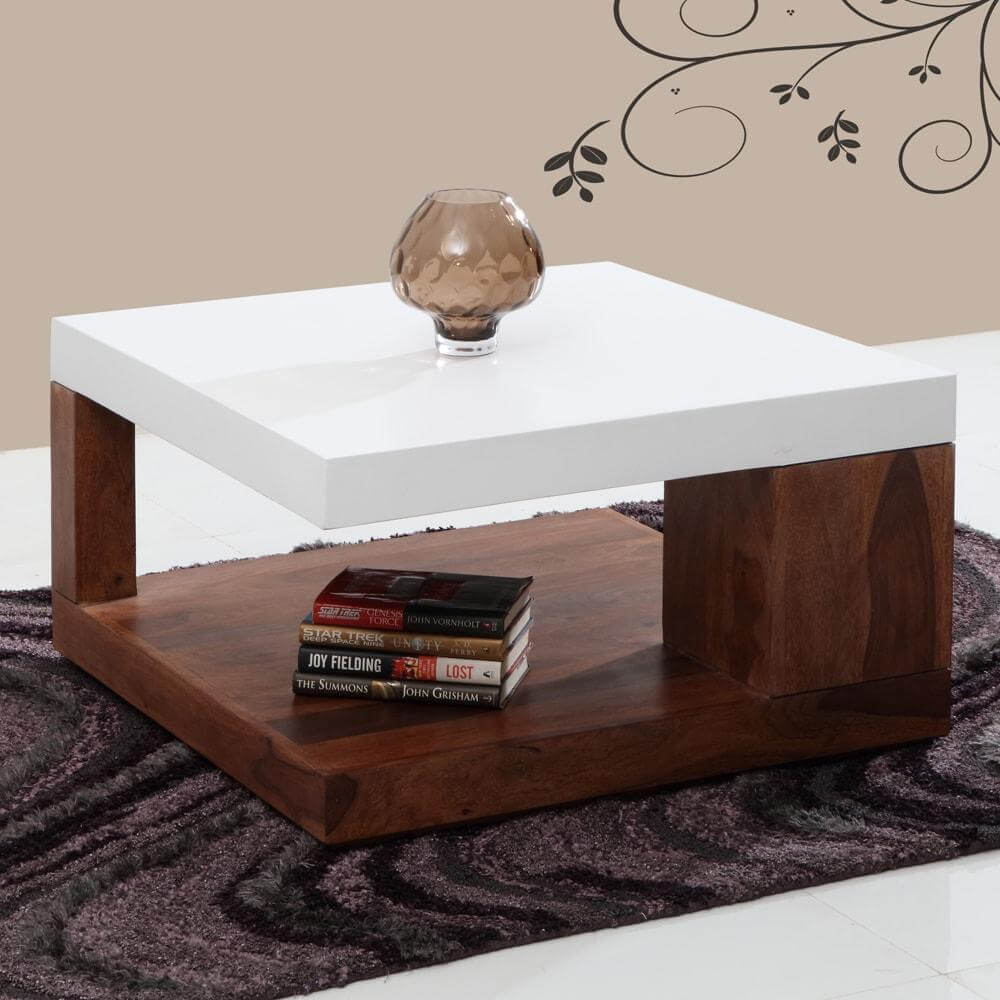 source: redbracket.in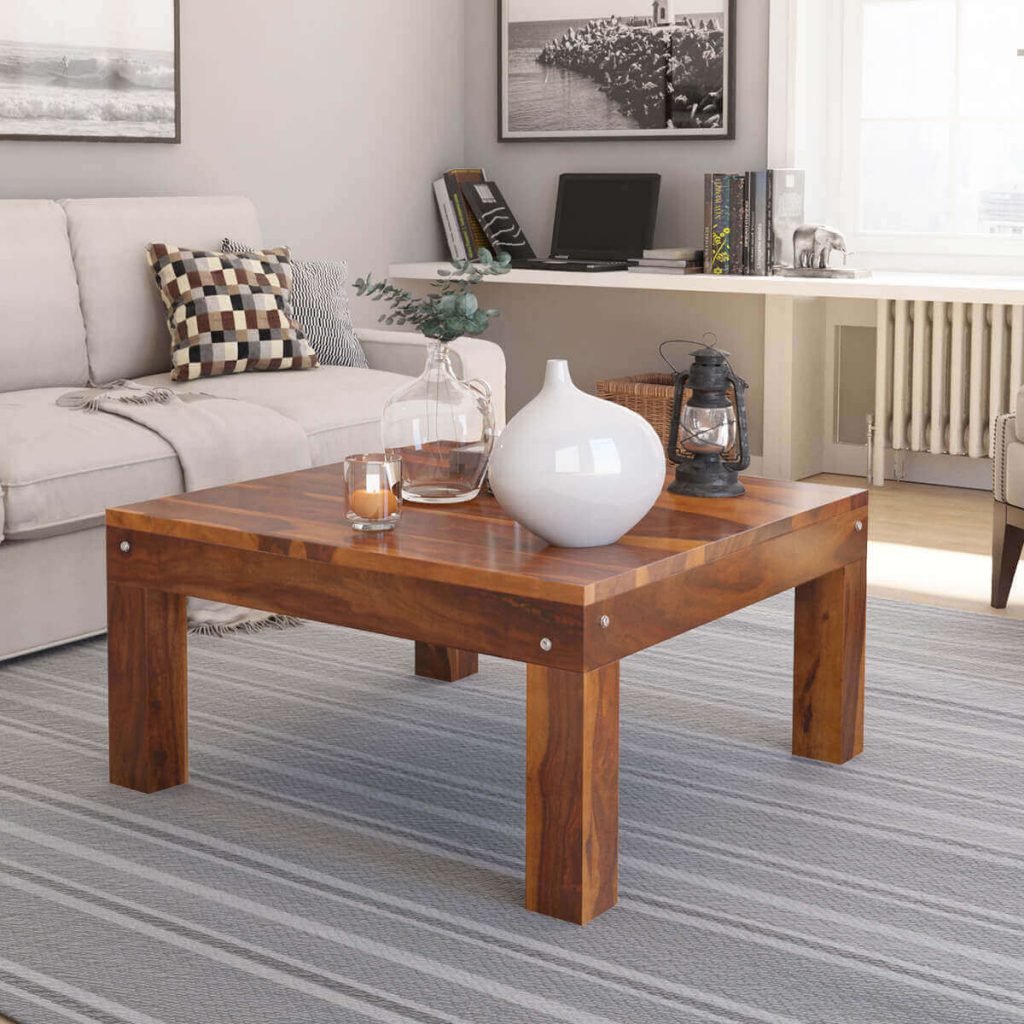 source: amazonaws.com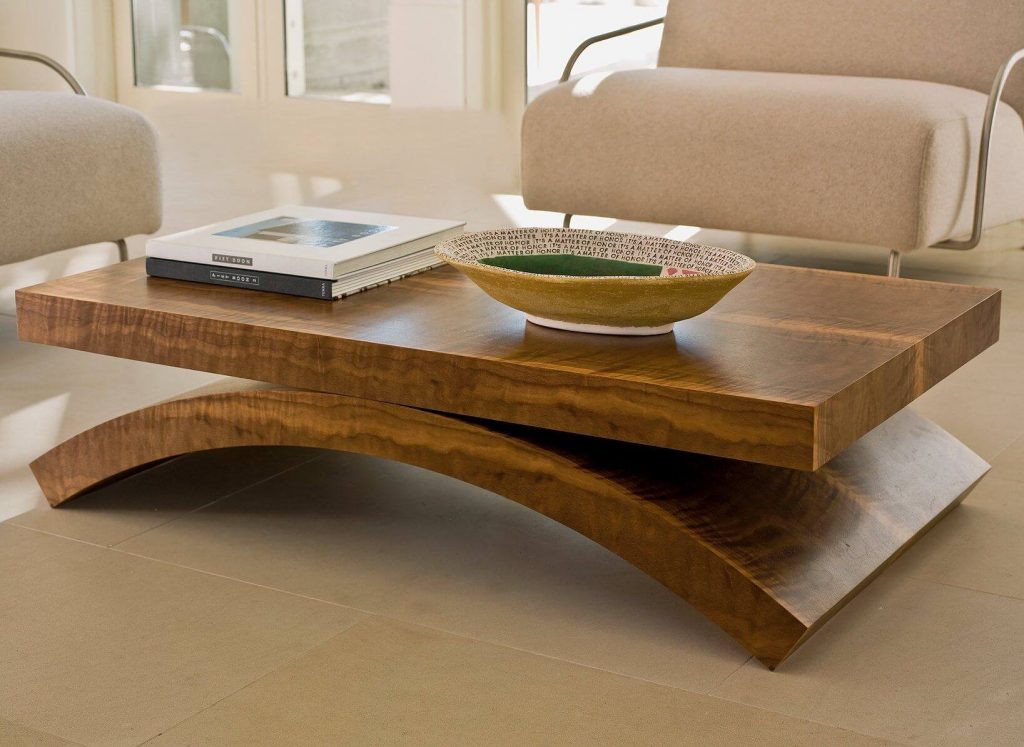 source: pinterest.com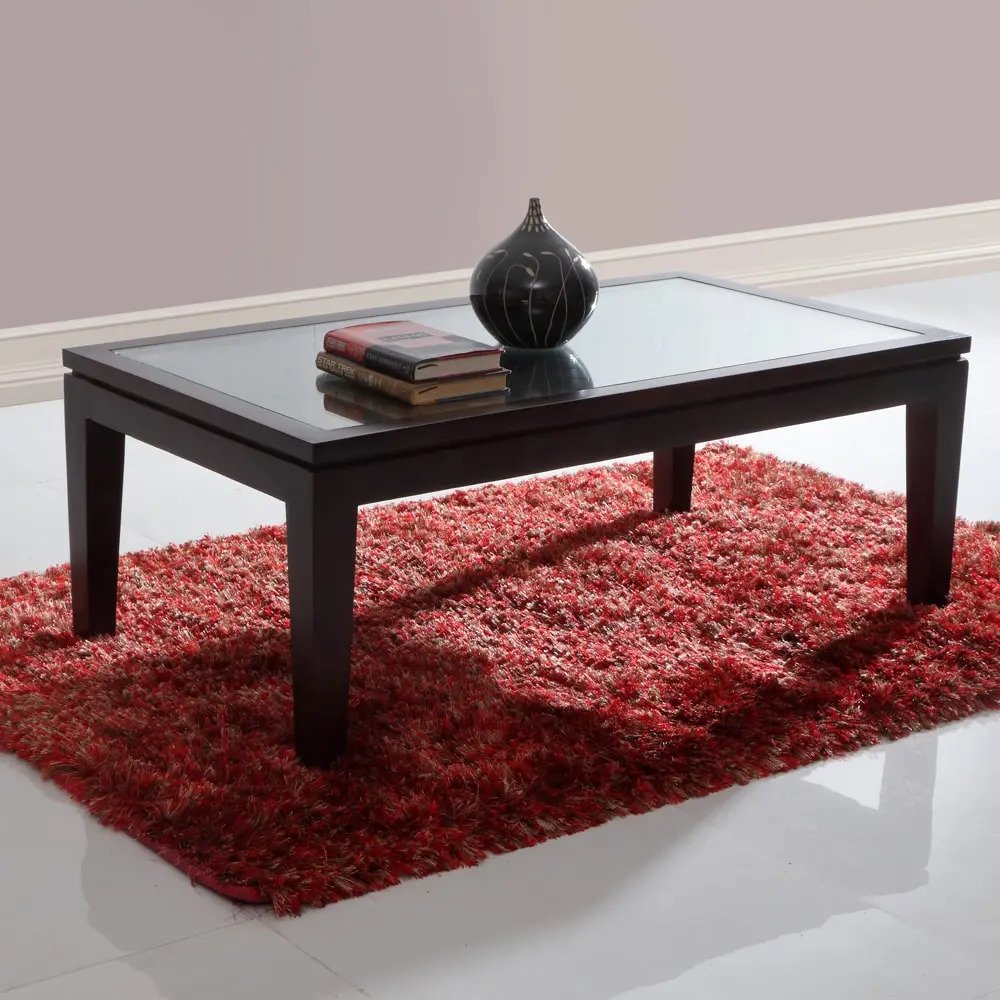 source: pinterest.com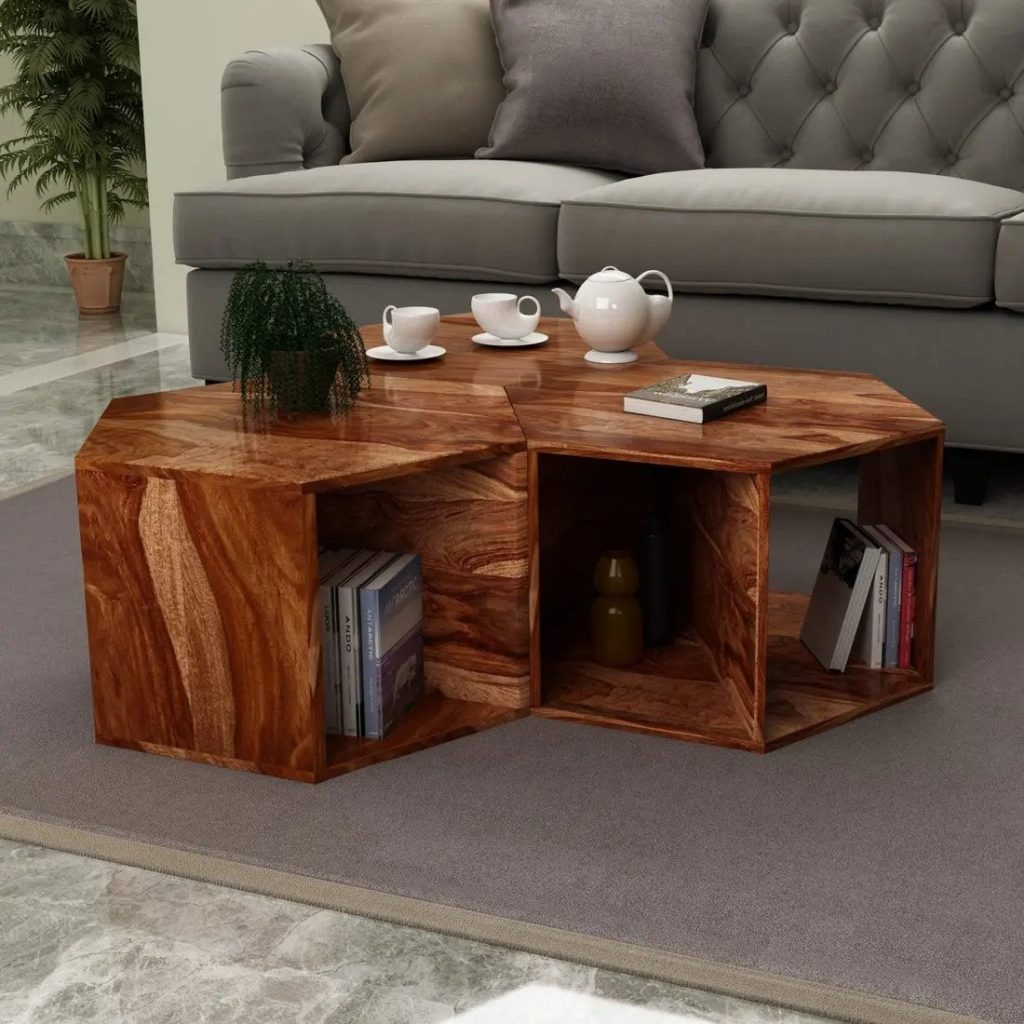 source: myfurnituretown.com
Living Room with the Most Adorable Coffee Table:
A coffee table is an essential piece of furniture for completing the interiors of the house. So having one that is durable and a designer will save your work and money. This was the list where we mentioned all the best wooden coffee table products. Nothing is more long-lasting than wood, it is the only natural form of a piece. Check them out, and then select the one that goes with your room.
For more information on interior-exterior designing or any architectural structure, visit ArchitecturesIdeas.