Are you planning for your home extension? If yes, several design elements need to be kept in mind, especially in relation to the interior layout. The roof design is one of the most intricate ways to create impressions upon extensions. So, if you want to impress your guests or want to add value to your home, choose a pitched or flat roof extension.
But which one to be exact, you may ask?  For that, you can seek professional help. How much do architects cost? Find out here.
What Are Pitch Roofs?
The term pitch means to describe the angle or slope of your roof. This means pitch roofs are roofs with a slope. Pitch roofs are one of the most traditional roofing solutions that are even used these days.
The roof slopes downwards in two parts at a certain angle from a central ridge, thus leaving a gable at each end. Further, pitched roofs are considered the most common type and the cheapest alternative for a building.
An interesting fact about pitched roofs is that they can be architecturally diverse and formed into various shapes, textures, and colors. Despite being the oldest traditional design, pitched roofs hold a very strong position in contemporary architecture.
Different Types of Pitched Roofs
As mentioned above, pitched roofs can be constructed in various forms. Such as:
Gable roof

Hip roof

Mansard roof

Butterfly roof

Skillion roof

Bonnet roof

Curved roof

Pyramid roof

Dome roof and many more.
Advantages of the Pitched Roof Construction
Very Effective
Pitched roofs are higher in cost for living space than flat roofs, but they are long-lasting and easy to maintain, which justifies their cost. It is also a perfect choice if you want to save some money on your electricity bills as the clay tiles ensure minimum loss of energy, thus helping you save considerably. 
Environmental Value
Apart from economic values, clay tiles for pitch roofs perform better than flat roofs and can even bring many environmental benefits to your and your family's health.
The Green Aspect
If you care for a greener earth, then pitch roof construction with clay tiles is the perfect choice for you. Natural materials like clay automatically reduce the carbon footprint as they can be reused again and again and are easily recyclable.
Flat Roof Extension
You might be wondering if flat roof extensions are flat, right? But it isn't 100% flat, remember that. In order to drain away rainwater, there is a slight pitch of a few degrees to it.
Flat roof extensions are considered best when used in extensions, especially for single-storey buildings.
Different Types of Flat Roof Extensions
Similar to the pitched roof, flat roofs also come in different forms, such as:
BUR or Build Up Roofs

Modified Bitumen Roofing

EPDM rubber roof

Spray polyurethane foam roof

Thermoplastic membranes PV or TPO and many more.
Advantages of Flat Roof Extensions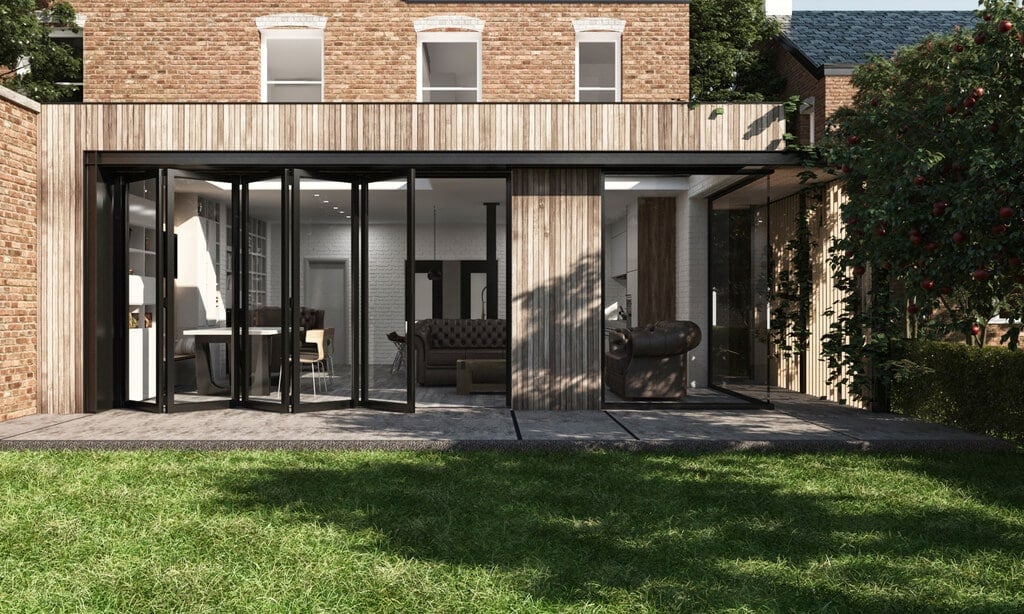 Affordable Rates
The first thing that comes to your mind is roof cost. As compared to the pitch roof extension, flat roof extensions are much more reasonable in price. That is because very little structural engineering is involved, making them cheaper materials.
Modern Looks
Flat roofs can also have modern looks like pitch roofs. This makes it best for contemporary buildings. Although adding modern materials like zinc or other materials can add up the overall cost.
Makes It Spacious
Flat roof extensions provide more space than they take up because you can use the space beneath the roof and also over it.
You can reinforce it with concrete, and voila! You have a first-floor roof terrace where you can enjoy tea and snacks with your loved ones. This doubles your living space as compared to a pitched roof.
Eco-Friendly
Another advantage of getting a flat roof extension is that you can use the flatbed for planting it with moss or grass. Although, green roofs are not cheap as you need a strong structure, a root barrier, and a specialized drainage system.
Anyway, if budget is not an issue, you can choose to invest in it and help reduce carbon footprint and provide great insulation for the extension.
Use Glazing the Way You Want
Finally, flat roof extensions allow you to get creative with glazing. You can install a huge amount of glazing in a flat roof, more than pitched roofs allow. Also, you can be free to choose where you want your glazing to go, which gives you more freedom than a conservatory.
The Bottom Line
Both pitch roof extension and flat roof extension come with their own pros, which you have already read above. So, the choice is now yours. Choose the best one for yourself according to your requirements. If budget is not an issue, you can go for a pitched roof extension. At the same time, you can go for a flat roof if you want a small terrace garden at your place.