Holidays are already started…and we all are in festive spirits! Every year at this time, our mailboxes get to fill with gifts. Also, envelopes containing joyful wishes and happy holiday messages. From ugly sweaters to matching family pajamas, we all love our Christmas gifts, right? Here you can get beautiful & easy DIY christmas card ideas.
Do you know what the most delightful Christmas tradition is? It is the holiday greeting cards that we send to our friends and family. I know it is easy to send digital cards, but there is something special about handmade cards. It adds a personal touch and a bond that a digital message can never do, right?
Many people love to make their Christmas cards because you can choose and create your own designs and sentiments. So if you love the idea of creating homemade Christmas cards and are looking for some great ideas to craft homemade Christmas cheer for your friends, keep reading this blog. Today we've gathered up some of the best DIY Christmas cards that will surely amaze your friends and family this season.
We're sure that these DIY Christmas cards will spread a little joy and cheer. There are tons of options in the below list; you can select anyone and create cards for your loved ones. Some of them are for big DIY enthusiasts out there, and some are very simple that you can make with your kids. The best thing about this whole project is that you can make them with the simplest materials that are already present in your home, such as wrapping paper or leftover white buttons.
25+ Fun & Creative DIY Christmas Cards Ideas
Each design that we've mentioned here is unique, and we also tried to give brief instructions so that you can create many cards without difficulty.
1. Easy Lettered Holiday Cards
Take some glossy paper and cut lettered holiday cards. You can also create your own pattern or download the pattern online. This perfect last-minute card, but it'll look that you labored for hours making them.
2. Artistic Ornaments Cards
These Watercolor art cards look so artistic and beautiful. Try making these perfectly imperfect ornaments with art masking fluid and create a gorgeous handmade card. Don't worry if you make a mistake because these masking fluids can easily come off with an eraser.
3. French Fries Christmas Card Idea
This unique Christmas card will tell your friends and loved ones that you love them as much as you love French Fries.
4. Simple Hand Drawn Christmas Cards
Do you Have good calligraphy skills? Use them to make these types of gorgeous cards with hand-drawn messages. I am sure that your friends will love it and they'll also keep them in a frame!
5. Gorgeous Cut-Out Ornament Cards
Send this lovely card with an ornament on top to your friends. They can tear the ornament and decorate it on their Christmas tree.
6. Elegant Stamped Snowflakes Cards
Isn't this black and white card with the intricate design of these snowflakes looks pretty? This may look difficult to make, but it is not. All you need is to buy the right stamping set and some embossing powder.
7. Cute Santa Claus Card Idea
Christmas without Santa would be like the pizza without the toppings! Create this fun and cute Santa Claus card with a lovely message!
8. Red Ornament Christmas Card
You'll have a lot of fun while creating this handmade Christmas card. First, take a plain card, then add decorative paper to your card. After this, cut six to ten same-size circles out of tissue or paper and fold each in half. Stick all of them on the top, and lastly, add a red ribbon on the top of the ornament. Your card is ready!
9. Bird on Christmas Card Ideas
This sweet and simple card has a small chirpy bird that will give your message to your loved ones. To make this, first, paint a branch, then draw a bird with some colorful paint. You can also glue a piece of ribbon for extra flair.
10. DIY Creative Photo Card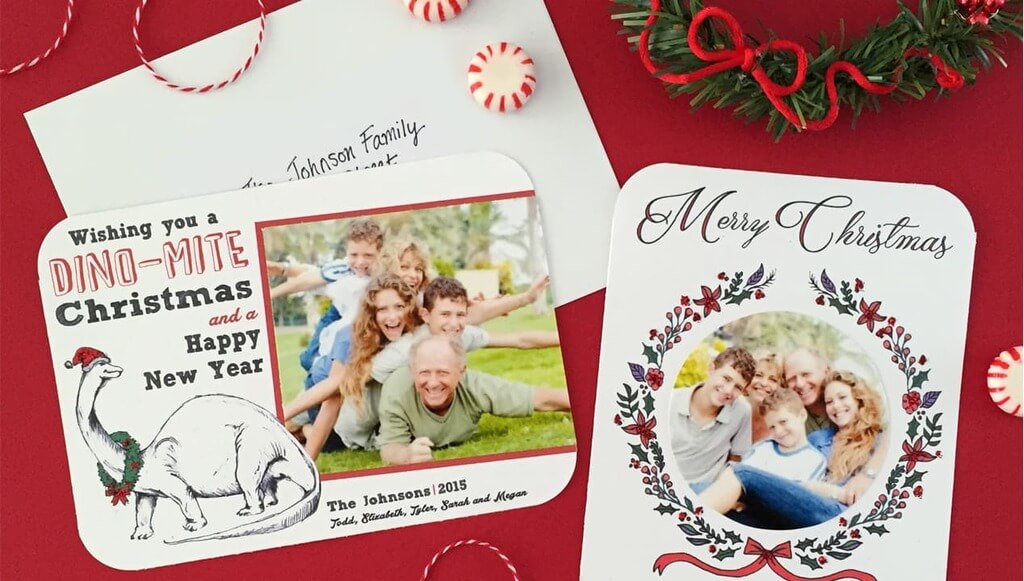 These printable cards are my favorite ones. Share a glimpse of memory of your family or friends with this special card.
11. Reindeer Christmas Cards
Look at these beautifully crafted Christmas cards. You can either make them from scissors or from an electronic die cutter.
12. DIY Cricut Filigree Card
This DIY Christmas card is for those who have a Cricut machine at home. You can actually create many pretty cards with various designs. Don't forget to add some personal messages for the perfect final touch!
13. DIY Christmas Cocoa Gift Card Holder
If you can't drink real cocoa with your friends this Christmas, so gift them this really adorable gift cardholder. This is a perfect last-minute gift to give your loved ones.
14. A Surprising Christmas Card With a Gift
Want to give some unique cards? Try these cards that come with a gift! Here these printable cards have a special place to put eos round lip balm on it. An ideal card that also includes a gift that too in a budget! You can switch the lip balm with lipstick or any other accessory.
15. DIY Family Portrait Christmas Card
Don't have time to coordinate matching outfits for the family Christmas card? Try these whimsical digital illustrated version ones; they are a great alternative.
16. DIY Festive Cards
Save your valuable time and precious money by using these kinds of printable cards. Write a message inside, and it's ready to be mailed.
17. Chic Recycled Magazine Christmas Card
To create this card, all you need is some old magazines. Also, this is a fun way to show love and send personalized messages. You can use various texts, bold letters to make your card really unique!
18. DIY Button and Ribbon Card
There is no need to buy expensive accessories to make a card. Take a look at the above card. It is just made from some green ribbon and red buttons.
19. Happy Christmas Stamp Card
Wish someone HAPPY CHRISTMAS with this amazing card. No matter you use bright colors or more traditional holiday tones, these cards still look incredible.
20. Simple Christmas Card
Simple but attractive, this card has a small sweet green wreath that can be made in a few minutes. The typewritten font and kraft paper background are adding a sophisticated vibe.
21. Vintage Christmas Card
No one will ever know that this card is made from scrapbook elements. You can select and create your card in shades of color and decorate it with wooden shapes, stickers, and bakers twine.
22. Artsy Watercolor Card
Watercolor Christmas cards can be seen everywhere. If you know a little bit about watercolor arts, try making these interesting cards. These are surely a non-traditional approach to annual Christmas cards, but we're sure that your friends and family will surely be impressed with your artistic skills.
23. Fun and Easy Eraser Stamp Holiday Cards
Looking for a fun Christmas craft to make with your children? Try making these cute cards. This will be a fun craft for your kids.
24. Fast Christmas Card Idea
Are you in a hurry and looking for a simple DIY Christmas card craft? Just grab some washi tape and create this card. All you need is to cut and paste the tape in the shape of a tree, and your card will be ready in under a minute!
25. Simple Scrapbook Christmas Card
You may already have some Christmas scrapbooking paper, so why not transform it into a beautiful card. First, cut a small piece of the scrapbook paper and glue it to the front of the card. Lastly, add some seasonal wishes using washi tape that has a written message, and your card is ready to send.
Send Your Love Through Cards!
So which DIY Christmas Card idea is your favorite? Whichever Christmas card design or pattern you choose to make this year, one thing is sure your friends and family will appreciate the homemade touch that you have put into it. All these cute cards will bring a smile to your loved ones' faces.
You can also put homemade Christmas ornaments or any other personalized gift with the card to make it extra special. I hope these DIY Christmas Card ideas will help you make your own creative Christmas cards.