Some Of The Most Effective And Budget-Friendly Ways To Turn Your Bathroom Into A Spa Bathroom
Who doesn't want a luxurious bathroom? A Spa Bathroom is something that we always desire for and people specially visit a hotel for such a luxurious experience. How about a personal spa bathroom? Well, you would not have to spend a bomb amount on creating a spa bathroom. With simple tricks and changes, you can create a luxurious spa bathroom.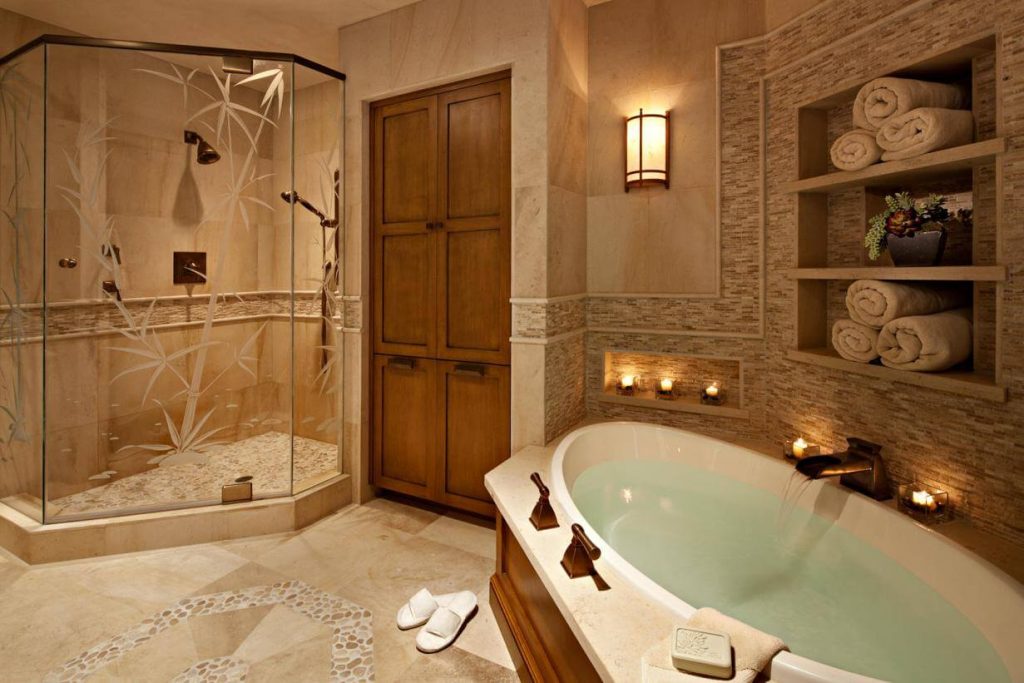 Source: residencestyle.com
Our basic bathrooms are far apart from a luxurious bath set up and basic bathrooms are not so appealing as well. Budget always comes in the way as a luxurious spa bathroom needs proper investment but if you would select wisely then you can save on money. Addition of certain things in your bathroom can make the difference that you would love. 
If you are wondering about some of the Spa Bathroom Ideas then here are some of the amazing ideas that you can try out to create a beautiful luxurious spa bathroom:
Also Read: Some Of The Best Home Bar Designs For Small Spaces
Add Metals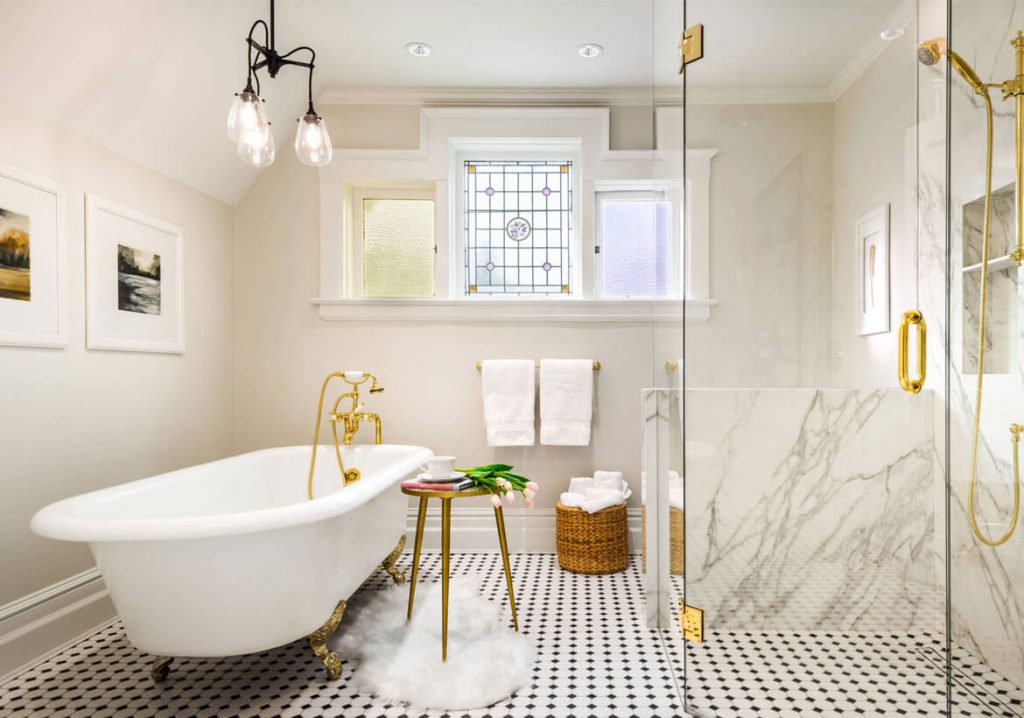 Source: sebringdesignbuild.com
Metal is already very luxurious and this would create a spa-like vibe in your bathroom. A basic tiled bathroom is nowhere close to a spa bathroom but on the other hand, if you would add some metal effect in the bathroom then your bathroom would get some dimension. 
You can select certain things in your bathroom and set golden or rose gold-colored metal for those objects. Metal is one such thing that goes well with any interior so no matter your bathroom is dark or light then also your metal would look great. You can get metal taps and cabinet handles in metal finish and this would brighten up your bathroom. 
You can also use silver instead as that also look great and would give your bathroom a cool undertone. Gold or rose gold colors are great if you want warm undertone in your bathroom so you can choose wisely.
A Bathtub is Must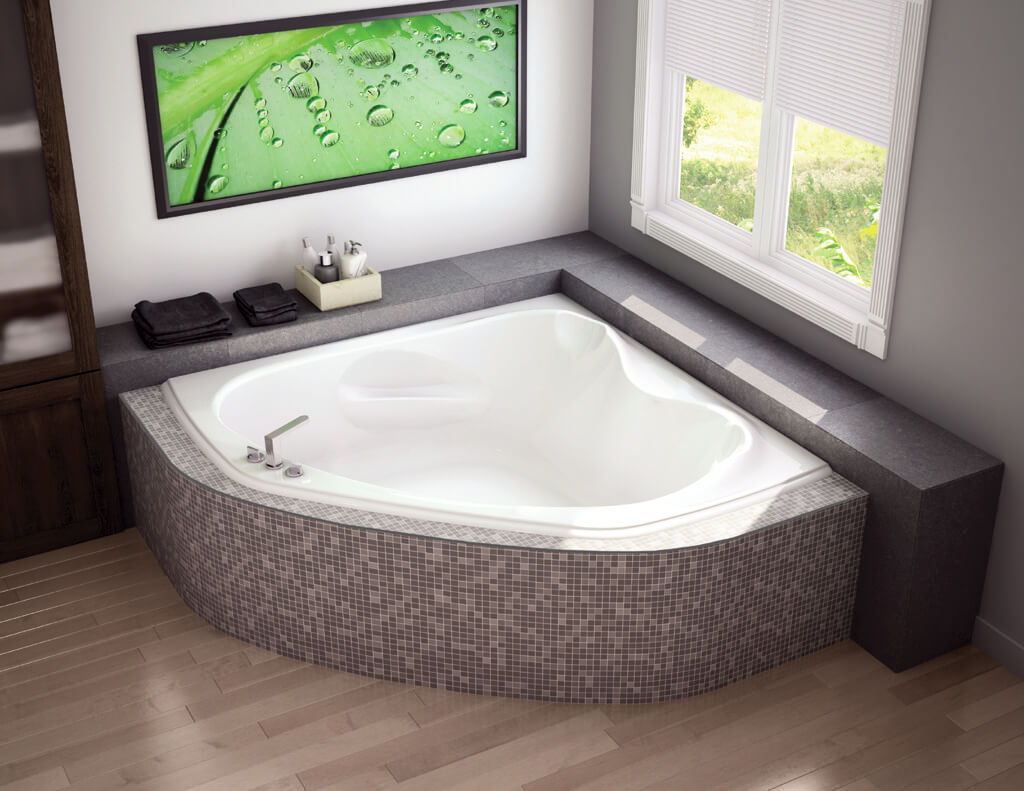 Source: pinimg.com
A spa bathroom starts with a bathtub and if you would not have any bathtub then you would hardly have any spa-like feeling in your bathroom. So you would have to get a luxurious bathtub in your bathroom and you can get the size of your bathroom according to your requirement. You can have a bathtub of different designs and you can also have golden rims around to give it a luxurious touch.
You can keep a bathtub tray on which you can keep your drinks or other luxury spa essentials and as such trays are movable so you can wash it as well. You can have a hand shower attached to your bathtub for convenience and luxurious feeling.
Shelves Would Help a Lot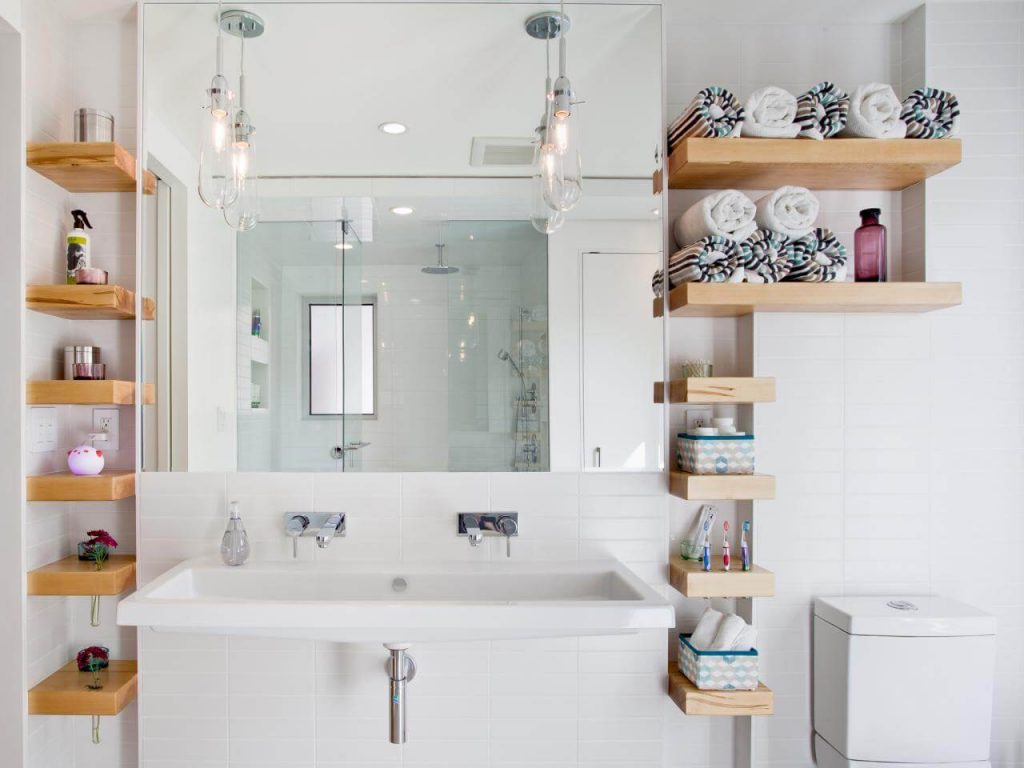 Source: sndimg.com
We often see in spa hotels that they have got so many spa products and they keep those open on the shelves so that people can see them. This gives the bathroom a very spa-like vibe and at the same time and also it makes the bathroom look well organized. 
Here you can have two sets of shelves one set can be installed aside from the bathroom mirror and the other can be set beside the bathtub. Here you can keep certain spa essentials such as essence, scrubs and more things like that. You can also keep décor items in those shelves just to make it look decorated as well as, beautiful.
Add Some Exotic Plants in Your Bathroom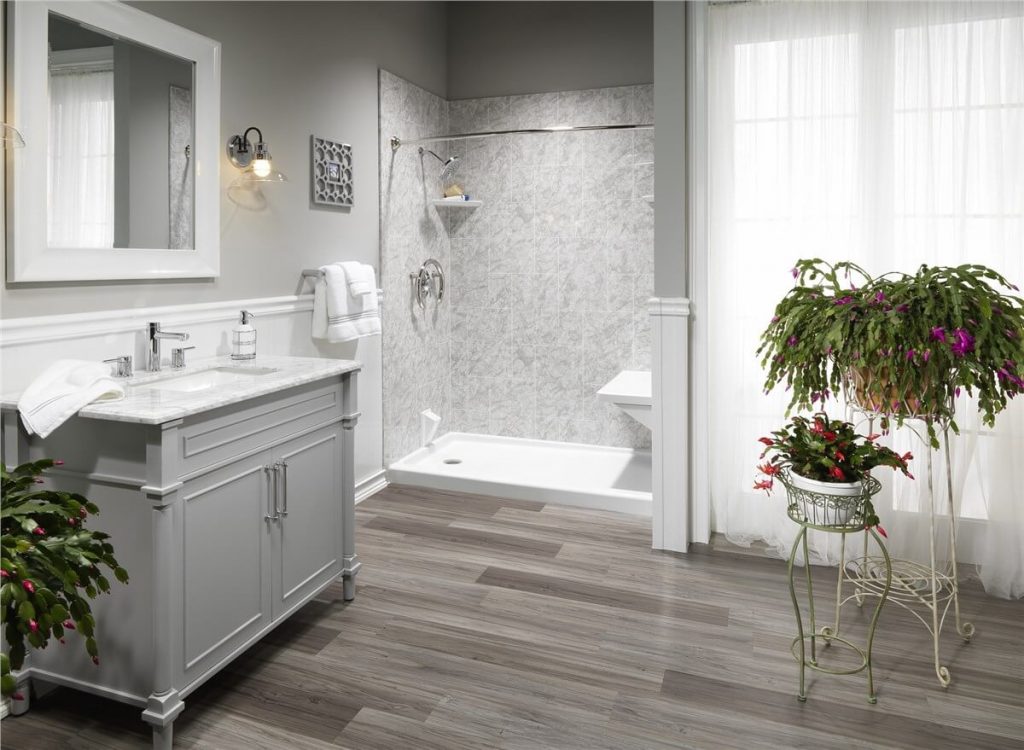 Source: windows.net
The bathroom is not the place to keep your antique things which shows that bathroom décor options are already very less and giving it a spa bathroom look is harder. Despite all, you can try keeping some exotic plants in your bathroom as this would give a luxurious Spa Bathroom kind of vibes. 
Plants would also make the surrounding fresh and on the other hand, plants are the best décor thing that never goes wrong. There are so many different varieties of plants so you can always play around with them according to your preferences. You can also try having some flowering plants to make space look prettier.
Set of Candles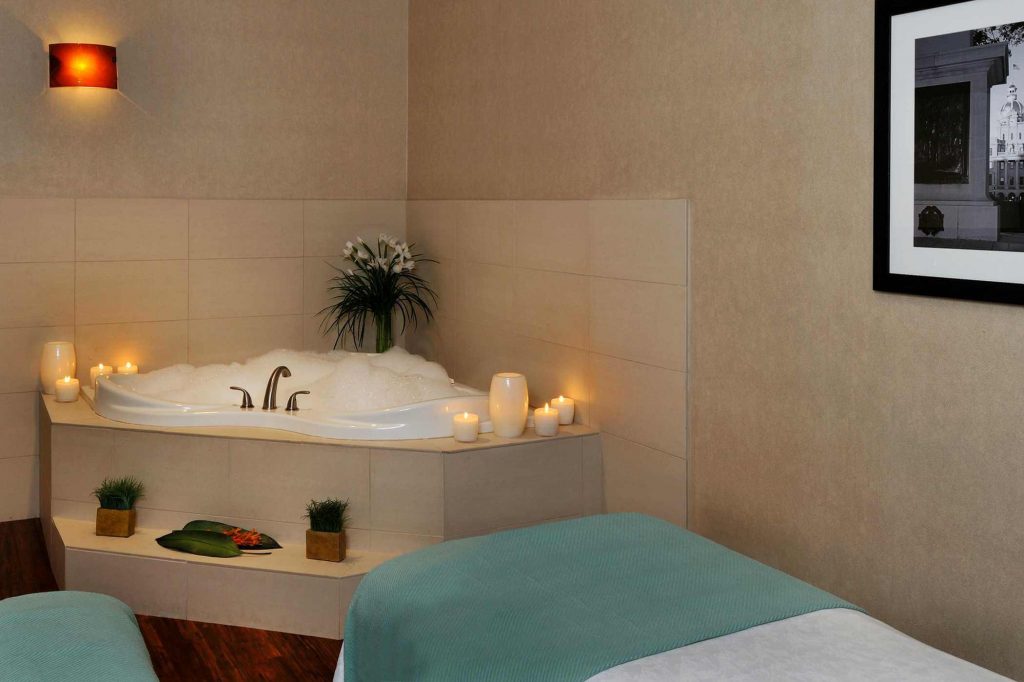 Source: westinsavannahspa.com
Candlelight spa is as peaceful and beautiful as a candlelight dinner and this would soothe your mind at the same time. Here you can create a candle corner in your bathroom for the same purpose. Make sure to choose the candle corner near to your bathtub so that the warmth of candles can be felt while relaxing in the bathtub. 
There are so many different kinds of candles available but going with basic thick cylindrical white candles would be best. You can get your hands on some aromatic candles as that would relax your mind and has health benefits as well. 
You just have to turn off the bathroom light and lit all the candles and enjoy your bath in the bathtub with sea salt and a glass of wine. This is nowhere less than any heaven that you would be able to get right in your home which is a great thing.
Add Up a Rug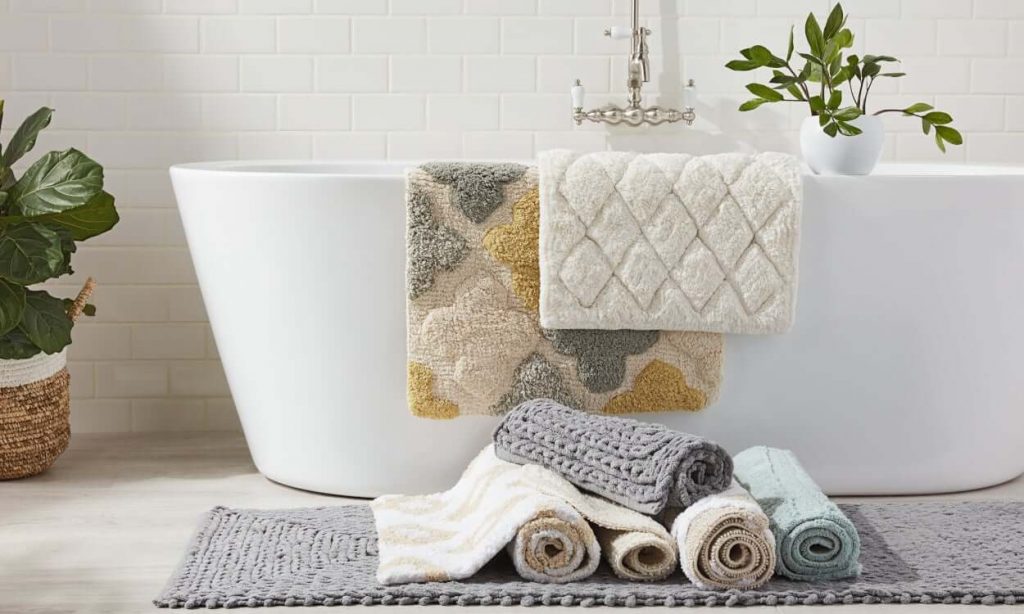 Source: ostkcdn.com
No one wants to go to their room with good feet so it is really important to have a rug in your bathroom as this would dry up your feet. Rugs would also make your bathroom look luxurious and this would save your floor as well, as water exposure for a long time can damage the floor. Make sure to choose a contrasting color for your bathroom and if you have a white bathroom then go with a maroon or navy blue colored rug.
Here are some of the best Bathroom Trends 2019 for you.
These are some of the budget-friendly ways to turn your bathroom into a beautiful spa bathroom and for more such tricks you can browse through Architecturesideas.