15 Garden Edging Ideas to Implement at Your Place for Dimension
2,706 views
You built a house, had a great interior, the exterior is also magnificent, and equipped with all the modern technology. Oh and yes. How can we forget about the garden space that you fabricated at the entrance or in the backyard? 
But you have a complaint that there isn't any dimensional factor to your garden, and it doesn't look organized, the way you wanted. We know why it is that way! Because you definitely have overlooked the garden edging. It may look unnoticeable, but the role it plays is unbelievable. It will add a dimension to your garden that is for sure, but along with that, it will also add texture and quirk to it.
The purpose of garden border edging is to separate two distinct areas and to give an outline to the landscape. The main aim is to prevent animals from entering in the veggie garden. Your garden will look prettier than before after applying our below-mentioned garden edging ideas. We have covered all the ideas that will give your garden a modern lookout or a traditional outlook, some are DIYs, and some are readymade.
Also Read: Explore the Inevitable Advantages of a Robust Garden Fencing
The thing about the garden edging is that you can go creative with it or just stay simple still dressing up your garden elegantly.
The following are the garden edging ideas that you need to go through before deciding on the edging thing:-
Gabion Wall Edging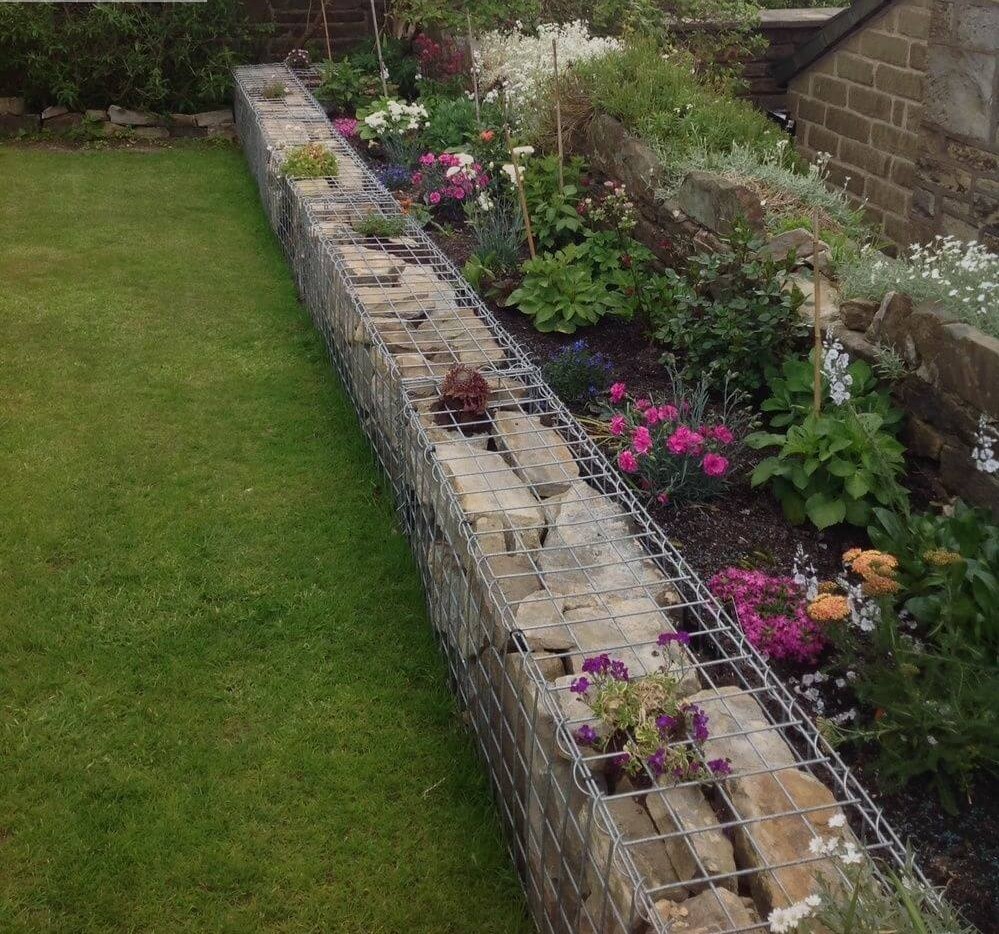 Source: pinimg.com
Make a gabion wall edging and give a totally new outlook to your garden. Gabion wall won't need any concrete foundation, but around 25mm of the base will work. 
Wood-Cut Edging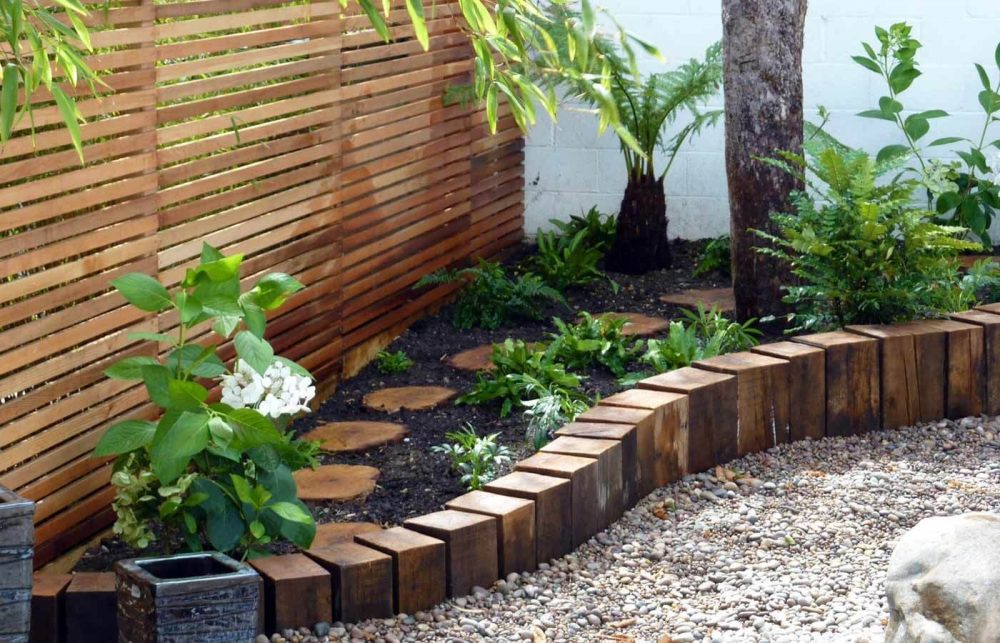 Source: pinimg.com
Get a wood cutting from the Home Depot store. Now fix it on the ground where you want to create edges. It's okay if wood cuttings are uneven in size. You can even paint them with color sprays to add a quirk to it. 
Stone Edging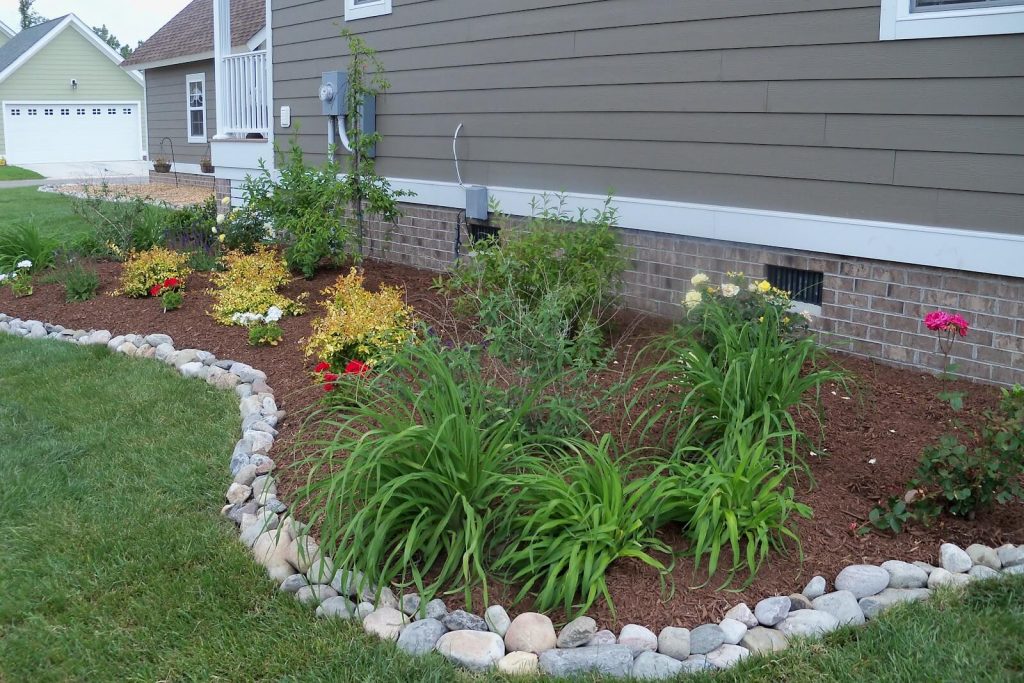 Source: blogspot.com
Use unevenly cut rocks to create a partition between two areas. You can create a wide stone path or keep it narrow, arrange it evenly or in a random manner; it will give an eye-catchy look to your landscape. You can also create an apportionment, by creating a bed with two different colors of stones, for example, black and white, purple and pink, just go with pastel colors.
Log Edging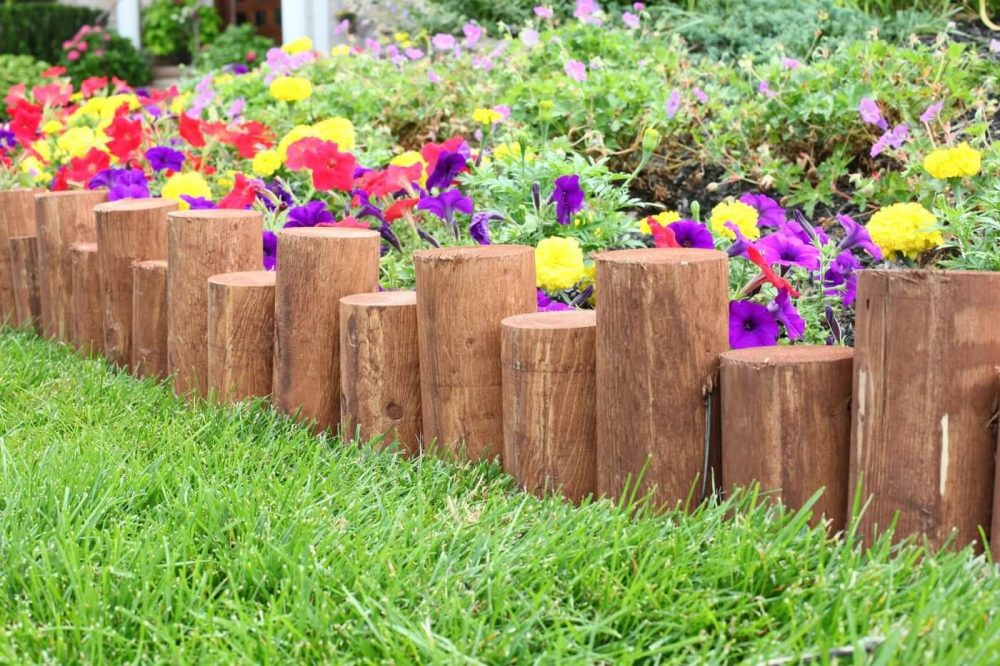 Source: shopify.com
Get logs from the market or from forest area and place around the tree or in a circular pattern around the plantations. You can even create a seating table by placing 4 to 5 logs together in a circular pattern.
Terracotta Tile Edging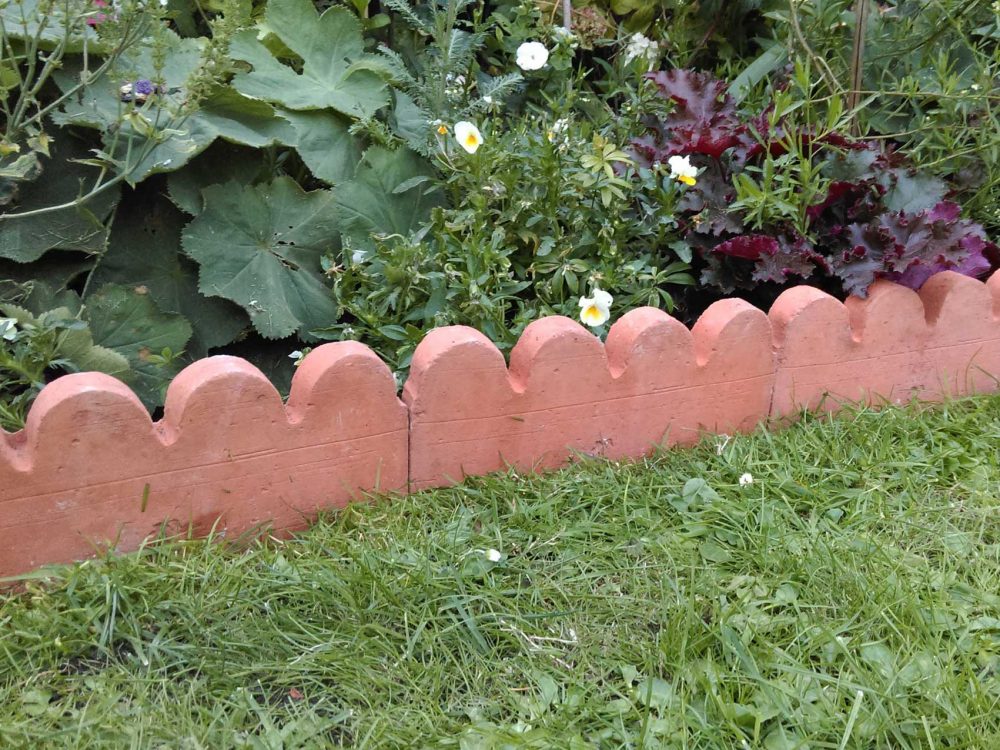 Source: gardenstone.co.uk
You will get terracotta tiles in any home depot or earthenware store. Arrange them in a unique way, using symmetrical or asymmetrical shapes around the garden.
Tree Branches Edging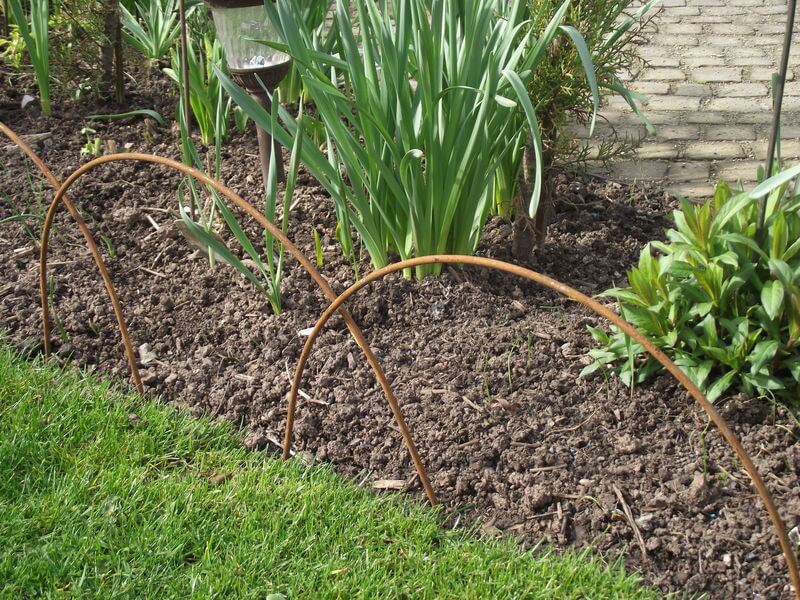 Source: plantsupports.co.uk
The woven wood technique is used to create a fence-like structure around the area. Make a square or rectangular shape in the garden at distant places and plant flowering plants of contrasting colors. Once flowers are bloomed, you will pat your back with proud.
Concrete Edging
Source: black-budget.com
The most basic and highly chosen idea for the garden edging. If you want to create an edge that can last long or for a lifetime, concrete is the best option. You can give whatever shape you want to, a simple step-up step or a complex designer shape. To make it look more attractive, paint it with different colors, or make a doodle art on it.
Steel Strip Edging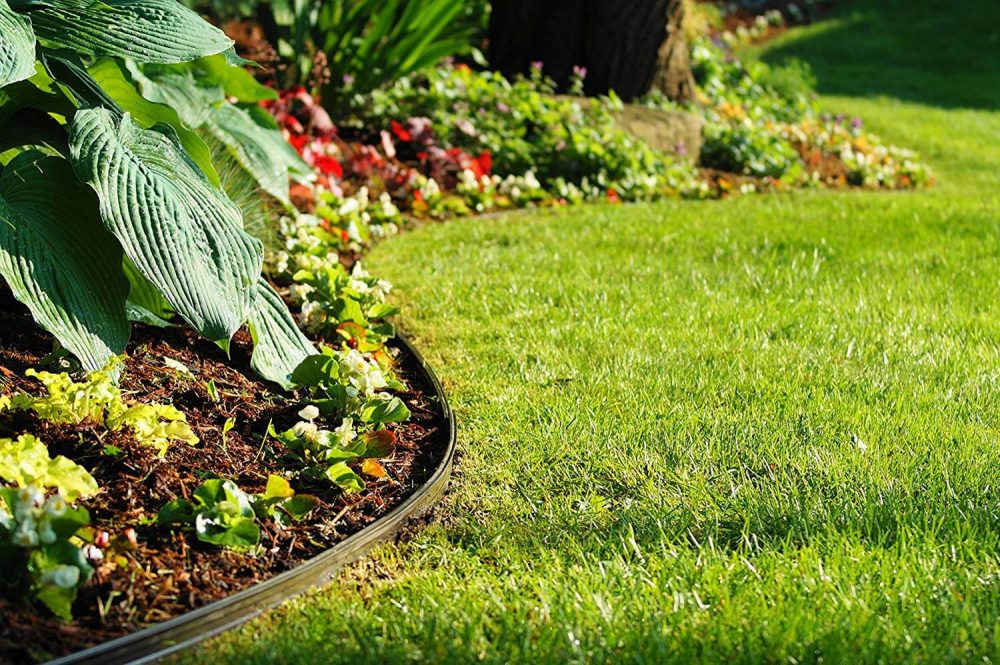 Source: amazon.com
Use a steel strip to give a rough and modern look to your garden. Whether you want to highlight the edging or want to keep it low-profile steel strip can work for both. Choose your steel strip size accordingly. You can get ready-to-install strips from amazon. Just hammer it, and you are good to go.
Palisade Edging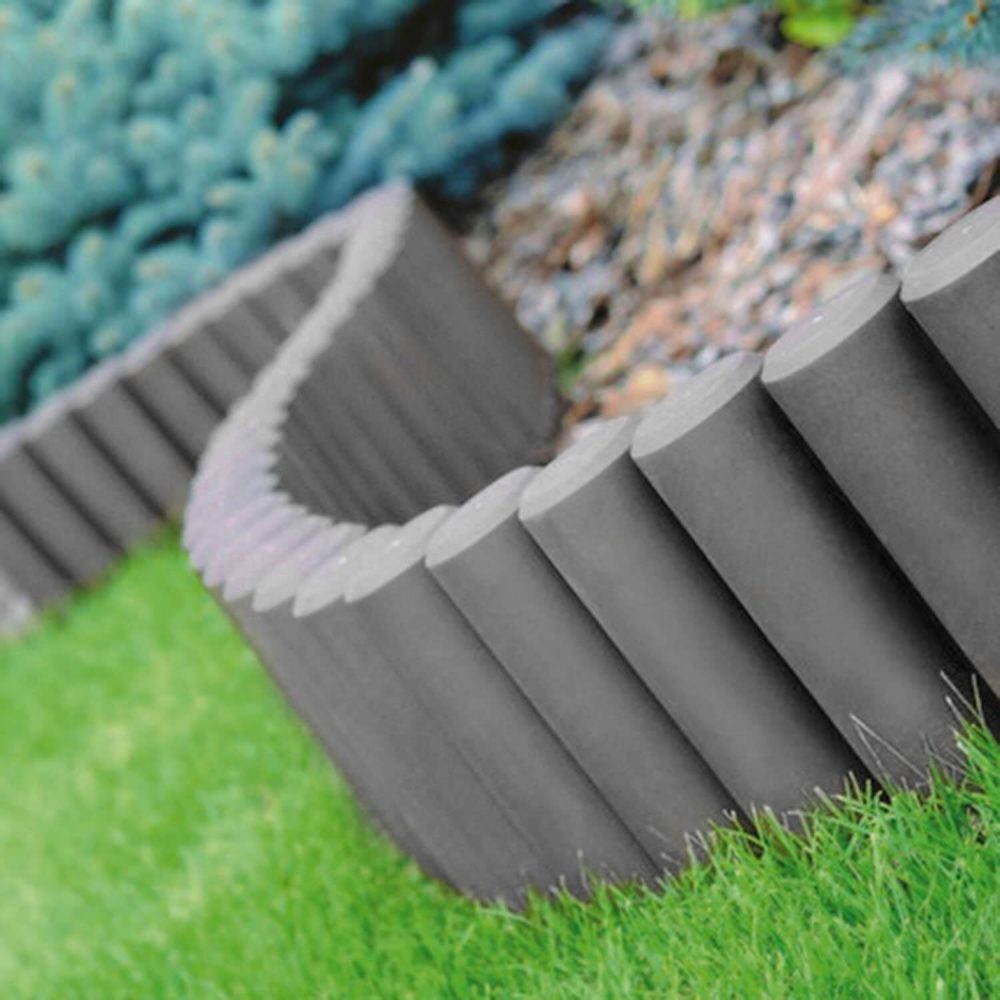 Source: amazon.com
Palisade edging is simple yet cool, which will give a colorful dimension to the landscape. Just do the bordering or plant them around the smallest planting area both will look stunning. You also have a choice of color here.
Brick Edging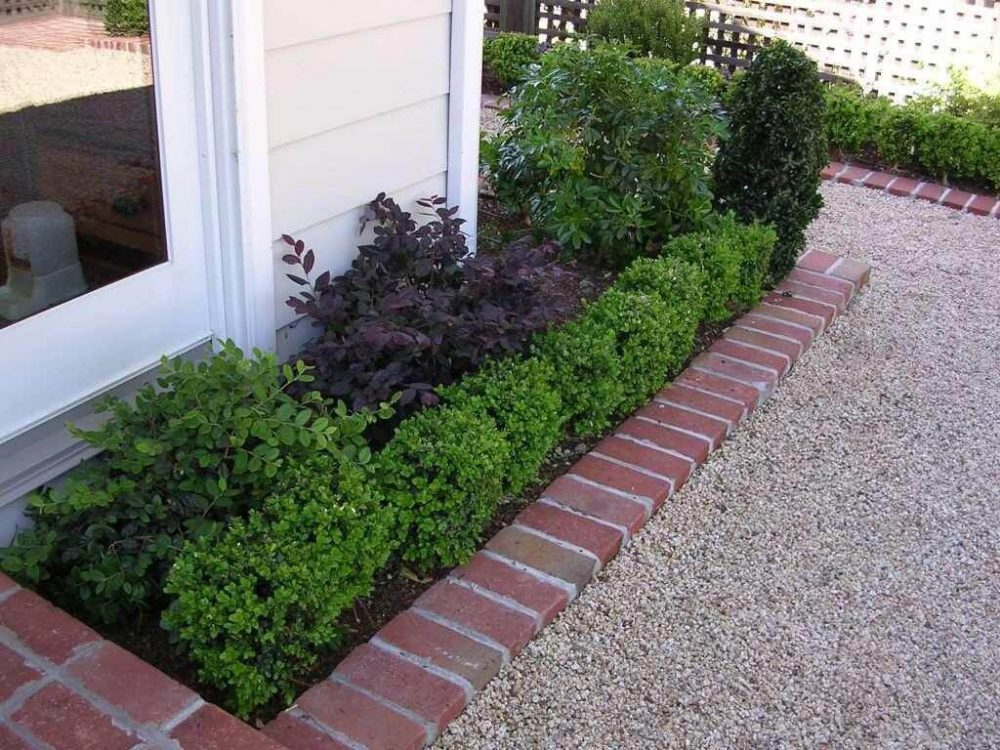 Source: youthsparkchallenge.com
You may have extra bricks in your storeroom or in your garage. Utilize them in creating the borders in the garden. A single strip or multiple shapes, go with the desired one. You can use your bricks in different ways, like horizontally, vertically, diagonally, or slantingly. Create a raised bed garden with the help of brick edging.
Glass Bottle Edging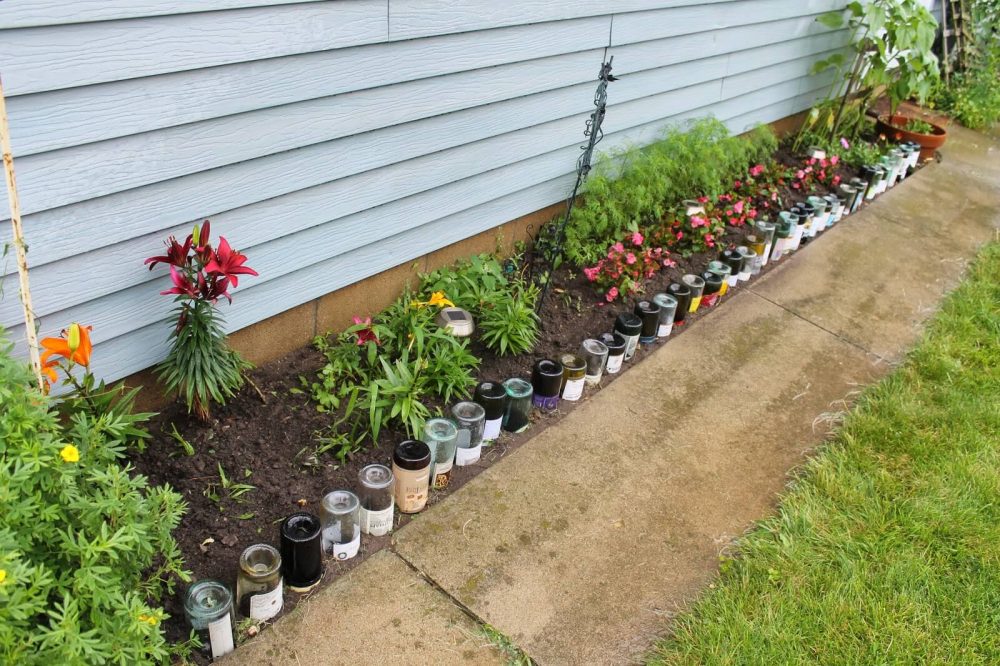 Source: blogspot.com
Create best out of waste. Gather all your glass bottles, transparent or opaque, doesn't matter. Place them inverted at the areas where you want to create a border. If you have colorful bottles, then arrange them in a contrasting manner.
Plate Edging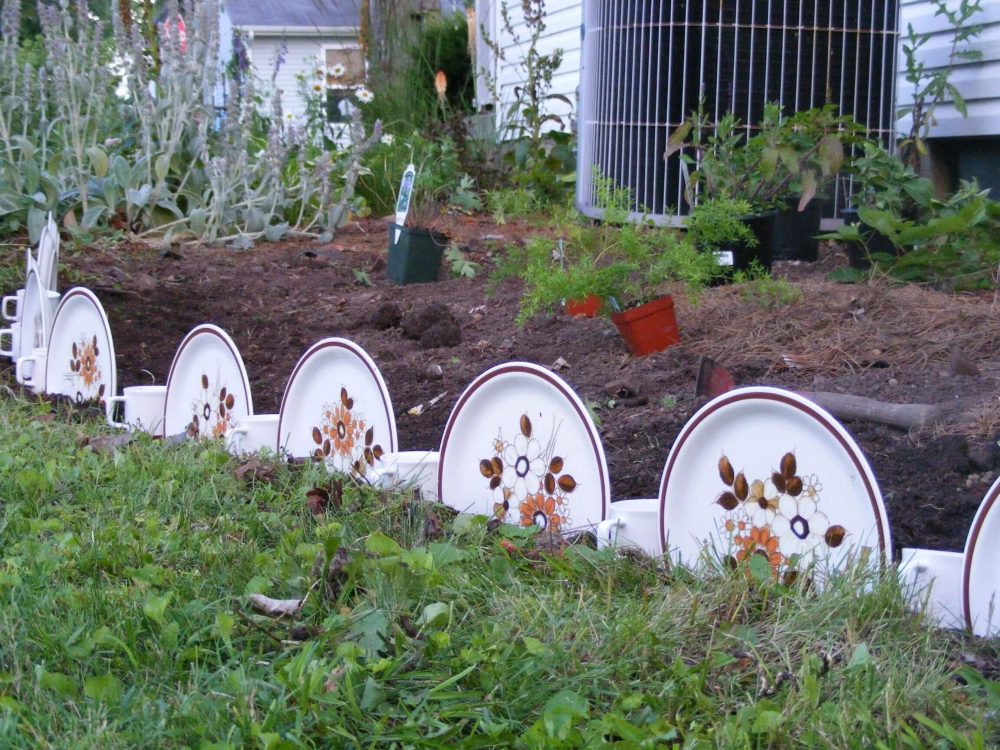 Source: pinimg.com
How much of china plates are there in your storeroom, that you don't use? Much of them, right? You saved it for a cause. Take those plates out and use them as a garden edging element. Dig a trench and fit them in; it will give a platey shape to your garden.
Sea-Shell Edging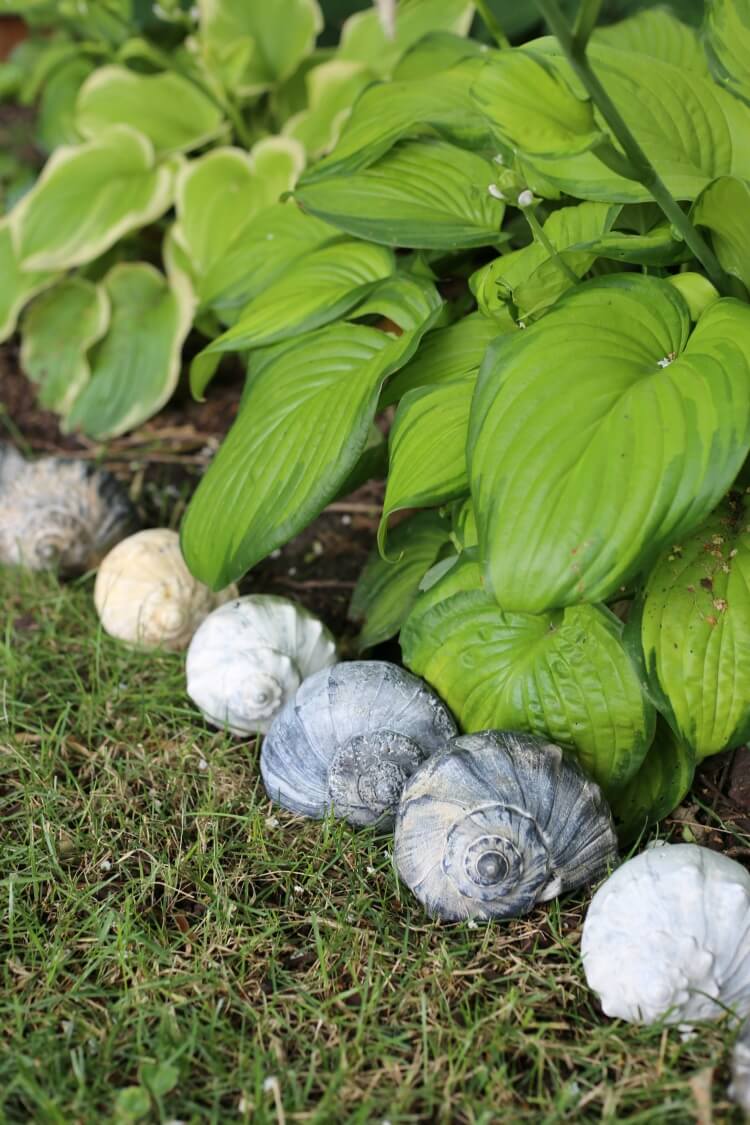 Source: sandandsisal.com
Do you have a pool at your place? Is your house near a beach? Do you love sea-shells? Are you one, who is always up for chill out? Do you want your garden to look classic? If anyone of the above question makes you agree, then go with this style. Grab sea-shells and form a perfect shape around your veggie beds.
Cinder Block Edging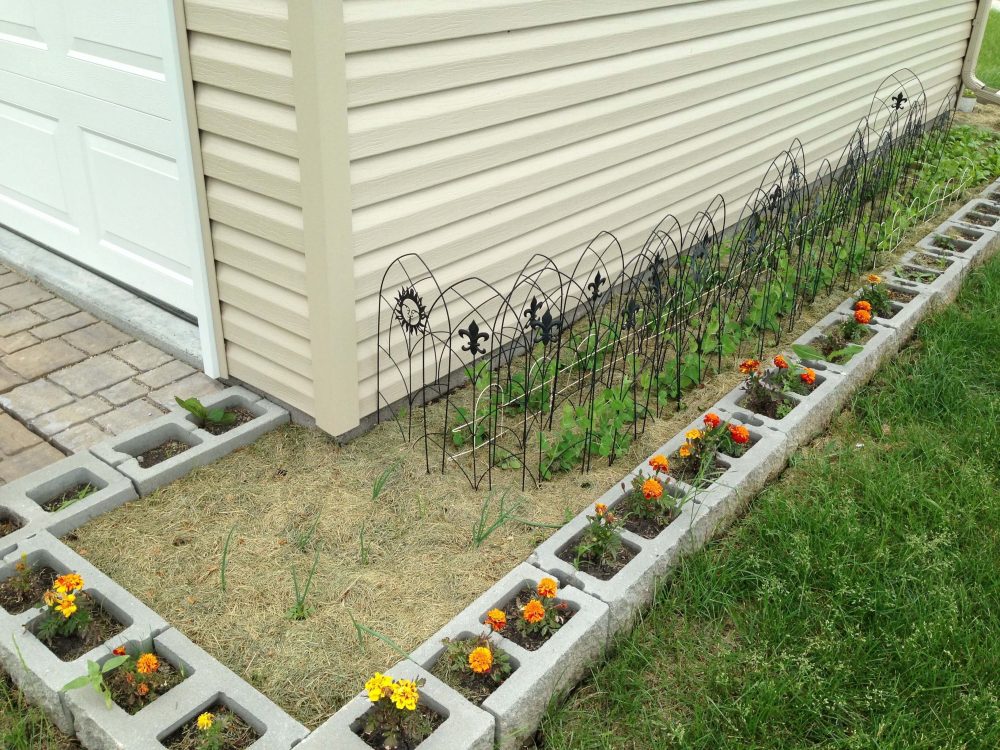 Source: pinimg.com
Using cinder blocks, you can achieve two things at a time. Cinder blocks can be used as an edging element as well as a planting pot. Place them around the raised bed, or tree. You can make an asymmetrical pattern to plant a few more flowers to the garden. Plain cinder blocks will give a raw effect while colored one will give a playful effect, choose wisely.
Rope Lighting with Brick or Rock Edging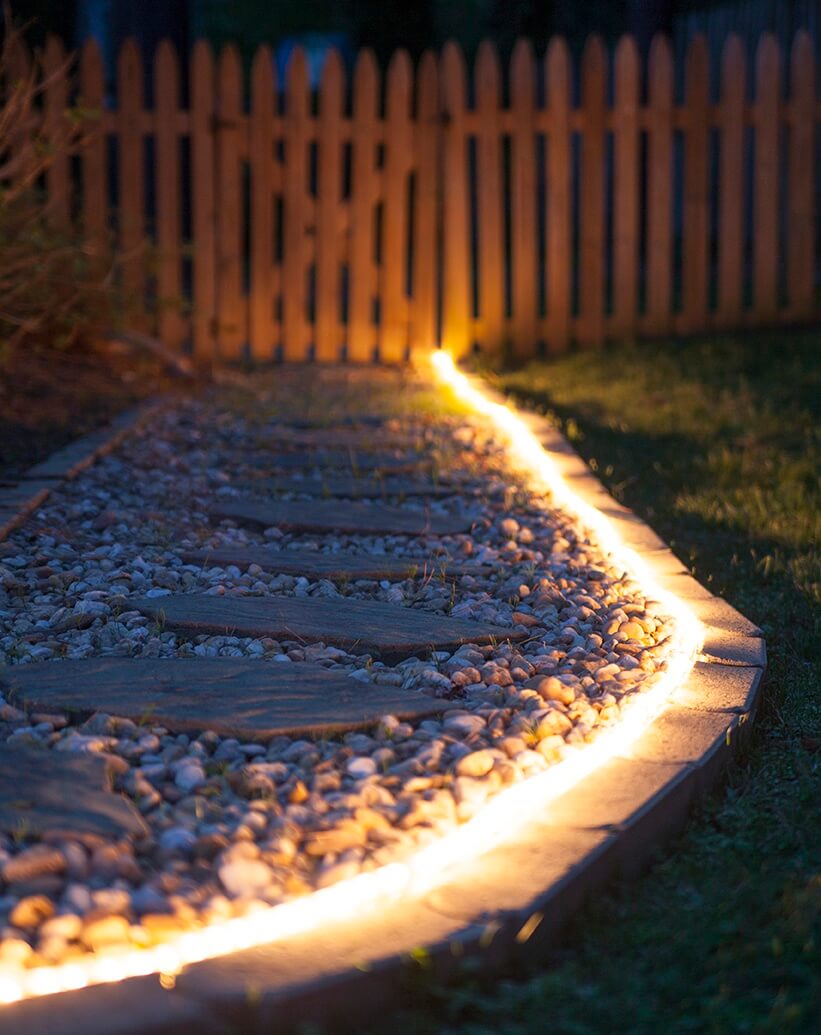 Source: christmaslightsetc.com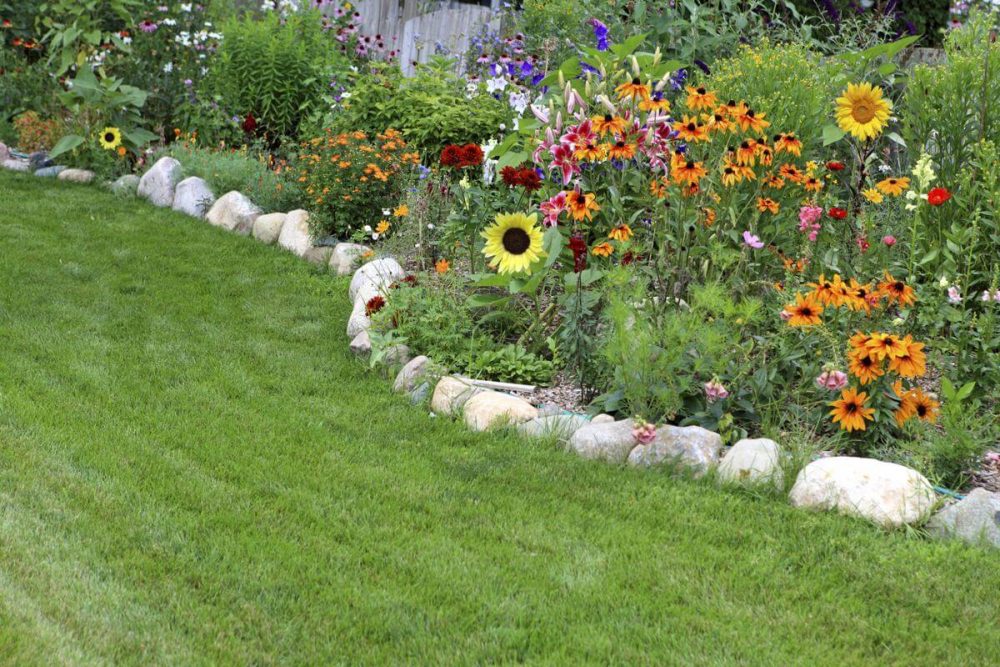 Source: buzzle.com
If you go for a single brick border or putting up rocks to create one, then add a rope lighting to it. Imagine seating in a garden in the evening with, a glass of wine, a lit-up atmosphere and a cool breeze. What can be better than this? Even if you have a party, your garden will always be ready for it. 
Final Outlet:-
Pick any of the above garden edging ideas and make your garden look extra-attractive and impressive. It will add the desired contour and dimension to your landscape, making it look outstanding. Add quirk to the elements without any hesitation; quirky is new contemporary!
Here are some walkway design ideas for your garden.
For more ideas on architecture, interior, or exterior, visit Architecturesideas.