You built a house, had a great interior, the exterior is also magnificent, and equipped with all the modern technology. Oh, and yes. How can we forget about the garden space that you fabricated at the entrance or in the backyard? Let's check out some garden edging ideas.
But you have a complaint that there is no dimensional factor to your garden, and it doesn't look organized the way you wanted. We know why it is that way! Because you definitely have overlooked the garden edging. It may look unnoticeable, but the role it plays is unbelievable. It will add a dimension to your garden, that is for sure, but along with that, it will also add texture and quirk to it.
The purpose of garden border edging is to separate two distinct areas and to give an outline to the landscape. The main aim is to prevent animals from entering the veggi e garden. Your garden will look prettier than before after applying our below-mentioned modern garden edging ideas. We have covered all the ideas that will give your garden a modern lookout or a traditional outlook, some are DIYs, and some are readymade.
The thing about garden edging is that you can go creative with it or just stay simple, still dressing up your garden elegantly.
So if you're looking for landscape edging ideas and flowerbed edging ideas, keep reading the blog and explore various types of ideas and designs. Finally, pick one that is suitable for your yard or landscape.
Let's begin.
25+ Cheap Landscape Edging Ideas & Designs For Your Yard
Source: buzzle.com
Whether you pick a stone, wood or brick, or whatever material or design, the most important thing is to get a beautiful landscape. With the help of these ideas, you'll get a clearly defined edge that gives a professional finish and a clean division between your various garden areas.
Below is the list of some of the best lawn edging ideas. So go through these garden border ideas before deciding on the edging thing for your place.
Let's take a look.
1. Gabion Wall Edging
Source: pinimg.com
Want to give a new outlook to your garden?
Try a gabion wall edging!
This kind of garden edging looks natural yet structured. It will seamlessly blend in well with your garden. It's also quite sturdy and will keep the different garden zones divided.
2. Wood-Cut Edging
Source: pinimg.com
Want to try DIY cheap garden edging ideas? This will be the perfect idea for you.
To create an edging like this, you need some wood planks and a wood cutting machine. Now, cut the wood pieces into different sizes or the same sizes and start placing them along the edge. You can even paint them with color sprays to add a unique touch to them.
3. Stone Edging
Source: blogspot.com
It is really fun to add some stones around the edging of your lawn and garden. You can either create a wide stone path or just keep it narrow. Plus, you can arrange the stones in a particular manner to give a clean look or in a random way for an eye-catchy look.
4. Log Edging
Source: shopify.com
Log edging is another cool version of wood-cut edging!
Just buy some logs from the market or from the forest area and then cut them into small pieces and place them where you want to edge. You can also make a small seating table by putting 4 to 5 logs together in a circular pattern.
5. Terracotta Tile Edging
Source: gardenstone.co.uk
Tiles are always fun and cool, whether you're using them indoors or outdoors! These terracotta tiles are available in any home depot or earthenware store. All you need to do is to arrange these tiles in a unique way, using either symmetrical or asymmetrical shapes.
6. Tree Branches Edging
Source: plantsupports.co.uk
We're pretty sure that this type of edging is surely new for you. Here the woven wood has been used to create a fence-like structure around the garden area. You can make a semi-circle, square, or rectangle shape in the specific area and plant your flowers in that.
7. Concrete Edging
Source: black-budget.com
One of the most common and inexpensive garden edging ideas is concrete edging. Perfect for those people who want an edging solution for their garden that can last long or for a lifetime. You can give a simple step-up step or a complex designer shape or whatever shape you like.
8. Steel Strip Edging
Source: amazon.com
Another of the great flower bed edging ideas is the steel one. These steel strips will give your garden a rough and modern look. Steel strips are available in various sizes. So select the steel strip size according to your garden space.
9. Palisade Edging
Source: amazon.com
Go with Palisade edging if you're looking for a more sustainable option for your garden edging! This type of edging is made from recycled plastic and is also sturdy. You can use them to border your plants or any specific area on your lawn.
10. Brick Edging
Source: youthsparkchallenge.com
The classic and timeless edging of all time is brick edging. The best thing about bricks is that you can create both traditional and modern looks from them. You can use creativity and lay them in different patterns like in single strips, horizontally, vertically, diagonally, or slantingly.
11. Glass Bottle Edging
Source: blogspot.com
Do you like to drink so much that you've many glass bottles at your place? If yes, this will be a perfect idea for you! Others who don't have these bottles can buy or thrift them from the local stores. You can use glass bottles, transparent or opaque, colorful ones.
12. Plate Edging
Source: pinimg.com
Do you have plates in your kitchen that you don't use anymore? If yes, bring them out not for dinner but for your garden! Look at the above picture, aren't using these plates as garden edging a creative idea?
13. Sea-Shell Edging
Source: sandandsisal.com
Do you like to collect seashells?
Bring out your seashell collection and use them in your garden, edging in your yard. These shells will bring the beachy vibes to your place even if you're living miles away from the water.
14. Cinder Block Edging
Source: pinimg.com
Cinder blocks can be used for two things: for edging and as well as a planting pot! Just put them near the raised bed or tree and place some plants in it. You can create an asymmetrical pattern or whatever you like. Use the plain cinder blocks for a raw effect or while colored ones for a playful effect.
15. Rope Lighting with Brick or Rock Edging
Source: christmaslightsetc.com
Lighting is the best option if you want to create a perfect ambiance on your lawn or garden. Whether you're going with rock or brick edging, you can use rope lighting.
Imagine seating in this perfect garden setting with a glass of wine. This romantic and breezy atmosphere will make your yard a perfect spot for parties and gatherings.
16. Gray Gravel Border
Source: uenicdn.com
If you're looking for decorative edging ideas, grey gravel pebbles are the best ones for you! You can use them to separate the walkway and the lawn. To make this design easy, first, you've to dig a shallow trench between your lawn and path, then put some protective sheeting and finally fill the top with pebbles of your choice, and your beautiful lawn edging ideas are ready!
17. Pebble Moat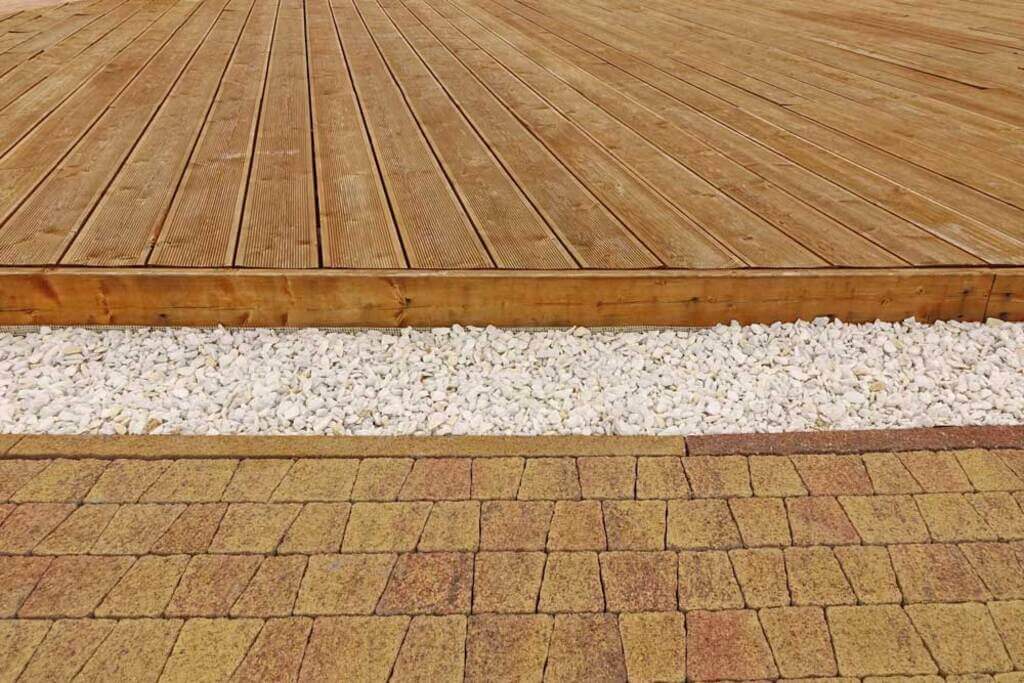 Source: backyardinsider.com
To make your yard look attractive and eye-catching, you can use a technique that many designers use. The technique is to use different levels. Look at the above picture; here, the deck rising out from the surrounding pebbles gives the whole space a sleek but attractive look.
You can use pebble moat as edging and create levels at different heights. This will look contemporary and almost artistic at the same time!
18. Wood Edged Raised Beds
Source: b-cdn.net
Look at these cheap creative garden edging ideas; doesn't it look good? The edges around these raised garden beds look simple yet stylish. Instead of wide lengths of wood, use the thin ones as they will provide a neat border. This is also a perfect DIY edging idea for all those people who want to do edging in their garden all by themselves.
19. Caged Rocks
Source: pinimg.com
Placing rocks in a wire cage or mesh is nowadays one of the popular edging garden ideas. Look at these gray stones; they're perfect for achieving a modern, sleek ambiance.
People looking for a contemporary way to add curb appeal and value to your property should definitely try these types of inexpensive landscape border ideas. They're a good investment for your home or property.
20. Contemporary Block Edge
Source: pinimg.com
These large blocks don't only look good, but they're also used to avoid any messy overspill. The clean and simple lines of these blocks will give your garden a contemporary modern look. However, this isn't a budget-friendly option, but you can go with this idea if your pocket allows.
21. Cobblestones Garden Edging Ideas
Source: amazon.com
Cobblestones look pretty similar to brick, but they're more in a square shape. If you want to add some character and texture to your landscape edging, there is nothing better than cobblestone. You can either use the real ones or the fake ones (available on Amazon) that look exactly like the real cobblestones.
22. Boulder Border
Source: gardenersoasis.com
Boulder border edging is super easy to create, and anyone can do this no matter what type of landscape you have. First, create an edge made of large rocks and then pile other rocks on the first one and do this all along the perimeter of your garden.
23. Steel Cylinders with Plants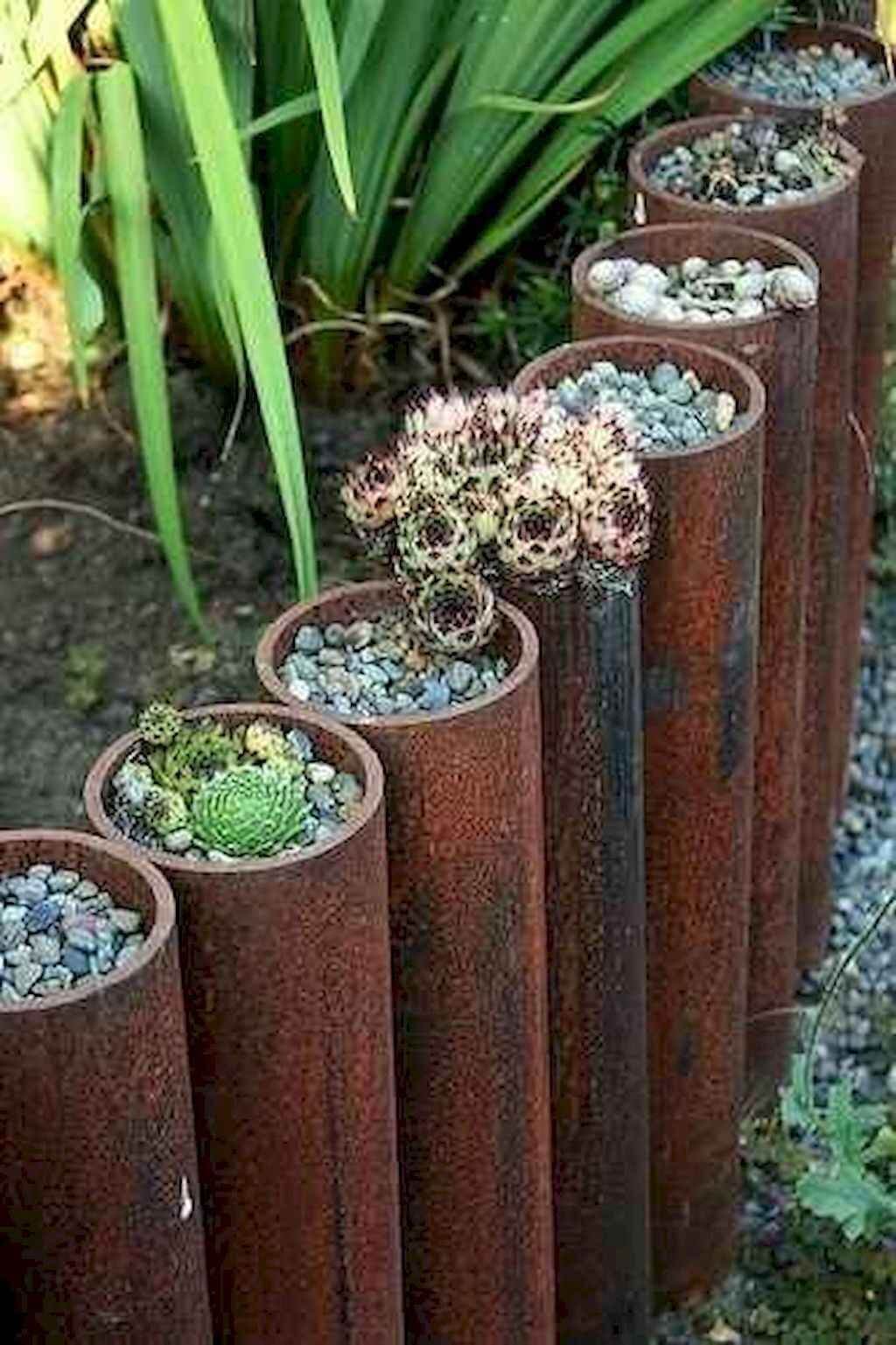 Source: pinimg.com
Another inexpensive landscape border ideas for you is this steel cylinder one. Many of you might be wondering what if these cylinders got rusty. Yes, these cylinders do corrode in time, but still, they'll look cool because of their worn-out look.
You can fill these cylinders with soil and other material to grow succulents. These cylinders will act as both a border and a container.
24. Hedge Edge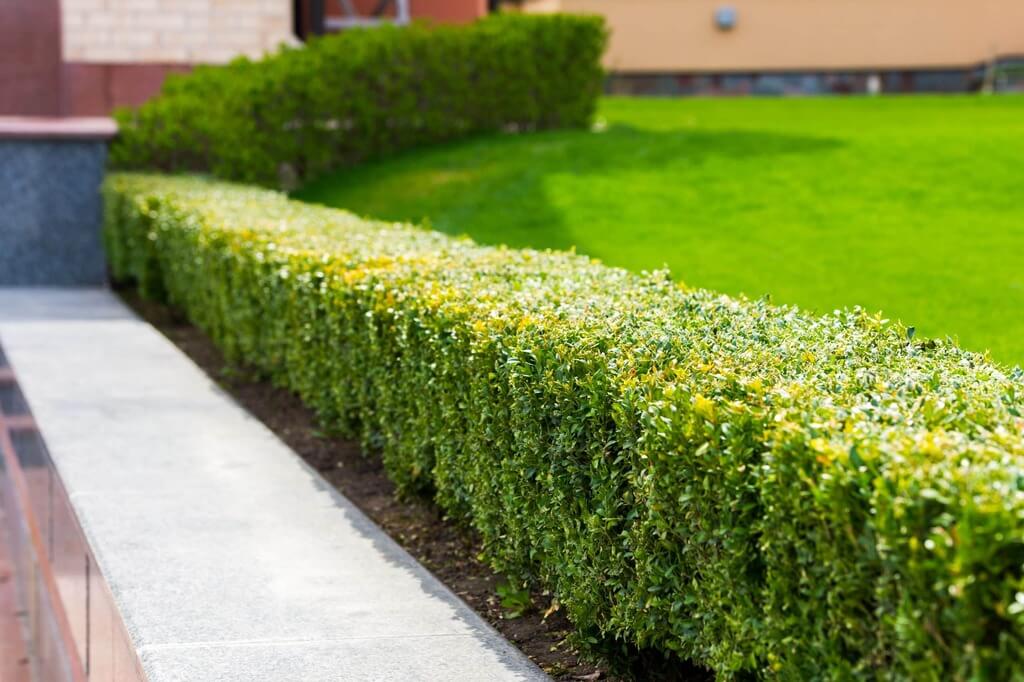 Source: homestamp.com
A small and well-trimmed hedge can be an excellent garden edging ideas for your lawn. This petite hedge looks really impressive and quite luxurious. Look at the above landscape; here, the owner has opted for these edging ideas for their garden. However, this type of edging can be costly and time-consuming.
25. Cut Stone Edging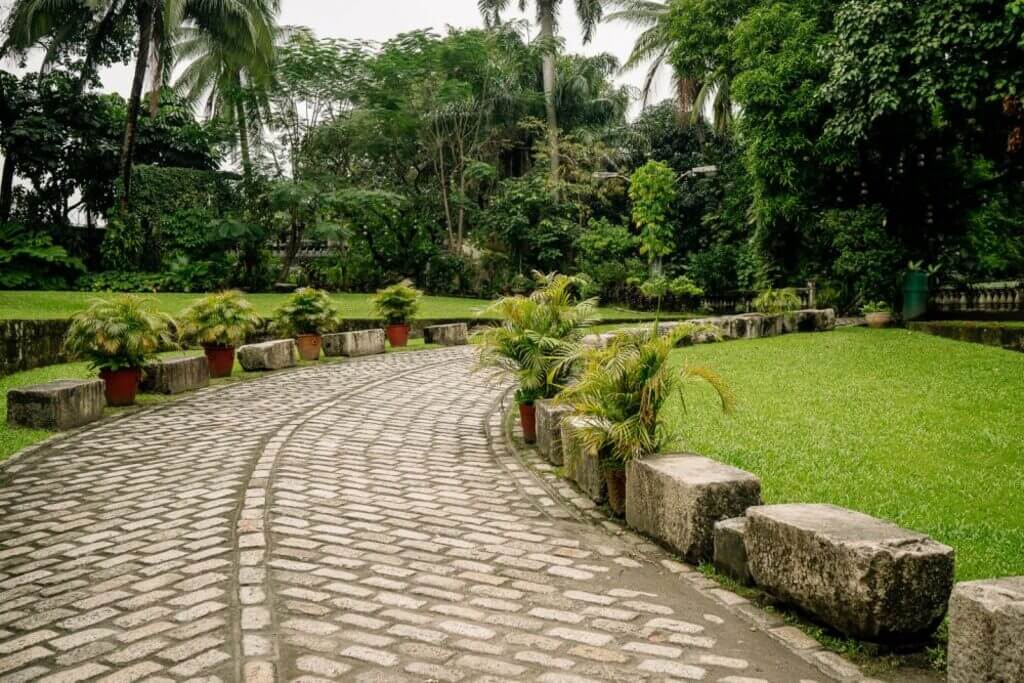 Source: gardenersoasis.com
Do you want to achieve a formal look? And if you also don't mind lifting some huge stones and blocks, you can try these landscape edging ideas. For this, you have to use large rectangular cut stones. These huge blocks will act as edging and as well as benches. You can place smaller square stones or large potted plants in between each stone to make this setup more interesting.
Do you want to see more garden edging ideas? Scroll down!
Source: timeincuk.net
Source: timeincuk.net
Image Source: timeincuk.net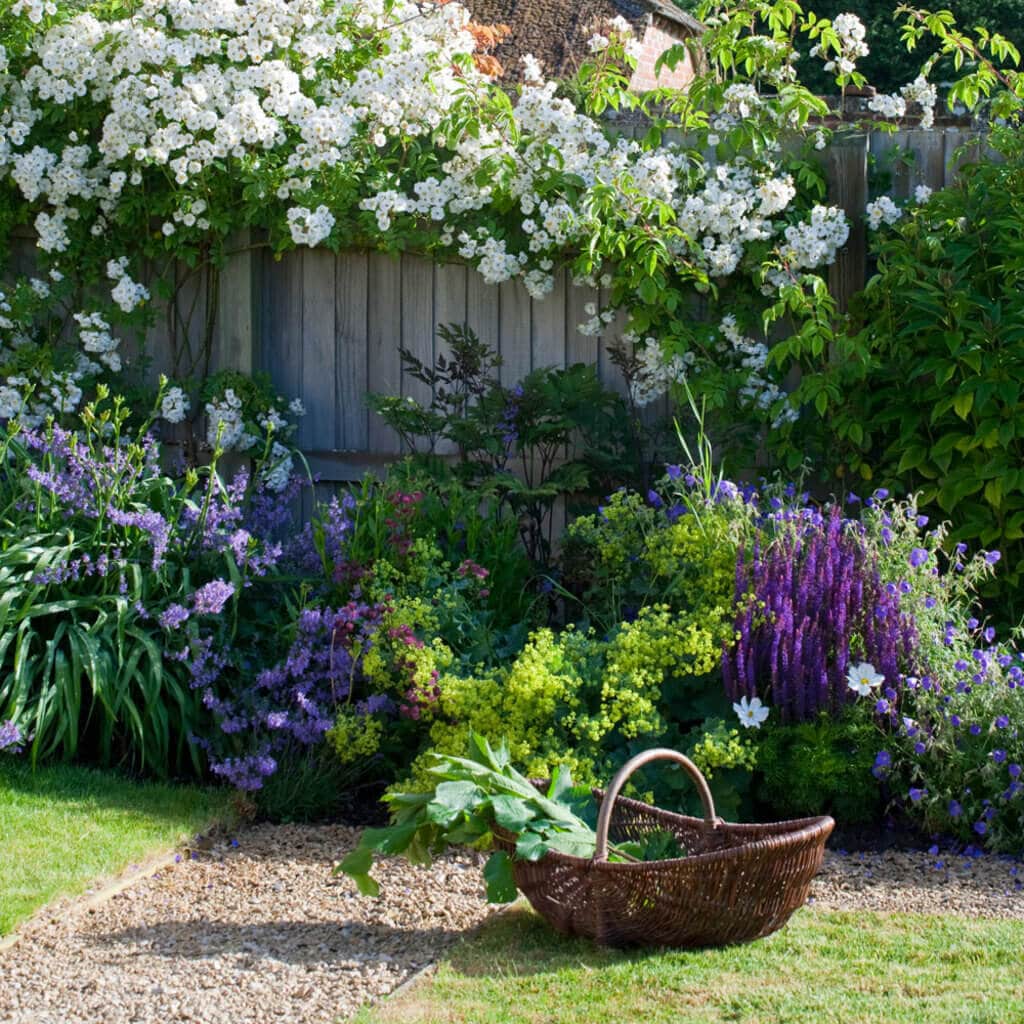 Source: timeincuk.net
Source: timeincuk.net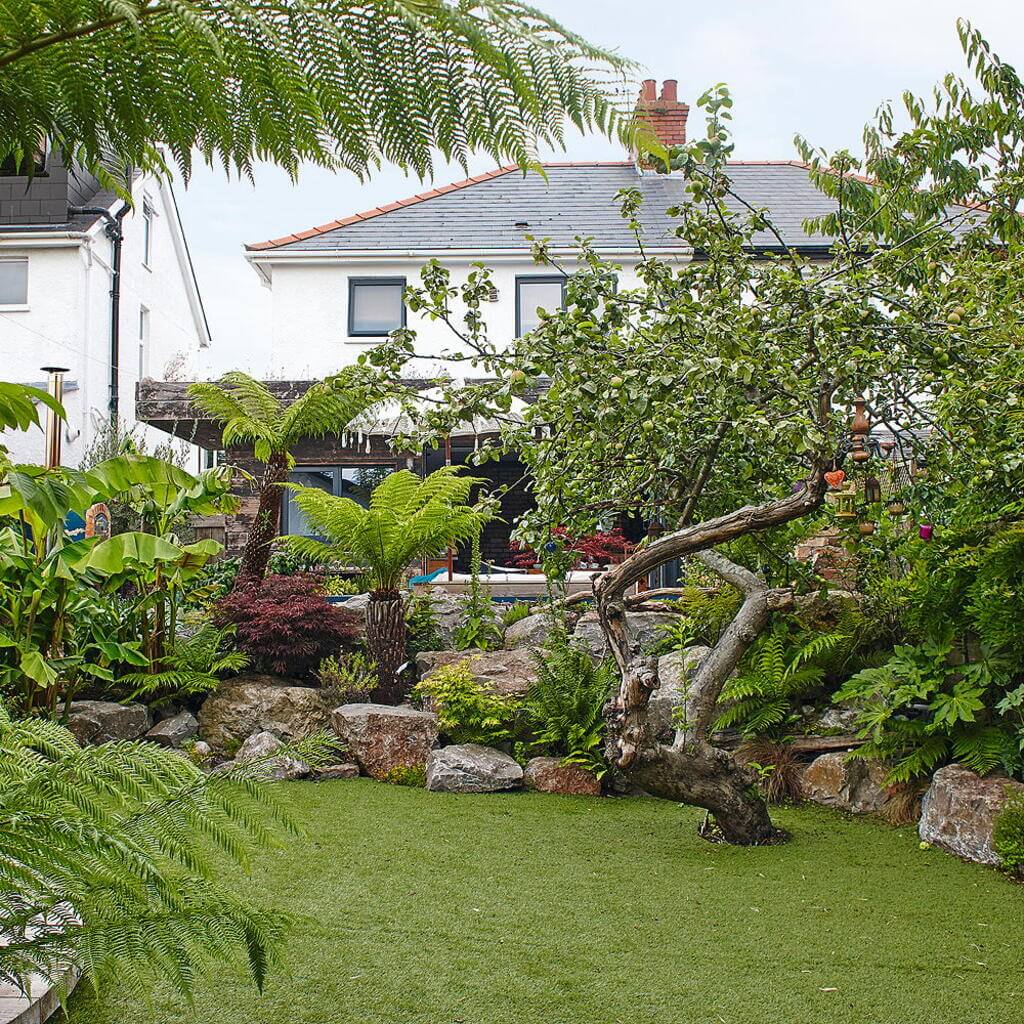 Image Source: timeincuk.net
Source: gardentabs.com
Source: timeincuk.net
Image Source: digsdigs.com
Source: pinimg.com
Source: ruralsprout.com
Image Source: timeincuk.net
Source: pinimg.com
Image Source: timeincuk.net
Source: landscaping.net
Also Read: 23+ Inexpensive Raised Garden Bed Ideas and Designs for 2023
The Bottom Line
So these are all the latest garden edging ideas.
Pick any of the above garden edging ideas and make your garden look extra-attractive and impressive. It will add the desired contour and dimension to your landscape, making it look outstanding. Add quirk to the elements without any hesitation; quirky is the new trend!
I hope this guide on the inexpensive landscape border ideas has helped you pick the best edging for your garden, lawn, or yard. If you find this guide on modern edging ideas helpful and informative, share it with your family and friends and help them create warm and welcoming outdoors.
Read our previous blog on modern garden ideas and many more to get some inspiration.
For more interesting home and office decoration ideas and architectural guidance, explore Architecturesideas.
Follow us on our Instagram page architectures_idea for daily trend alerts and updates.