How To Build an Outdoor Pizza Oven: The Ultimate Guide
Do you love eating pizza? Of course, everyone on this god green's planet loves eating pizza. After all, PIZZA is not food, it's an emotion! We don't require any occasion to eat one, from friendship, breakup, birthday to patch up, no matter how, where, and when, pizza is an evergreen food for all of us. But what do you think about a homemade pizza that too made in the handmade wood-fired pizza oven? Interesting right? Here you can get the details how to build an outdoor pizza oven.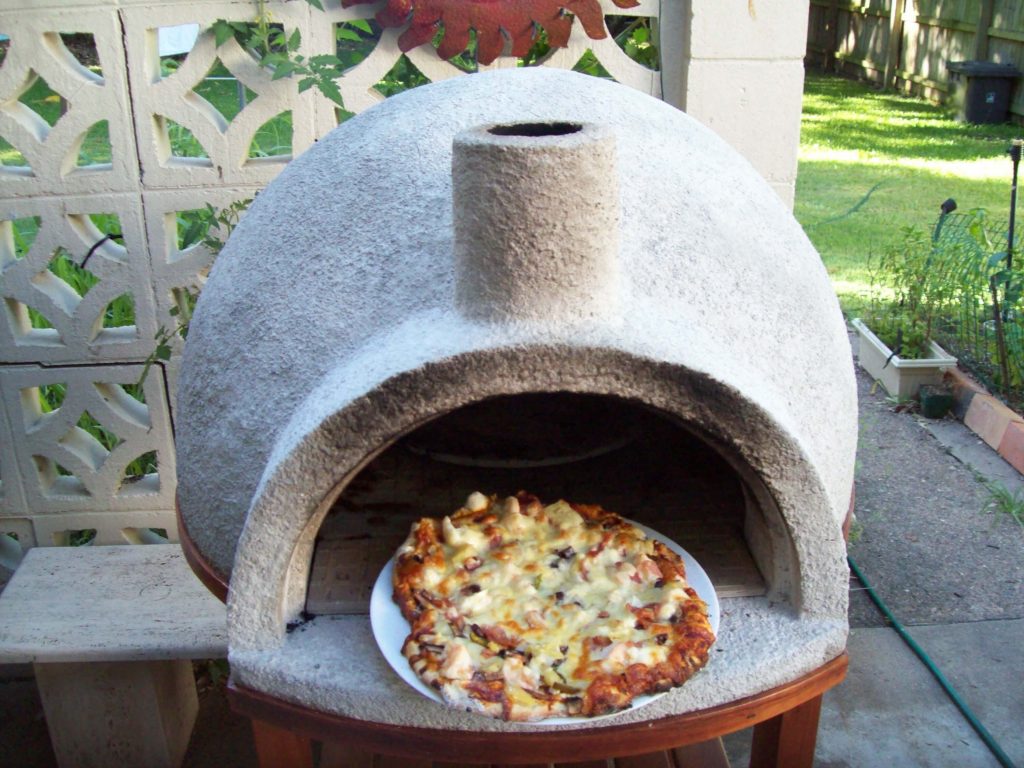 Source: foodtruckempire.com
Ummm…Homemade oven… Sounds ancient! Hahaha…We know what you are thinking, but these ovens are hot new trends. The pizzas which are baked in these ovens are so tasty, especially the Neapolitan style ones. But now you might be wondering how is it even possible to make this alone? Don't worry, we are here to tell you the best way to have a slice, baked in your own oven.
Building an outdoor oven seems like a complicated task, but believe us, it is not that tough. With all the steps and guidance that we are providing here makes the whole process easy and less complicated. 
What Is A Pizza Oven?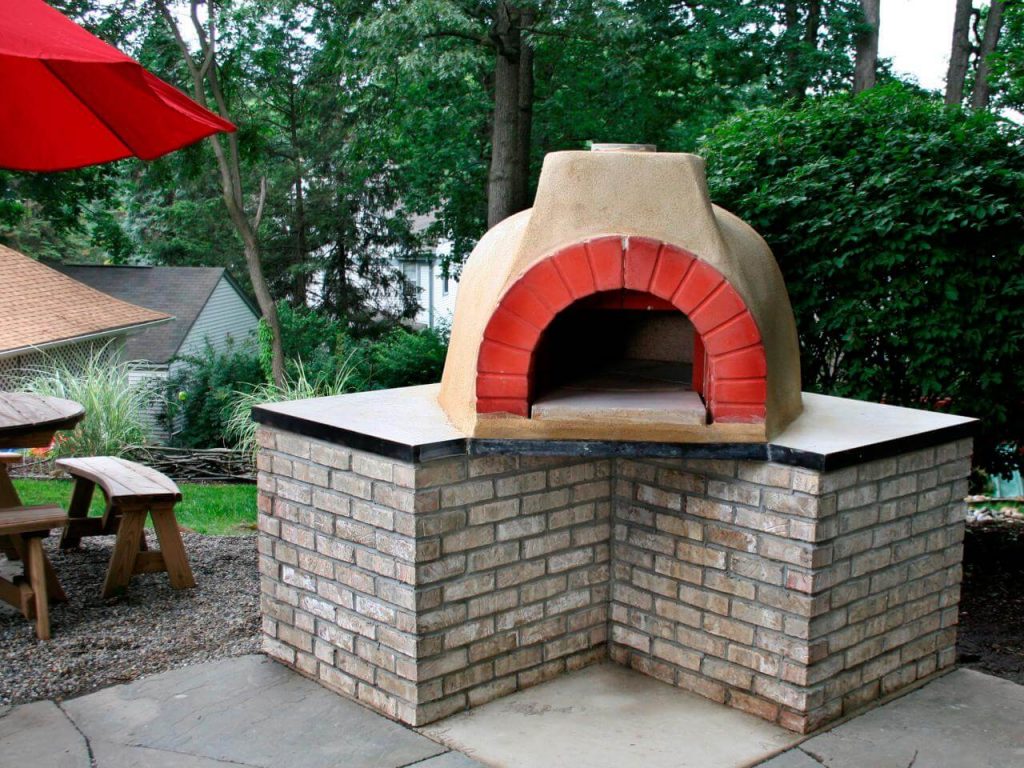 Source: sndimg.com
So before you start typing in your google " how to make an outdoor pizza oven," first understand what this is. Wood ovens or wood-fired ovens are ovens that use wood as a fuel for cooking, unlike nowadays modern ovens which run from electricity. 
Also Read: Upgrade The Back Of Your Home With These Outdoor Kitchen Setups
How Outdoor Pizza Oven Works?
Now you might be thinking that it is similar to cooking over an open heat surface, but it is different from this style of cooking. It basically transfers the bulk of heat from the flame into the walls in the roof on the floor of the oven. And it has a separate chimney to release the smoke. If you're interested in wood fired ovens, there are options for every budget.
You can't build an oven inside your home; you obviously need an outdoor space to make one. It emits a lot of smoke and heat, and you certainly don't wanna put your home on fire, so it's better to construct it outside!!
Trending Pizza Oven for Your Outdoor Party!
Types Of Pizza Oven
There are basically two types of wood oven you'll find in the houses. The first one is brick ones, and others are Portable Wood Fired Pizza Ovens. In this blog, we are telling how you can make an outdoor brick pizza oven. To learn how to make a pizza oven in your backyard by our step by step guide.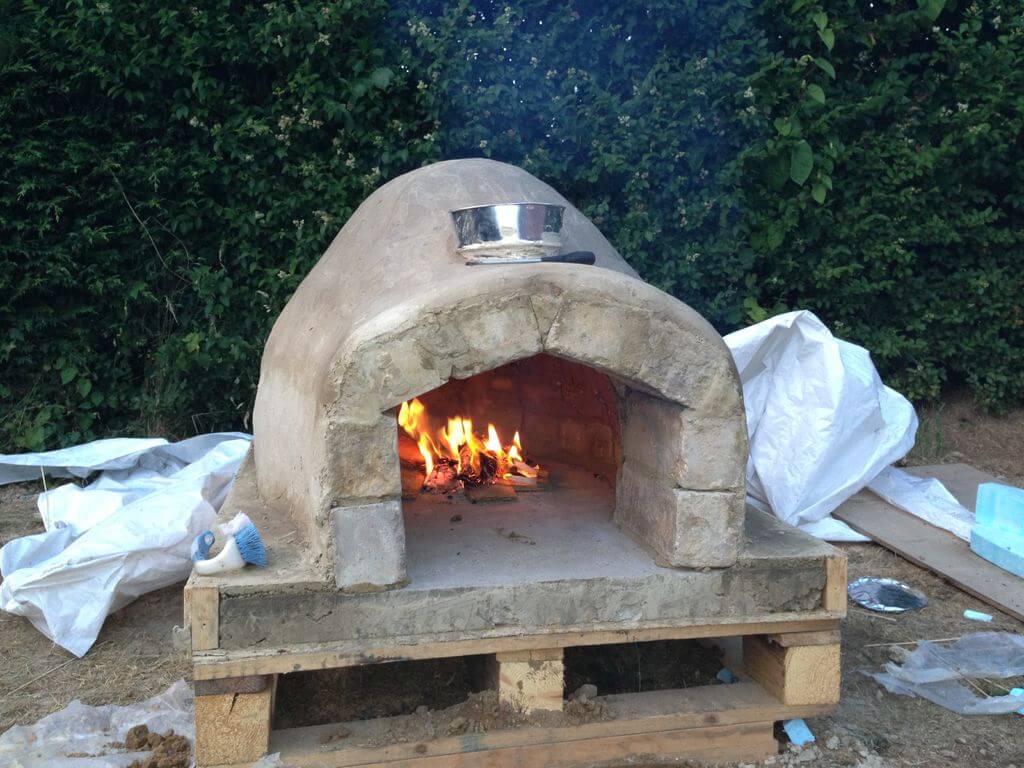 Source: instructables.com
What You'll Need
Below is the list of materials that you'll need to build an oven. Read the list carefully and collect all the items. 
Materials:
For Oven Base
Quick-set concrete

4-foot by 4-foot piece of melamine-faced medium-density fiberboard (MDF) panel, common thickness 3/4-inch

Steel rebar mesh, 10 gauge, flush cut

Drywall screws, 1 5/8-inch

Silicone caulk, black or another dark color

Release agent: mineral oil or paste wax
For Oven Top:
Decorative bricks

Mortar

Scrap cardboard

(2) scrap pieces of MDF, OSB, or plywood, each 18 inches by 18 inches

75 pounds of sand

Plastic sheeting

6-inch diameter by 2-foot round metal duct pipe
Tools: 
Carpenter's pencil

Circular saw

Hammer

Mason's trowel

Masonry chisel

Metal snips or hacksaw

Rubber mallet

Spray bottle filled with water

Tub for mixing concrete
"If you don't have that many tools and materials, You can also purchase an oven kit, which is available online or from a local store. But still, you'll need some of the tools and materials." 
How To Make An Outdoor Pizza Oven?
After you got all your materials and tools, it's time to start making an oven, here are the 11 steps to give you all the information that you'll need:
1. Plan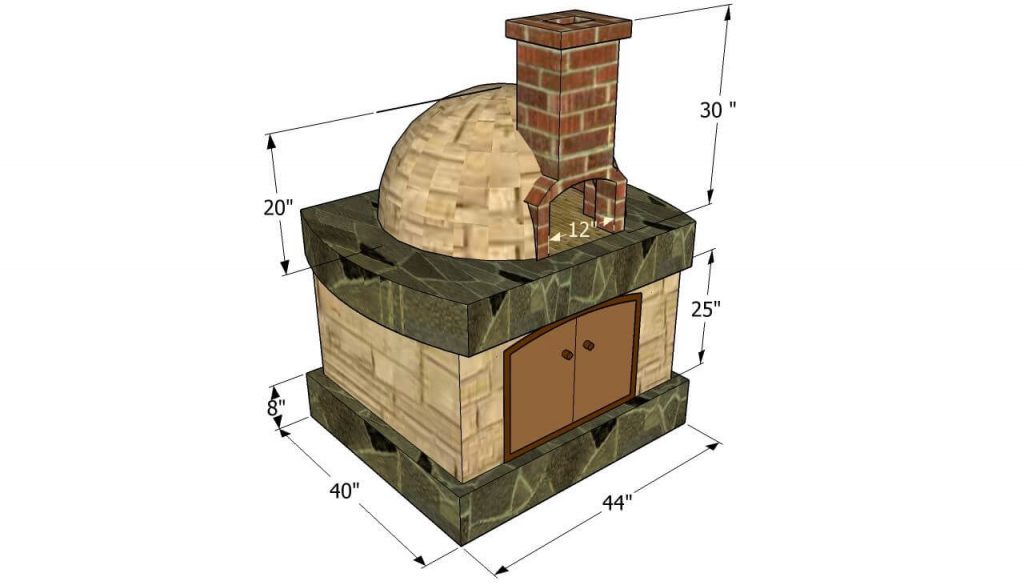 Source: pinimg.com
Obviously, the first and most important step is planning. Decide where you want to construct an oven, and what is the size you want? Make sure the dimension of the oven is according to your yard; otherwise, it'll look weird. 
"Make sure the oven depth, height, width, and chimney placement are well designed and in the right proportions."
2. Create A Base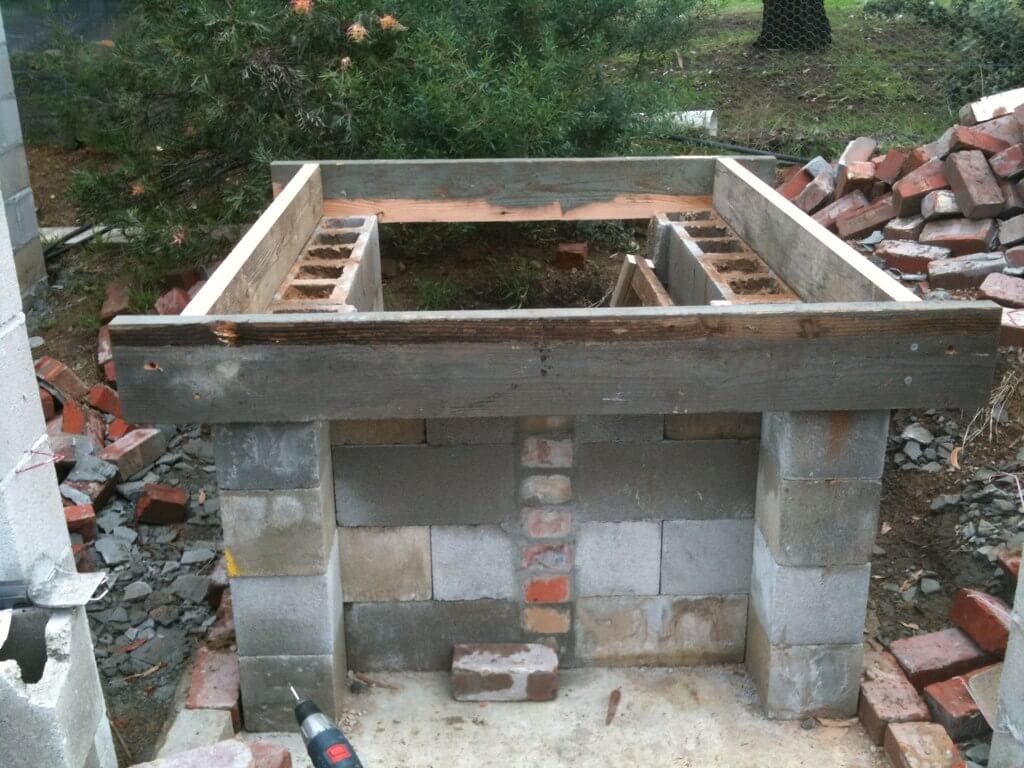 Source: traditionaloven.com
As a fuel, you are going to use wood, so your base should be strong and fireproof. Use concrete pavers and a solid slab to create one. Place bricks one by one onto each other in the square shape (which is opened at one side) and joins them with the cement paste. After you achieve the desired height of this square, put a slab on it. 
3. Use Supports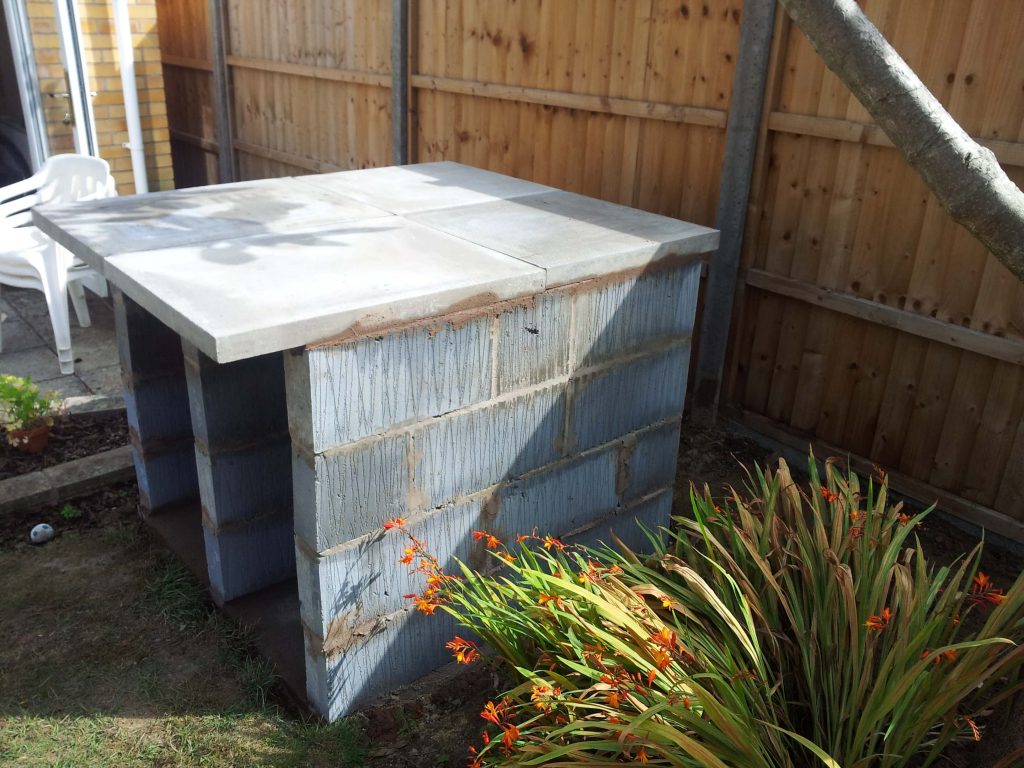 Source: jamesgleave.com
You can also use temporary supporters to support the slab and walls.  
4. Cover The Base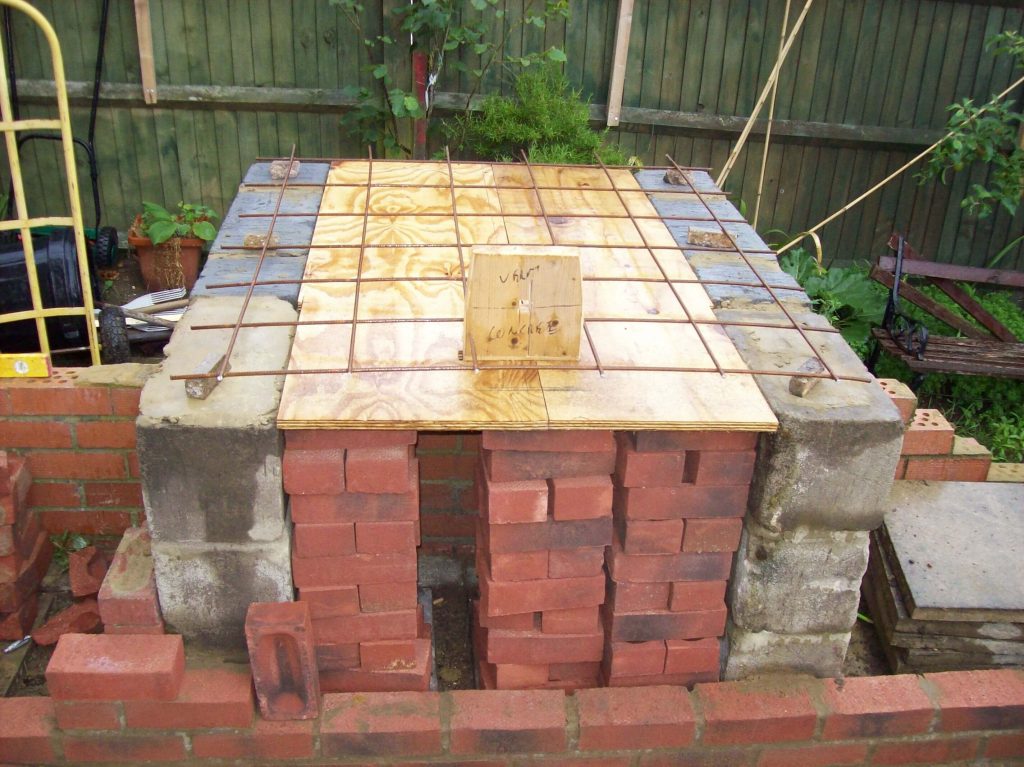 Source: pinimg.com
After this, the next step is to cover the base with the cement to get a finished and polished looking base. 
5. Arrange The Bricks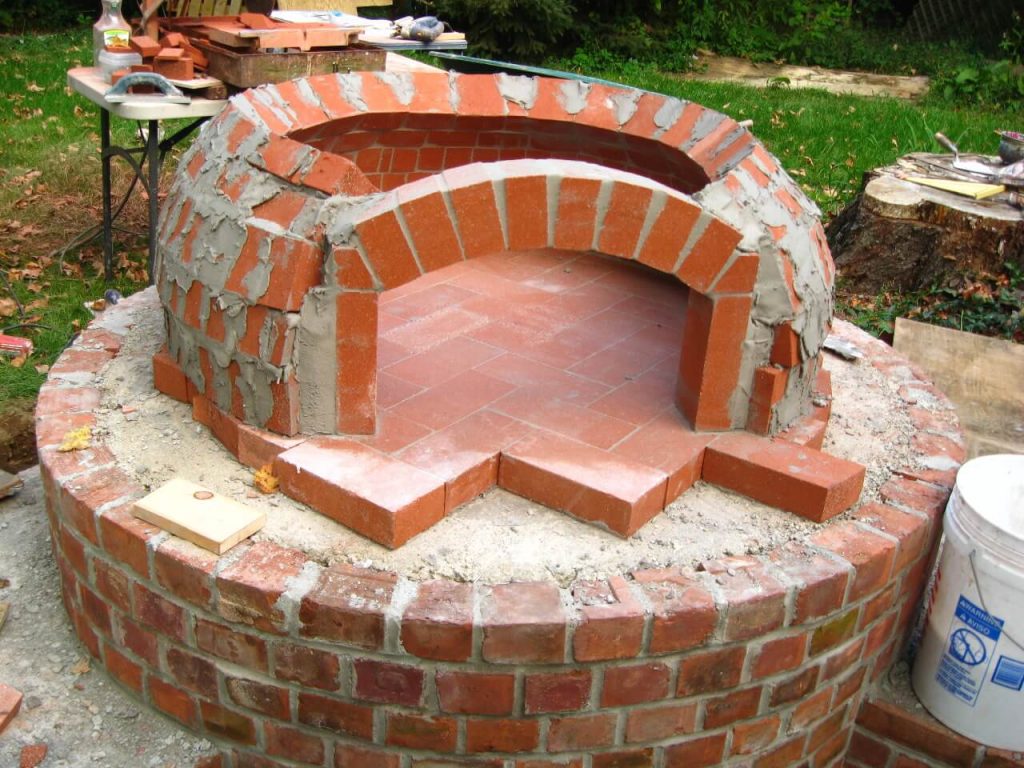 Source: eracaperealty.com
After you're done creating the base for your oven, it's time to build the top part. Which is kinda tough but you can do it!! First, arrange your bricks in the perfect shape of the dome on the floor in the right measurements to actually visualize the oven top. 
6. Create An Arch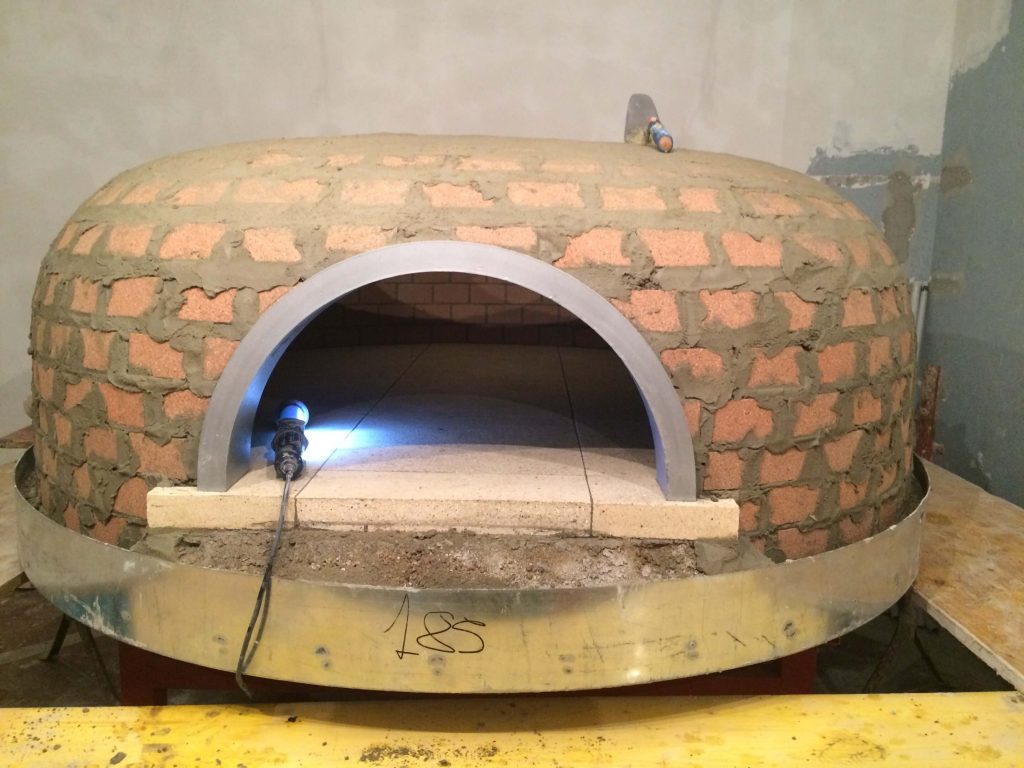 Source: wp.com
When you're done with the measurements, it's time to do the task. Start with the bottom and place the bricks in a semicircle form. Make sure you decrease the number of bricks as you go up in height to create a dome. 
To get a perfect shape dome, put the sand in the shape of a dome. It is to do with the sand and afterward place the bricks onto them. 
" You can also frame and decorate the front portion of the dome arch with granite or other materials."
7. Make Chimneys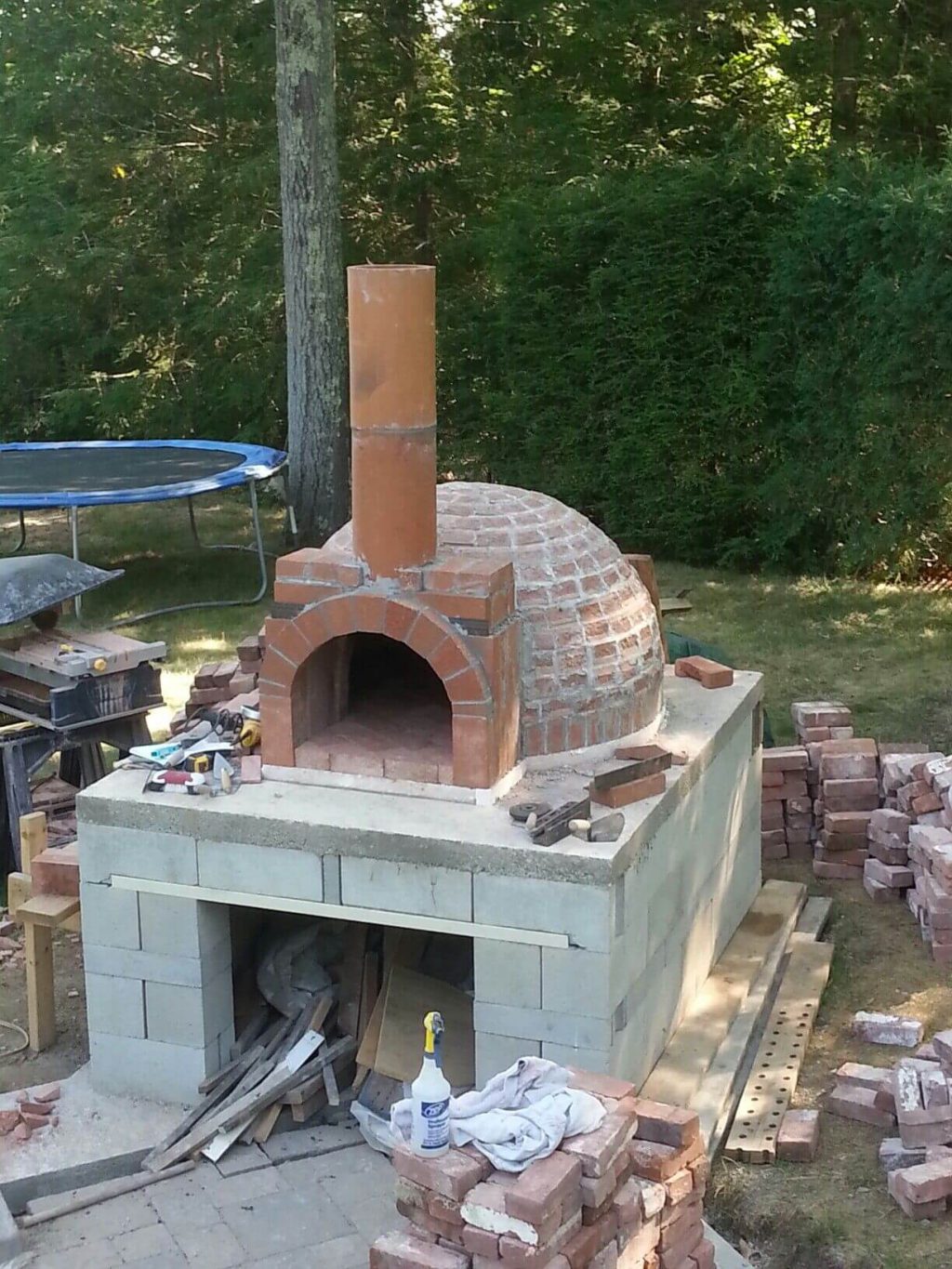 Source: pinimg.com
And the most important part of the wood oven is the chimney, so don't forget to leave the space in the top part of the arch. Without them, your oven will not complete, and if you start cooking in this type of oven, you'll only get burnt food. 
" Make the chimney in a tube form in the upwards direction, and make sure the height of the chimney is high enough so that the smoke will not get into your eyes."
8. Layer The Outer Part With Cement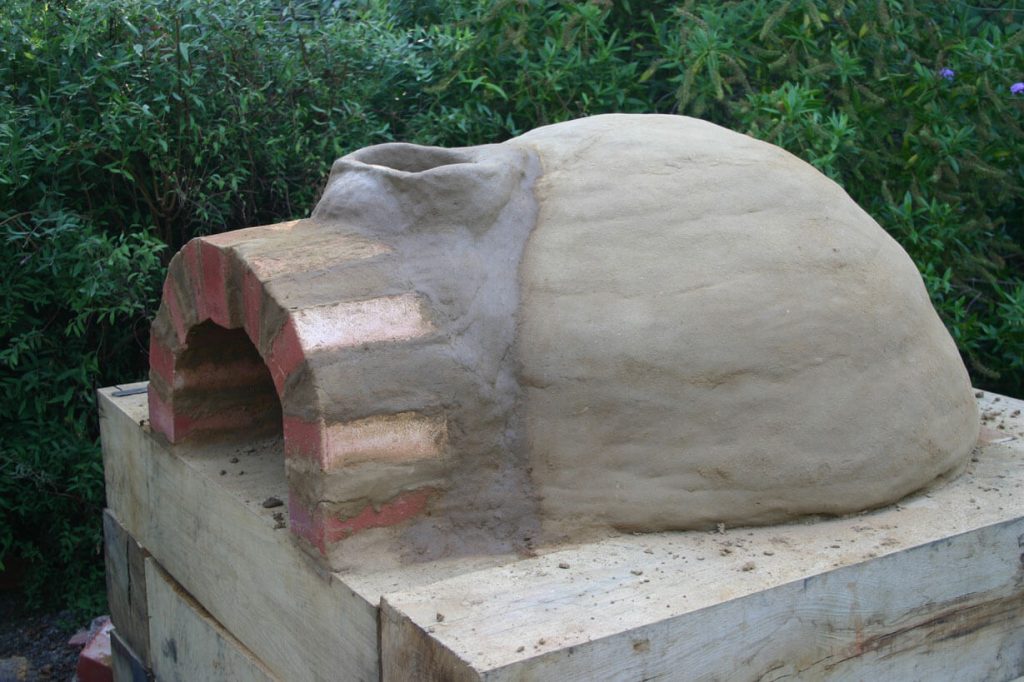 Source: wordpress.com
After you are done with the construction part, it time to cover your dome or arch with the cement to get a clean and finished looking oven. You just have to repeat the same process that you had done with the base part of the oven. 
9. Remove The Sand And Supports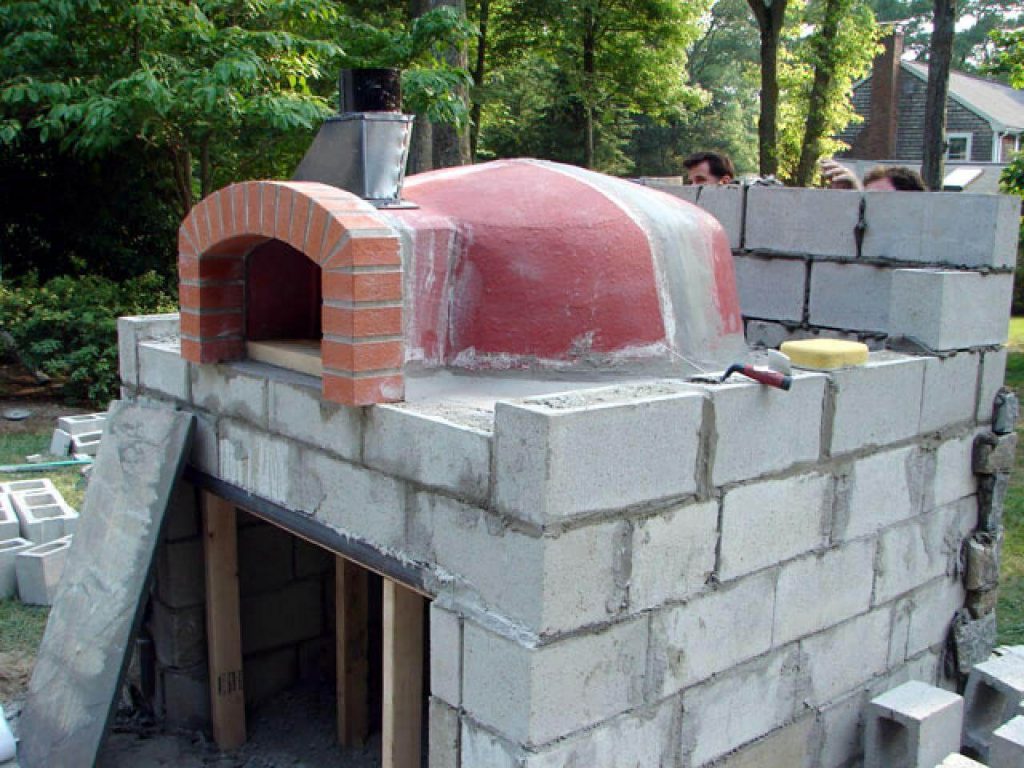 Source: sndimg.com
When the bricks and cement start to dry, you can get rid of the sand which you filled before and also remove the supports. 
10. Let It Dry With A Small Fire Inside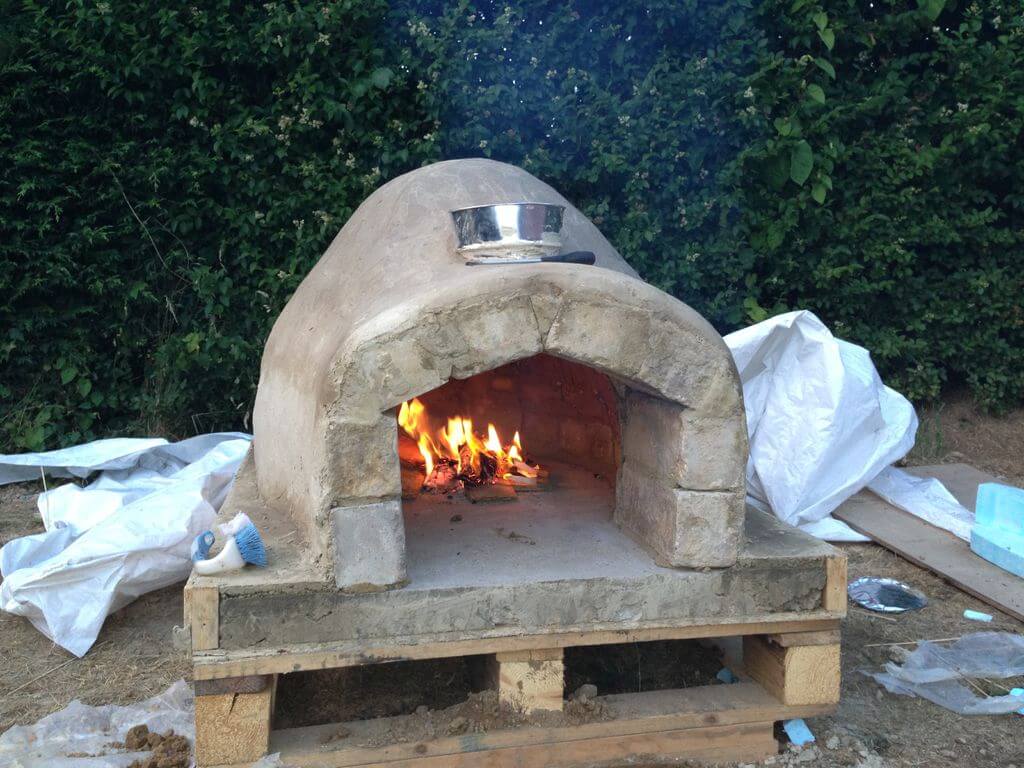 Source: instructables.com
To dry your oven entirely, put some wood in the firepit area, and burn them (lightly). The heat will thoroughly remove the moisture from it and make your oven sturdy and strong.
11. Paint it!!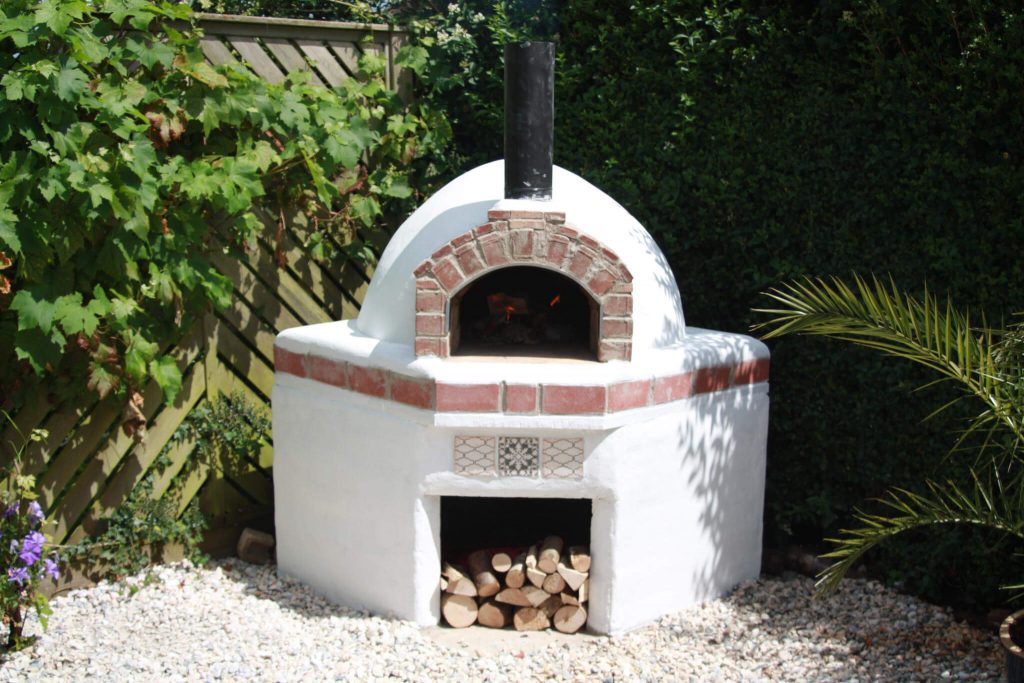 Source: gardengeek.net
And the final step is to paint them. Select the paint as you like and apply a fresh coat of paint, and ta da…your outdoor pizza oven is ready!!
Benefits
It is easy to make, and you can also use it as a fireplace. 

You can construct it with the materials you already have in your backyard area.

You can make your own farm villa pizza any time you want. 

And most importantly, you can not only cook pizza, but there are varieties of food like fish, chicken, and even muffins. 
Precautions
Make sure the dimensions are correct.

When you cook, make sure that the flame is according to the food you're making, because it is sometimes impossible to know the exact temperature, as compared to the electric ovens.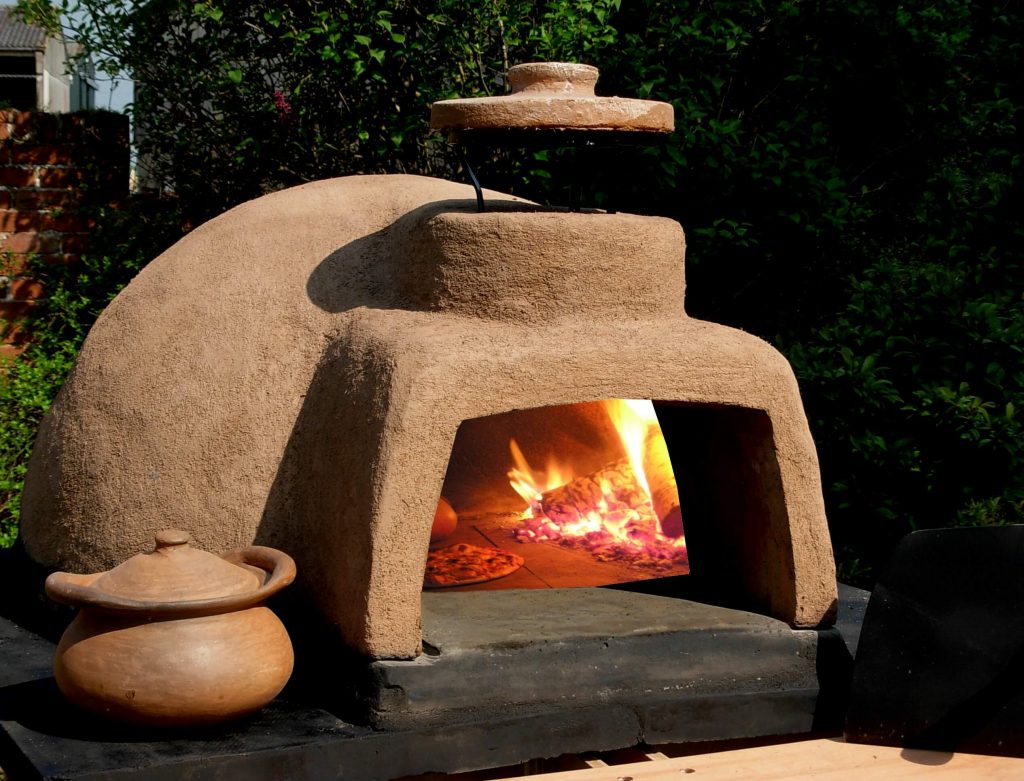 Source: theselfsufficientliving.com
Transform your backyard in the ultimate entertainment place with these ideas.
We are sure that after reading this, your mouth starts watering and your stomach wants a pizza. But for now, you can order online, but next time you crave pizza, make it in your outdoor pizza oven!! And later, thank us for encouraging you to build an outdoor pizza oven. For more interesting and strange DIY's like this one and awesome home decors ideas, visit Architectureideas.