Having a fancy outdoor kitchen is not a necessity but that can bring a lot of difference in the entire look of your home exterior. Whenever people think about decorating the exterior part of their home then Outdoor BBQ Kitchen has to be in the back of their mind.
Apart from the luxury and fancy looks, this would get you some enjoyment at purposes and you would be glad that you have an outdoor kitchen in your house. The concept of outdoor kitchen designs is very complicated for some people but the reality is far from the imagination in this case.
The best part is that even if you don't want to hire an interior designer for getting fare knowledge of outdoor kitchen ideas and get it done by them then also you can DIY Outdoor Kitchen by yourself. If you are wondering how to proceed then here are some of the amazing Outdoor Kitchen Designs that you would love to come across:
A Fire Pit Kitchen Place At The Home Lawn
No matter whether you want to enjoy daytime cooking at this place or night but this kitchen set up would make you fall in love every time you would be there. This kind of kitchen setup is best for places where the temperature barely rises and if you are looking out for a comfortable outside the home space then this can be perfect.
Here you would have to set up some fire pit made up of brick and you can have the rest of the kitchen set up around as well. with some chairs as well as, one dining table the whole setup of this outdoor kitchen would be ready and this set up is not less than any fancy master-chef kitchen setup.
Outdoor Fireplace Attached to The Lawn Kitchen
This kitchen design is especially for those who are looking for a luxurious and comfy place even at the exterior of the home and it would be best if you would set up at the back of your house as you might not want your guests to come across a fireplace while they would get into your house.
Here the main attraction of this kitchen has to be the fireplace and this addition can even turn this place into an outdoor living place only if you would set some chairs as well. Here you would have rest of your kitchen elements around so that cooking could be easy even at the exterior of your home.
Pizza Oven
How cool it would be to cook pizza outside of your home? You can install a gas-fired pizza oven that would make you popular among your neighbors. The best thing is that even the oven is meant for baking pizzas but still with some techniques you would be able to cook a variety of food items.
Here you can arrange a pizza party without being in your house for anything. Getting an extended shed is very important and since you may not want to get smoke all over your house so it would be best to get proper air passing ventilation at the place.
A Bar Kitchen at Your Lawn
Are you the one who always wanted a personal bar counter at your home but the spacing problem never let you have one? This bar kitchen setup can fulfill your dream of a personal bar at your place. Here you would have to get one secure cabinet to keep your drinks safe so that no one can misplace those even when you are not there.
To have the kitchen you would have to set one oven place and accompany the whole setup with a dining table and some chairs. You can even keep a couple of high stools at the drink cabinet to make it look like a proper bar.
A Grilling Station at The Back of Your House
Everyone would be stunned by this setup at the back of your house and if you have extended shed at your lawn then setting up a kitchen like this would be very easy for you. Here you would not have to do too much rather a grilling station would steal all the great limelight.
It would be best if you can have an oven aside so that cooking can be done side by side and to complete the whole setup of the kitchen you can just add one long platter dining table and several chairs so that the place could be perfect even for outdoor parties of your home.
A Poolside Kitchen Having a Bar and Grill Station
The combination of drinks with some grilled food cannot be resisted just like the way a bar and grill station combo would look best at the exterior of your home.
If you already have a pool at the back of your home then this would be just like the cherry on top of that. Here you would have to keep the bar cabinet and the grill station aside so that you can enjoy your drinks while getting hot grilled food at the same time.
This setup is a bit pricy but it is more like an investment so you would never regret the whole concept of this outdoor kitchen which is great.
A Simple DIY Outdoor BBQ Kitchen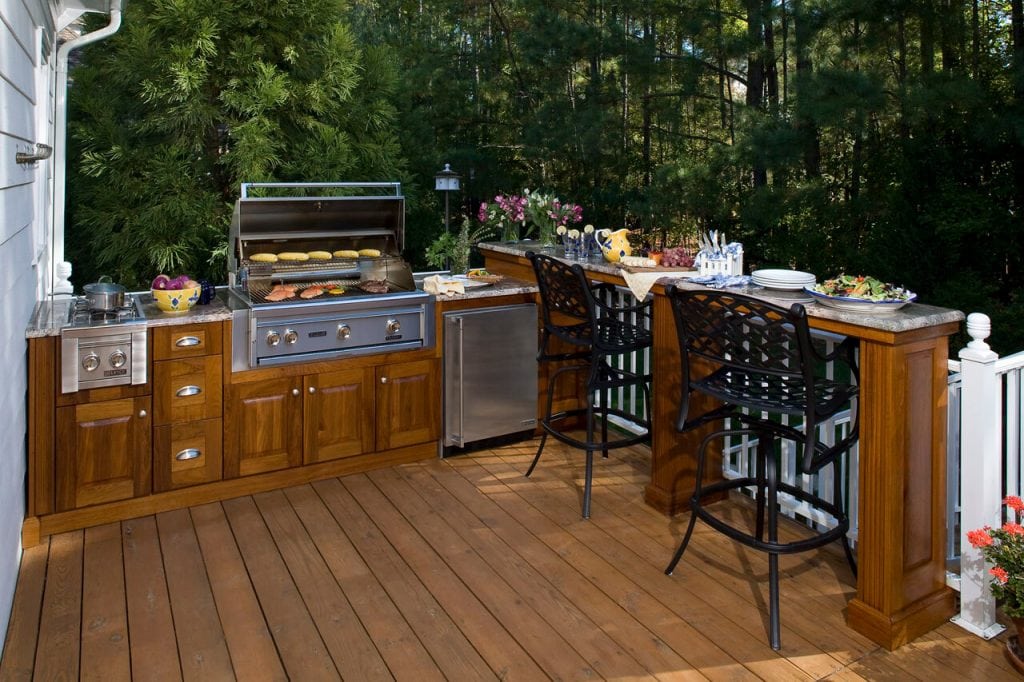 This has to be the simplest one among all and you would have to accept the fact that you would not have to spend a lot in this kitchen setup. Here a simple BBQ cooking platter would do the trick and you would have to accept the fact that this kitchen is just for BBQ preparations not for your entire cooking process.
You can, of course, work with a huge umbrella to protect the space from rain or excessive sun rays. A set of chairs would complete the look of this kitchen.
Here you can also get some Garden Room Ideas.
These were some of the best Outdoor Kitchen Ideas that you can check out and for more such unique ideas you can browse through Architecturesideas.
Read More:-