Remember the old times, where there was only a single bathroom in your house that you had to share with the rest of the family members. Every time you want to use it, you had to leave your bedroom and walk down all the way to the hallway. Remember all this? Because it has all the information about ensuite bathroom from what is it to its advantages!
Nowadays, this is not the case we have a new concept known as "Ensuite" which is quite commonly seen in every home. The attached bathroom with your room is a must thing. So if you still don't have it or just hearing this word for the first time, read this blog till the end.
Not only this but also we're providing some genius ways and ideas to decorate your washrooms creatively. So keep on reading.
Some of your grandparents' houses might have old types of share restrooms, so whenever you visit them, you'll have to face a lot of inconveniences, so to save you from that again, we're going to tell you all about these individual bathrooms which will make your life easy and convenient.
What is an Ensuite Bathroom?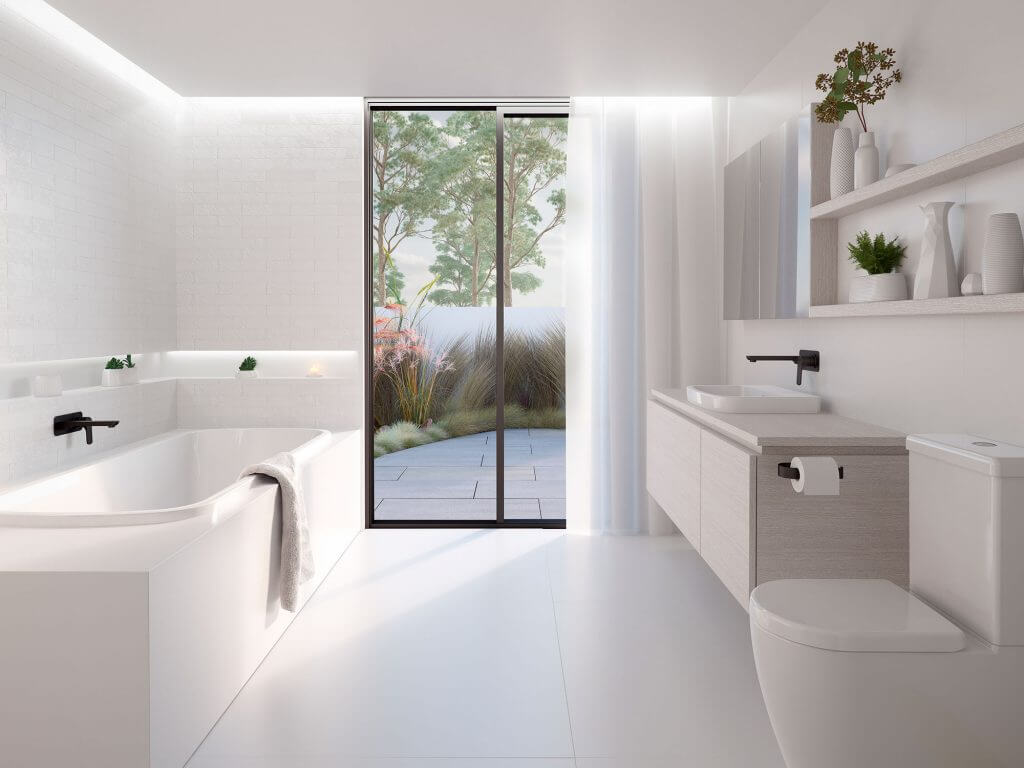 In general Ensuite means "In the room," but the exact meaning of this is the washroom, which is directly attached to the bedroom. Technically the term "Ensuite" word comes from the French language and in that it means " Afterwards or following."
A Comfort station or bathroom is a place where we do personal hygiene routine activities. This room includes a toilet, a sink, and a bathtub. Some of them have showers rather than a tub. In some countries, the toilet is include in the washroom, but in some countries, it is separate from the wash area. The first bathroom was discover in Mohenjo Daro. It was an open area, popularly known as the "Great Bath." After the initial development of the restroom, today, you can see a variety of them across the globe.
Types of Ensuite Bathroom
"Ensuite" is a french term which literally means 'form a suite' and from the architecture point of view, the place where the bathroom & bedroom are together, it is called ensuite.
The ensuites come with two designs- with door and doorless. The regular one comes with a door that is connected to the room. Whereas the doorless option is more about open space, it gives you the continuity between the room and the bathroom. You can select any one depending upon your apartment-style and as per your comfort zone.
Why is it so Popular?
Ensuites are mainly famous because of privacy and proximity as they are directly attached to the bedrooms. They are very private when you compare them with the restrooms that are off kitchens and hallways. Right? It is quite comfortable for older people as they face difficulty in walking & climbing stairs again and again.
At the initial level, these lavatories were situated outside the rooms which were common for all. At present too, there are people living in a house with a single bathroom. This is especially quite difficult when there is one for more than 8-9 members of the family and each time you want to use it, you have to go all across the hall or downstairs, which is quite inconvenient.
That's why the new concept "Ensuite" is introduced, which typically refers to a bathroom, which is directly connected to the room. These types of bathrooms have been popular since the 1950s and still are popular.
Ensuite Bathroom = Private Bathroom?
Yes totally!! Some parts of the world are also known as Master bathrooms, the name may differ from country to country, but their functionality is the same all across the globe.
Nowadays every house has these kinds of washrooms. You may have heard the term "Master bathroom" rather than the "Ensuite bathroom". The specialty of the ensuite or master bathroom is that it comes with an attach master bedroom. Even the guest room comprises one.  People are also constructing an "ensuite" to the kids' room. This is not a new trend but, actually, you'll also find ensuites in the bungalows which were built in the early 1960s.
Why should You have one?
Imagine at 12 o'clock in the night, you want to go the toilet, but you're too scare because there are quite high chances that you may encounter a ghost in the dark stairs areas (the area where all the ghosts are live)
If your home already has an ensuite bathroom, you don't know how lucky you are! But if this is not case, then here some solid reasons to build one:
1. Add More Value to the House
This is really one of those factors which can make or break the deal if you're planning to sell your house. Nowadays, this is a significant factor in the home, it definitely adds value to your place.
2. Convenience 
As we already told you about this, it is super convenient to have an ensuite bathroom in your room. You don't have to go down or anywhere in the house in the early morning or late night to use a restroom.
3. Bathroom Rush
If your family consists of young kids and teenagers, or someone who takes a lot of time in the loo, then this might be a problem for you. So, avoid this bathroom rush in the morning where everyone wants to freshen up.
4. Time for You
For many people, this area is a relaxing area. In there, they pamper themselves and do routine body care, etc. when the whole place is entirely yours, there is no rush so you can spend as much time you want. When a comfort station is attached to your room, you can enjoy your serene & tranquil moments whenever you want.
Themes & Decoration Ideas
Here are some decorating and interior designs, ideas, and tips to decorate your Ensuite bathroom:
All White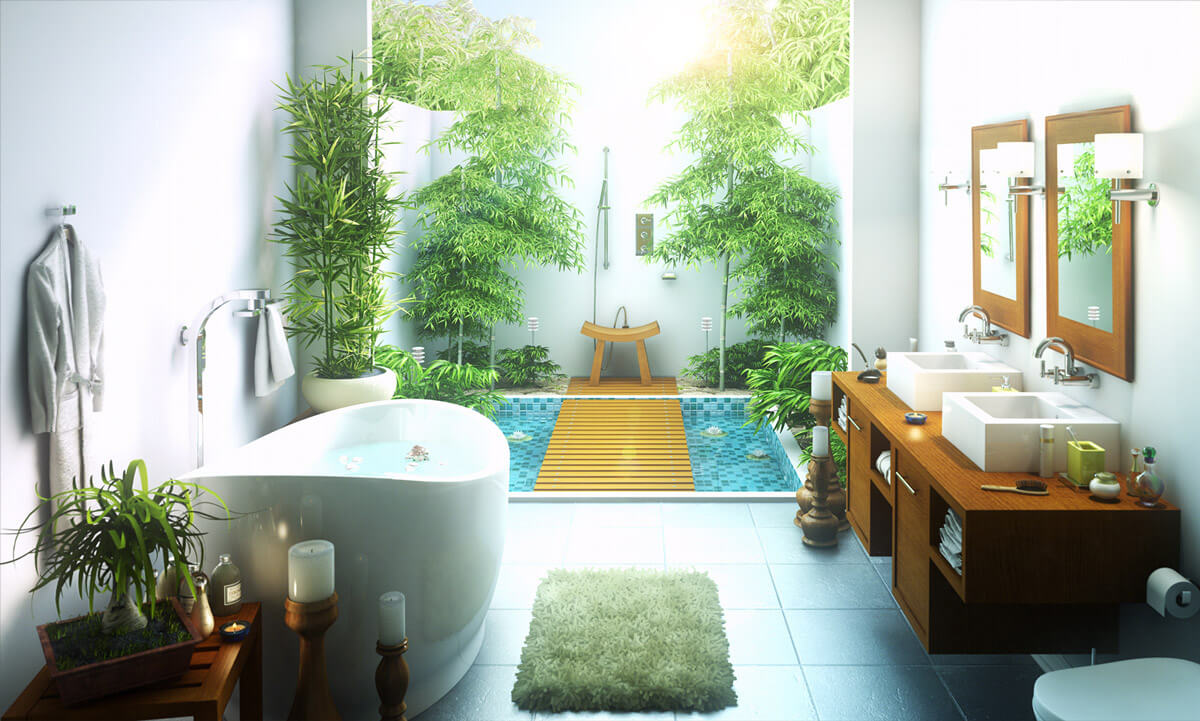 Is there anything more Instagrammable than a room painted in white color? Paint all the walls of your room with the classic color White.
Freshen up the Place
You can also place some fake or real plants around the area. Make your space buoyant by choosing the right hardware and by adding some cool plants.
Neutral Color Palette 
When you have a tiny space, you have to be careful while selecting the color scheme. Because some colors can totally make your area look congested and bulky like dark green and red, use light colors mint, beige, and lighter shades of grey.
Use Modern and Sleek Designs
Modern designs are simple and sleek but very pleasing to the eyes. Try to include them in your interiors to uplift the whole look.
Monochromatic Colors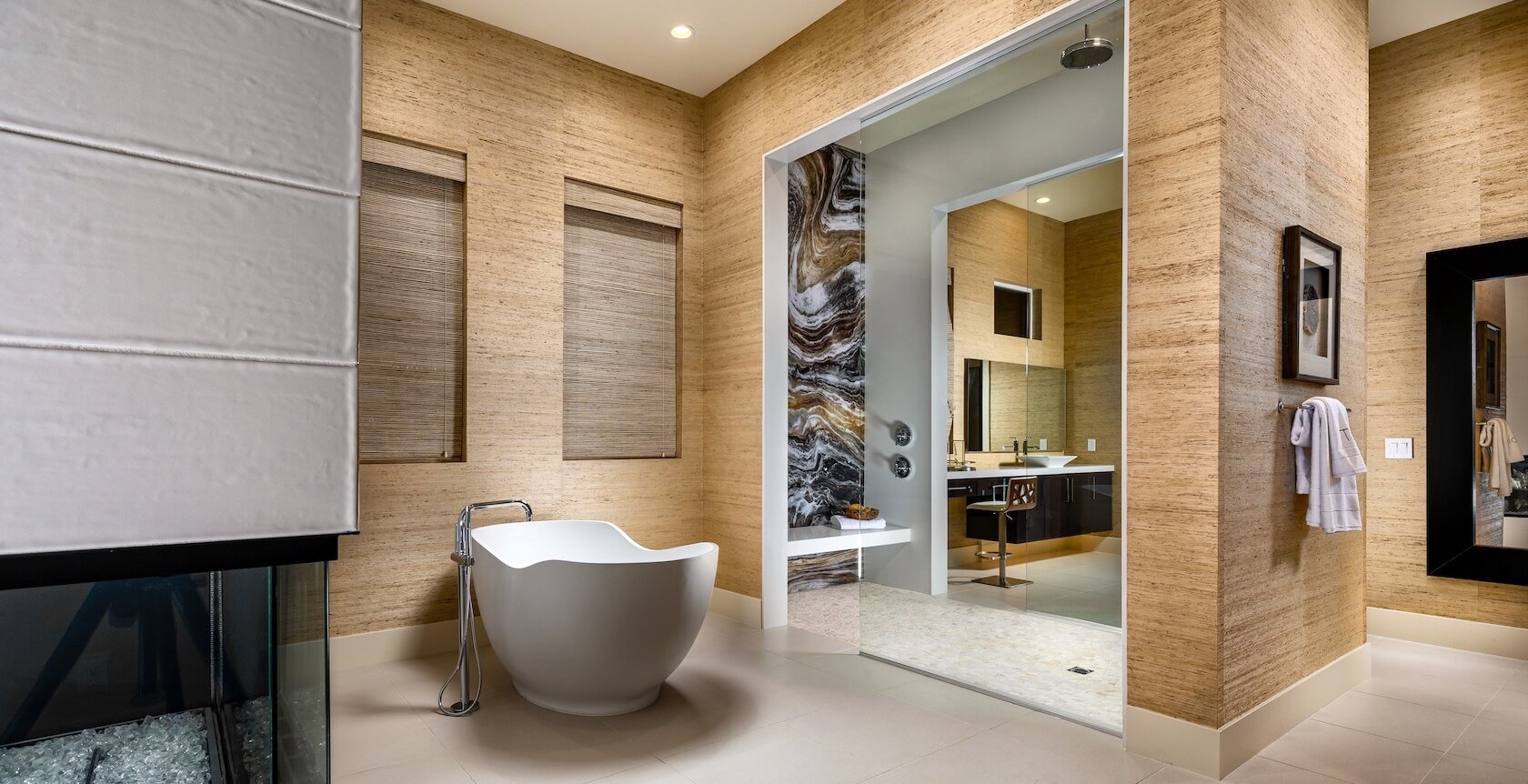 Select monochromatic colors like dark grey, or black with white, they beautifully blend with the other things and give a luxurious look to your ensuite.
So, this is all about En suite bathrooms. Hope, this piece of content helps you in understanding this concept. You can surely implement this in your house and enjoy the comfort and luxury of having an ensuite in your bedroom. Your friends and neighbors will definitely get jealous, who don't have this facility at their home. For more architectural information and home interior design & decoration ideas, visit Architecturesideas.
Read More:-