23+ Master Bathroom Ideas You Wouldn't Want to Miss
Master bathrooms can be your quaint sanctuary where you unwind after a long day at work. Whether you want to savor a bit of luxury or relax in a zen space, the master bathroom could be the perfect place to do so. It can become your retreat, away from the chaos, poised. You can create the experience you desire in your master bathroom. 
A plethora of master bathroom ideas can be applied to create these experiences. From the addition of standalone tubs, shower cubicles, vanity, and storage cabinets to having rainshower heads or double showers can give the master bathroom a needed upgrade. You can style these master bathrooms in simple modern minimalistic, soothing chic-bohemian style, charming rustic style or dramatic luxurious style and many others, choose whichever you fancy. 
A master bathroom is the most personal space, shouldn't it reflect what you truly prefer? Why hold yourself back? Go on, get that master bathroom of your dreams! Check out our top picks for master bathroom design ideas. 
1. Chic-Bohemian Bathrooms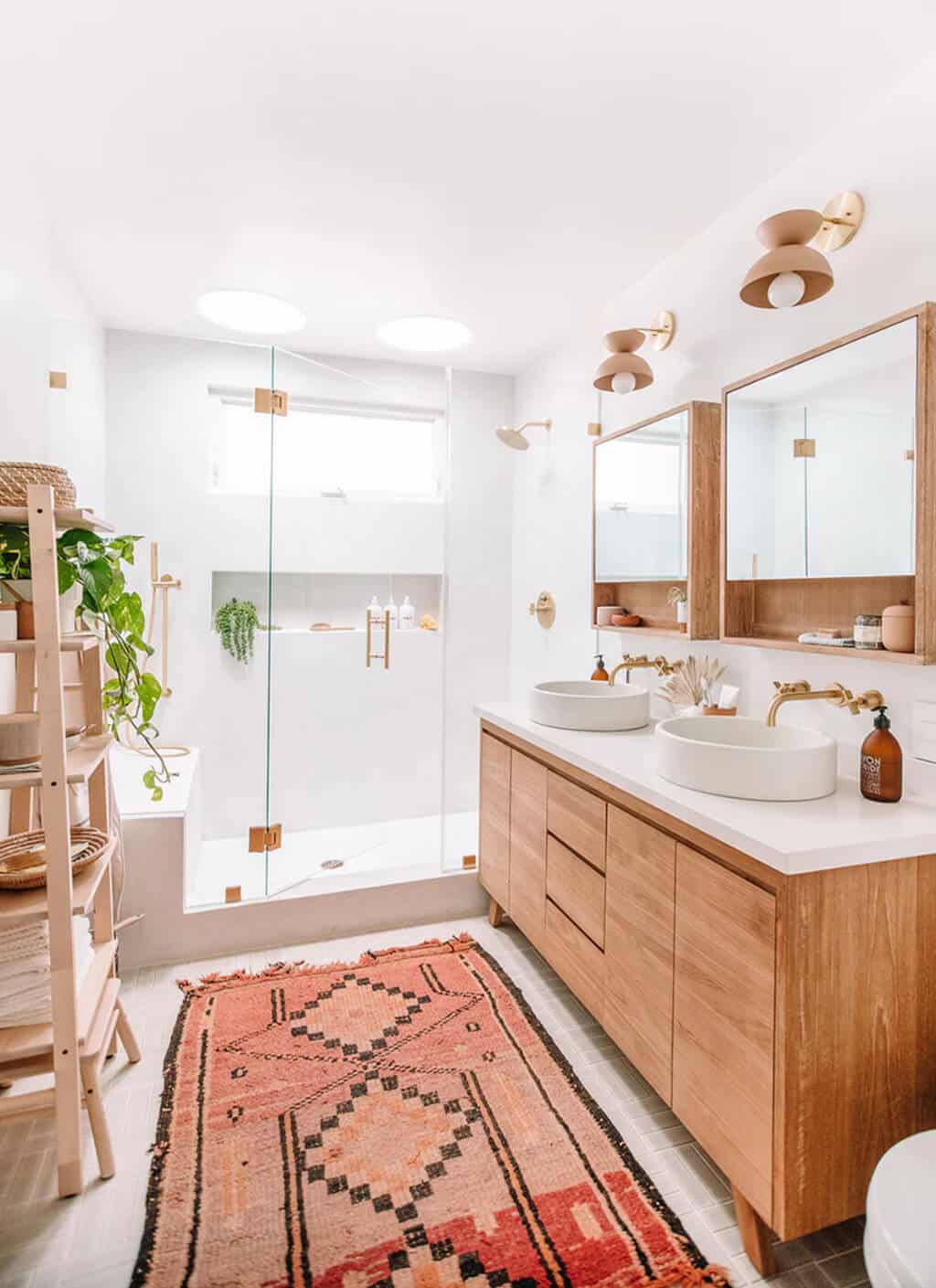 Source: shopify.com
The bohemian style has taken the world of interior design by storm. The subtle earthy tones against the white background create a clean and chic aesthetic. A bohemian-chic master bathroom acts as a perfect oasis for a relaxing shower. Simple white tiles, wooden cabinets, and open shelves are bound by a tribal rug. This master bathroom idea also incorporates brass plumbing fittings, wooden framed mirrors, decorative brass lights, and plants making the space chic. 
2. Minimalist Modern Flair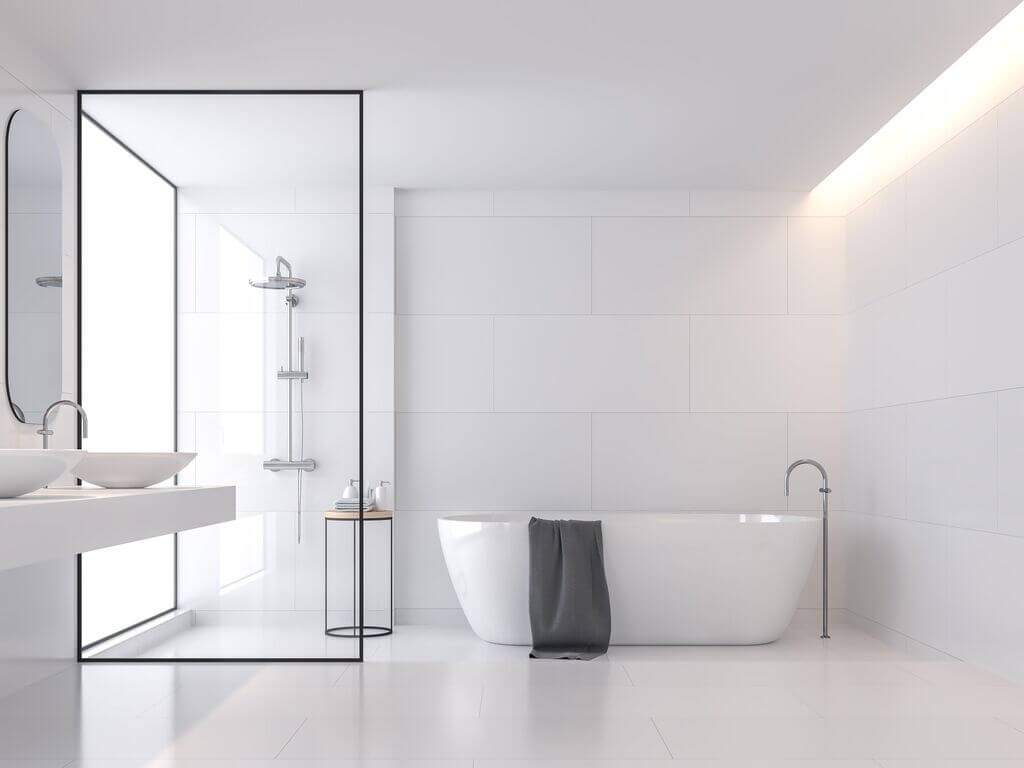 Source: stringfixer.com
A sleek and simple master bathroom is every minimalist's dream. This master bathroom idea is about doing the bare minimum. An all-white theme featuring basic white tile, a simple standalone tub, a sleek glass partition with a frame, silver plumbing fixtures, and floating twin vanity with an edgy wash basin defines this elegant master bathroom. 
3. Rustic Romance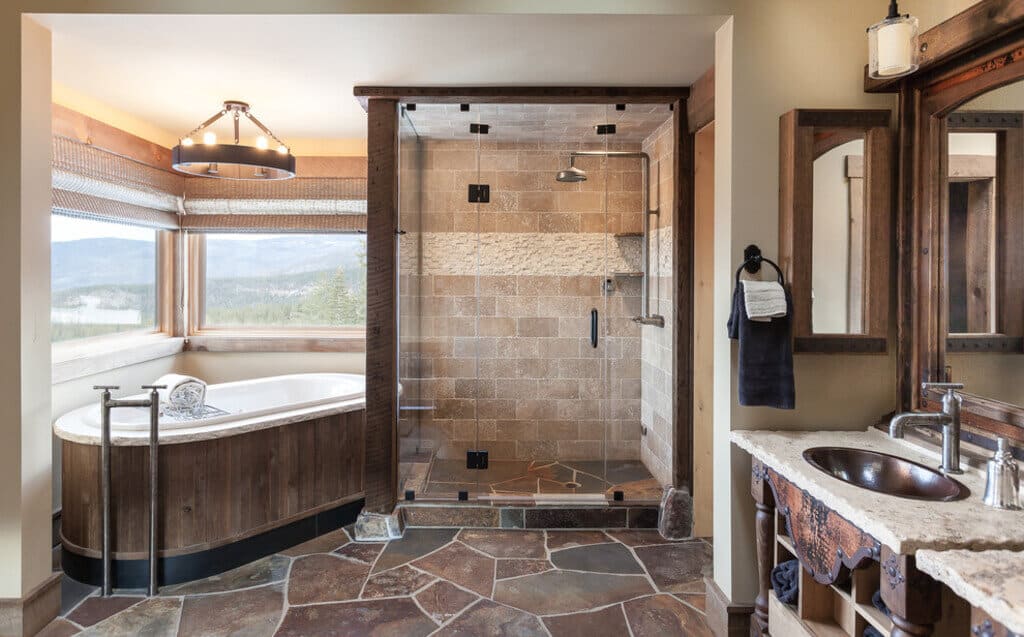 Source: hzcdn.com
Love the austerity of materials? Go for this rustic master bathroom idea. Stone flooring, stone textured wall, wood cladding on the bathtub, and a wooden frame for the shower cubicle make this bathroom look one with nature. The stone slab on rustic wooden adds to the folksy charm. The wooden ring chandelier over the tub completes the look of this rustic master bathroom.  
4. Shower Cubicles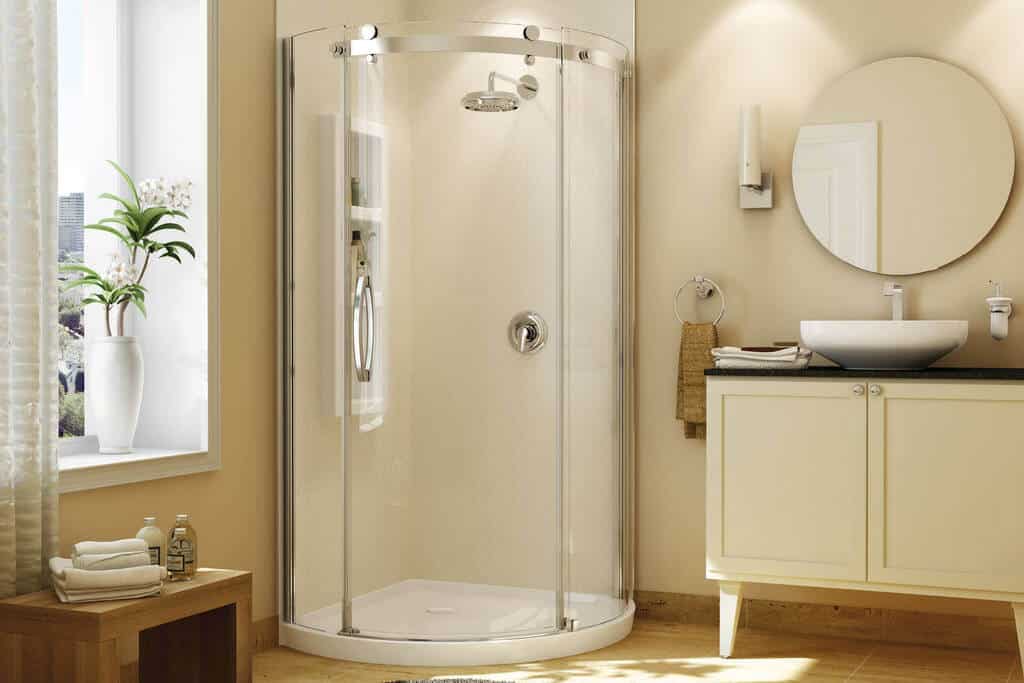 Source: archiexpo.com
If you're thinking about renovating your master bathroom, you must pay attention to a few basic technicalities. One of the most important tips, we'd like to give here is to maintain a proper flow in your bathroom. Adding a separate shower cubicle will prove to be helpful for busy mornings. A self-contained glass shower cubicle segregates the wet and dry areas while maintaining airiness in the master bathroom. Trust us, these master bathroom remodel ideas will enhance your experience of the space.
5. Dressing Room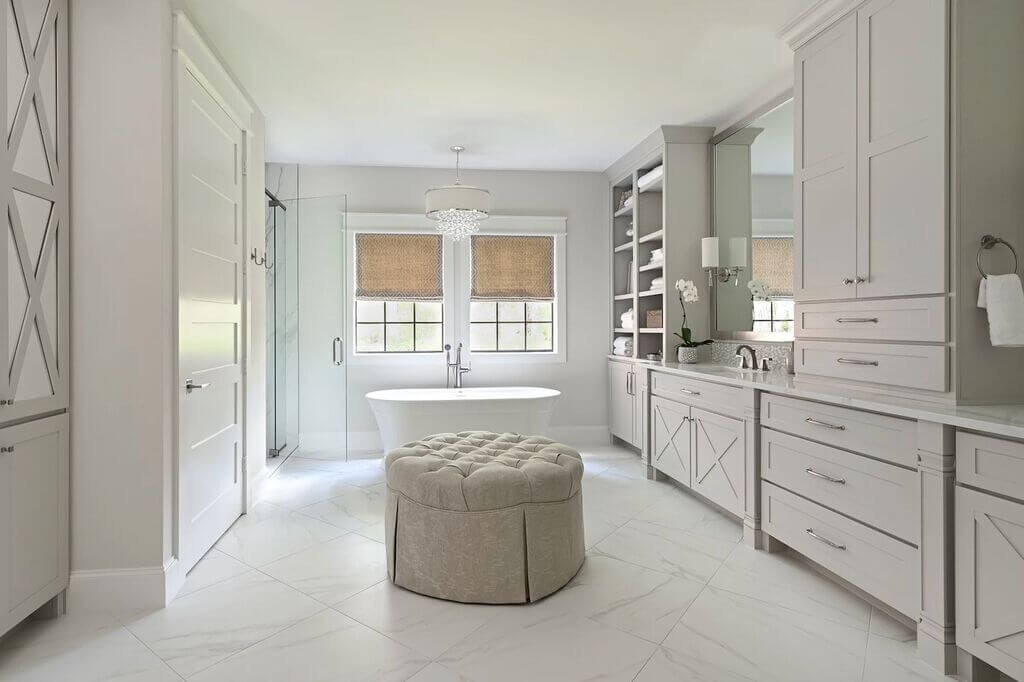 Source: thespruce.com
A hybrid master bathroom and dressing room seem to be something straight out of a movie. This luxury master bathroom idea can be your reality. Elegant white cabinets and white floor and walls give this space a sumptuous look. A simple white bathtub with a glass chandelier adds to its richness. Floor-to-ceiling storage makes this showroom-ready space, free from clutter. The pouf in the center makes the master bathroom look balanced.  
6. Standalone Tubs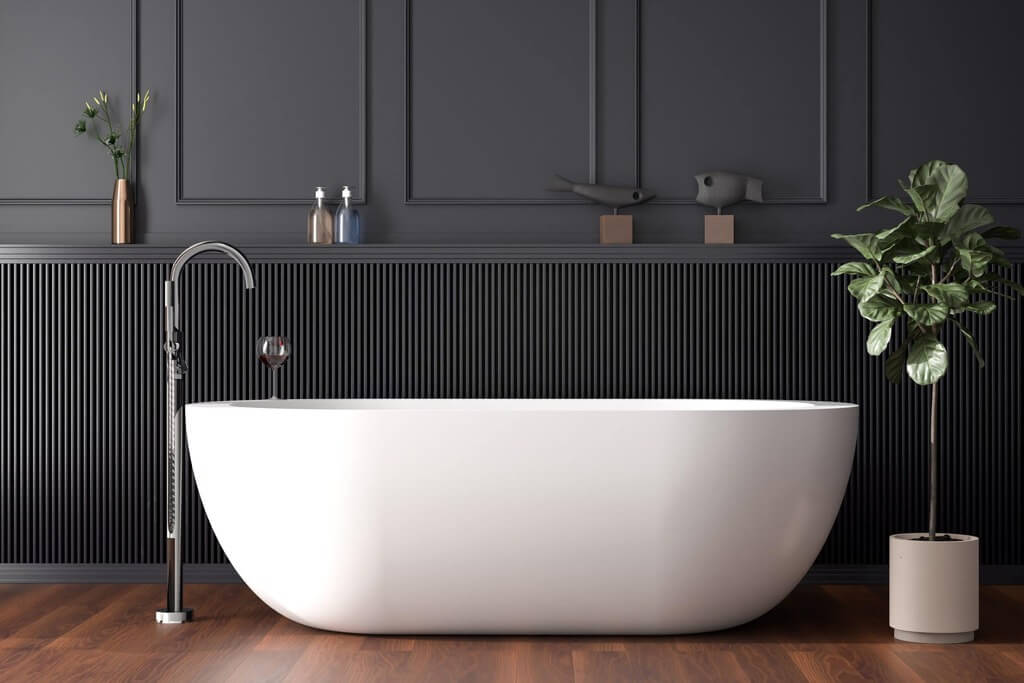 Source: monbainiste.com
The latest trends in master bathroom design show that standalone tubs are here to stay. If the size of your bathroom is large enough, you should incorporate one. Standalone tubs are not only larger than built-in ones, but are also more elegant and appealing, giving you a taste of a luxurious bath experience. We highly recommend using this master bathroom idea. 
7. Room with a View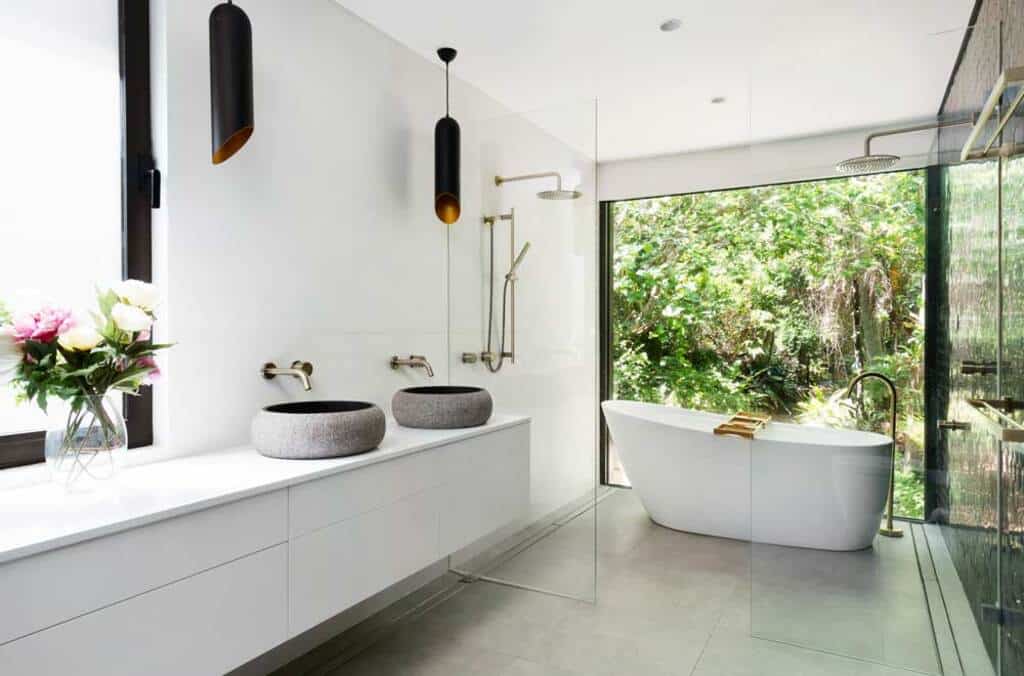 Source: noithathadung.com
If you want to escape the beauty of nature while bathing, consider having a bathroom with a view. This master bathroom idea is simply so striking. Minimalist bathroom with a generous soaking tub, a window for a wall, and a stunning view.
8. Multiple Shower-H

eads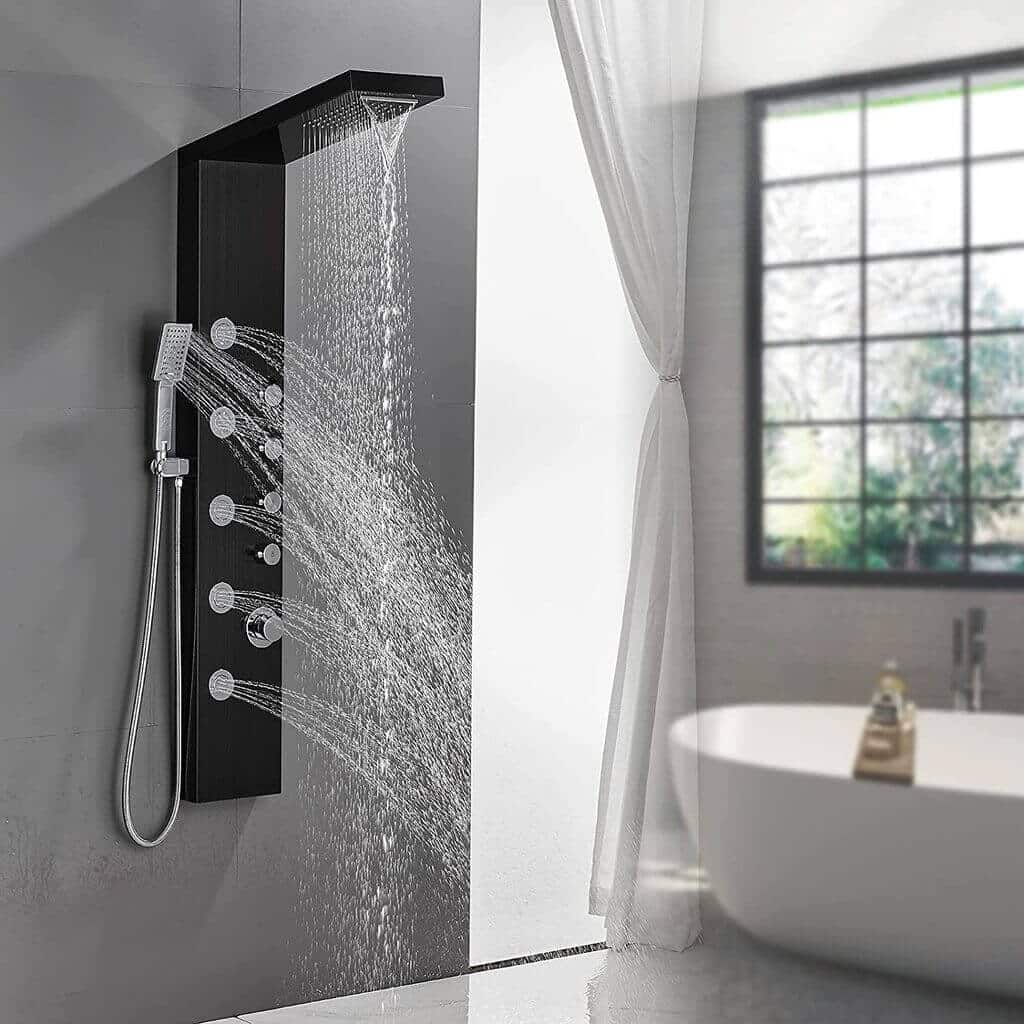 Source: twimg.com
Are you someone who loves to shower and wants your bathing experience to be fun and playful? This multi-shower head is a perfect addition to your master bathroom. Whether you want to enjoy a rain shower or want water from all sides, bathroom fittings like these will make your bathing experience adventurous. 
9. Double Vanity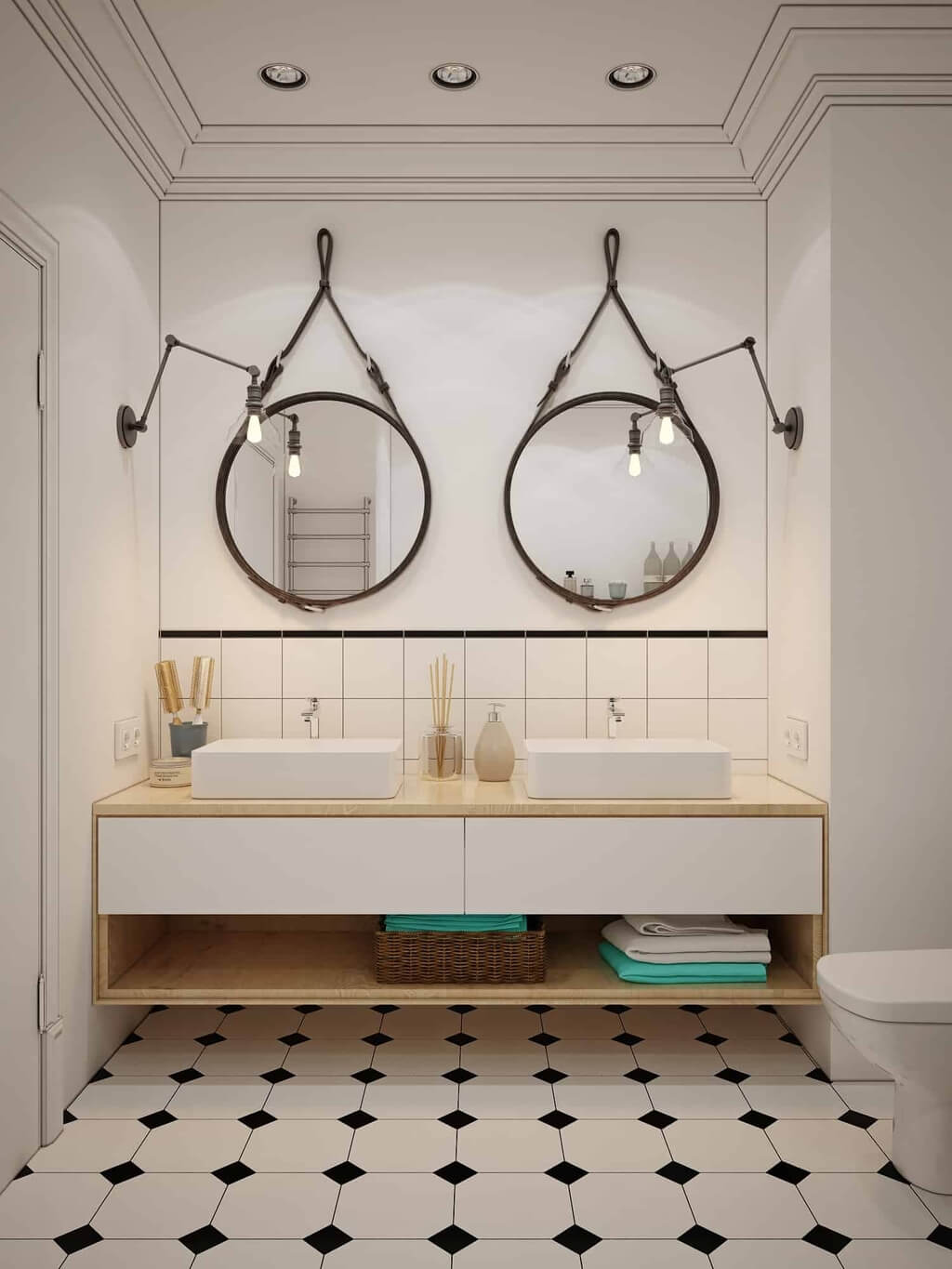 Source: visualhunt.com
The double vanity is a master bathroom must-have. It allows two people to get ready at the same time and gives ample storage space as well. The simple sinks complemented by round mirrors and minimal light fixtures give this master bathroom an understated elegance. Try to keep the counter clutter-free to maintain a sleek look. 
10. Spectacular Skylights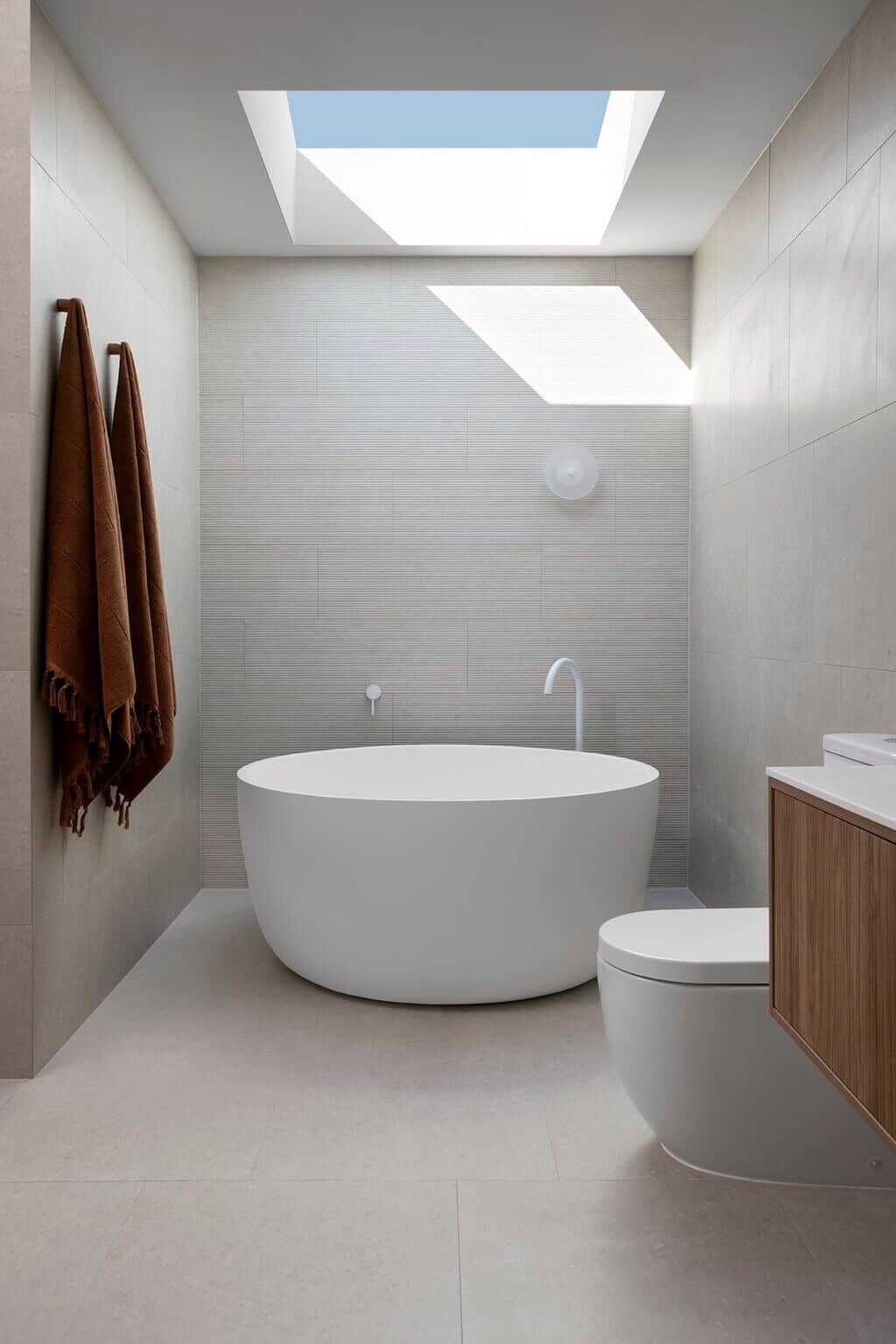 Source: squarespace-cdn.com
Looking for a unique master bathroom idea? Skylight is your answer. Imagine sitting peacefully in the soaking tub and gazing at the sky, how spectacular would it be! If the planning of your house allows, you should consider incorporating this master bathroom idea. A seamless muted interior with wooden accents makes this master bathroom an exquisite sight.
11. Vintage Wooden Cabinetry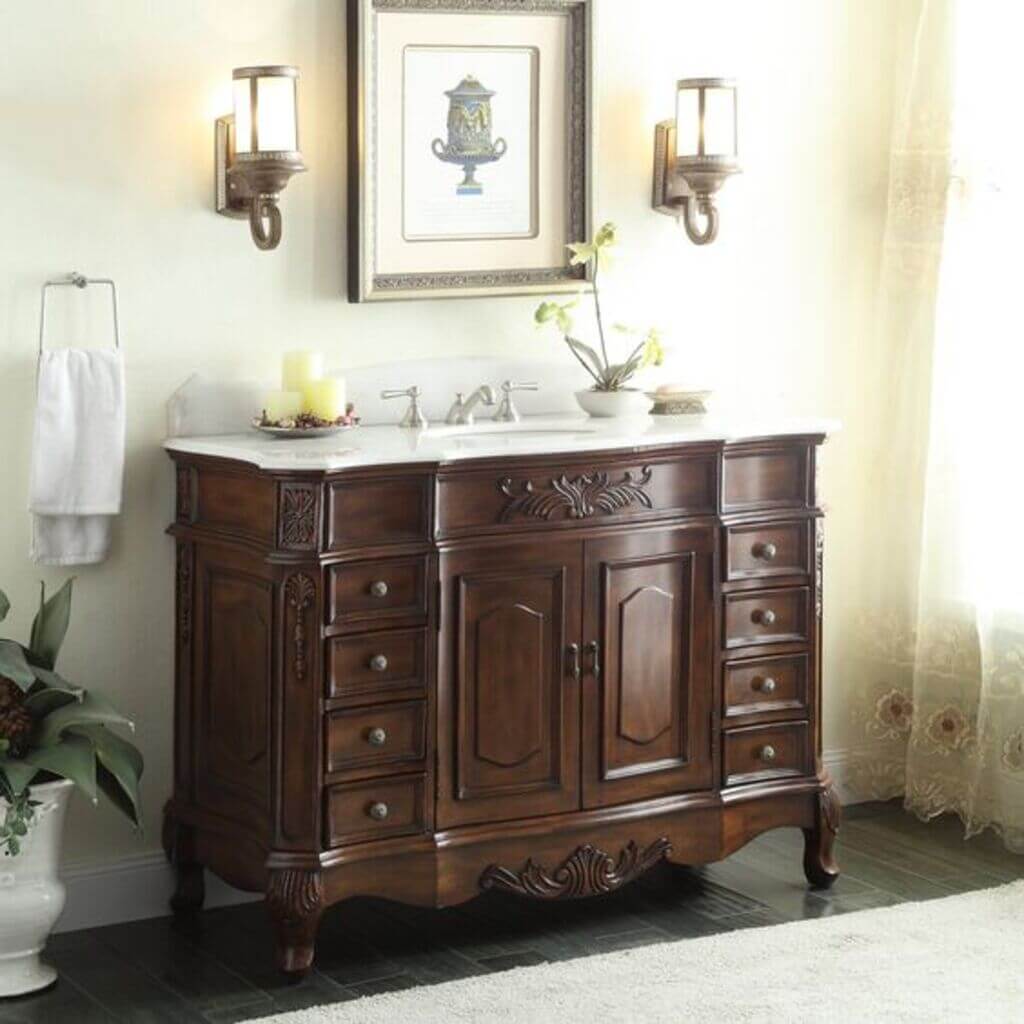 Source: pinimg.com
If you're a fan of traditional and vintage decor, you should consider this master bathroom idea. A vintage wooden cabinet like this can add a timeless charm to your space. Complementing ornamental wall scones and wall art add to the alluring aesthetics of the space. 
12. Classy Farmhouse Style Bathrooms
Source: pinimg.com
Want to bring the experience of a country farmhouse to your master bathroom? Try this master bathroom idea. The classic bathtub in the arched niche complemented by the perfect traditional chandelier truly gives the country experience. The muted grey color palette and retro plumbing fixtures make this master bathroom beauteous. 
13. Custom Decor Accents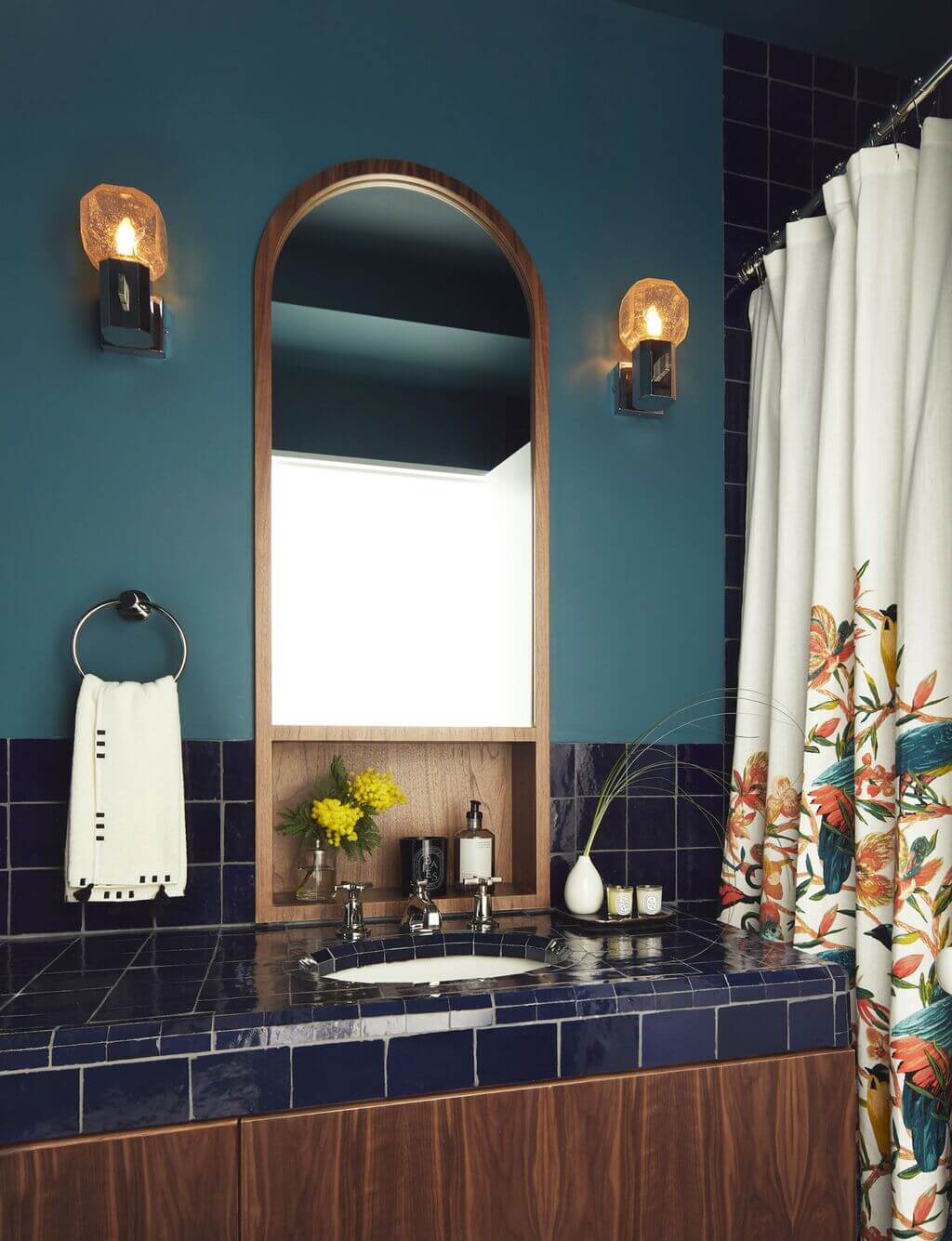 Source: pinimg.com
Your master bathroom should be an image of your style. have a favorite color? Paint your bathroom in that color. Liked the print of a shower curtain? Add it to your master bathroom. Incorporate custom accents like the arched mirror or the elegant wall scones, that match your taste in your master bathroom to make the space truly yours.  
14. Splash of Color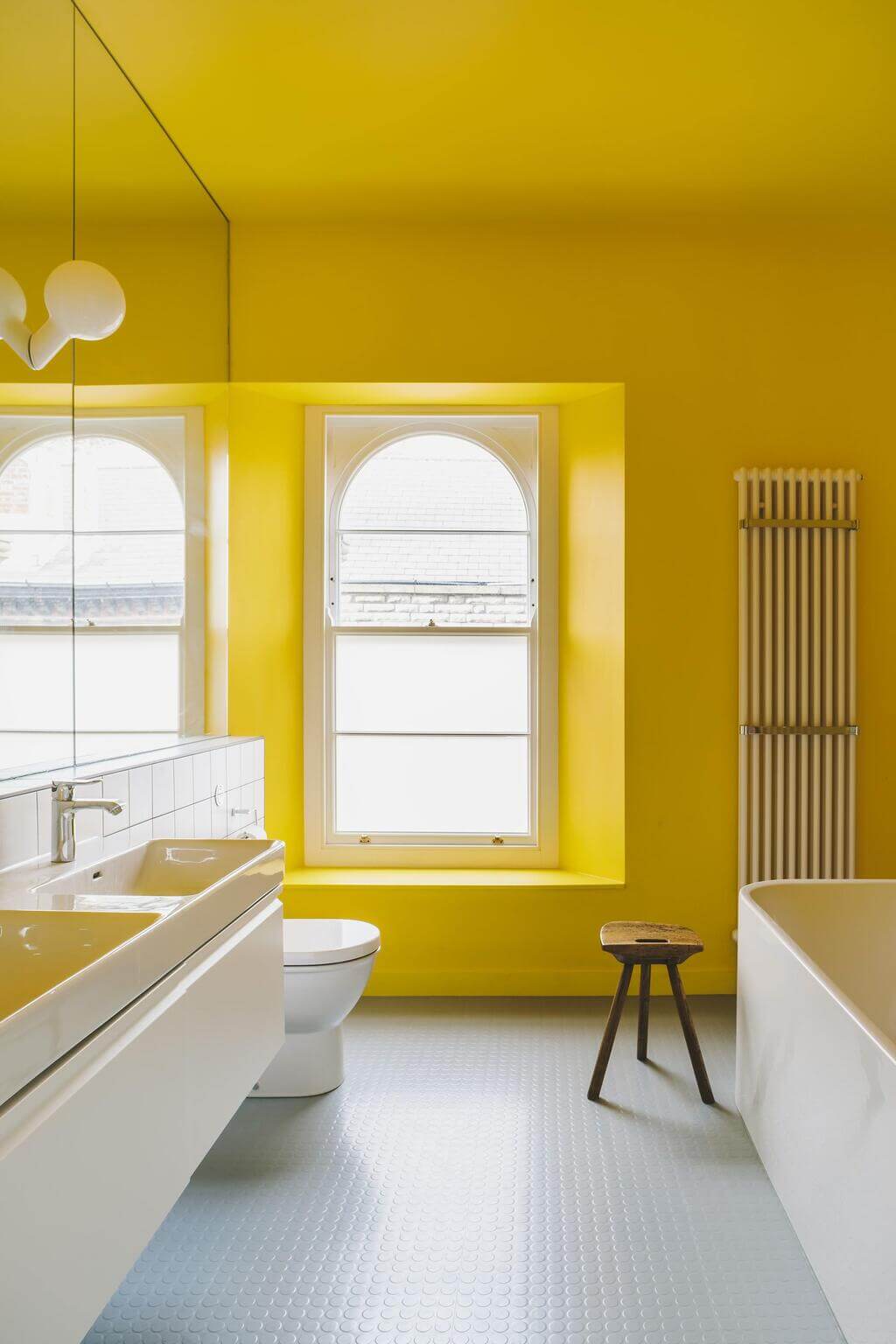 Source: brettcharlesphotography.co.uk
The bright yellow hue in this minimalist modern master bathroom adds all the character. A pop of color is something you should consider when looking for luxury master bathroom ideas. The yellow seamlessly continues on the ceiling binding the whole space together. Sleek all-white interiors balance the look of the master bathroom. 
15. Drama of Lights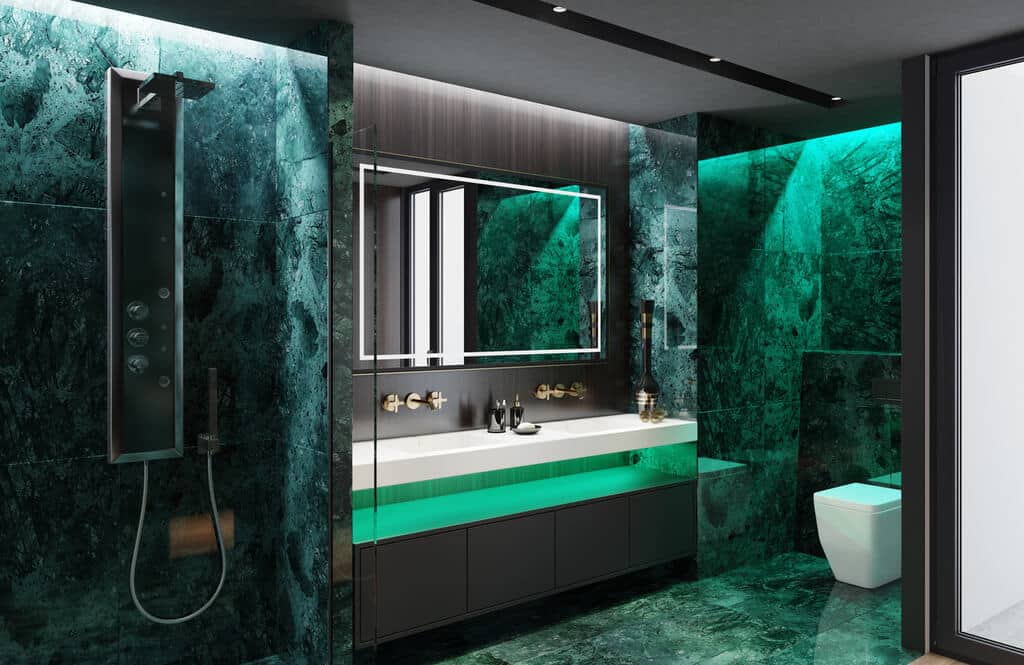 Source: twimg.com
Want to make a dramatic statement with your master bathroom design, go for dark-themed interiors with wall flushing lights. This moody master bathroom idea is for people with bold personas. Here, mood lighting does wonders, the led around the mirror, the light illuminating the vanity, and led flushing the walls from the top uplifts the already wondrous black interiors. 
16. Steam and Sauna for Personal Spas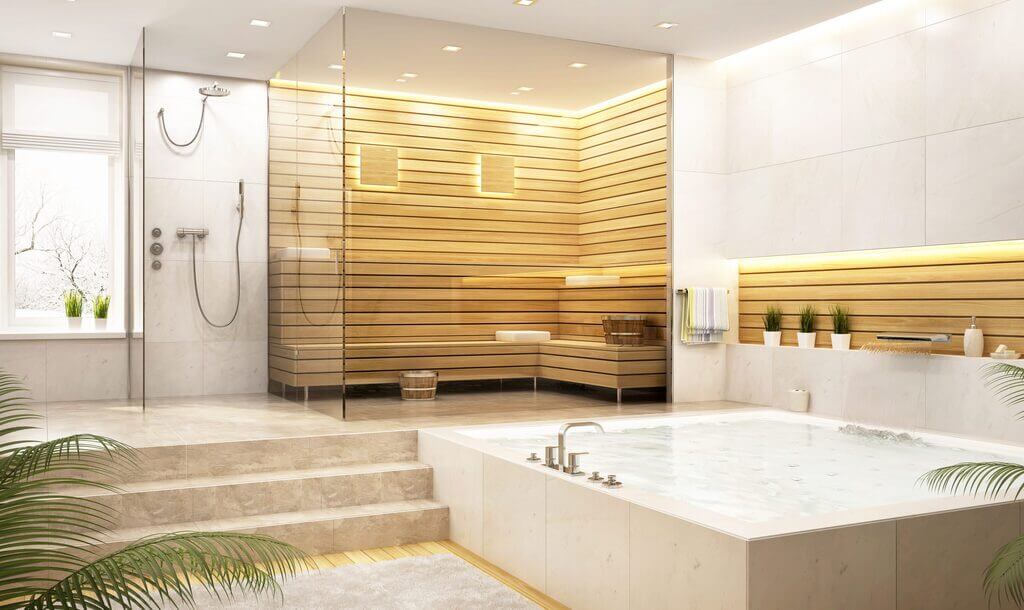 Source: amazonaws.com
Create a personal oasis at home with the addition of a personal sauna and steam room. This master bathroom idea is for the ones who wish to indulge in relaxing spas in the comfort of their homes. Go for clean glass cubicles for the steam and sauna, maintaining a modern aesthetic. The grand in-built bathtub with warm wooden paneling and plants creates a delightful ambiance.  
17. Golden Accents for the Win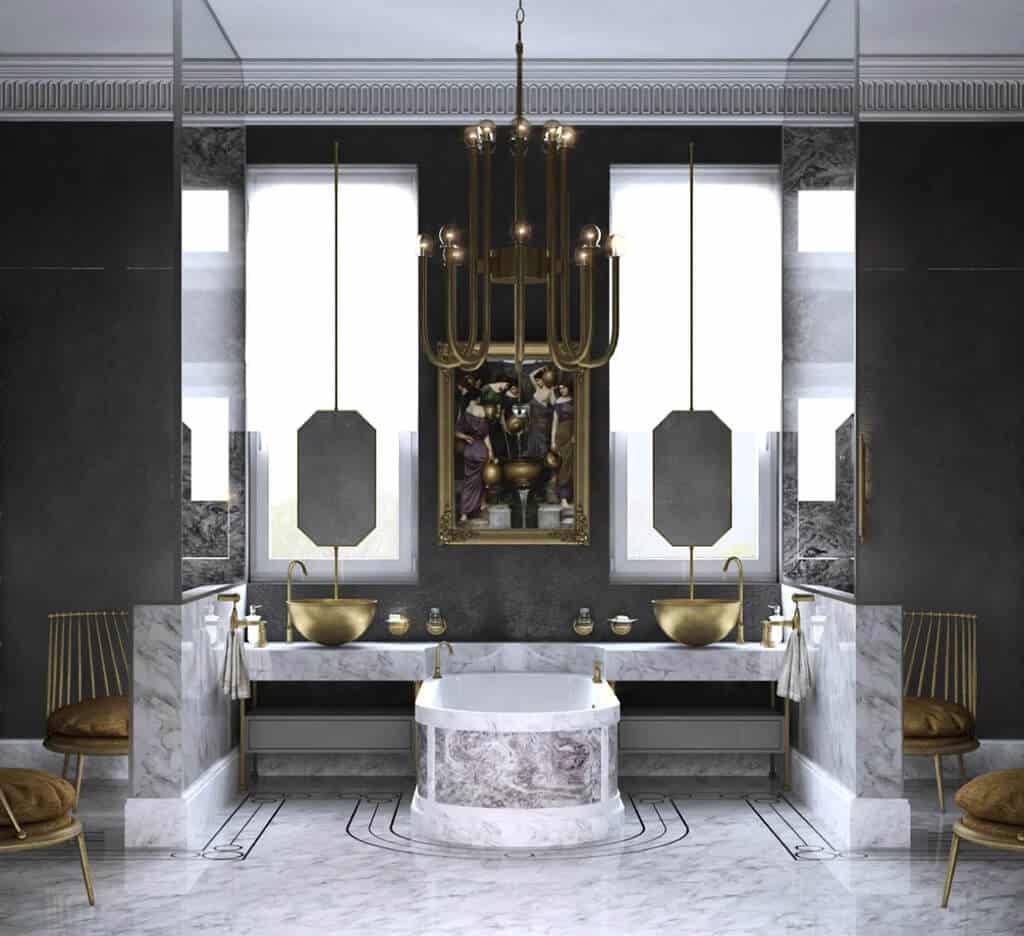 Source: quatest2.com
Golden accents add a stylish touch to any space. In this sensational master bathroom, golden accents create a striking contrast against the black walls. The remarkable golden chandelier over the bathtub and the stunning golden bowl-shaped sinks with golden plumbing fixtures, topped by the antique artwork give character to the space. 
18. Luxe Marble Marvel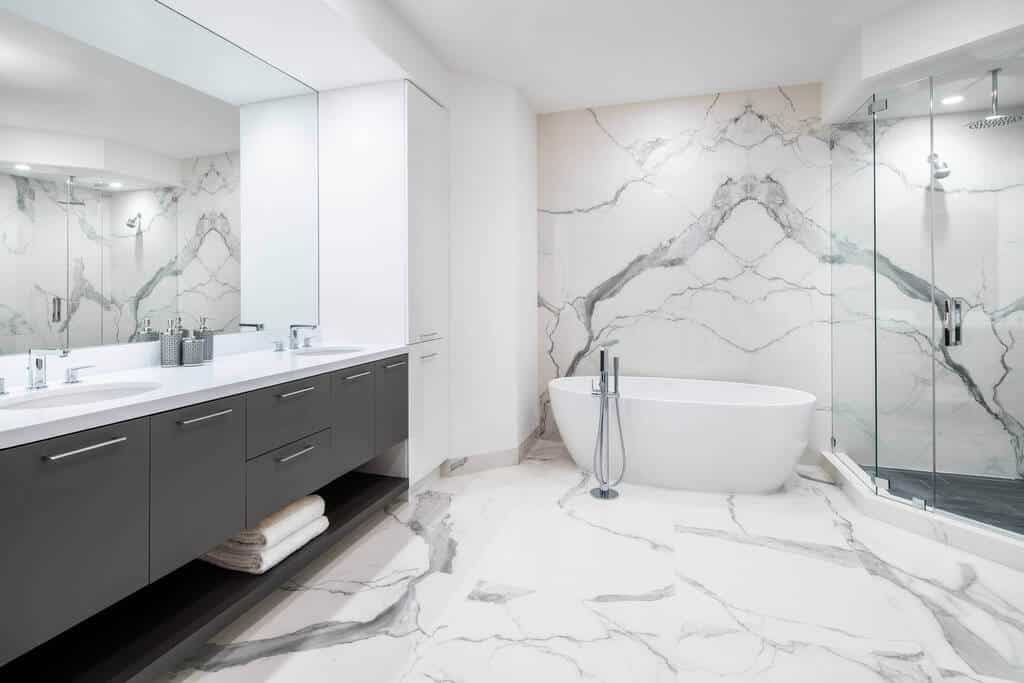 Source: hzcdn.com
If you fancy a luxurious master bathroom, consider going with marble. This master bathroom idea is for those looking for luxurious master bathroom designs ideas. Floor-to-ceiling marble in this master bathroom gives a refined appearance to the space. The black bathroom cabinets and frameless mirror add to the elegance of the space.  
19. Industrial Bathrooms with Artsy Pipework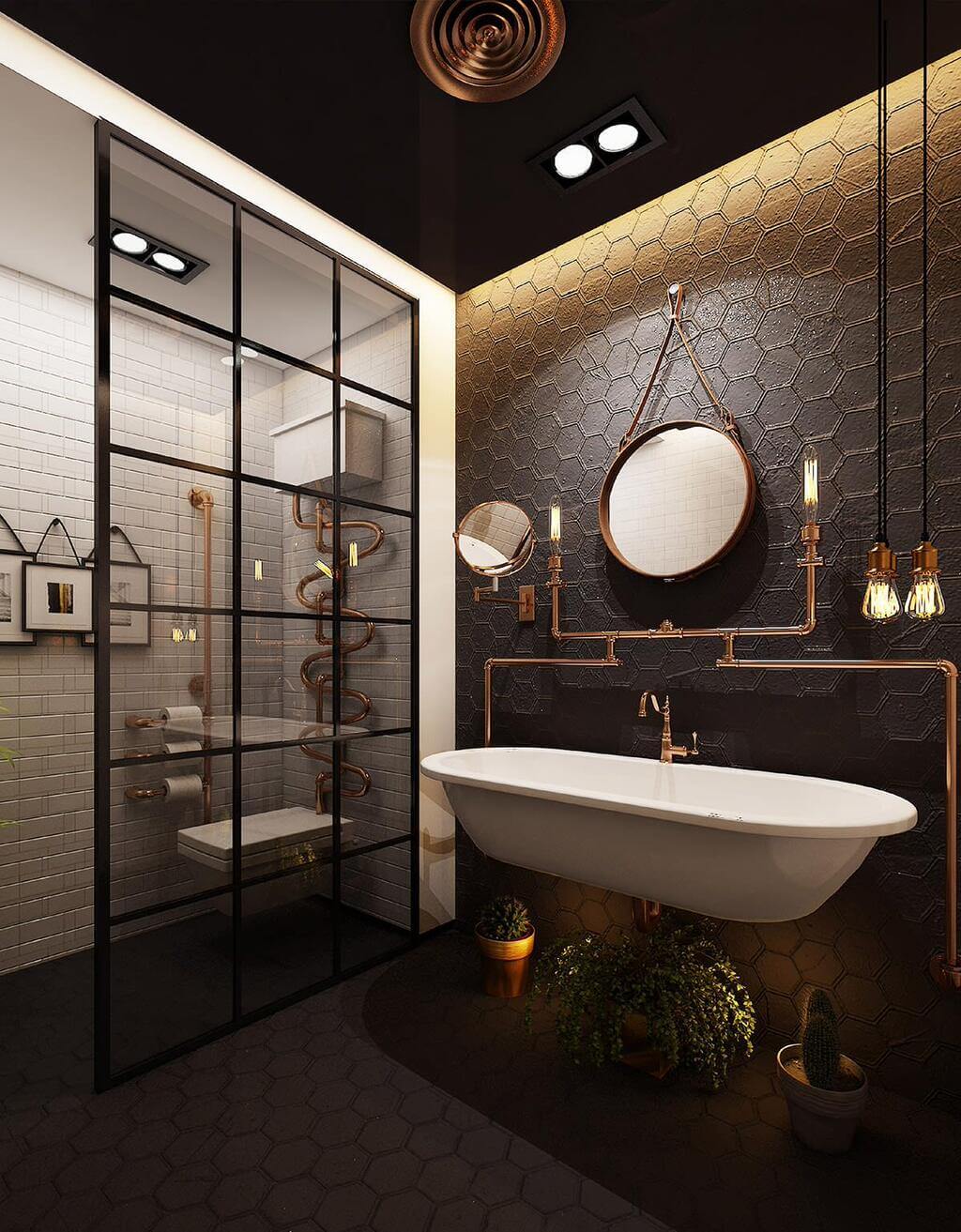 Source: hzcdn.com
For all those who love the industrial style of interiors, this master bathroom idea is for you. Exposed artsy pipework, dark matt floor and wall times, and dim lighting with a contrast of gold, this is a surprising and refreshing industrial bathroom. 
20. A Faux Garden inside the Bathroom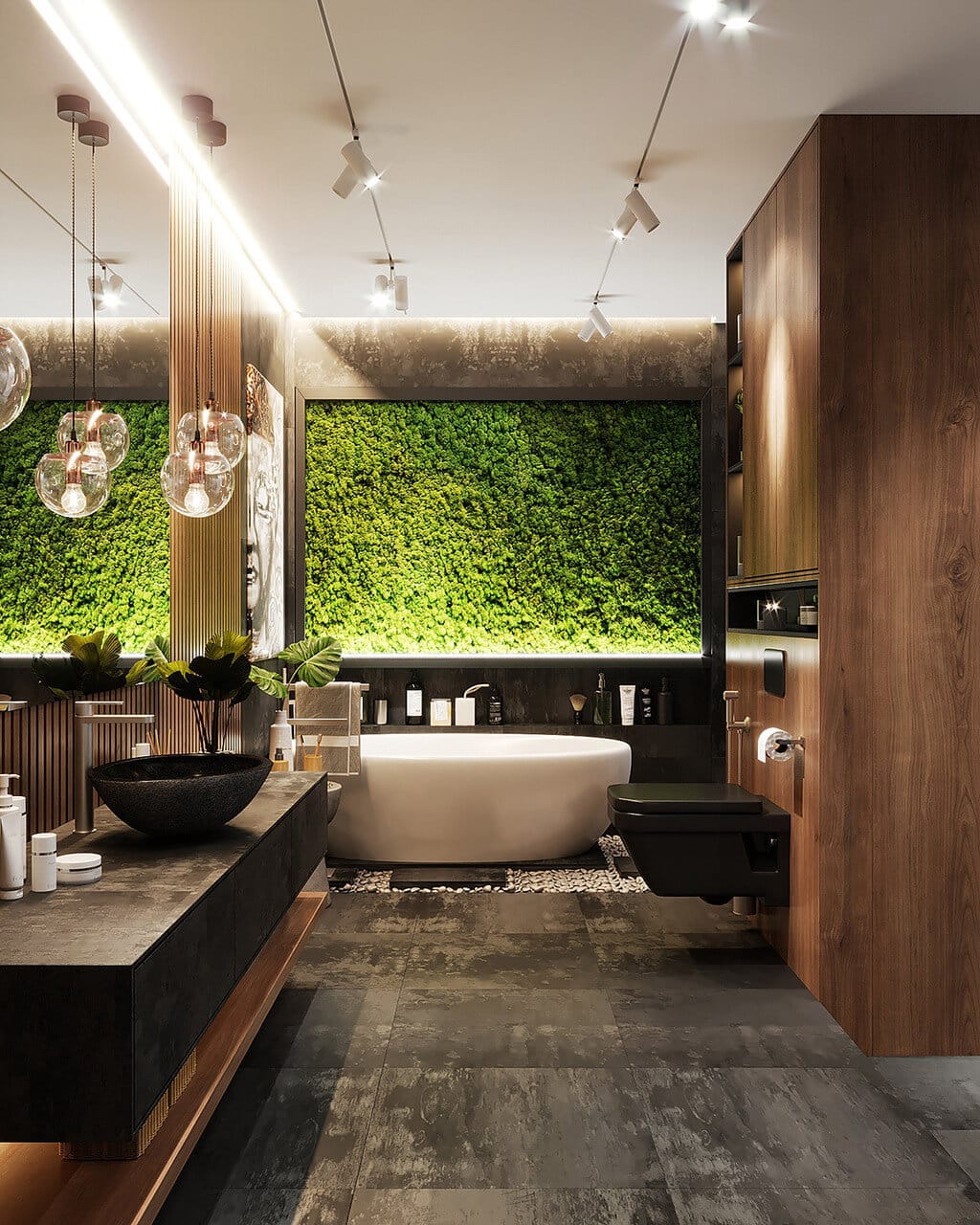 Source: home-designing.com
You can create a faux garden in your master bathroom by incorporating an artificial vertical garden wall. This is a unique master bathroom idea that can expand your definition of bathroom space. The focus light highlights the wall, while the pebbles below the bathtub trying to bring in the experience of an actual garden inside. The rest of the rustic interior allows the wall to be the focal element of the design. 
21. Serene Neutrals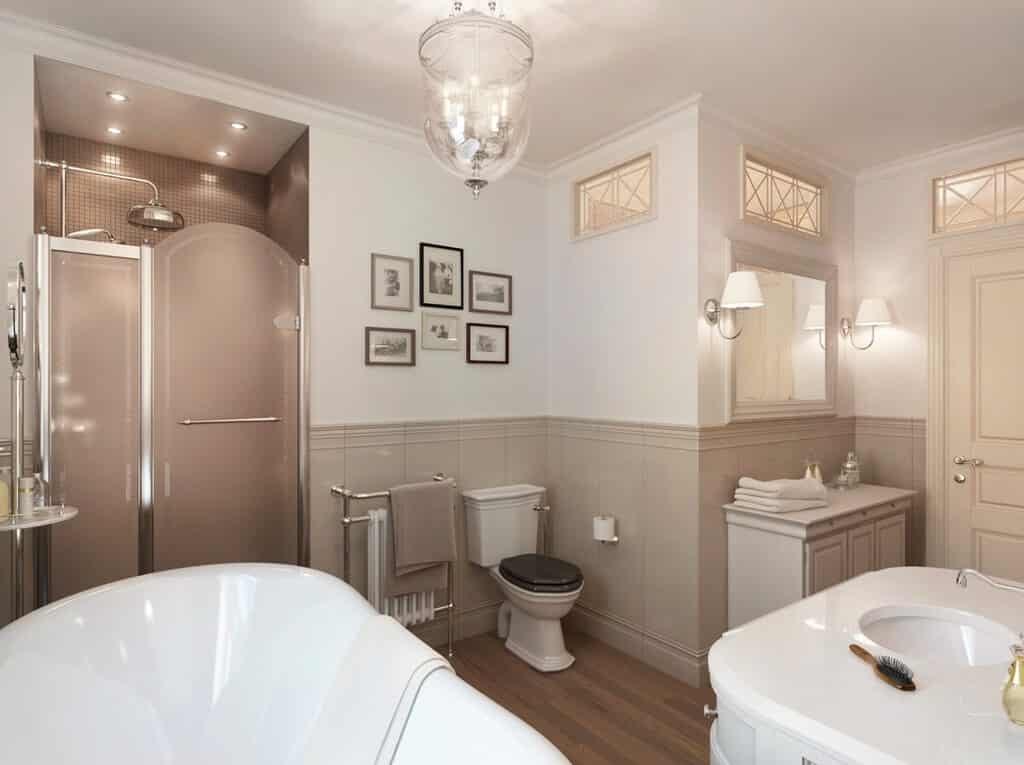 Source: home-designing.com
If you desire a master bathroom that is a peaceful escape, go for neutral tones. The muted beige and cream palette gives a calming appearance to the space. Simple details like the lamp, and artwork complement the established theme of the bathroom. 
22. Art Deco Bathrooms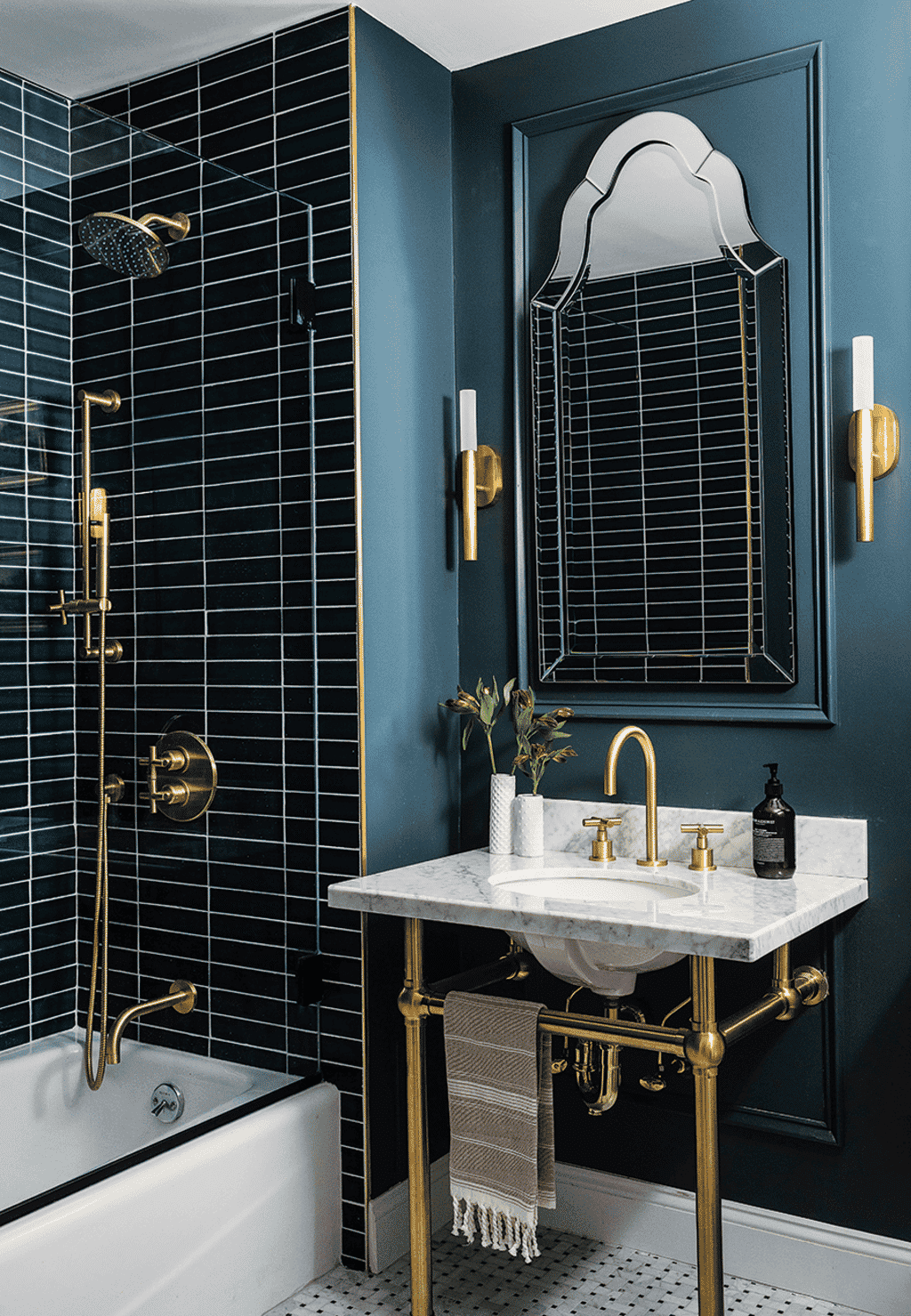 Source: pinimg.com
The master bathroom idea for an over-the-top design has to be of the art deco style. Deep colors, bold shapes, and luxurious golden accents make this master bathroom an expression of art.    
23. Go, Black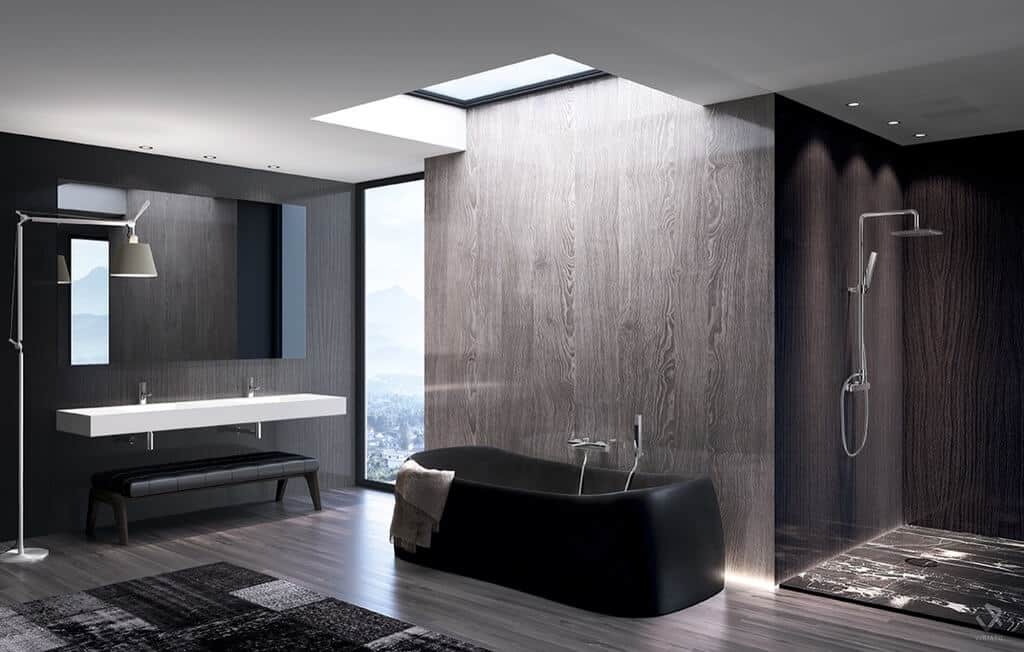 Source: home-designing.com
If sleek whites aren't your calling, you can go with bold blacks. Dark wood textured walls and floors, a smooth black bathtub, and the textured rug define this sophisticated master bathroom.  
24. Wooden Dominance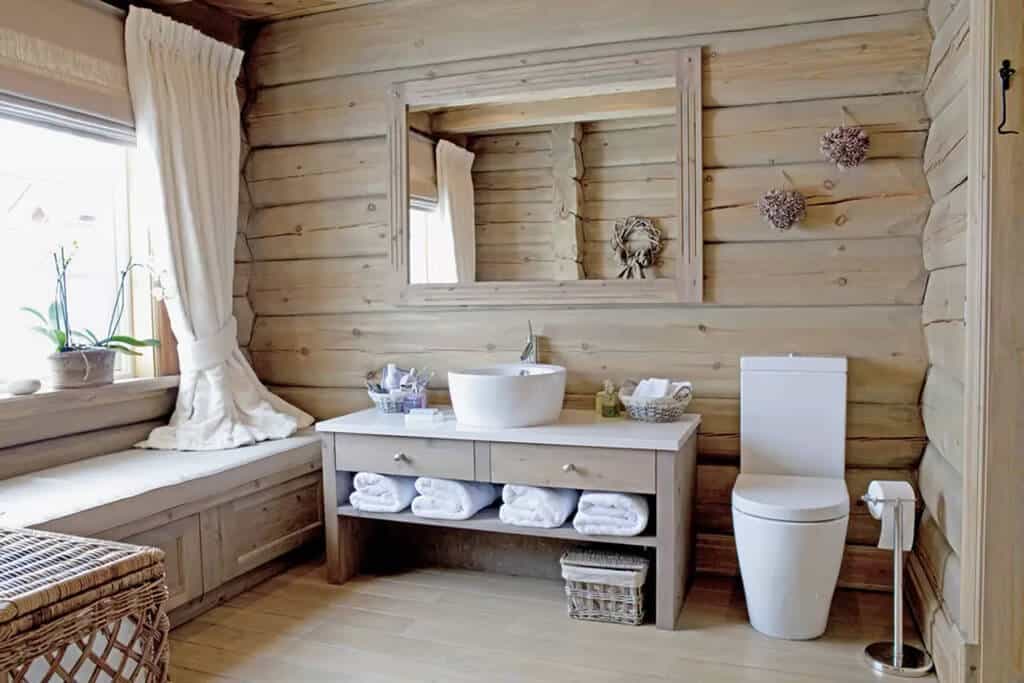 Source: goodlookslady.com
Take bathroom inspiration from rustic cabin-style interiors. These all-wood master bath ideas are perfect if you want to feel like you're on a holiday, every day. The wooden paneling on the wall floor topped with wooden cabinets and vanity creates a cozy surreal bathroom space. 
25. Zen Vibes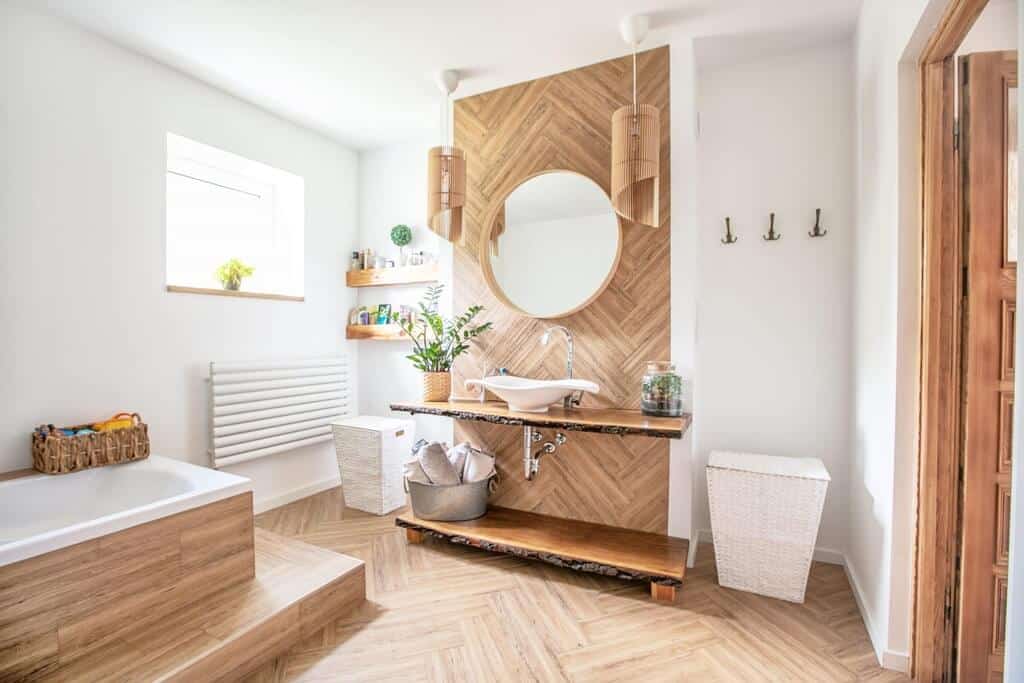 Source: somhotels.es
A master bathroom is your personal space, that should soothe and calm you, and what's a better way of doing it than designing a zen space. A bathroom with subtle colors and textures like this creates a tranquil experience within the space.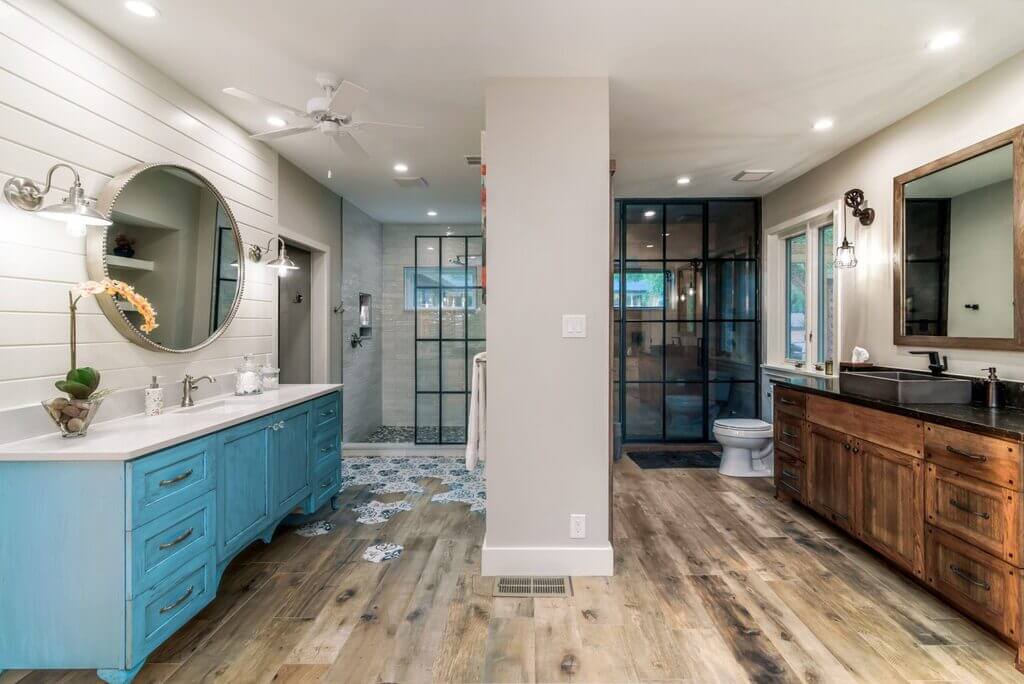 Source: southernmaterials.com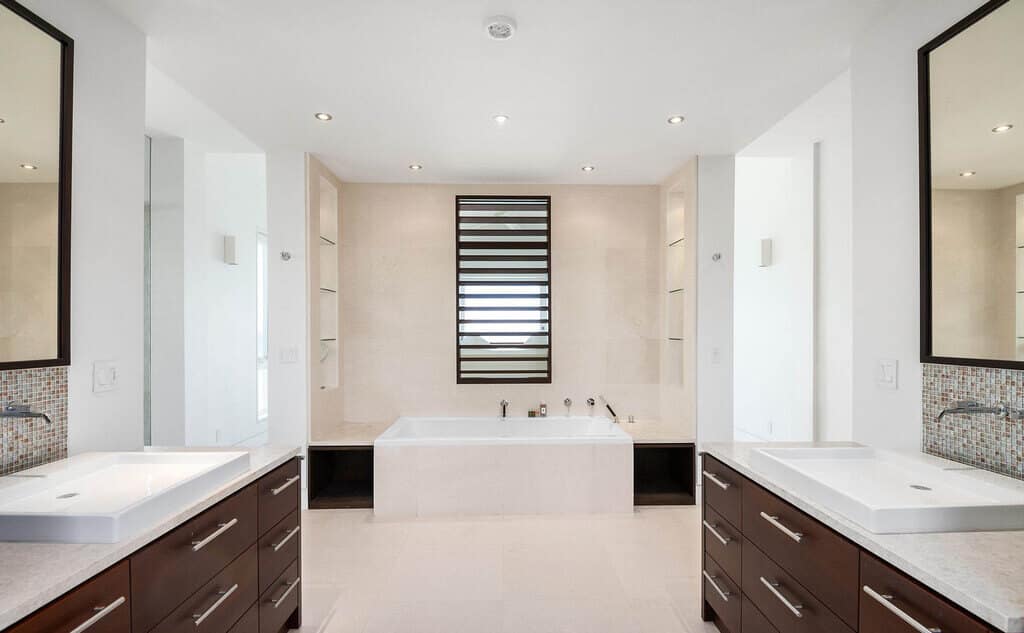 Source: gambrick.com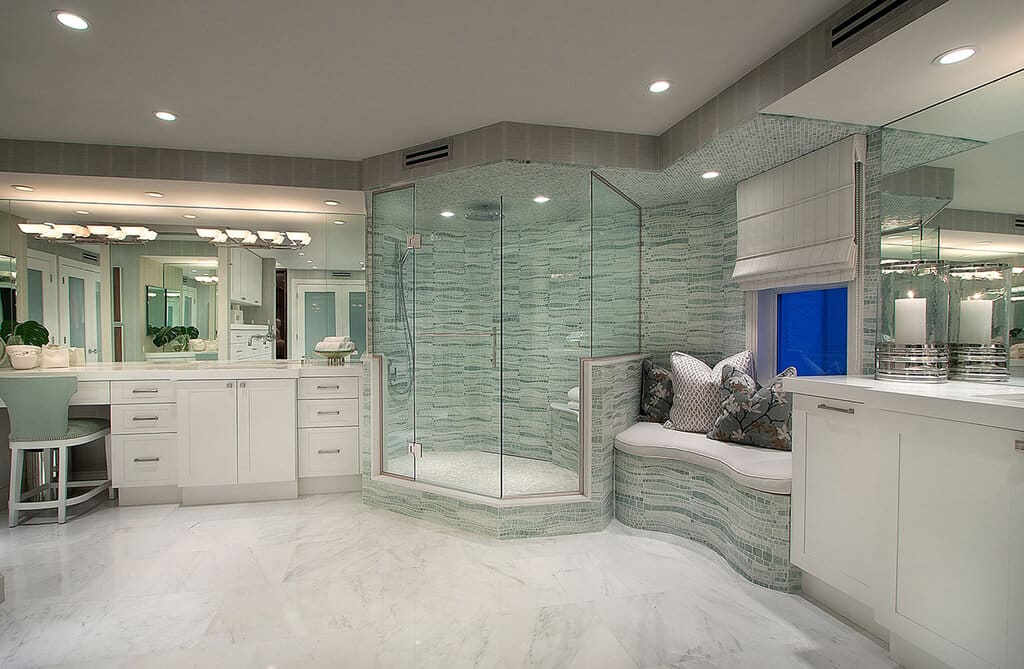 Source: greatpros.com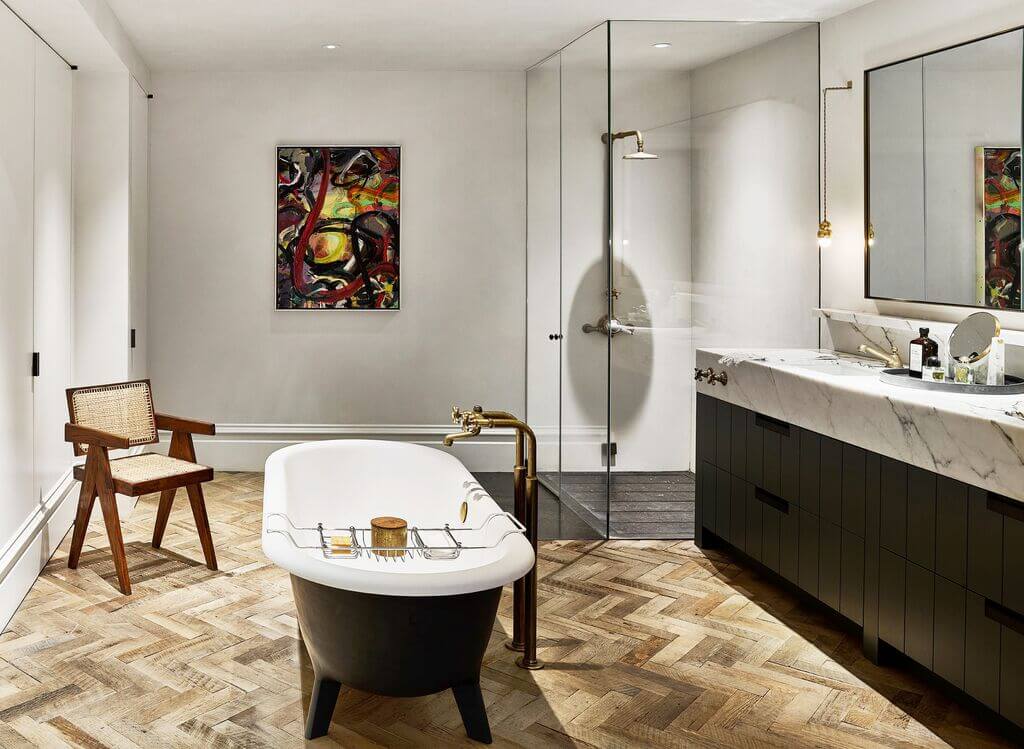 Source: hearstapps.com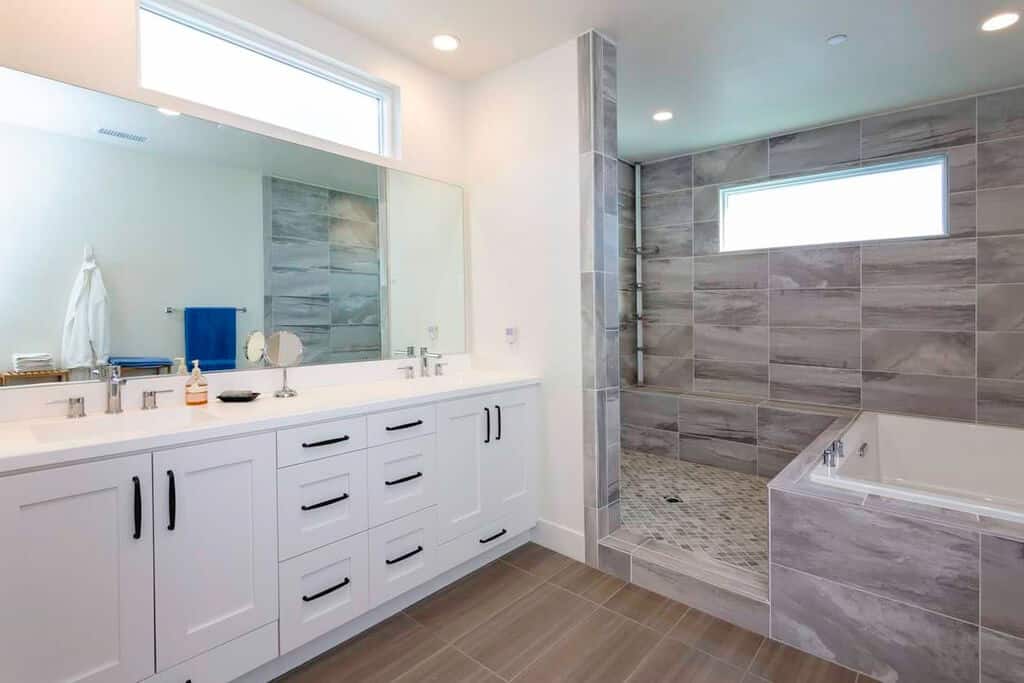 Source: homestratosphere.com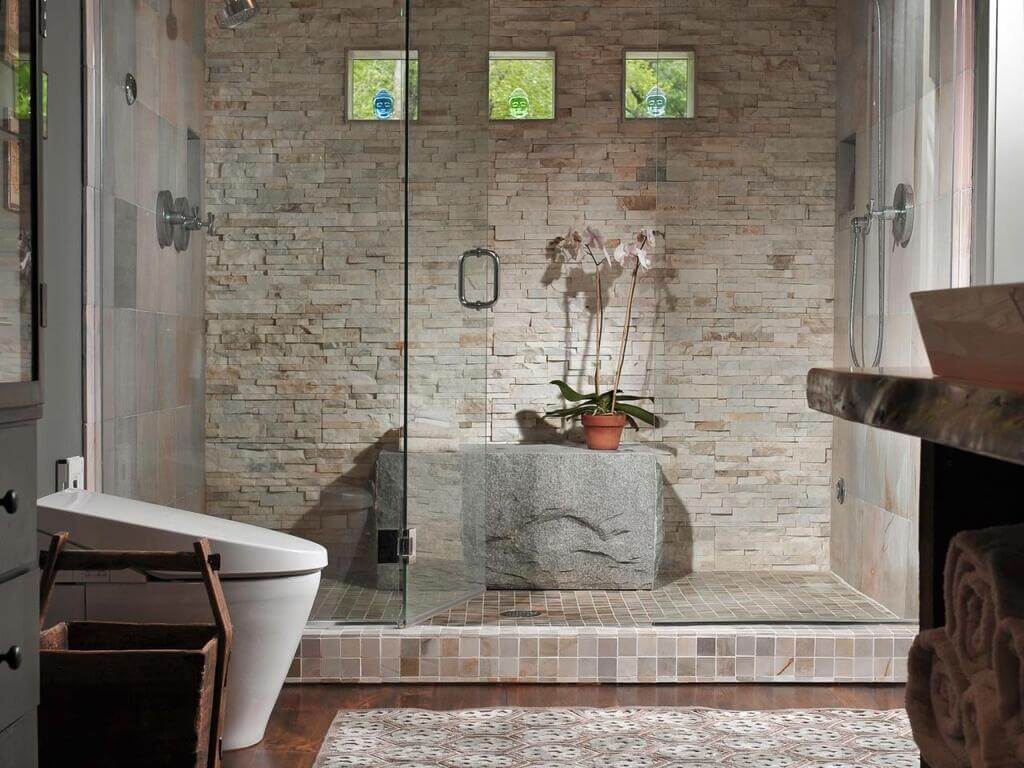 Source: sndimg.com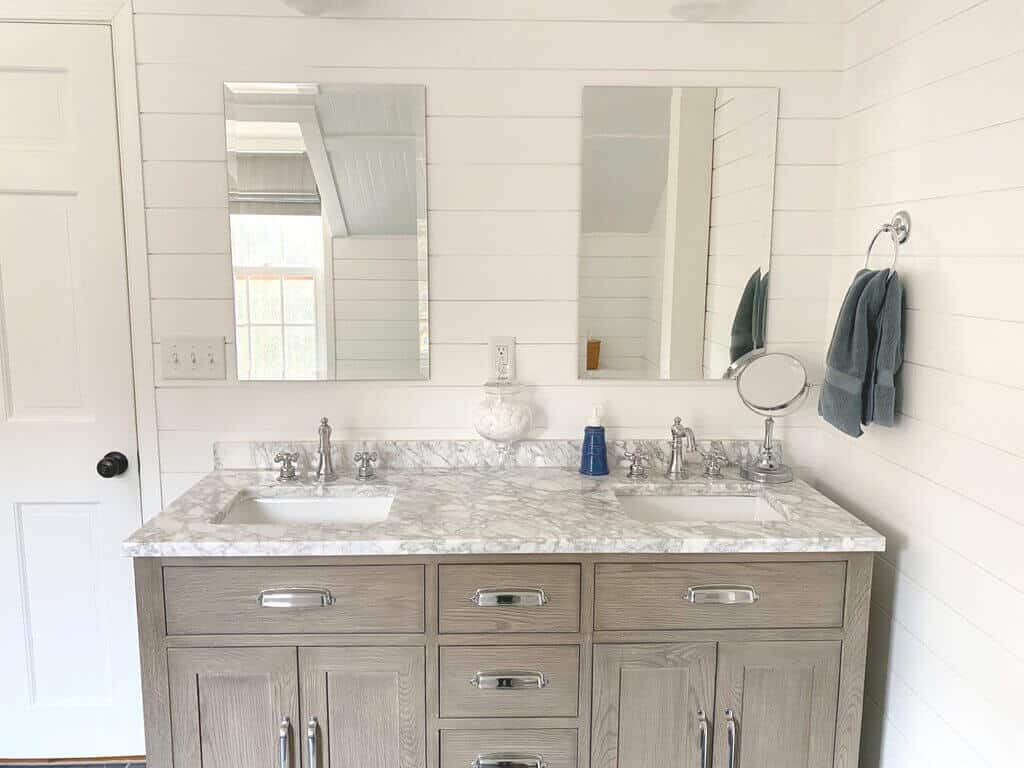 Source: lehmanlane.net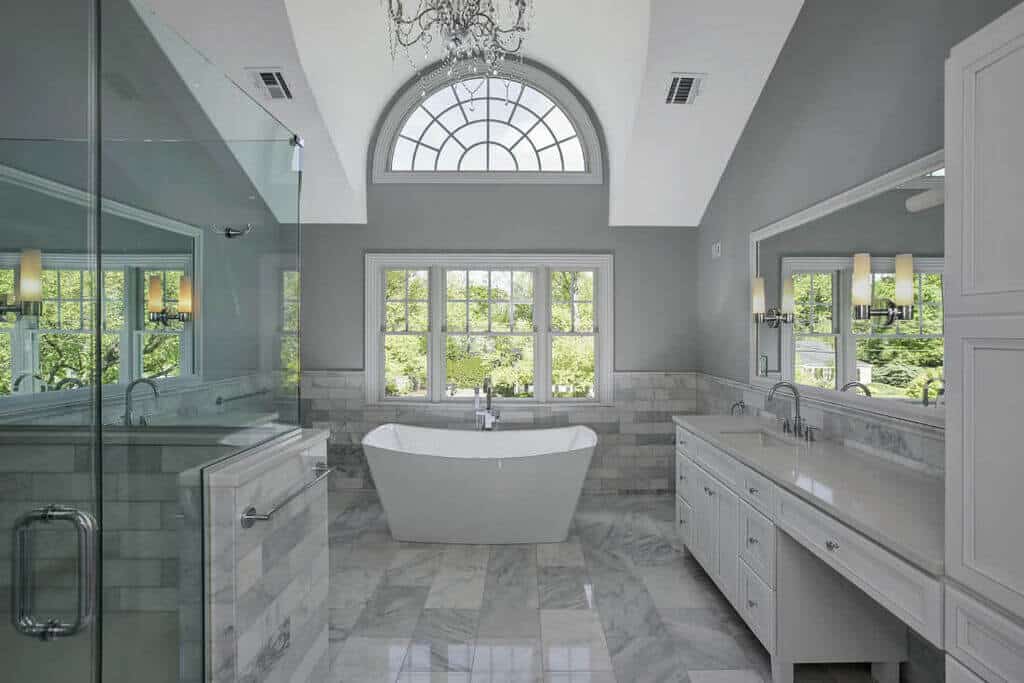 Source: premierdesigncustomhomes.com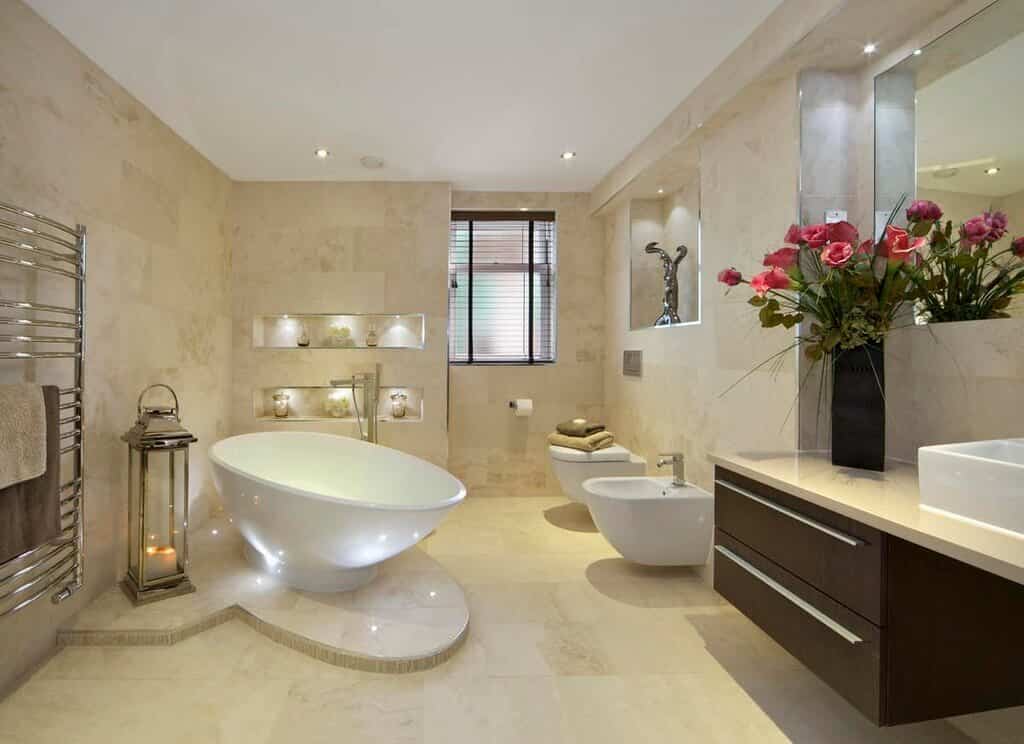 Source: homestratosphere.com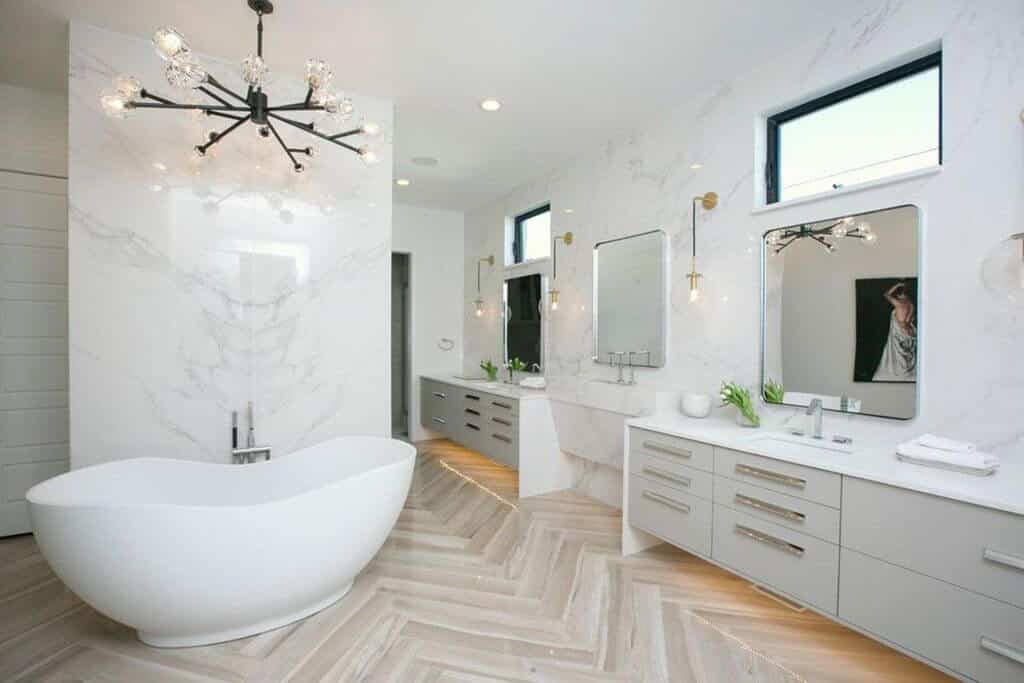 Source: thespruce.com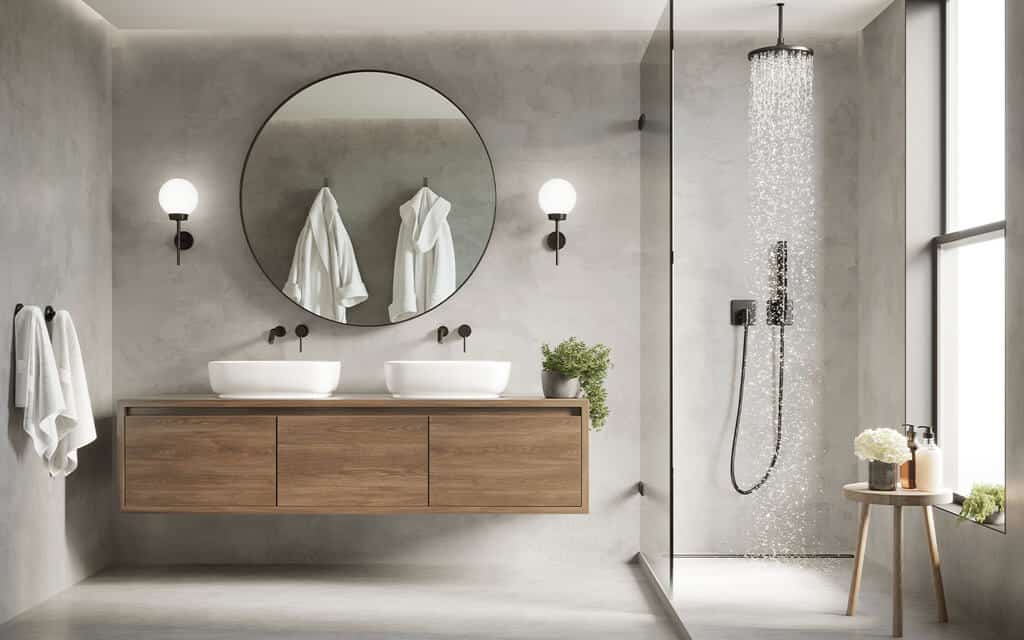 Source: sonaearauco.co.za
Also Read: Bathroom Trends 2022: Top 7 Modern Design Ideas for Your Space
FAQs
1. What Makes a Luxurious Master Bathroom?
A luxury master bathroom design will have elements like a freestanding bathtub, gorgeous lighting- many times a chandelier, a soft textured rug, top-notch materials like marble, golden accents, a large window, or skylight, and many other features. 
2. How Do You Make a Master Bathroom Cozy?
Making a master bathroom cozy is all about getting the details right. Sure, you can use warm tones and wooden textures to give a cozy appearance to the master bathroom, but you need to pay attention to the little details. For example, having the right storage for your towels, adding soft rugs, choosing the right kind of mirror for your space, hanging pleasing artworks, adding plenty of plants, etc. 
3. What Is the Size of a Master Bathroom?
Most of the time, master bathrooms are used by two people, hence it's essential to get the sizes right. Cramping a master bathroom for a larger bedroom is foolish as it'll only end up creating chaos. Most people prefer to go with 150-160 sq ft master bathrooms. In case there isn't enough space available, you can fit a master bathroom in 60-70 sq ft as well. 
4. What Is Trending in Master Bathroom Designs?
The latest trends in master bathroom design ideas are – the combination of natural and spa-like surfaces, biophilia, warm neutral or earthy tones, curved surfaces, muted grey tones, etc. in terms of styling. Additionally, freestanding bathtubs and fancy multi-shower-heads are also trending.  
5. How to Choose a Master Bathroom Vanity?
Whether you're starting to design a master bathroom from scratch or thinking about remodeling it, choosing the right vanity is crucial. Ideally, a master bathroom should have a double vanity. The design of the vanity could follow the theme of the master bathroom. The ideal size for a double vanity with his and her sinks is 60 feet. Also, add a wide mirror to the wall. 
To know more about Home improvement ideas, Cleaning and decoration tips visit ArchitecturesIdeas.
For daily updates, follow us on our Instagram page @architectures_idea.