What Is Average Bedroom Size? Everything You Need to Know
As per the studies, an average adult spends roughly 30% of their time in bed. So, make sure your bedroom is the proper size and that it is cozy for you. One of the first things to think about is the size of the bedrooms, whether you're planning a makeover or looking for a new home. 
So, what is the average bedroom size?
And what are some tips for maximizing your home's bedrooms, no matter how big or small they are?
In this article, we'll look at some average size bedroom and expert design suggestions.
Standard vs. Average Bedroom Size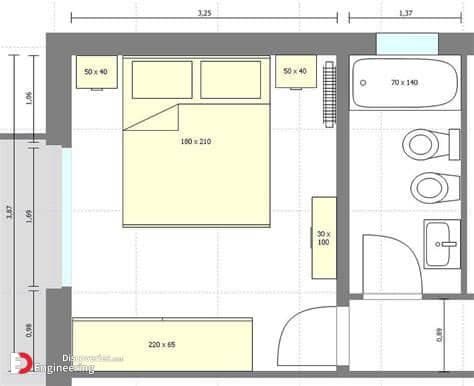 Source: pinimg.com
Before we begin discussing what is the average size bedroom, let's have a quick look at some major differences between standard and average bedroom sizes:
Type of Room

Average Bedroom Size

(sq. ft.)

Standard Bedroom Size

(sq. ft.)

Master Bedroom

132

224

Kid's Bedroom

100

120

Guest Room

110

120
What is the Average Bedroom Size?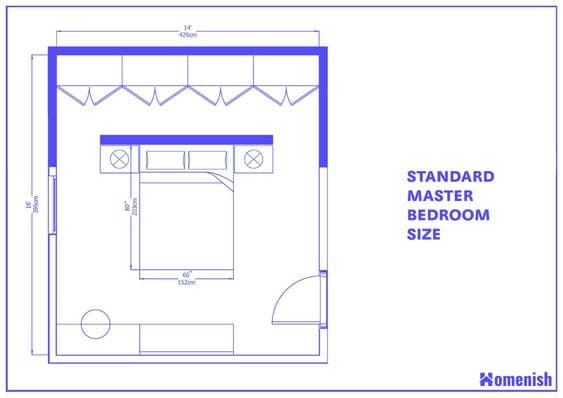 Source: pinimg.com
The type of room determines the average size of a bedroom. A child's bedroom is usually smaller than an ordinary master bedroom. Because of this, we are unable to calculate or estimate average bedroom sizes. But we can assume an average bedroom size.
The average master bedroom size of American homes measures  11ft. x 12ft. (132 sq. ft.). When you account for the usual variances in master bedrooms, secondary bedrooms, and guest bedroom sizes, it is the average size. 
Bedroom sizes range from 50 sq ft in small homes to 500 sq ft in large houses. The size of bedrooms is getting smaller on average as tiny homes gain popularity. 
To calculate the average bedroom size in a country, use the one-tenth rule. To find the average, multiply the home measurements by 10. Following is a list of average bedroom sizes in different countries:
| | |
| --- | --- |
| Country | Average House Size (sq. ft.) |
| United Kingdom | 818 |
| Italy | 871 |
| Sweden | 893 |
| Japan | 1022 |
| Spain | 1044 |
| Germany | 1173 |
| France | 1205 |
| Greece | 1356 |
| Denmark | 1474 |
| Canada | 1948 |
| United States | 2163 |
| Australia | 2303 |
| Russia | 613 |
| China | 645 |
Standard Bedroom Size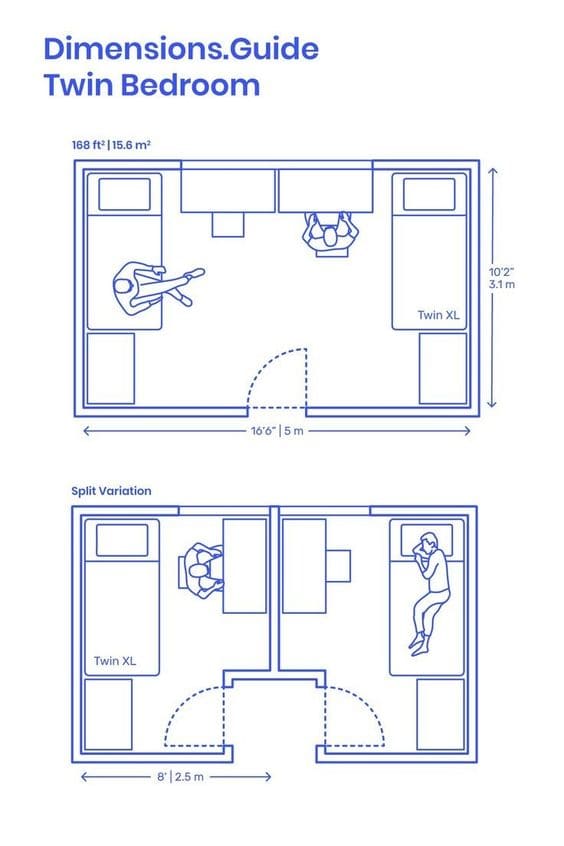 Source: pinimg.com
Although standard-sized bedrooms can be much smaller, measuring anywhere from 10 x 10 to 12 x 12 feet. The square feet of these rooms determine whether you'll turn the living area into a bedroom for an individual child, a pair of twin siblings, etc., or just a guest room.
A master bedroom should be 14′ x 16′, or 224 sq. ft. in size. This leaves room for a king-sized bed as well as other bedroom furniture, including nightstands, chests of drawers, a TV cabinet, and a chair for an area to relax.
A secondary bedroom should be 10′ x 12′, or 120 sq. ft. in size. You will have enough room for a queen-size or full bed, along with a few additional minor bedroom furnishings.
A guest bedroom typically measures 10′ x 12′ or 120 sq. ft., which is similar to the size of a secondary bedroom.
What's The Average Master Bedroom Size?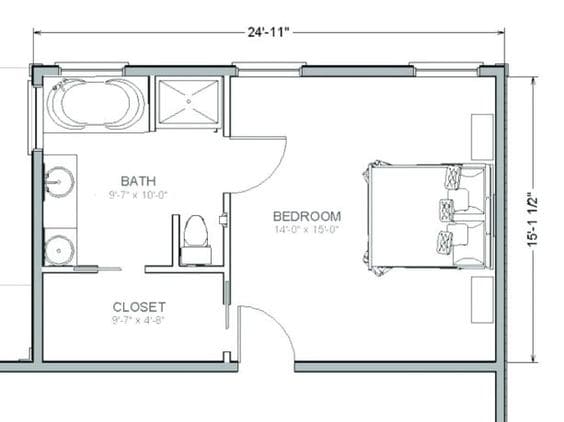 Source: pinimg.com
You may think, "What is the average size of a master bedroom?". The master bedroom is the biggest bedroom of all. It typically has a king-sized bed, which requires a larger room than if you only had a full-size bed. 
When the house ranges from 2,000 to 3,000 sq. ft. in size, the average size of master bedroom is within 200 to 300 sq ft. The average master bedroom is 14′ x 16′ in size. This size of the bedroom has space for a king-size bed and other furniture. 
The average living room measures 16′ x 22′ and has square feet of about 300.
What's The Average Guest Room Size?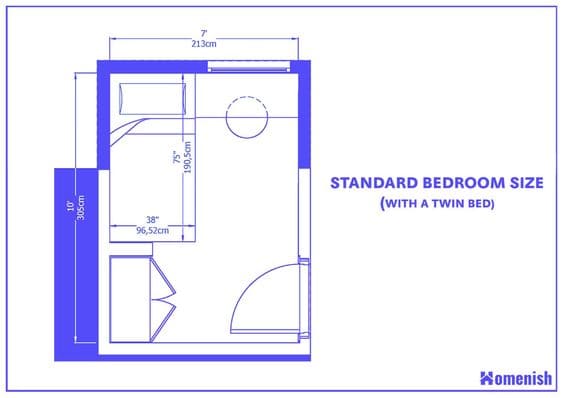 Source: pinimg.com
Most people don't give their guest room's size much thought. They utilize the available room. However, a guest bedroom is smaller than a kid's room and larger compared to a master bedroom.
A full-sized bed or a queen-sized bed is usually used in a guest room. The room is roughly 100 to 200 sq. ft. in size. However, a guest bedroom's size varies significantly from other bedrooms' sizes. In some homes, there isn't even a guest room.
What Should Your Bed Size Be?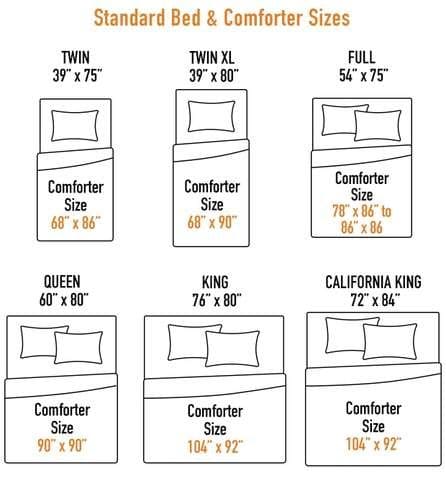 Source: pinimg.com
You can use the size of the bed in your bedroom—which has yet to have an owner—to determine how big it should be. The Golden Ratio, or 3:1, is another formula. 
Fact: A queen bed takes up 33 sq. ft., making a 100 sq. ft. room standard. The average bedroom is 8′ x 12′ or 10′ x 10′. Remember 3:1, and you'll be good to go. 
Pro Tip: The formula can be used as a general guideline to maximize space. Bigger rooms tend to be favored. As long as it doesn't detract from other rooms, the bigger the bedroom, the better.
How Small Can You Go While Determining the Average Bedroom Size?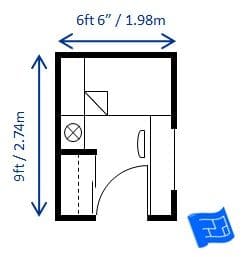 Source: pinimg.com
Create each room as compact as you can if there isn't extra space. Choose the smallest bed in which you feel most at ease, and make sure it barely occupies half the space.
Fact: A full-size bed that occupies less than 30 sq. ft, wouldn't work well in a space that is less than 60 sq. ft. A room 8′ x 8′ in size would be too small for a bed like that, but it could fit in a small home. 
Pro Tip: Other alternatives include sleeper sofas or futons that may be converted into beds. In that way, there is additional floor space throughout the day and more bed space at night. 
Bedroom Designs Based on Your Floor Plan
For varied bedroom types, there are certain standard sizes. However, the floor plan of the house will determine the final size and plan. Here are a few examples of average bedroom size in different styles.
1. Traditional Ranch Floor Plan House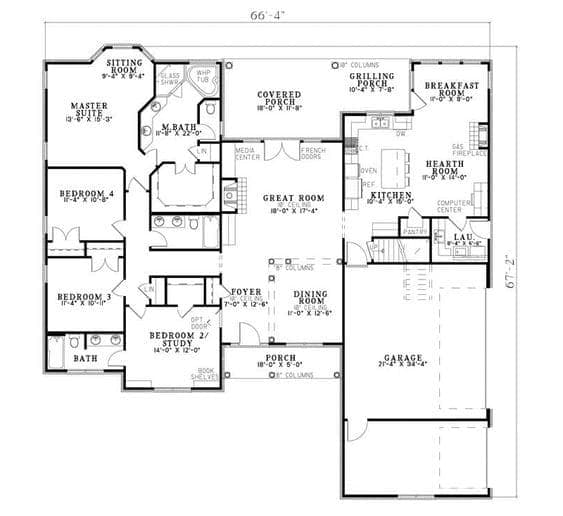 Source: pinimg.com
Traditional ranch homes, which were very common in the mid-to-late 20th century, have practical floor plans that enable effective use of available space. One to three bedrooms, ranging in size from standard to a little smaller than standard, are typically found in traditional ranch homes. Some bedrooms in ranch homes might be as small as 8′ x 10′, which is common. 
2. Modern Craftsman House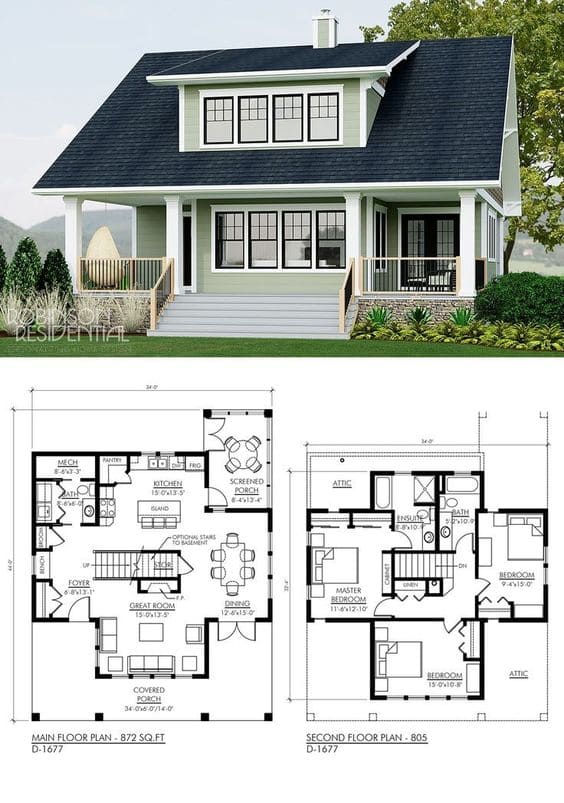 Source: pinimg.com
As they possess a relaxed and modern vibe, this is an appealing dwelling design that can be found all over the United States. Each sort of bedroom in modern craftsman homes often has one to three rooms, and they all tend to be the same size. The space for bigger bedrooms will be available in floor plans that are greater than 2,500 square feet. Even some master bedrooms that are 16′ x 19′ in size are observable.
3. Apartment House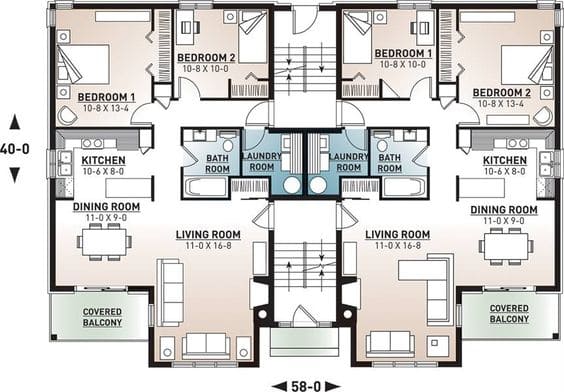 Source: pinimg.com
Condos and apartments must cram a lot of things into a tiny space. Because of this, bedrooms typically don't surpass standards.
Design Ideas for Smaller Homes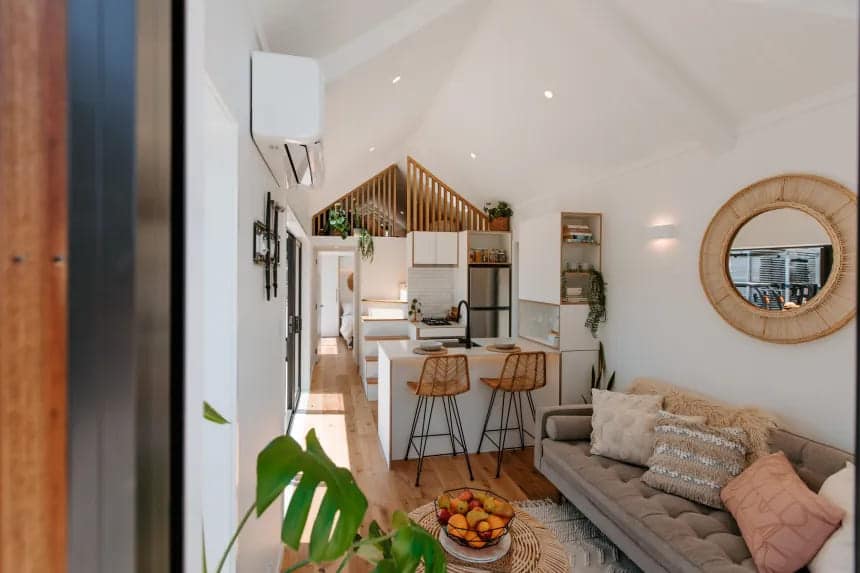 Source: autoevolution.com
Consider creating the illusion of a bigger floor plan if you don't have full-size rooms set aside for a variety of uses by using tall furniture pieces rather than wide ones. Always calculate the available average bedroom size and make the most of every inch. 
To make the most of your small bedrooms' available floor space, use long drapes, canopies, or wooden screens to divide large spaces. Here are some suggestions for maximizing those small rooms. 
1. Bed
In a bedroom, the bed occupies a good amount of space. So why not make the most of that room by getting a bed featuring storage beneath?
2. Layout
Place most of the furnishings against one wall. Also, put the bed in the corner of the small room that only fits one person.
3. Mirage
Use mirrors to instantly enlarge a small bedroom by featuring furniture with mirrors, accent mirrors, and wardrobe mirrors.
4. Vertical Spaces
Install a tall wardrobe rather than a wide dresser. You might even want to consider a loft bed with an office or storage area underneath if the ceiling is high enough.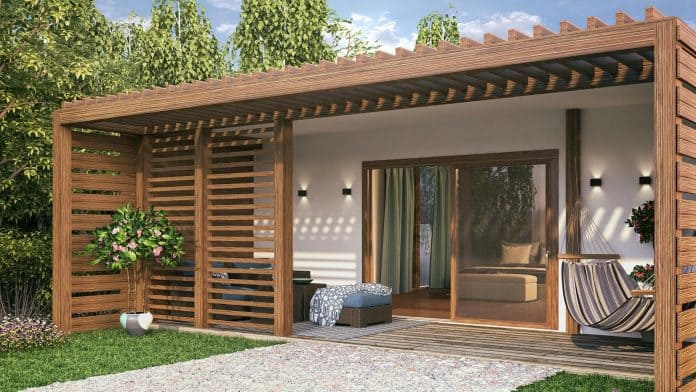 Source: consumerenergyalliance.org
Pro Tip: Choose furniture with built-in cubbies and storage areas rather than large pieces of furniture or walk-in closets, which may not be practical. You could consider thinking about furniture that serves multiple purposes or that can be put on the wall because your average bedroom size may be smaller than normal, or the entire room may serve as both a bedroom and a living area.
Standard Bedroom Size Design Ideas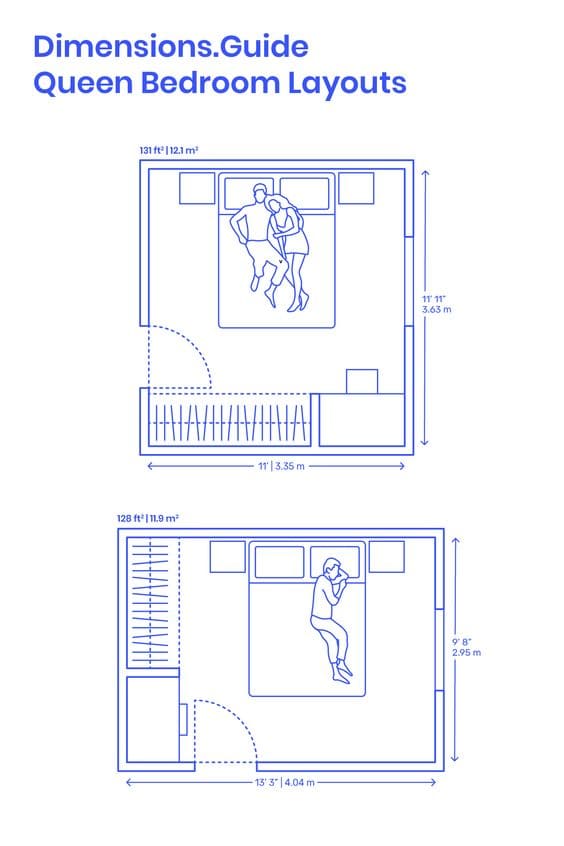 Source: pinimg.com
You should first figure out which room is meant for what use. Certainly, homeowners will select bigger rooms for their children's bedrooms as well as their bedrooms. Then, the smaller rooms are converted into guest rooms. These might not always require a walk-in closet, but they do need some sort of cabinetry or closet space.
Standard Bedroom Size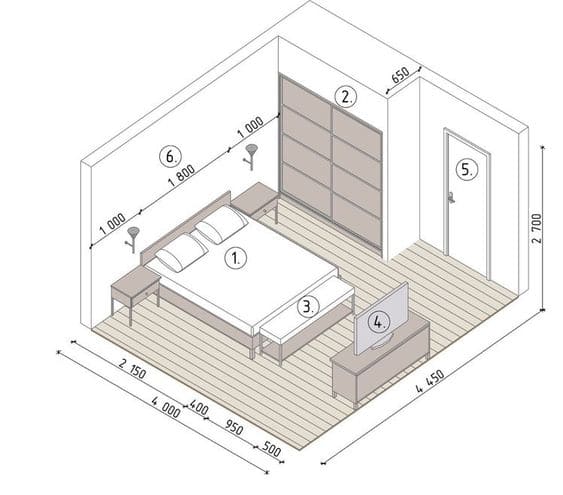 Source: pinimg.com
A standard bedroom size has a configuration that properly fits the needs of the living area. It might not be large enough to accommodate a king-size bed or might already be occupied when you decide to put one in, though it does offer much character.
Pro Tip: Standard-sized beds fit in these rooms, which also have room for a wardrobe or built-in storage. Usually, you have enough room on the floor to add a small vanity, side tables, extra shelving, and an area rug.
Kids Bedroom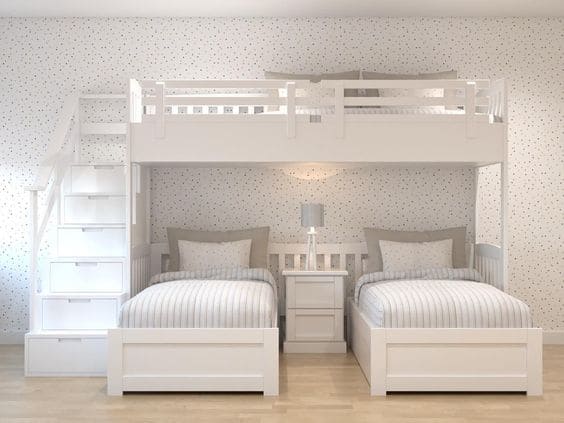 Source: pinimg.com
The first question to ask while designing your kids' bedroom is how many kids you have and of what age.
Simple, reasonably priced bedroom options are available if you only have one child. However, if you have two or more kids living with you, you can create a kids' room with space for twin and bunk beds. But keep in mind that as they get older, they might need their bedrooms.
The average bedroom size for kids is often smaller than other bedrooms. They usually only take up half or even a third of the master bedroom's space. In most cases, a twin-size bed can be placed in a kid's bedroom. 
Fact: The average bedroom size for a child will be around 50 to 150 sq. ft. due to smaller bed sizes. Now the question is, is there room for two twin beds? Otherwise, you might also put in a single bed that is a standard size.
Pro Tip: Since a kid's room usually doesn't require an attached bathroom, you may use some of the small rooms' space for study areas, bookcases, an artistic corner, etc. Think about bunk beds to make use of the available vertical space if the space is smaller than the average bedroom size.
Guest Bedroom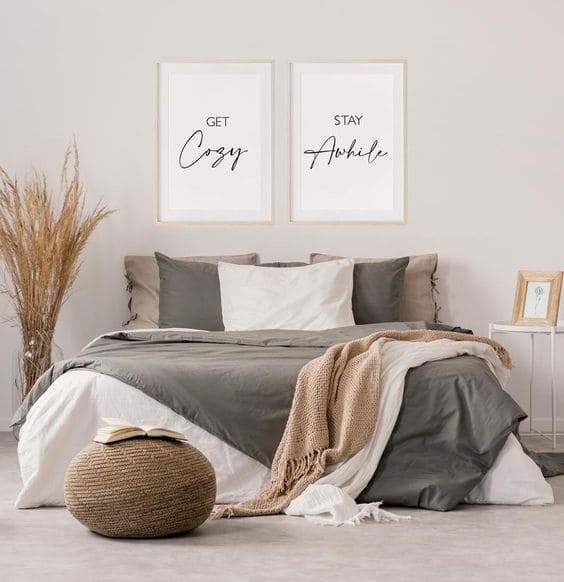 Source: pinimg.com
Guest rooms don't need to be extremely large or have walk-in closets. However, it is polite to provide them with an attached powder toilet to make them more comfortable.
Fact: Queen-size beds can be installed here for families, or standard-size single beds for friends and family who are single. You could wish to install a wardrobe or single-door closet given the smaller bedroom size to maximize space.
Pro Tip: Most of the time, as there isn't enough space, you can use innovative decor to put a focal point near the cabinetry or next to the side table to deflect attention from how little space there is. To dazzle and astound your guests, think about using brighter colors and reflecting wall art to give the appearance of a bigger room.
Master Bedroom Design Ideas
Consider the Bathroom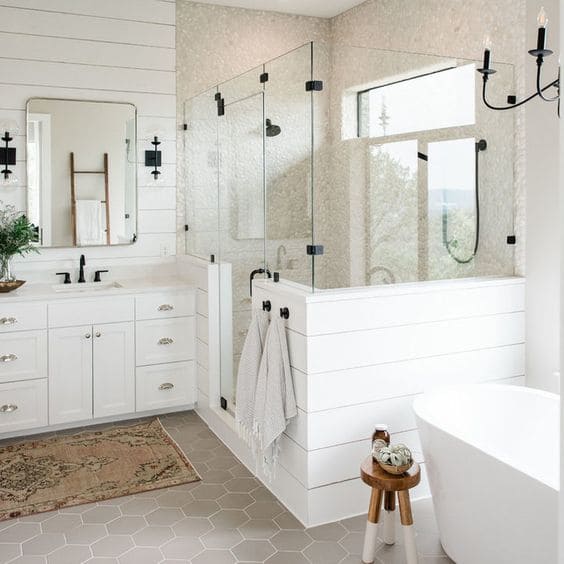 Source: pinimg.com
Firstly, a master bedroom usually comes with a master bathroom, or at least, a basic bathroom featuring a shower cubicle, sink, toilet, and, if space permits, a tub. The master bedroom has indeed gotten larger than the average bedroom in terms of total area. Better functionality, as well as form, are thus required for the design and décor.
Don't Forget The Bed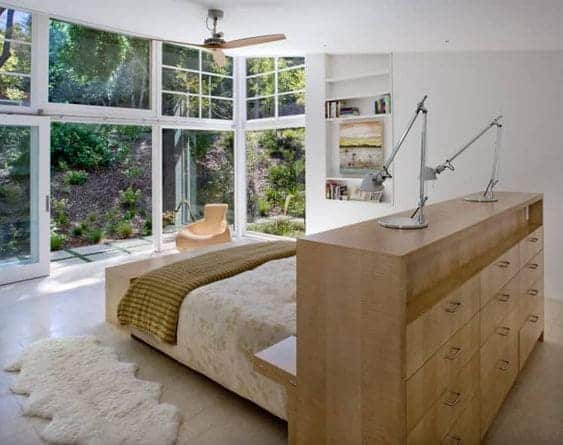 Source: pinimg.com
In this larger room, it would be simple to set up a California king bed, possibly with a designer headboard and elegantly constructed bedside tables. For some extra flair, you can even select platform beds or beds with canopies. 
What About Color?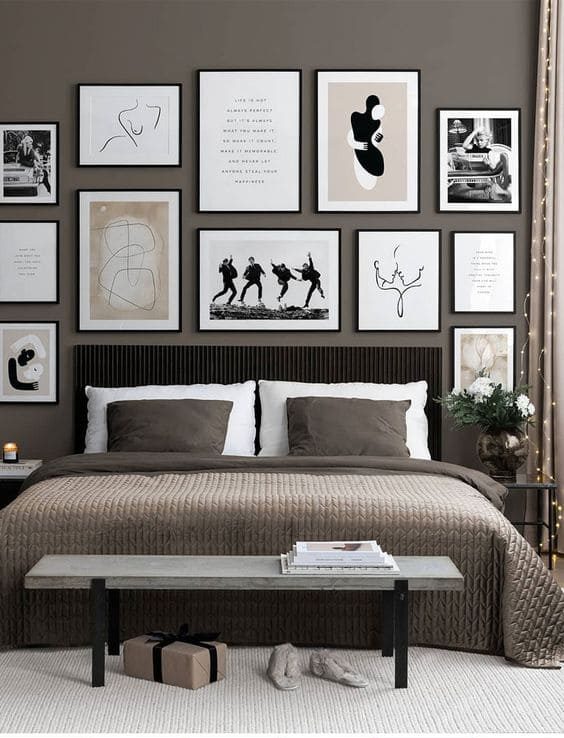 Source: pinimg.com
As the average bedroom size is much bigger, you can select energizing color schemes. Red is a good option but use it carefully because it also makes people furious and aggressive. Apart from that, you can use white, brown, yellow, and orange splashes. When you first get up in the morning, these colors lift your spirits, and at the end of a long day, they help you relax.
Bonus Tips
For bonus ideas, consider the following for an average bedroom size:
1. Additional Space
Consider incorporating a chair or two, side tables, and a light. They're useful not only for seating but also for an additional area to store things (such as coats, baggage, etc.) so that they aren't always piled up on the bed.
2. Nightstands
Every master bedroom must have a nightstand. They ought to always be somewhat shorter and roughly the same length as your mattress.
3. Divide the Space
A sleeping area and a sitting area are usually separated into two different areas in large master bedrooms. Set up some armchairs or a small couch so that the backs are facing the bed. 
Don't Miss Out On The Space Requirements
Let's explore the essential furniture and space considerations to keep in mind when remodeling a bedroom.
Average Bedroom Size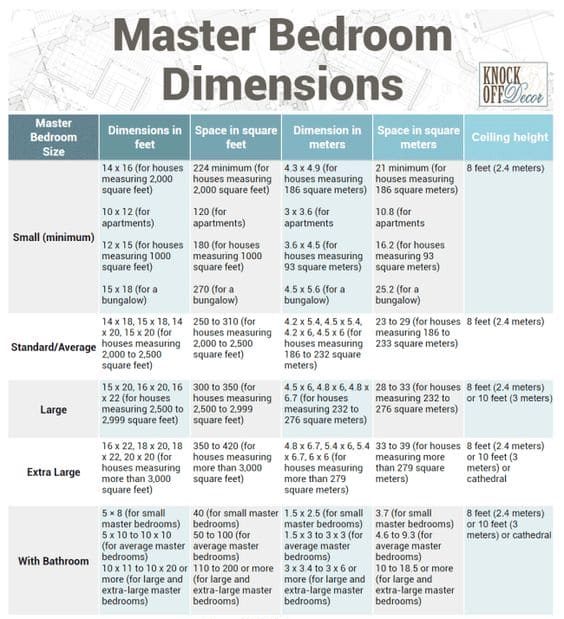 Source: pinimg.com
As per the guidelines of the International Residential Building Code, the average bedroom size must be at least 70 sq. ft. in size, with no dimension being shorter than 7 feet. It's ideal for a room that will only have one occupant. You need to increase the minimum by 50 sq ft to create a double bedroom (a minimum of 120 sq ft overall).
Ceiling Height
The ceiling has to be no less than 7 feet tall, or at least half the average bedroom size. The minimum area requirement can therefore take into account the floorspace below dormers and sloped ceilings, but at least half of the room needs to have a full-height ceiling.
Electrical and Heating
A bedroom must have a heating system capable of keeping it at 68°F or warmer, as well as a minimum of two electrical outlets.
Window
A minimum of 8% of your floor area should be included in the window glass of your bedroom, and at least half of it should be open.
Access
The bedroom must be accessible from a public space, such as a corridor, without going through another bedroom.
Egress
You must install a window that can be used as a rescue exit if your bedroom doesn't have an exterior door. Your egress window's bottom must be between 24 and 44″ from the floor.
Also Read: 30+ Best Two Colour Combination for Bedroom Walls 2023
So What's Your Average Bedroom Size?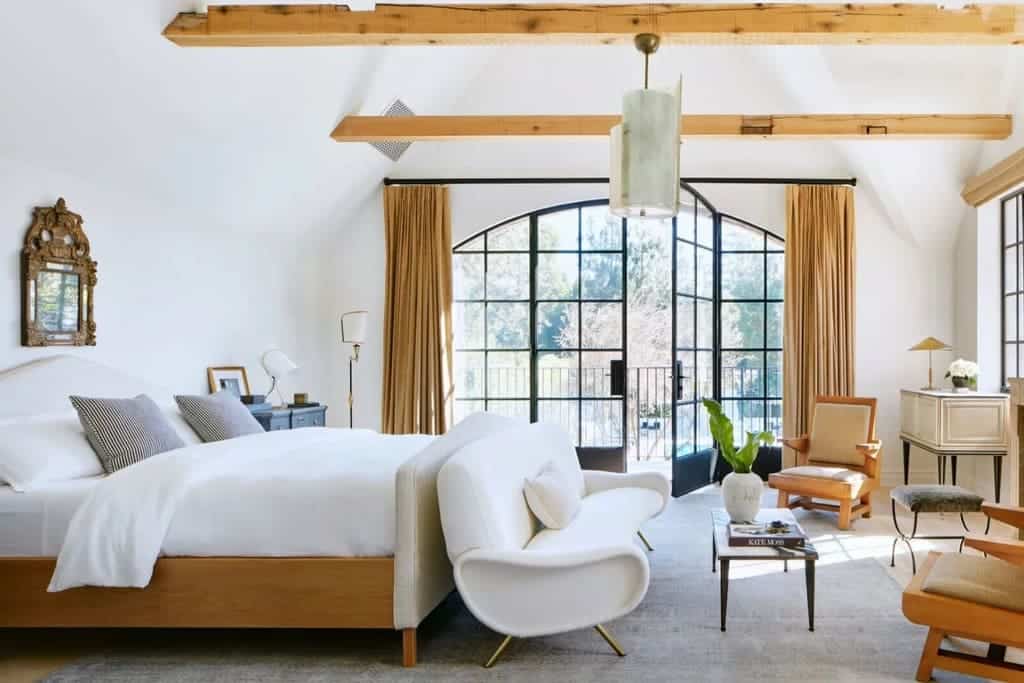 Source: foyr.com
The bedroom is the place to start and end your day. Instead of making you feel packed and pressured, it should serve as a space where you can unwind and relax. 
It's the only place in your house where you can shut the door while letting your thoughts take over. You must have gained knowledge about the average bedroom size after reading this article. We hope that you can create your ideal home by keeping average bedroom sizes in mind.
Subscribe to our page for more such informative pieces.    
FAQs: Average Bedroom Size
1. What Is the Average Size of a Bedroom?
The average bedroom size in a house is approximately 219 sq. ft. This covers the master bedroom, whereas an average home has 3.38 bedrooms.
2. What Should Be the Average Bedroom Size in an Apartment?
The average bedroom size in an apartment is 11′ x 12′. Of course, it depends on where you are. Smaller bedrooms are available in densely populated cities like NYC, whereas larger bedrooms may be available in rural apartment complexes.
3. Is a Closet Included in an Average Bedroom Size?
Your bedroom's overall square footage excludes your closet space. However, when determining bedroom size, closet space is not taken into account; only the total square footage of a home is.
4. What Is the Cost of Adding a Bedroom? 
The size of the bedroom will determine how much it will cost to add to your home. Between $50 and $300 per sq. ft. is the price range. The final cost falls somewhere in the range of $10,000 and more. 
5. How Much Should the Average Living Space Be Per Person? 
It's quite small, like 971 sq. ft. of living area per person. The increase is brought on by both expanding housing sizes and decreasing average household sizes.
6. What Qualities Must a Space Have to Be Known as a Bedroom? 
Most importantly, there are two ways to enter and exit. One is the regular doorway within the house. You require a secondary exit route, like a window or even a skylight. A bedroom's window must be 5.7 square feet in size, and its ceiling must be at least 7 feet high. 
7. What Is the Average Bedroom Size for a Twin Bed?
The smallest bed, excluding toddler beds, is a twin bed. You'll require 70 sq. ft. to accommodate a bed with a dresser comfortably and still have room to move around. The bare minimum size for a room to qualify as a bedroom is this.
More from The Architecturesideas
To know more about Home improvement ideas, Cleaning, and decoration tips visit ArchitecturesIdeas
For daily updates, follow us on our Instagram page @architectures_idea.