Of all the design stages, composing a mood board is the most fun part. Though exciting, the selection, however, is not easy. With plenty of options and bathroom tile ideas, curating a design revolving around one theme can be challenging.
A bathroom remodel demands shower tile ideas that are functional and aesthetic. For a personal spa-like retreat at home, consider bathroom tile ideas that inject freshness and offer a soothing ambiance to form a relaxation zone.
A careful selection of bathroom tiles design can transform the entire visual appeal of the bathroom design. Whether modern shower tile ideas are your go-to choices or you're planning to go bold with colorful bathroom tiles, we've got all the design languages covered for you. Let's look at these 22 beautiful bathroom tile ideas to get you started on the journey of creativity.
Vehement Verticals: 8 Tile Bathroom Wall Ideas
Marry the idea of your walls covered with bold bathroom tile ideas for a one-of-its-kind design. From the ideas ranging from bright and bold to subtle and soothing, the options to explore the world of bathroom tiling are endless. However, we are here to help you by handpicking the best 8 tile bathroom wall ideas for a gorgeous makeover.
1) Bold and Deep: Colorful Bathroom Tiles
Bathroom tile ideas shouldn't make a stop at the typical whites or beige. Go for an impactful design with darker tones. Contrast black bathroom tiles against a muted or matched floor. For a statement-making space, add shiny faucets standing against the black wall. Considered the simplest among various bathroom tile ideas, this will add a touch of drama to the bathroom design.
2) Sleek Grays: Tile Bathroom Wall Ideas
Bathroom tile ideas are not only restricted to floors. Enhance the vertical planes with modern shower tile ideas hinting at a sleek look. Keep the palette subtle with the stacking of light gray tiles serving as a muted backdrop for the dark fixtures taking a center stage.
3) The Vintage Allure
Add a sense of nostalgia by bringing in the charm of an old-fashioned world. Go for rustic bathroom tile ideas serving as a perfect backsplash for the vintage-looking faucets. This retro theme is sure to offer an unmatched experience with soothing vibes.
4) New-age Modern Bathroom Tile
Deviate from the standard method of fixing tiles and form an interesting pattern. Adorn the walls with unconventional and modern shower tile ideas that break the traditional rules. Form a blended mix of vertical and horizontal patterns with subway tiles for a unique yet classic look.
5) Elegant and Timeless: Marble Bathroom Tile Ideas
Which material do you associate with the term elegant? Marble, right? This charming material has a fluidity in its veins that carry timelessness. Go for marble tiles and offer your bathroom design a rich palette. Pair the walls with golden accents to make the whole decor look lavish.
6) Glam Green Bathroom Tile Ideas
Nothing as glamorous as green! Take these gorgeous greens into the bathroom and let them sprinkle their magic! Go for glossy tiles and let the checkered walls offer a reflection of ocean vibes.
7) A Starry Wall!
Project your inner creative side and have fun experimenting with bathroom tile ideas. Gone are the trending basics, it's all about adding catchy designs and patterns to the decor. Whether you add an explosion of stars or an eye-catchy geometric pattern, think wild and make this private zone a comforting one for your eyes as well.
8) An Elevated Ambiance: Floor to Ceiling Bathroom Tile Ideas
Want to make your bathroom exude a sense of grandeur? Pull up the tiles starting from the floor to the top. Going overboard with these tile bathroom wall ideas can make the space look elevated. Go for modern shower tile ideas that strike against the bathroom flooring for a visually balanced design.
Happy Horizontals: 8 Bathroom Floor Tile Ideas
There's one thing we all are very particular about when it comes to a bathroom remodeling or design- floor tiles. Bathroom floor tile ideas are the best ways to jazz up the whole design. Whether you're planning to create an interesting pattern or leave it muted, there are bathroom tile ideas for every design taste. Enjoy these 8 bathroom floor tile ideas and pick the best match for your design.
1) The Chevron Texture!
Aiming at creating a seamless design? Opt for the chevron bathroom tile ideas for a sophisticated look. Floor tiles laid in a chevron pattern can add a certain depth to the design. Create a good mix of neutral tones for a relaxing retreat.
2) Graphic Bathroom Tile Ideas
Want your bathroom floor to be the main attention-seeker of the room? Go for graphic tiles without having any second thoughts. This is sure to serve as the main focal point. Adopt classic shades like black and white for an updated visual appeal in the bathroom.
3) A Modern Statement
Bid adieu to the typical flooring patterns and go beyond the ordinary. Form an eclectic mix of materials and go for a design that proves to be utilitarian and eye-catchy at the same time. Cover the base of your bathtub with bathroom tiling laid randomly and let the rest of the floor be covered with rich hardwood floor. Let this blend make a modern statement with a unique mix.
4) The Daily Massager!
There's nothing as calming as walking on soft pebbles. Imagine making this fantasy come true in your bathroom. Whimsical?
Opt for pebble flooring for a daily mini foot massage. Other than the soothing look maintained in this minimal design, it also proves to be highly beneficial for your feet. What's better than a bathroom offering you relaxation effortlessly after a hectic day!
5) Penny's Play!
The mixture of petite size and extra grouts with penny bathroom tile ideas make the design stand out with its unique visuals. Make a playful pattern on the floor with penny bathroom tiling and keep the decor simple yet fresh.
6) Wooden Bathroom Tiles
A wooden floor in the bathroom? Yes, that's exactly what we're talking about. The only twist is that instead of actual wood, we're offering the same essence with tiles. As wooden flooring is prone to damage, that shouldn't become an obstacle in the way of achieving your dream bathroom design. Let the porcelain bathroom tile ideas in a wooden finish add warmth and comfort to this relaxing zone.
7) Pretty but Petite Florals!
Are you a nature lover who loves everything frilly and floral? Go for floral bathroom floor tile ideas in subtle shades for a calming ambiance. Experiment with different patterns with penny tiles until you achieve the one that proves to be visually enticing and extremely functional in the bathroom design.
8) Lesser Grouts, More Tiles!
Rather than sticking to the conventional bathroom tiles sizes, pick larger ones to make even a compact bathroom look spacious. This clever bathroom tiling minimizes the grouts and maximizes seamlessness.
The Complete Charm: 6 Bathroom Tile Ideas
There's no rule stating the use of bathroom tile ideas either on a horizontal or vertical surface. A well-curated design can adopt bathroom tiling on both surfaces for wholesome decor. Let's explore these 6 charming ideas completing the look with a cohesive bathroom tiling pattern.
1) Of Shades and Shapes!
Add a lovely mix of shapes and shades for a playful design. Whether you place hexagonal tiles on the floor and rectangles on the vertical surface, or vice-versa, make sure that the chosen shapes complement each other and form a cohesive design.
2) Dark and Moody Tones
Take a moody route and go for deep and rich hues. All-white or subtle bathroom design has now become mainstream. So, to make an extraordinary statement, compose your mood board with dramatic accents that add boldness and eccentricity to the design.
3) The Talking Mosaic
As tiny as they are, mosaic bathroom tile ideas can make a really loud statement. Adorn the walls and ornament the floor with mosaic bathroom tiling for a balanced look. Opt for a soothing shade to form a personal oasis of calmness to soak into.
4) Grout, Grout, and Grout!
The addition of grout in any bathroom tile ideas is extremely important. Did you know that these can make or break the whole look of a tiled surface?
While the typical white grout accentuates the aesthetics of any space, a colored grout can add a cheerful vibe. Play with the shades and grouting patterns and don't hesitate to go over the top with grouting!
5) Contrasting Scales
The contrast in design not only comes from colors or patterns but also from scales. Play with the scales of bathroom tiling for floor and walls and let the contrast offer a high style within its sleekness.
6) Mismatched Patterns for a Loud Personality!
We're all aware of the impact one single pattern can make on bathroom decor. Now think of the mismatched yet unique character imparted to a bathroom with blended bathroom tile ideas integrating different textures and designs. The key here is to add designs that go hand-in-hand for a seamless blend.
Install Bathroom Tiles Effortlessly: 5 Tips for executing Bathroom Tiles Ideas
A beautiful design isn't easy to achieve, right? But it can be made slightly convenient by a few handy tips. Here are the 5 things to bear in mind while choosing amongst hundreds of bathroom tile ideas.
1) The Feel and Appeal
Before making any decision, decide on the feel you're trying to create. Do you want a retro look? Are you a lover of modern minimalism? Or perhaps, the playful one going wild on creativity? Decide on the appeal you want and then browse the related bathroom tile ideas.
2) 3's Rule
While your bolder side might be pushing you to incorporate various bathroom tiling patterns, however, stick to the basic rule: Never go beyond 3 typologies. Adding more than three textures or designs will make the whole design look cluttered and unorganized.
3) Little Maintenance, Bigger Impression!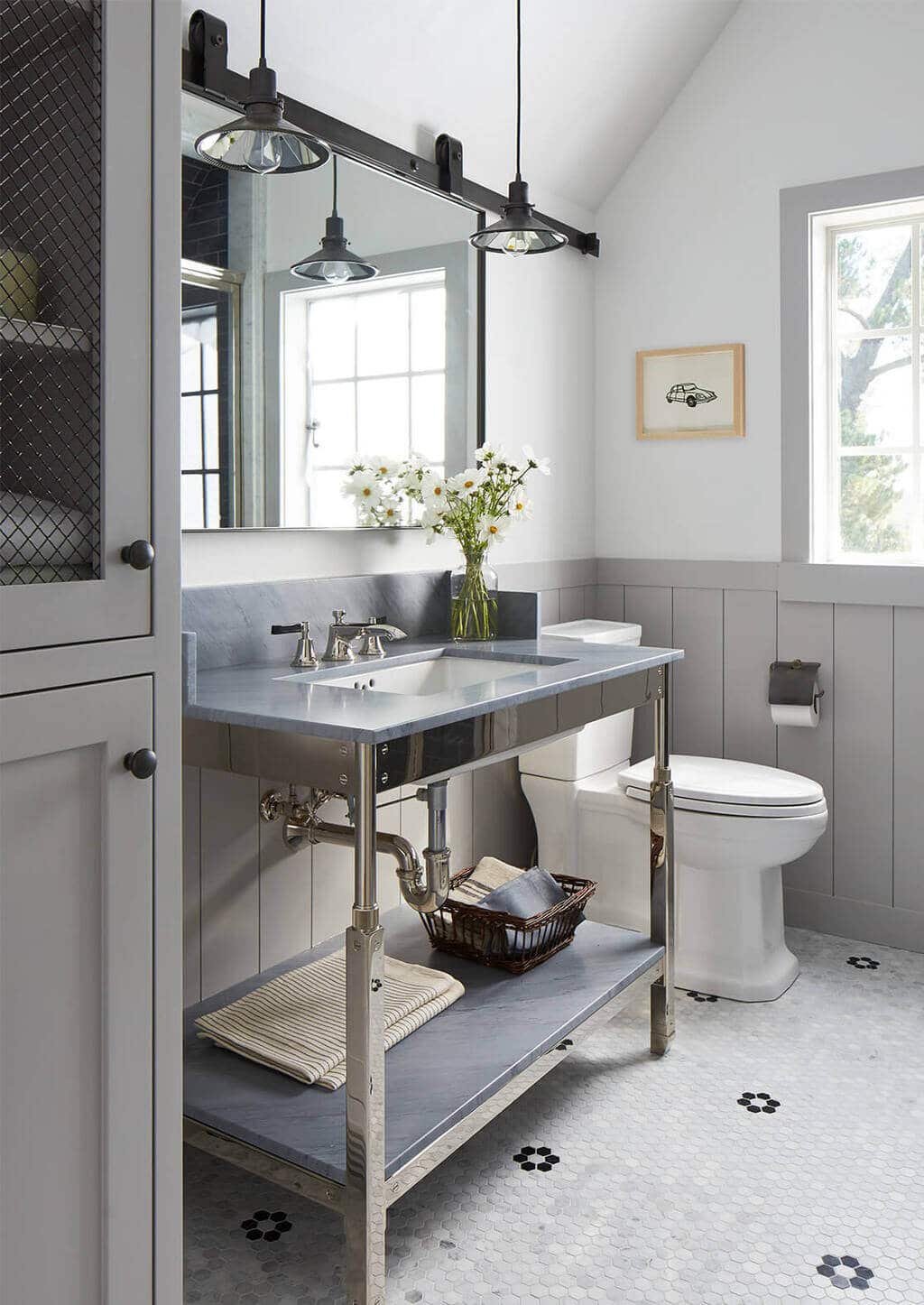 The major consideration while opting for the modern shower tile ideas is the maintenance it demands. Based on the efforts you're willing to put into the upkeep, make a smart choice!
4) Bathroom tile ideas forming a Neutral Illusion
Own a compact bathroom? Nothing to worry about! Go for the universal trick of adopting a neutral color palette to make it look bigger. Subtle bathroom tile ideas have a timeless charm that exudes elegance in a bathroom design.
5) Accent Wall with Modern Bathroom Tile
If you're not sure about the fact of going overboard with a pattern on the design, play it safe by highlighting one accent wall. A clever backsplash of colorful bathroom tiles can make the design look balanced yet exciting.
Life-bringing Bathroom Tiles
Because bathroom tiling is an important design element of a bathroom design, choose the perfect one for an enhanced feel and look. Large or compact, bursting with colors or taking the earthy path, bathroom tile ideas should always prove to be genuinely calming as a bathroom is the ultimate unwinding place for you to relax. Jazz up the liveliness with a careful selection of bathroom tile ideas that complement the design and appeal to your mind.
FAQs: Bathroom Tiles Ideas
How to pick from various bathroom tiles designs?
The answer lies within your mind. There are no set rules for the selection of bathroom tiles designs. It's all a matter of your design taste and the theme you want in the design.
Shall I go for a plain or patterned bathroom design?
While there's nothing wrong with a plain bathroom design, a patterned decor will however add more interest.
How to achieve a bold look with bathroom tiling?
The simplest hack for a bold bathroom design is to go for oversized tiles. Rather than the monotony of checkered tiles, add striking geometries on a large scale to awaken the aesthetics.