The bathroom is one of those areas in your house that you can't avoid going to, so why not make it the picture-perfect haven that it deserves? The good news is that there are a plethora of quick and cheap ways to add some modern design or unique humor to your walls. Changing up your bathroom wall decor to match your design goals doesn't always have to be expensive or time-consuming.
It can sometimes be as simple with colorless large framed black and white wall art. Because the simplistic colorless nature of a framed wall art piece allows it the benefit of matching with any color scheme or design.
A bathroom wall may be the perfect blank canvas to add a little bit of personality. Whether you have room to spare or are working with a limited area. keep your bathroom decorations for wall simple and contemporary, or go all out with bright, vivid colors and wallpaper, as well as vibrant watercolors. There's no denying that renovating a bathroom may be costly. We, on the other hand, feel that excellent style doesn't have to be expensive, which is why we've come up with a new batch of budget-friendly décor ideas that really work.
But where do you start when there are so many creative concepts to select from? We have 20-bathroom wall décor ideas to enhance possibly the most neglected place in your home, whether you have four blank walls screaming for some flair or just a little space above your toilet that's lacking a certain something!
1. Mix Wallpaper + Wainscoting
If we've ever seen a bathroom wall decor match made in heaven, this is it. The painted wainscoting ideas lends this room a sophisticated feel, while the geometric wallpaper adds to the cool aspect. The combination is polished and artistic in equal measure, but it still functions as a whole.
2. Featured Framed Art
There's a decent possibility that you get a few antique frames lying around your house. Make a new home for them in your vintage bathroom decorations for wall by digging them up. In this bright white washroom, we adore how whimsical these three apparently different framed pieces of the art look.
3. Install Wallpaper with Prints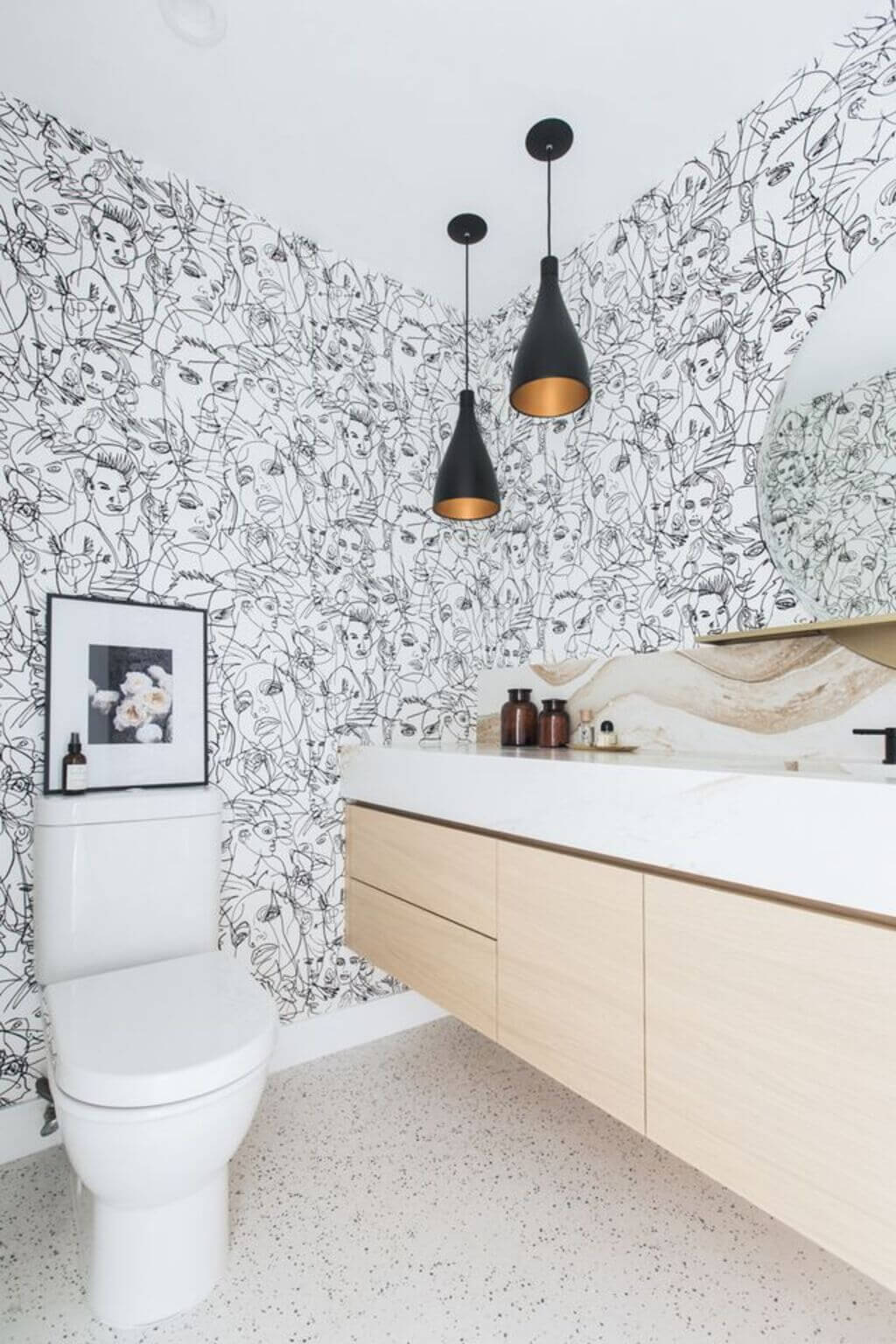 Look no further than a bold wallpaper if you want to create a significant impression for your bathroom wall ideas. Installing patterned wallpaper makes any area appear professionally furnished, even if you have no experience with interior design. All of the other things will fall into place after that.
4. Add Seasonal Props
When the seasons change, there's nothing like being able to transform your home from a lodge in Aspen to a beach vacation in Tulum. Hanging seasonal props when it comes to in your bathroom wall decor is a simple change that also serves as storage for all your straw hats. Quite a win-win situation, isn't it?
5. Play With Floor-to-Ceiling Tile
There are just a few areas in your house that can handle a floor-to-ceiling tile installation, aside from your kitchen. And one of the most important ones is your bathroom. When was the last time you saw a living room featuring tiled walls? Do yourself a favor by leveraging this idea and finally, your bathroom taking advantage of it. The final product will appear to be extremely costly and well-polished. Now go on and experiment with different styles, grout colors, shapes, and patterns.
6. Bring in a Beauty Product Shelfie
We constantly need extra space to store our makeup and beauty items, so why not show off your fashionable toiletries in a way that also serves as art? A few shelves on an empty wall or a built-in window for your bathroom wall decor will instantly give any powder room a unique individuality.
7. DIY a Gallery Wall
Redecorating a gallery wall doesn't have to be expensive. You can make a lovely wall décor for the bathroom without putting holes in your wall with some printed photos, a few rolls of colored Washi tape, and some bathroom inspiration. On your bathroom wall decor, create a collage of matching prints and then use tape to create faux frames.
8. Hang a Mural
Murals are available in a variety of forms, sizes, styles, and colors, and maybe installed in just a single afternoon owing to the invention of peel-and-stick wallpaper. Murals vary from typical wallpaper in that they are made up of a single, big image rather than a repeating pattern. Consider an abstract composition or something more concrete for your bathroom wall decor, such as a photograph of a natural setting.
9. Display a Bold Mirror
A mirror is required in every powder room, but one with a distinctive frame may serve as both decorative and useful artwork. If you're on a budget, flea markets and thrift stores are great locations to look for one-of-a-kind clothing. You may also use spray paints or metallic leafing to make a unique artwork that will look great in your bathroom wall decor.
10. Apply a Wall Decal
Sometimes all you need is a little bit extra to customize your bathroom wall decor. A delicate wall decal, such as this one that says "go bare," adds a special touch to the room. And if this doesn't give your place some individuality, we don't know what would.
11. Go Oversized
Hanging a large framed piece of artwork on a single blank wall in your bathroom will instantly alter the look of any area. To create a beautiful focal point of your previously ignored area for your bathroom wall decor, look for abstract paintings, nature photography, and graphic prints.
12. Install a Gallery Wall
You're probably quite pleased with the bathroom wall decor that hangs over your friend's powder room. Who says you can't make one in your own bathroom? Choose from a variety of framed elements and start putting them together to accentuate your design. Any blank area, in our opinion, is a chance for a gallery wall.
13. Lean Art on Built-in Shelves
To make an impression on your area, wall art does not have to be placed on the wall. This minimalist bathroom wall decor gets a personality boost, thanks to these built-in shelves with chosen accessories. And sure, this does qualify as wall art.
14. Try a Custom Paint Job
Never underestimate the power of some painter's tape and a paint bucket. With a paintbrush and a little imagination, you can create any pattern, from horizontal stripes to abstract forms for your bathroom wall decor. And there you have it: a beautiful wall art.
15. Add a Touch of Greenery
It doesn't get much better than this when it comes to live wall art. Install a few of your prized plant babies straight on your bathroom wall decor for an installation that will give your space a new lease on life. In addition, the steam from your shower will provide a welcoming atmosphere for your plants.
16. Organizers for the Wall
Who argues that form prevails over function? Mount spice racks on the wall to cut down on morning bathroom time and create a quiet place just for you. You can also use one of these thin shelves as a towel bar/accessories perch by removing the two keyhole-shaped brackets on the back, flipping them over, then reinstalling them and hanging them upside down.
17. Lighting Fixtures on a Budget
Replacing outdated lighting fixtures is a less expensive way to update the look of your bathroom wall decor. In stores and online, you can find a broad range of affordable cheap lighting fixtures. Keep in mind that significant electrical projects should be left to the professionals.
Switching the lighting fixtures, on the other hand, is a simple DIY bathroom project that you can complete in a single day with little instruction. When it comes to changing the lighting in your powder room, don't be hesitant to experiment with wall lighting trends. Fixed pendants and light bars that spread light in space are examples of modern bathroom lighting. LED lighting fixtures are the most energy-efficient and don't add extra heat to your bathroom, so they're a great option.
18. Bathroom Wall Art at a Reasonable Price
There's no need to look at your bathroom's blank walls. Water-resistant and cost-effective, treated canvas prints are a great option. To achieve the most visual impact, go for larger proportions for your bathroom wall decor. Have a local printer turn your favorite photo into customized wall art for a distinctive appearance.
Canvas prints can now be created and laminated for water resistance by bespoke printers. Consider other options other than a canvas print when considering art for the bathroom wall decor. A personal and refreshing approach to adorn your ideas for bathroom walls is with a wall gallery of beloved things such as starfish or baskets.
19. Accents and Accessories That Have Been Repurposed
Are you ready to finish your bathroom design? To enhance your DIY bathroom wall decor, add a few additional unique decorations and accent items. To get yourself started, consider the following suggestions: – Wastebasket–soap dish in the bathroom or soap scum –Living plants, such as orchid towels.
Try new textures and colors–for a fresh smell, try a candle or a room diffuser. The best part is that you may already have these products in your home. Repurpose accent items from other rooms that are cluttered or heading in the wrong direction.
20. The Full Bleed Mirror
There's a lot to love about bathroom wall decor mirrors: They, unlike people, always let you know if you have anything green stuck in your teeth, never judge you for looking, and have an infinite amount of style capacity.
Let's concentrate on the latter for the time being. Indeed, the right mirror can provide a sense of spaciousness to a room, enhance natural light (or act as a window if there isn't one), and bring a lot of aesthetic interest to the bathroom wall decor. So, implement the best take a long, hard look in the mirror with the mirror ideas that can instantly enhance any area, regardless of its size, shape, style, or budget.
The Bottom Line
You don't have to perform a total bathroom renovation to bring in new life into your space. A few low-cost purchases may breathe new life into your bathroom right now. These budget-friendly bathroom wall decor ideas of 2022 can help you freshen up the look of your bathroom without spending a fortune.