9 Designer Bathroom Wallpaper Ideas to Recreate Beautiful Walls
Ahan! Finally thinking about the wallpapers for the bathroom. Whether your bathroom is small or big, you will need to paint the walls. We are not saying, painting a wall is against the interior or decor rule. However, don't you think there's a need for a more personal touch to the bathroom?
The bathroom wallpaper is the perfect solution for this. Even every A-lister interior designer would recommend this too. Why? There are many reasons, of which few are:
It is pocket-friendly.

Easy to install, even a DIY project is a weekend task.

Also, it gives your bathroom warmth and modern outlook.
Undoubtedly, you have to take care of the wallpaper's property like how it will act in humid and water surroundings. Wallpaper is basically a paper, which you can peel and stick. It won't need excellent natural lighting availability to glow out. 
When you consider sticking designer bathroom wallpaper, consider buying two these types:
Vinyl Coated Wallpaper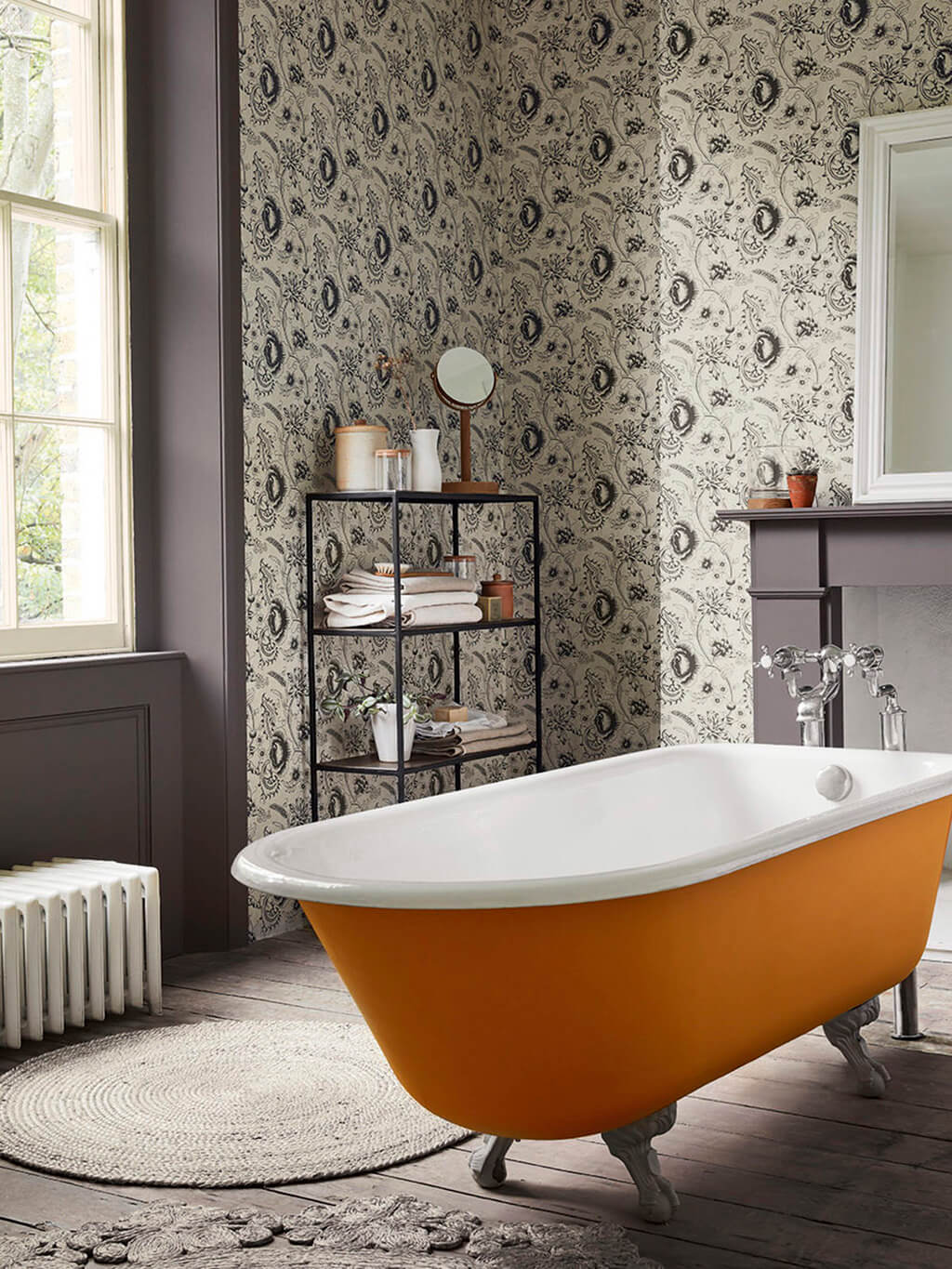 Source: sophierobinson.co.uk
These are heavy-duty wallpapers with wash and water resistance properties. Its maintenance is as easy as wiping the damp cloth on it.
Removable Wallpaper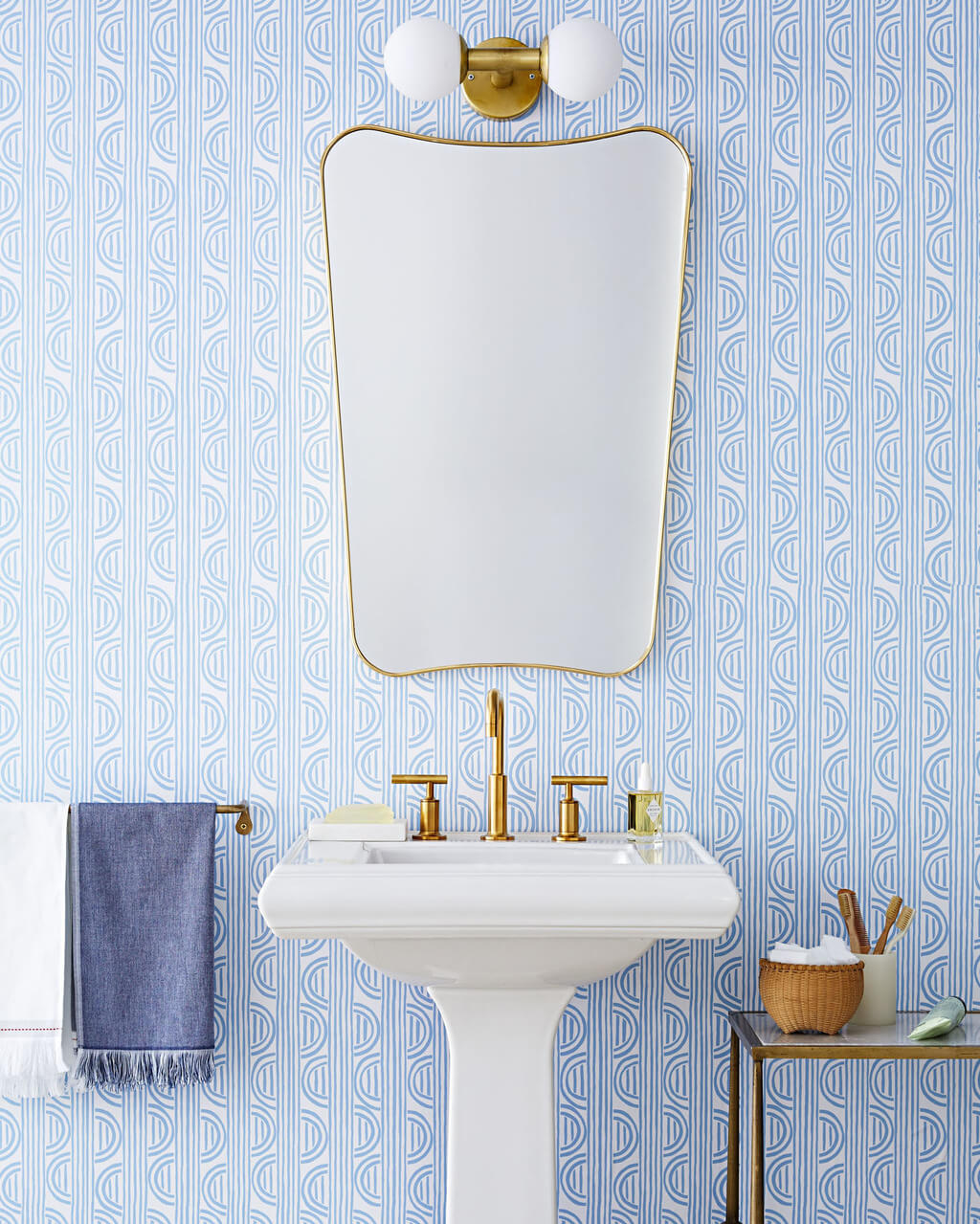 Source: onecms.io
If you are not sure about the wallpaper design, go for the removable wallpapers. They are easy to remove. Oh! Don't worry about water resistance. They are also one of them.
You can go for standard wallpapers too, but those are waterproof, and you may end up with a mess to take care of!
Let's move ahead and take a look at a few bold and fun bathroom wallpaper ideas for your bath area.
Bathroom wallpaper ideas:
Botanical Bathroom Wallpaper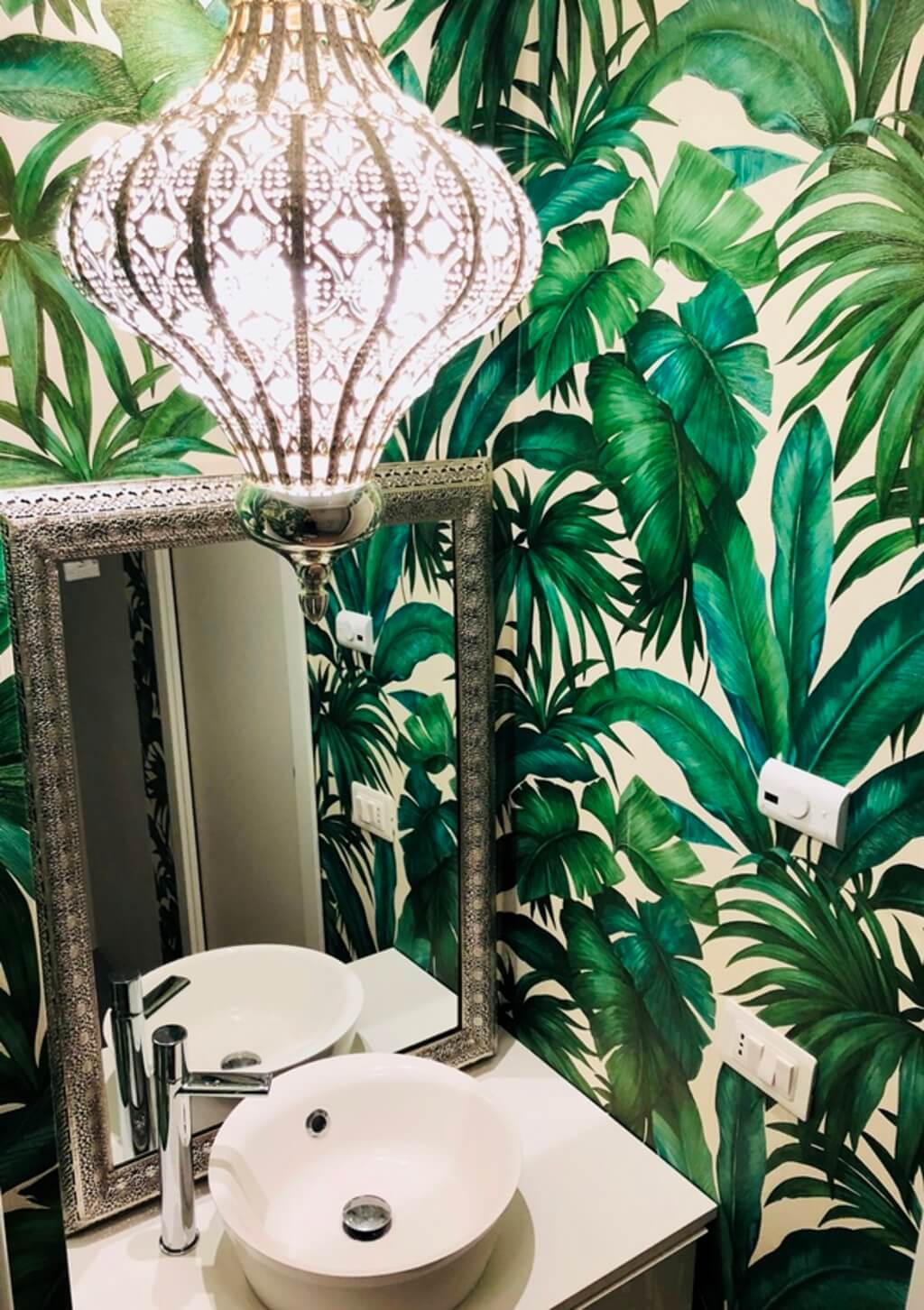 Source: wallpaperfromthe70s.com
A wallpaper with Green leaves or a few trees here, and there will be a treat to eyes. It will give you the perfect vibe of beachside bathing. While you are selecting the botanical or garden theme wallpaper for a small bathroom, make sure the prints are in an enlarged form. It will give your bathroom a bold and definitive statement.
Painter Inspired Wallpaper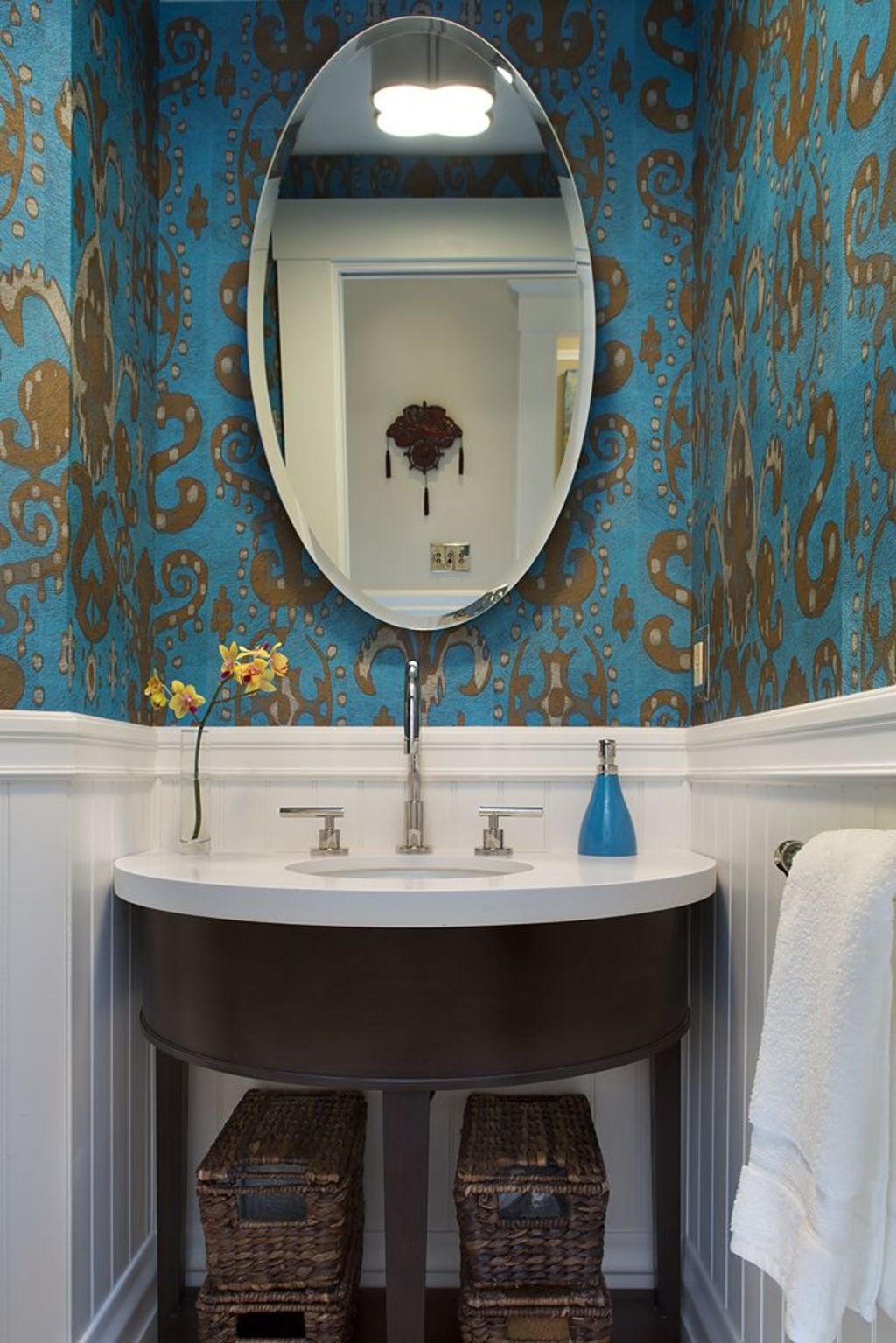 Source: pinimg.com
We often zone out while bathing, in who-knows-whose thought. The artistic bathroom wallpaper will do the work to keep you focused. To install the painter-inspired look, you can either go with the abstract art or something graphical. It will look perfect in adults as well as kids' bathroom.
Stripe-led Bathroom Wallpaper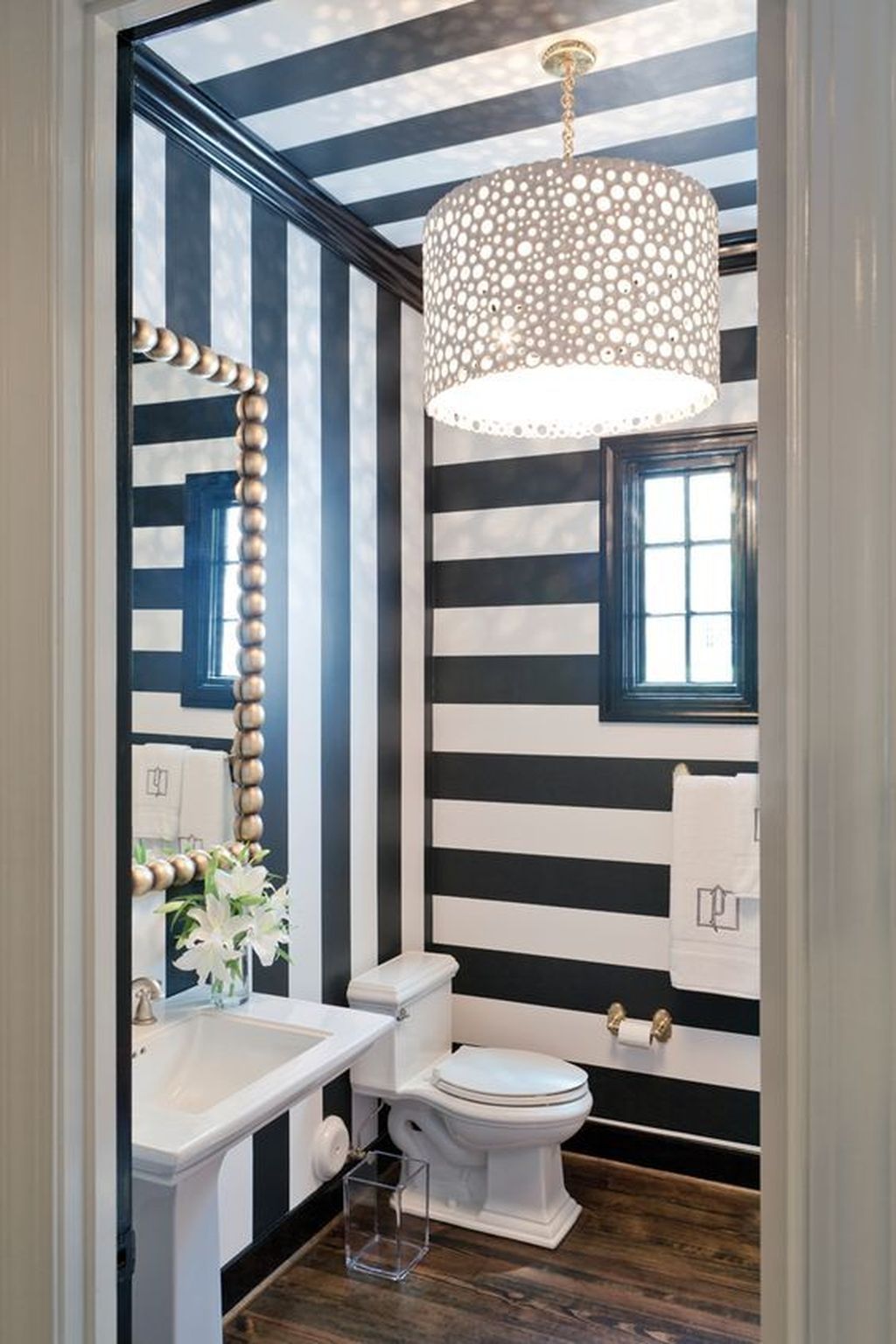 Source: pinimg.com
Keep it simple and definitive with striped wallpaper. Now stripes can be colorful and monochrome. Make sure to get the classy hardware installed in any case. If it is colorful, go for the metallic color for hardware. However, if it is monochrome, the normal color shade will also pop out.
Autumn Spree Wallpaper for Bathroom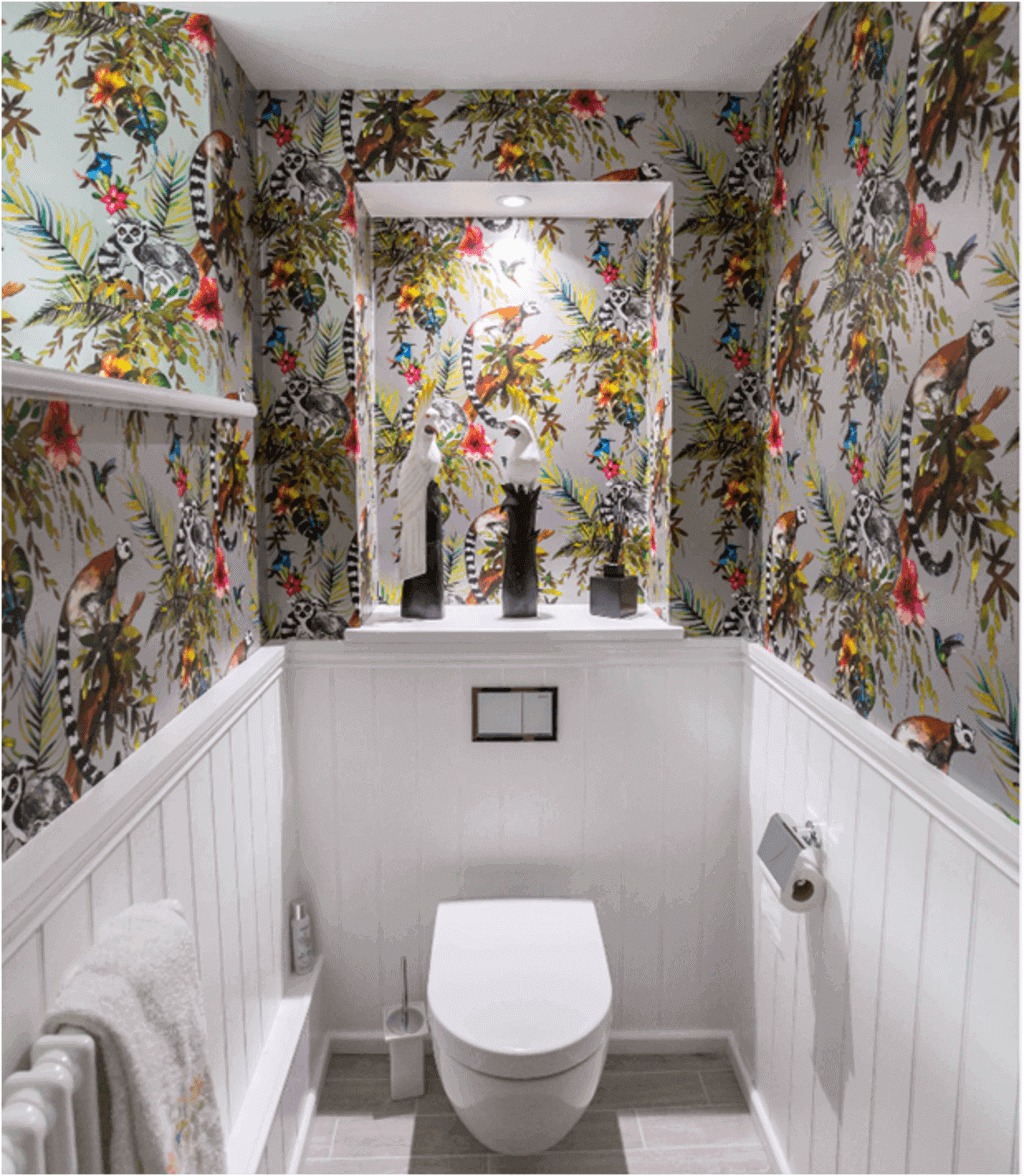 Source: worldofwallpaper.com
Whether your country is experiencing autumn yet or not! You can always have autumn feels while bathing. The print with a mixture of colors like yellow, orange, brown, and black, always gives out soothing and calmness to the mind and soul.
Bathroom Wallpaper for Monochrome Maniac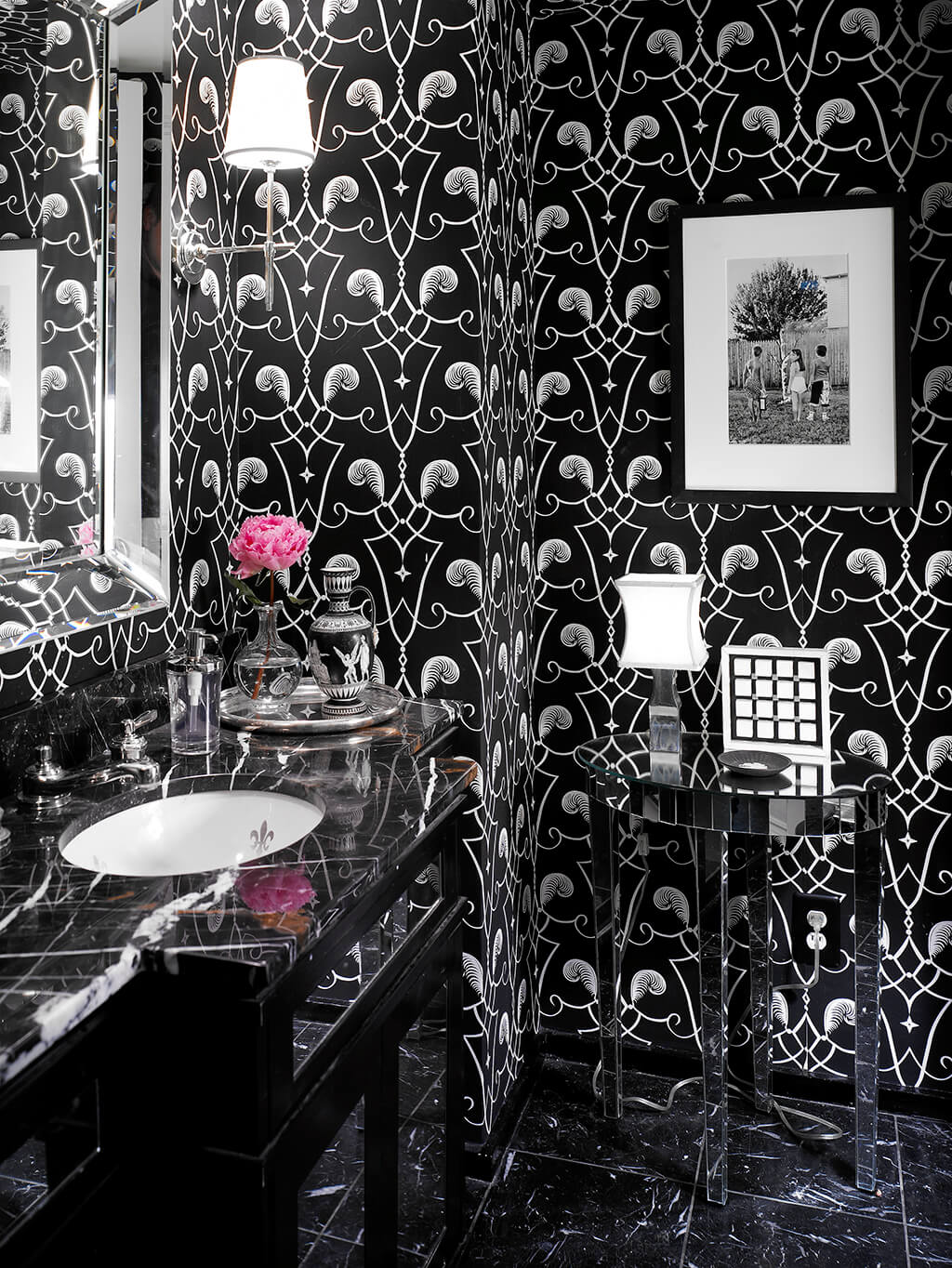 Source: dmagstatic.com
If you are looking forward to having a bathroom with two primary colors in the palette. This one will amuse you. Here, from wallpaper to hardware, everything has monochromatic magic. Now when you are going for a black & white look, it can be printed or striped. Choose the one that goes with your personal style.
Romantic (bath)Room Wallpaper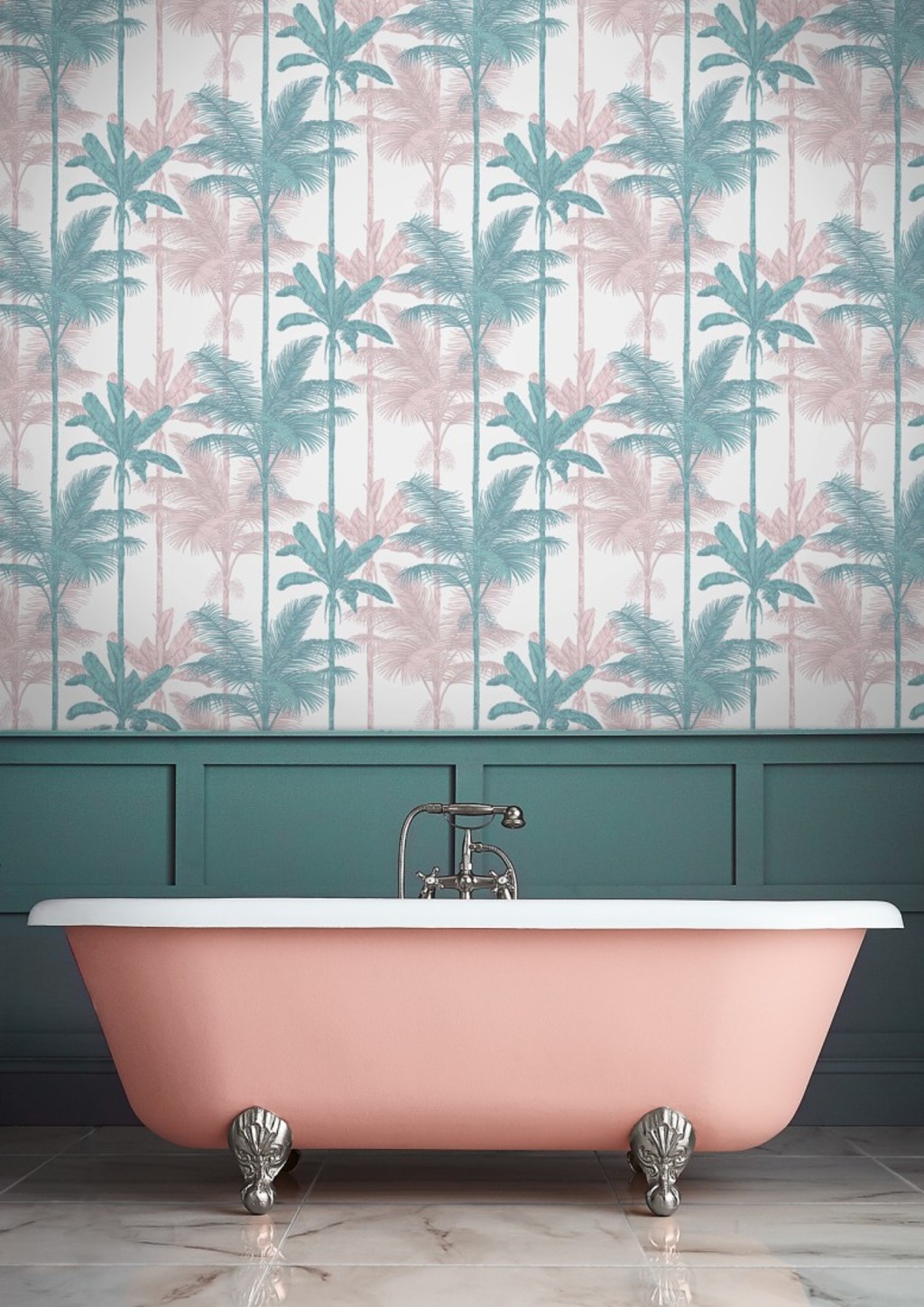 Source: cloudfront.net
This one is suitable for the couple's bathroom. Transform your bathroom into a lovely and romantic room with wallpaper with red roses, the heart of any love element as the print. You can even go for a playful and whimsical designer bathroom wallpaper.
Minimal and Classic Bathroom Wallpaper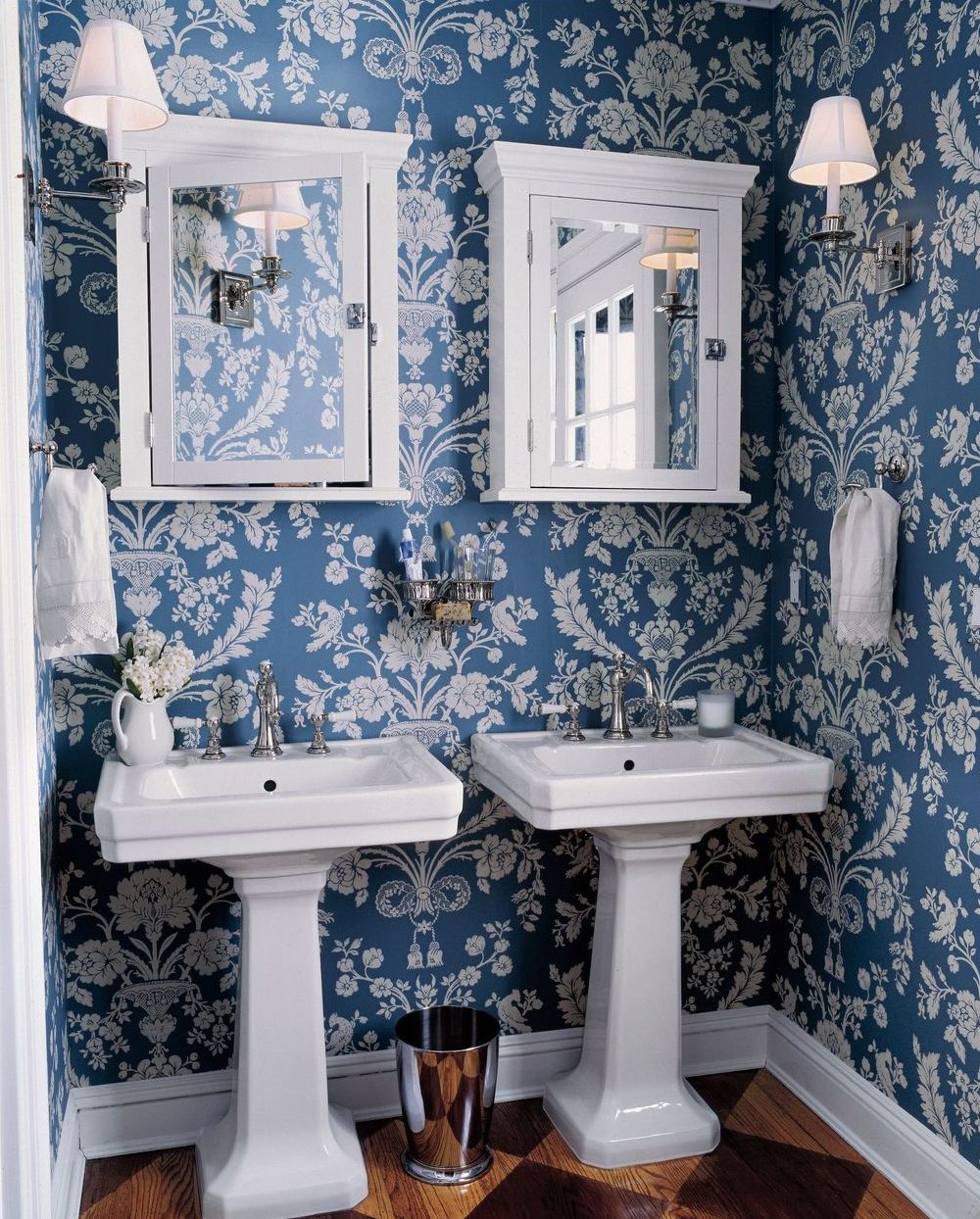 Source: hearstapps.com
Don't want to go bold or quirky with the printed bathroom wallpapers? No worries. You will get plain colored wallpapers as well. Opting wallpaper instead of paint is to minimize the cost and maximize the elegant look. So cheer up!
Also Read: Top 12 Best Bathroom Wall Decor Ideas To Check Out
Quirky Bathroom with Food or Animal Print Wallpaper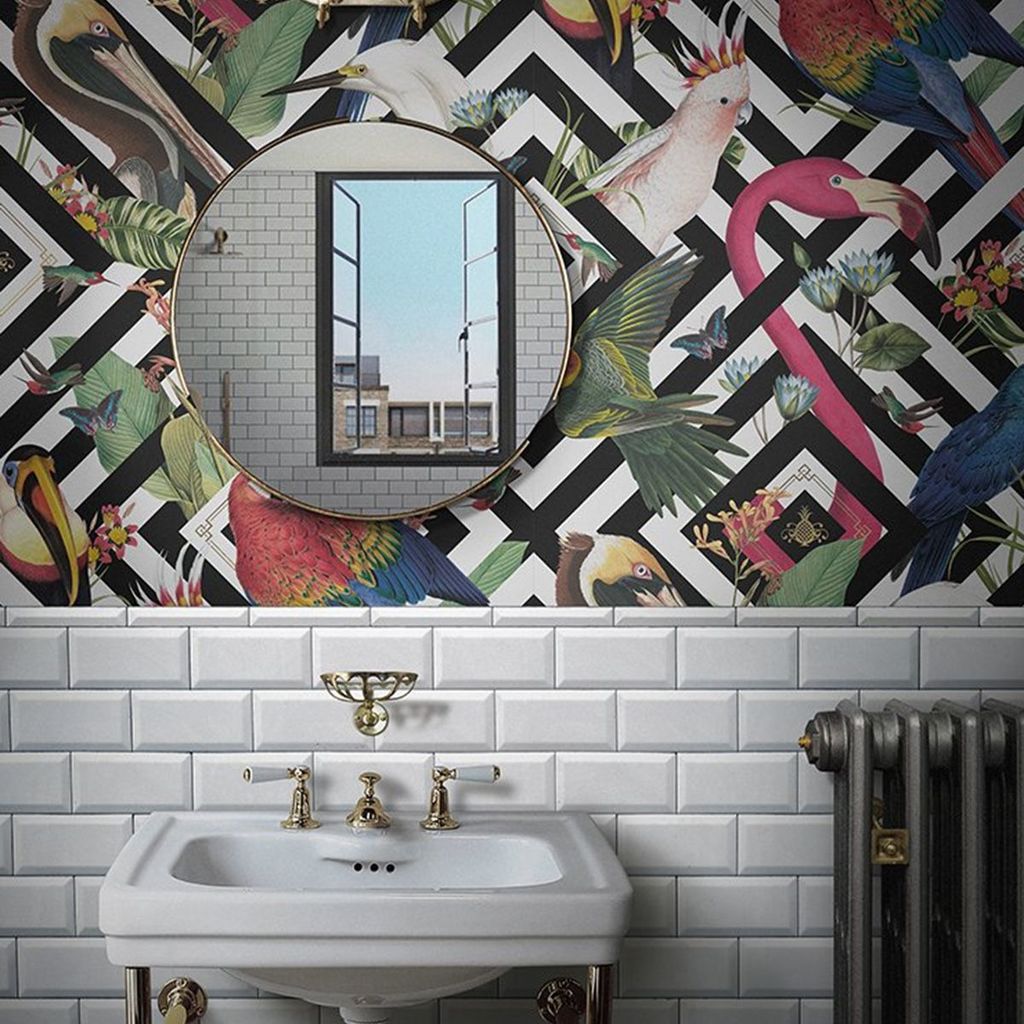 Source: pinimg.com
Create a whimsical outlook with animals or foods printed on it. Zebra print wallpaper was a super hit in Hollywood and '70s. People loved it to the core. While as for food, pineapple is the current hot print for bathroom wallpaper designs.
Metallic Bathroom Wallpaper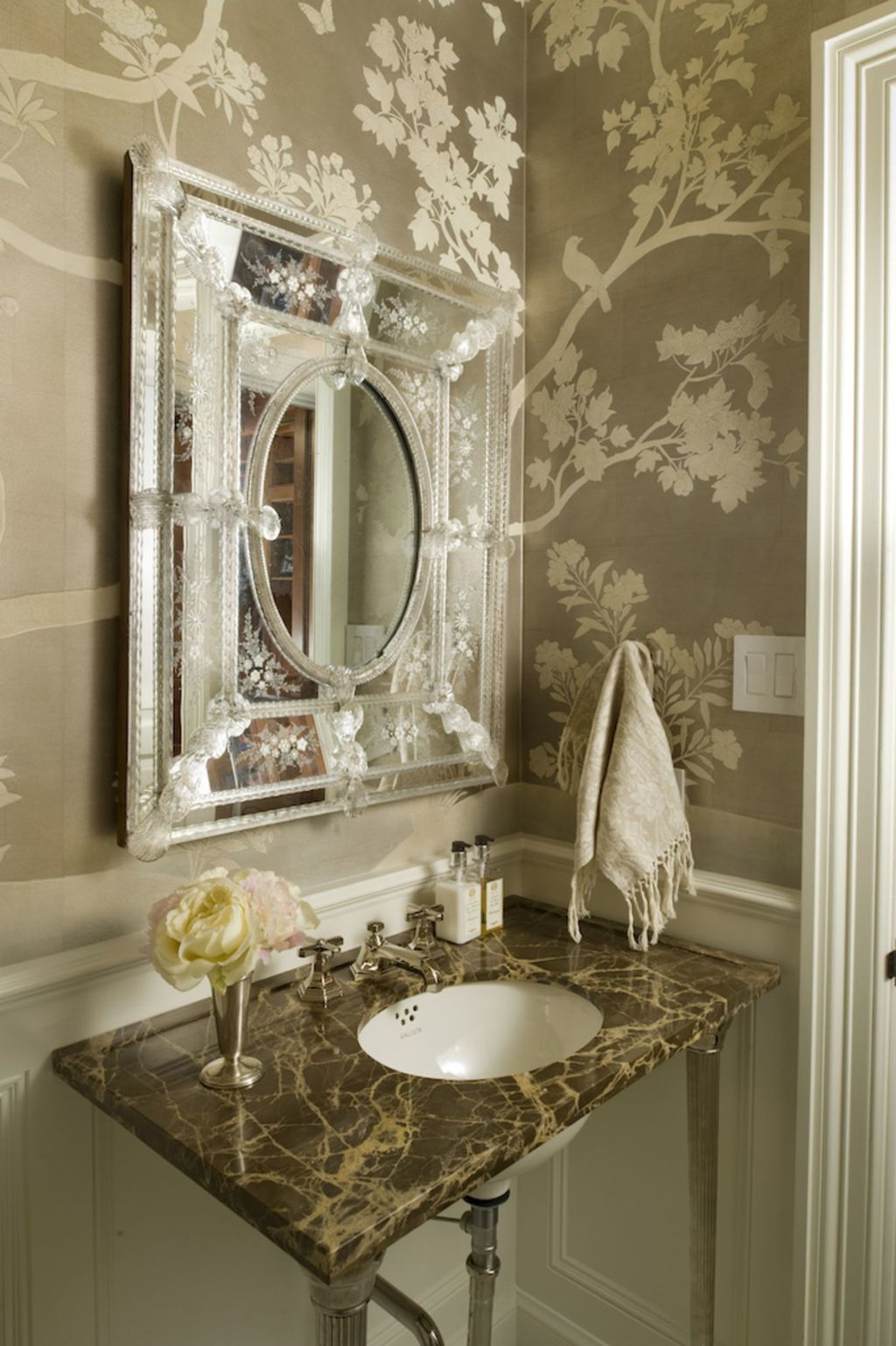 Source: pinimg.com
Give your bathroom a royal makeover with the metallic wallpaper. This foiled wallpaper looks good on small bathroom walls too! Try to get your hand with the crushed effect. It will sparkle and give the magical aura to the bathroom. As for accessories, black will look mind-blowing!
Source: hzcdn.com
Say Goodbye to Painted Walls:
This guide will act as a knight in shining armor when you have hundreds and thousands of options for selecting designer bathroom wallpapers. You can always look at the images for inspiration. Apart from walls, you can also stick them to ceilings. It's a bit bold decision but very eye-pleasing. You will never have to look up to a light and plain colored ceiling. 
Regardless of the place or store you get the bathroom wallpaper from, consider the types we mentioned in the introduction part for the long-lasting result – Vinyl coated or removable wallpaper. For more beautiful tips on decorating your home, office, or even garden, visit ArchitecturesIdeas.