17+ Best Peel and Stick Wallpaper Designs of 2023
Wallpaper has been a popular decorative feature for ages, first appearing in China about 200 B.C. While it lends a touch of effortless luxury to your room, what if you live in a rented apartment? Or your design preferences shift regularly. Wallpaper may be tricky to remove, and existent designs create a challenge for individuals wishing to change up their interior decor. Peel and stick wallpaper solves this problem by letting you explore without worrying about adhesive messes or long-term consequences.
This is the best removable wallpaper and the perfect DIY alternative to traditional wallpaper designs. These are available in a myriad of customizable options, from tropical patterns to geometric prints. 
Let us take you through a list of trendy peel off wallpaper designs trending in 2023, that can add a glamorous flair to your home decor.
17+ Best Peel and Stick Wallpaper to Add Dimension to Your Walls:
1. Classic Wood Textured Peel-Off Wallpaper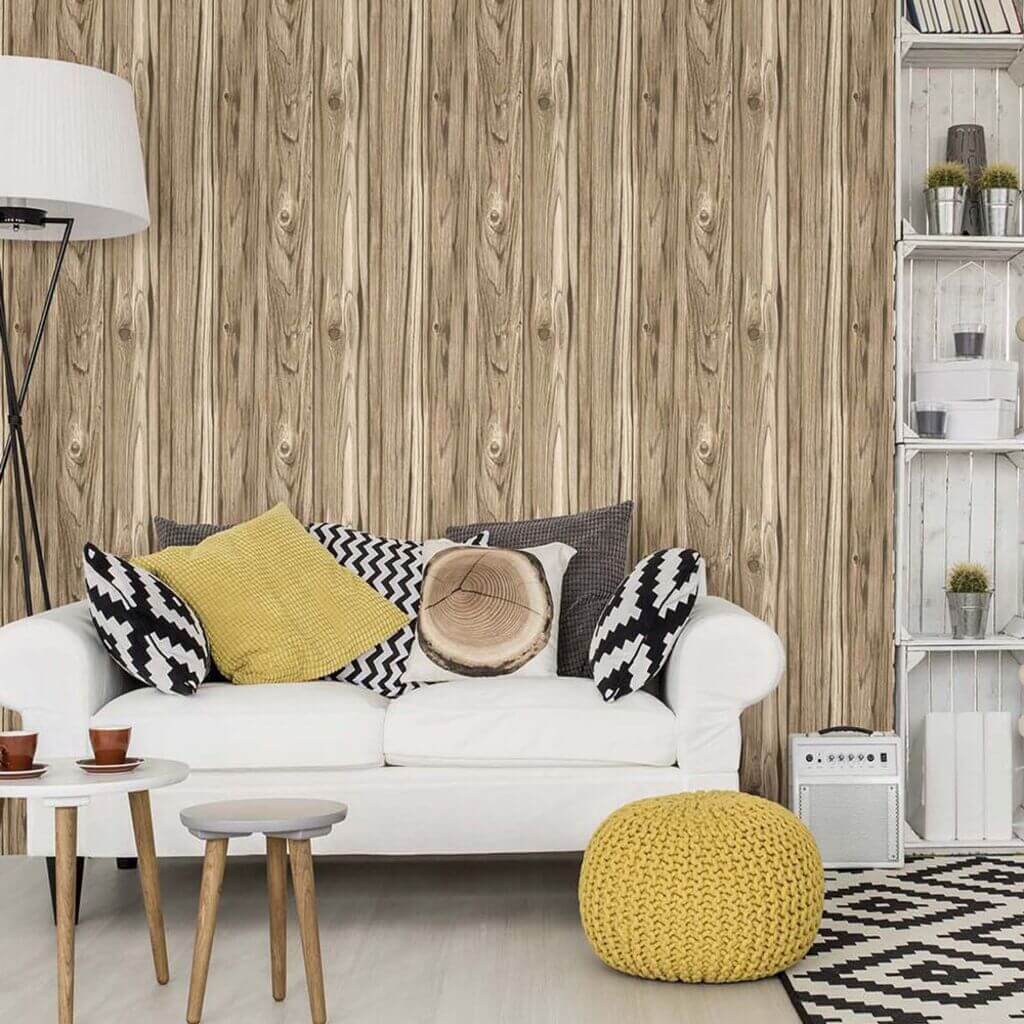 Source: futurecdn.net
Let us start with the most fuss-free and minimal wallpaper design. Selecting complimentary wood surfaces is one of the simplest methods for achieving a classic home décor theme. Why not choose one of these cheaper options with these peel-off wooden textured wallpapers that are freely accessible online instead of spending money on installing and maintaining hardwood tiles and planks. These wood-themed vinyl chloride wallpapers look like genuine wood yet are scratch-proof, mold-proof, and bacterial-resistant.
2. Easy-to-Apply Vinyl Wallpaper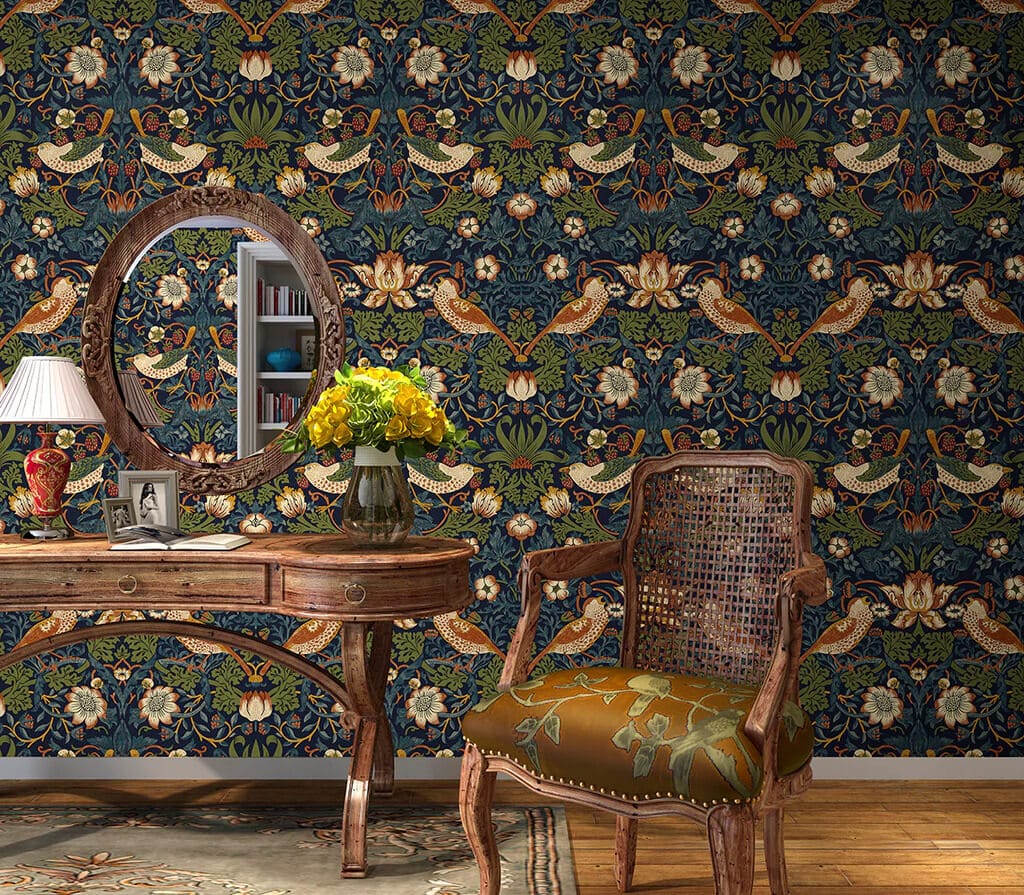 Source: shopify.com
Vinyl peel-off wallpaper is the best option for spaces where extreme moisture and heat changes might damage traditional wallpaper, like the bathroom, kitchen or porch area. These peel-and-stick wallpaper designs were created for DIY home décor enthusiasts. It has the ability to be modified during application. This feature comes in handy when trying to line up the design or making mistakes. 
Furthermore, the back of the wallpaper has gridlines to help you peel and position the sheet, which is quite beneficial considering the complicated layout. It is better to use a primer designed specifically for treating surfaces before applying wallpaper or using any other deep-penetrating primer.
3. Industrial Brick-Patterned Wallpaper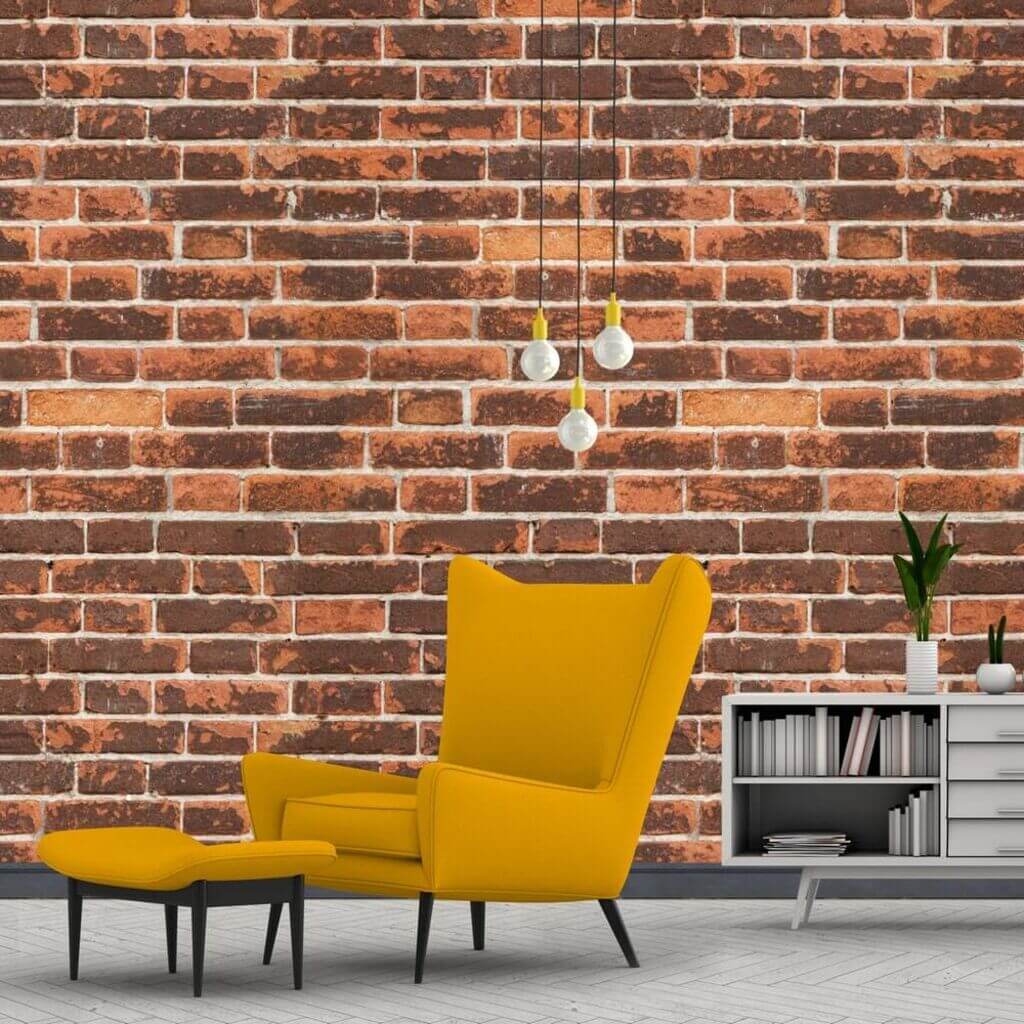 Source: pinimg.com
Exposed brick is a trendy and universally appealing aesthetic if you want to invest in the long-term rustic charm of your home decor. Any style or setting of a house can benefit from the addition of quaintness since it makes it more appealing. Peel-off brick patterned wallpaper adds texture and a pop of colour that paint and wallpaper cannot. 
Many people associate textured wallpaper with embossing. However, the truth is that you don't need to require surface indentations to provide texture. 
4. Floral Wallpaper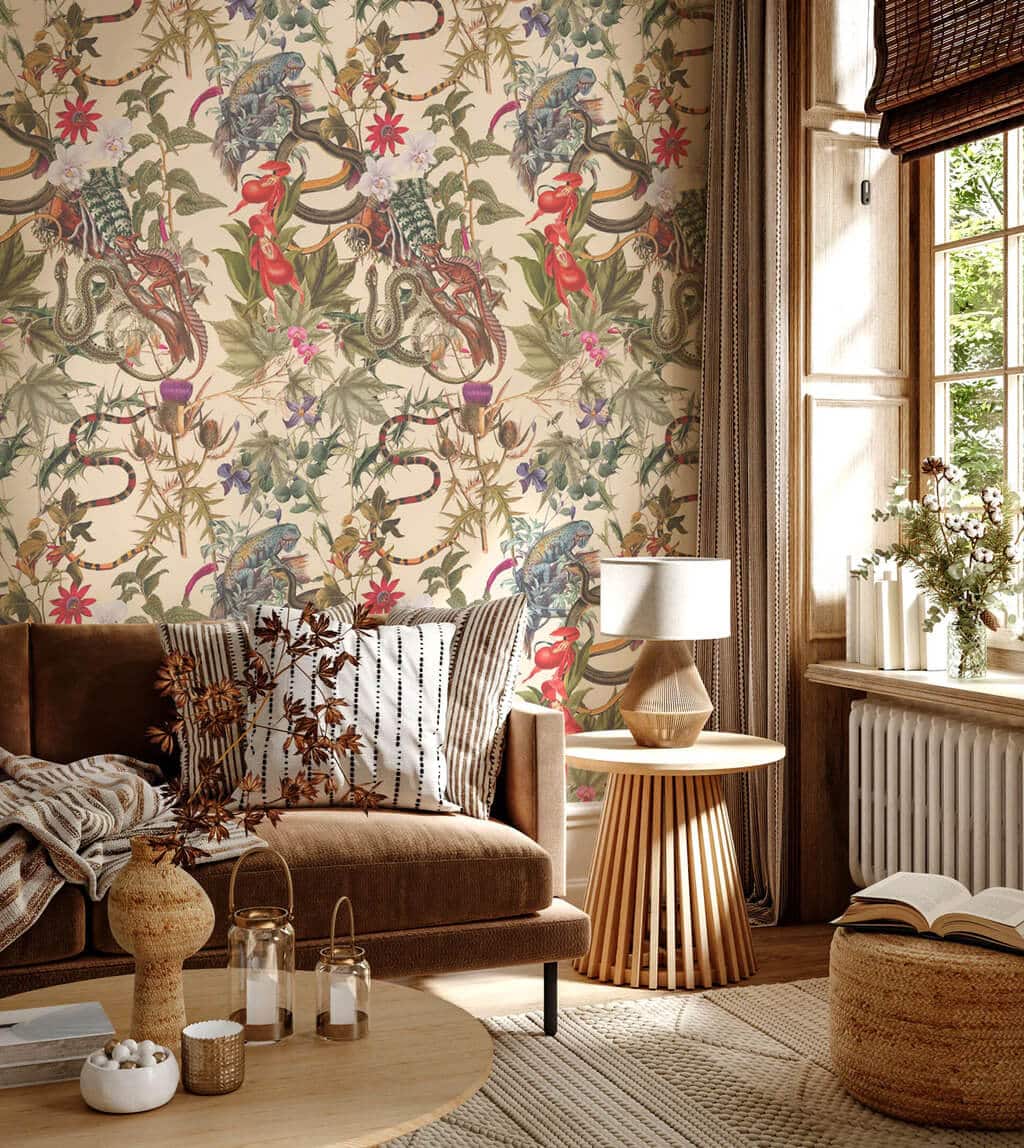 Source: shopify.com
Floral wallpaper has long been a staple of home decor enthusiasts. Best peel and stick wallpaper featuring biophilic features may add effortless oomph to your design. Consider floral motifs, bird and animal-inspired patterns, and organic textures to help bring the landscape into our homes, resulting in interiors that promote your overall spatial design.
Consider utilising temporary vinyl wallpaper with a matte finish and stunning details set against a distressed texture to combine vintage design with a dash of contemporary craftsmanship.
5. Concrete Textured Wallpaper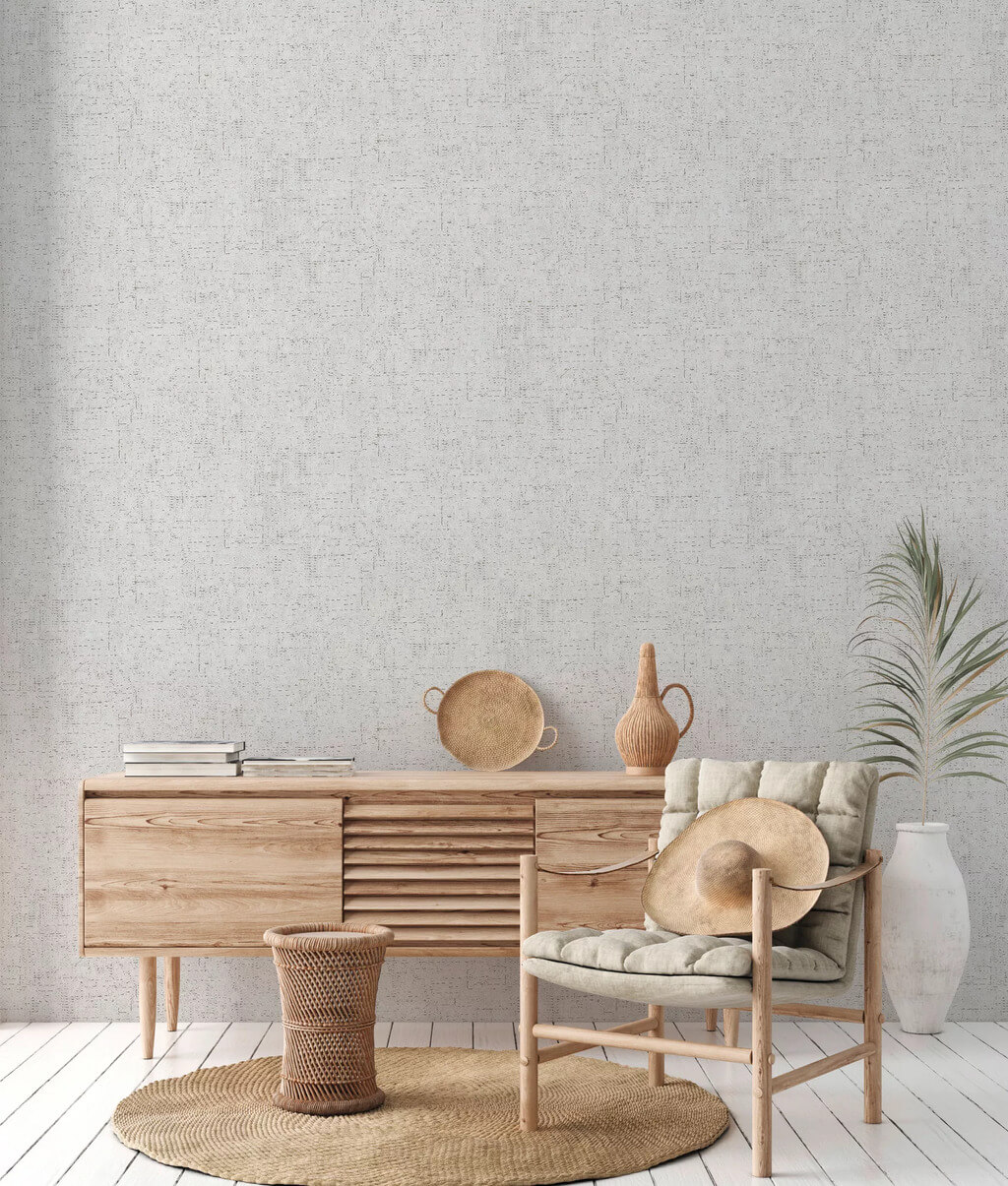 Source: domko.com
A concrete surface is not the most resilient or cost-effective material, but it may make for a striking feature wall. This is because cement screed walls require continual sealing due to their porous nature. If you don't want to deal with regular maintenance, consider replicating the effect using a cheaper alternative, like pre-glued concrete textured wallpaper.
In addition to providing visual interest, cement-textured wallpaper may assist you in covering up spills or other wall damage without harming the walls. 
6. Fabric-Backed Vinyl Wallpaper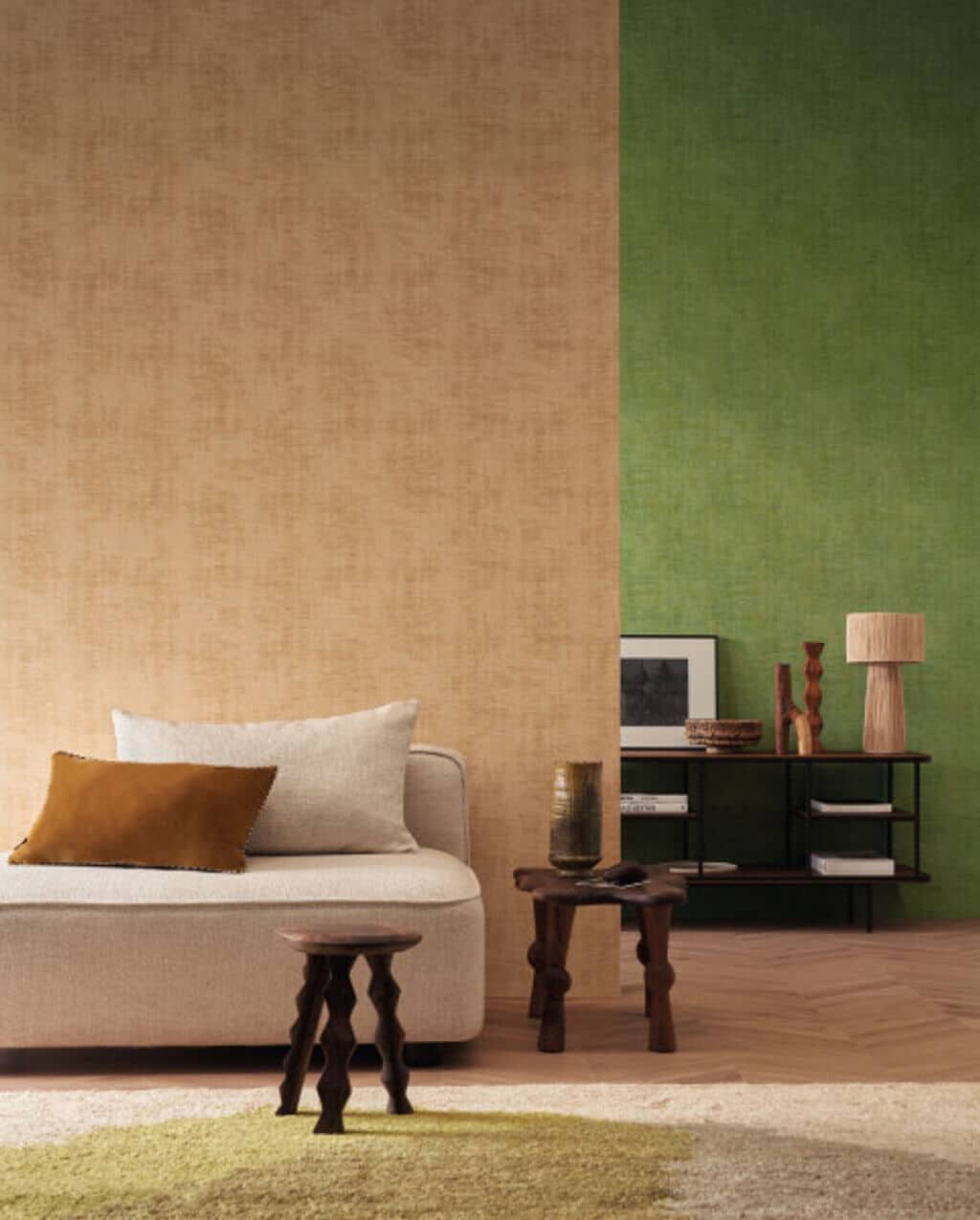 Source: bigcommerce.com
Vinyl wallpaper with a fabric backing is a high-quality, long-lasting product. These premium wallpapers' durable fabric and vinyl construction ensure that they last for years. Fabric-backed vinyl wallpapers are a trendy and long-lasting alternative that ranges from traditional to contemporary pattern options. The ideal spots for this kind of wallpaper are the kid's room, the kitchen backsplash, and the bathroom.
7. Tiled Wallpaper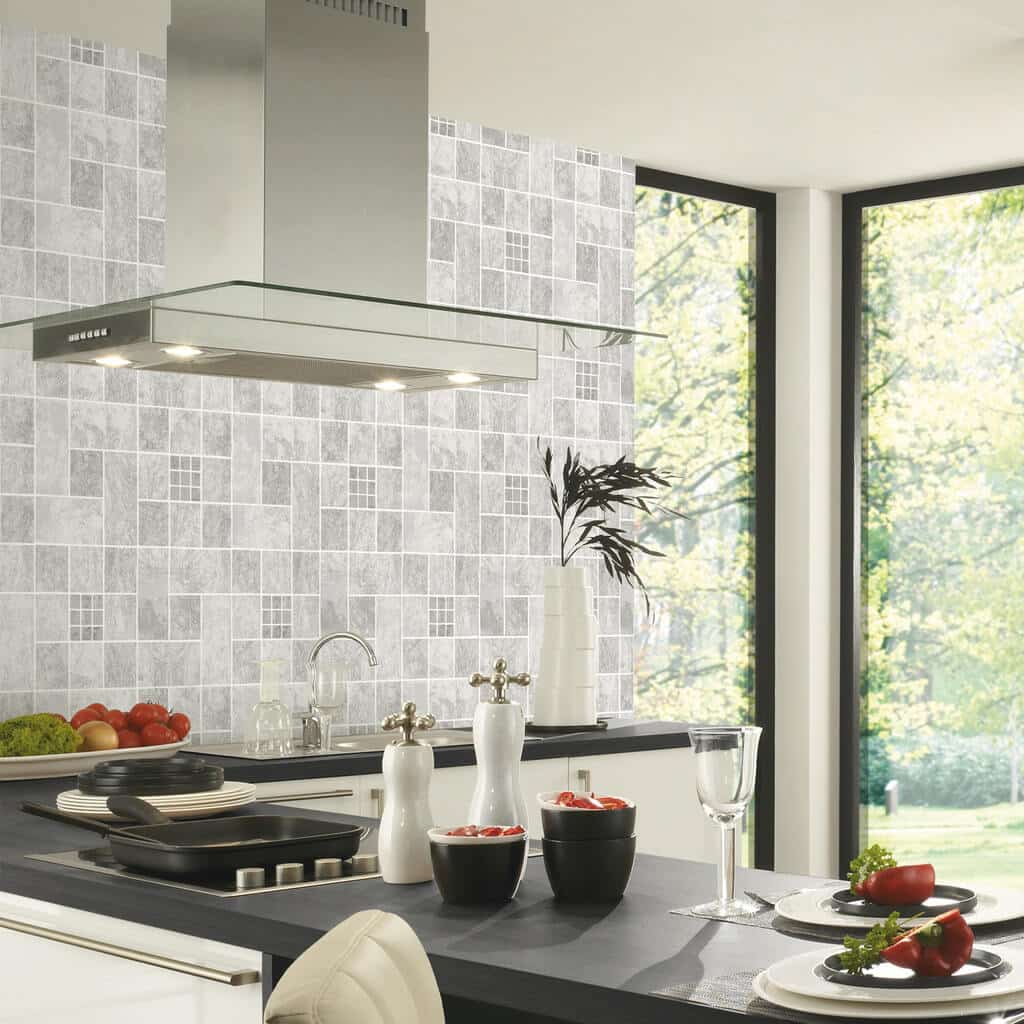 Source: worldofwallpaper.com
The latest peel-off tiled wallpapers are virtually identical to genuine tiling. These are also entirely water-resistant, detachable, and, most crucially, reusable, which means you can peel them off and apply them anywhere else at any moment. Create a long-lasting design that perfectly reflects your taste by decorating your backsplash with a sturdy, cleanable tile. 
Tiled wallpaper for a kitchen backsplash is easy-to-maintain and less expensive than actual tiles, so you can always change it up for a new aesthetic every few years. For a contemporary spin on paneling, cover the top or bottom part of the wall with tiling wallpaper. 
8. Faux Paneling Wallpaper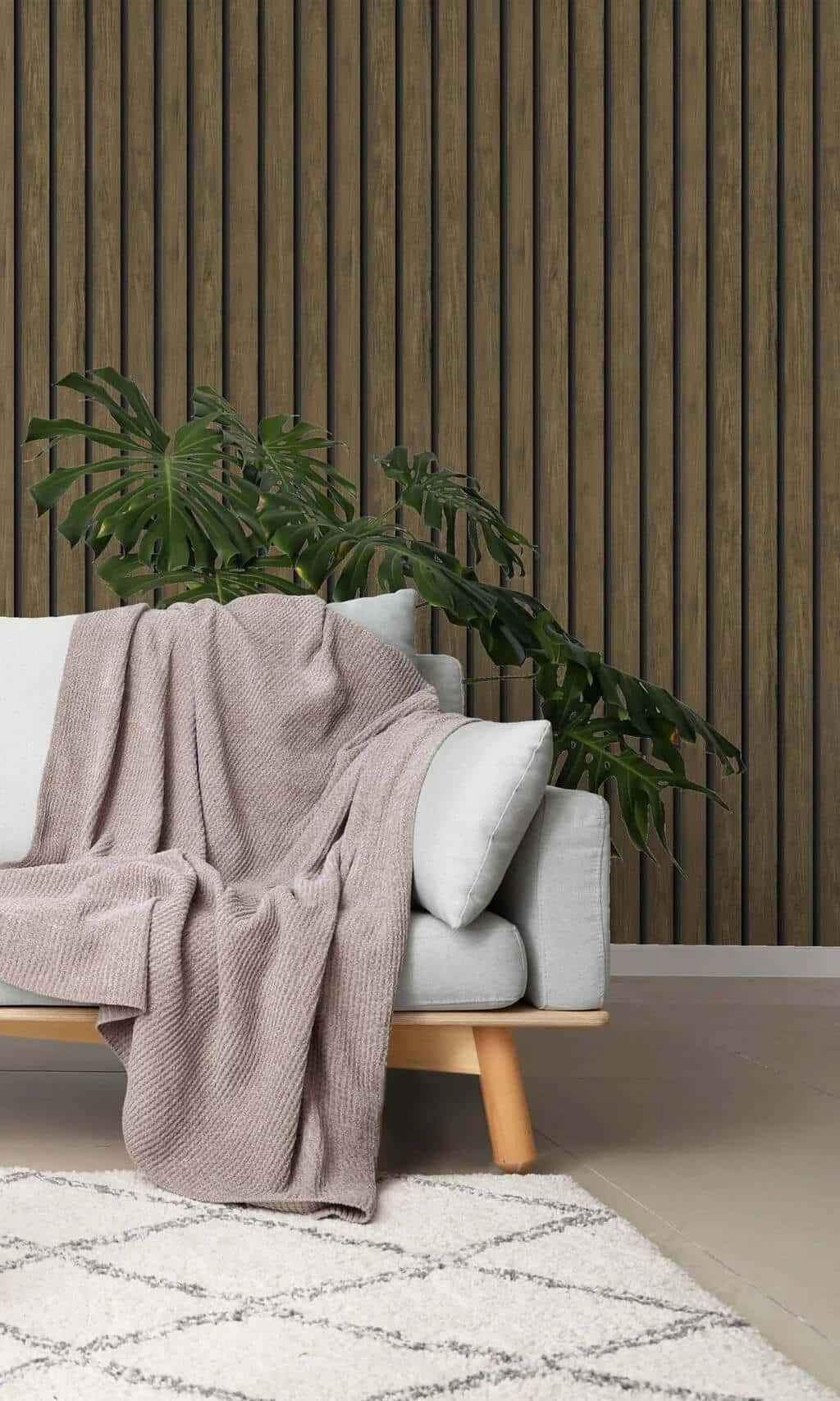 Source: shopify.com
It is usually beneficial to take into account how simple it will be to remove wooden fixtures and paneling when creating a modular house. Panels may be the finishing touch for your modern home, but in practice, they are difficult to remove and demand time and assistance from a professional. Paneling has made a steady resurgence in modern home décor trends.
Small sections of wallpaper are being applied to the wall, separated by 3Dpanels of various shapes and sizes. These wallpaper designs are suitable for DIY projects; you can even repaint them to fit your room's decor and furniture.
9. Photographic Mural Wallpaper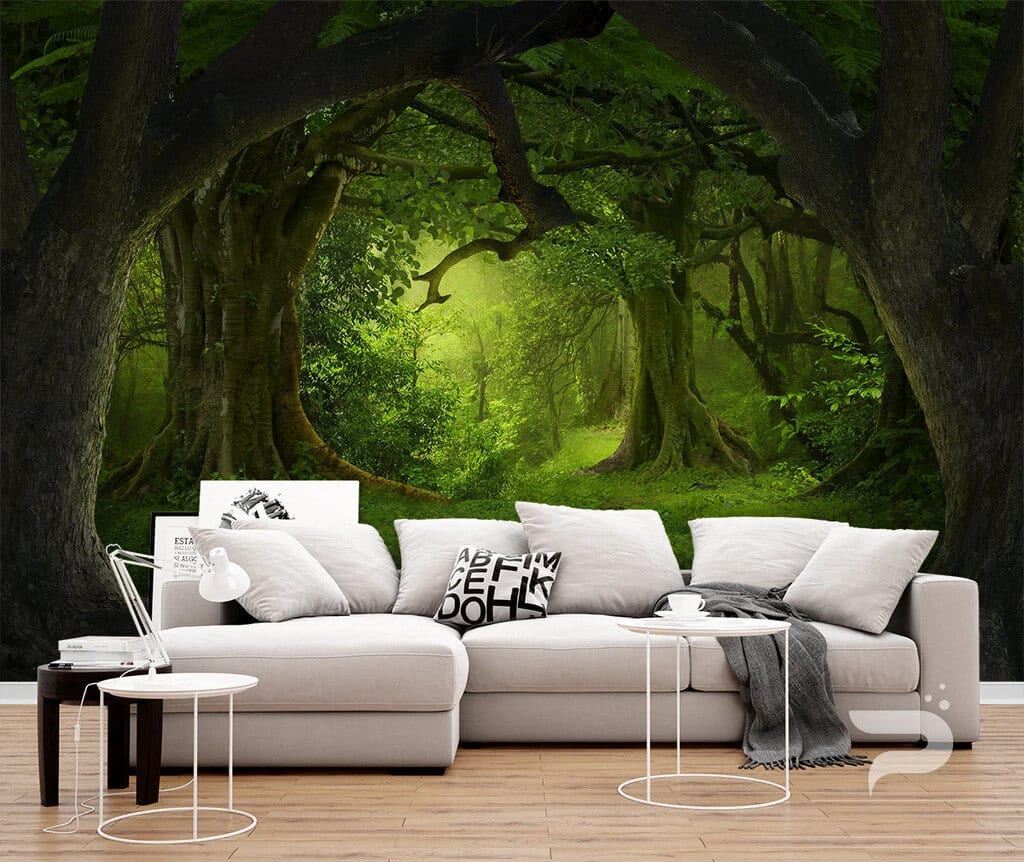 Source: etsystatic.com
Murals are the perfect solution if you are bored of repeating designs. The collection of dramatic and high-definition photographic murals seems so genuine that you will feel an urge to touch the image.  Wallpaper murals are produced in panels in contrast to the rolls that standard wallpaper is sold in.
This eliminates any doubt about which section of the image belongs where. These murals may be used as statement artworks and are highly customizable.
10. Art-Deco Inspired Best Temporary Wallpaper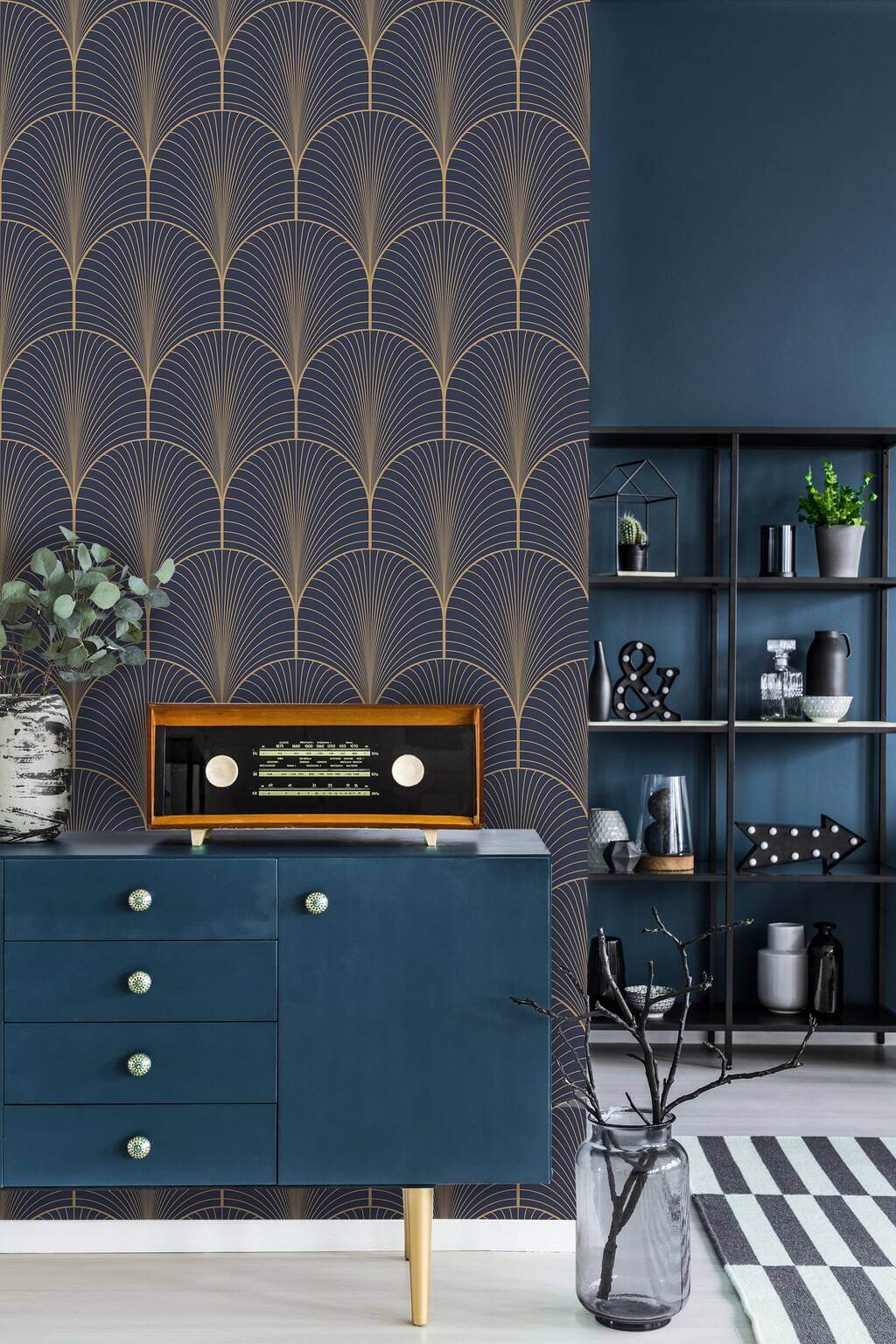 Source: cutewallpaper.org
Art Deco style embraces opulence and high style, with accentuated curves, crisp lines, and harmonious patterns. This eclectic look may be readily incorporated into one's home decor by using the best peel and stick wallpaper. These sleek and elegant Art Deco prints bring the glitter and splendor of the 1920s into your space. The luxurious array of Art Deco patterns, with iconic forms and trendy tones, is ideal for gathering spaces. 
11. Giant Wall Stickers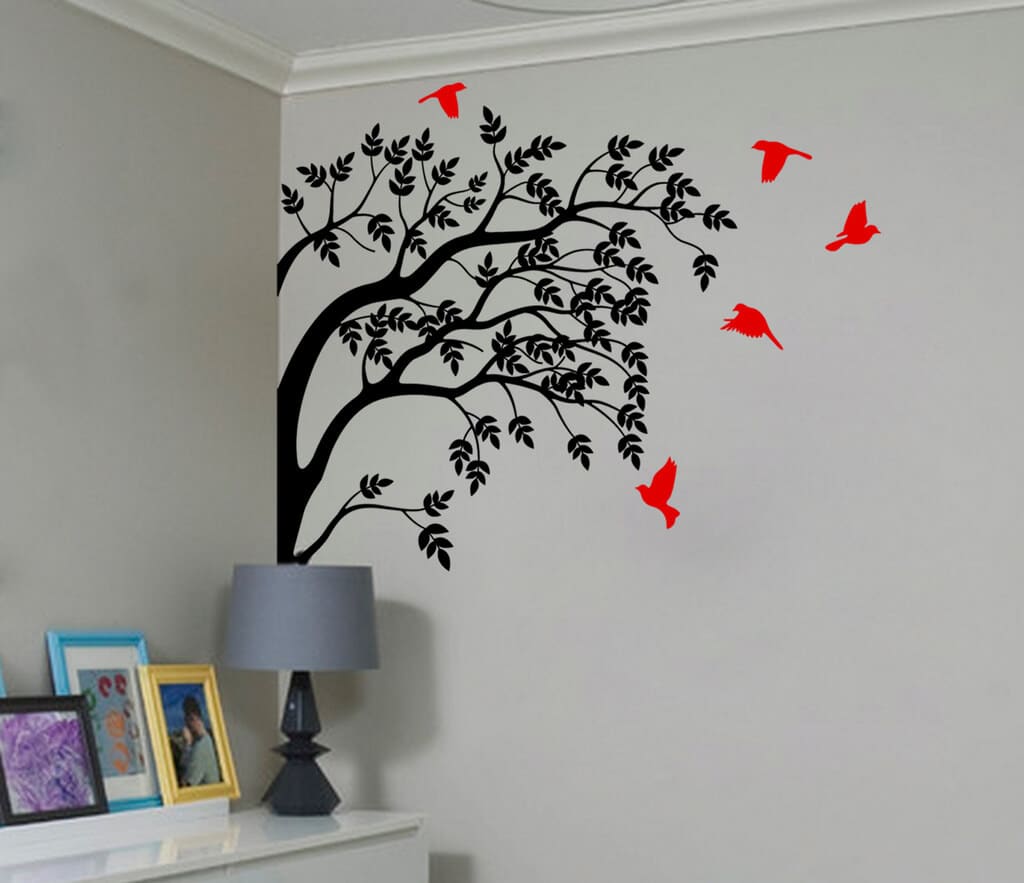 Source: googleapis.com
Peel and stick wallpaper is usually supplied in rolls, but don't rely on them to provide the dramatic impact you desire. You may feel that the pattern is too repetitious and that you need a standout piece. A single large-scale sticker, such as this scene-stealing floral sticker or tree of life design, may make a significant impression. Unlike other flower patterns, the size and range of colours in this one sets it apart. Nowadays these type of wallpaper is best selling wallpaper.
12. Faux Stone Wallpaper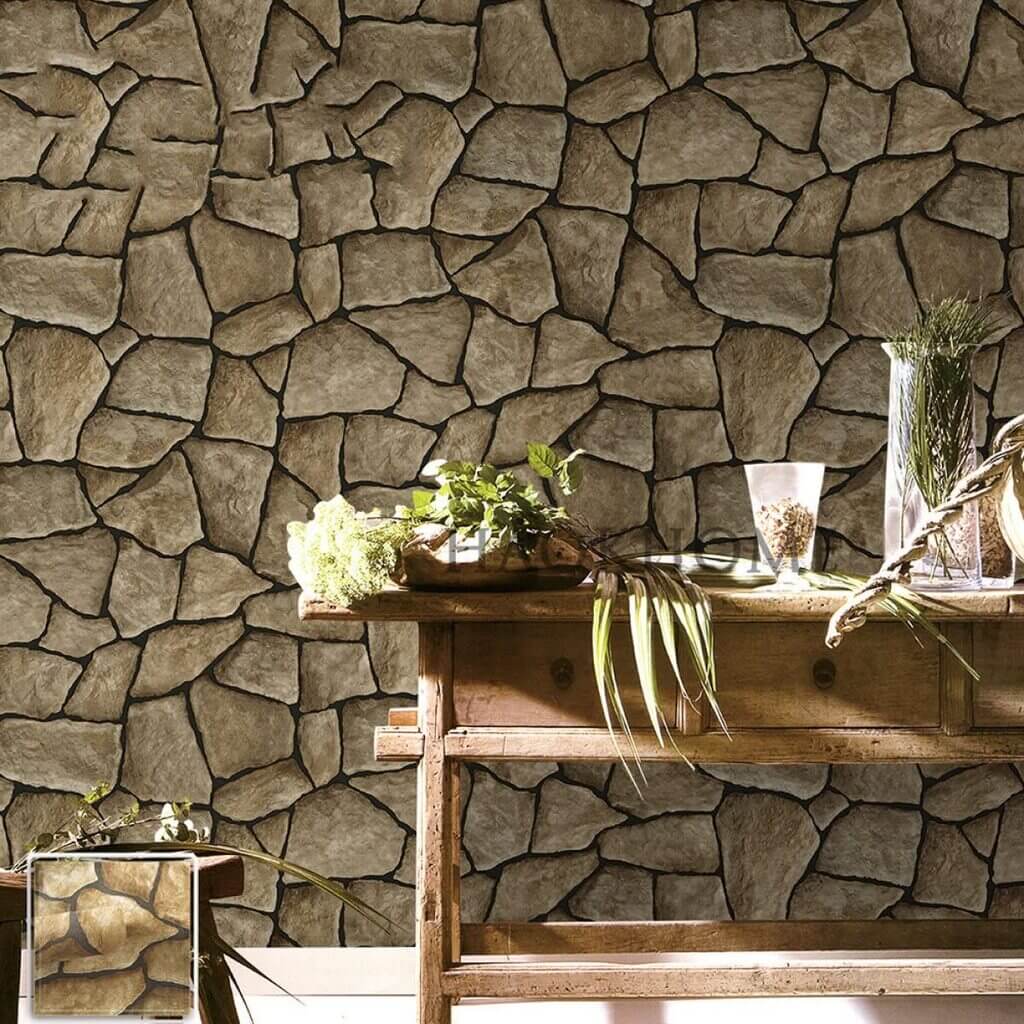 Source: amazon.com
If your space has lofty ceilings, try including some traditional architectural elements, such as a bespoke stone wall. This screams for a little extra drama. The bill is filled with a massive removable wallpaper that resembles an exotic stone wall. It would also look great as a fireplace backdrop with this removable wallpaper for renters. Today various detailed and 3D textured stone wallpaper is available in the market to give your space a realistic accent. Similar wall decals simulate the look of wooden walls or even bare brickwork.
13. Wooden Plank Textured Removable Wallpaper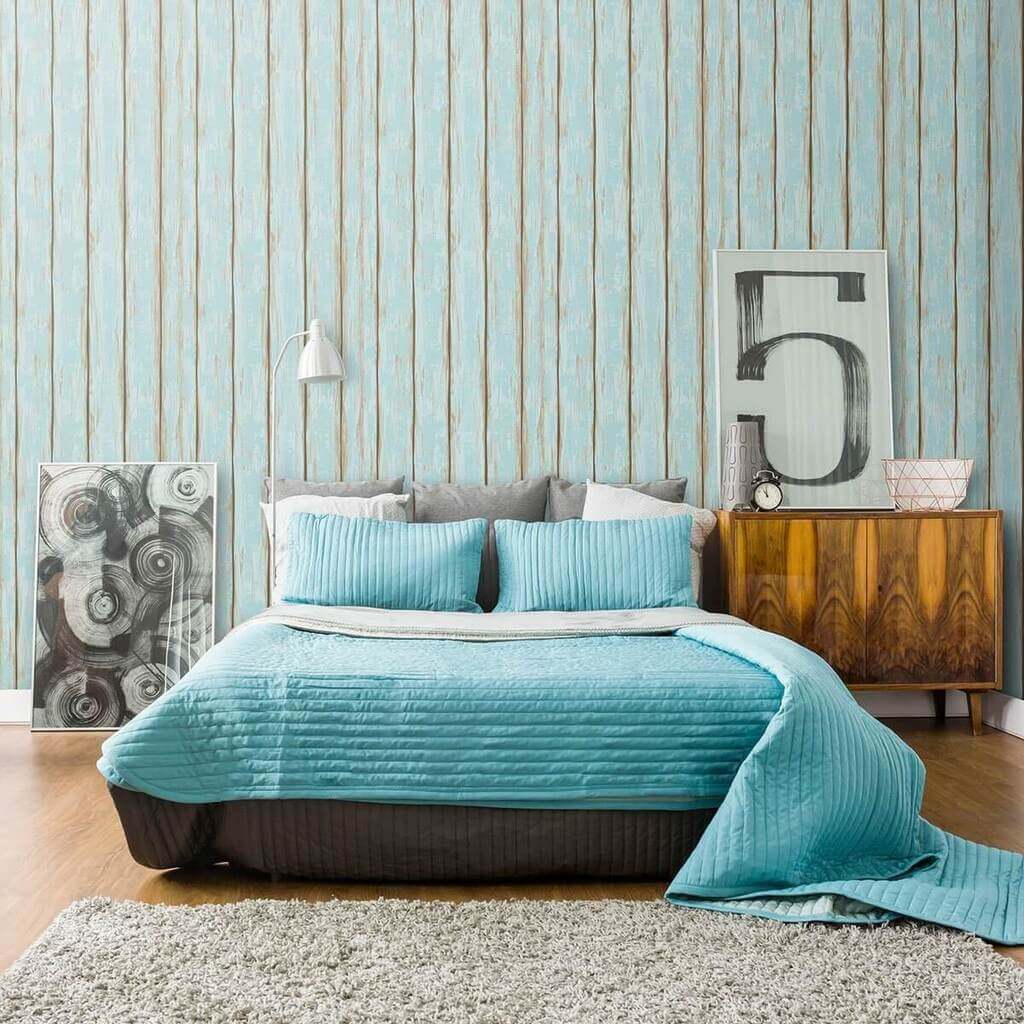 Source: shopify.com
This wood plank textured wallpaper may add personality to your decor. At first sight, it's difficult to realize that this is a huge wall decal. A blank wall gets instant appeal and substance thanks to this whitewashed wood wall sticker. Vinyl wall decals, wall stickers, and papers are also a terrific option for renters who want to introduce a rustic charm into their decor. They are also ideal for temporary spaces such as themed children's playrooms.
14. Vintage Peel and Stick Wallpaper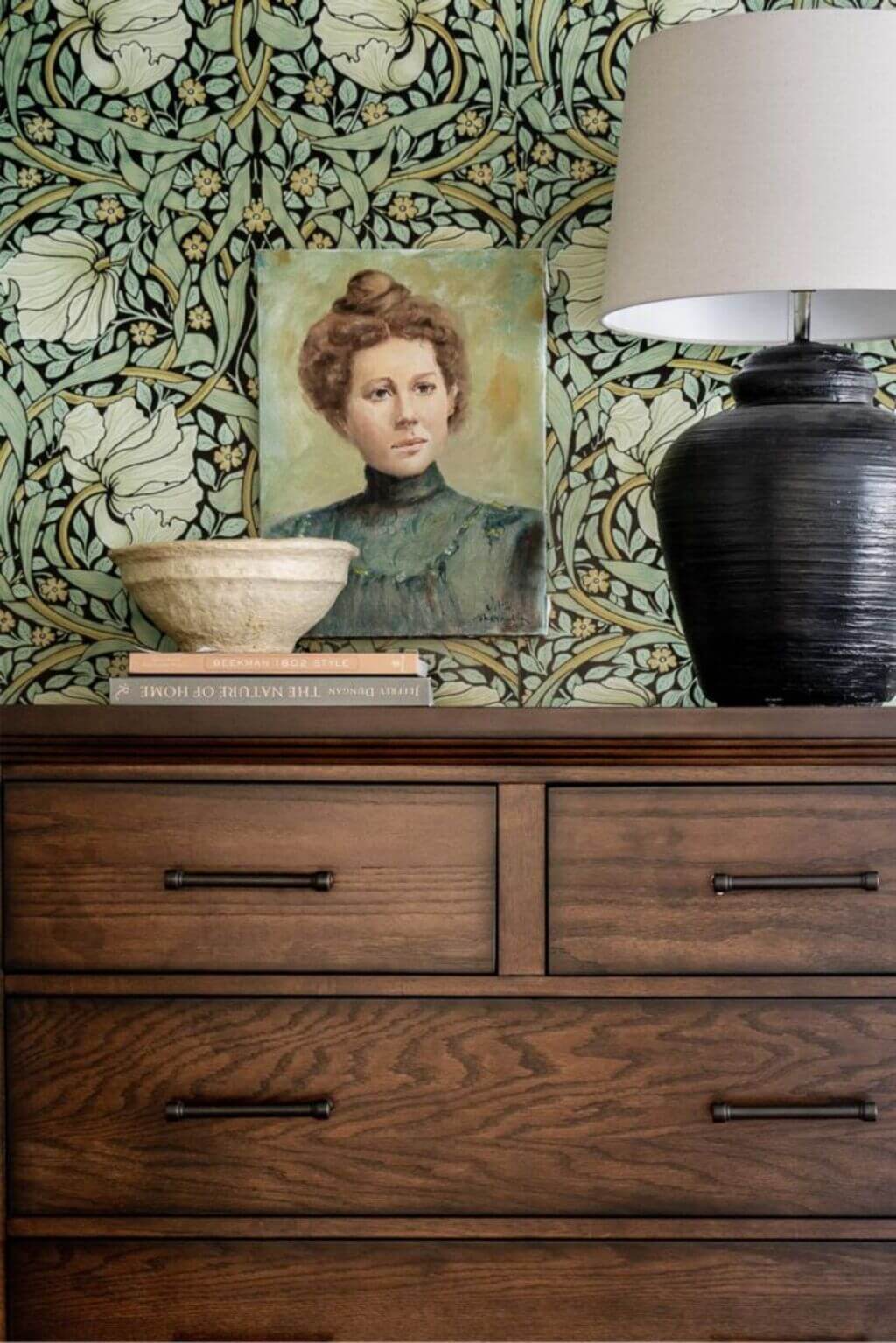 Source: pinimg.com
Are you a retro soul stuck in this new world? You might consider adding a vintage touch to your decor with easy-to-maintain removable wall paper designs. Prints created digitally by artists, fashion labels, and vintage décor firms are creating headlines in the design industry. Architects used three distinct wallpapers to design different portions of a wall during the Victorian era. 
The dado, which ran from the floor to the chair, and the filler, which ran between the moulding and the cornice, and extravagant ceiling wallpaper. This method is being included in the wall style of modern designers, due to its easy and organized application process.
15. Fabric Peel and Stick Wallpaper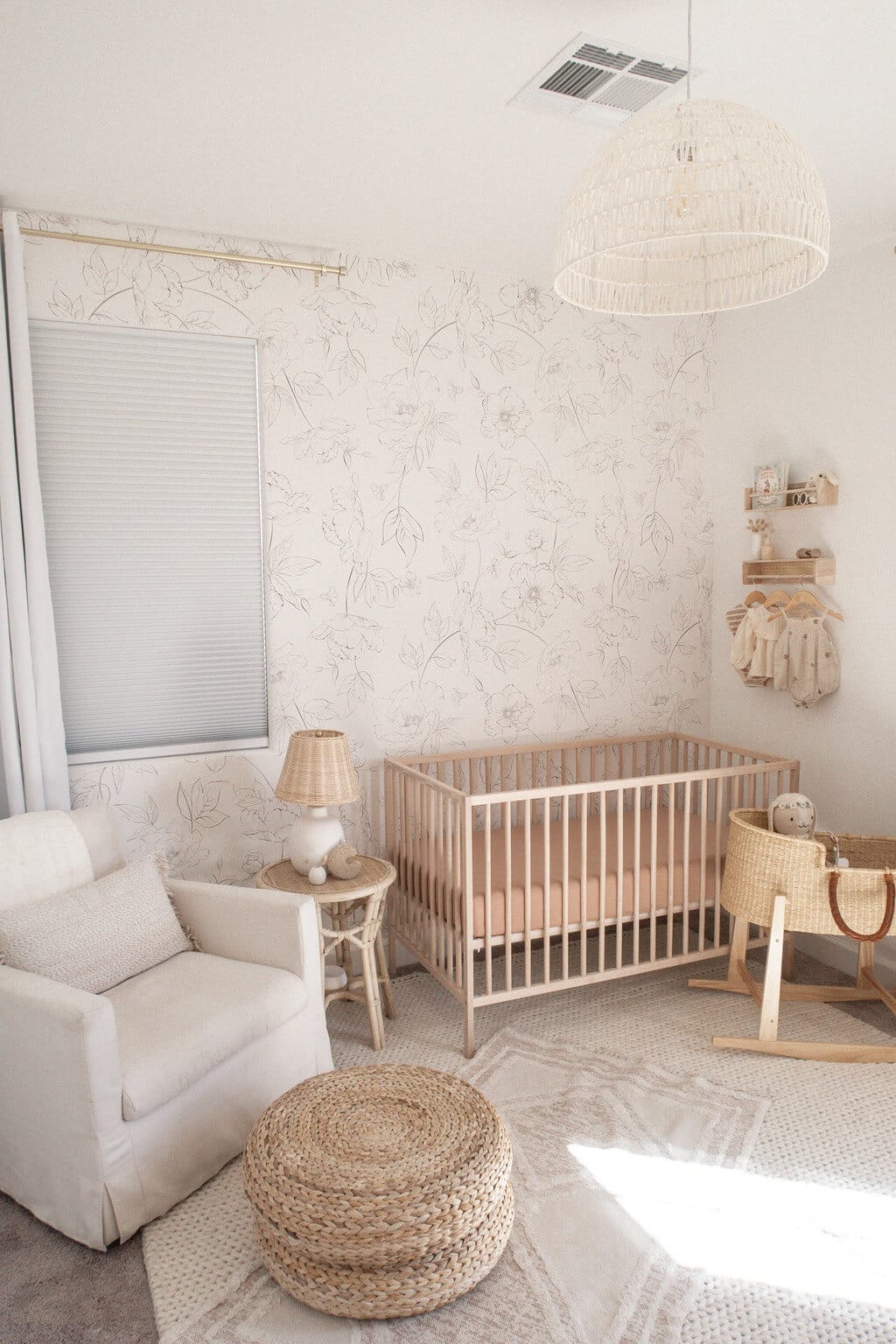 Source: etsystatic.com
Peel and stick fabric wallpaper is the way to go if you value a polished appearance, eco-friendly walls, and PVC-free home decor. There are several textiles that may be used to create fabric wallpaper. Inexpensive textiles, such as polyester, are commonly used in their production. You may make your customized wallpaper by cutting out fabric sheets and gluing them to your walls with watery starch as a binder. However, pre-glued fabric wallpaper that you can simply peel and apply is much more convenient.
16. Glow-in Dark Removable Wallpaper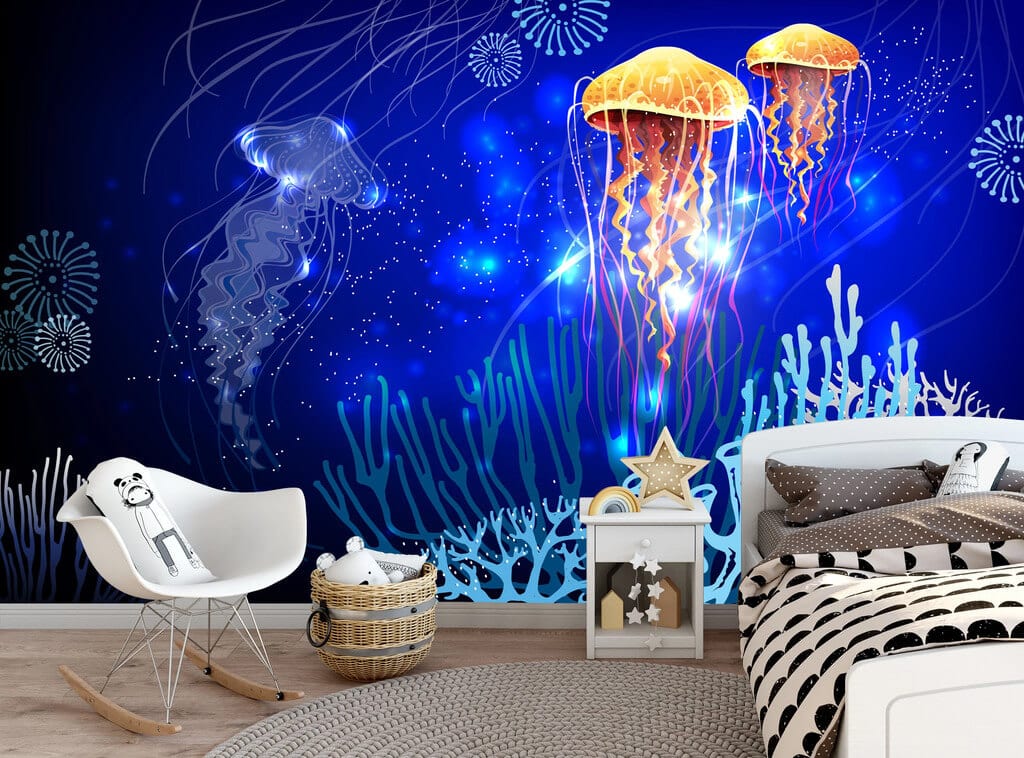 Source: etsystatic.com
Peel and stick wallpaper for kids is a low-cost way to add colour and pattern to plain walls. These temporary wallpapers are easy to install and remove. Children are enthralled by shiny, bright surfaces and anything that emits light. To add a personal touch, utilize strip lights or luminous stickers. Consider applying glow-in-the-dark wallpaper on a wall depicting a solar system theme. You may also experiment with other themes, like an under-water scene with glowing jellyfish or a starry night landscape.
17. Marble Textured Removable Wallpaper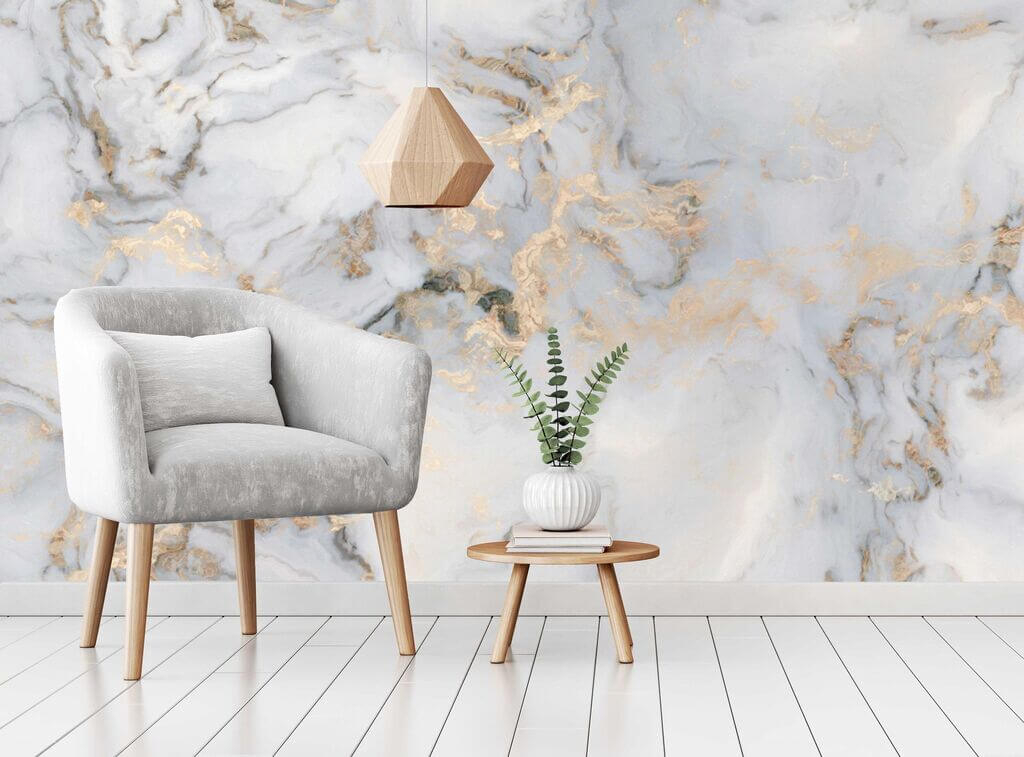 Source: pinimg.com
Marble is one of the few home design fads that has truly persisted. Its smooth texture and delicate, natural fissure patterns have remained relevant and appealing in interior decor for many years. Since real marble is so expensive, it might not be the ideal choice for everyone. Faux-marble wallpapers, on the other hand, show how you may redecorate your home without exceeding the budget. Consider using wallpaper that does not have a repeating texture, as that might affect the lining process.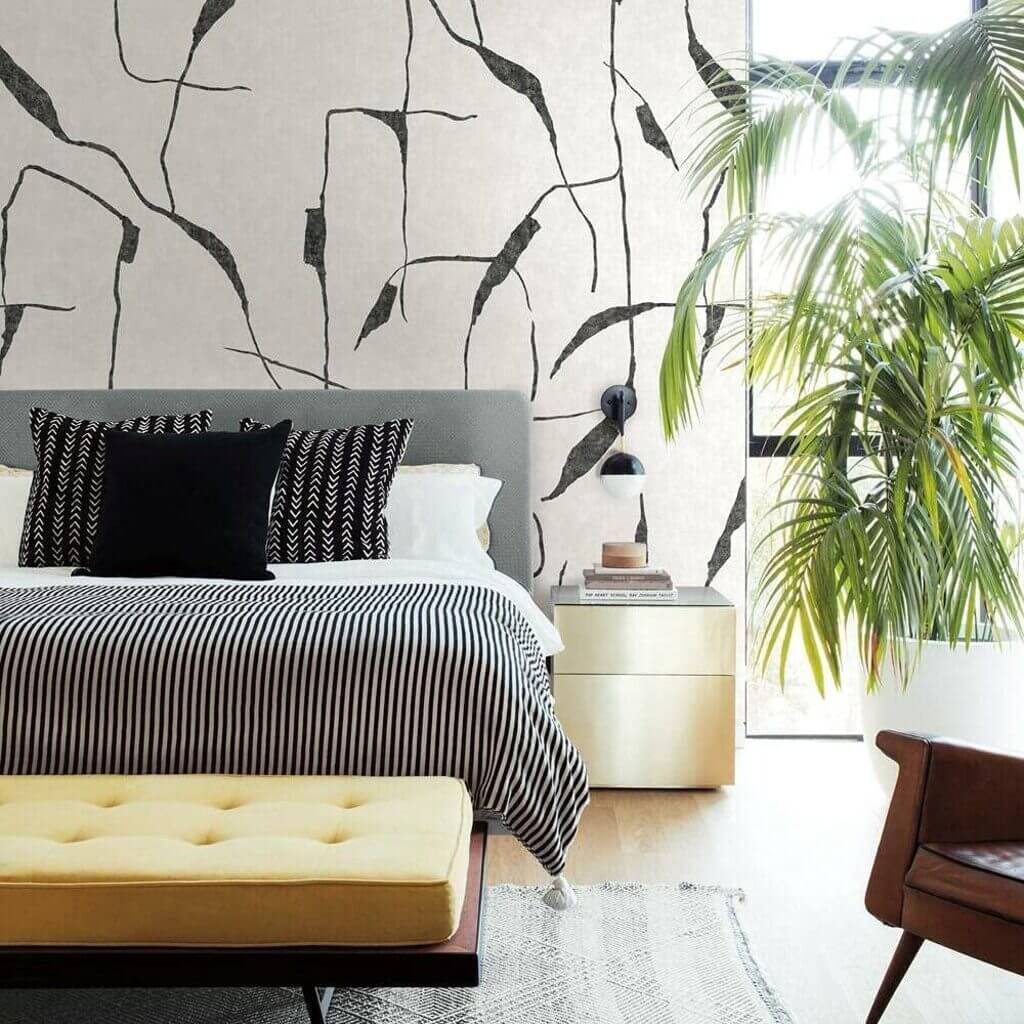 Source: homethreads.com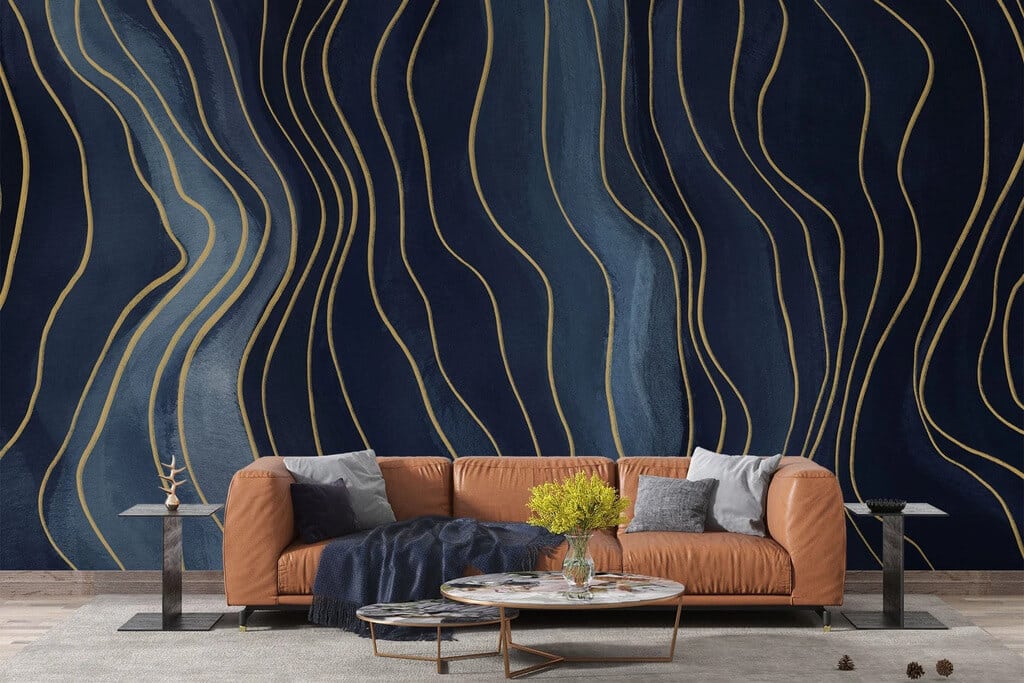 Source: etsystatic.com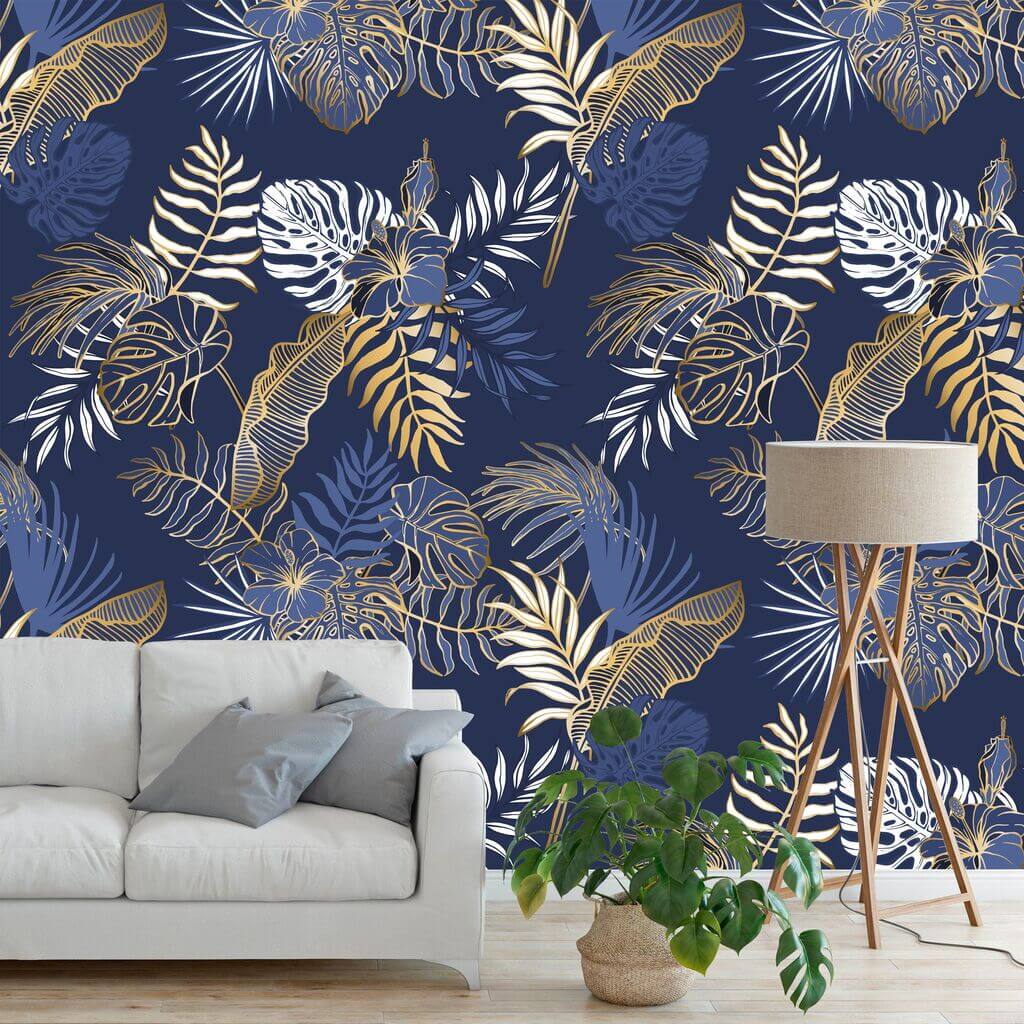 Source: pinimg.com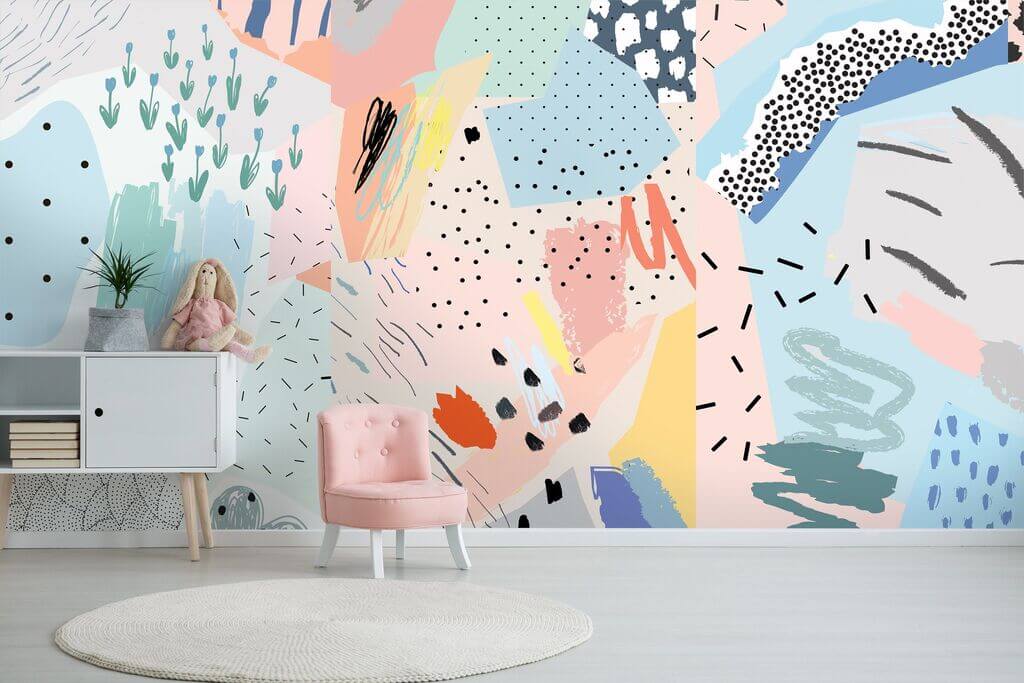 Source: pinimg.com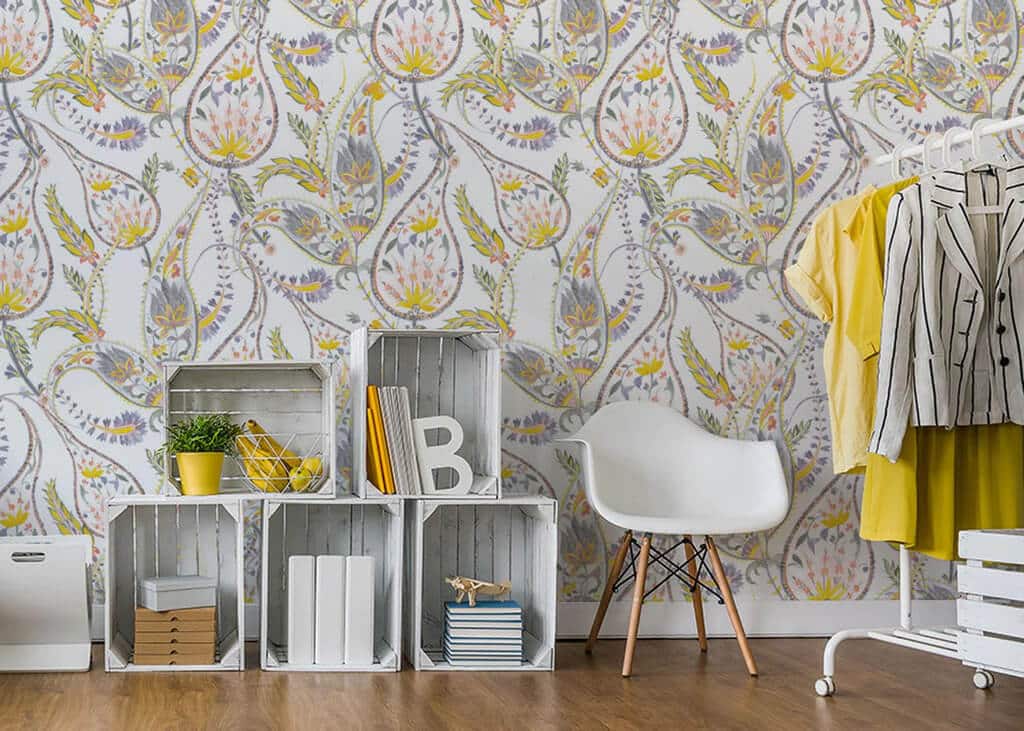 Source: shopify.com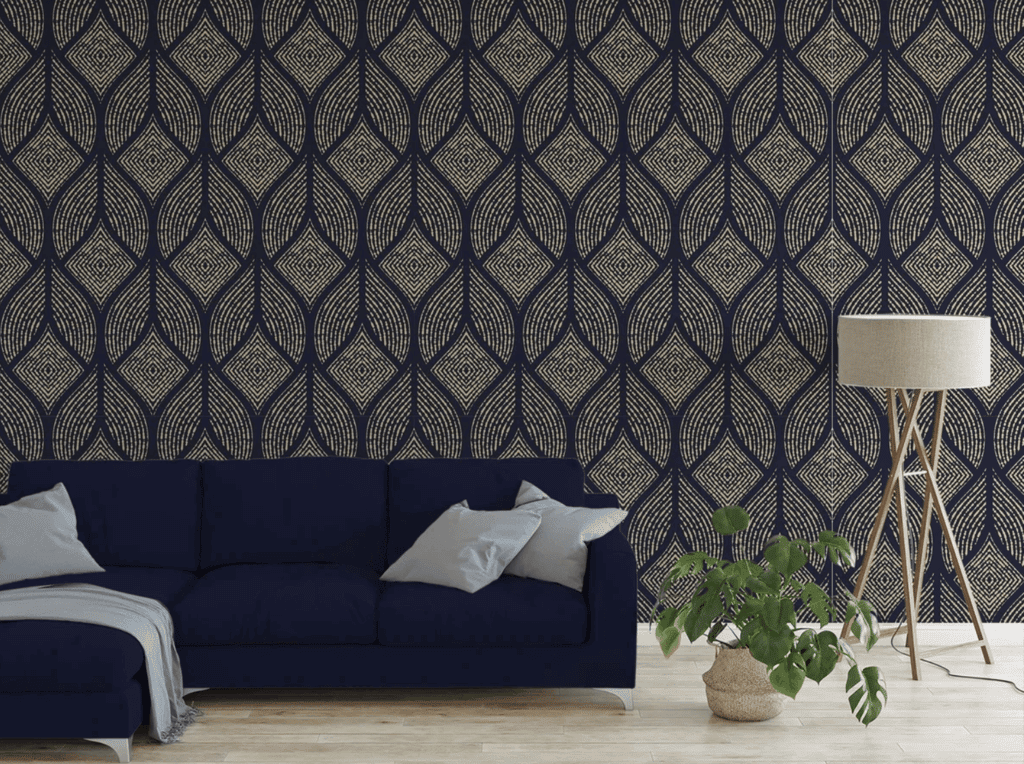 Source: meredithcorp.io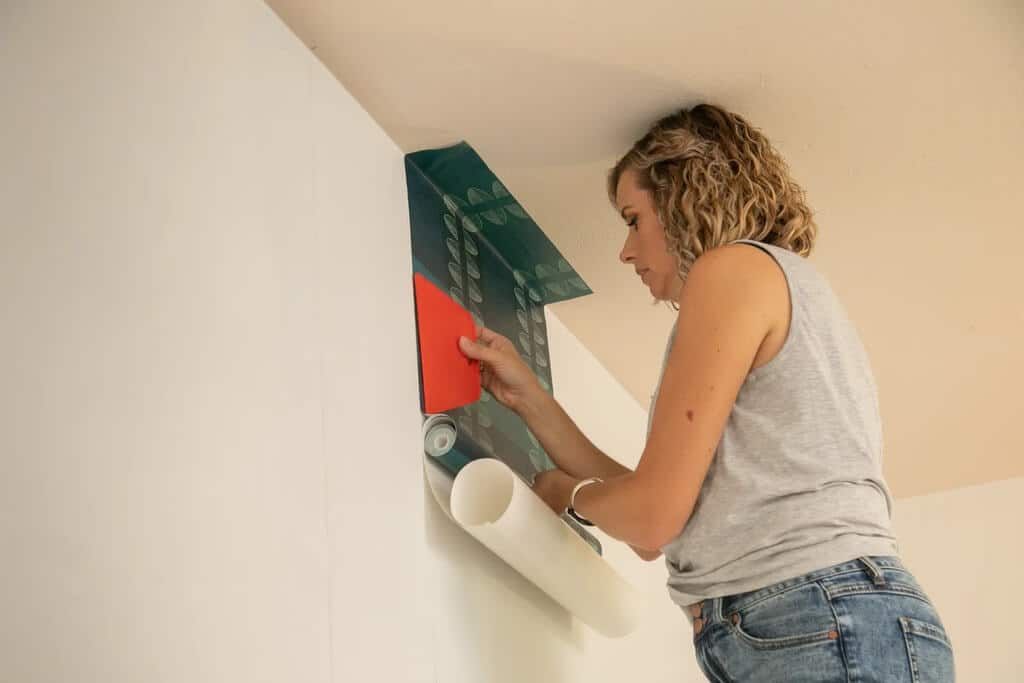 Source: architecturaldigest.com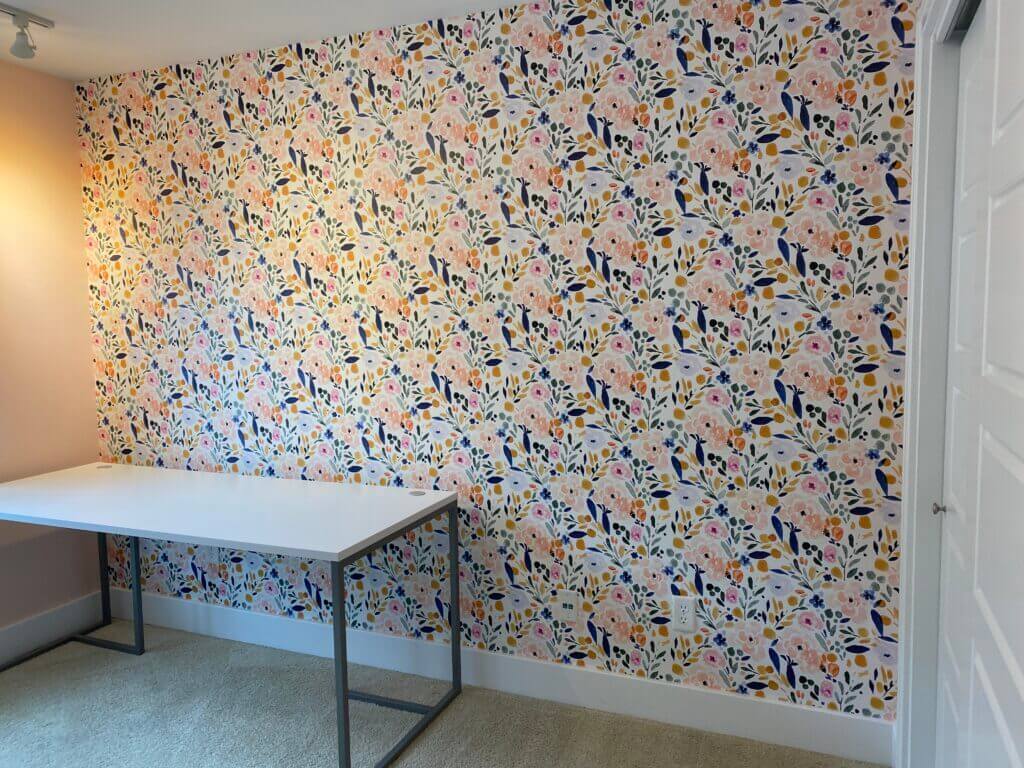 Source: makeeverydayanevent.com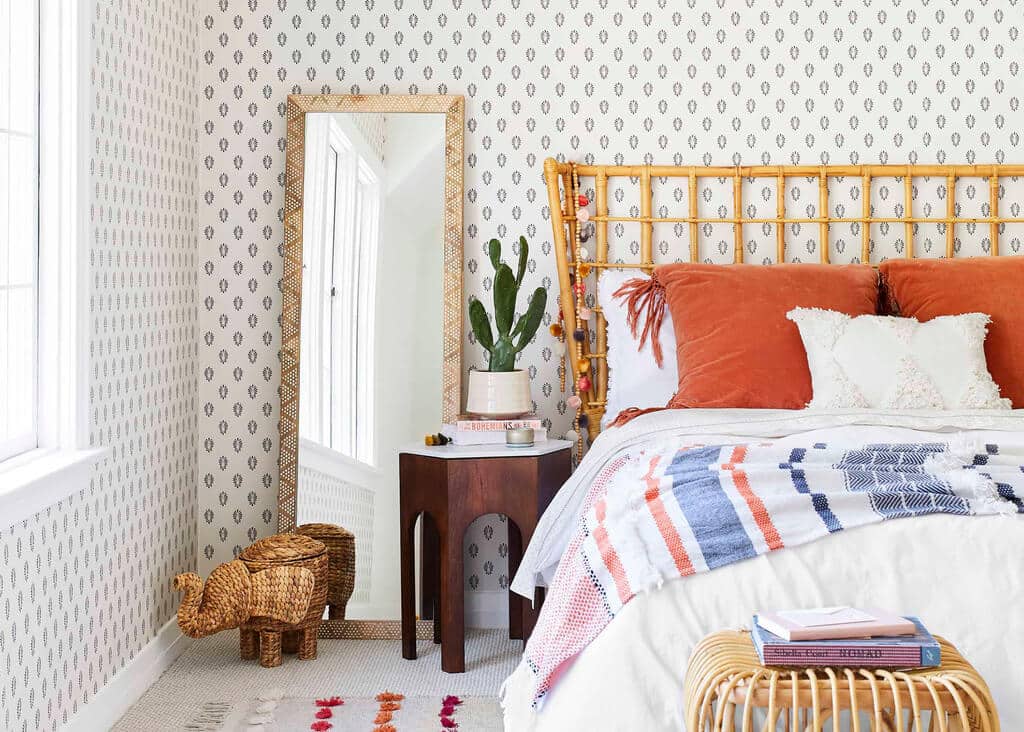 Source: stylebyemilyhenderson.com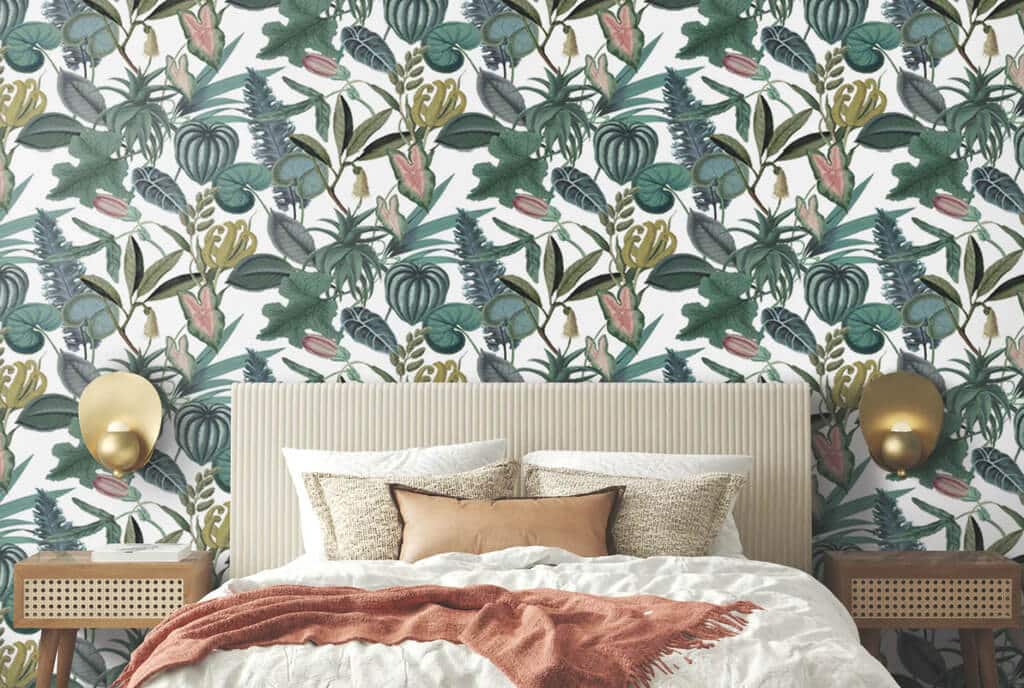 Source: shopify.com
Also Read: 9 Designer Bathroom Wallpaper Ideas to Recreate Beautiful Walls
Are You Willing to Give Your Walls Depth with These Hassle-Free Temporary Wallpapers?
Peel-and-stick reusable wallpaper can instantly enhance a space and is a must-have option for DIY-enthusiastic tenants and homeowners. Peel-and-stick wallpaper functions just as it suggests, you remove the backing and attach it to the wall. If you're working with high-quality wallpaper, it's a great method to add interesting patterns to your walls in addition to being a worthwhile investment.
FAQs
1. What Is the Lifespan of Peel-And-Stick Wallpaper?
The peel-and-stick wallpaper should remain in place for as long as the surface you put it to is neat, uniform, and has the perfect paint finish.
2. Why Is My Peel-And-Stick Wallpaper Flaking?
Peel and stick wallpapers are affected by humidity variations as well as a poor plaster finish of the wall.
3. What Is the B

est Peel and Stick Wallpaper for Bathroom

and Kitchen?
Vinyl wallpaper is the most resilient of all removable wallpaper varieties. Therefore it is suitable for places that are susceptible to moisture exposure and splatters. 
4. How Can I Make My Wallpaper Waterproof?
Apply more adhesive below any wallpapered sections near a shower and use mold-resistant wallpaper adhesive. The wallpaper may be made more resistant to heat and moisture by covering it with transparent acrylic lacquer.
5. How Do You Begin Wallpapering?
Hang your first piece of paper on a wall without any doors or windows and start at the corner if possible. This allows you to apply a full length of material from the ceiling to the edge of the skirting.
To know more about Home improvement ideas, Cleaning and decoration tips visit ArchitecturesIdeas.
For daily updates, follow us on our Instagram page @architectures_idea.