Let's Take a Tour of the Luxurious American Copper Building
Are you living in a sky-high building? If yes, then you surely know the excitement and the lifestyle of living there, but if your answer is no, then you're missing out on many things. From the expansive breathtaking views to the luxurious amenities, these skyscrapers have everything. 
Are you excited to know more about these kinds of constructions? Read this piece of information as today we're going to tell you all about the gigantic development- American Copper Building. 
Yes, some of you might be familiar with this building. This residential property is catching people's attention with its stunning architecture and enticing amenities. Designed by SHoP Architects, this structure has some pretty bizarre stories such as 4.25 million pounds of raw copper is used to clad the exterior surfaces. Sounds unbelievable, right? 
Read the complete blog and find out whether it is true or not and maybe you'll also discover some more strange facts. 
American Copper Building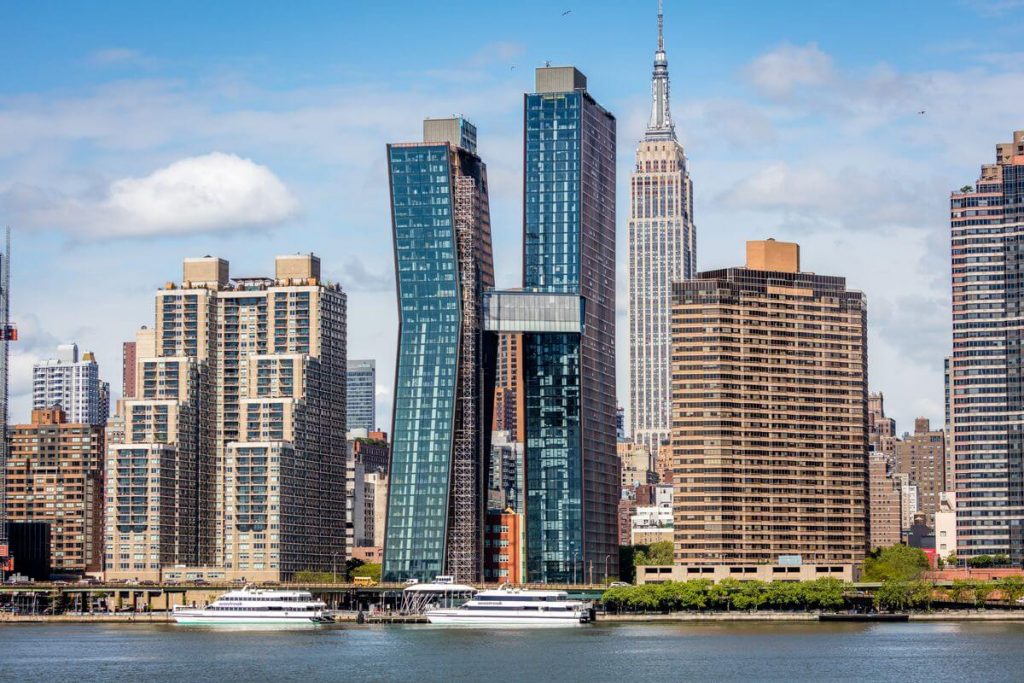 source: ny.curbed.com
Location: 626 First Avenue Kips Bay, Manhattan, New York City
Architect: SHoP Architects
Year: 2017
Type: Residential 
The original name of the American Copper Buildings was "626 First Avenue." it is one of the remarkable structures in the United States. This fantastic edifice is about 164.6 m or 540 ft in height. It covers around 824,000 square feet (76,600 m2) and has 48 floors in total, with 761 rental units. 
History
Sheldon Solow owned the 6.4-acre land on which this structure is standing before two towers. In 2013, he sold this plot to the JDS and Largo in 172 million dollars. 
Later on, JDS collaborates with the SHoP Architects to develop this new structure. 111 West 57th Street in Manhattan, 9 DeKalb Avenue in Brooklyn, and this project is one of the significant collaborations of these two famous companies.
Also Read: 15 Tallest Building In The World That Rules The Sky
Construction
The construction was started in 2014, and the copper cladding was applied to the structure in 2015. In January 2016, a copper bridge was installed between the towers to join them. 
Did you know that 4.25 million pounds of raw copper were used to cover the structure?
Let's Look Inside
This extraordinary erection consists of numerous types of flat styles, such as Penthouses, studio apartments, and 1, 2, 3 bedrooms apartments. Below we describe each section of the house, so you'll get a fair idea about the building from inside to outside. 
1. Penthouses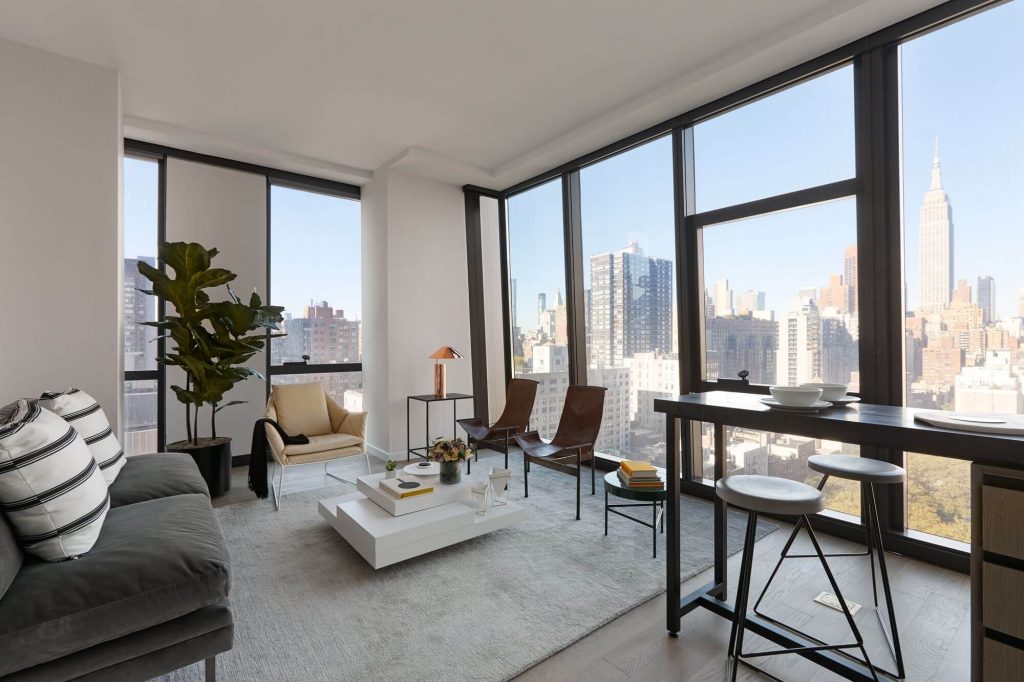 source: pinterest.com
Large glass windows with the exclusive views of the city and the customizable furnishings make the penthouse like a castle in the clouds. 
2. Living Area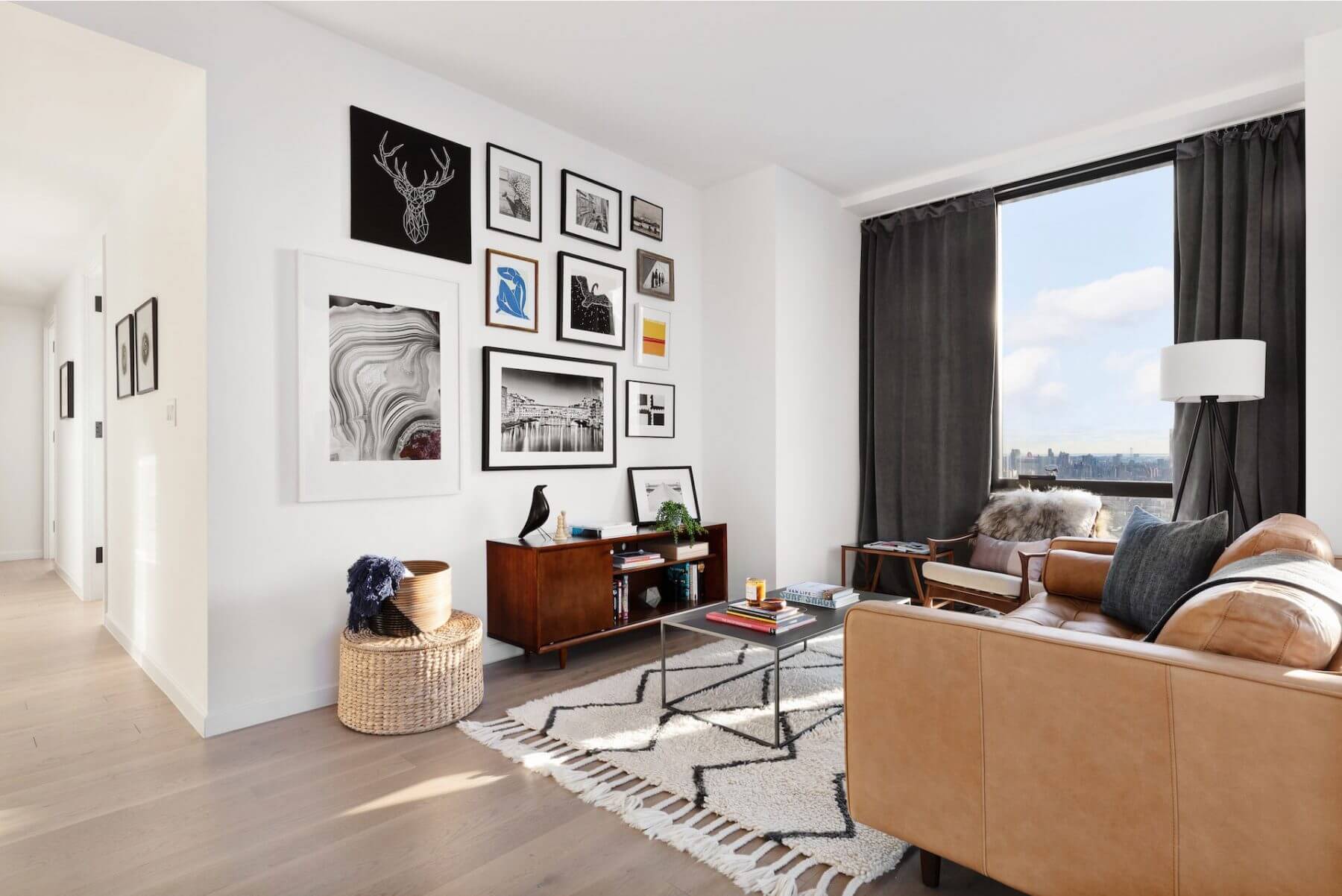 source: americancopper.nyc
The custom-crafted apartments have oak wood flooring, floor to ceiling windows, and nest temperature control. 
3. Bedrooms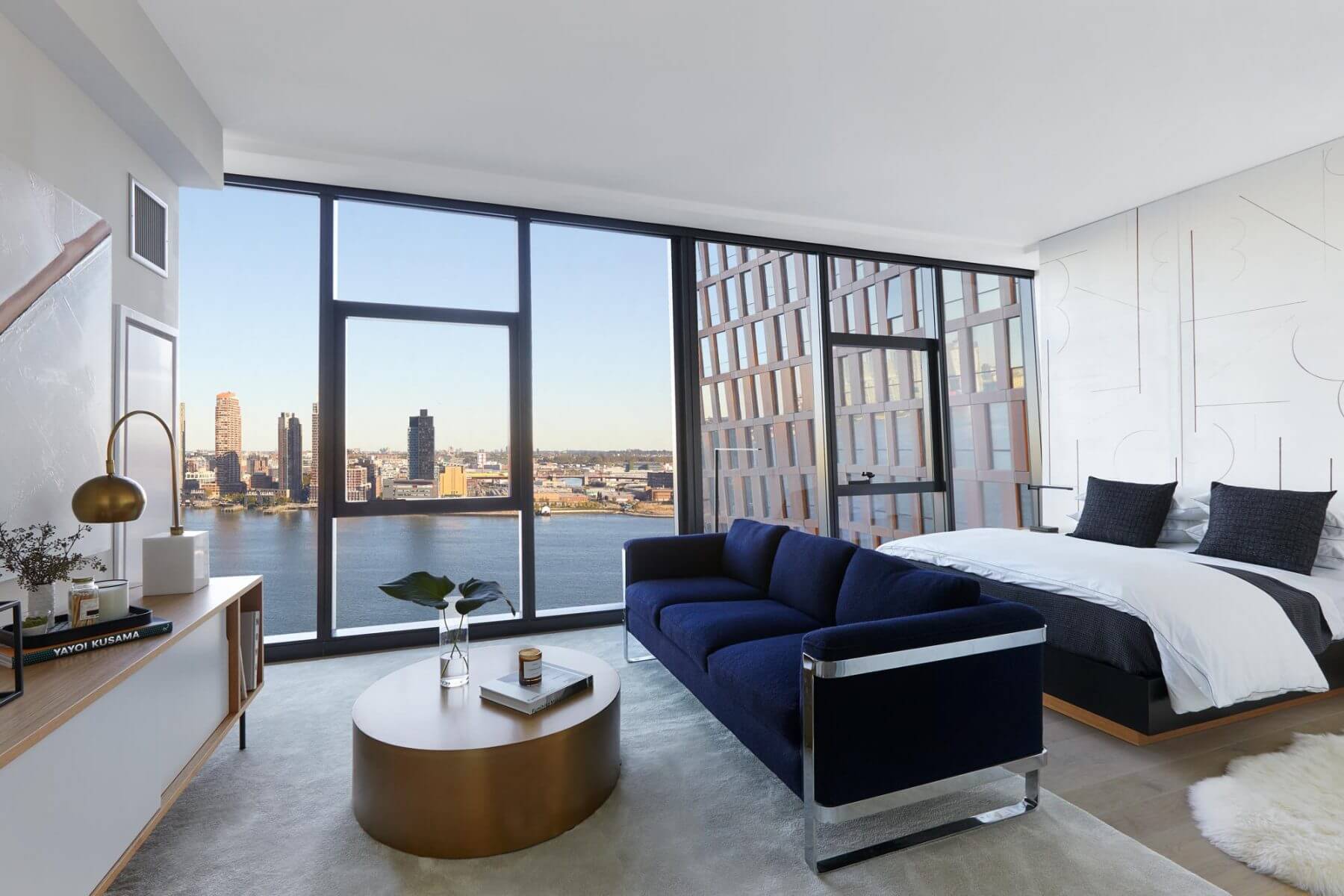 source: worldarchitecture.org
The tranquil bedroom spaces with contemporary designs complete the whole place. 
4. Kitchen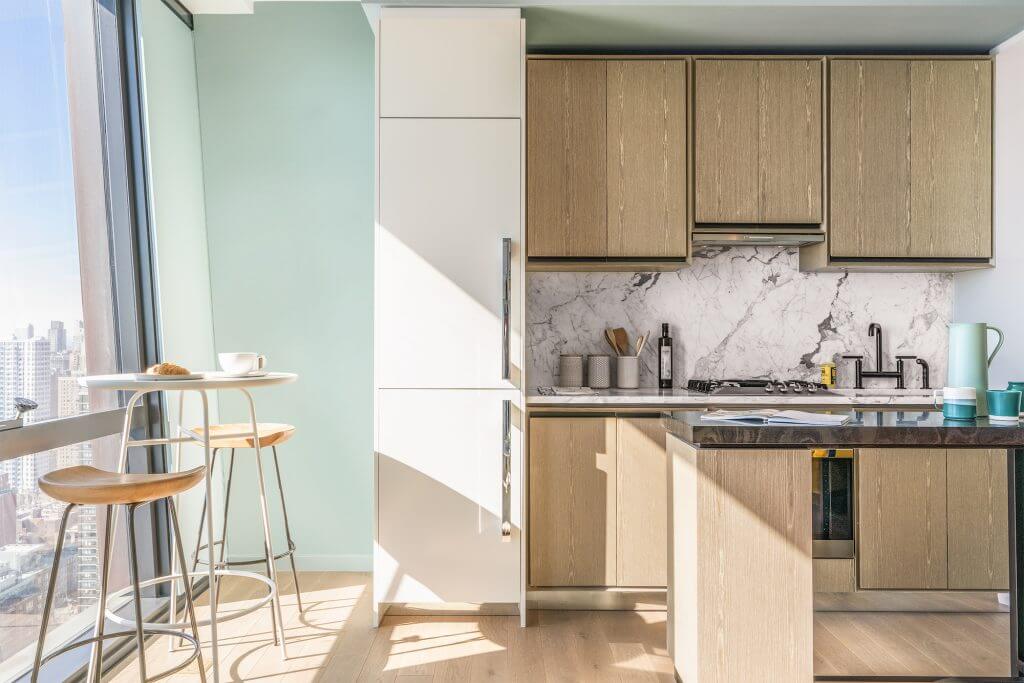 source: 6sqft.com
The architects specially design kitchen spaces with the requirements of the client in mind. They come with all the modern advance appliances with the marble countertop and, of course, custom lighting. 
5. Bath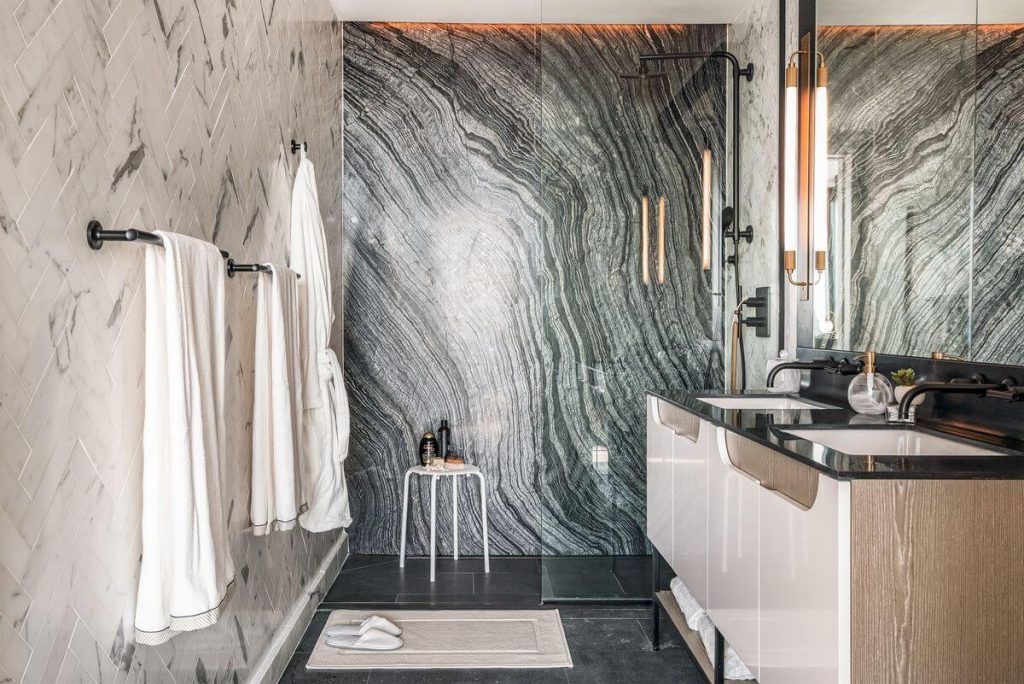 source: ny.curbed.com
The walls of the bathroom are covered with the Statuary marble wall tile set in a herringbone pattern. The flooring is done by Black pearl stone with the Custom European oak accents, and there is also a vanity & a Full-length built-in medicine cabinet. 
6. Rooftop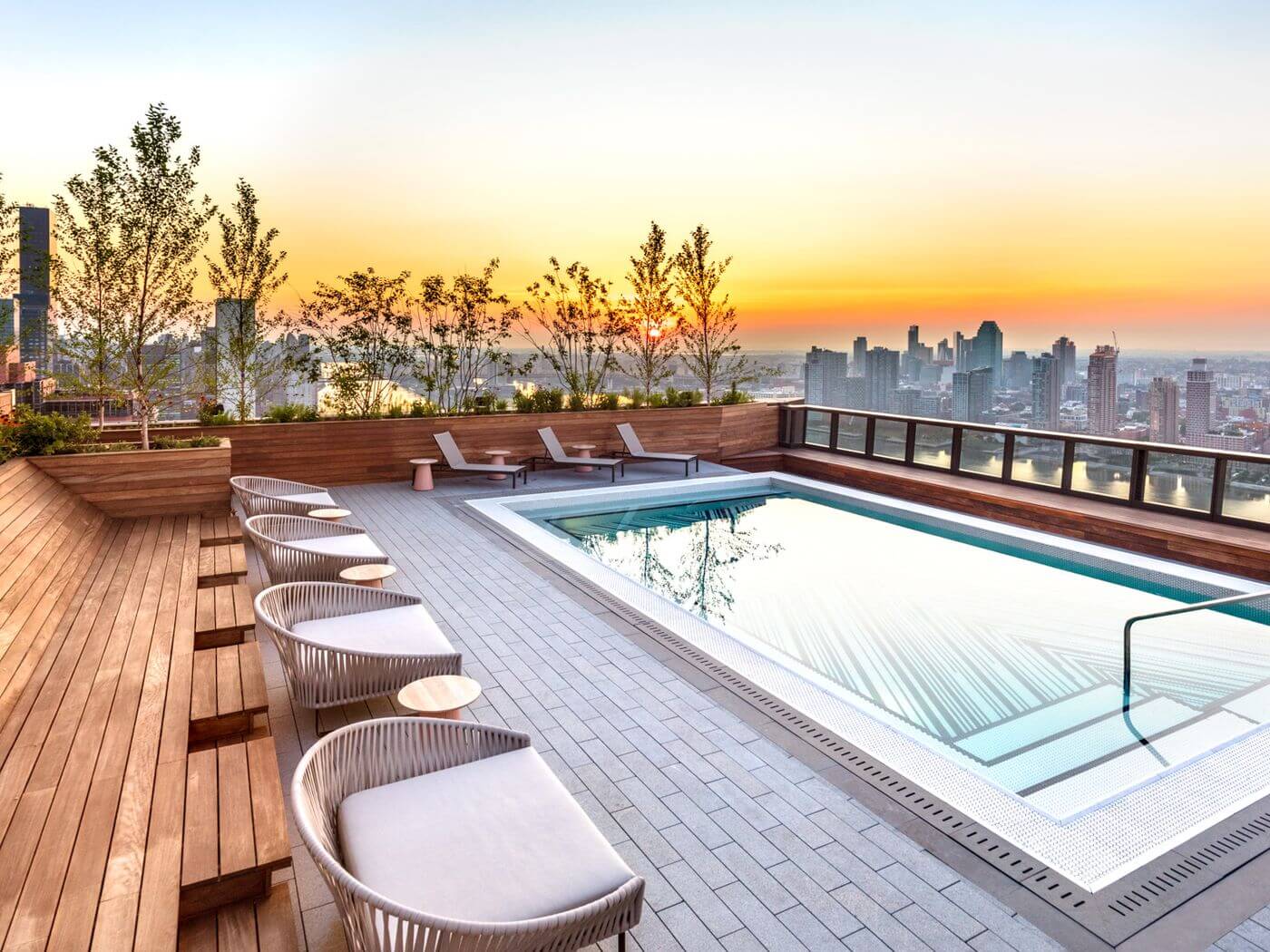 source: ny.curbed.com
The rooftop is as amazing as the other parts of the building. It has an infinity pool and outdoor shower, Sky bar, open-air lounge, and Rooftop dining & grilling. 
The exterior of 626 First Avenue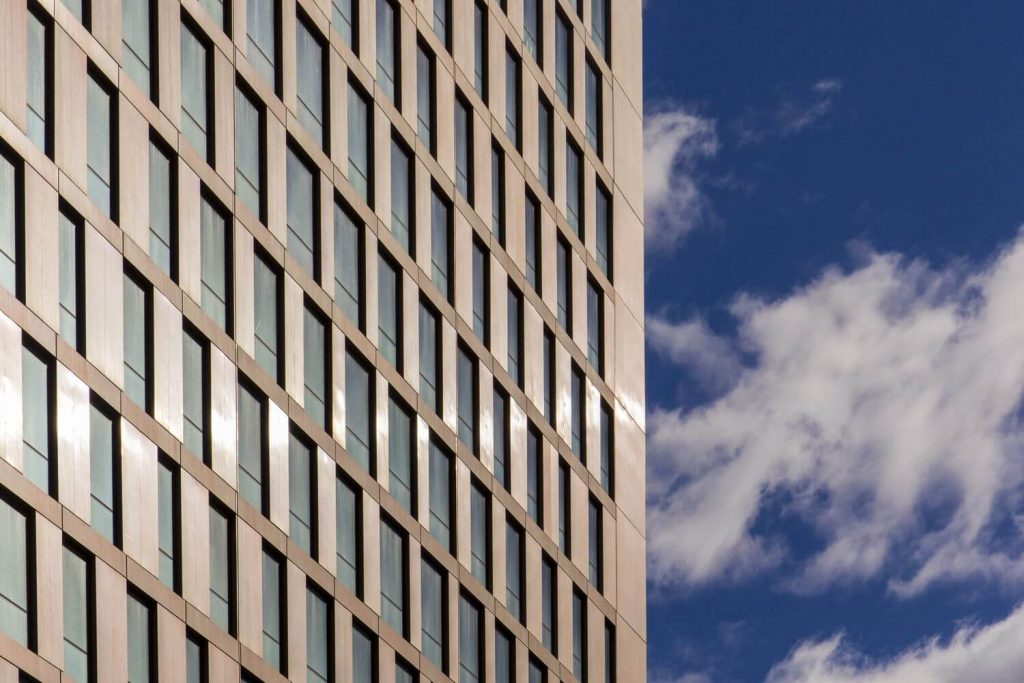 source: pinterest.com
The name American Copper Buildings is named after the fact that the outer facade of the structure is entirely covered by the copper. This is the signature style of the SHoP Architects company as you find these types of copper cladding in many other buildings that were designed by them. 
The towers are connected by a sky bridge, which gives the "H" shape to the entire structure. The bridge is almost 300 feet above the ground. Doesn't it look fascinating to walk down through this sky-high bridge? One of the towers is slightly bending in shape that looks like they were dancing!! (Of course, they're not!). It is entirely safe to live in this property as the leading architect Gregg Pasquarelli also lives here. 
The interesting thing is that architects claim that this is the only type of bridge that was constructed in the last 80 years in Manhattan. 
Not only this but also it has safety from all kinds of weather conditions such as rain, flood and even from cyclones. There are also five generators to provide power to the edifice in the power loss situation. 
How Much Does it Cost to Live Here?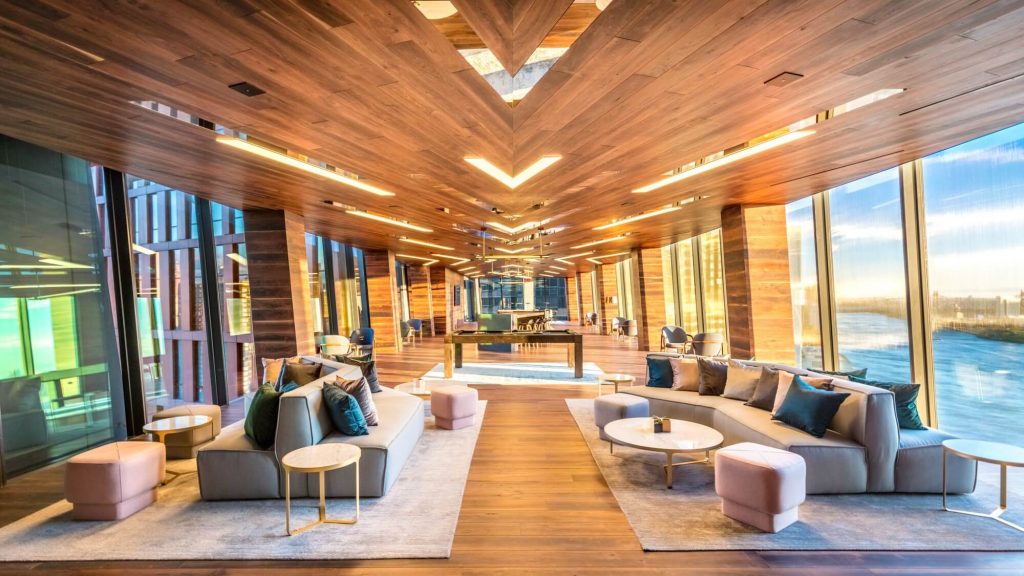 source: 6sqft.com
As we already told you that this is a residential property it is quite evident that it is open for people. But the main question is, how much is the American copper building rent? Is it super expensive to live here? The answers to all these questions are given below. Here is the table with the information on each type of flat with the price range.  
| | |
| --- | --- |
| Flat Type | Cost |
| Studio | $3,408 – $4,815 |
| 1 Bedroom | $4,291- $5,958 |
| 2 Bedroom | $6,333- $7,622 |
| 3 Bedroom | $9,644- $10,644 |
So if you're interested in buying a property in this construction, then visit its official site. 
The Main Highlights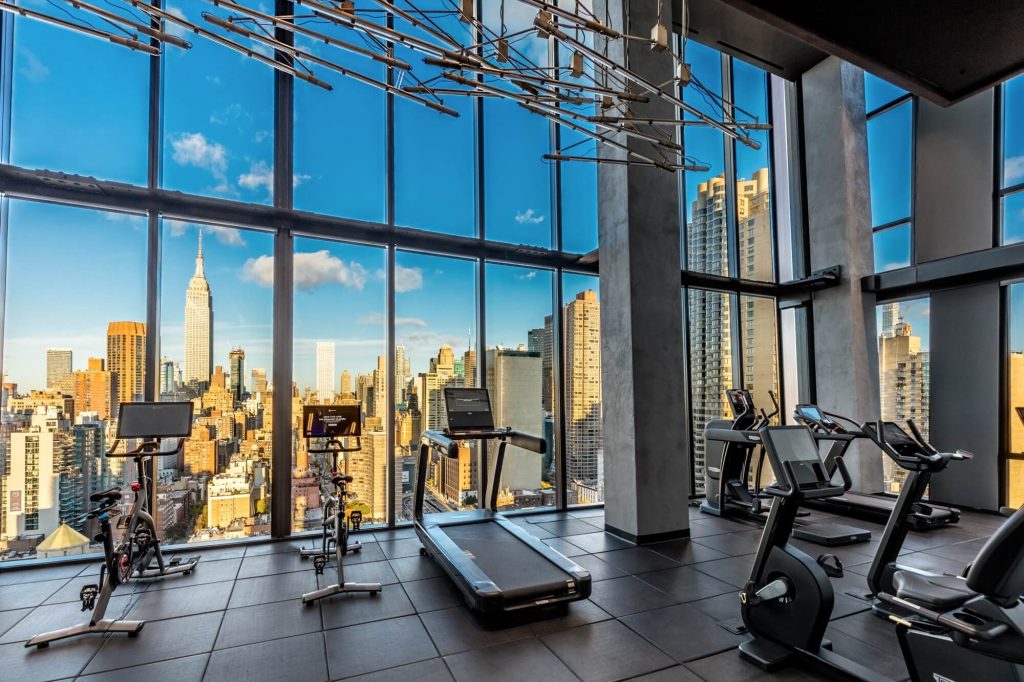 source: archpaper.com
It provides things that no other residential property provides in the whole city. Here are some main highlights of the shop buildings:
75′ Skybridge lap pool & whirlpool with various depths

Empire studio- which can be used as a celebration place. 

Chef's catering kitchen

Skybridge lounge area and a bar. 

Ample an underground parking area with a gym. 

Hammam spa, private spa and treatment rooms

Yoga and Pilates studio
All Things Considered
Are you lost in the luxuriousness of the building? Come out of your daydreaming because you can actually live this dream in reality. Rent a unit in this astonishing building or just take a tour & later decide whether you want it or not. So, this is all about the American Copper building from our side. 
Do you like it? Of course, you do!! Nowadays, some constructions are mind-boggling, and this is one of them. From architecture to the lavishing amenities, it has everything. Architects keep everything in mind as some of them also live in this skyscraper. 
For more updates & architectural information and home renovation & decor ideas, visit Architecturessideas.