On Friday, March 27, 2020, Michael McKinnell, a British-born American architect, passed away at the age of 84, from COVID-19-induced pneumonia. He is known for his work in Boston City hall. He also won the international open contest to design this building, along with his professor Gerhard Kallmann.
The City hall is designed in an architectural style known as "Brutalist." The construction was started in 1963, and it was opened for the public in 1968. This year this remarkable building completed 52 years!! 
McKinnell explained the architecture & the genesis of the design in an interview in the book Heroic: Concrete Architecture and the New Boston (2015), "We believed that concrete was the appropriate material to use because it symbolized longevity, it symbolized permanence. It also symbolized faith in the future—that the building was going to last. And that was an act of resistance against the expendable commercial architecture of the time." he further added, "If we could have, we would have used concrete to make the light switches."
Boston City Hall was a significant success. Michael McKinnell was a student at Columbia University when he entered this competition. Right after winning the competition in 1962, he also established his firm known as Kallmann McKinnell & Knowles (now known as Kallmann McKinnell & Wood) in Boston. 
McKinnell was born on December 25, 1935, in Salford, England. He attended Salford Grammar School and later graduated from the University of Manchester in 1958. In 1960, he completed his master's in architecture from Columbia University.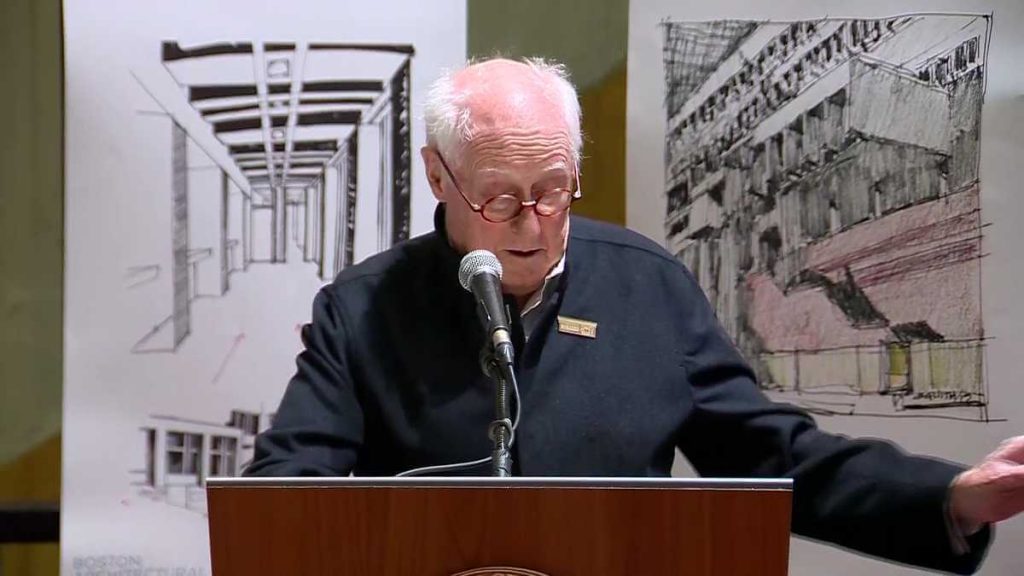 Did you know that his firm Kallmann, McKinnell & Wood has received 8 honor awards, including the 1984 Firm of the Year award from the American Institute of Architects?
They completed not only local projects like Cambridge's American Academy of Arts and Sciences building, Back Bay MBTA station, and Hynes Convention Center but also international projects like Washington University's School of Business and Public Administration, Becton, Dickinson and Company headquarters in Franklin Lakes, New Jersey. He was also appointed as a professor in the U.S. Commission of Fine Arts in 2005 (2005-2011). He also lectured and taught at many other universities all across the globe, such as Harvard's Graduate School of Design and Massachusetts Institute of Technology.