Baby Girl Nursery Ideas: Create a Cute & Comfy Place For Your Baby!
Are you blessed with a baby girl? Are you excited to bring your little girl to the world? Although you may feel morning sickness and backache, the feeling of becoming a new parent is great. You must have already started a lot of preparations and surprises for your baby girl, and one of them is decorating her room.
When you discover that you are going to have a baby girl, it will undoubtedly open an exciting, new chapter in your life. You'll want to make a warm and welcoming space for her in your house. With a little planning and ideas, you can easily do this. 
When it comes to a nursery, both design and function are important! 
You want to create a space that welcomes them into an inviting, calming nursery with a fun atmosphere full of wonder. It should be functional and comfortable for the baby and as well as for you. Because this is the place where you'll bond with her, feed her, play with her, and so much more.
Also Read: Remodeling Hacks for Turning Your Spare Room into a Nursery
Whether you're looking for a classic, modern, vintage, or a boho nursery, here in this blog, you'll find every type of nursery idea. Use this guide to get inspiration and ideas for your baby girl nursery and toddler girl rooms
Cute & Interesting Baby Girl Room Ideas
Below are thirteen attractive and soothing nursery ideas for your new baby girl:
1. Rainbow Baby Girl Nursery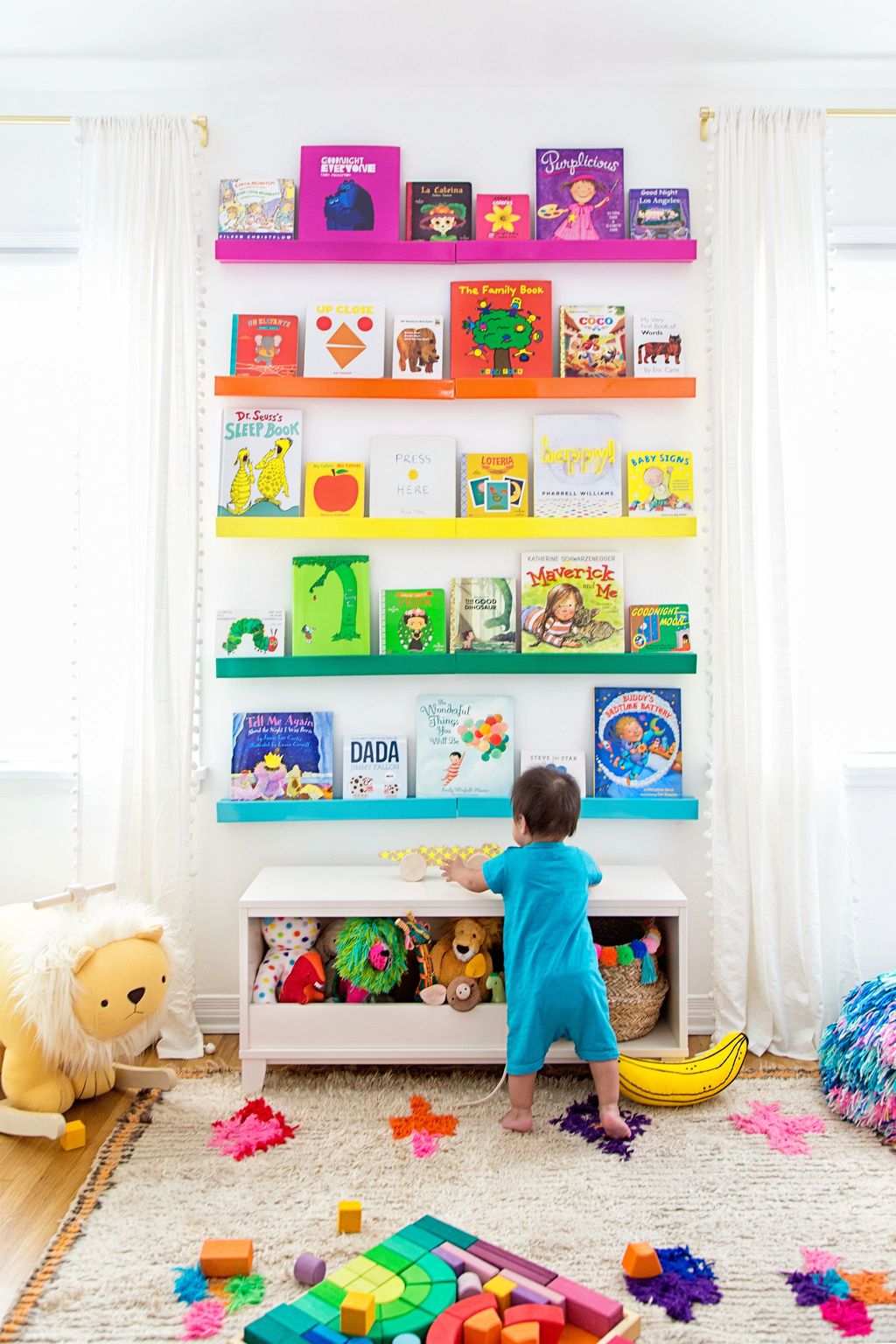 Source: pinimg.com
Want something colorful and fun? If yes, then this rainbow-themed nursery will be perfect for your baby girl. You can use this theme either on your walls or on bookshelves, as the above room has. To decorate them put storybooks and toys on the book ledges.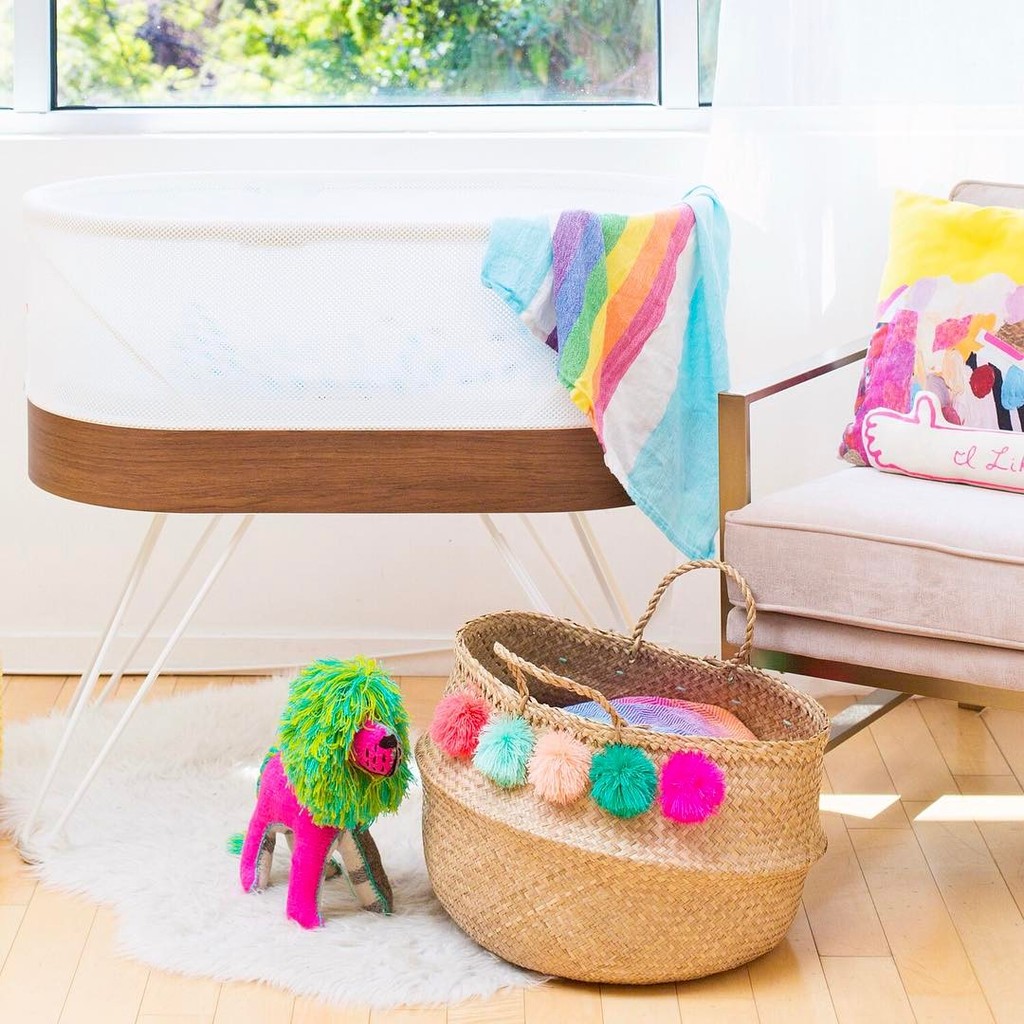 Source: cdninstagram.com
Decorate the rest of the room by placing an eye-popping pouf, a multicolored blanket, and some pom-poms. This will be a happy place for your baby to rest her head. 
2. Butterfly Themed Baby Girl Nursery Ideas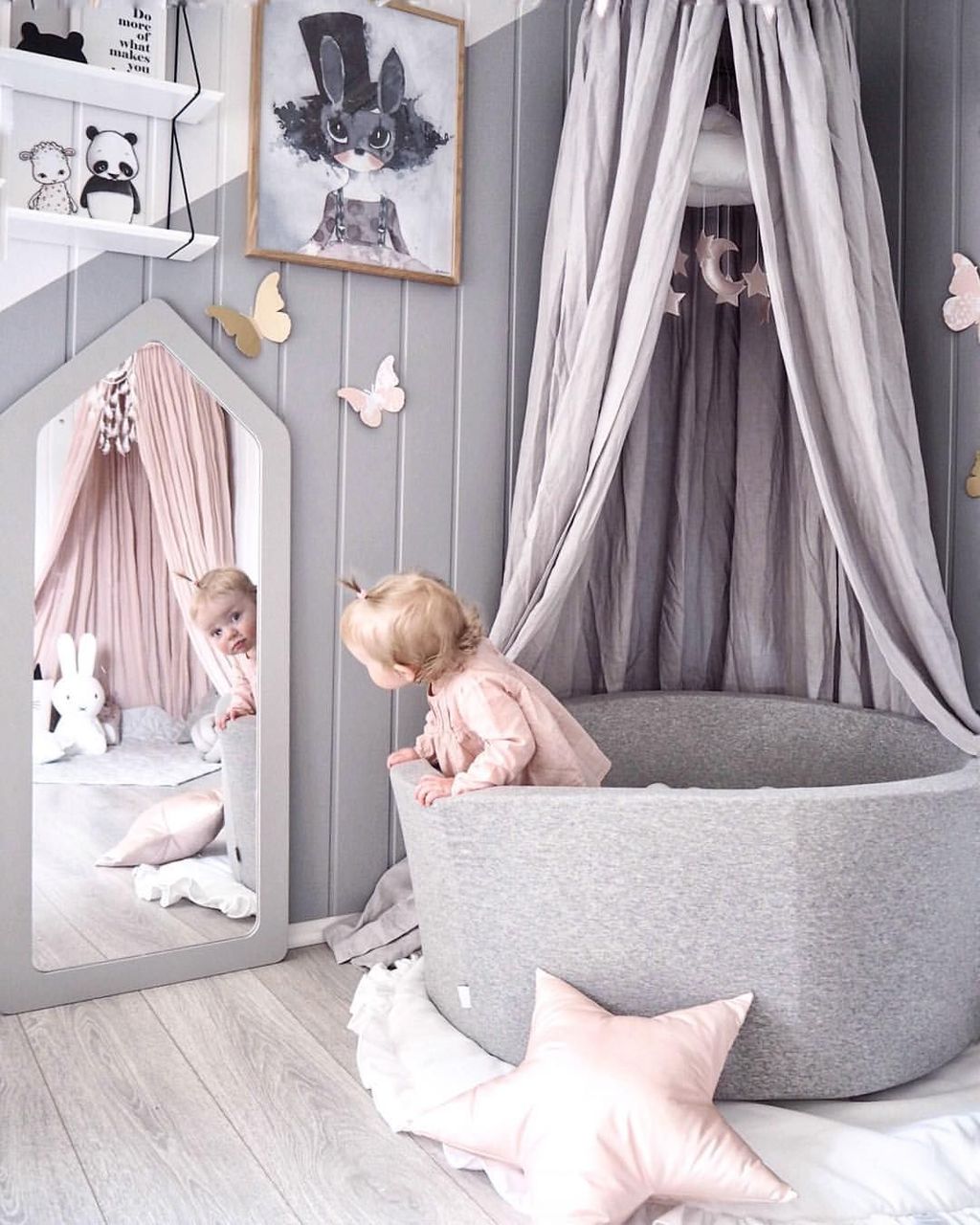 Source: pinimg.com
Another great way to decorate your baby girl room is by using a butterfly theme. We all want a room that our kids like even when they get older, and this butterfly themed room is one of them. No matter how old she becomes, she will always love this design. 
3. Twin Girl Nursery Ideas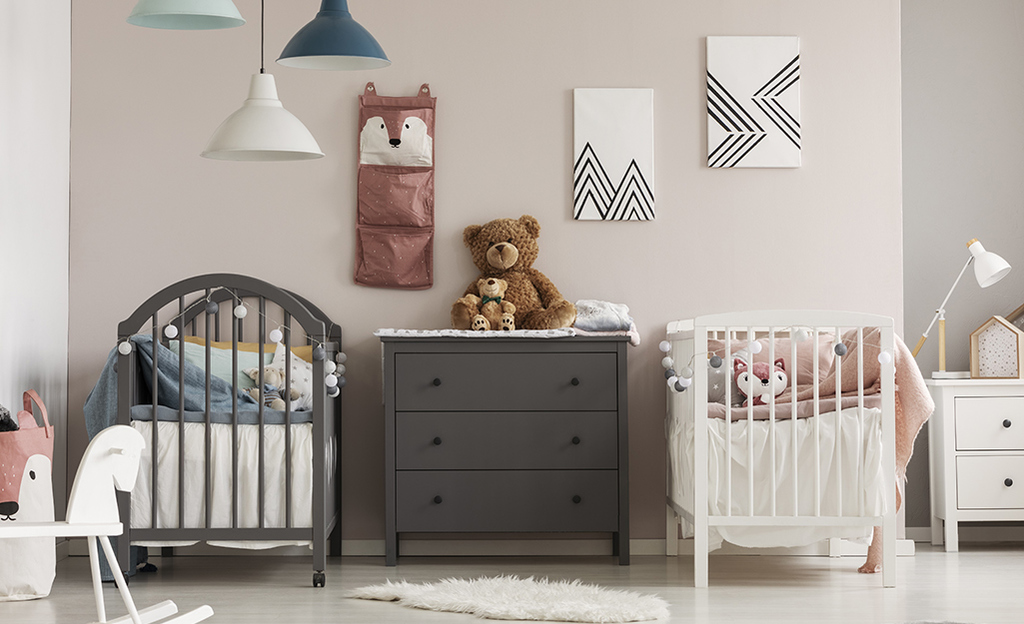 Source: homedepot-static.com
Are you having twins? What's better than that, God is blessing you with both hands! Designing a twin nursery can be a little tricky but definitely not challenging. You have to be smart with the furniture and as well as with space. 
You can paint all the walls in the neutral color palette and put various styles and colorful cribs and accessories around. Use two cribs in either the same color or different, but they should be in the same style so that everything complements each other. 
4. Modern Blue Girl Nursery Ideas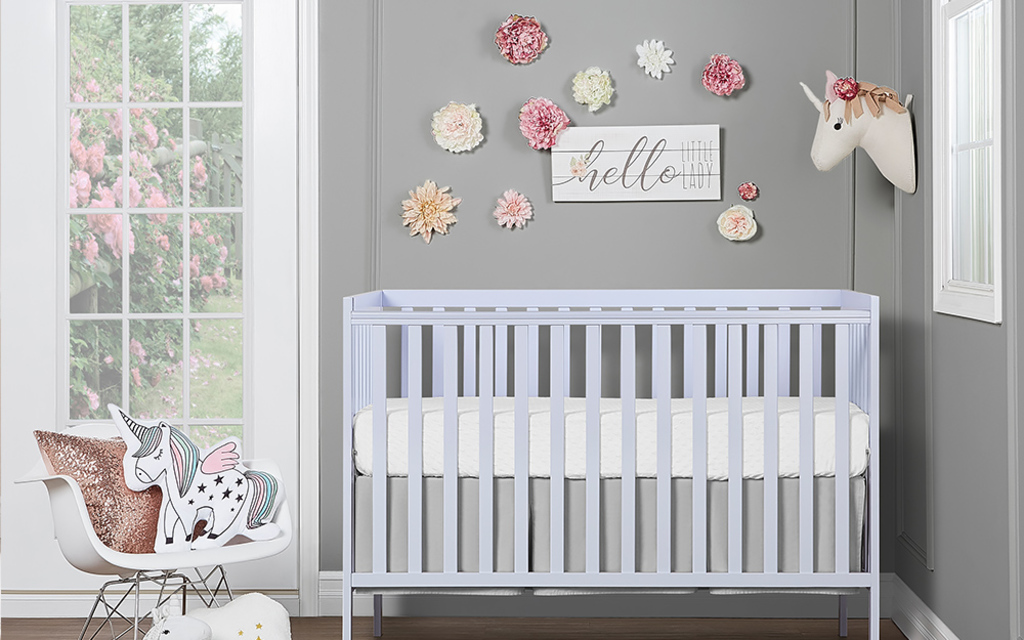 Source: homedepot-static.com
Who says that blue is only for boys? Don't bound your baby with color codes. There are many shades of blue that'll look absolutely gorgeous in the nursery. We recommend using lighter shades, like soft blue, pastel blue, etc.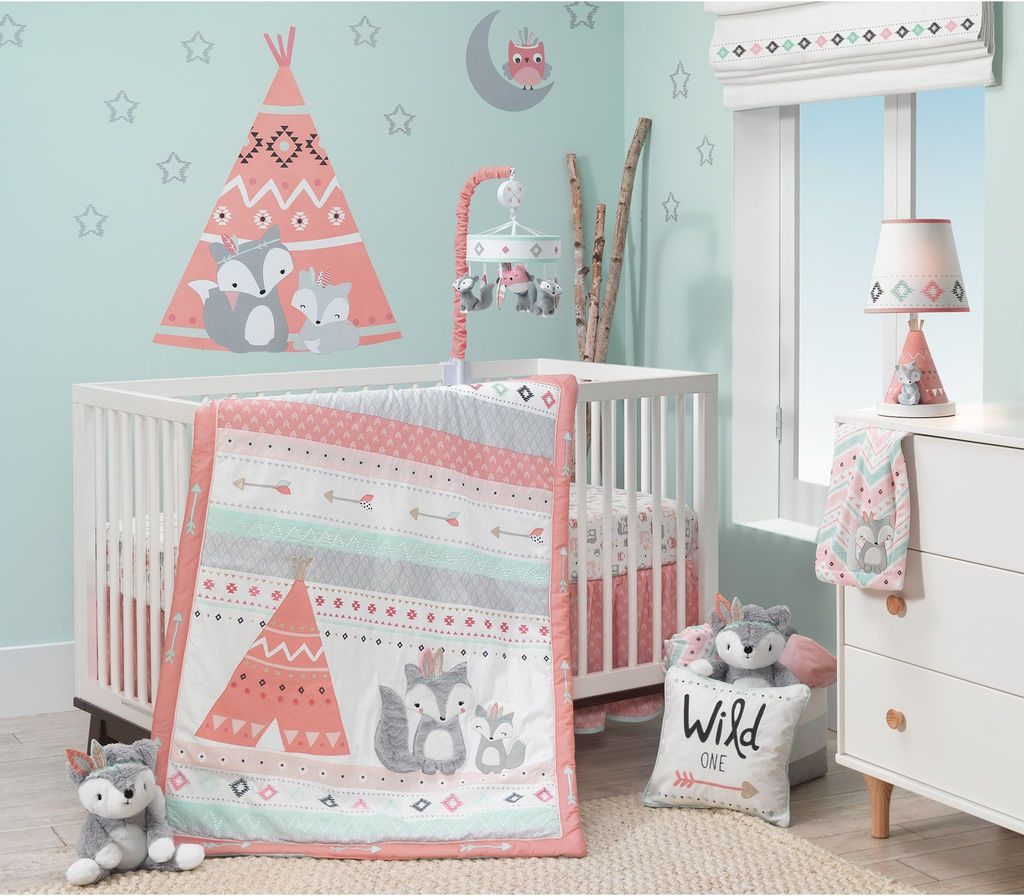 Source: pinimg.com
Suppose you're planning to paint the walls in blue, place furnishings in white, orange, and gray tones. If not on walls, then use this blue color in other things like a blue crib, throw pillows, nursery chairs, or other decor items.
5. Minimalist Baby Girl Room Ideas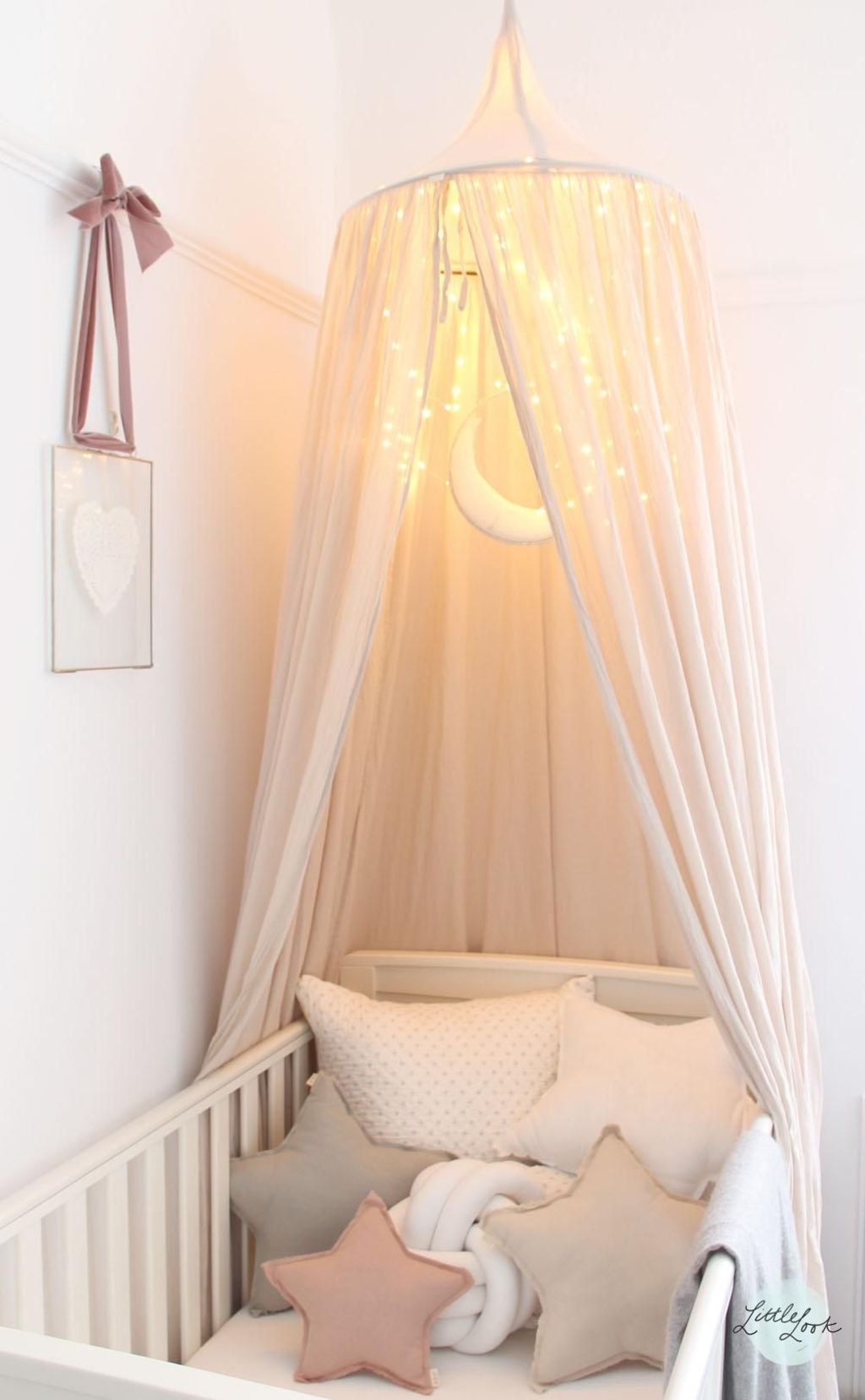 Source: pinimg.com
Love minimalistic designs? Don't worry, the baby's room will also look pretty cute and adorable in minimalistic designs. It is a great idea because there are many things that we want to put in our daughter's room, but it may create a mess.
So as a new parent, you should consider a clutter-free space, and for that, a minimalist baby nursery is a perfect match.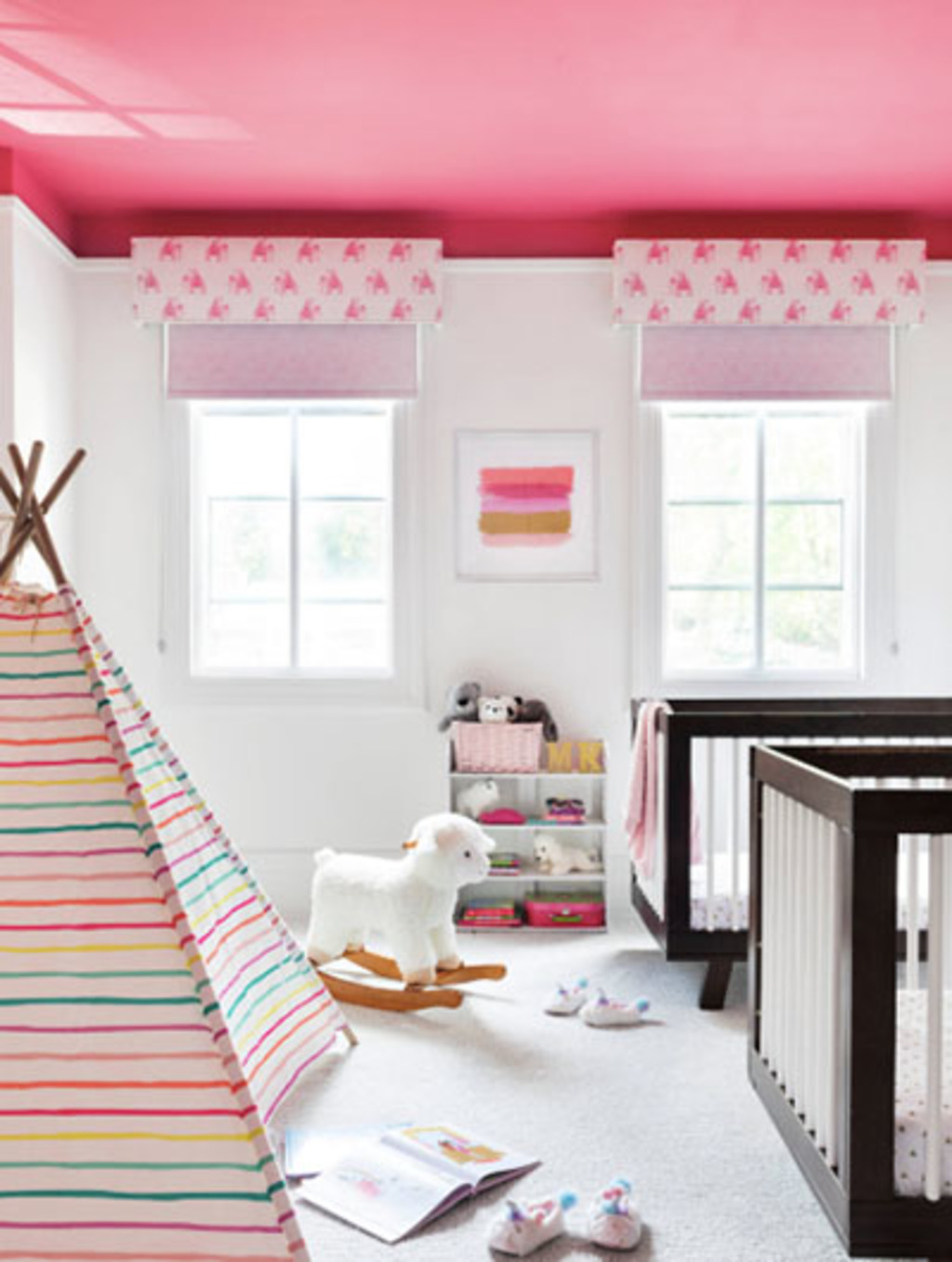 Source: sebringdesignbuild.com
6. Storybook Baby Girl Nursery Ideas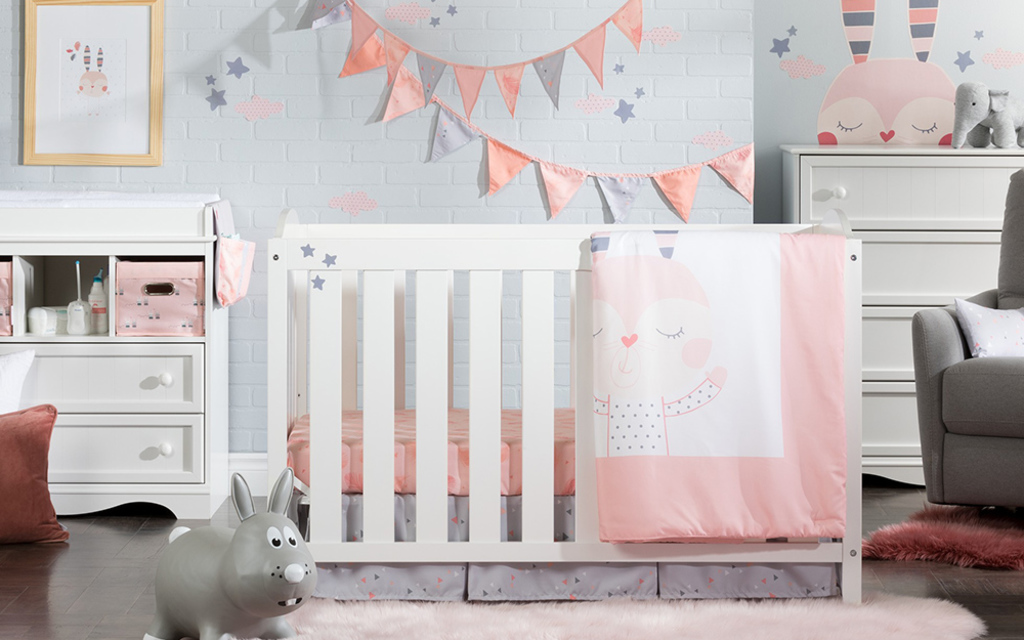 Source: homedepot-static.com
In our childhood, we used to decorate our room with our favorite characters, right? So why not you decorate your baby's room in a storybook character! Whether it is a Disney princess or a superman, your kid will surely love this beautiful theme.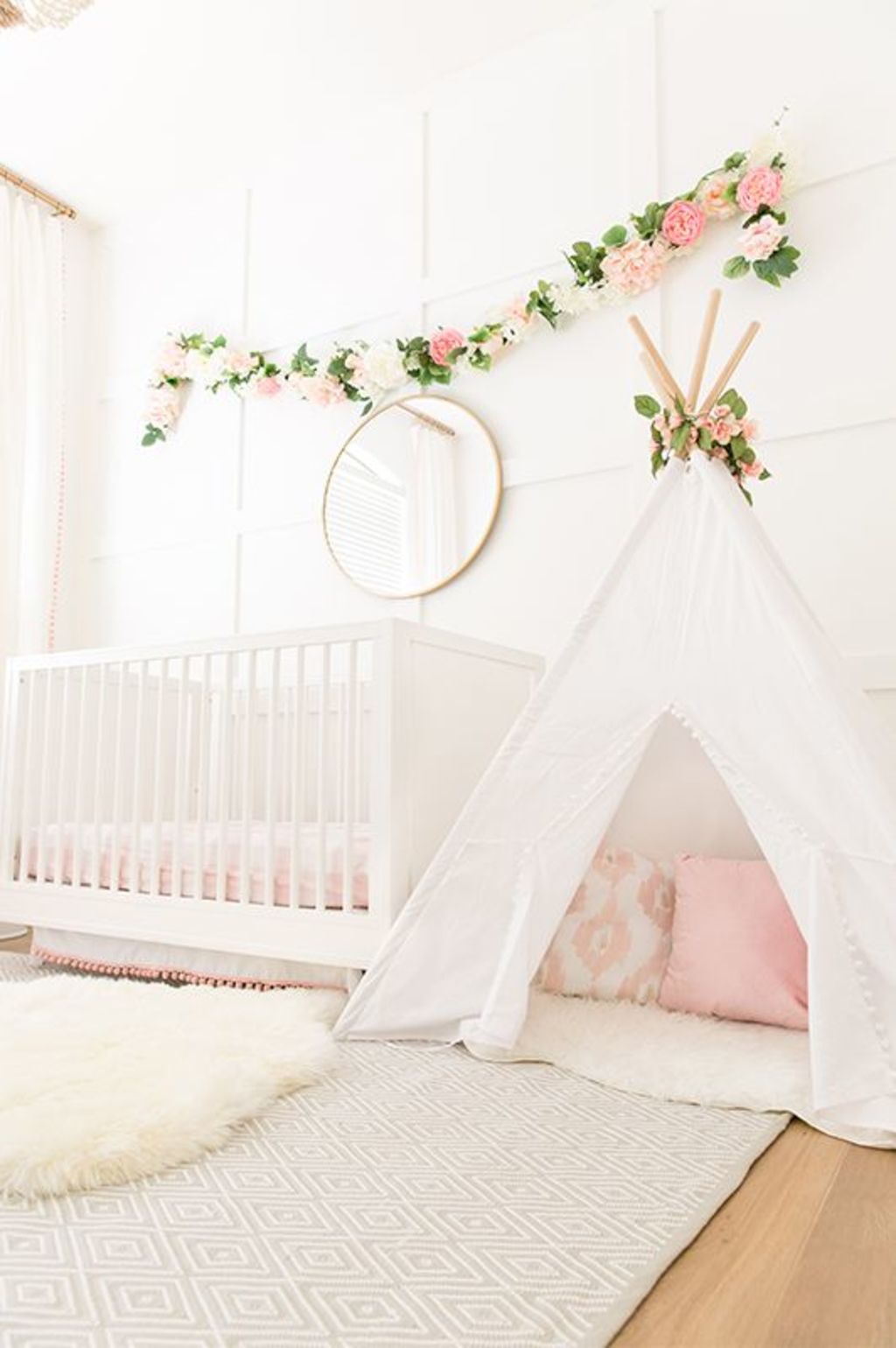 Source: hearstapps.com
To make it even beautiful looking, include other accessories related to the story such as a fancy lamp, painted crib. You can also select a garden or fairy themed wallpapers. You can also add a reading corner where you can read the magical stories to your kid. 
7. Black and White Baby Girl Nursery Idea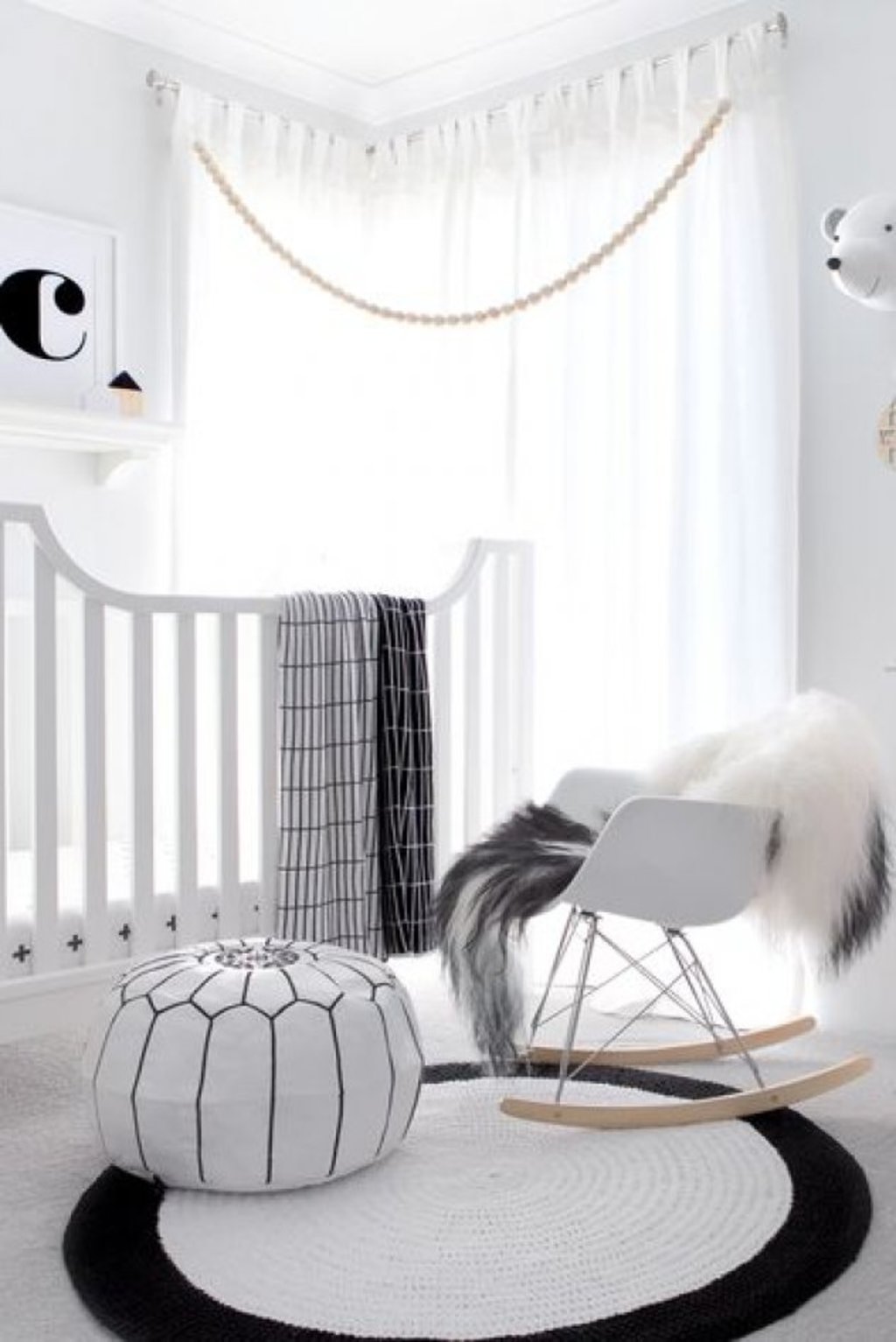 Source: eirinika.gr
A classic black-and-white theme is evergreen and super easy to transform it from a toddler to a teen room.
8. Edgy & Elegant Baby Girl Nursery Idea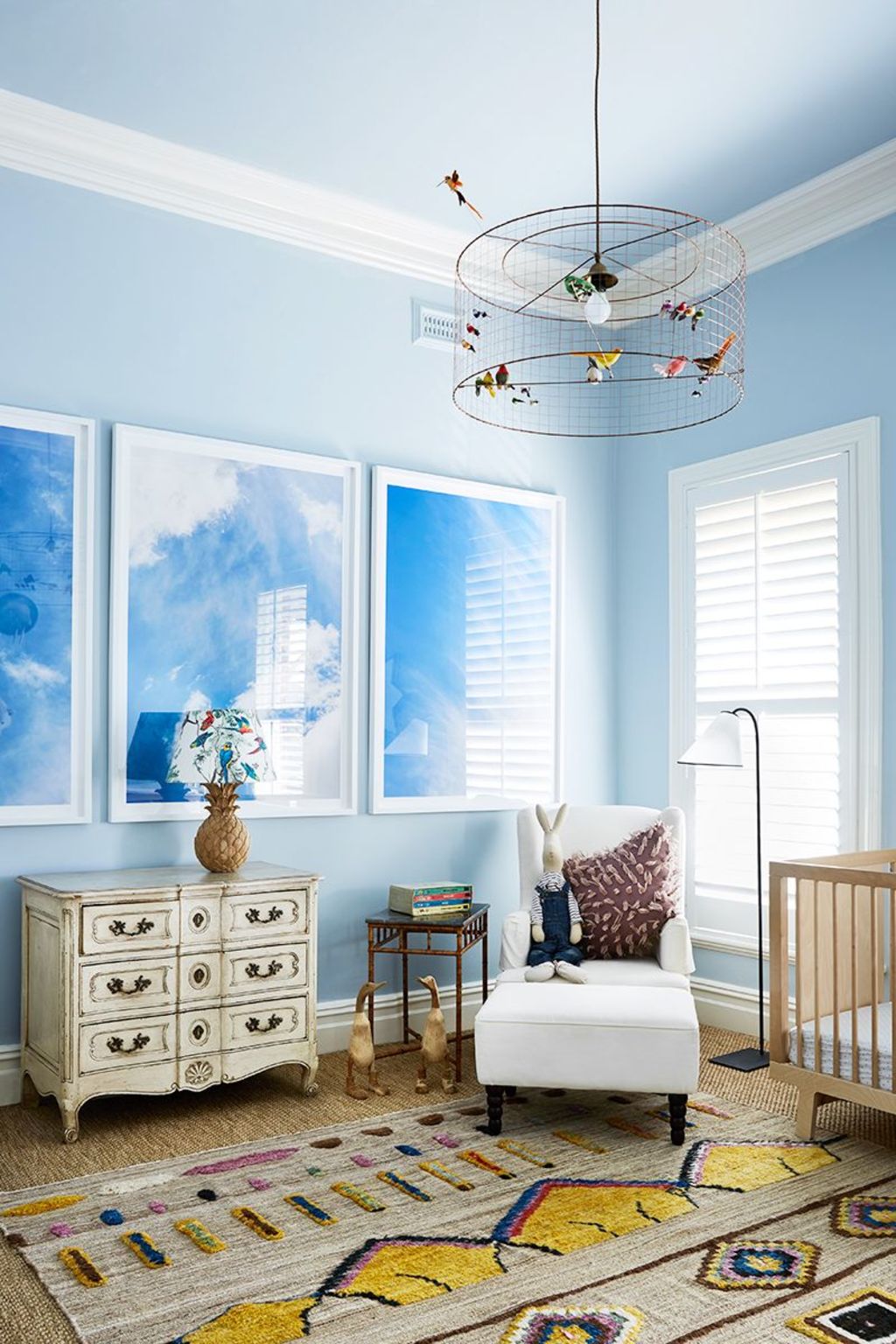 Source: hearstapps.com
Tamsin Johnson designs this adorable baby's room. She has used timeless pieces such as framed photographs, an ottoman and chair set, and a traditional dresser. All these pieces give the room a refined edge and elegance both at the same time. To balance the whole look, she chose a whimsical pendant light and a colorful rug.
9. Triangles and Stripe Patterns
Source: hearstapps.com
Stripes and triangle designs are never out of style. Yes, these patterns are timeless designs and will be great for kids of any age group. So you can wait till your baby girl herself decides what paint she wants in her room until then, use these types of wallpapers as a temporary solution. 
10. Sweet & Subtle Shades Baby Girl Nursery Idea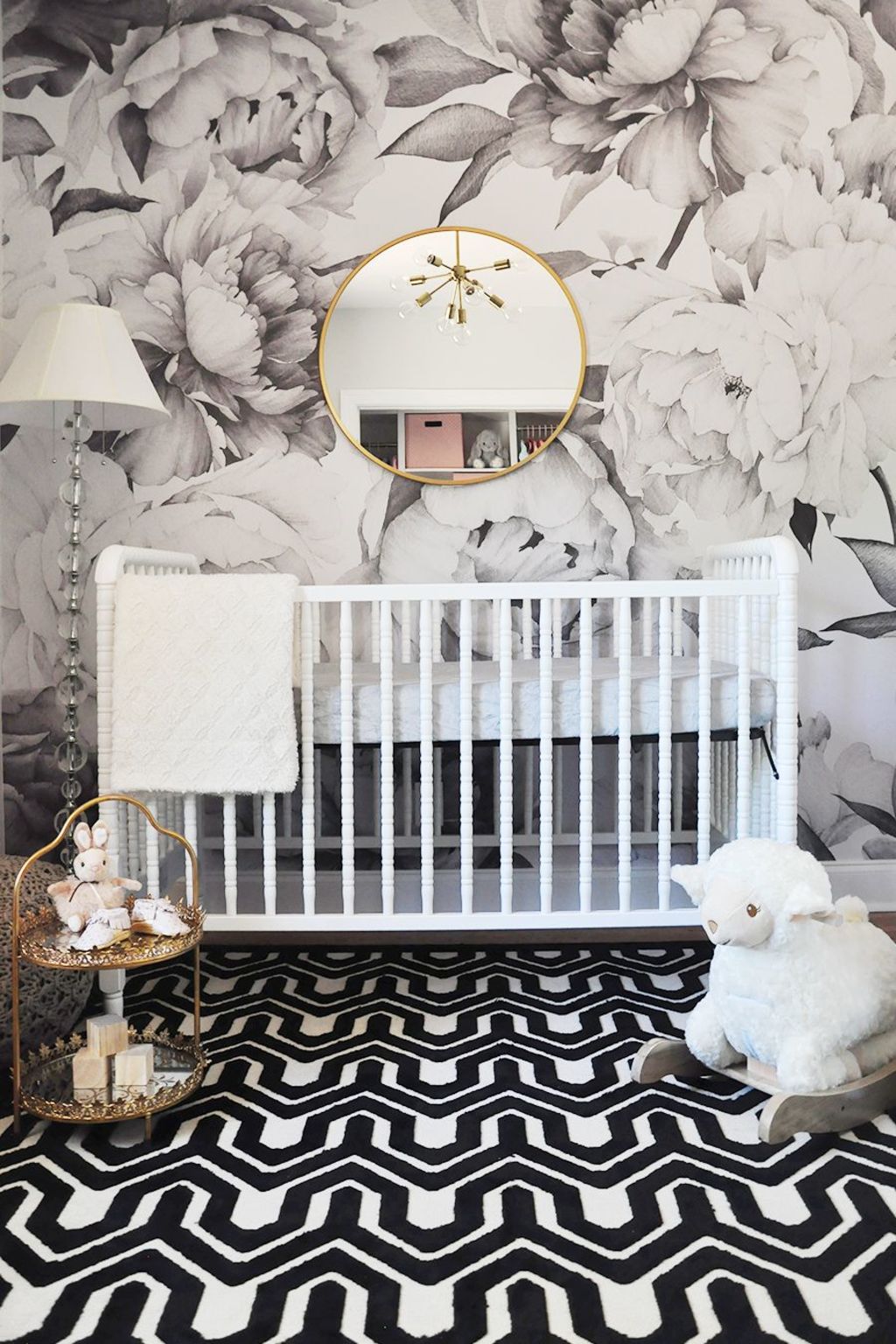 Source: hearstapps.com
This is another simple but eye-catching baby girl nursery idea. The floral wallpaper mural gives a softer look, and also it will not look clumsy. You can also try something monochromatic like the sophisticated black and white nursery. 
Also Read: How To Design & Plan The Perfect Kids Room For Sharing
11. Baby's Name Or Initials
Source: shopify.com
If you want to make your baby's room extra special, then feature her name or initials on the wall. This will be a great statement decor piece. You can either paint the name's initials on the wall or just use 3D letters. 
12. Pink and Gray Nursery Ideas for Baby Girls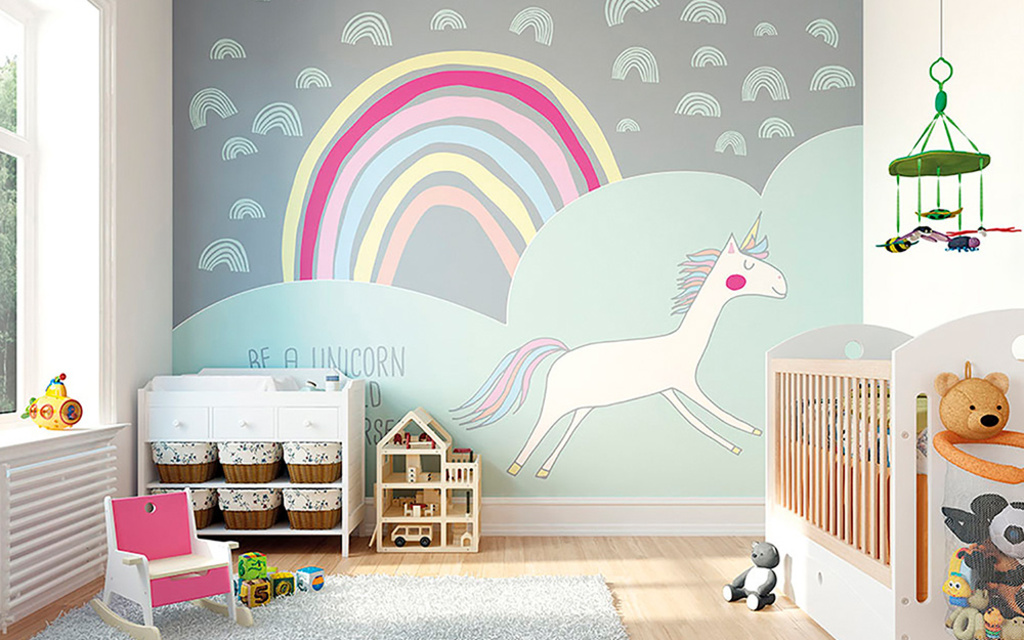 Source: homedepot-static.com
No girl's room is complete without some pink color, right? You can surely use basic colors like gray, cream, or beige, but you can also combine them with pink to make it extraordinary. 
Like this room has a plain grey wall, and on it, there is a happy unicorn and a vibrant rainbow. This gray and white charming shades moods a strong appearance, and the soft pink accents give a feminine touch. You can also do something like that in your baby's room. Use subtle pastel accents that provide a soft, calming feel to the room.
13. DIY the Walls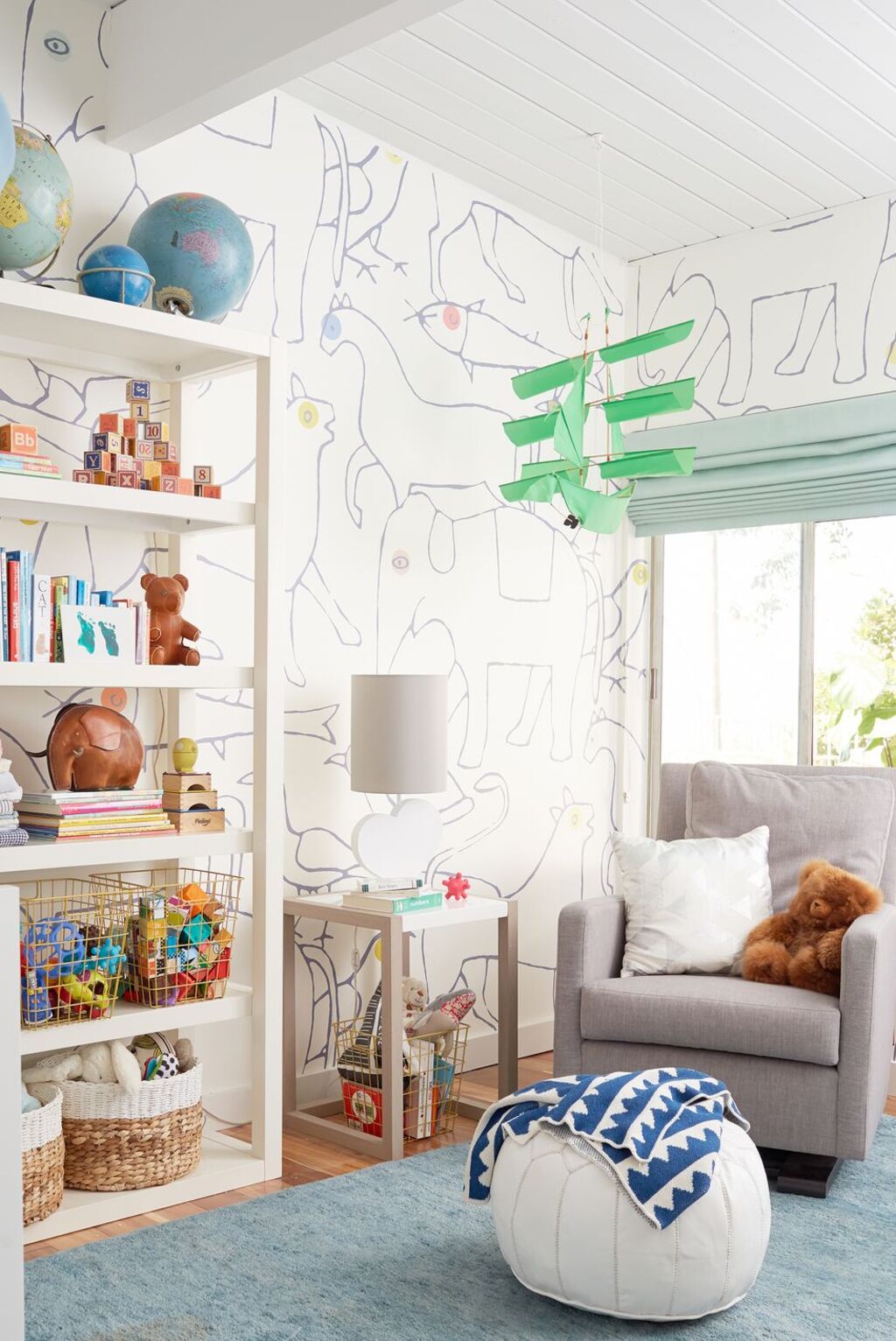 Source: hearstapps.com
Want to create something personal for your coming baby? Then try a DIY wall. You can also use customized wallpapers or stain the walls by handprints. You can even draw different animals on the wall, just like the homeowners of this home have done here. 
Source: ostkcdn.com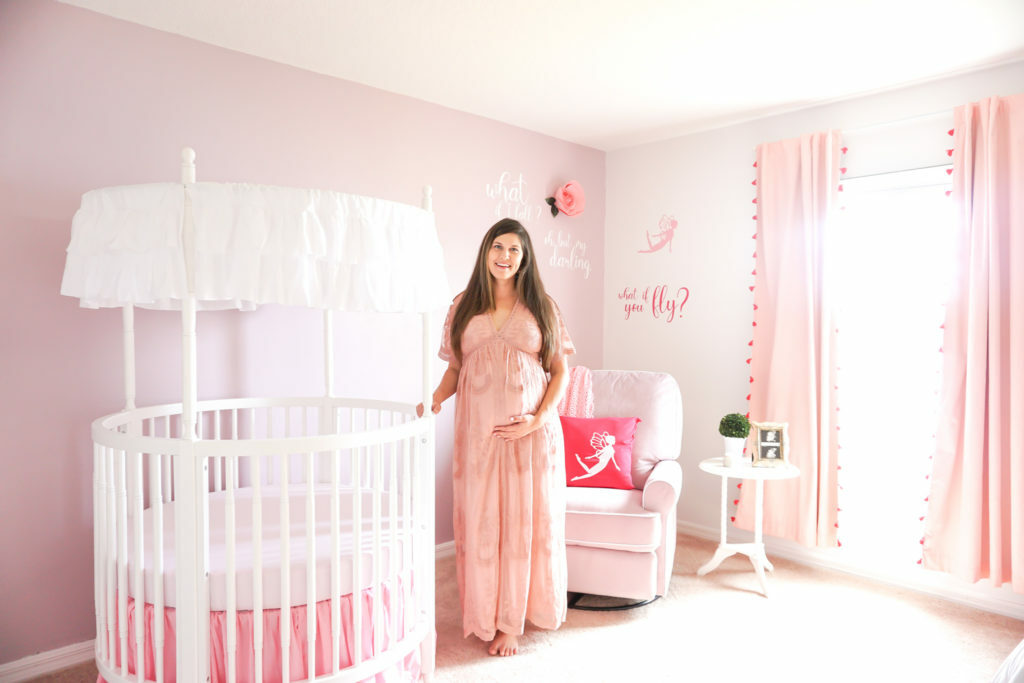 Source: edamommyblog.com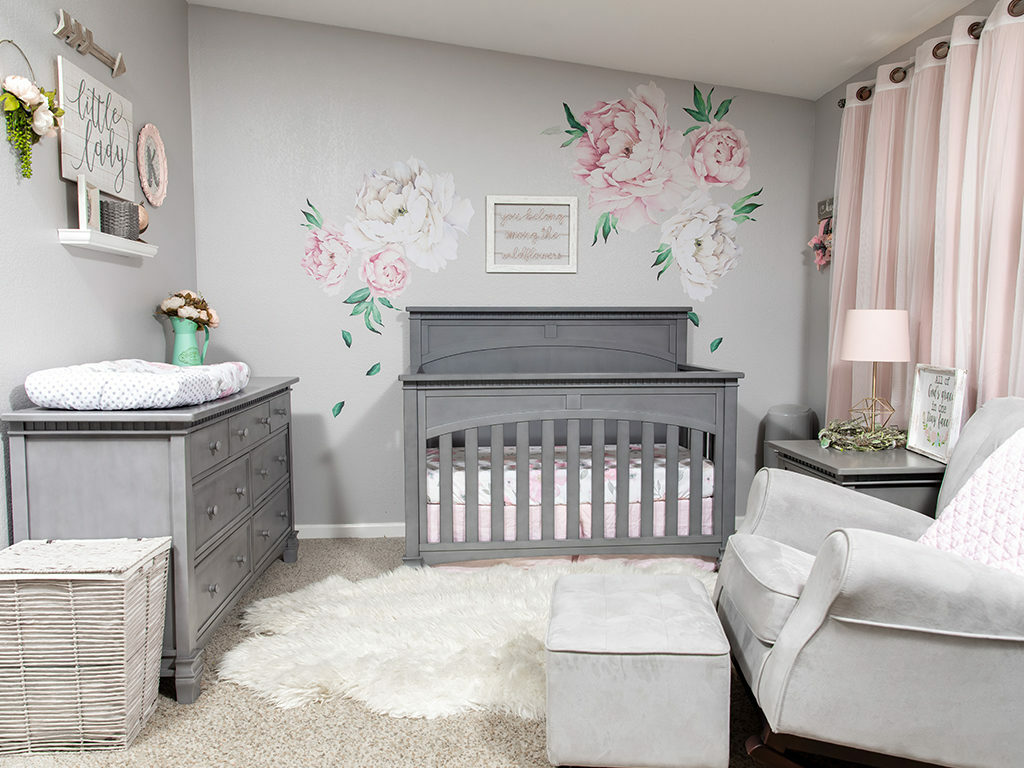 Source: thedomfamily.com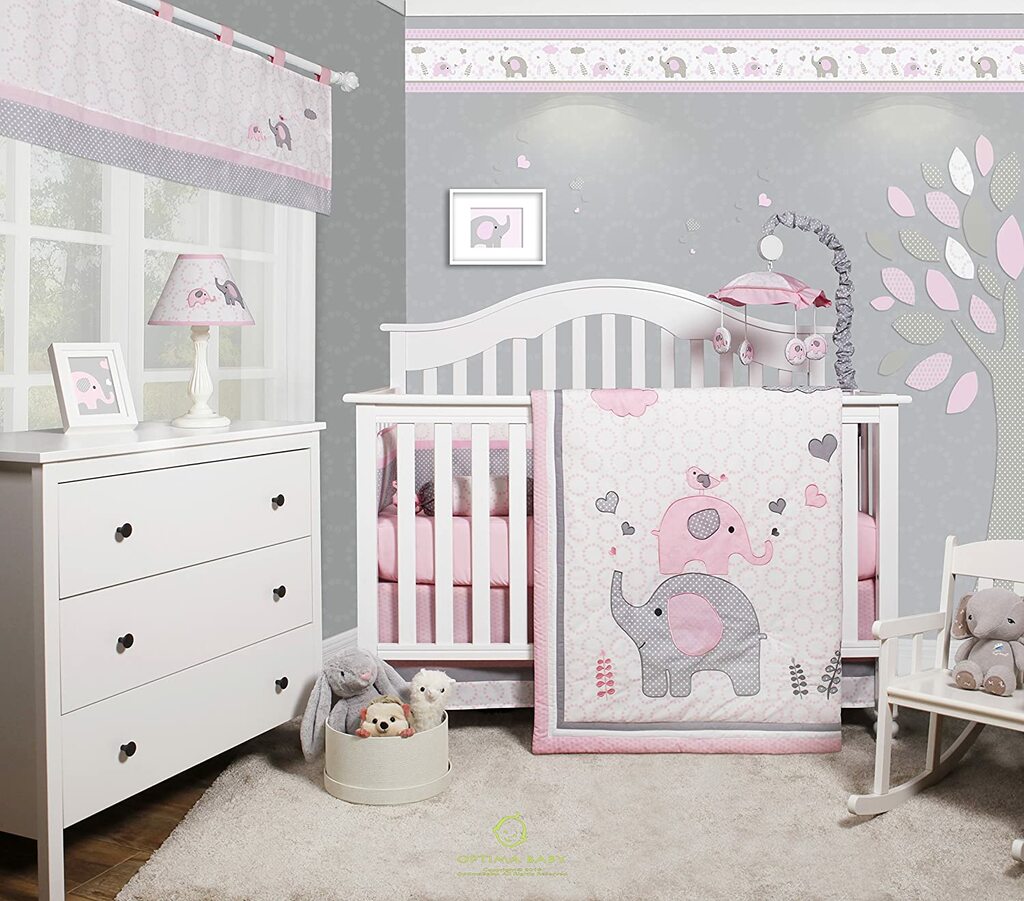 Source: ssl-images-amazon.com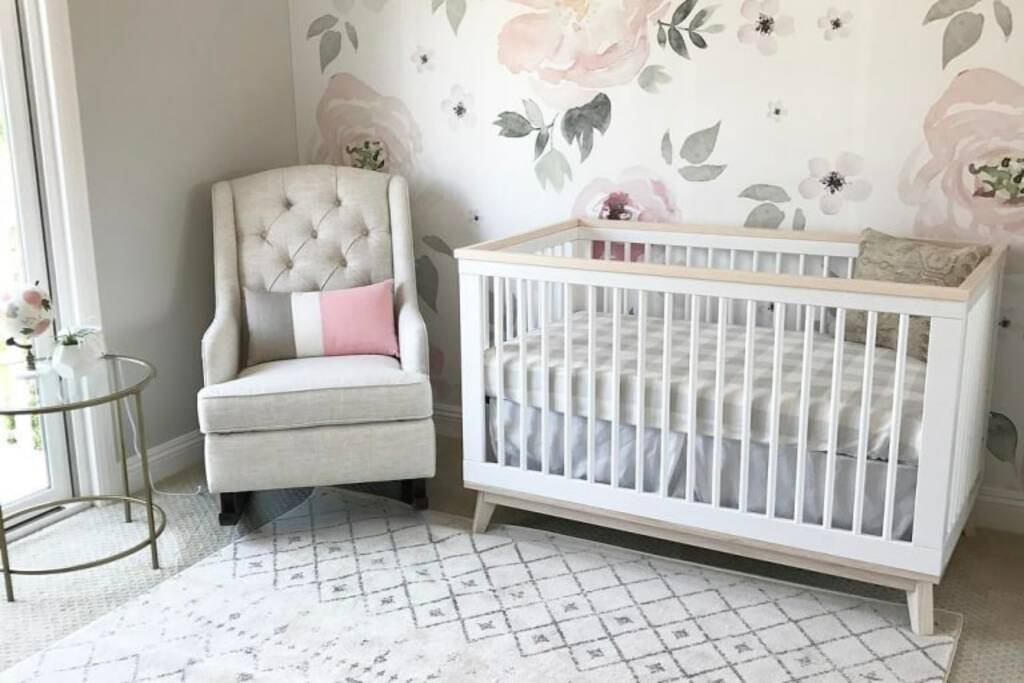 Source: cloudinary.com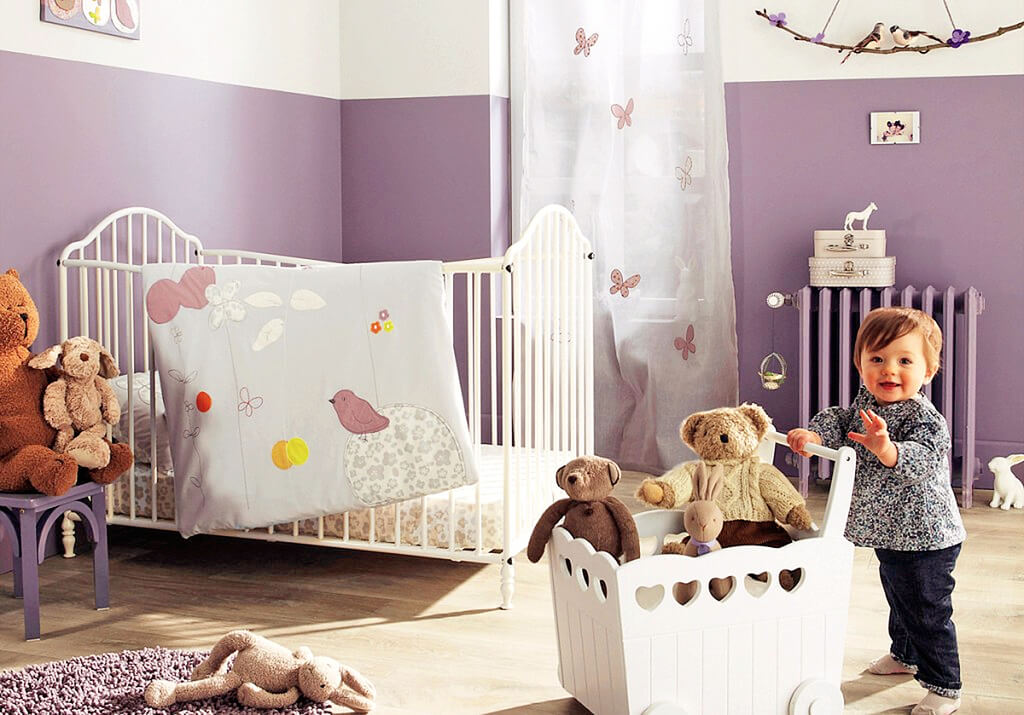 Source: fempatagonia.cl
Final Thoughts
Always try to create a safe and cozy space where your baby will feel comfortable. You can select any of the above nursery's ideas or let your imagination run wild! Complete the room decoration with a rocking chair or glider, a comfortable crib, and a useful changing table. You can also make the space transitional, so she will keep using the room as she grows. 
And when your baby girl comes into this wonderful world, she'll be enjoying the nursery you've created! For more home improvement and decoration ideas, keep coming to Architecturesideas.