How to Clean Stained Carpet Like a Pro
A carpet is a versatile piece of furniture. It decorates the space and creates additional cosiness in the room. Despite the positive aspects of having such a home accessory, carpet cleaning is a nightmare for any housewife. The complexity is added by the weight of the product, which cannot be lifted and washed neatly. Regardless of the colour, cleaning has to be carried out regularly; dark stains of spilt tea, a child's play with paints and felt-tip pens, that needs to clean efficiently. So, click here https://accelcleaning.com/ and know about some tips to clean stained carpet.
Methods to Clean Stained Carpet Like a Pro:
Removing oil stains from the carpet is difficult. It depends on the size of the spot – the damage is incomparable if you drip with sunflower oil or spill a whole bottle of substances with which the pile is stained – butter, vegetable oil, machine oil, cake-cream, or cosmetic for the face; the time when the carpet stain – just or six months ago. But you can adopt some method to remove stains from your carpet. As mentioned earlier, Go to this site and see how they have been employing various approaches for carpet cleaning. It has some interesting details.
Dry Cleaning with Vacuum Cleaner and Brush:
Source: bobvila.com
The easiest way to remove dirt from the carpet is dry cleaning. Of course, it is not suitable in all cases, but only when the dirt has not eaten into the carpet. Using a brush and vacuum cleaner, you can remove dust, dirt, crumbs, and other debris from the carpet. But this method is definitely not suitable when it comes to liquid pollutants.
Snow:
The ideal time for a total carpet cleaning is a snowy winter. Arm yourself with a beater, brush, roll up the carpet, take it under your arm and go outside.
Placing the carpet on the snow can effectively knock out dust from it, since it will not linger in the air and settle back onto the carpet, but will remain in the snow.
In addition, in several cases, you can get similarly rid of more serious contaminants. To do this, it is enough to sprinkle the specks of dirt with snow and rub them thoroughly with a brush, repeating the procedure if necessary. However, it all depends on the nature of the spots.
Also Read: How to Choose an Environmental Carpet
Baking Soda: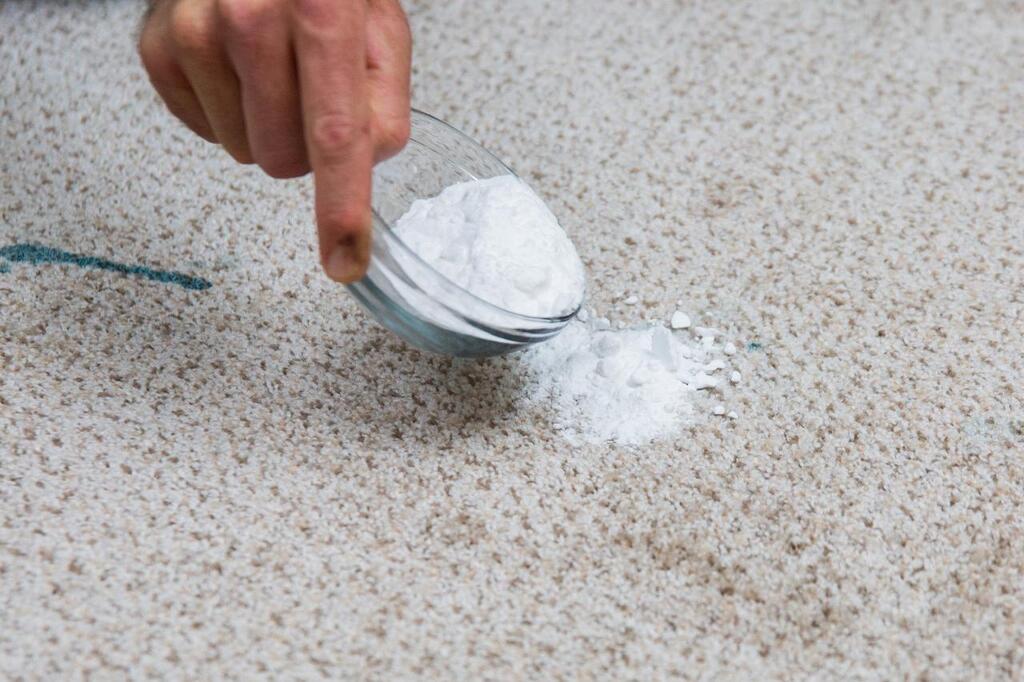 Source: sndimg.com
Carpet cleaning with baking soda is one of the most famous folk remedies for removing dirt on carpets. To get rid of dirt with this tool, you need to dilute soda at the rate of half a glass for five litres of warm water, spray it on the carpet, stand for half an hour, and then vacuum it.
There should be no trace of dirt. You can also use dry soda powder: it should pour onto the carpet, rubbed into problem areas, and then collect the soda with a vacuum cleaner.
Vinegar:
After you vacuum the carpet, you need to apply a weak solution of soda to the dirt at the rate of 15 millilitres of acid per litre of water, rub it with a soft brush in the direction of the pile, and then after half an hour dry it with a sponge and vacuum it.
Salt:
After cleaning the carpet with a vacuum cleaner, you can sprinkle salt on the dirt and then sweep it off with a damp brush. If necessary, remove salt residues with a vacuum cleaner.
In addition, a 1: 4 solution of salt with rubbing alcohol, which should be rubbed into the carpet in the direction of the pile, is perfect for getting rid of greasy stains.
Lemon Juice:
Lemon juice or citric acid works well for removing stubborn stains. To get rid of an old stain, just pour undiluted lemon juice on it. Let it sit for an hour or an hour and a half, and then remove the remaining juice and dry the carpet.
Ammonia: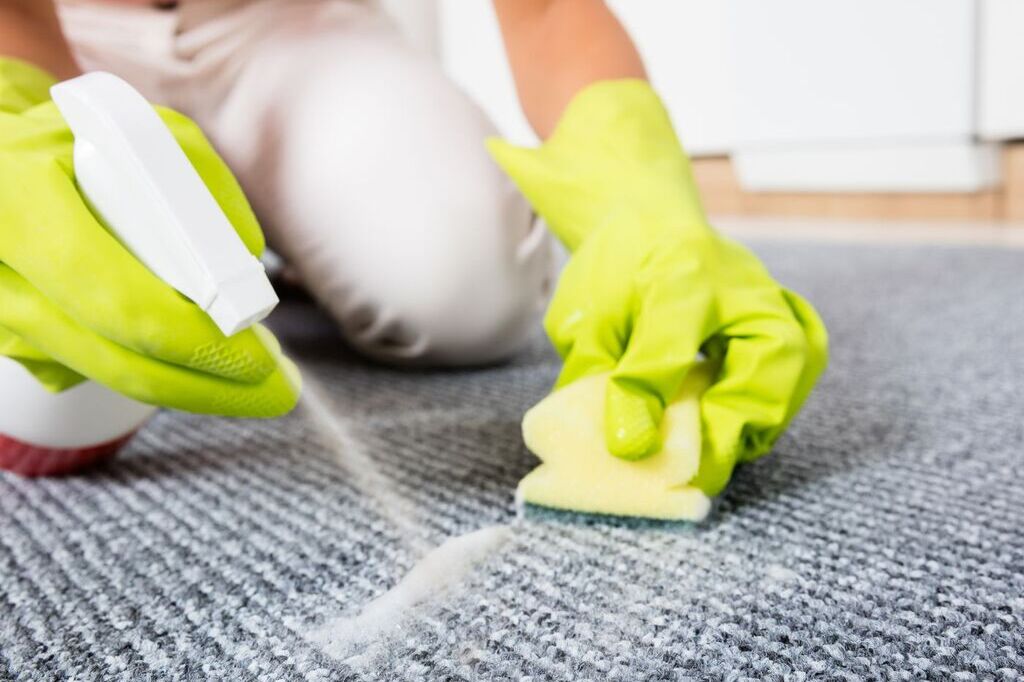 Source: vox-cdn.com
Half a litre of water, a teaspoon of washing powder and 10 millilitres of ammonia – such a solution should be applied to the stain, and then wiped with a damp cloth, then dry, so that there is no trace of the solution. 
Also Read: Some Of The Best Homemade Natural Cleaning Products
Laundry Soap:
A solution of a tablespoon of grated laundry soap, a tablespoon of turpentine and a litre of warm water must apply to the dirt with a soft brush. Then you need to lightly rub the surface with a rag, wipe off the solution and dry the carpet.
Baking Soda and Hydrogen Peroxide:
Both ingredients are great cleaners on their own. By combining these products in one bottle, you can remove the stain from the carpet even faster. You just need to mix 2 tablespoons and half a glass of peroxide, pour into a spray bottle, and spray on the stain. Wipe the damp surface with a microfiber cloth.