If you have a concrete floor in your home office, decluttering from time to time is vital in maintaining great hygiene and preventing domestic hazards. The plain truth is every type of concrete flooring (whether sealed, unsealed, polished concrete, etc.) uses a specific kind of routine maintenance.
However, the frequency and extent of cleaning vary according to type. Compared to other floors like rugs, carpets, etc., concrete floors are easier to clean up.
How constantly your concrete floor needs cleaning is determined by how much debris it receives. For concrete grounds, here are some of the basic qualities that aid its easy cleaning.
They are smooth. There is no contour and irregular lines to trap the dirt being cleaned.
Proper epoxy floor coatings and sealings make it resistant to stains, moisture, and some abrasive activities like grinding.
If you have pets, you can easily tidy up the dirt caused by their paws. An example is dirt from your puppy's muddy paw.
While doing your mopping, you can either do so with water or not. Your choice depends on what you're trying to get off your floor.
Your coatings require less yearly maintenance.
Sweeping is quite easier and faster due to the smooth surfaces.
Its quality of resistance to moisture makes it easier to spot liquids for instant cleaning.
Visibility of objects is another benefit. In cases of sharp objects, they are easily noticed and removed on time before they can cause harm.
How You Can Clean Your Concrete Floor
Cleaning is a simple process. It can also be stress-free depending on what amount you need to do. For concrete floors, especially the sealed type, the processes are straightforward. Here are some of them.
Sweep particles like sand and dust from the floor using a broom, dust mop, or vacuum cleaner.
Use a fairly moist mop, a neutral PH cleaner, and clean water afterward.
However, other cleaner types include alkaline and bactericidal cleaners. Bactericidal cleaners function as enzymes and help to clean stains and other dirt effectively. After washing with a cleaner, regardless of the type, ensure you rinse your floor thoroughly.
Give your floor a few minutes to be completely dried. Not until it gets dried; make sure it's free of movements. Otherwise, your cleaning process won't be effective.
Lastly, apply your protective coating again on your concrete. This comes in a little while after your concrete is dried. If not, you have a moisture build-up under your seal, which isn't good for its longevity.
N.B: Make sure small stains like liquid spills and drops of meals are cleaned up immediately. This doesn't follow as a step per se. It is, however, important to keep your coating and sealers long-lasting. Also, it makes you well-guarded and prevents you from possible accidents.
Why Do You Need to Clean Your Concrete?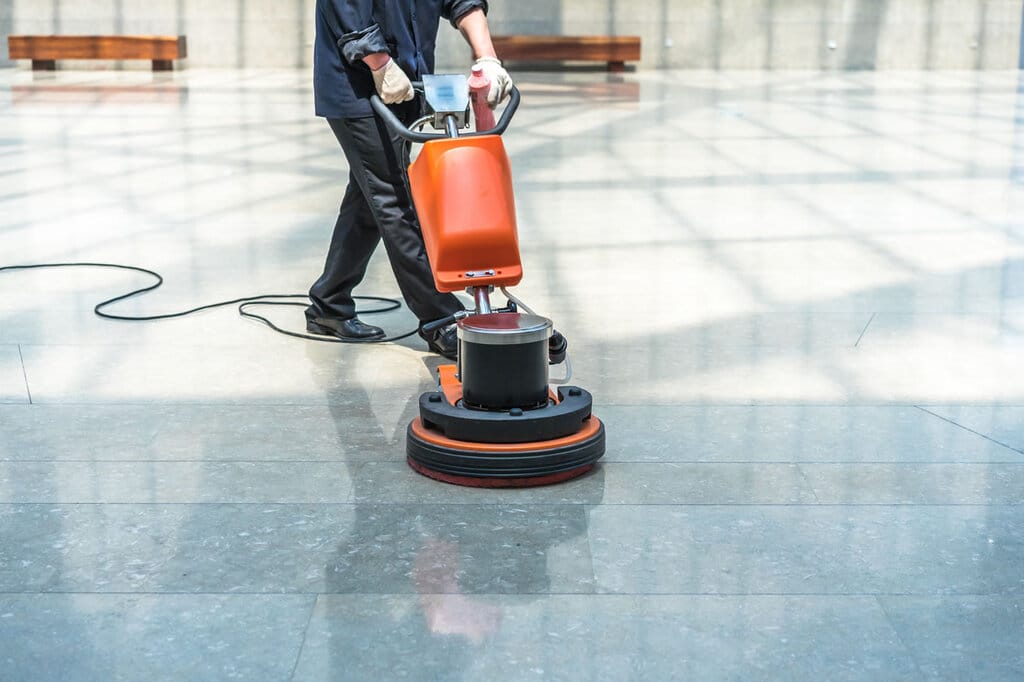 The reason for keeping a constant check on the state of concrete is as important as getting yourself fed. These are some of the reasons you need to do this:
It's a part of keeping good hygiene. To uphold beneficial hygienic practices, you mustn't falter in making your concrete floor tidy.
It rids your apartment of household insects like houseflies, mosquitos, termites, etc. Household insects are potent threats to our wellness and properties. To keep them away from you, you must incorporate the regular cleaning of your concrete.
You stay clear of domestic accidents. The slightest liquid spill can cause you to slide and injure yourself. You evade little domestic accidents like this by cleaning your concrete.
Also, sharp objects or debris can cause domestic hazards, leading to fatalities.
You are free from diseases and infections. Beyond just upholding the hygienic practices, your concrete cleanness serves you better by keeping your body whole.
Your home is made presentable to outsiders, and you earn their respects for that. How would you feel to have your visitor stay on a messy concrete floor at your home or office? Well, it would be quite displeasing. Aside from this, they will have bad impressions of your personality regarding cleanliness. This way, you've lost respect from such a person regardless of what you used to be to them.
Now, you can see how easy it is to clean your concrete floor. As an important daily process, you should ensure it's done without delay. Also, coupled with various cleaning processes in your home, workplace, or apartment, it adds to the beauty of all. Alongside, you'll directly serve yourself great benefits health-wise.
Learn more:-