How to Convert a Shed Into a Home Office in 5 Steps!
These days working from home lifestyle is so popular, and it has become a trend. Now it is not just about luxury, but due to COVID-19, it becomes a practical necessity. Because of benefits like flexible working hours, no travel costs, and a much better work-life balance, people are preferring this style of working over conventional office working style. For those people, a shed will be the perfect solution! You can easily convert a shed into a home office. 
"Recently, a result of the research shows that remote employees are equally as productive as their office-bound coworkers, and it is also more cost-effective!" 
The work-from-home lifestyle becomes more enjoyable and more manageable when you have a specific working area. So, whether you're working full-time, as a freelancer, or running a business, it's always best to have a separate room or area for working.   
People who have a separate room or area can utilize it as an office. However, for those who have no extra rooms or have kids, finding the right spot for work could be a little challenging! So, a shed will be a good option.
An office shed has many benefits such as:
It'll give you a separate and perfect space to work.

You'll be away from all kinds of interruptions and distractions.

It'll provide a noise-free area for your Zoom meetings & conferences.

You don't require much money to convert your shed into a backyard office.

No work clothes are needed (you can literally work in your pajamas).
In this blog, we're going to tell you how to transform a shed into a workplace in just five simple steps. Let's get started!
Step 1: Planning 
The first step is to plan everything. From buying the quality shed, what kind of shape and design you want to office accessories and utilities, there are many things that you should consider. 
Also, make a proper space in your backyard where you want your garden home office. Plan out things like water supply, electricity and computers and of course the internet. It's good to prepare a list of every single thing you'll need in your office work. 
Step 2: Select the Design, Layout & Size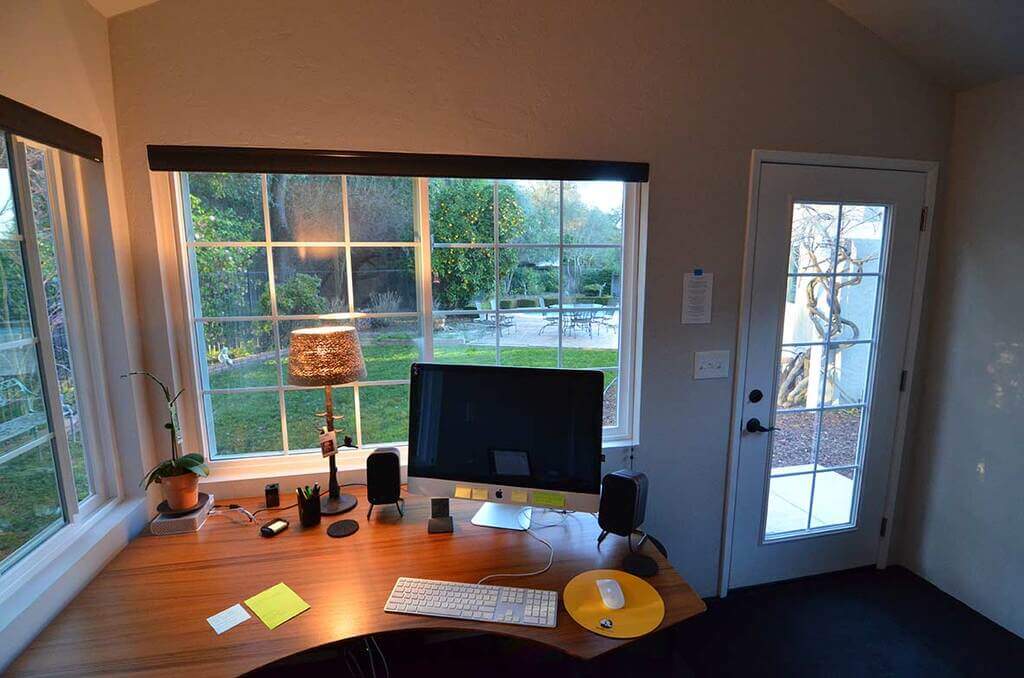 Source: tuffshed.com
Sheds come in a variety of different designs and styles, such as wooden sheds, garden sheds, log cabins, or many more. So, it's better to decide which size of shed you want, such as small, medium, or large.  Also, consider your garden or backyard's size, then pick the one that suits your office requirements. 
Step 3: Check the Condition of Your Shed
Whether it's a new shed or an old one that you already have for many years, it's vital to assess its condition. Check whether it needs some alterations and all the windows, doors are working properly or not. 
Especially look for any signs of mold, dampness, leaks, or wood rot. Make sure to deal with these things before you start using your shed. If everything seems good, you can proceed further to the next steps.
Also Read: Work From Home: 7 Inspirational & Creative Home Office Layout For Every House Type
Step 4: Convert Your Garden Shed Office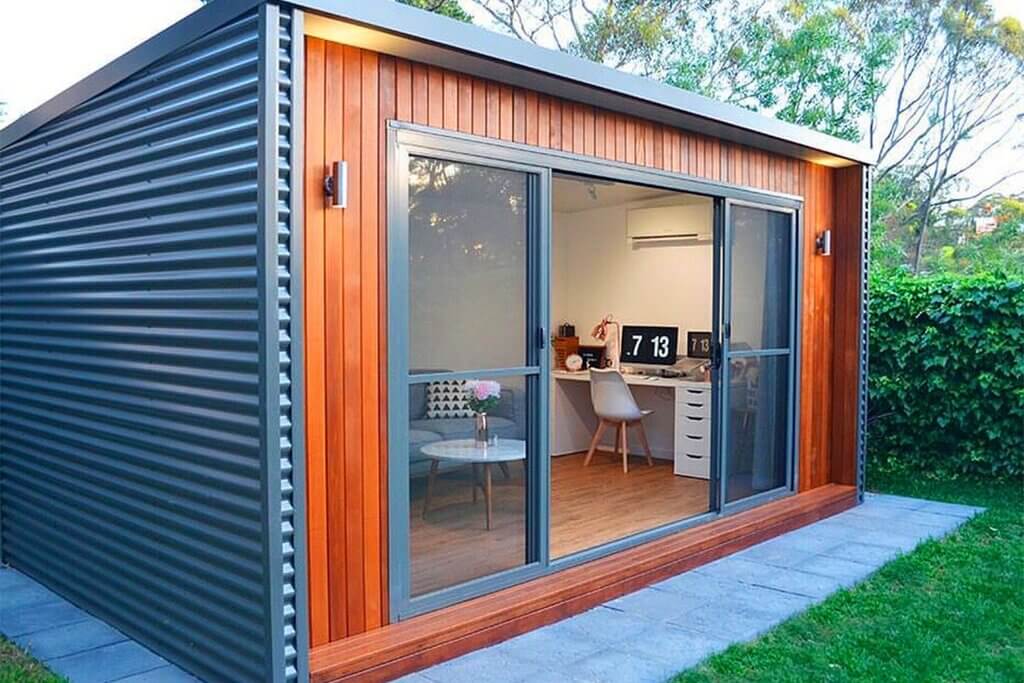 Source: twimg.com
Once you've completed the above three steps, it's finally time to convert your shed into your dream office. For that, you have to take care of some things, including:
Lighting
Select the right type of lighting so that you can work properly at any time of the day. You can use LED lights, desk and floor lamps, and even adjustable spotlights or track lighting.
Heating & Cooling
The proper amount of heating and cooling will allow you to work properly. No matter what time of the year it is, you'll always feel pleasant in your workspace. 
Insulation 
However, to maintain the right temperature, you'll need proper insulation. So cover the walls, floors, and ceilings. This will protect the shed from damp and also give you a soundproof area to work.
Electricity
Whether you work from a laptop or whichever you work you do, electricity is a basic thing to have. So, hire an electrician to do this task. You can tell him your requirements like how many sockets and light switches you need. 
Step 5: The Final Set-Up of Your Office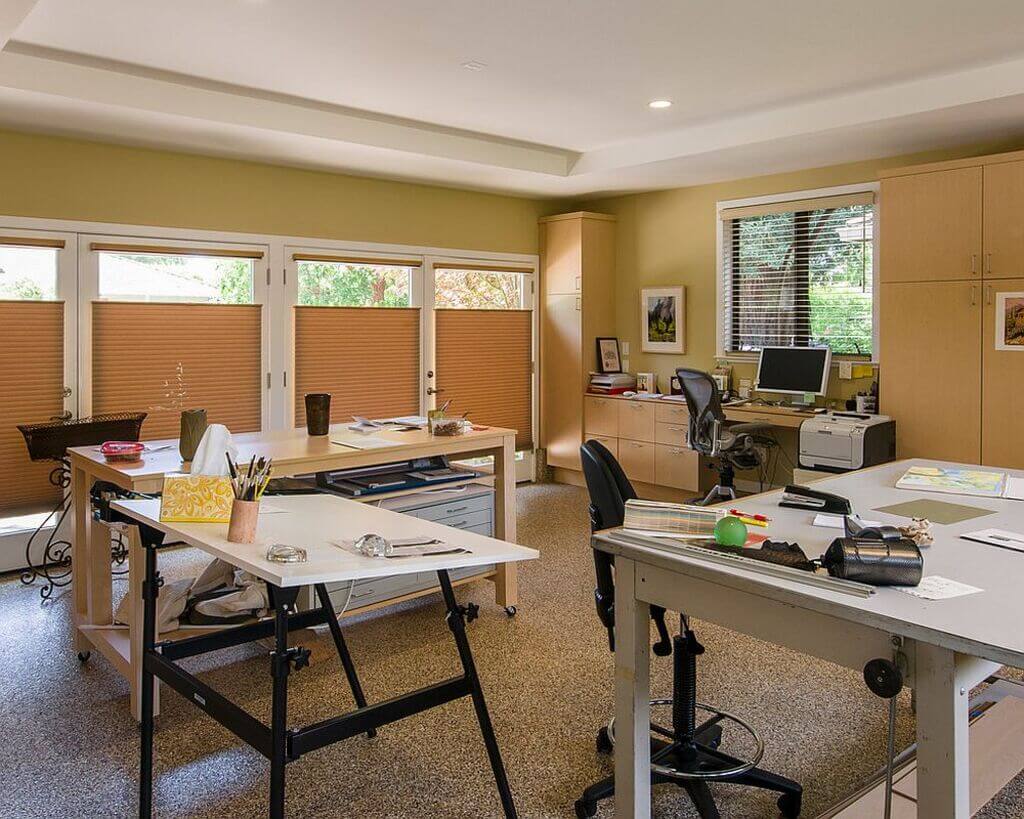 Source: decoist.com
After all these steps, you can finally decorate your office space. Buy some storage units and furniture items like a work table, chairs, and stationery stuff. This will completely transform a shed into your real home office where you can start working! 
Conclusion
Converting a shed into a backyard office is easy, and it is a great alternative to renting an office space. You can comfortably do your work in your garden office shed without getting interrupted. 
For more home improvement ideas and decoration tips, keep coming to Architecturesideas.