Various Types Of Flat Roof Materials: Which Is Best? (Pros and Cons Included!)
Are you looking to Replace Your Roof? But the replacement of the roof is definitely not as simple as buying a cup of coffee. This whole process takes a lot of thinking and we have to keep many things in our mind while taking a roof replacement decision. The first thing that you should know about is what are the various options of flat roof materials and which one will work best for your building. 
So if you're also curious to know, What are the different types of flat roofs? What are the various types of roofing materials? You've come to the right page. Today in this blog, we are going to tell you all about the flat roofs and the roofing materials. 
Deciding on the best flat roof materials for your home can be challenging, with a marketplace crowded by a ton of options. Read this blog until the end to get every information about the roofing materials that are also in your budget. Flat roofs are generally horizontal, and they have a little slope as compared to the other residential or commercial building roofs. 
So basically, the most common categories of flat roof materials are: 
Built-up roof (BUR)

Modified bitumen roof (MBR)

Rubber membrane roof (EPDM)
Let's know about each of them in-depth. We have also provided advantages and disadvantages of each type of flat roof material so that it will be easy for you to select the best roof material.
1. Built-Up Roof (BUR)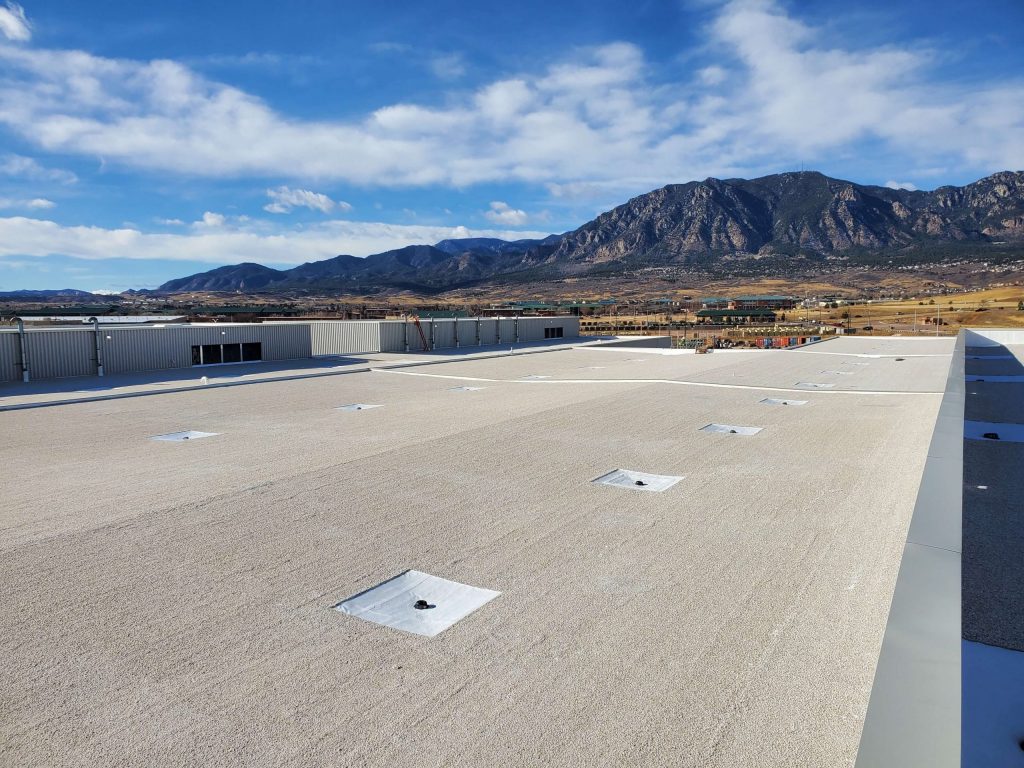 source: roofingsouthwest.com
Built-up roofs (BUR) are the oldest type of roofs. They have been used for 120 years. So, you can call them the grandfather of the flat roofs. They are built from three or more plies of a waterproof material that is substituted with hot tar. This process is done several times to create multiple layers (2-4 piles in thickness). Back in days, tar papers were used, but nowadays, fiberglass membranes are used. 
Pros:
These types of roofs are excellent fire retardant.

Inexpensive

Durable and also requires less maintenance.

Easy to set up
Cons:
Heavy 

It has an unpleasant smell due to tar. 

If the layers are not properly glued, then there might be chances of water leakage. 

Sometimes the application also requires an open flame/burner, which requires special safety measures.
2. Modified Bitumen Roof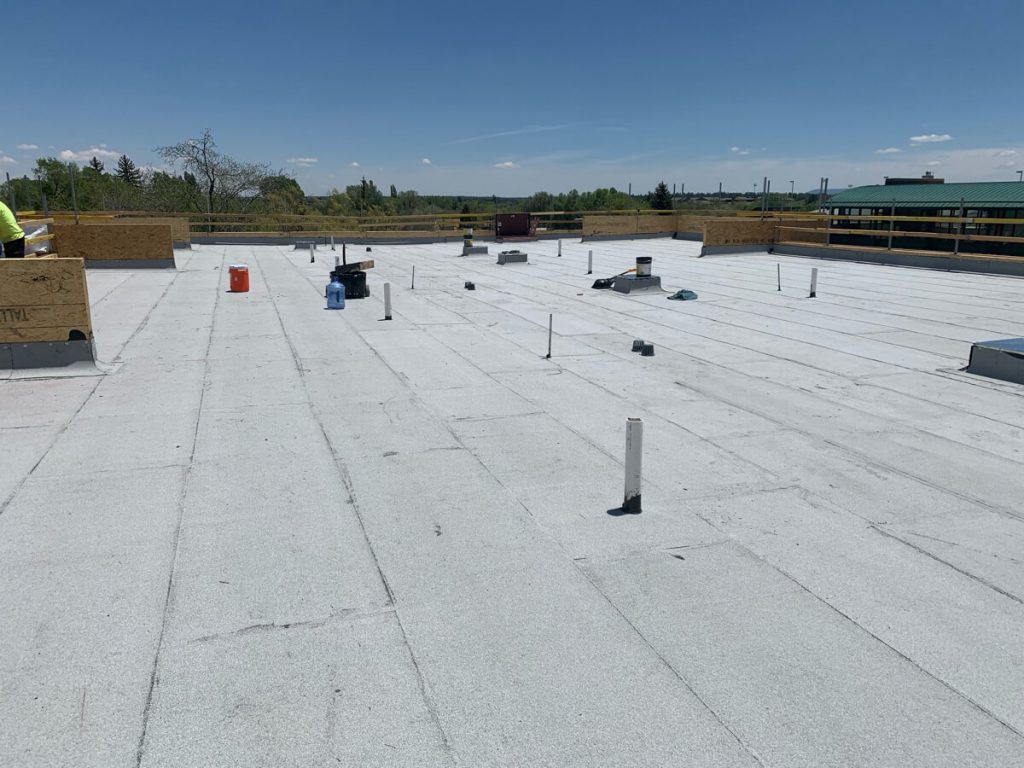 source: roofingsouthwest.com
A Modified Bitumen Roofing system is simply a method that is often rolled onto the roof surface. This is kind of similar to the ice-and-water shield. Back in the days, it used to be done by rolling the material on the surface, and then it used to be heated with a blow torch. But this is a bit dangerous, so the newer systems have a peel-and-stick material which is way more comfortable and safer than the blowtorch ones. This is also a nature-friendly flat roof system. The only drawback in this type of flat roof material is that they're susceptible to cracking, which reduces their life span. 
They can be applied by several various methods such as:
Cold applied

Self-adhered

Hot applied

Torch applied
Pros:
Super easy to install.

The surface reflects heat so it will lower your energy bills.

Affordable
Cons:
Torch-down application is a fire hazard, so it is highly not recommended for occupied houses.

Susceptible to cracks and not a tear resistance. 
3. Single Ply EPDM
source: medium.com
EPDM (ethylene propylene diene monomer) or membrane roof is the latest flat roofing material. You may have seen this type of roofing in commercial buildings. They are more commonly known as the elastomeric or plastomeric roof membrane. These single-ply roofs come in a few different varieties, such as:
PVC (polyvinyl chloride)

EPDM (ethylene propylene diene monomer)

Neoprene (polychloroprene)

Polymer-modified bitumens

Chlorinated polyethylene and chlorosulfonated polyethylene sheets
From all these five types of membranes, synthetic rubber is the most typical single-ply membrane. This type of roof material is used in both residential and commercial buildings. They are basically installed as thin sheet materials with a thickness of 0.030 (30 mils) to 0.060 inches (60 mils). Because they are made of rubber, they're quite flexible and can handle the variations in the temperature. 
Also, membrane roofs can be attached in a variety of ways, such as they can be fully adhered to the rock or just partially laid and then held down with river rock ballast. Now let's look into their advantages and disadvantages.
Pros:
User-friendly installation.

Light in weight

Tear and scratch resistance.

Leaks are also very easy to patch.
Cons:
The black material absorbs a lot of heat, and this may add up to 30% of your bills.

Expensive than the other types of flat roofing materials.

As compared to others, it is more vulnerable to punctures.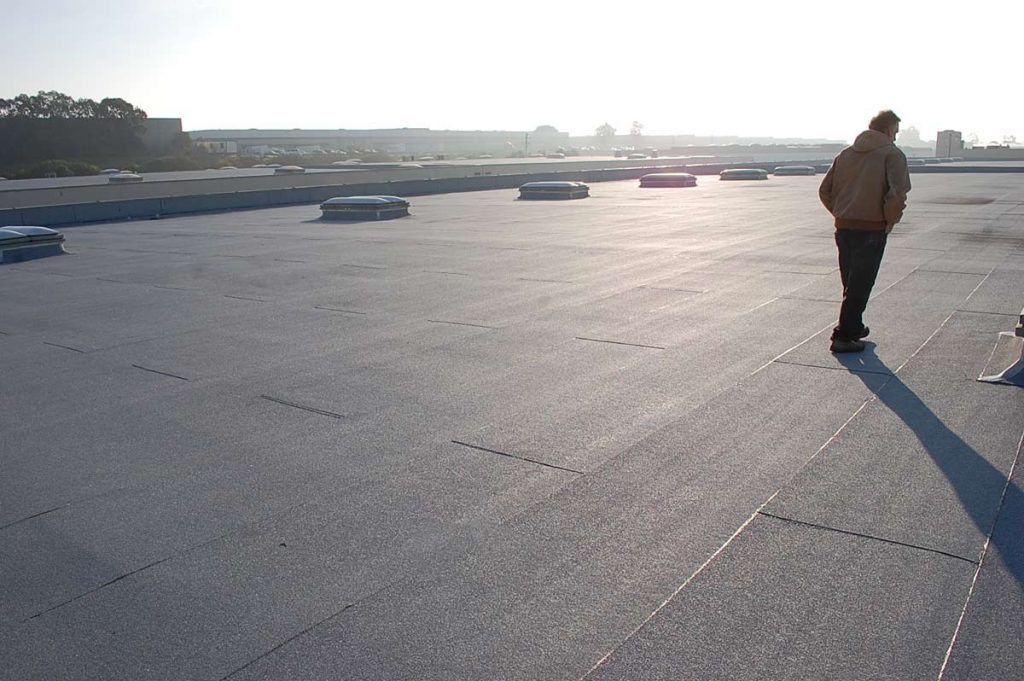 source: commercialroofingcontractorohio.com
Also Read: Factors To Consider When Choosing Roofing Material
All three roofing types will cost around $250 to $350 per "square" (100 square feet). But there are chances that it may be different in your region and according to the size of the roof. Flat roofs generally last upto 10-20 years, but the good quality ones can last 25 years. With the right maintenance and care, you can increase the life span of any type of roof. 
How To Choose The Best Type Of Roof
When it comes to choosing the best type of roof for your property, it's essential to source it from a trusted supplier. By doing so, you can expect high-quality roofing materials with some sort of guarantee. 
Check the following helpful tips when choosing the best type of roof:
Consider The Climate In Your Area

: In a hot climate, the best roofing materials include metal roof, green roof, and terra-cotta tiles in lighter colors. For ice and snow, the best roof styles include pitch roofs, making it easier for sludge and ice to slide off the roof to minimize water damage.

 

Consider Proper Ventilation

: A critical aspect of any type of roofing is ventilation. It should allow air to properly circulate through your attic space. Your roof should have vents, allowing air to properly enter and exit the attic.

Consider Proper Insulation

: Attic insulation keeps the heat inside your home, preventing the heat from rising up your attic space in cooler months. During summer months, insulation keeps heated air out of your home to preserve cooler air inside.

Check For Fire Resistance

: Tiles are highly fire-resistant. They have a long lifespan, making them a very good investment.

Consider Energy Efficiency

: Metal roofing is incredibly energy-efficient. It is available in different styles and colors.

Choose A Durable Roof

: The most durable roofing materials include asphalt shingles, metal roofs, wood shake, slate, and clay tile. Asphalt shingles have tremendous impact resistance. Clay tile roofs possess traditional beauty, with long service life; the same is true with slate roofs with enhanced protection. 
Conclusion
There you have it. Now, you're more confident to choose the best roofing style and material for your home. Choose a roof according to the type of climate your location has, its durability, and aesthetics. By following the tips above, the investment you'll make will surely be worth it.
So whether you go for a built-Up Roof (BUR) or any other one, always determine the area of the roof and the price. I hope you like this article, and for more architectural information & decoration ideas, keep coming to Architecturesideas.