Nowadays, people are emphasizing the industrial style at their room and even the whole house. For this, the most significant features are to use exposed steel and the trademark landscapes are the painted bricks wall and rustic wood. This kind of design's combination creates a new organic blend that characterizes your room appealingly with a modern look.
Essentially, the industrial design has an inimitable architecture style that you'd typically desire like an urban scene. Because this design concept comes from warehouses and factories. In this article, there are several tactics to décor your living space in an industrial style. We've haunted the most fascinating ideas, so, let's jump.
1. Color Palette
Often someone gets stuck to choose their right color for the targeted space. When you specifically select a zone for a certain style, it's important to pick an accurate color palette. I'm saying this as the room should be decorated with all the pieces and elements after matching with color. The right color selection covert the room more meaningful and fill the eye's thirsty.
Actually, the industrial style allows for a nice variation from earthy inflections to iron tones and steel. You can feel a brown and burnet color with this plan style. Once you switched to rustic color, there won't have any issue for gaining the expected effect.
On the other hand, Metallic tones contribute to enrich the design and you will want some white and natural wood for matching the palette. Besides, having exposed brick walls might be beneficial to apply a substantial amount of rusty red color. If you don't own real brick walls, you may use fake walls and paint to convert it like an actual thing. Plus, you can use multiple intonation colors during organizing another decorative stuff.
2. DIY Industrial Pipe Shelves
Won't you be happy to see something different looks? Pipe shelves are a worthy item that can heighten your room's prettiness. To do this, you will need to drill (make 2 holes). Then 2 pipes require to install to the holes after injecting wall plugs to each hole.
After completing this procedure, install wood boards on the pipes horizontally. Now it's okay to keep any stuff like towel, flower vase, crystal showpieces, pottery, and more showpiece type's things.
3. Industrial Accents
Do you know a blending element with accurate accents will provide you a professional industrial look? From these ideas that Enuotek design gives, you can pick your favored accents to decorate the preferred area.
Mechanical stuff: Well, gears, nuts, and bolts all can give an amazing outlook to your industrial space. Although these kinds of stuff are little, they contribute to creating a great watching.
Diverse accents types at different positions allow shiny and artistic effects round the house. Actually, there are numerous mechanic accents to garnish a whole house.
Rivets: Rivets are well known as to fetch an endless mood to any industrial room. This is almost historical pieces convenient for gripping accents for various industrial substances.
Wire: Yes, while feeling there is something missing then the wire is highly appreciated. Light hanging metal case with wire upper side makes an additional sense of beauty. Moreover, it ensures sufficient security.
4. Key Elements
Considering about specific pieces and decoration is most important to achieve a flawless style. It assists to forecast your industrial room what it's looking would be. Anyway, there are multiple elements you should consider.
Metal plays an important role to signify an actual power while coming to the engineering style. It agrees on a ton range of styles like rusted and galvanized. You can depend on it for pure aesthetics alone, plus it is being used for highly efficient pieces.
Perhaps, you know metal generates a cool effect amongst the area, that is why there require wood that warm and balance the coolness. However, natural wood is not enough to provide a glower looks to your industrial room, you will need to keep these elements rough and refined form.
Leather is capable to symbolize a charming mate for all the practical foundation of the industrial style. Plus, leather can represent any space homier. It's better to accent the furniture and other pretty elements with leather.
Bare brick is indispensable for designing the industrial inner side. Those desire for a classical industrial outlook, they can think of and timeworn warehouse along with discolored concrete and bricks which are old.
5. Install Bold Furniture
Generally to get the real looks of industrial design, picking bold furniture can fill the desire. This furniture trusts heavily on raw, unfinished wood. It could be a tea or coffee table, wall corner shelf or bookshelf. At least one piece of this furniture allows for a genuine industrial décor.
Somewhere the wooden furniture might be constructed with full wood, some are available with bare steel legs. Recent trending one is the armored concrete. Its outlook is typical, there is no design.
However, for industrial purposes, sofa with leather furnished is wealth choice, though the maximum sofa's internal materials are the same the difference is the outer part covered by leather. Those dislike the leather, they can choose a linen-upholstered sofa along with chairs. But the main thing is to consider any sofa which belongs to an outmoded design, not modern types.
6. Accents Offer Contrast and Creativity
You have to more conscious for picking décor items even don't compromise to select pillow, through and poufs. This stuff should have the ability to show off its leather or woven surface. Balance rug color with the pillow items. If the rug is solid and dark, take pieces that have a sundry color with creative flair.
The more significant thing is your tables, chairs, and sofas should be neutral so that your accents get match seamlessly with the equipment.
7. Using Some Tradition Lighting
Normally industrial decor lighting comes sin 2 types like vintage and old-world inspired lamp. Though many houses ignore ceiling lamps it has an outdated appearance. You might select a single piece or pick for a series of dimmer Edison bulbs.
The light can be set up over the dining table. Someone like to hang it over their bed. It enlightens an entire room equally. Yet where the light can be set up depends where you want. Personally, I like to set up in over my tea table and dining table.
8. Industrial Bedroom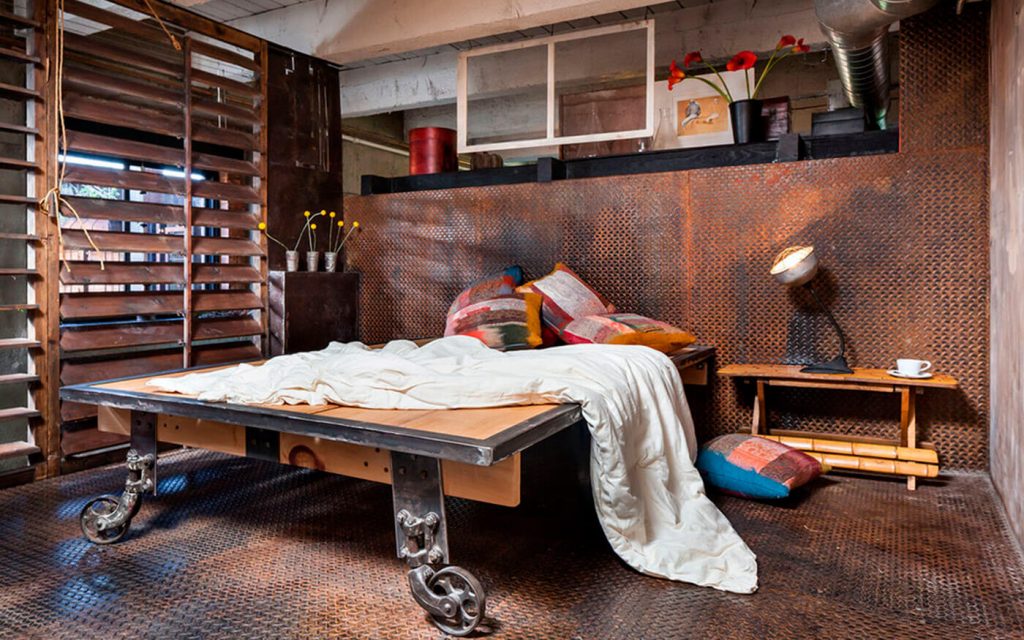 From the bedroom angle, there are numerous creative ideas. Don't think that decorating a bedroom would grasp the comfort of living. You can just do bedding in a nominal style except forfeiting comfort. The bedside desk could be a nice gear for decorating well. But which one is better?
There is no opting than wood and the wood should be something coarse to see. Otherwise, it will lose its diligent looks. On the table, you can put a water jug and an antique flower vase. The jug might be made with brass. Keep attention to choose a bedside table as it requires to have craftsmanship.
The room's wall color should not be solid white, it needs to be something shade or other colors. Attach a large image behind your bedroom wall.
9. Wall Art
Concerning wall art is common who start his/her first time decorating. Essentially, the wall art is a reflection of your manner too. Anyway, when it needs to cover walls, it's superior to adding a few mechanical or vintage wall art. Oversized clock and drawing are suitable to be fit at walls. This kind of element highlight what you like most.
For drawing, perhaps a question may arise what sorts of drawing is worth. Actually, though it depends on one's choice but selecting some traditional paint is good. Traditional paint can be art you inherited from your ancestry or get some new but focused on ancient backdrops.
10. Include More Rustic Metal
In fact, at the present time, the uses of iron and metal have been increasing around the world. Basically rustic metal has become protuberant in lighting and sanitation. It also used in hardware and mechanical gears of a building. Consequently, one approach to gain a rustic touch is in bent iron and another rusting metal to your existing space.
Apart from wrought iron may consider another rustic metal like brushed nickel, cast iron, and copper. In total, there can be a mixed form's metallic presentation in the room.
11. Plumbing Pipe Curtain Rod
Don't be surprised, yes using plumbing pipe as a curtain rod can borrow the real industrial looks. The rod already got damaged, try to refinement especially the outer side. Once you make it polished, use it as a curtain rod. Someone does coloring the rod, but this is not mandatory, the natural looks make it more attractive.
Look at the above image, there is no extra color but can apply some oily brown color that retains its own shade. I mentioned to use a plumbing damaged rod, but you can buy a new one ten color and use.
12. Install A Wall Scone
Wall scone can provide an outstanding industrial design you can't ignore. From the ancient period, it has been using almost in maximum house. Nevertheless still, now this stuff didn't lose its priority. Wall scones serve for different purposes. There are a few places where you can place the light like entryway or foyer (if like).
If your home has an entryway, a chance has a brilliant primary light source wherever nearby. It is a remarkable way to welcome your guests warmly. Just select a piece that has a traditional design, or if you inherited one, don't put it as waste just start using.
Conclusion
Basically, they're a lot of Industrial decor ideas to give your house a new look. But the above ides are most applicable that can provide you a real taste of tradition. If you can arrange the mentioned stuff as described, surely, it would get a perfect viewing of your home.
Yet, from the thinking of decorating, you have to determine to collect all the necessary components. Don't compromise even if all material is pricy, you can just take more time to decor one by one.
Actually, for industrial style, large to small items all are need to select carefully because a tiny element also contributes to beautifying. Buying the precise furniture, storage pieces and fittings can offer you predictable adorning and feelings.
Keep Reading: