Decorations are needed to make a house comfortable. That is why people decorate every inch of their houses with different kinds of ornaments that they made or bought. It does not matter if it is expensive or cheap, the important thing is that it will be beneficial for them and can add up beauty to your home. There are a lot of creative interior decor ideas that you can use for your house. You just have to be open-minded and explore the options that are available for you.
Many people will be decorating their homes in the upcoming year. If you are looking for something that will really catch everyone's eyes, then interior decor might just be what you need! You may have seen some amazing bedroom designs with beautiful carpets and matching curtains.
While it is great to improve your living space, there are many other types of interior decor that you can include in your home. As long as it fits into your budget, there are plenty of creative ways to create a unique space that is all yours!
This article will discuss 7 creative interior decor ideas for your home. Take some time to look through the ideas and see if one catches your eye!
1. Use Custom Artwork to Decorate Your Walls
One of the easiest and most popular ways to improve your home's interior is by using artwork on your walls. Not only will this make your space more aesthetically pleasing, but it can also be a great way to showcase your personality. If you are looking for a unique way to decorate your walls, then consider using custom artwork. This could be a painting, a drawing, or even a photograph of your pet!
For someone who wants to have a special portrait for their loved pets, there are many online companies that offer custom pet portraits. All you need to do is send in a few pictures of your pet and the artist will create a one-of-a-kind piece of art. Not only will this be a beautiful addition to your home, but it will also be a great way to preserve memories of your pet.
2. Add Some Unique Furniture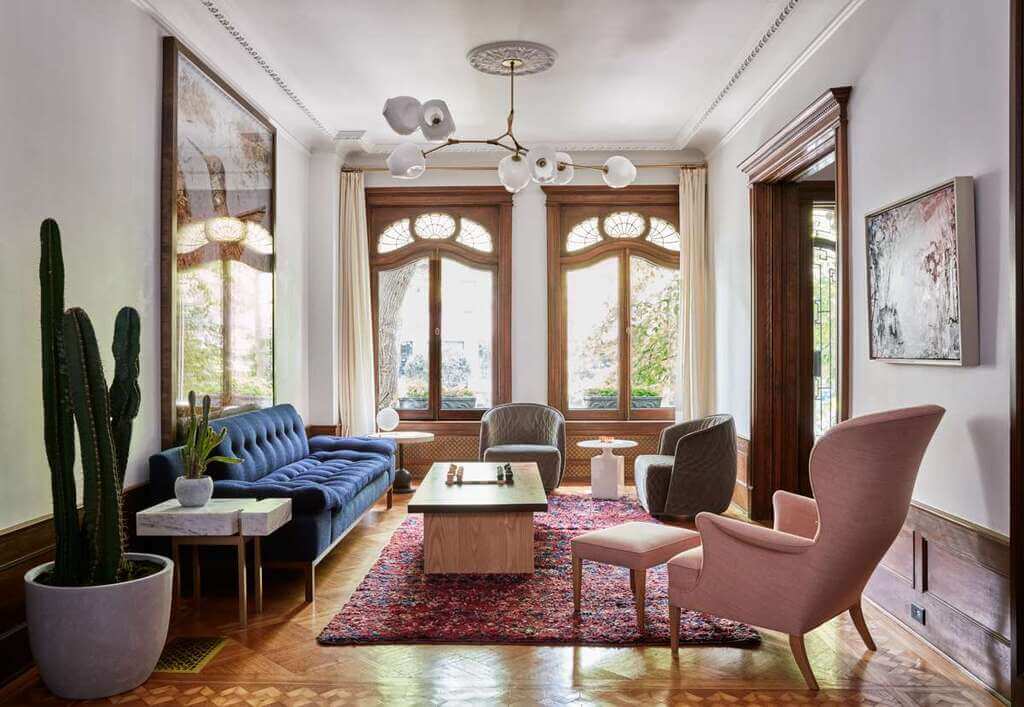 Another easy way to improve your interior decor is by adding some unique furniture pieces. This could be a funky armchair, an interesting coffee table, or even a new piece of bedroom furniture. If you are looking for something that will really stand out, then search for unique furniture online or in-store.
One great way to add some personality to your home is by using customized furniture. There are many companies that will allow you to design your own furniture pieces, which means you can easily tailor them to your liking. This is a great way to really make the piece yours!
3. Create Your Own Headboard
Creating your own headboard can be one of the more challenging interior decor ideas for people who are working on a budget. There are many different styles that you can choose from, but creating something unique can be tricky. If you are looking for something that is truly unique, then consider creating your own headboard.
The best way to create your own headboard is by using glass or mirrors. All you need to do is attach the glass to either the wall or the ceiling with some sturdy brackets and hardware. This will give your decor an interesting and modern vibe while also creating a beautiful focal point. This is especially great for bedrooms and bathrooms!
4. Use Unique Lighting
Unique lighting has become increasingly popular over the past few years, so it should be easy to find some very interesting pieces in stores or online. There are many different styles and designs that you can choose from, but you might be surprised by the types of lighting that you can use in your home.
One great way to decorate a room with unique lighting is to install under-cabinet lights. These small lights are roughly the same height as kitchen cabinets and they come in many different sizes and shapes. You can either have them installed behind existing cabinets or purchase light fixtures that are designed to look like cabinets.
5. Hang Some Wall Shelves
Hanging some wall shelves is a great way to improve your interior decor while also adding some storage space to your home. This is a particularly great idea for people who are short on storage space or who want to showcase their collections. There are many different types and styles of wall shelves that you can choose from, so be sure to browse through your options before making a decision.
When it comes to choosing wall shelves, it is important to think about the style of your home. If you are going for a minimalist or modern look, then sleek and simple shelves would be the best option. However, if you want something more ornate and decorative, then search for wall shelves that have a unique design.
6. Use Decorative Accents
Decorative accents are a great way to add visual interest to your home. You can use anything from decorative pillows and throws to vases and sculptures. When choosing decorative accents, it's important to choose pieces that complement each other as well as your overall style.
You can use creative home accents to make your house look different from the others. One of the best ways to do this is by using mirrors. Mirrors will reflect light and it will make your house look bigger. You can also use different kinds of vases and bowls to put flowers ornaments. This will add up color and life to your home.
7. Go Bold with Your Color Choices
One of the easiest ways to make a statement with your interior decor is to choose bold colors. If you're feeling adventurous, try painting one or more walls a bright hue, or adding a colorful rug or furniture piece to your space. Just be sure to keep the other elements of your room neutral so that the bright color doesn't overwhelm the space.
A great way to add some personality to your home is by painting your walls with bright and bold colors. This will add a pop of color that can really make a space stand out. If you're not sure what color to choose, try opting for a shade that contrasts with the rest of your home's decor.
These are just a few of the many different ways you can add personality to your home. If you're looking for something special, consider commissioning a custom pet portrait from Mooportraits. A professionally done portrait can really add some character to your home.
Explore further:-