Get These Benefits with Professional Office Fitouts
Changing the interior of your office has to be a lot more effective and benefit able in the productivity of the business. However, people often plan to do it on their own and lose a lot of money and time. This is because they lack a lot of things like required tools, experience, knowledge. Interior designing is equivalent to art; it isn't as easy and effortless as it looks.  Are you also planning to redesign your office space? The current scenario is that most of the global offices and businesses are hiring professional office fitouts teams.
They are well equipped and have practical knowledge and experience to transform your office space into one of the most modern designs and looks with the most soothing environment.        
Without a doubt, there are many benefits when we hire a team of professionals for our office fitouts. They will create a space that boosts workplace productivity, encourage collaboration and create an environment where people can work comfortably. Office fitout benefits include efficiency, max output in affordable money, and also saves a lot of time. 
Let us see some of the key Office fitout benefits in detail:
1. Time Saver:
Hiring professionals for your office fit-out isn't a bad idea at all. Since the professionals are well equipped and trained for the purpose. A team of professionals like Bellfort is an experienced team and knows their job. With the help of their experience and skills, they end up saving a lot of time to execute the whole process.
They hold a lot of time, but they also bring the best output result in the minimum time. They ensure that they analyze your space and what design, furniture, etc., will suit the best accordingly. Once the analysis is done, they make the plan's documentation, and further, they work on it.              
2. Well-Optimized Workspace:
      Source: digitaloceanspaces.com                    
A professional fit-out team analyses the workspace and then plans the best interior design to ensure efficiency in using the given area. Also, they plan every detail in such a manner that tiny spaces are also used well.
This is one of the significant differences between hiring professional fit-out teams like Bellfort and doing the whole process independently.
When you decide to do the fit-out on your own, you can miss out on spaces, corners, furniture, etc., that are not using according to their potential. 
Also, interior designing and fit-out require good investment, and doing it on your own without a professional is risking the entire investment.
A professional knows the perfect and suitable space management, lighting management, etc., in the minimum expense to bring the maximum output.
They are well trained and skilled for the purpose. This is why it is highly recommended to hire professional fit-out teams like Bellfort to manage the workspace efficiently.  
3. Modern Designs: 
      Source: squarespace-cdn.com
Hiring a professional for your office fit-out can be very beneficial. The significant Office fit-out benefits because they come up with the most current and trendy design for your Office. They also ensure that the whole idea is executing the lowest possible budget.
Hiring a fit-out team like Bellfort for your Office fit-out can be very beneficial in almost every aspect. The team is well aware of the modern designs, and also, they do proper research to bring the best chance in the workspace.                             
4. Increase Productivity:  
Well-designed office space will be able to fulfill all the requirements of the employees. This will ultimately improve company performance and productivity.
From ergonomic furnishings to new storage solutions, maintain and organize workspace will speed up work time and increase efficiency. The proper work conditions and ambiance will help to boost the morale of the workers. 
Also Read: 25 Awe Office Plants Interior Design Ideas – 13 Is Damn Beautiful
5. Build a Unique Brand Image: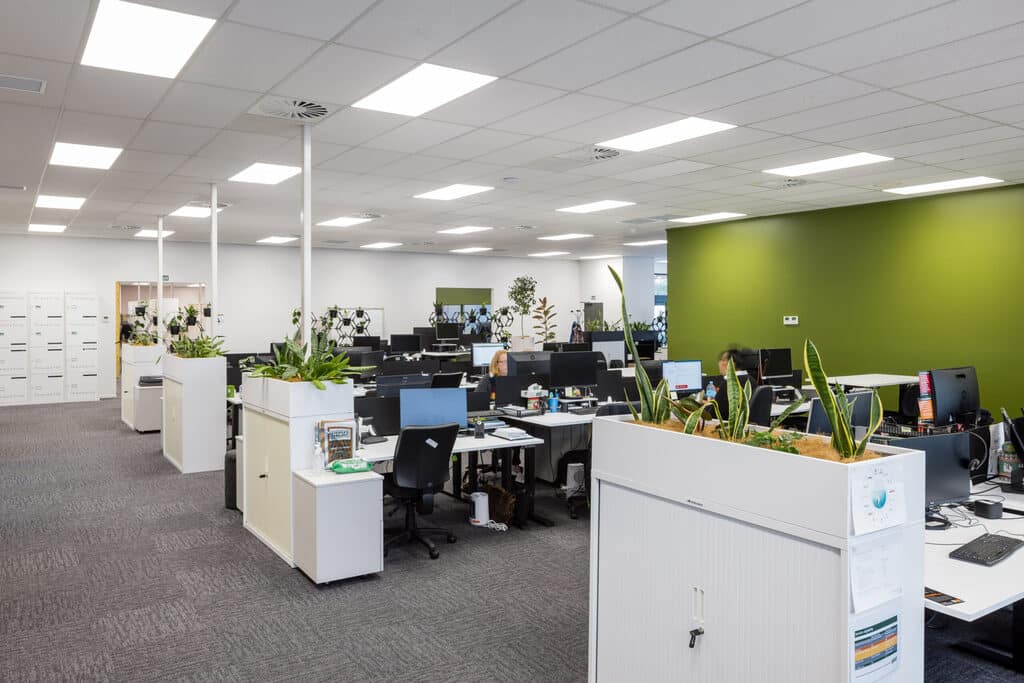 Source: fitoutsolutions.nz
With office fitouts, you will not only get a fabulous space to work but will also help you to expand your marketing opportunities. For the customers and clients, the first impression is the ultimate expression.
Office fit-out will create aesthetics or design elements that will perfectly portray the right brand image of your company.     
Conclusion
These were the key benefits of hiring a professional fit-out team for your office fit-out. With the help of the right office fitouts, you can take your business to the next level. Before starting your fit-out project, they'll consider every point, including a budget, workplace culture, and business values.
They will make proper use of the latest technology, and this will boost productivity, invigorate your brand and the company's image. When your staff and employees will satisfy with the physical working space, they'll give better work outcomes and performances.