3 Tricks to Enhance an Open-Plan Space
The purpose of open plan space is to eliminate partition walls and create spacious areas for the living area, dining, and kitchen. This architectural concept promotes a sense of openness, flexibility, and productive workflow among the residents of the space.
Although separate rooms will forever hold their appeal, homeowners have been turning to open-plan spaces to enjoy the convenience of multitasking. It allows you to entertain guests while cooking, eat while watching a movie, prepare dinner while watching the kids, and so much more. 
On top of this, open-concept living can make small areas feel and look bigger. This creates common living spaces where everyone can gather around and bond over an activity. For families, an open-space layout may allow everyone to feel more connected.
Tricks to Enhance an Open Plan Space
Nonetheless, a common problem with open-plan living spaces is that they may appear flat and dull. Hence, this layout may not be suitable for all homes. 
If you're planning to have an open-plan concept for your upcoming home renovation, it would be best to plan ahead. Make sure to research and use design tricks that can make the space look welcoming, functional, and appealing.
Whether you're living in a tiny apartment or aiming to make a communal space for the entire household, here are tricks to help you enhance and transform your open-plan space. 
1. Create Zones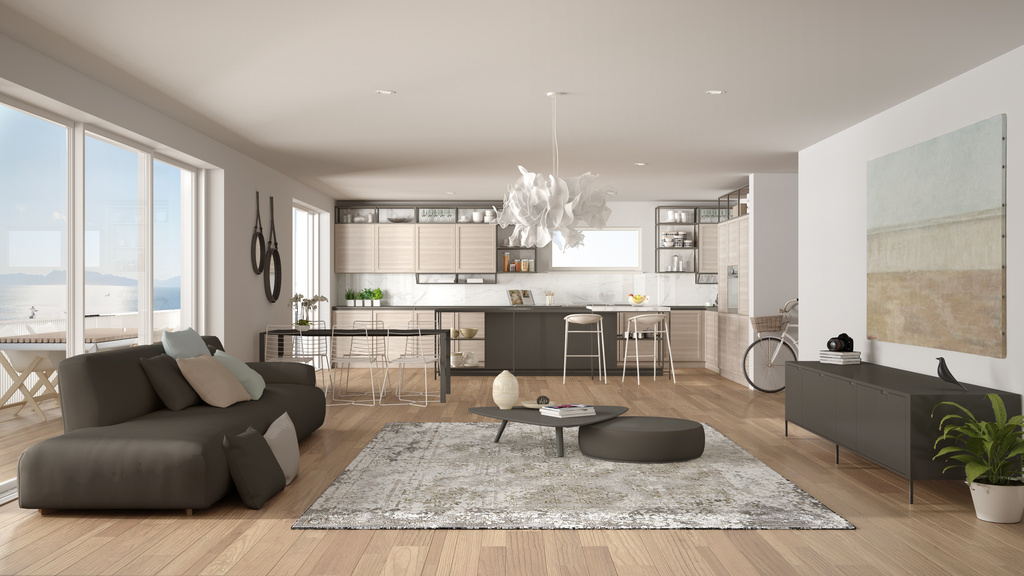 Source: immobilienscout24.de
Ever feel like a space is too vast to the point of disorientation? Fortunately, zones are excellent solutions to break up your area. 
Zoning doesn't have to involve creating walls or separate rooms. This can be done by using furniture, devices, artsy accents, décor, and room dividers that can help organize the space for it to look cohesive and tidy. Also, by placing these items in your space, you can easily form intimate areas designated for certain tasks. This entirely enhances the flow of your space while allowing you to maximize the benefits of an open-plan layout.
For instance, to break up open-plan spaces, you may place a long island in your kitchen area. Kitchen islands are common, popular, and straightforward means to define zones and designate their purpose. 
With a kitchen island in your home, you can entertain your guests as you cook for them. Also, they can help you out while watching your favorite TV show. This can create a fun-filled area where you can bond and interact with your guests as you perform household tasks.
To help you design your open-layout spaces, it may be best to contact architectural and design firms such as Fort Collins Architect and other similar businesses that can introduce creative dividers and zones to help you maximize certain spots in your spacious area.
2. Use Natural Daylight
Natural light is the best magnifier of interior designs. When it comes to your open-plan layout, daylight can enhance certain zones and highlight spots around your space. 
Although natural light is more beneficial in small-sized homes, daylight is still useful for a lot of open-concept designs. For instance, daylight can create more depth in an open-plan hallway as it reflects and hits various angles. At the same time, soft morning light allows you to emphasize your interior's aesthetics, accents, and furniture pieces. 
To let the light in and allow it to bounce around your zones, keep your area less crowded. To integrate balance among your furniture pieces, install mirrors or reflective flooring designs. These may help you illuminate spots and improve the look of your visual dividers and other items. Additionally, with all of these, you may need fewer artificial light fixtures. 
Nonetheless, make sure not to allow too much daylight to enter your space. Too much of this may eliminate the effect of your artificial layers and carefully designed accents. This, too, may become visually overwhelming and may make your space too warm. 
Also Read: 9 Great Items To Add To Your Living Space
3. Choose Artsy Pieces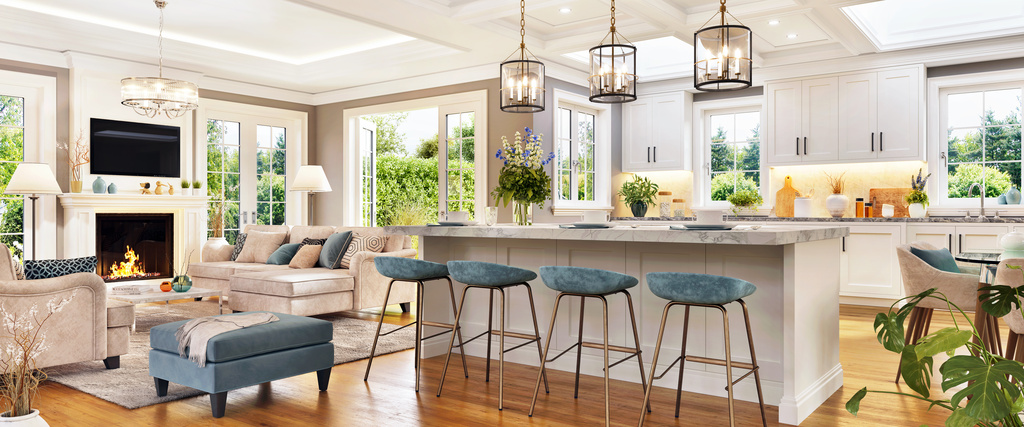 Source: googleusercontent.com
As mentioned, artsy pieces introduce zoning within your area. For instance, you may have walled art to add a dramatic flair and character to your living space. At the same time, this can make open spaces feel cozy. Also, to facilitate well-defined zones, proper placement is key.
Furthermore, to make your area look more symmetrical, have a focal point in place. This can be a chandelier or a fireplace that creates a cohesive look.
Summing It Up
Open-plan concepts are great, modern designs that will encourage you to be creative in forming a well-balanced, functional, yet appealing space. To prevent your space from looking lifeless, keep your space occupied by creating intimate zones, using daylight, and decorating it with artsy pieces. All of these may help you create a comfortable and communal space that will benefit you and your family.