Outdoor Easter Decorations: 17+ Unique Ways to Decorate Your Porch!
Easter is almost here! Are you excited to celebrate this day with your family and friends?  First, you have to decorate your place to get into the authentic Easter bunny spirit. However, people started thinking about interiors, home decors, and table decorations whenever it comes to decorations. In short, everything about indoors, but what about the outdoors? 
The Easter celebration and decoration won't get completed without the Outdoor Easter Decorations! From Easter-inspired wreaths, porch signs to topiaries, garden flags, and statues, there are many decor ideas from which you can create a fun, festive curbside appeal. 
Today in this blog, we've gathered up eighteen fun and easy outdoor easter decorations ideas that you can apply to your porch, garden, backyard, or any type of outside area. So, whether you're planning a fluffy bunny-inspired vibe or a pretty pastel facade, you'll find plenty of different ways in this list to bring your dream outdoor Easter decors to life. 
One rule for Easter Sunday Decorations is that they should be easy and fun. It means they should be super easy to create, even your kids can easily make them, and also, they'll feel fun and excited while decorating it. That's why we've compiled all those projects that take less effort but look really pretty in your outdoors. 
17+ Easy to Make Outdoor Easter Decorations Ideas in 2022! 
The list has included cheerful Easter colors, fresh spring flowers, and cute Easter crafts, which will make your home easter ready! There are also many kid-friendly, easy DIY projects which you can create with your children, such as lovely bunny shapes, Easter egg motifs, and pom-poms galore.
These super-simple and inspired Easter decorations will undoubtedly make your holiday a whole lot happier. So let's start crafting!
1. Cute Carrot Porch Sign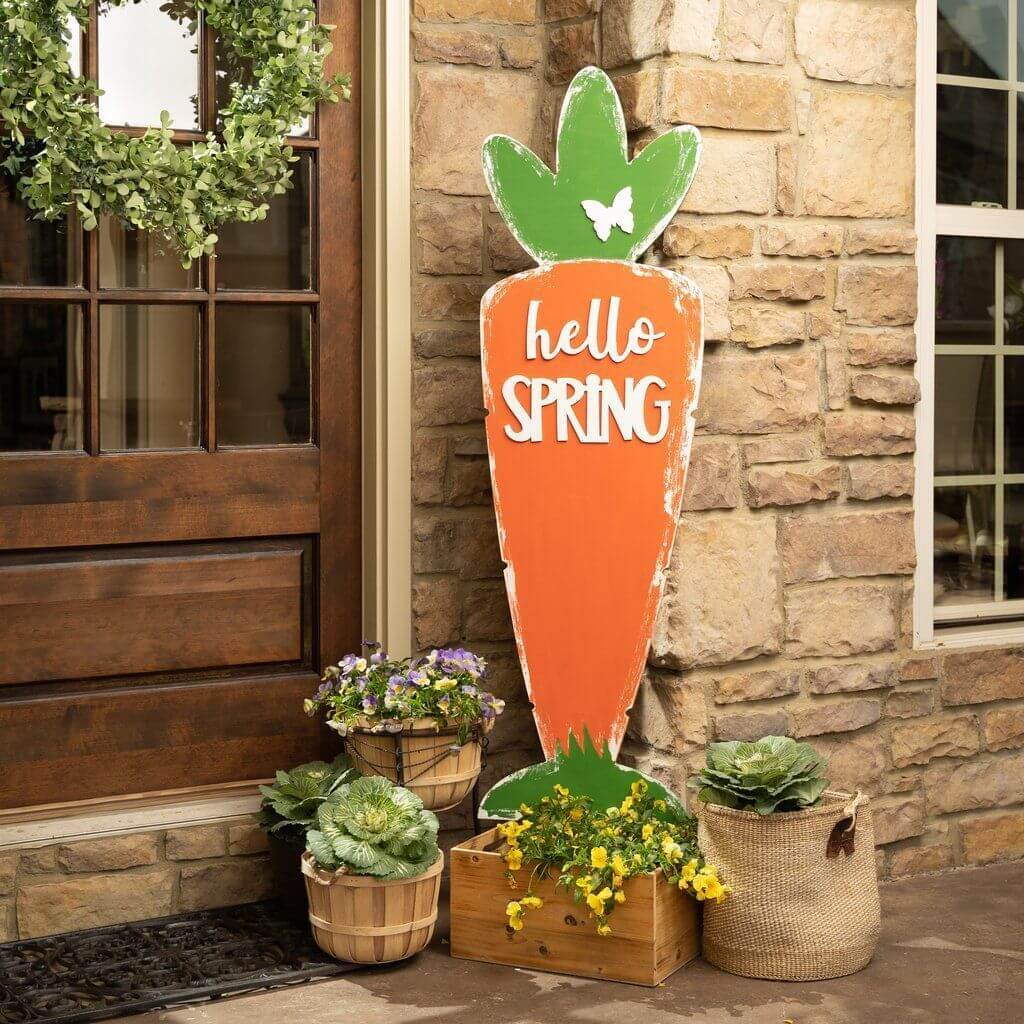 Source: magzhouse.com
Say "Hello, Spring" from this really adorable carrot sign! You, your neighbors, and your visitors will smile every time, whenever they see these giant carrot welcome easter yard signs. It will also be the perfect picture backdrop. 
2. Rain Boots Easter Basket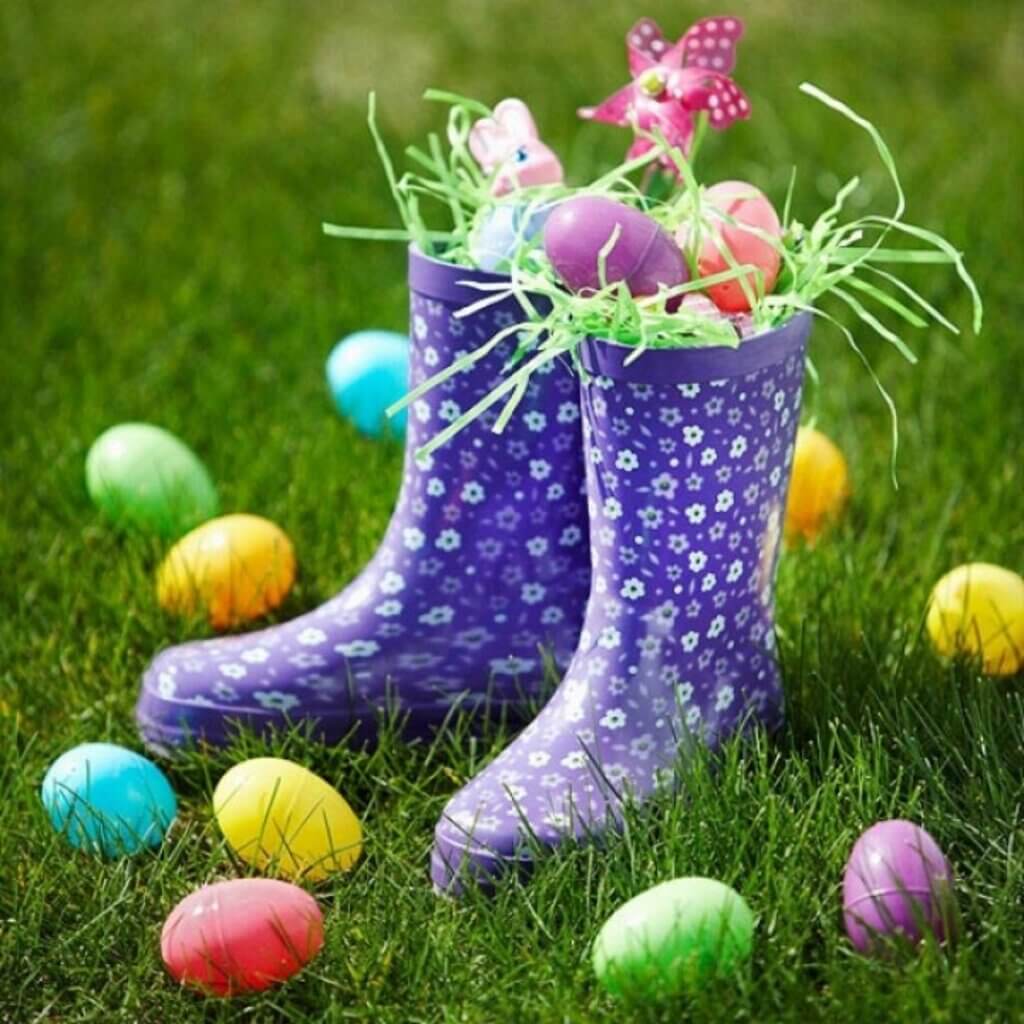 Source: twimg.com
This Easter, instead of a regular basket, swap it up with your last year's rain boots. To make this, all you need to do is to put some layer of faux grass on the bottom of each boot. 
Then add some colorful plastic eggs, candy, and other small items until you reach the top. Lastly, add a little more grass for a pretty display. And your Recycled Easter basket is Ready!                
3. Easter Bunny Pot Decor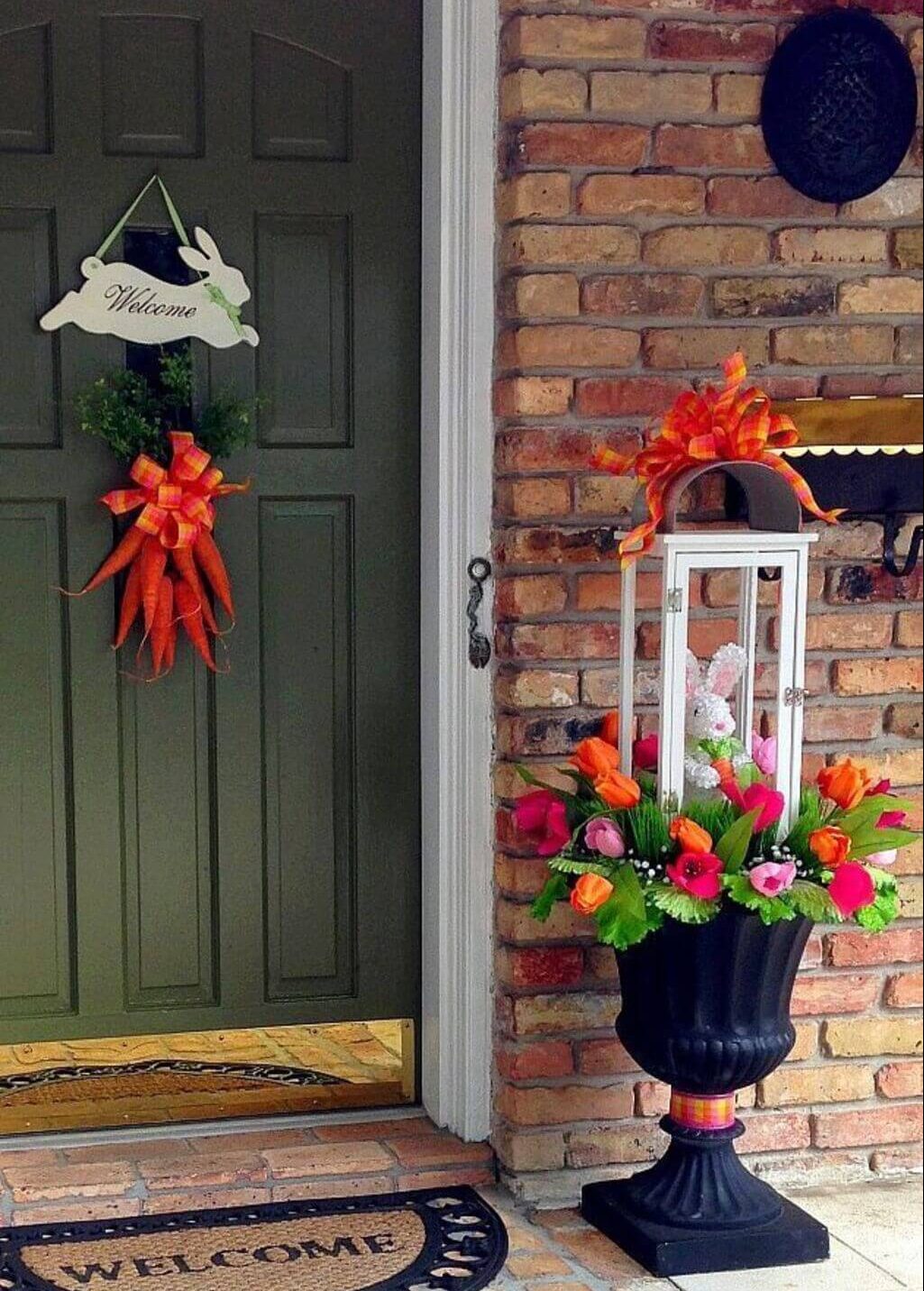 Source: pinimg.com
Who says that you have to spend a lot of money on the Easter decorations? That's not true at all! Just with the simple things, you can actually make pretty good decors. 
For example, look at the above picture, here the basic planters are decorated with tulips and a lantern. You can also add an Easter bunny, eggs, or whatever extra holiday pieces you already have at home.      
4. Welcome Easter Spring Mat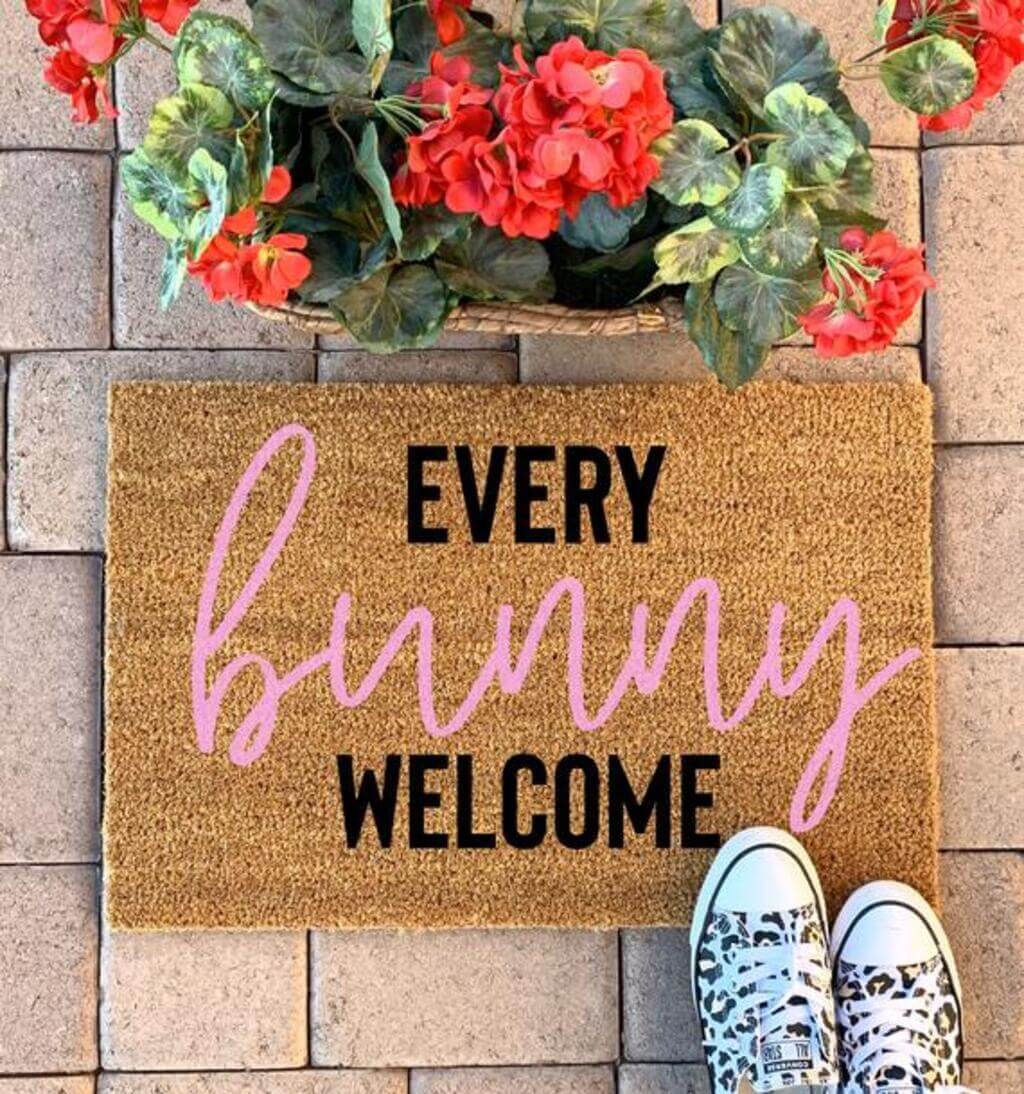 Source: everydaywholesome.com
Make a statement entryway with a unique Bunny Welcome Easter Spring Mat. It is a quick and easy decorating idea that will be great for any pun lovers. 
5. Flower Porch Decorations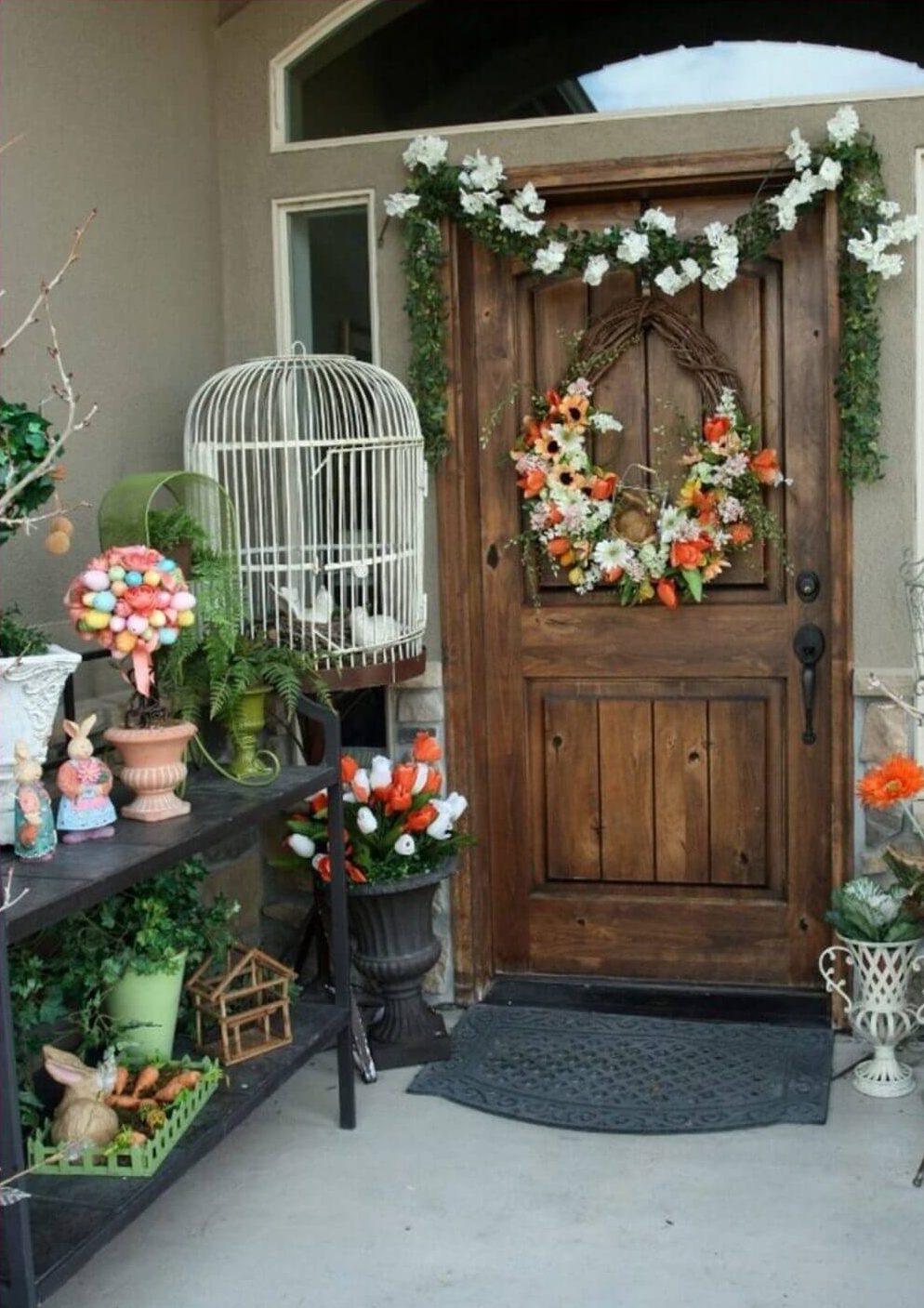 Source: reparasiandroid.com
Spring is all about flowers! So this April, decorate your porch area with some fresh and colorful flowers. For Easter, you can add bunnies or eggs. From wreath to floral garland around the door, you can experiment with the various decors. 
6. Easter Egg Hunt Markers
Source: alleideen.com
Add a little more fun and adventure to your Easter egg hunt with these easter egg hunt yard signs & cute markers. You can either make them by yourself or just buy them from the shop and place scatter throughout your yard. 
7. Outdoor Table Decorations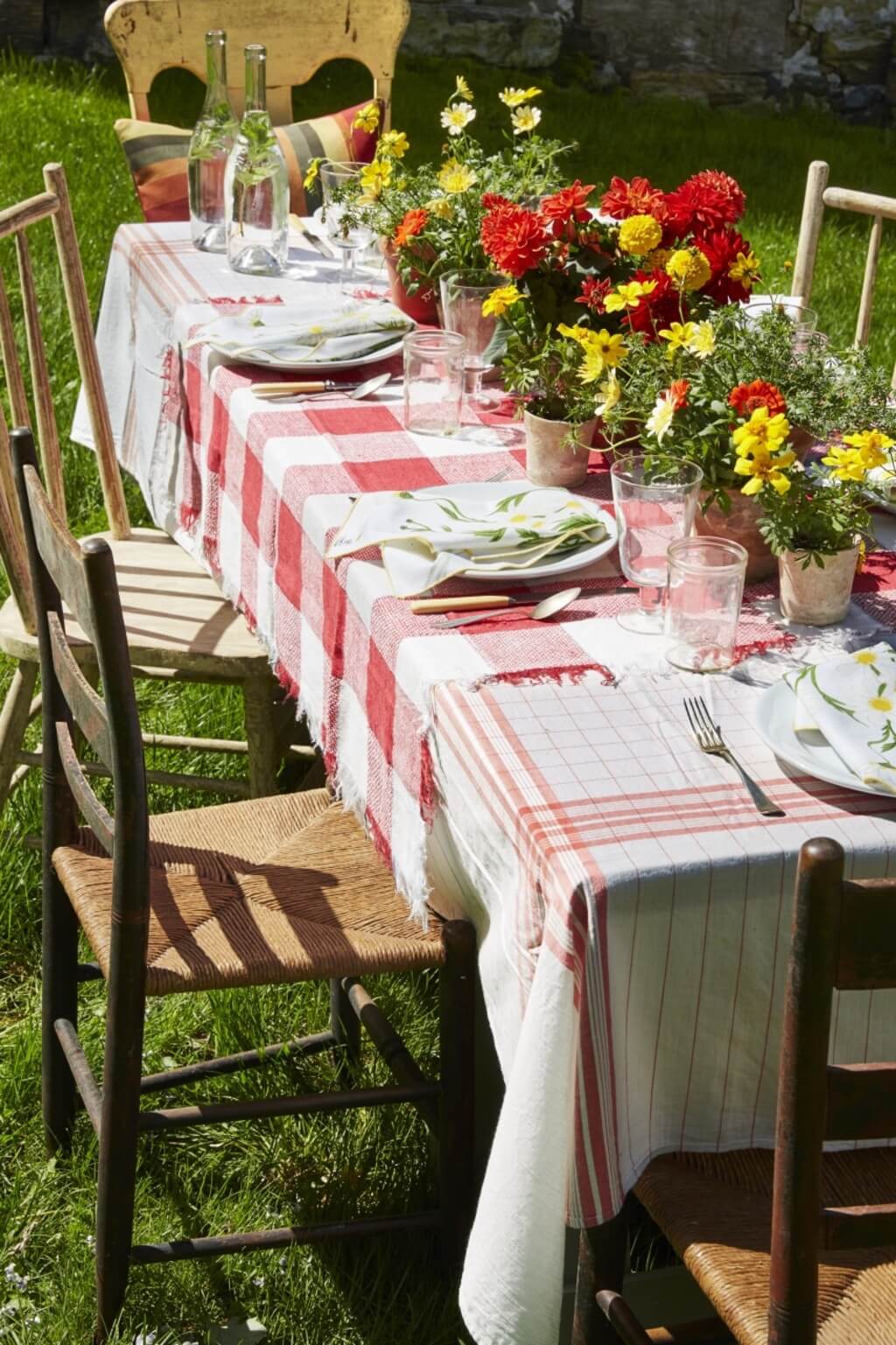 Source: hollywoodfloridafilmfestival.com
Easter is all about family, togetherness, and enjoying every moment! To make these moments more special, set an outdoor dining table. Look at the pretty table set up in the picture. You can also easily create this look with some vintage linens in different patterns, a layered tablecloth, or some Easter/ festival decors. 
8. DIY Butterfly Easter Tree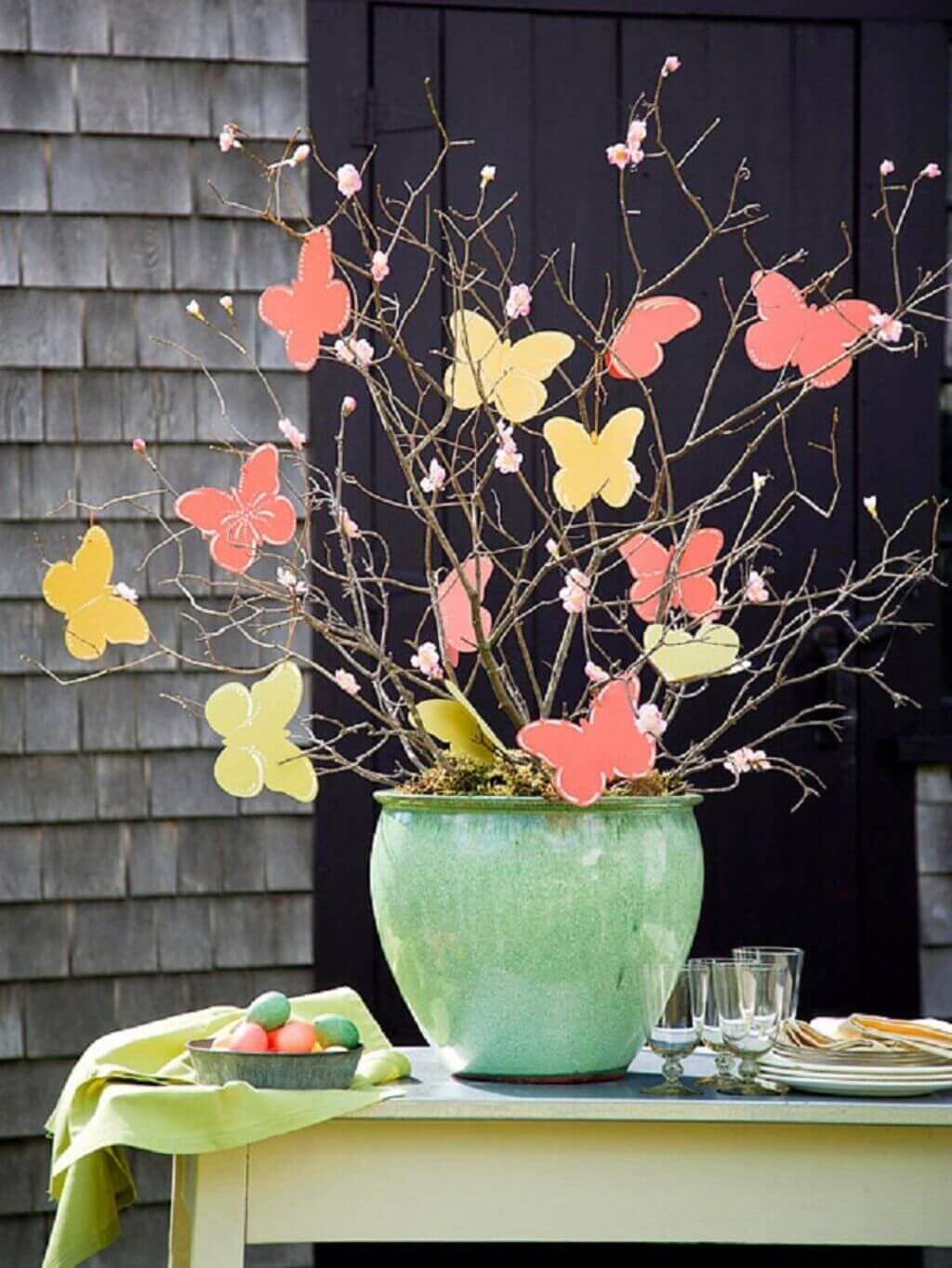 Source: pinimg.com
Let the world know that you're ready to celebrate spring and Easter! After seeing this amazing festive outdoor centerpiece, all your neighbors will get amazed. To make this, first, fill a pot with floral foam. Then use twine to hang painted paper butterflies on the branches. Finally, add some eggs, and your gorgeous Easter tree is ready! 
9. Easy Egg Flower Box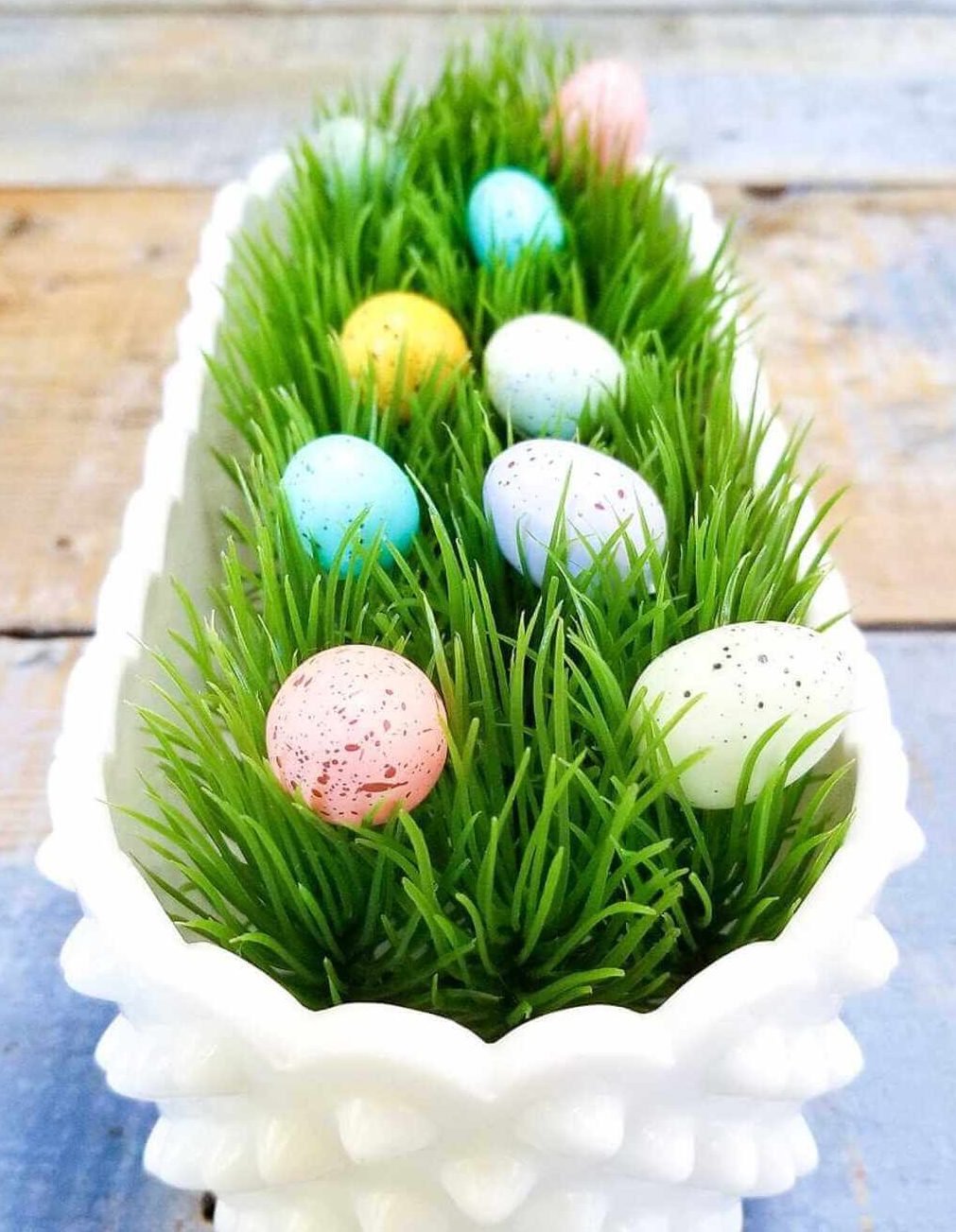 Source: sadieseasongoods.com
Are you looking for last-minute Easter decorations? This will be a great option as you just need to do is to put some bright, colorful plastic Easter eggs in any flower box or grass basket.               
10. Outdoor Easter Decorations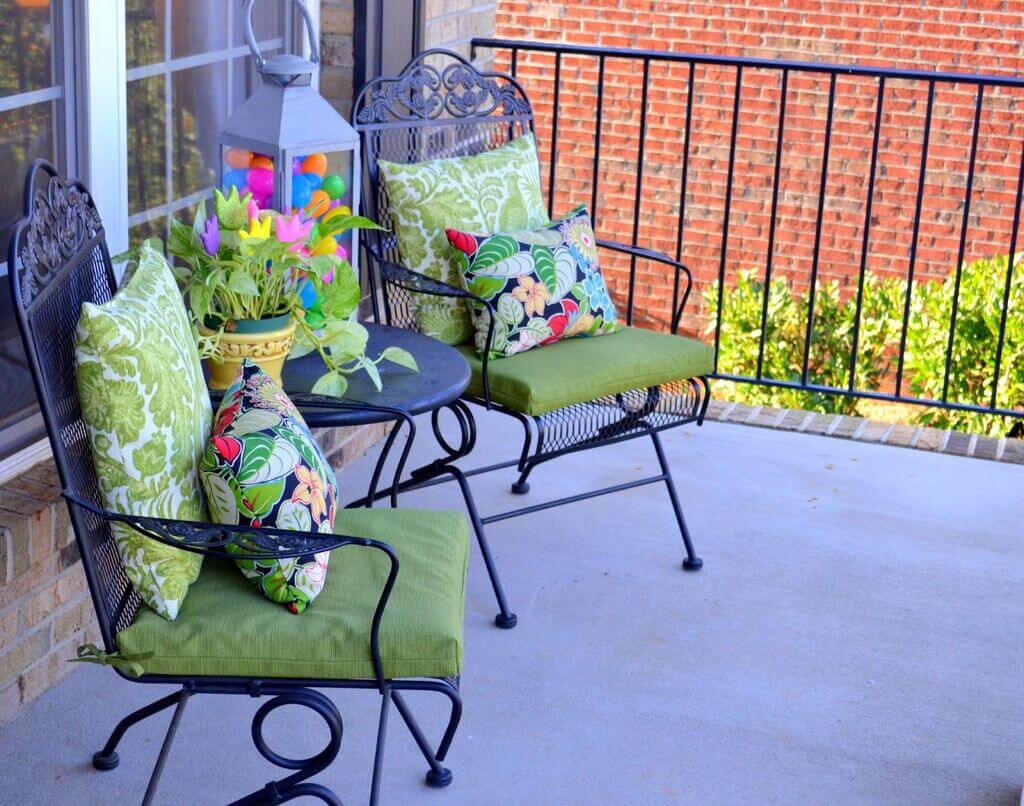 Source: pinimg.com
Create a fun-loving easter themed corner on your porch. Place some chairs and a small center table and decorate it with some bright colored cushions and flowers. You can also include a glass lantern filled with plastic Easter eggs, and this will become your cozy sitting spot! 
11. Chalkboard Easter Sign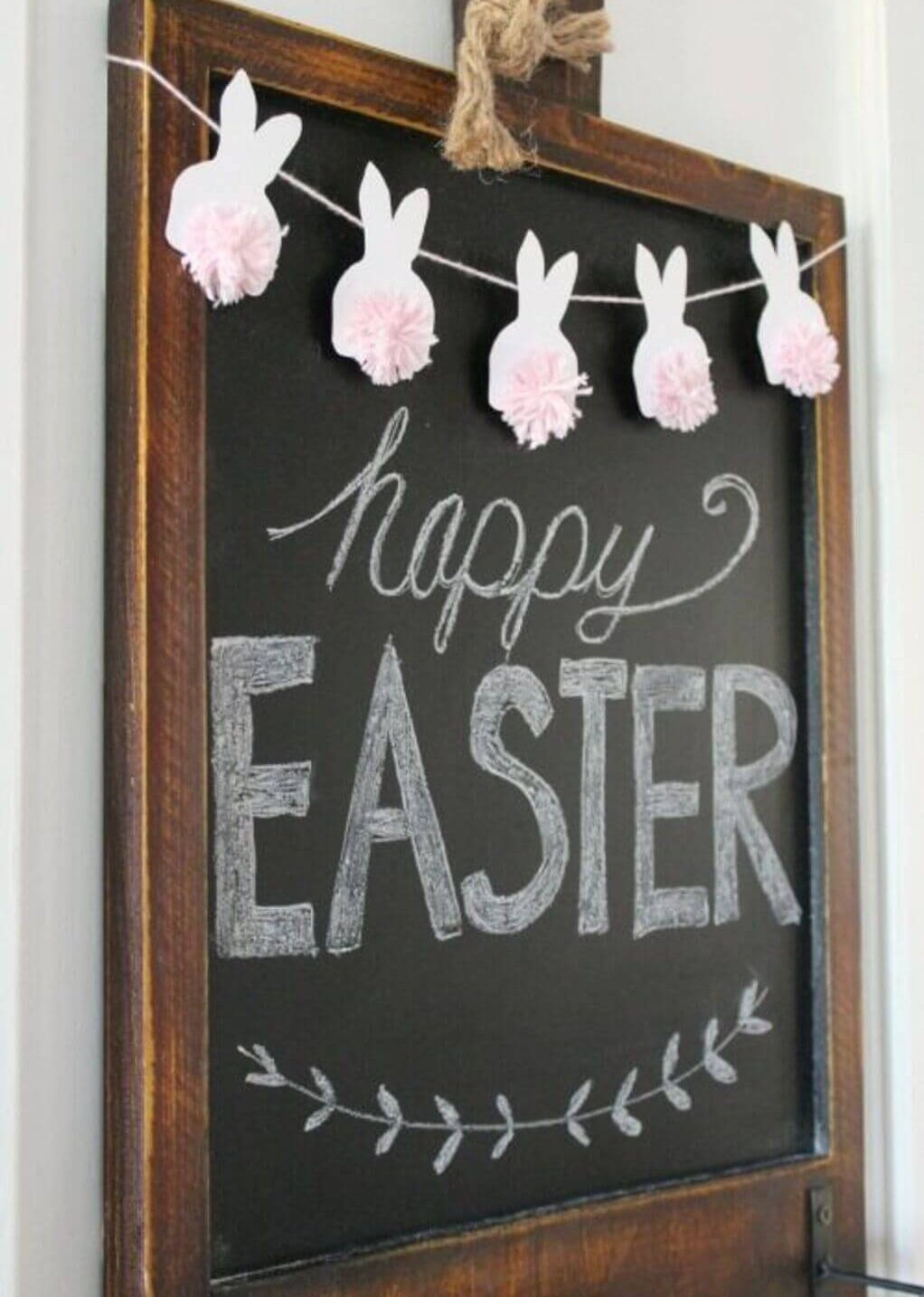 Source: hearstapps.com
Hang a chalkboard and write Easter quotes like "HAPPY EASTER," "EASTER BLESSINGS," or write whatever you want! Decorate it with a bunny garland, and you're good to go!
12. Easy Upcycled Basket Planters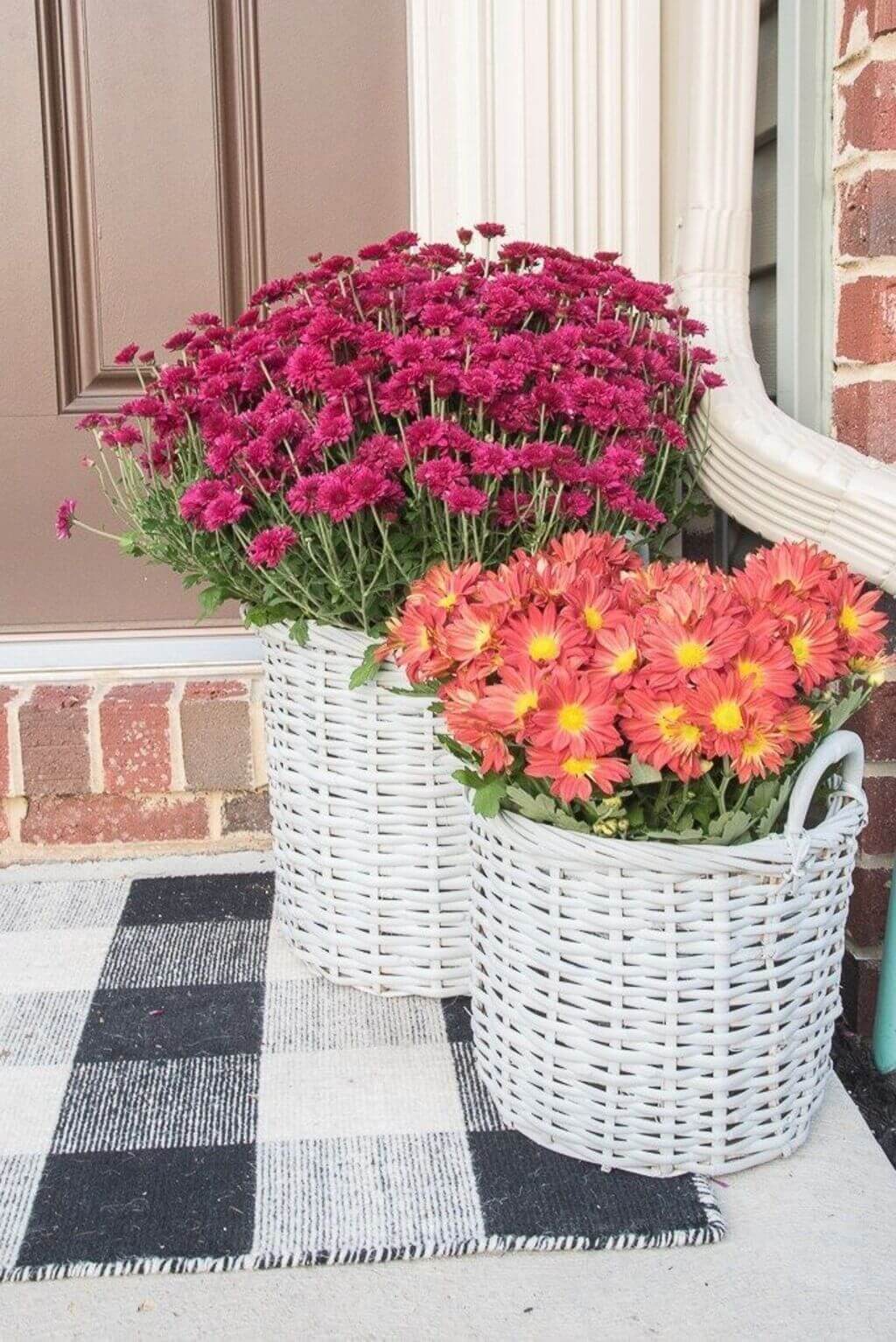 Source: pinimg.com
Swap your regular pots from the recycled baskets. For more Easter vibes, paint them in white or pastels. They'll look way better than any other plastic or mud pots. 
13. Simple DIY Window Decorations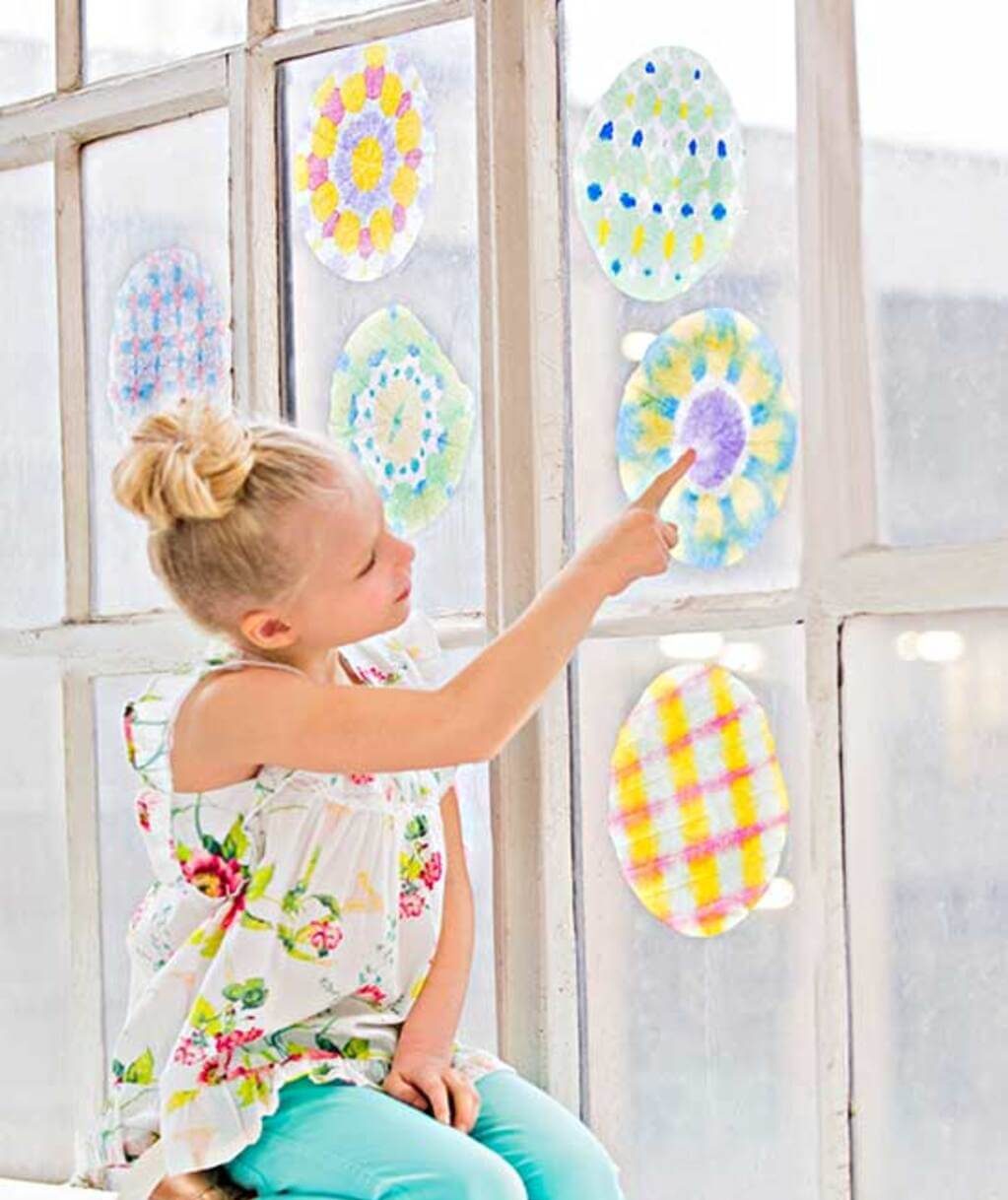 Source: meredithcorp.io
Don't leave your windows plain and boring. Give them a twist by placing these colorful Easter window decorations. Yes, these decors are actually mundane coffee filters! You can also make the same by painting them in bright and bold colors. This will be a super fun project for your kids. 
14. Hanging Jar Vases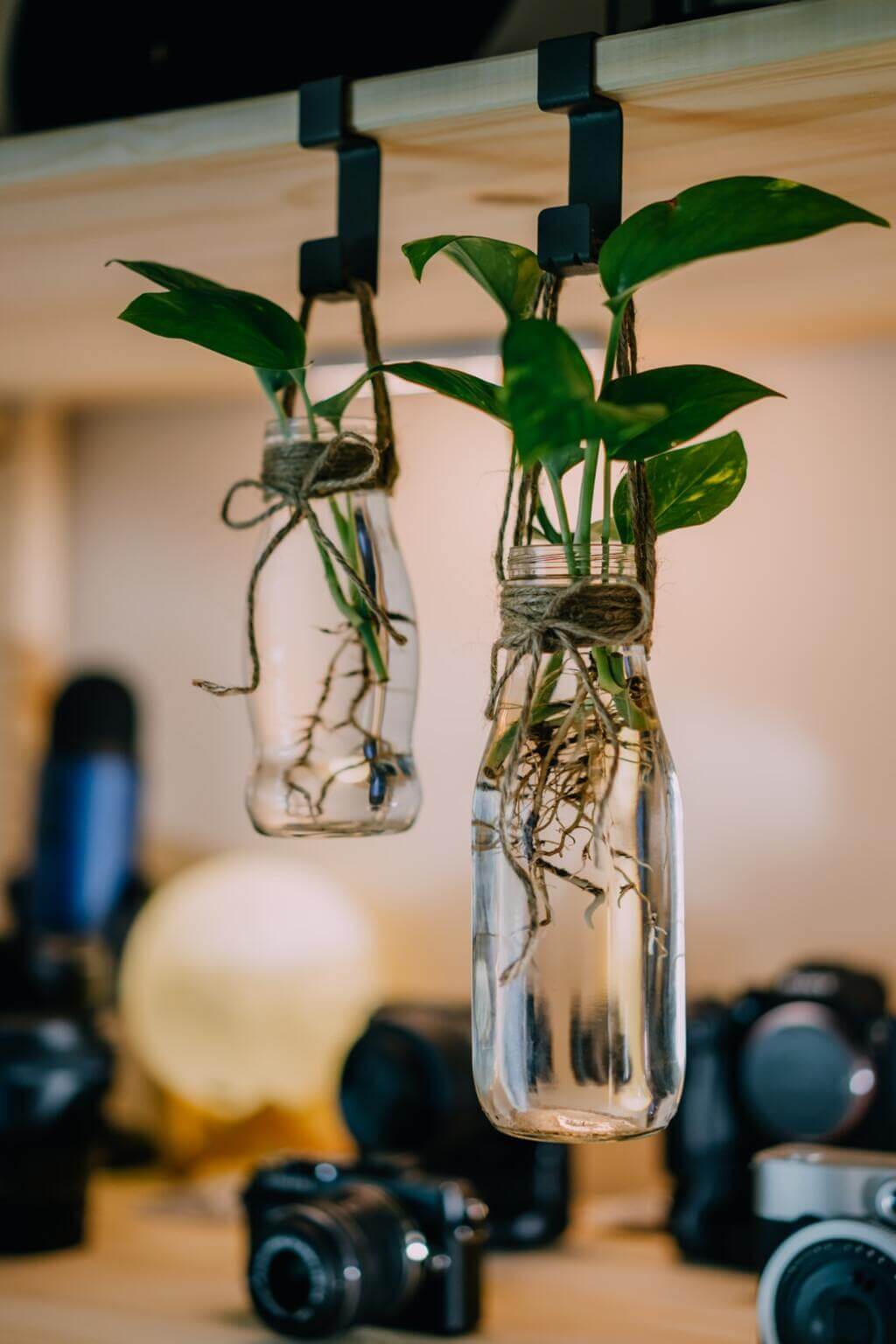 Source: unsplash.com
Celebrate an eco-friendly Easter! Re-use your empty glass jars and bottles. With some thick wire, attach them to a fence or arbor. Then fill them with water and place your favorite spring flowers. This Easter yard decoration will stay up all spring.
15. Unique Flower-filled Ladder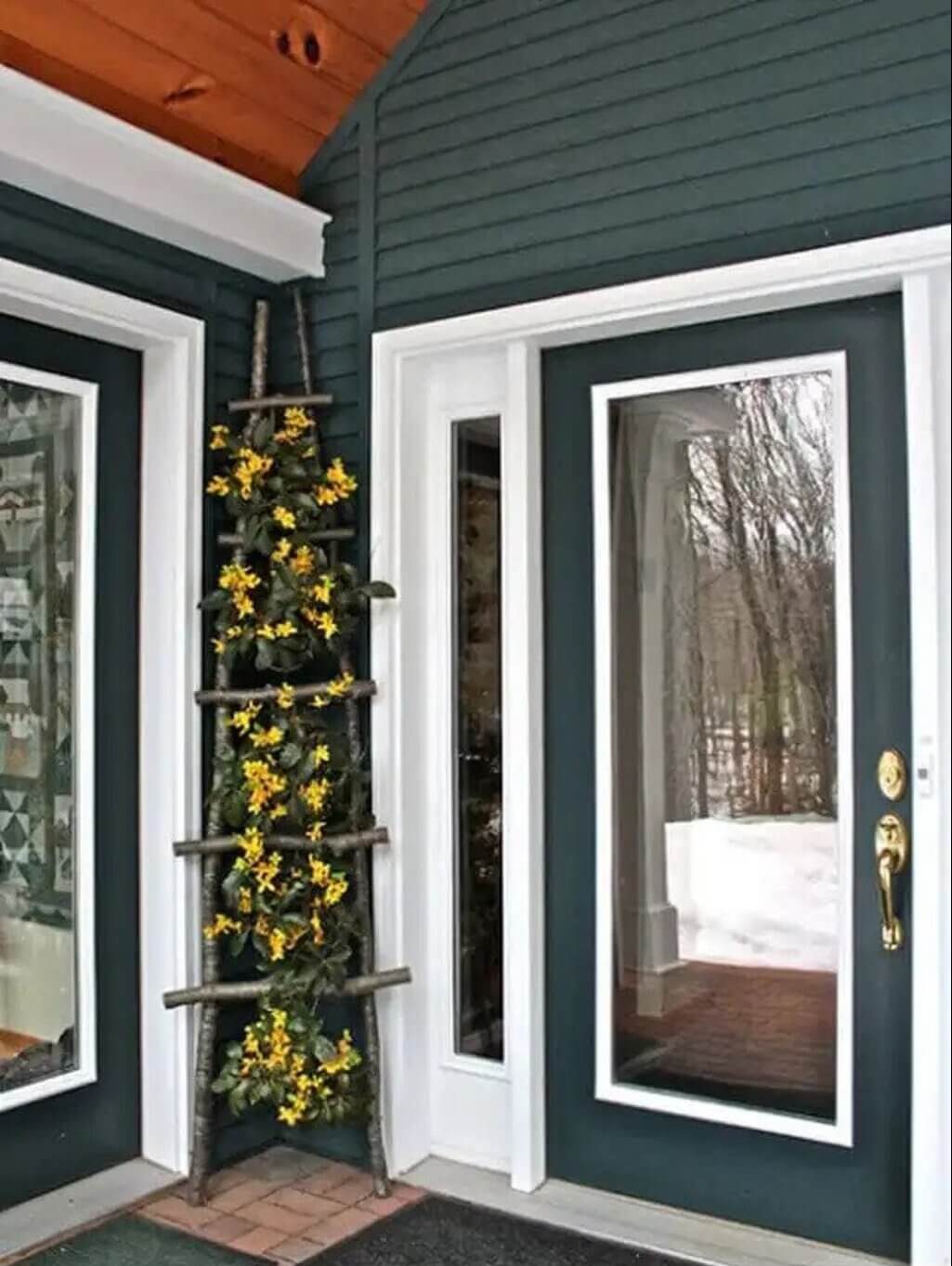 Source: soilseedandgarden.com
You can build this really pretty-looking Easter garden decoration with an array of branches. Fill it up either fresh spring flowers or use faux flower garlands. 
16. Grapevine Bunny Wreath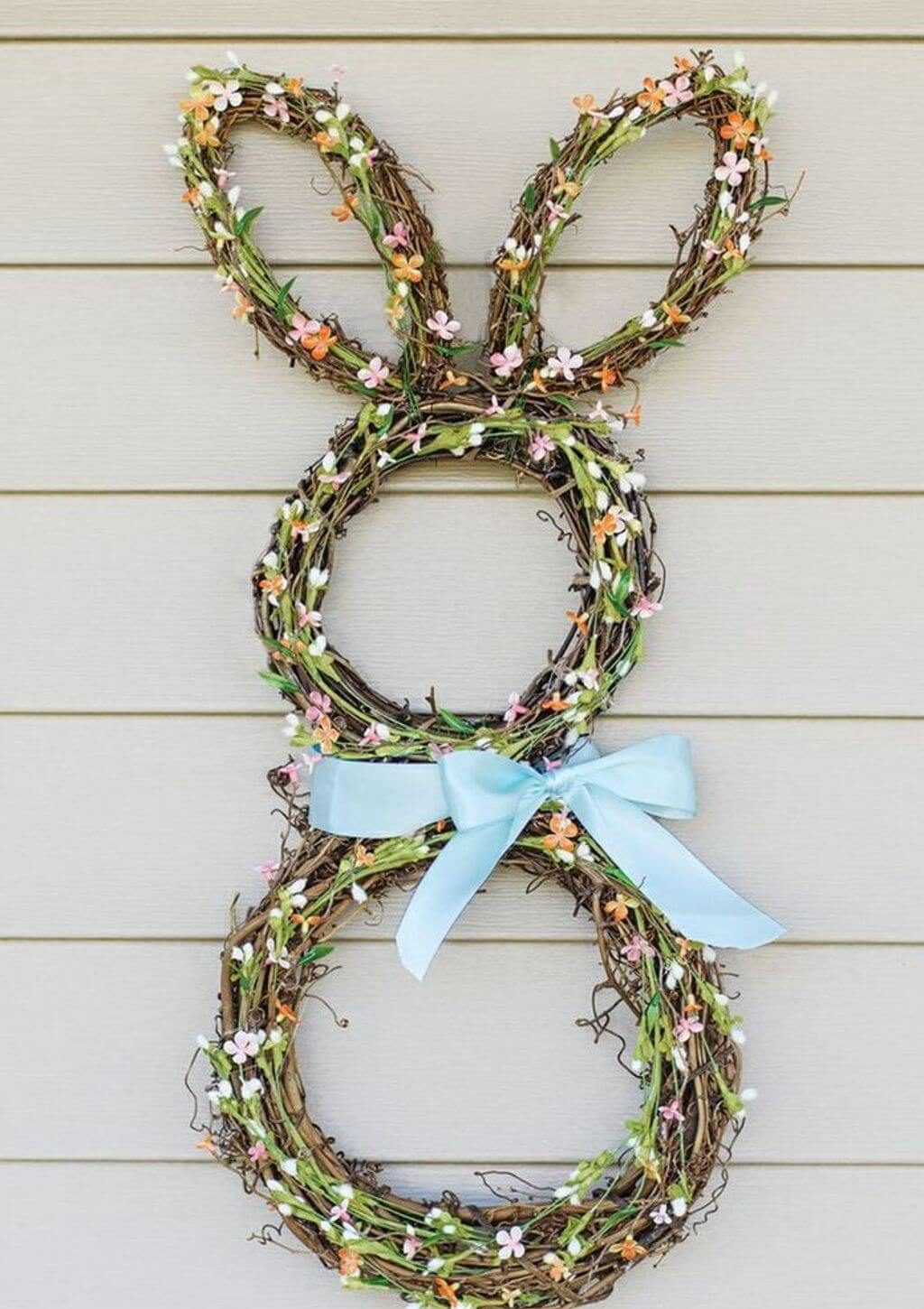 Source: hearstapps.com
No festival can be complete without a wreath decoration, right? So, this spring season, make a bunny wreath from grapevines. Make it as big as you want and hang it on the front door. 
Also Read: Make Your House Easter Ready With DIY Easter Wreaths
17. DIY Easter Egg Garlands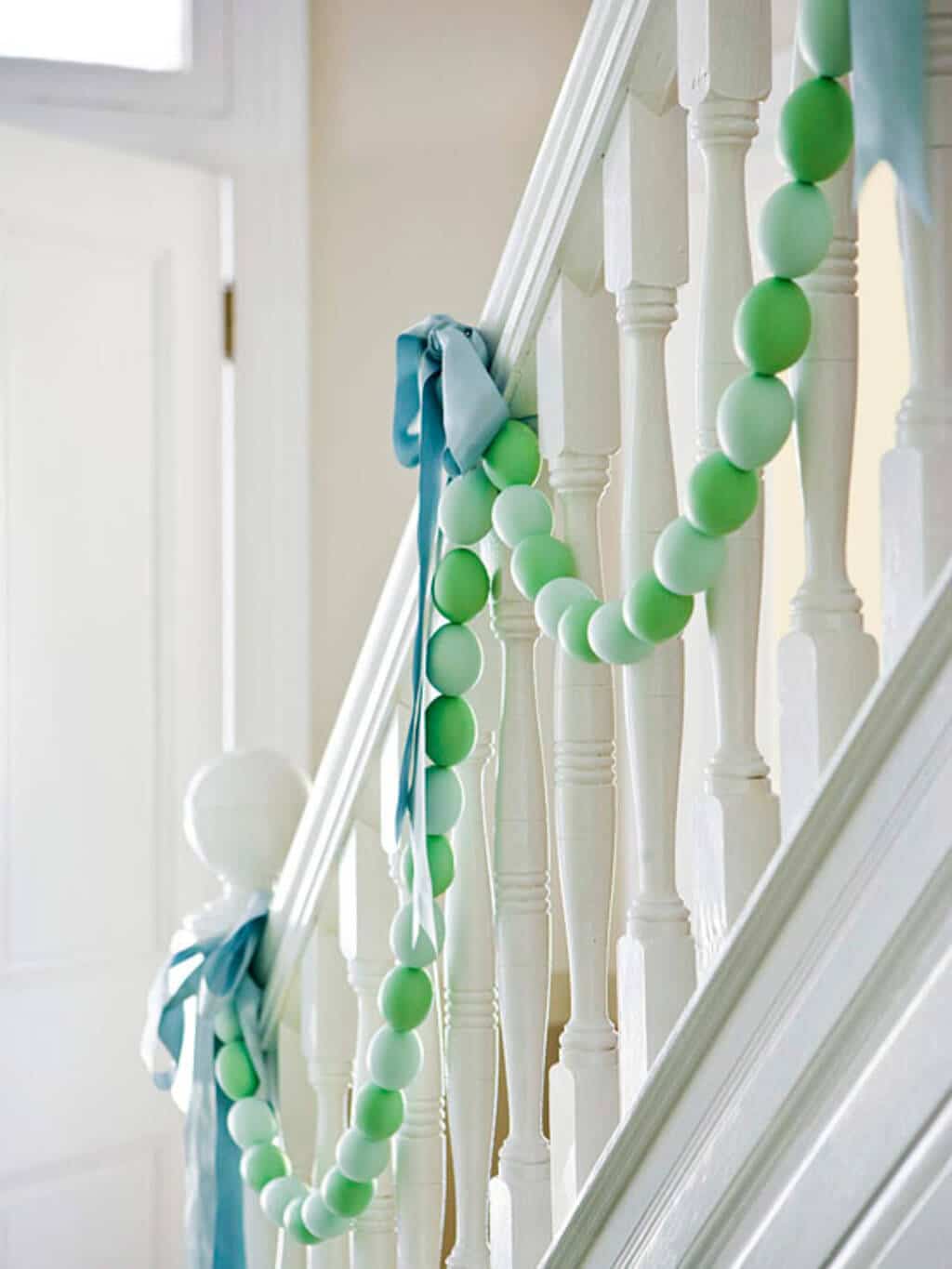 Source: meredithcorp.io
This is probably the easiest but delicate project from all of the above. To make this, first, blow out some dyed Easter eggs and then poke small holes one by one in each egg. Finally, use a heavy thread, and attach them all, make a garland. It will look great on your porch or under a pergola. 
18. Easter Door Decoration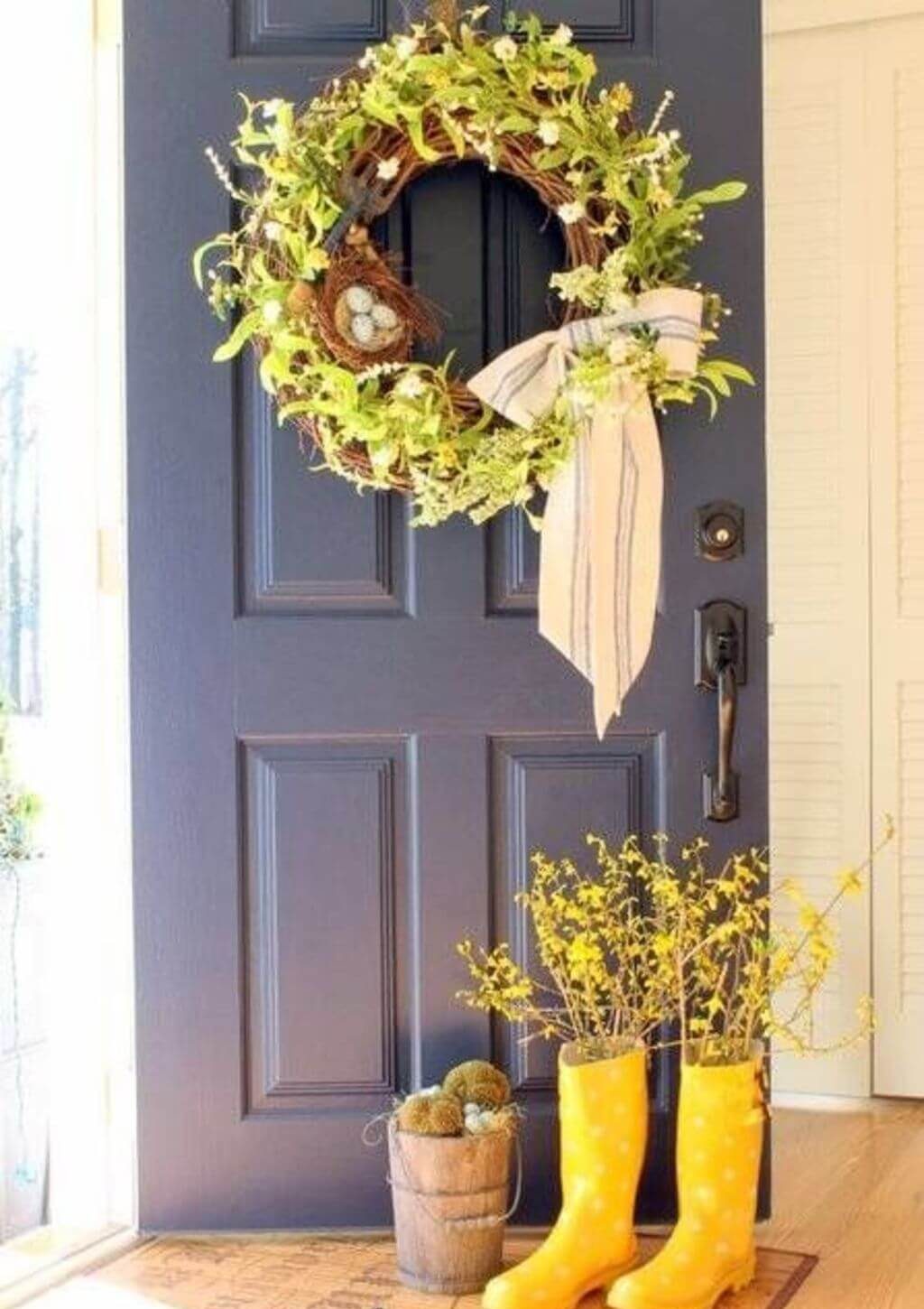 Source: pinimg.com
This yellow door decoration is perfect for welcoming the spring season! Make a wreath from branches and faux flowers. Next, create an Easter basket with eggs and rainboots. You can also customize the entire look by using your favorite blooms or flowering branches.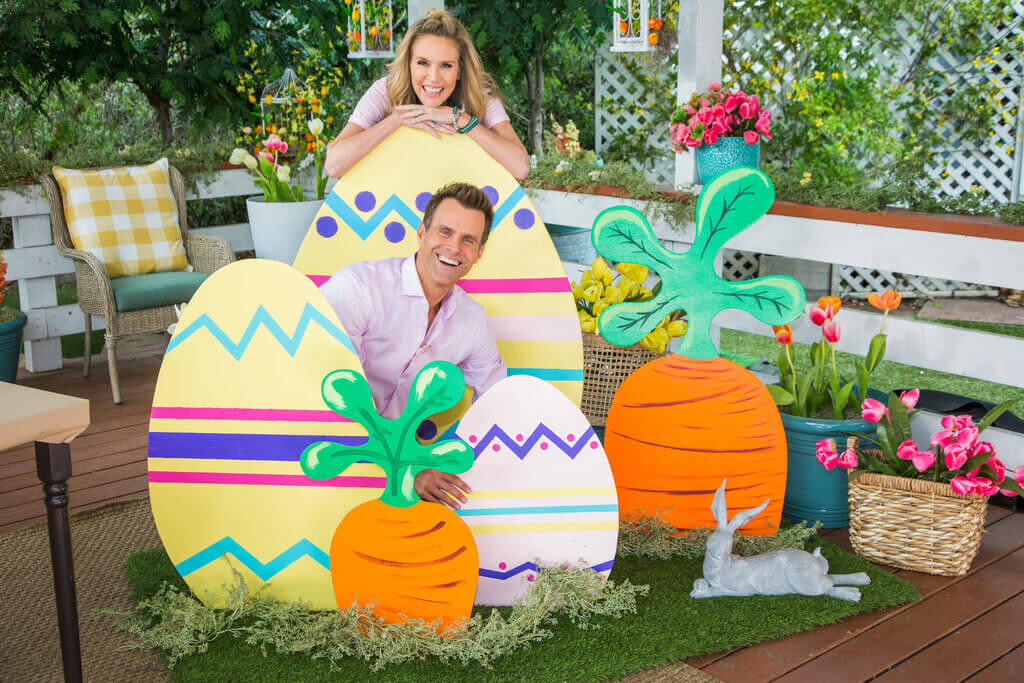 Source: brightspotcdn.com
Happy Easter! 
So which outdoor Easter decoration is your favorite? With so many fun and creative ideas, decorating your outdoor space will be one of your kid's new favorite Easter activities. 
These Easter indoor decorations and outdoor decorations are sure to get you in the holiday spirit! So, what are you waiting for, pick your favorite ones from the list and start decorating your outdoors! I hope you like this blog; for more home improvement tips and ideas, keep coming to Architecturesideas. Also, don't forget to share this blog with your family and friends.