Best Remote Control Light Switch for Your Home
Does your house have hard-to-reach light switches or plugs? Is there a switch at the end of a long dark corridor that you feel uncomfortable using at night? If so, you need to install a remote control light switch! This happens with many people, so if you also have several lights in your ceiling, installing a smart switch is the best idea. 
To convert your home to a "Smart Home," these switches will play an important role. These were once "cool" additions to a residence but now they are becoming essentials. Especially when it comes to devices like smart wireless light switches and plugs, right? With the help of these advanced switches or plugs, you can control your home lights just from your smartphone or using a voice assistant like Alexa, Google Assistant, or Siri.
What is a Smart light Switch or Smart Plug?
A smart switch is just like a normal switch that can be fixed on a wall to control lighting, a fan, or a socket. However, it comes with various advanced features such as you can control it with your smartphone via an app, or it can be easily paired up with Alexa, Google Assistant, and Apple HomeKit. 
You can set schedules, timers for your home lights to turn on and off. Furthermore, these plugs and switches can also be connected to other smart home devices. There are many more benefits of having an intelligent switch in your home, such as you can control fans, AC, and lights from anywhere in the world, and you can also save a lot on your energy bills. 
Today we listed up the top 7 remote control light switches and plugs, which will upgrade your home automation system. They all are budget-friendly, so check them out and place your order right away. 
7 Best Wireless Light Switch
Below is the list of top 7 remote control light switches and plugs, which will make your life easy.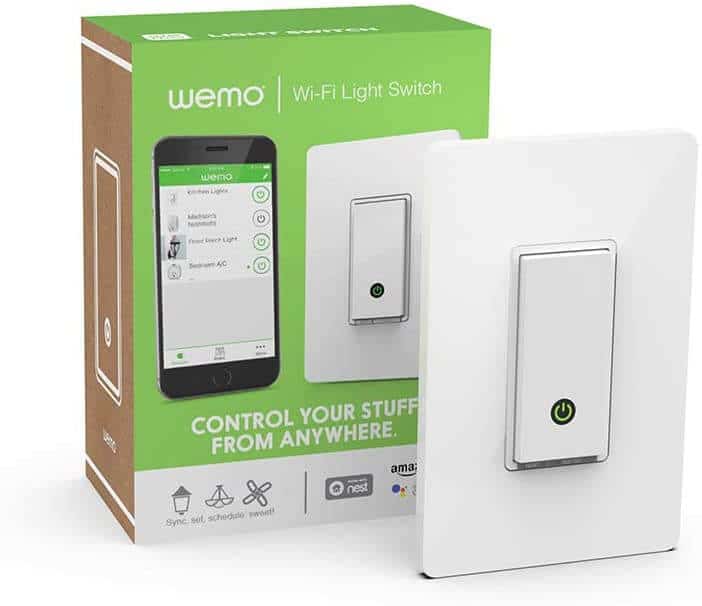 source: amazon.com

After coming from a long day at work, you find that your house is a hot box. How many of you experience this? We all turn off the fan before we leave for work to save electricity. But later you have to wait about 30 minutes to an hour until your home has cooled down. 
To tackle this hot situation in summers, use a WeMo WiFi light switch. You can program it to turn your fan on for before you get home so that you'll arrive in the fresh air.
 Pros:
It works with Alexa for voice control

You can easily set timers and schedules.

Works with Alexa and Google assistant.

You control lights from anywhere

Program dependent on factors like weather, etc.
Cons:
Some users face issues with the app.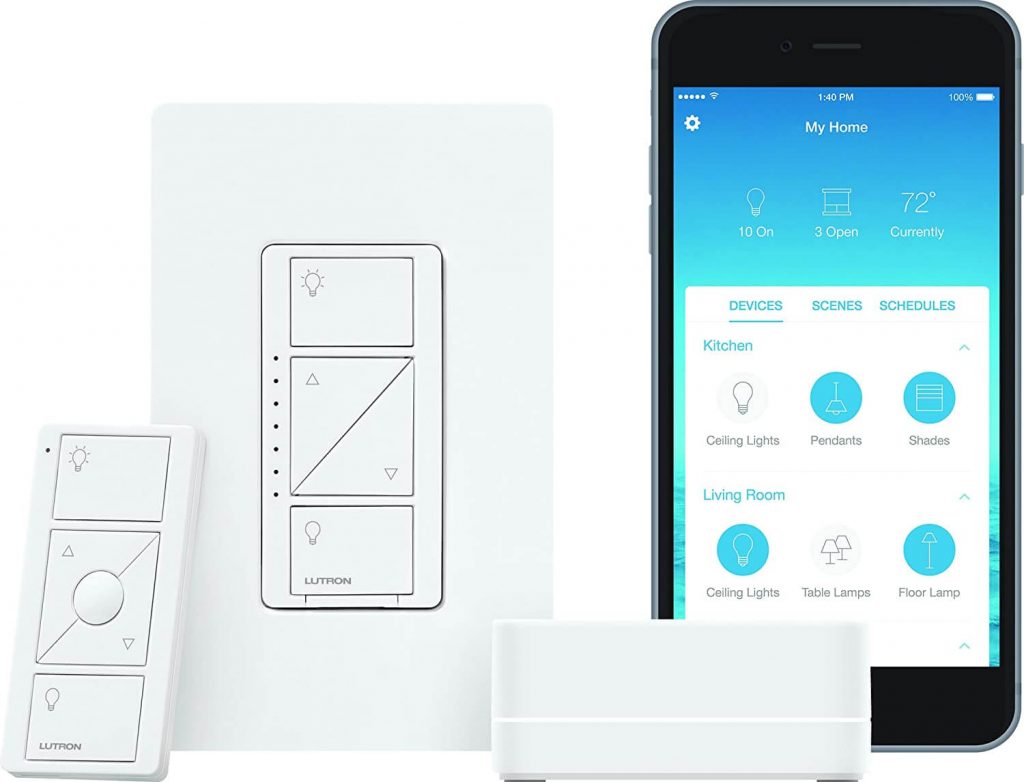 source: pinterest.com

Tired of turning on and off again and again a light switch on every time you enter or leave the room? Well, now you can ask Siri to switch your lights On and Off. Pretty amazing, right? Don't worry if you have ordinary bulbs of LEDs; the Lutron Caseta Smart Switch will take care of everything.
With the help of this advanced remote light switch, you cannot only control the lights but also adjust the brightness of the bulb. For example, if you're working, you can set it to a high brightness light, and at night you can create a night lamp effect. Besides, You can even add a sunrise and sunset schedule to it.
This switch is perfect for those who want to keep their old lights or bulbs. This smart switch will let you control your lights via Apple HomeKit, Alexa, Google, Nest, Serena shades, and many other smart devices.
Pros:
Super easy to set up and you can schedule lights

It will Turn your non-smart bulbs into smart ones

Works perfectly with Alexa, Google, Nest, HomeKit, Ecobee, Carrier Cor, Honeywell, Logitech, and more

Connects up to 50 Lutron devices

You can install it in 3 simple steps within 15-minutes.
Cons:
This switch has only a 30-feet range.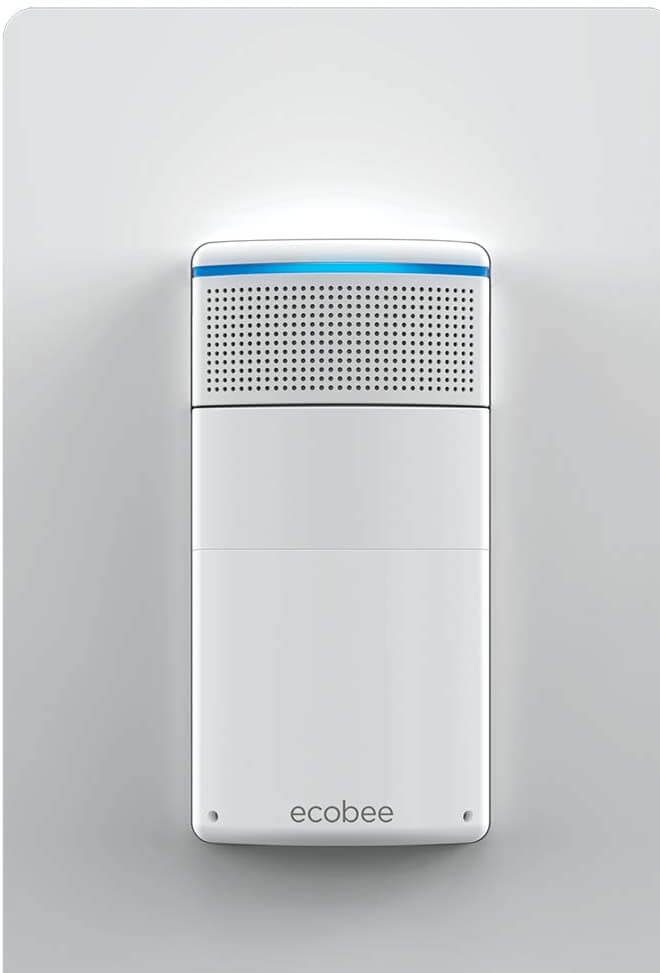 source: amazon.com

This switch is on another level of advanced technology, which will make your life convenient and fun. Why are we saying this because this switch is not just about turning on and off the lights, rather you can do many things from it. For example, if you're feeling cold but don't want to get up from your cozy couch, just ask ecobee to do it for you. 
Not only will it operate the lights, but you can connect it with anything such as a heater, music systems, news, and many more things. The best word to describe this switch will be "Super Switch" because it has built-in motion detection, ambient light sensors, and built-in Alexa. 
Pros:
You can control your lighting from anywhere

Smarten your

outdoor lighting

to automatically turn on at sunset

Configure your ecobee Switch+ to double as a night light after dark

You can easily install it in just 45 minutes. 
Cons:
Users say that firmware could be updated

Slow performance

Poor mic

Some people find Hard to connect with WiFi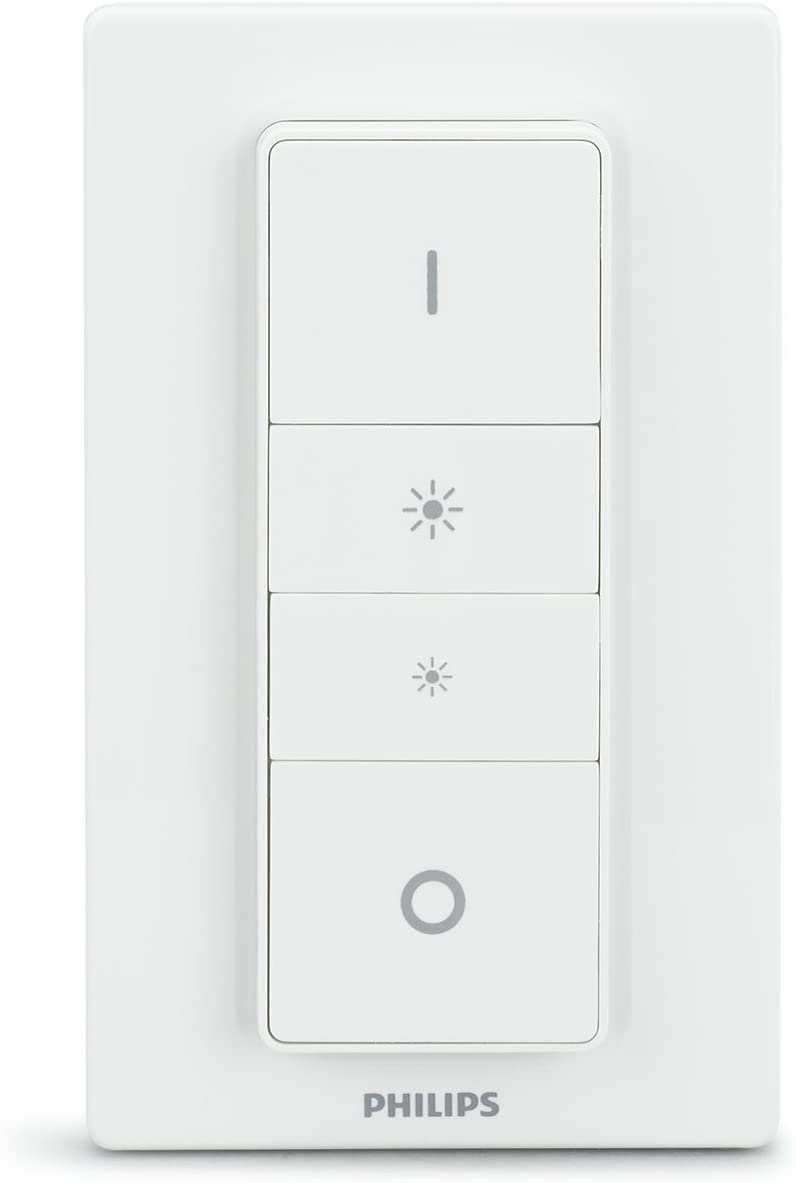 source: pinterest.com

Another great switch option is the Philips Hue Dimmer Switch. So, it's time to replace your old switches with this one and provide more functionality to the traditional dumb lights. This switch comes with a remote so you can control the lights via a remote, and if you have a Philips Hue Bridge, then you can easily control the lighting of your home over your WiFi from anywhere in the world. 
This switch is perfect for those who want to replace their house lighting without a lot of fuss and hassle. The best thing about this is you can Control up to 50 lights using the Philips Hue hub, and without the Philips Hue Hub, you can control up to 10 Smart lights. The Philips Hue hub doesn't require an internet connection to work.
Pros:
Control your smart lights from your bedroom to your backyard

Customize with the Philips Hue

Alexa, Apple HomeKit and google assistant enabled

Connects up to 10 Philips hue smart lights

You can create an ambiance with warm to cool daylight

It can be sync with movies and music
Cons:
Some users experience a loose connection

It works best with Philip Hue Lights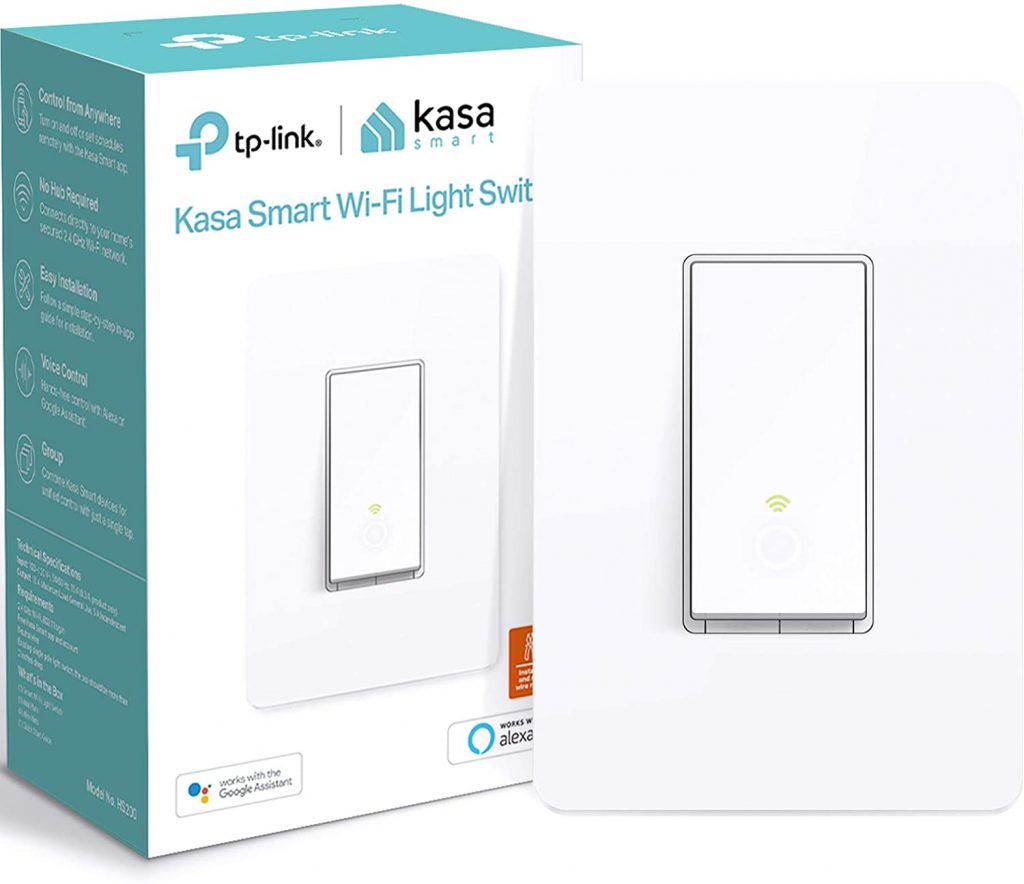 source: pinterest.com

Looking for budget-friendly smart switch options? For beginners, the TP-Link Smart Switch is an excellent smart product. This smart switch with remote control is operated by Kasa App. So whether it is your ceiling fan, room heater switch, or home lights, you can easily control them virtually. The bonus point of this device is that it can also pair with Amazon Echo. 
So if you don't want to spend a lot of money on your first smart switch, then TP-Link Smart Wi-Fi Light Switch is worth giving it a try! With the step by step instructions by the Kasa App, the installation process is very simple. This switch gives you a totally hands-free operation because it can be paired up with Alexa and google assistant. 
Pros:
Quickly check to see if you turned your lights on or off

Control any feature remotely

Setup lights for dinner, movies or party

Pairs with Amazon Echo

Automate your daily routines

Control multiple devices with a single tap
Cons:
Limited to basic features

Some people have issues with customer service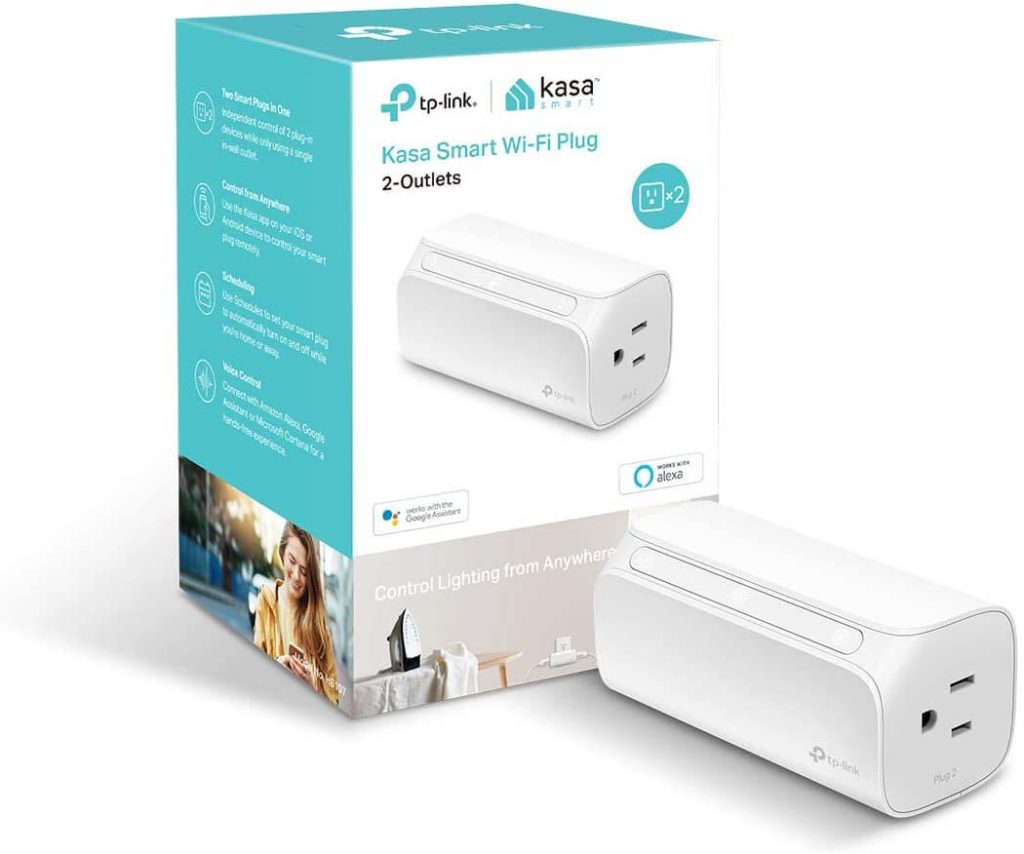 source: amazon.com

This is one smart plug with the benefits of two. With The Kasa Smart Plug, you can control two devices from anywhere simultaneously or individually. Are you the one who mostly uses multiple devices at the same time? Then this is a must for you. For example, with this, you can control the lamps of your room, hair iron, and an electric toothbrush at the same time. 
Like the smart switches, it can also be controlled by Alexa, Google Assistant, and Microsoft Cortana.
Pros:
Control 2 devices at the same time

Can be controlled together or separately

Control your plug from anywhere

Voice control through Alexa, Google Assistant or Microsoft Cortana

Set scenes, schedules and timers

Easy setup mode
Cons:
Only for upright outlets

Requires a secured 2.4 Gigahertz Wi-Fi network connection

Some users face connectivity issues
Also Read: Kitchen Lighting Ideas – Tips For Better Lighting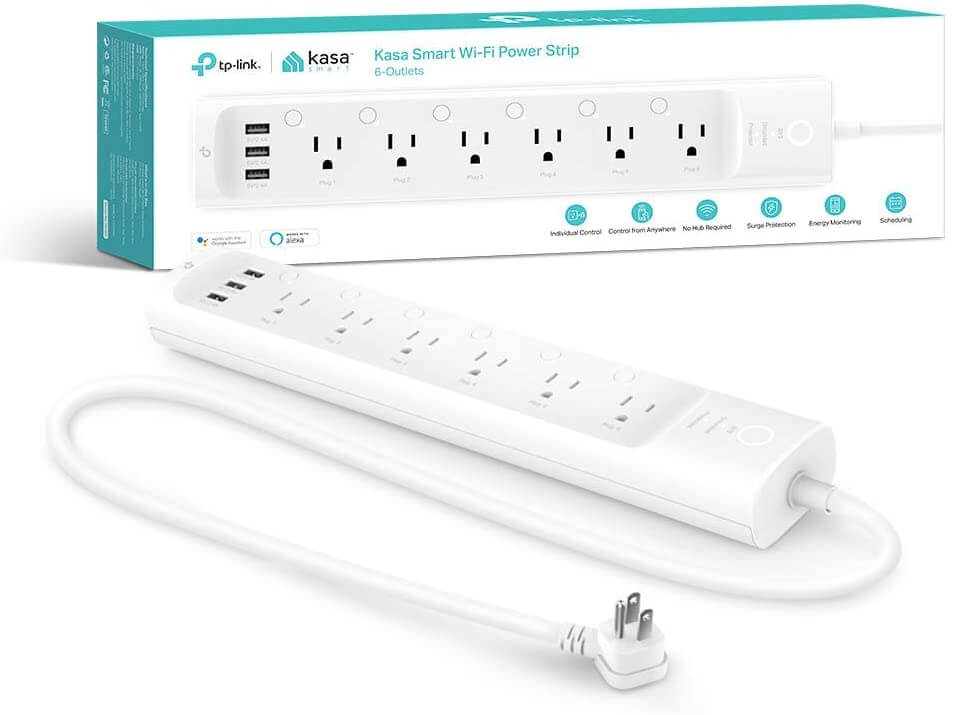 source: amazon.com

Just by looking at it, you will think that it is an ordinary power strip, but it is not. This is also from the brand Kasa, which has 6 powerful & smart outlets, which you can control all together or separately. There are also 3 built-in USB Charging Ports that you can use directly.
Just download the Kasa app and set up the power strip, and then you can control it from anywhere. Apart from it, you can also set the timer for each outlet to power on or off, depending on your routine. With this smart plug, you will start your morning with a cup of fresh coffee because your coffee machine is now operated with the smart plug. It will also work great with voice-command devices like Alexa, Google Assistant, or Microsoft Cortana. 
Pros
It Has 6 outlets and 3 built-in USB ports

Easy to install and use

ETL certified for power surge protection

Compatible with Alexa, Google Assistant, or Microsoft Cortana

Uses Kasa Smart app through phones for control

Energy Monitoring

No hub required

Comes with a 2-year warranty
Cons
Some have WiFi connection problems

Expensive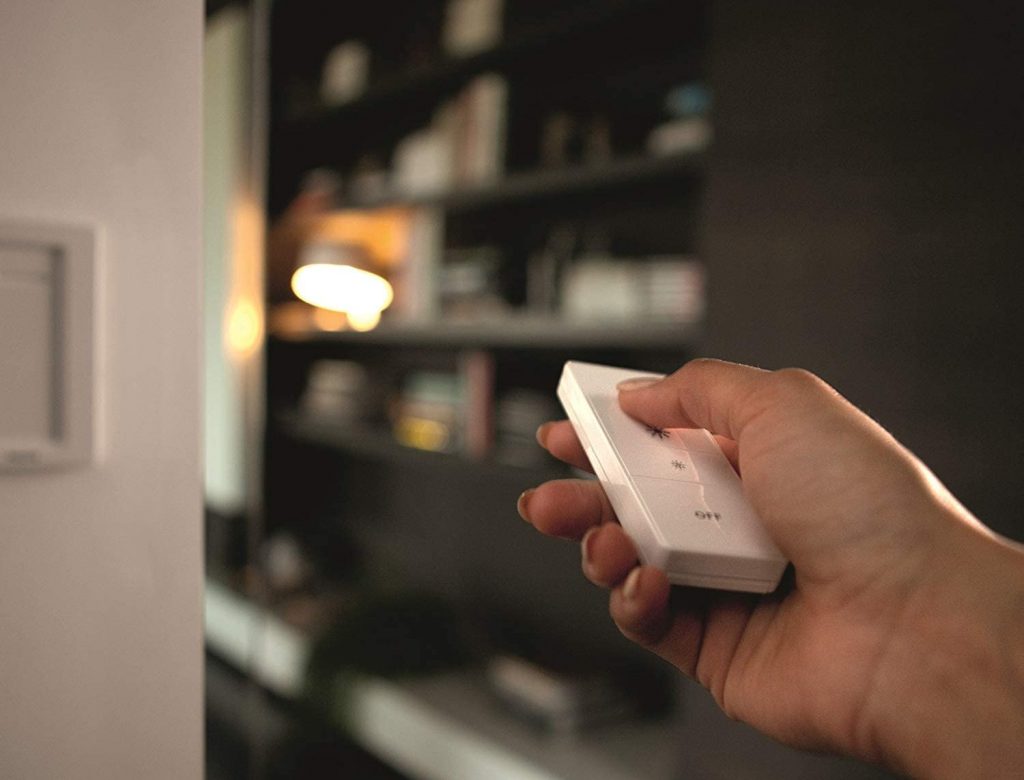 source: lightstyle.mx
In a Word
These are some of the best remote control light switches, hoping you have already picked out your favorite one from the above list. Always buy the one after considering your requirements. You can also purchase the smart lights or bulbs along with the switches to make your life easy and convenient. It's time to get rid off of your traditional dumb lighting methods and bring a smarter way to operate your home or office lights. 
These smart switches can be easily connected to Alexa, Google Assistant, and Apple Homekit. Their installation process is also easy as they are wireless and can be installed in a few minutes. So upgrade your home with these advanced switches and enjoy the comfortable life because now you have control over everything.
For more home up-gradation or renovation and various architectural information, keep coming to Architecturesideas.