How To Style Your Backyard With Outdoor Furniture
Turning your backyard into a relaxing space using outdoor furniture is a worthwhile investment. Having this space in your property will increase your living area and boost the value of your home. Spending time in your backyard is also a great way to relieve stress and relax.  
Pieces of outdoor furniture are being sold in countless stores today, allowing you to enjoy a vast variety of choices. But, aside from investing in high-quality outdoor furniture, you should also pay attention to how these pieces are styled in your backyard. Even the most stylish and expensive outdoor furniture will look like an eyesore when not utilized properly.  
For you to fully utilize your backyard, follow these tips when styling the area with outdoor furniture:  
Invest In A Statement Piece 
Seeing seats and tables is common in backyards. Regardless of how homeowners use their backyards, these pieces are always essential. Instead of following the same trend, it's best if you invest in a statement piece that can become the focal point of your backyard.  
As mentioned, outdoor furniture comes in a wide variety today, so you won't have any problems buying a statement piece that suits your property's unique style and theme. Some of the best outdoor furniture you can use as a statement piece for your backyard is the Adirondack glider chairs or porch swings withstand. Colorful PVC cord chairs and modern outdoor sofas are also great options.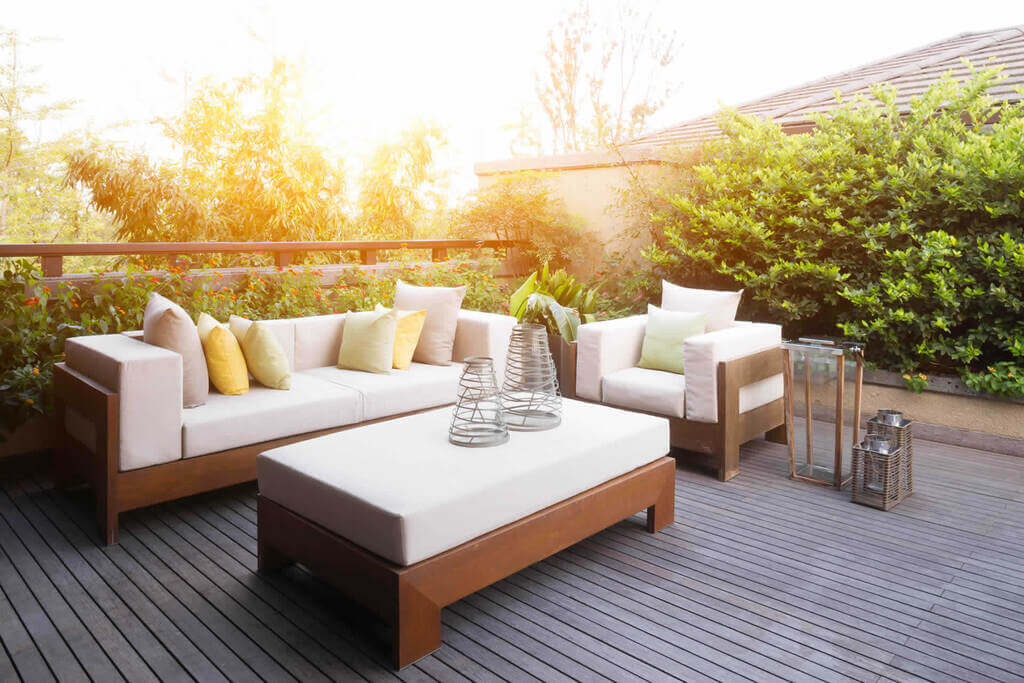 Source: agentfirecdn.com
Optimize Your Available Space 
For you to effectively style your backyard with outdoor furniture, you need to choose pieces that are suitable to your available set. For instance, buying an expensive outdoor sofa will be useless if it doesn't fit your backyard or if it makes the area too cramped.  
No matter how big or small your backyard is, you should strive to make optimal use of the area. If you have a small backyard, you can invest in a modular outdoor sofa as this bends at an angle and gives the illusion of having more outdoor space. You can also use stackable chairs if you have a small backyard so you can easily stack and store them when not in use. 
Conversely, if you have a spacious backyard, you can choose to make an outdoor living room in your backyard, complete with sitting areas, a fireplace, dining room, and an outdoor kitchen.
Consider The Appearance Of The Furniture 
How your outdoor furniture looks can significantly affect the appearance and ambiance of your home. Sure, every outdoor furniture you can buy today is functional, but you should also think about how these pieces will look once placed in your backyard. 
When styling your backyard with outdoor furniture, choose pieces that blend well with your home's interior design. This will make your backyard feel 'connected' to your interiors and allow your entire property to look cohesive.  
If you use nude shades, such as cream and off-white, on your home's interiors, consider investing in outdoor furniture that also comes in the same colors. If your home follows a Scandinavian theme, look for outdoor furniture that has minimalistic designs, like seating furniture made from wood, coupled with charcoal cushions. For retro-themed homes, try adding colorful pieces of metal chairs to your backyard.
Source: gardenize.com
Mix And Match Outdoor Furniture 
Outdoor furniture sold in sets is very common today. These sets are usually composed of seats and a table made from the same material and color. And, while buying these sets is an easy solution to make your backyard functional again, these can create monotony in your outdoor space. This is especially true if you choose outdoor furniture made with the same materials as your outdoor décor. 
If you want to style your backyard in the most unique way, mix and match different pieces of outdoor furniture. Instead of buying furniture sets, choose pieces that are made from different fabrics and materials. You can start by investing in brightly colored chairs with printed umbrellas or fill your backyard with chairs made from hardwood, metal, and rattan. 
Also Read: How to Transform Your Backyard

Prioritize Comfort 
All of the efforts you'll put into styling your backyard with outdoor furniture will be useless if the pieces aren't comfortable. How can you enjoy your backyard if the seats feel too painful when used for long periods?  Do you think you'll have the interest to invite friends over if your outdoor furniture doesn't provide comfort? 
Aside from making sure that the outdoor furniture you'll buy for your backyard matches your interiors, don't forget about comfort as well. In fact, you should prioritize comfort whenever you're shopping for outdoor furniture.  
Making sure that your outdoor furniture provides comfort will allow you and all of your friends to enjoy the space better. A comfortable outdoor sofa with fluffy throw pillows will surely entice anyone to spend more time in the backyard!  
Don't Neglect Material and Quality
When choosing outdoor furniture, make sure not to miss checking the quality. Remember that your outdoor furniture tables and chairs have a higher risk of damage because of ultraviolet (UV) rays, cold, and extreme weather changes. But what makes a piece outdoor furniture high quality? 
An excellent-quality furniture piece can withstand harsh climates and weather conditions, such as rattan furniture. Rattan furniture has superior durability. It can sit under the sun without damage and handle the cold in a sunroom during winter. Rattan furniture pieces are hand-woven by local master artisans, and some rattan furniture makers use nails to secure the material (dried fibrous climbing vine) in place. 
Metal is also a strong and durable material for outdoor furniture. This material has exceptional strength, and the metallic frames can be shaped to create more complex designs, which gives furniture makers greater style flexibility. 
If you're on a tight budget, then opt for outdoor furniture tables and chairs made of synthetic resin like high-quality PVC plastic. Synthetic resin wicker is lightweight and easy to clean. Plastic furniture pieces are all-weather. You can leave them out in the sun, rain, and snow, unlike wood that needs to be kept inside the home during winter.
Stay Creative 
Contrary to popular belief, styling your backyard with outdoor furniture doesn't require years of experience or thousands of dollars. Along with your creativity, following the tips in this article will ensure that you'll end up with one of the most stylish backyards in your neighborhood!