Track Saw vs. Table Saw: Which Is Best For Woodworking?
Do you love woodworking and creating wood projects? With the right tools and supplies, this task becomes easier and smoother. No matter whether you're a DIYer or professional, working with a large piece of thick plywood is not much fun, especially when you have to do everything alone track saw vs. table saw.
Some of you already have saws in your workshop, which is good to have. There are numerous types of saws available in the market, including the track saw and table saw. Track saw vs. Table saw or another one; you can select anyone to make your job easy and efficient. 
For a woodworker, every kind of power saw is appropriate for completing a specific woodworking project. Also, you may know that every kind of saw is necessary to keep in the workshop. Because they can be used for various woodwork activities to make things properly and smoothly.
Are you also planning to buy a saw for your woodworking workshop? Many people get confused about selecting the right type of saw. It mainly depends on your work, what project you're doing right now because every project needs different types of tools and supplies. Due to this reason, many woodworkers, both DIYers, and professionals like to have more than one saw in their workshop. However, not everyone can buy all of them. 
So today, in this blog, we're going to explain all the things about track saw vs. table saw. Yes, there is a huge difference between them. So keep on reading to know all the similarities and differences of track saw and table saw. 
Track Saw vs. Table Saw: What's the Difference?
So whether you want to create a wood art piece or just want to cut some lumber, a saw is essential. So in this blog, we're going to tell you about two main types of saws, which have been used by many DIYers and professionals. 
Here's the brief summary table of Track Saw vs. Table Saw: 
Track Saw
Table Saw
Main Purpose

Primary for cutting sheet goods

All types of woodworking.

Accuracy

Good for straight cuts

Excellent for all sorts of straight cuts, bevels.

Repeatability

Depends on track setting

Excellent repeatability.

Portability

Excellent portability

Poor mobility

Power

Less power.

Very powerful motor

Size

Compact and takes up very little space.

Require large floor and storage space.

Weight 

Super Light in weight 

Heavy 

Safety

Relatively safe to use.

One of the most accident-prone power tools.

Uses

Mainly used Straight cuts and Metering tasks

Also used for breaking down large panels into manageable pieces.

Cutting softwood and hardwood

Rip cuts, cross cuts, bevels, miter cuts, dadoes, rabbets, slots, etc.
Now understand both types of saws in detail, let's start first with the track saw. 
What Is a Track Saw?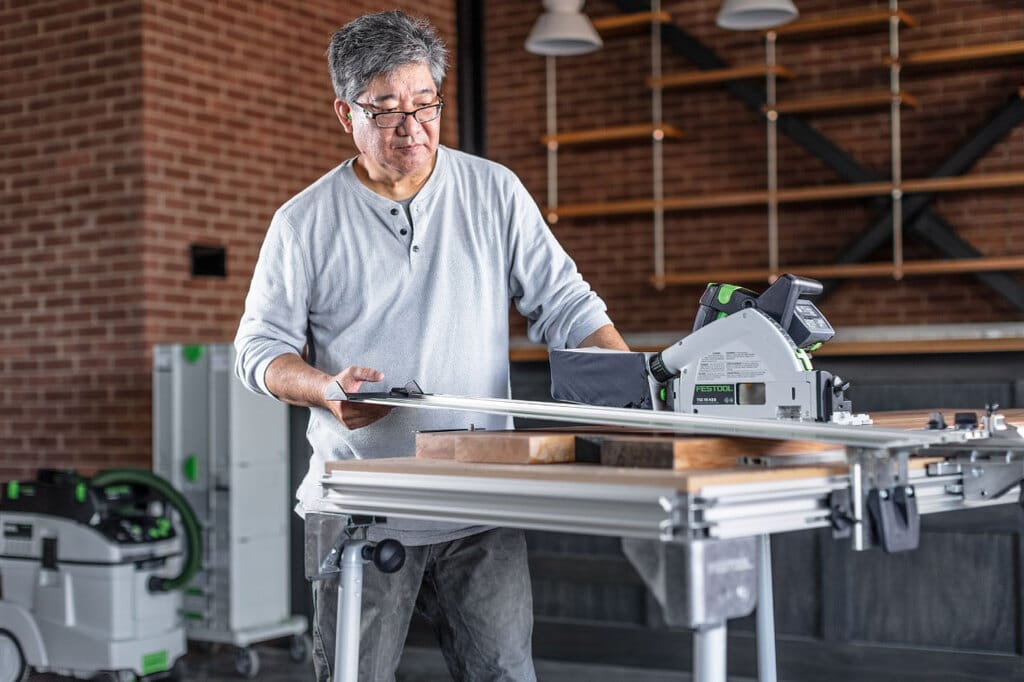 Source: festoolusa.com
Track saws are mainly used for making long and precise cuts. They are faster than table saws and circular saws. They're popular among woodworking professionals. Also, they're light in weight and can be easily moved from one place to another. 
Track saws don't need any clamps; you can literally set them up quickly and accurately perform your work. Some of them come with a circular saw base mounted onto a long, fixed track. 
Types of Track Saws
There are various types of track saws on the market, including:
Makita SP6000J1 6-1/2-inch.

SHOP FOX W1835.

Dewalt DWS520K

Triton TTS1400 6-1/2-inch

Festool TS 75

Dewalt DCS520T1
Working of Track Saw
Track saws are specifically designed to create smooth, fine, and precise cuts on your workpiece. It has a riving knife that will keep the user safe by avoiding kickbacks when the user is operating it. You can also make straight, and plunge cuts more smoothly as compared to other types of saws. 
With this saw, you can clearly see the cutting paths. To get the best result, you should start with the track saw and leave it running for a few seconds. Because this will perform much better when it gets to its full speed. After a few seconds, it will be at high speed; then, you can start working with it on your workpiece.
Uses of Track Saw
There are many things that you can do with a track saw. You can use it for:  
Straight cuts

Metering task

Plunge cuts

Splinter-free edges.

For making consecutive edges without a flake.
Benefits of a Track Saw
Here are some of the main advantages of track saw: 
It is super light and portable. So, you can easily change its position according to your need. 

Track saws are best known for making clean, narrow, precise, and smooth and repetitive cuts. 

As compared to circular saw and table saw, track saw is compact in size and barely takes any storage space. 

With its brilliant compact design,

you can easily cut woods

within an extremely tight space.

It comes with an ergonomic handle, which makes it easier to carry around. 

It also has an effective dust collection system. 

Track saws don't need clamps because they have sticky rubber strips at the bottom that are very firm and provide a good grip. 

Oftentimes track saws are more affordable than the other kinds of saws. 
Drawbacks of a Track Saw
There are usually no disadvantages of using a track saw. The only thing that makes it difficult to work with track saws is their assembling and setup. the whole setup process can be lengthy and complicated. First, you have to outline the cut with a pencil, then set the guided rail accordingly, and lastly, you can connect the dust collector.
Now let's know about the table saw. We've explained here everything from What it is and how it works to what are the advantages and disadvantages of a table saw.
What is a Table Saw?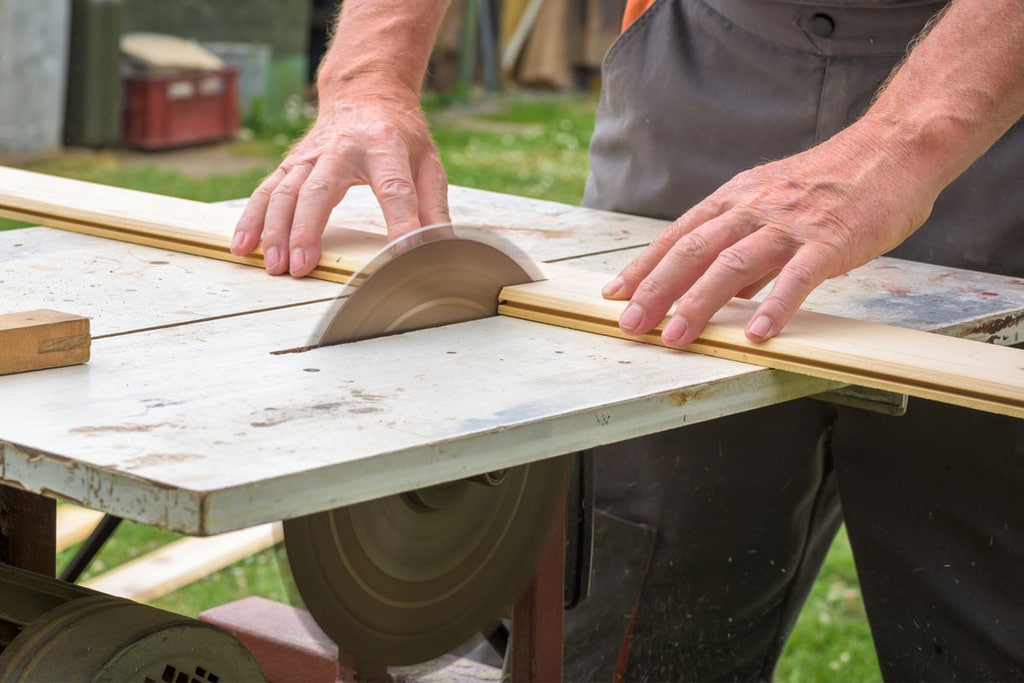 Source: bobvila.com
One of the most useful and commonly used tools among woodworkers is the table saw. It consists of a circular saw blade driven by an electric motor and mounted on arbors. Most people use table saws to get accurate and clean cuts. 
Types of Table Saws
There are different types of table saws available on the market as well as online. Here are some of them:
Cabinet Saws

Hybrid Saws 

Contractor Saws

Stationary Table Saws 

Portable Table Saws 
Working of Table Saw
A table saw works through a cutting machine, that's why it creates some noise. This can be disturbing for a lot of people. to protect yourself from wood debris, you can wear ear and eye protection. 
The table saw has a blade guard, which is specifically installed to prevent kickback injuries. It has a powerful motor that produces adequate power to carry out various cuts in a precise manner. This saw also has an emergency button that can be used to turn off the tool if a board kicks back. 
Uses of Table Saw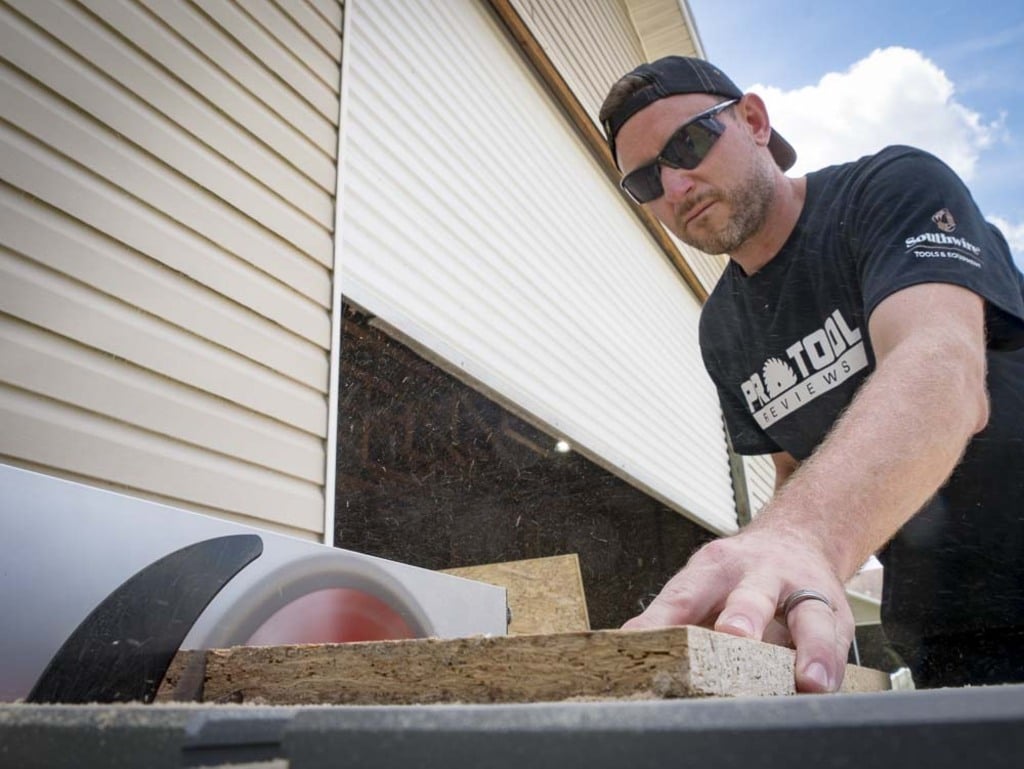 Source: protoolreviews.com
The table saw will help you to achieve proper and clean cuts, and it can be used for all sorts of projects involving wood. You can also use it for: 
Crosscuts

Rip cuts

Repetitive cuts and many more.

You can also work with large logs

To cut down different types of boards

To make crooked or curved boards straight
Benefits of Table Saw
Here are some of the major advantages of the table saw:
It will make your wood cutting process convenient and easy.

You can precisely make narrow and repetitive cuts with a table saw. 

Table saws are one of the best woodworking power saws as you can make numerous cuts non-stop.

Table saws are multi-purpose. You can use it for many things, such as rip cuts, straight cuts, and extended periods of repetitive cut sessions.

Even you can perform joints and crosscuts with briskness.

It takes less effort to set up this saw, and it gives you an easy working profile. All you need to do is to push the wood forward towards the blade.

You can carry out your woodwork faster than the handsaw. Also, with increased accuracy with fewer chances of messing up.
Drawbacks of Table Saw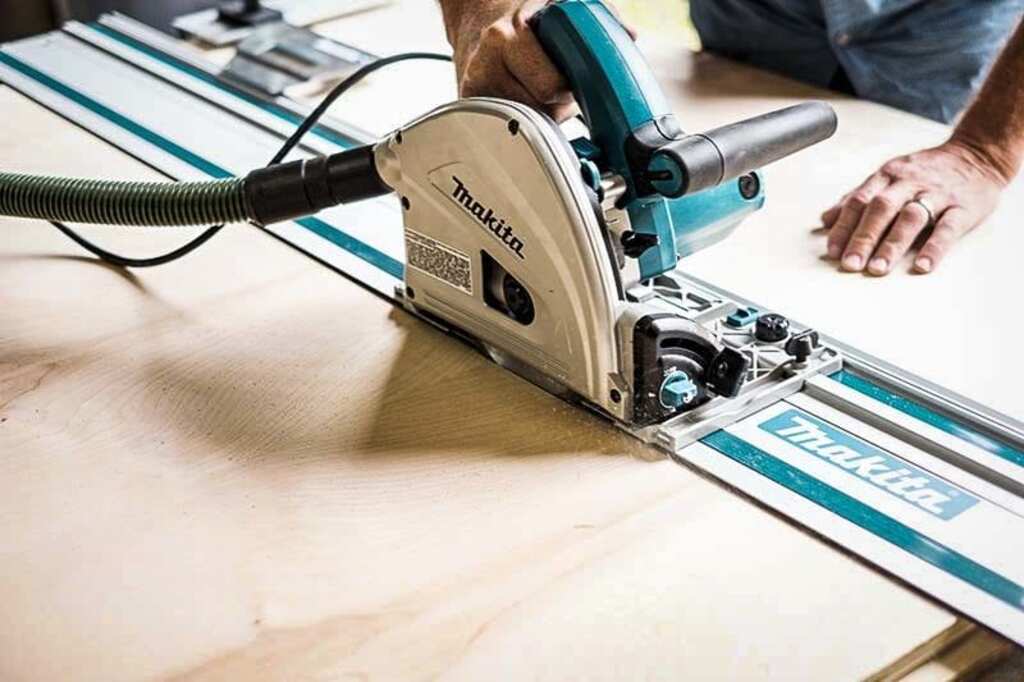 Source: protoolreviews.com
Table saws also have some disadvantages. Here are some of them:
Table saws are

heavy and bigger in size. S

o they need ample space for storage. 

With its huge size, you can't move it or change its position more frequently. 

As compared to track saws, table saws have less security for the users. So you have to be careful while working with a table saw. 

Due to its bulky size, it's hard to clean and maintain it. 

Table saws don't give proper support and the right pressure on the materials.

You may also need some practice before you're ready to start working on your project with a table saw.
Also Read: Wanna Give Your House a Scintillating Look? Get Solid Oak Wood Flooring
Final Verdict: Track Saw vs. Table Saw
Table saw and track saw both have some similarities, and differences such as you can cut clean and straight cuts from both of them. However, they both have different designs and support systems. Table saws are used for many years by woodworking professionals. It gives you excellent repetitive cuts with accuracy. But due to its bulky size, you can't work in small spaces.                                      
On the other hand, track saws are light in weight and can be easily portable to any place. You can carry out various cutting activities with high accuracy. However, it also has some drawbacks, like repetitive cuts and a lengthy assembling process.
Both are best in their fields and excel at particular woodcutting tasks. So, it's better to select the one according to your needs, budget, and space. Take a good look at the advantages and disadvantages of both types of saws. Then, make your decision. You can also select the saw on what type of woodworking project you are currently working on. 
Now you know all the similarities and differences between the track saw and table saw. So, select the right type of saw and start your wood project. 
I hope you find this blog on comparison of a track saw vs. table saw helpful and useful. This blog will surely help you decide which saw type best fits your current wood cutting needs. Please share this blog with your friends and family who are also confused between these two types of saws.  
For more in-depth comparison guides and other home improvement ideas, keep coming to Architecturesideas.
For the latest daily updates, follow us on our Instagram page @architectures_idea.