What Is a Jigsaw Used for | The Ultimate Choice for Carpentry, Diy & Construction Site
When it comes to deal with a typical home DIY-er, a good jigsaw can be your savior. You will have an incredible performance from this handheld, versatile tool, and no other power tool can deliver you such performance. It doesn't matter whether you are a beginner or a professional, as handling this tool is just a piece of cake. Also, an easy-handling facility offers you to make straight, curved, and rounded cuts with magnificent precision. With their reciprocating blades, you are guaranteed to have incredible cutting power. Therefore, making cuts in hardwood, sheet metal and, plastic is a lot easier and smoother. Those blades could be fatal if you do not follow the proper safety procedures. But no worries, in this article, we will have a broad and clear discussion on what is a jigsaw used for. No more delay. Let's get started.
Short History of Jigsaw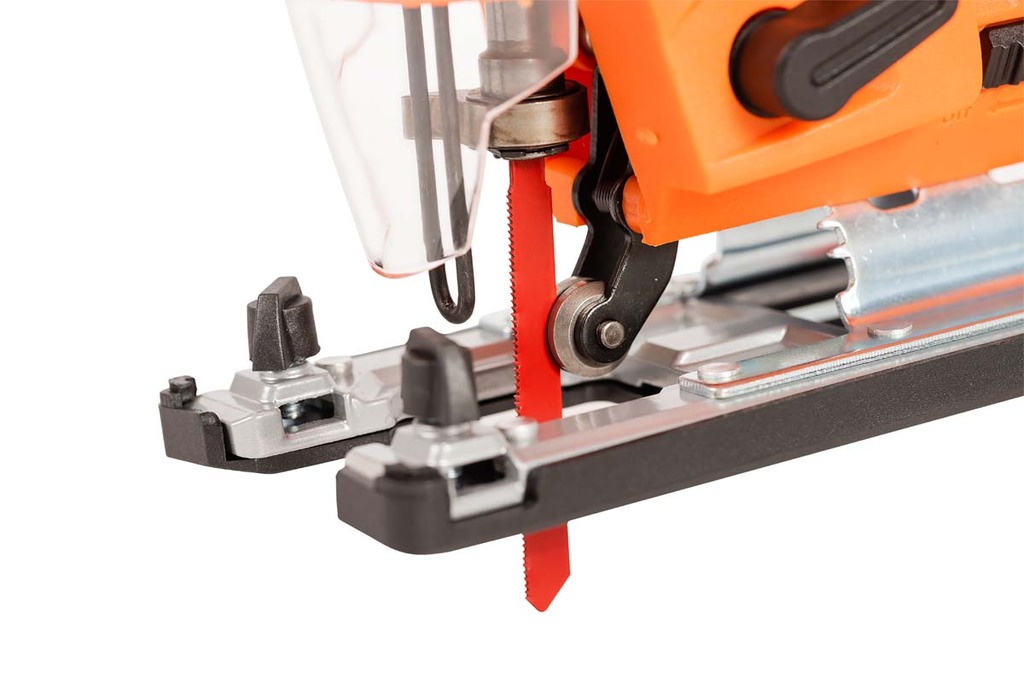 Source: freepik.com
The jigsaw was first introduced in the 19th century. However, today's modern portable jigsaw came into the light in 1947 by Scintilla AG. The invention story of this power tool is pretty interesting. In 1946 an engineer named Albert Kaufmann from Switzerland installed a saw on his wife's sewing machine by removing the needle.
And that was it! A great power tool was born. In 1947 Scintilla started manufacturing a developed model of that jigsaw and named it the " Lesto Jigsaw." In 1964 Bosch acquired Scintilla and renamed the tool from "Lesto" to "Bosch."
What is Jigsaw Used for?
Jigsaw is an excellent power tool that can cut curves in metal and wood with great precision. If you are still confused about its uses and facilities here, we have broad information on it for you:
Cutting Curves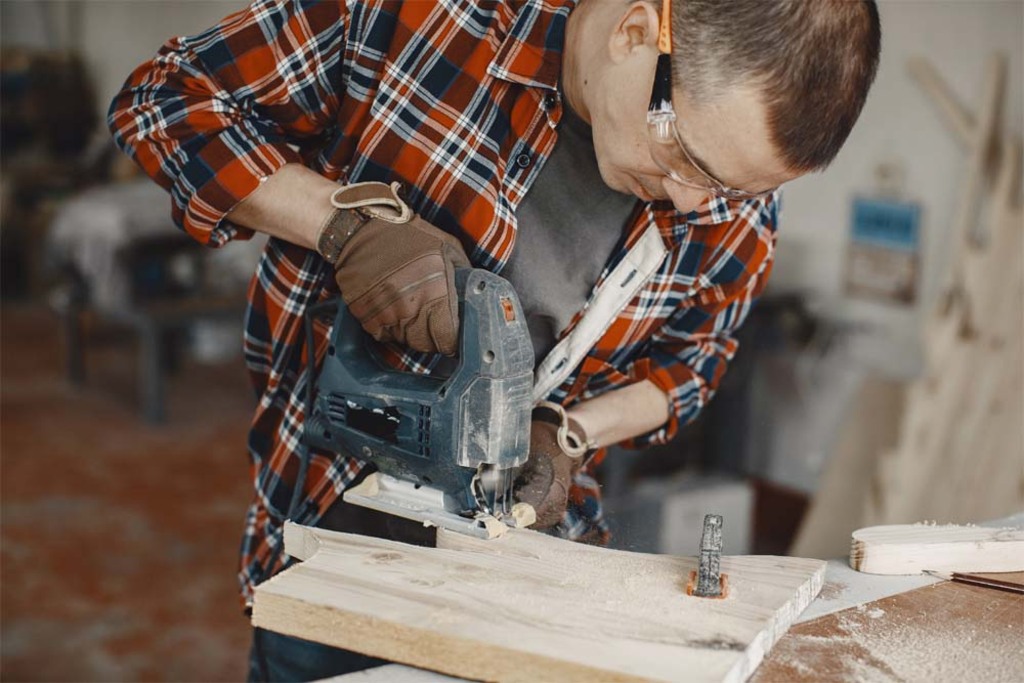 Source: houseaffection.com
Compare to the other power saws, jigsaws are more versatile and easier to use. They come with thin blades so you can fit them into tight spaces and cut curved lines easily. Also, they come with a lightweight design, so you can move them easily and, that makes the cutting process a lot easier and more accurate.
You can cut circles of any size using a jigsaw by your hand or with the help of a circle-cutting guide pretty easily.
Straight Cuts
By installing a wider blade, you can make a great cut using a jigsaw. But remember to cut straight lines with a jigsaw. You will need an accurate line and a good-quality sharp jigsaw blade. You can make straight cuts using a jigsaw in different materials, starting from wood to plastic, ceramic tile, and metal sheets. 
This tool can also make miter cuts, rip cuts, and bevel cuts in tons of materials. If you ever have to start a cut from the middle of the material, you can do that accurately using a jigsaw.
Plunge Cuts
If you have never used a corded or cordless jigsaw, you will be surprised by finding out the way it makes plunge cuts. In the plunge cut, you get to start the cut from the middle of an object rather than the edge. This technique is useful when you need to make a hole in the plasterboard or wood. These tools are mostly used by woodworkers.
However, most often, people use it to make sink cut-outs in a new kitchen countertop.
Bevel Cuts
Most of the jigsaws out there in the market come with a pivoting shoe, enabling you to make bevel cuts in boards and moldings. You get to keep the saw in a straight line in making most of the cuts. But when it comes to bevel cutting, you will have to set the blade at an angle.
Corded Vs Cordless Which Is the Best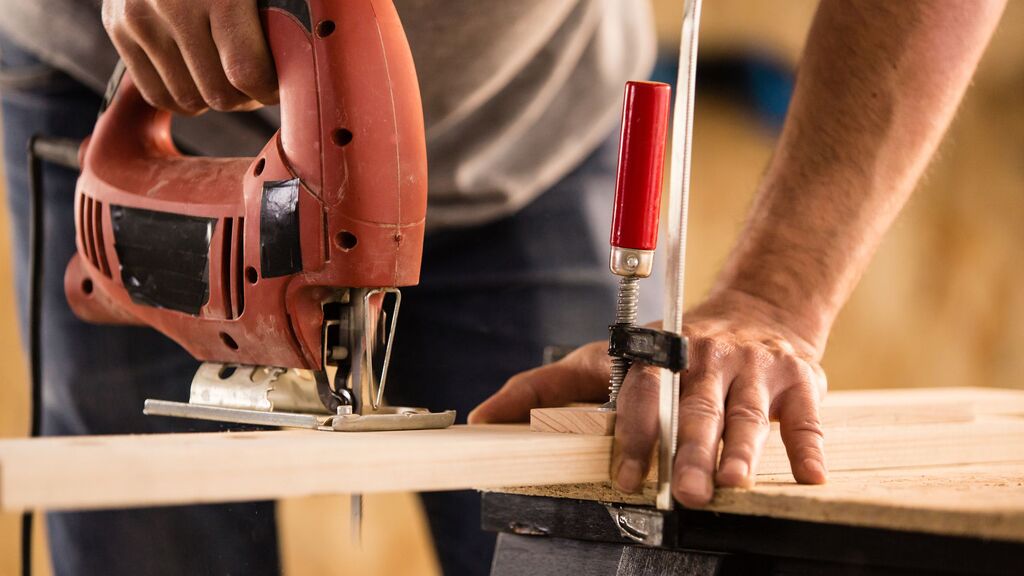 Source: thesprucecrafts.com
When it comes to purchasing any power tool, most often, people get confused between corded and cordless versions. What matters most here is either the power or the portability of it. Your priority between these two should shape which one you are after. 
Corded Jigsaw
Most of the jigsaws out there in the market are corded. And they will provide you the strongest power but, it needs to be connected to a power source while running. When you have a powerful jigsaw, you will be able to cut through any tough materials such as metal or hardwood. 
Also, you won't have to stop recharging it as it can run for unlimited time as long as it's connected to the power source. They are also lighter than cordless ones. So, if you have to work for a long time, then it will be helpful for you as it requires less physical labor to operate.
One of the main cons of this type is, the size of their power cord limits you. This can decrease the portability of the tool. This type is also known as a professional jigsaw.
Cordless Jigsaw
The best thing to have a cordless jigsaw is its portability.  They don't have any power lead, so you can move them anywhere you want and execute your tasks. But as they run by battery power, so you always get a power limit. This can be a bit troublesome when you have to work for long hours. 
So, which one is best? Well, it's totally up to your requirement. If you need one for great portability and easy handling, then go for the cordless one. On the other hand, if you need excellent power for hard objects then, go for the corded one.
Also Read: Battle Between Porcelain V/S Ceramic Tiles
Popular Brands
There are several quality brands of jigsaw out there in the market. Here we have included the most popular and reliable ones:
DeWalt Jigsaws

Bosch Jigsaws

Black+Decker Jigsaws

Porter-Cable Jigsaws

Tacklife Jigsaws
Jigsaw Blades:
Generally, there are two types of jigsaw blades one is U-shank and another T-shank. And between these two, T-shank is the most popular and common type. If you have the latest model of a jigsaw, you will need T-shank blades for sure. And most of the old models of jigsaws support the U-shank blades.
Final Verdict
We hope now you know what is a jigsaw used for. And we also believe you can realize jigsaw is an essential and effective power tool you can have. 
Whether you are a professional woodworker or a DIY'er having a jigsaw is like having a magic machine that gets things done for you in the blink of an eye. So, when you have much easier and quicker options to get your job done, why would you still stick with the traditional methods? 
It's time to change; it's time to embrace the future. Get a jigsaw today and take your work to the next level.