A wreath is a simple and elegant way to welcome your guests into your house. They'll feel the fall vibes just looking at your beautiful wreath, which is hanging on your front door. Want to decorate a door with a wreath? but confused about how to make thanksgiving wreath? Basically, a wreath is an arrangement of flowers, leaves and other fall items on a circular loop or ring. As it sounds to you, it is effortless to create also.
Buying a wreath is a good idea, but what about making a one? They are easy to make and also budget-friendly. Even if you have never made one, don't worry, here we are to guide you to make your first wreath. So, if you're here in search of some really cool ideas to make your own personal wreath, you are in the right place.
Here, we are providing 20 fresh and easy DIY wreath ideas, so take inspiration from here and surprise your visitors with totally unique and personalized wreaths.
With the appropriate material, foliage and some basic supply items, you can make an awesome wreath in no time. Definitely, these wreaths will stand out in the whole decoration of your home.
What You'll Need:
Wire
Wire Cutters
Glue & Glue Gun
After getting these basic supplies, let's start with the 20 easy DIY fall wreaths:
Leaf Wreaths:
Fall is all about the changing of the leaves from green to bright orange, so why not you include these pretty leaves into your fall decors. Here are four easy wreaths that you can make in under five minutes.
1. Arbor Boxwood Wreath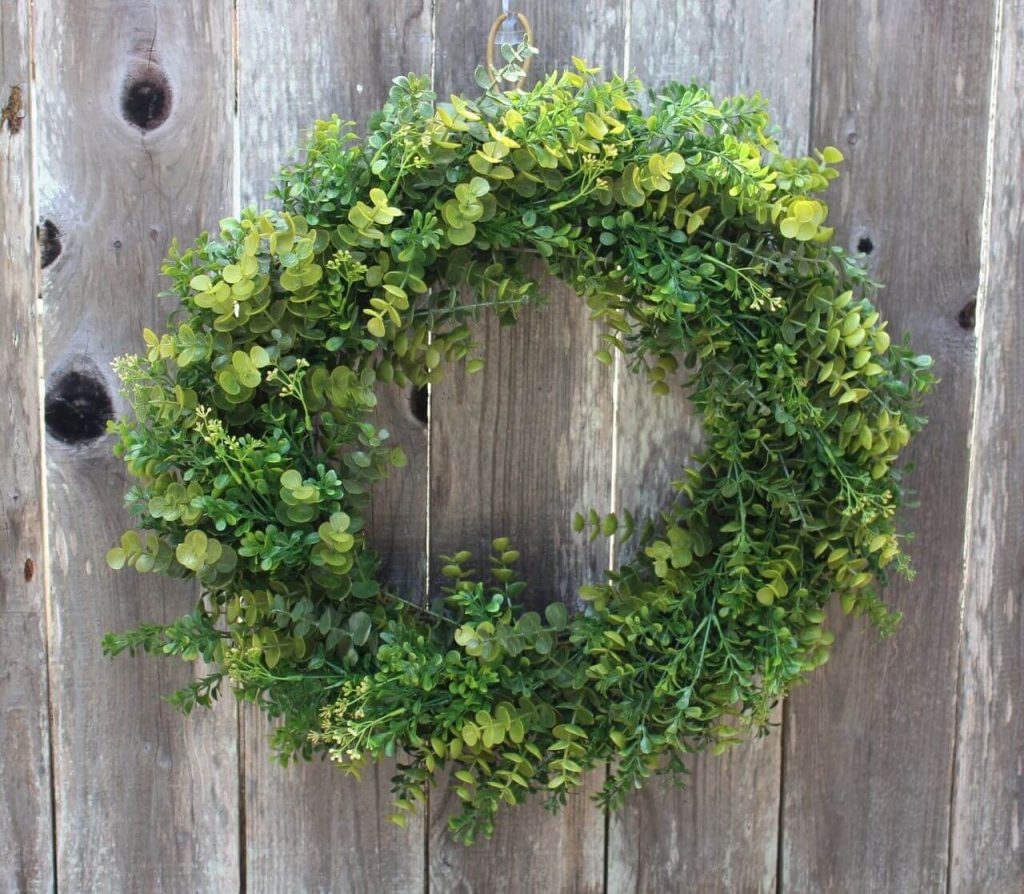 Arbor Boxwood Wreath is a perfect transitional wreath because of its green leaves as it reminds us of departure of hot summer and arrival of cozy fall. Just pick some Arbor Boxwood leaves and wrap them in a ring shape, and your leaf wreath is ready for fall.
2. Autumn Grapevine Wreath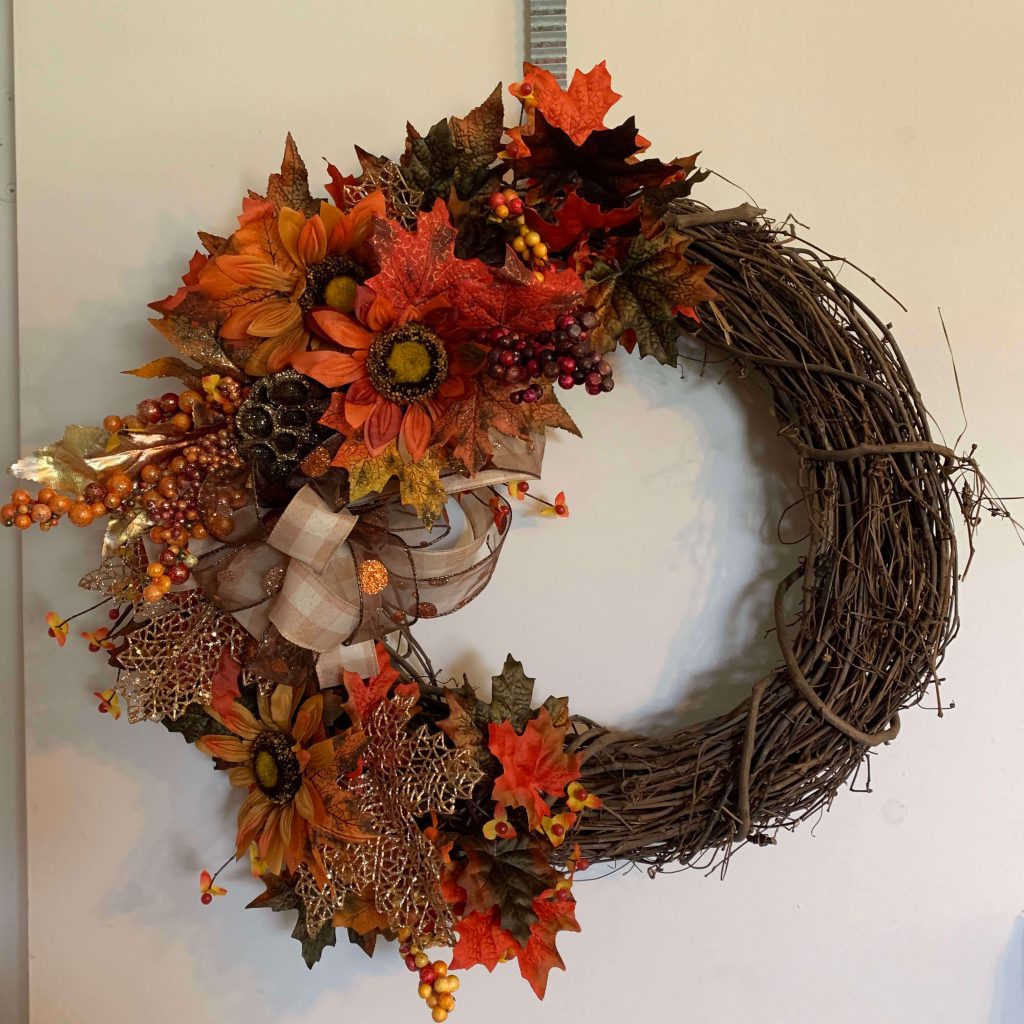 This autumn wreath includes fall berries and velvety delphinium. Tie all this in a loop and decorate it fall peonies, and your Autumn Grapevine wreath is ready !!
3. Eucalyptus Wreath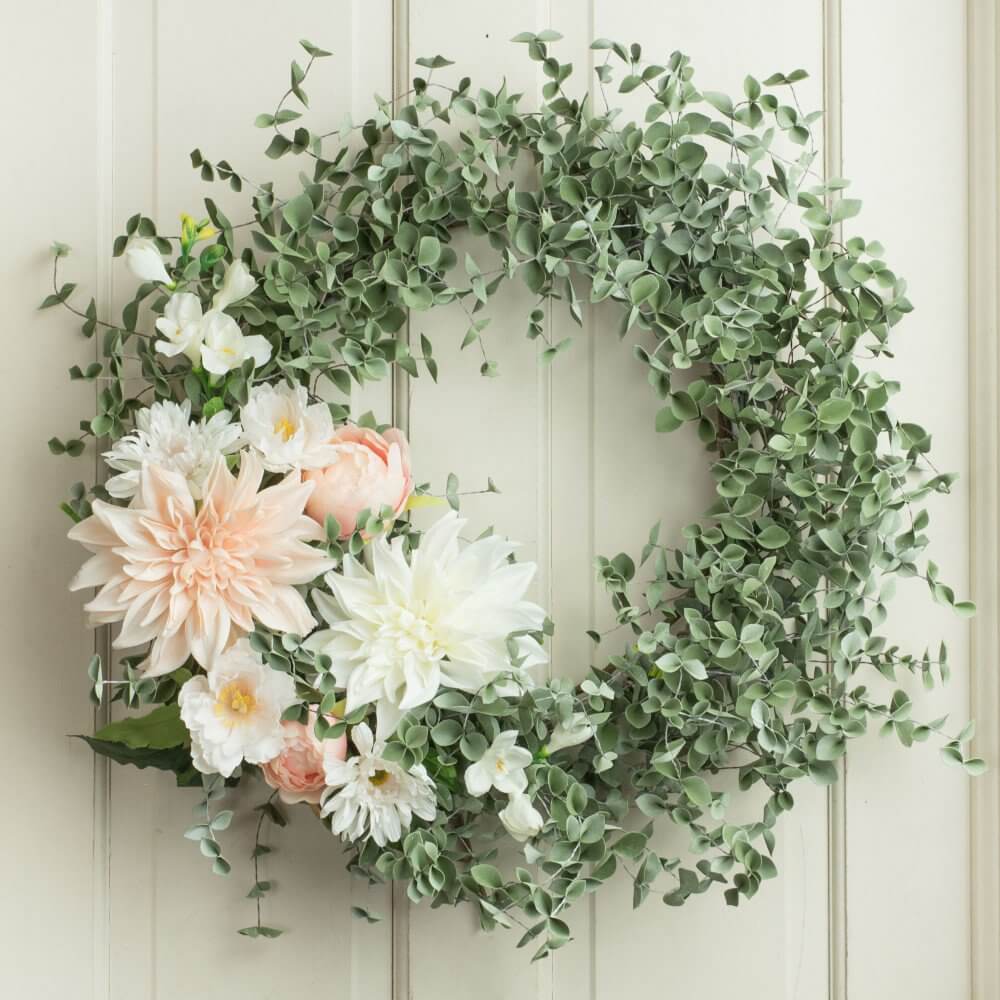 To make this wreath, you'll need a wooden hoop, and some eucalyptus adorns. Place them only to the bottom half of the loop.
4. Artichoke & Herb Wreath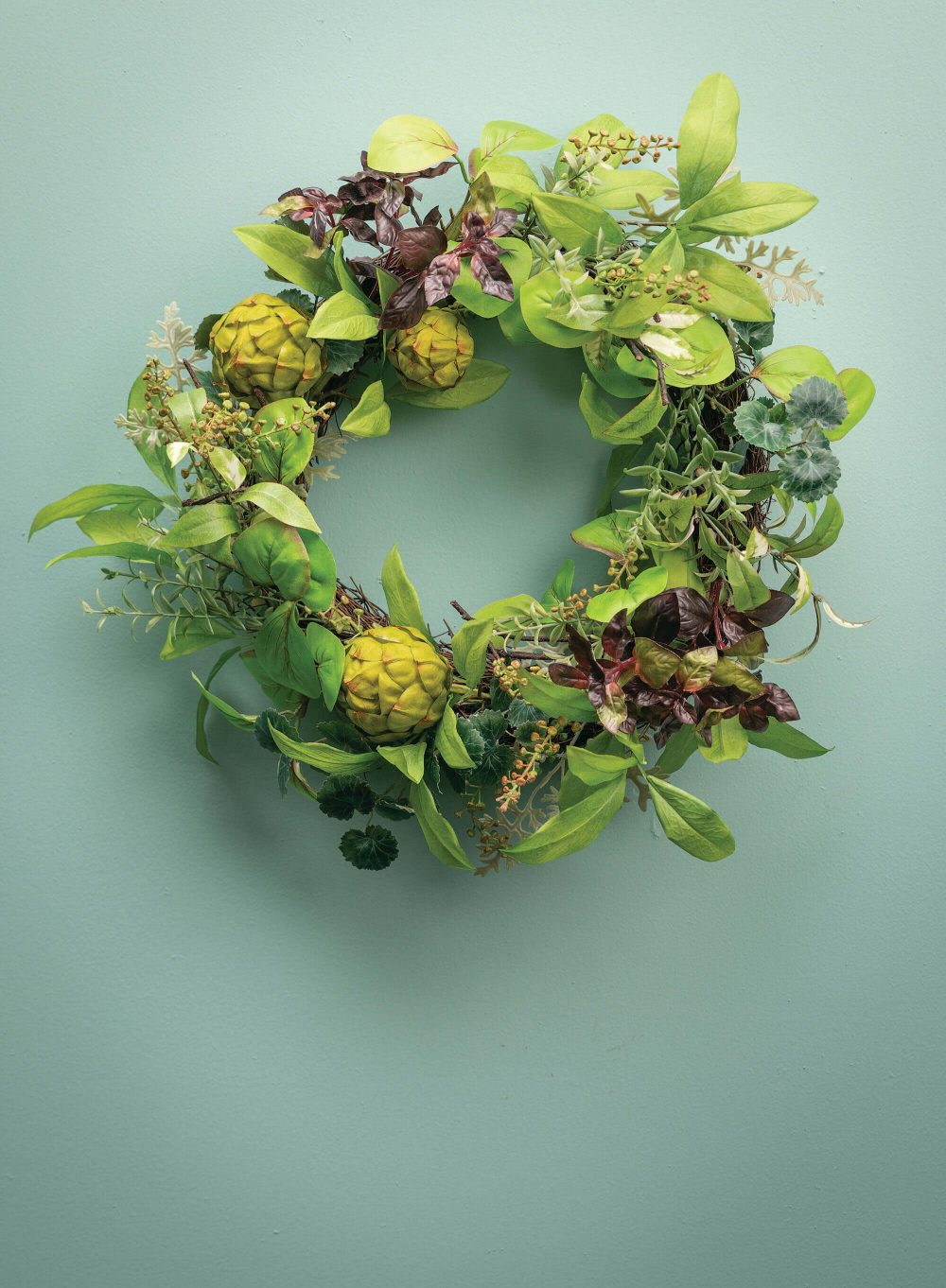 You don't have to stick with the traditional themes, try different colors or rainbow wreath like this one.
Wheat Wreath
5. Wheat Bundle Wreath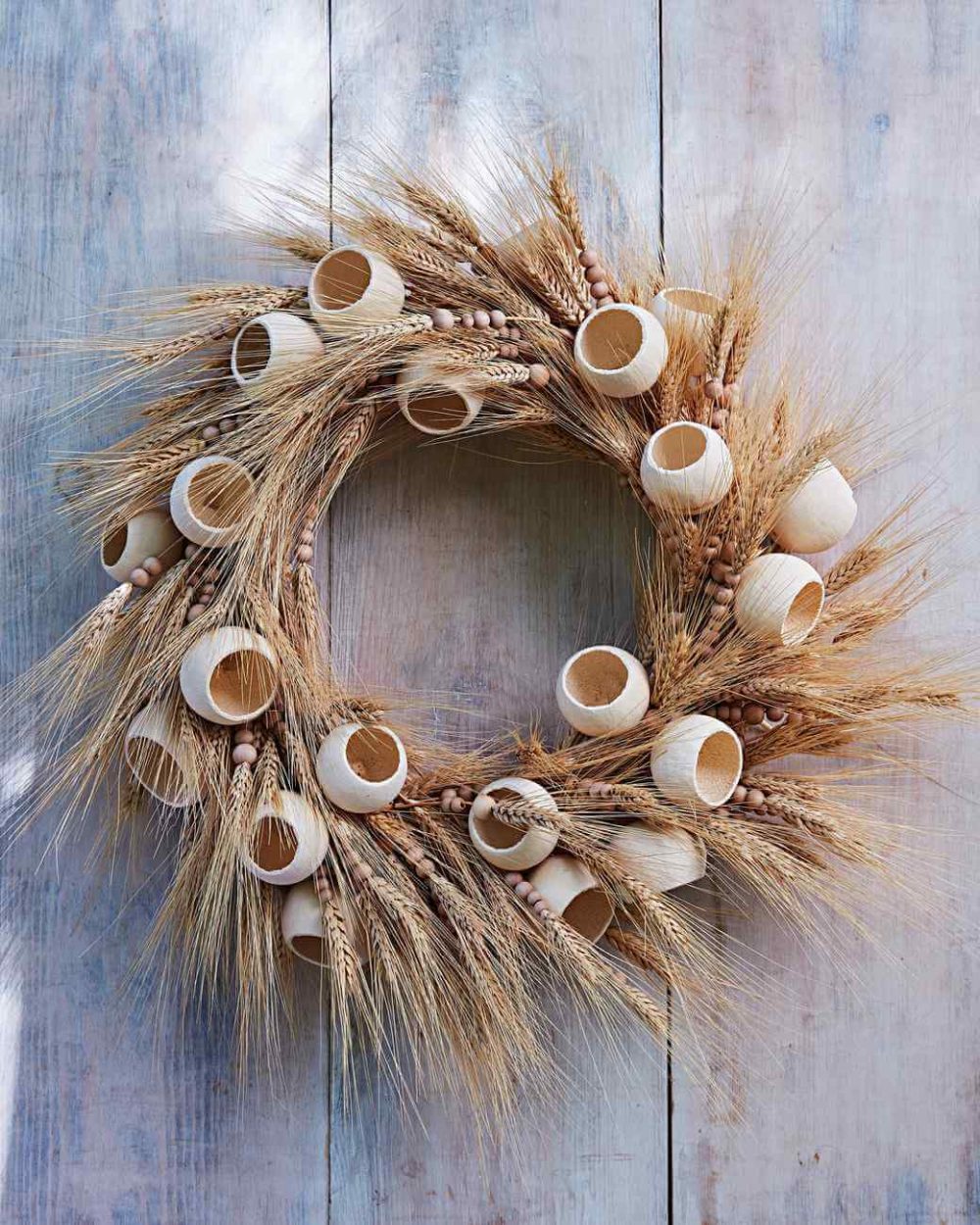 A wheat wreath is soft and effortless to make. Just grab a few strands of ripe wheat and wrap it around the circular loop in a bundle.
6. Wheat Berry Wreath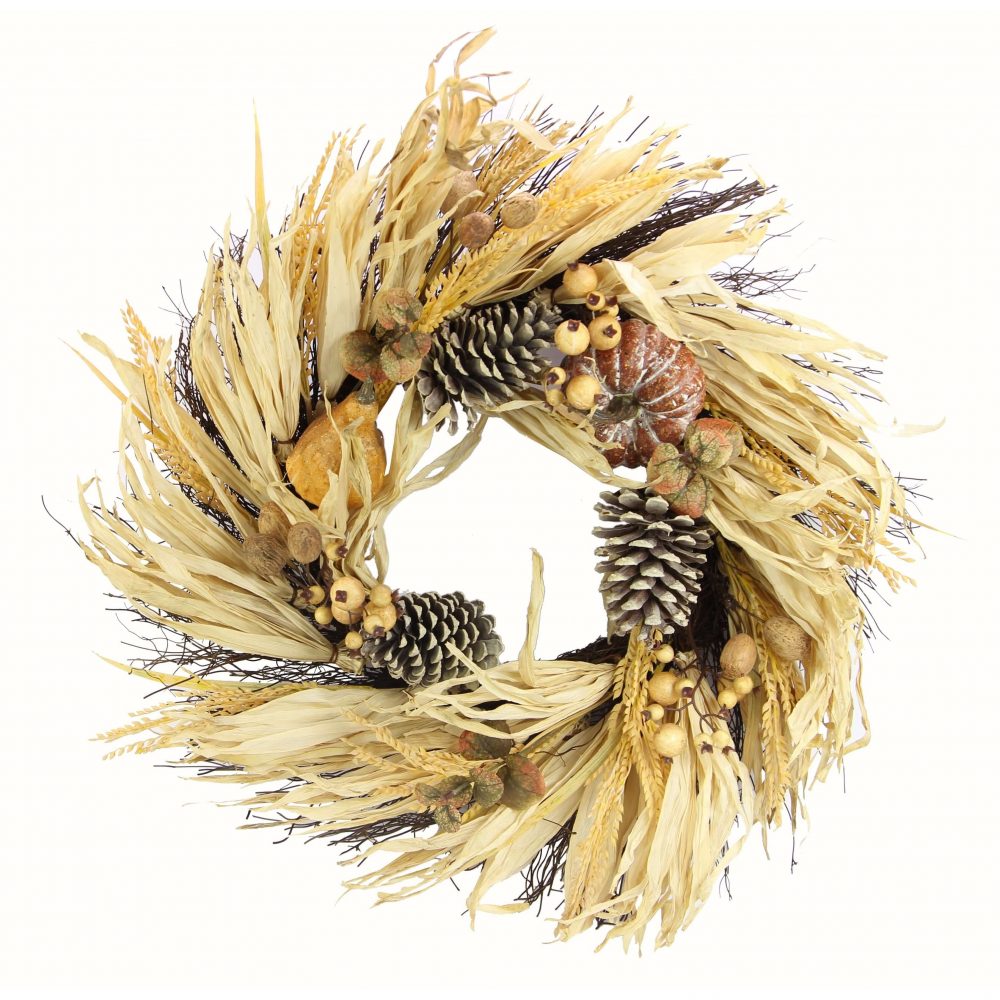 These wheat wreaths can easily blend with the neutral surroundings. To make the simple wreath more interesting, add some corn husks, pinecones, and acorns. It will look astonishing and gives the perfect fall vibes.
Berry Wreath
7. Faux Juniper Berries Wreath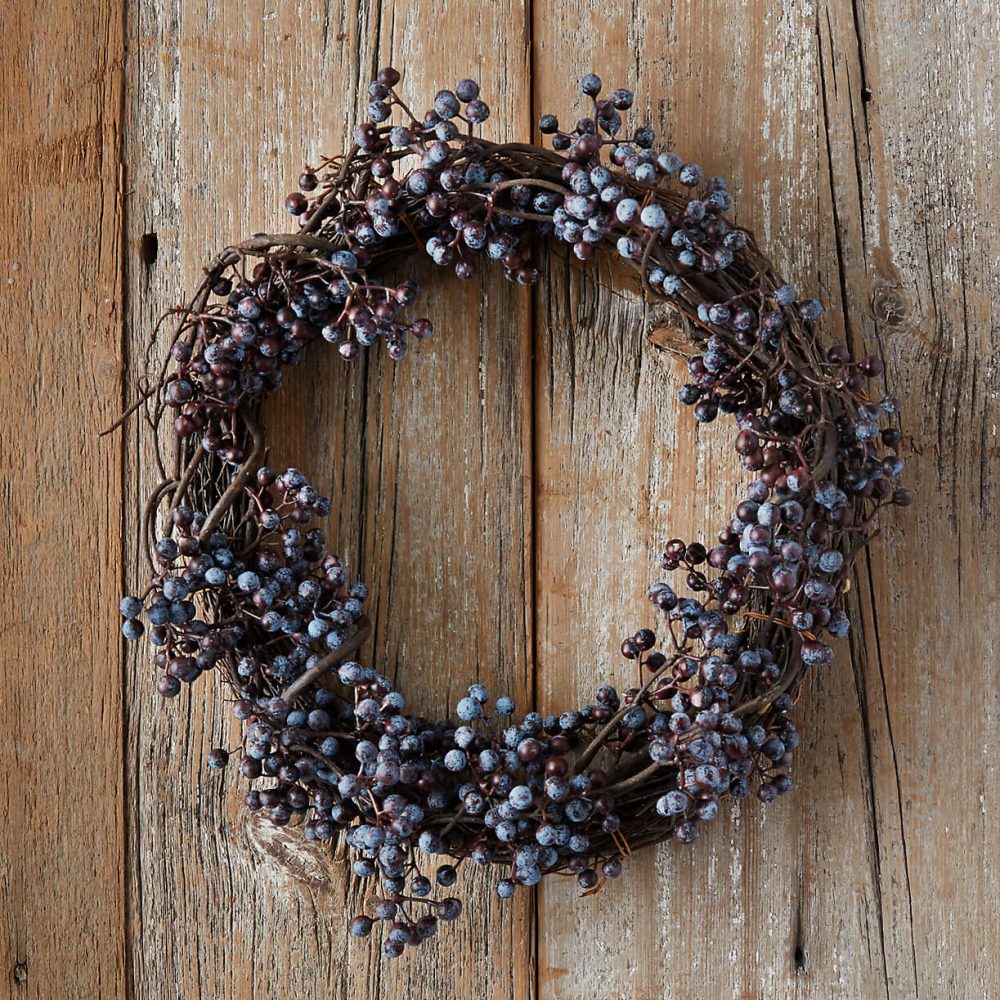 Want a dark color themed wreath? Then try Faux Juniper Berries Wreath; it is a dark, moody, and perfect piece for fall.
8. Red Berry Wreath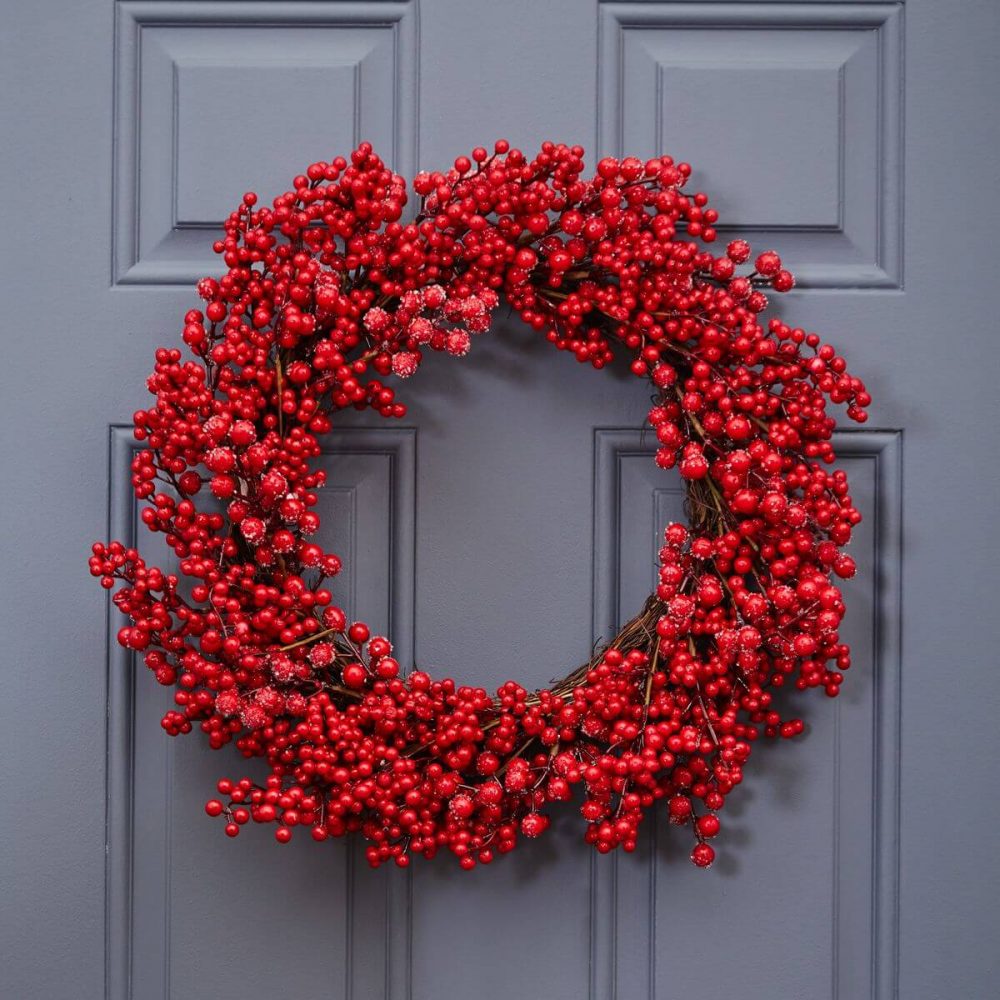 Who says that berries are only for eating? They can also look great as winter decor. Pick some dry red berries and place them in a circular loop. You'll feel the festive burst with its vibrant red color.
9. Scented Berry Wreath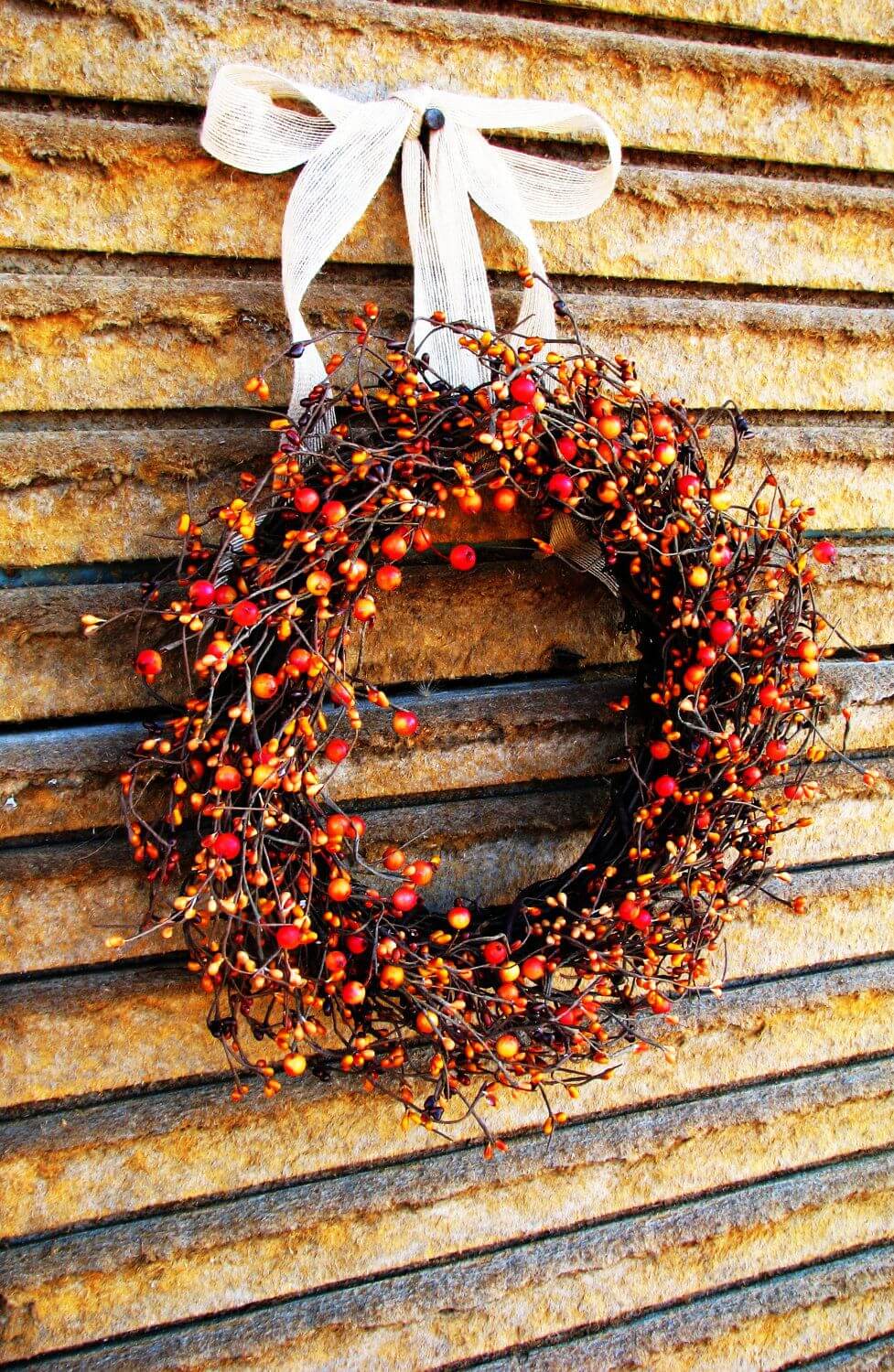 A wreath with bright sunset orange berries will be the perfect thanksgiving wreath. The scent of the berries will remind us that the holiday season is coming..!!
10. Beaded Berry Wreath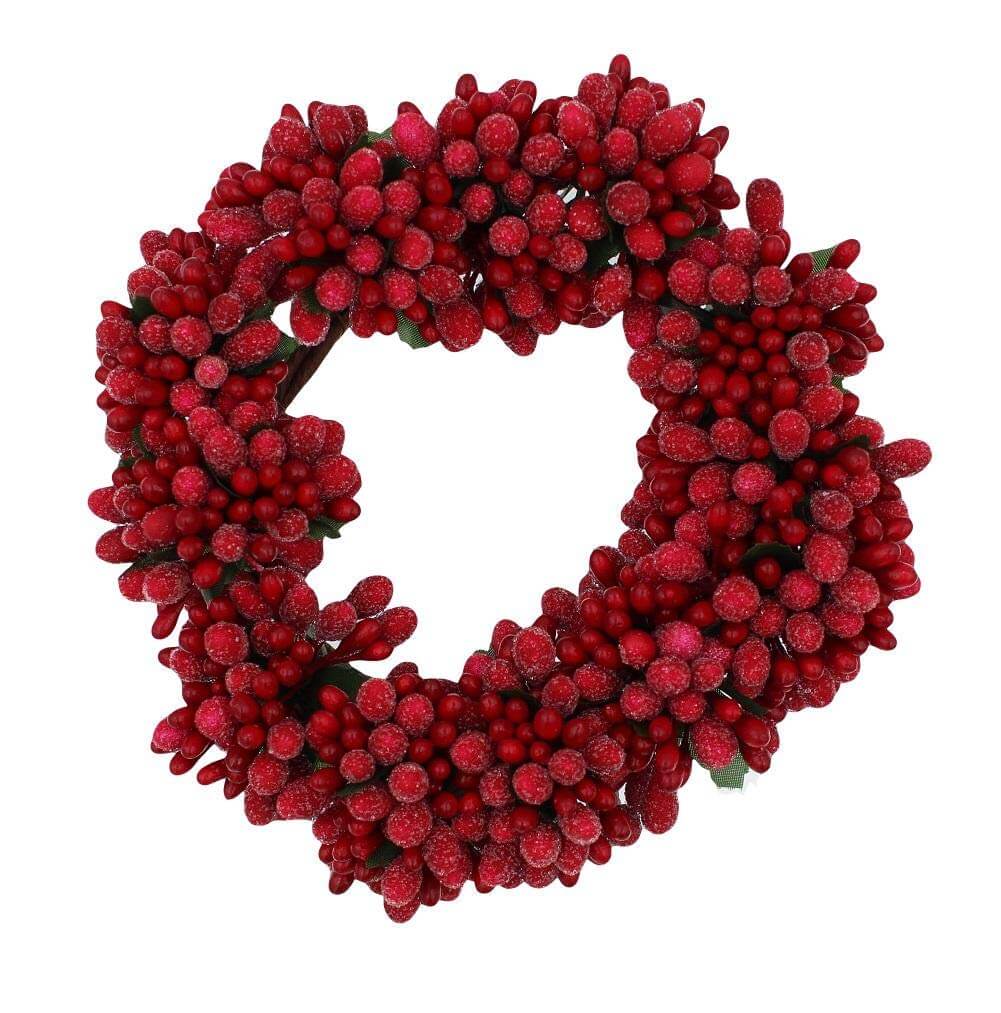 This wreath is made from frosted fall berries, so you can already guess it !! It is very simple to make; you can make this in just 5 minutes.
11. Maple Leaf And Berry Wreath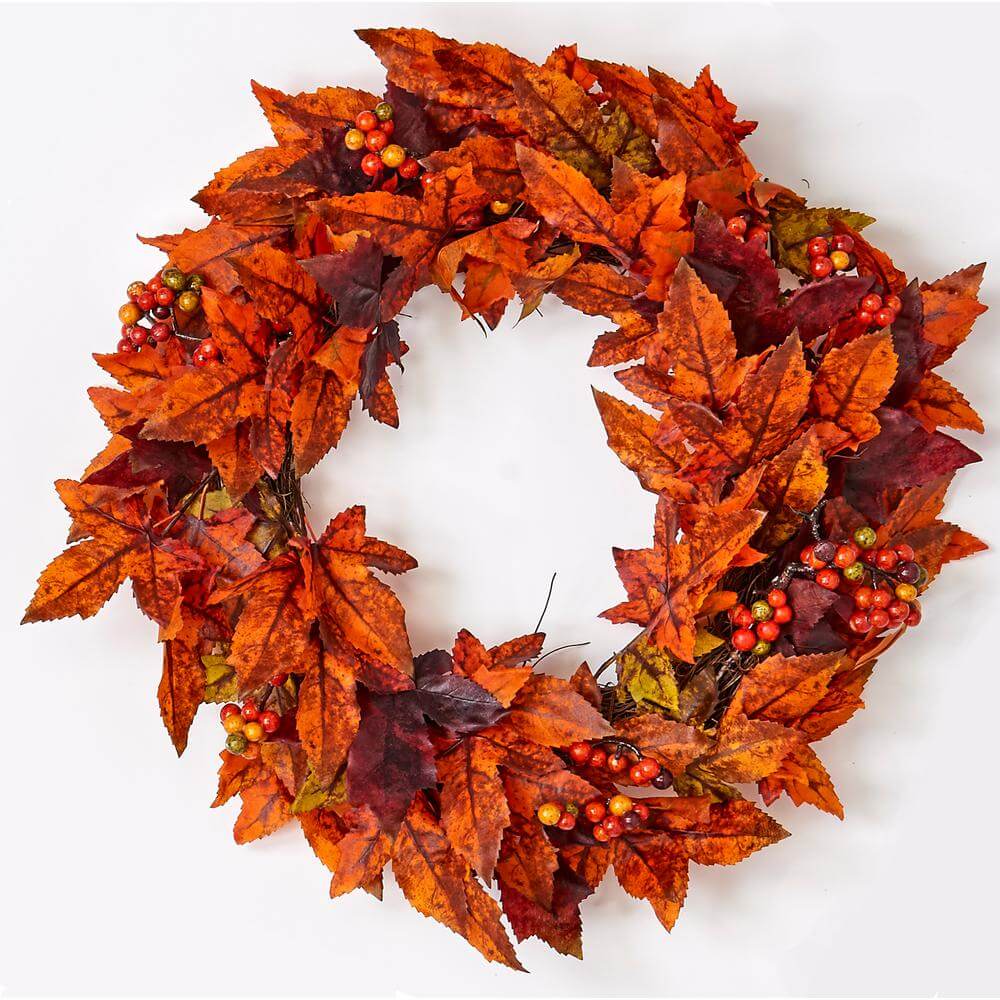 To add more interest to a Maple leaf wreath, place some berries with them. The yellow-orangish colored leaves will be a pop of color in your decor.
Flower Wreath:
A flower wreath is mainly made from flowers and foliages, which are sewed onto a circular loop. They look exquisite and classy.
12. Plum Blossom Wreath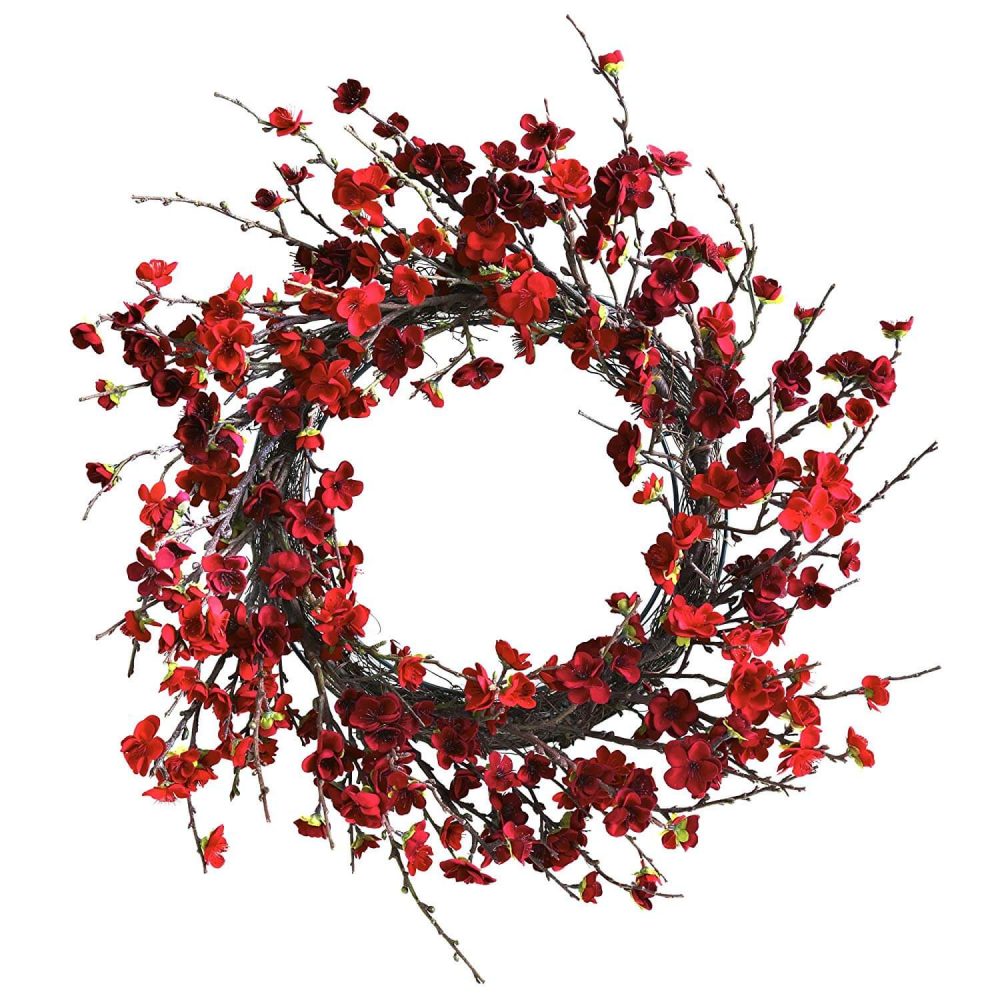 What's better than a flower wreath? Right..!! As they bring happiness to any place. To make this wreath, all you need is a Plum blossom flowers. Pick some long and thin tree branches and wrap them to make a circular loop. And finally onto this place the flowers and your beautiful Plum blossom wreath is ready.
13. White Tulip Wreath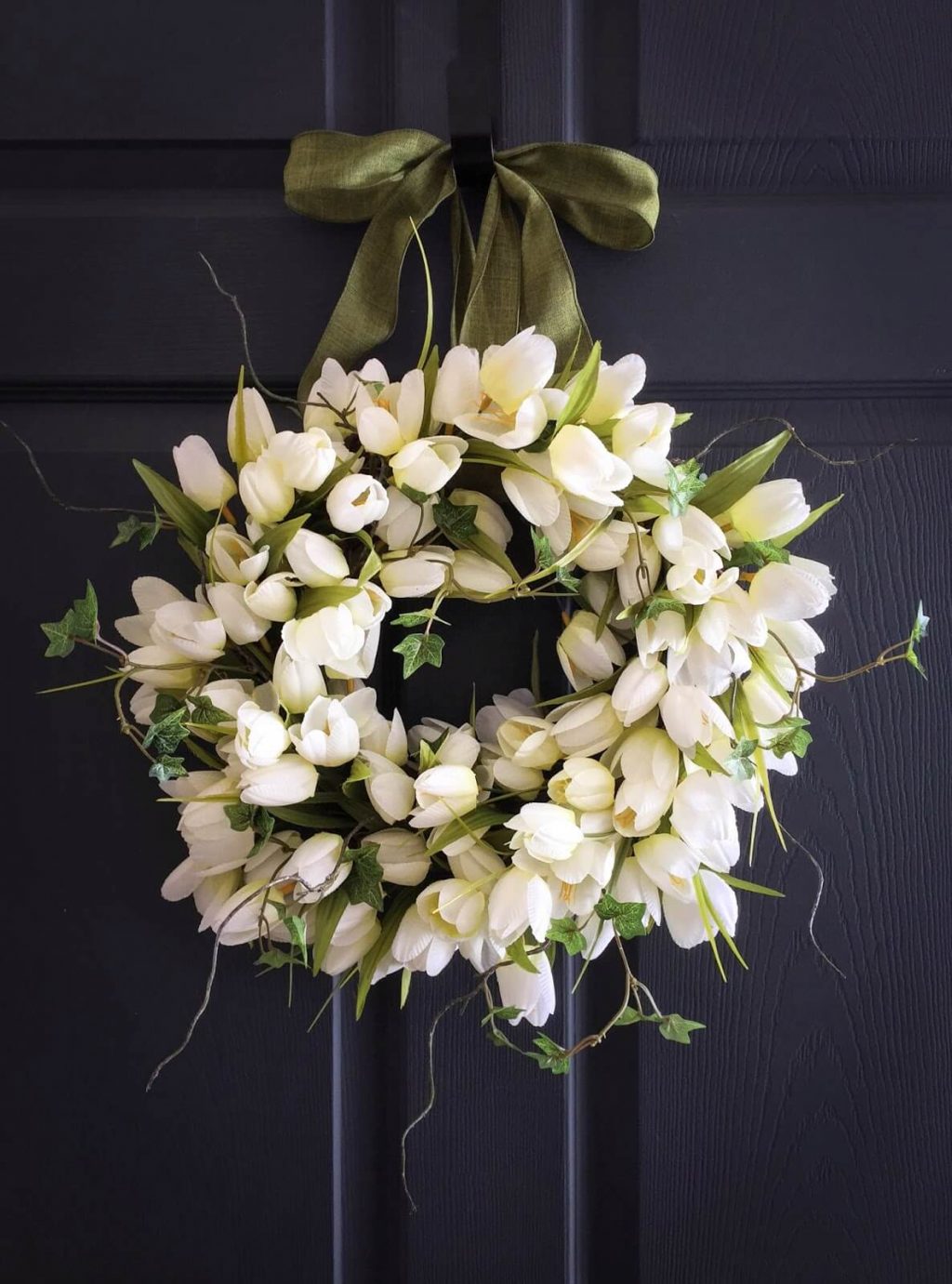 We'll think that tulips are associated with summer. But that's not true; you can also use them in your winter decorations. Grab some tulips from the local flower shop and place it around a circular wire loop.
14. Golden Sunflower Wreath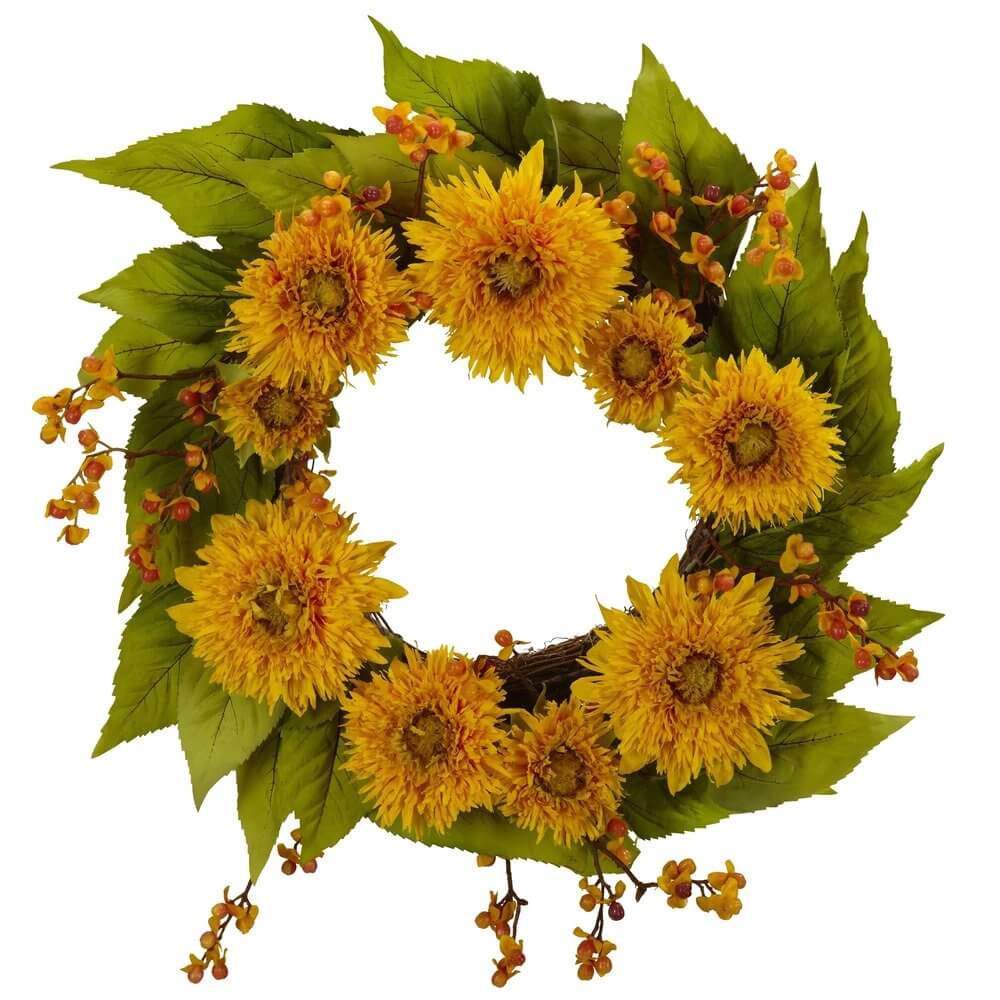 As we already told you that you could use summer flowers in your fall decorations. And the simplest way is to make a wreath from these. Use a thick branch ring instead of a traditional one.
15. Autumn Harvest Wreath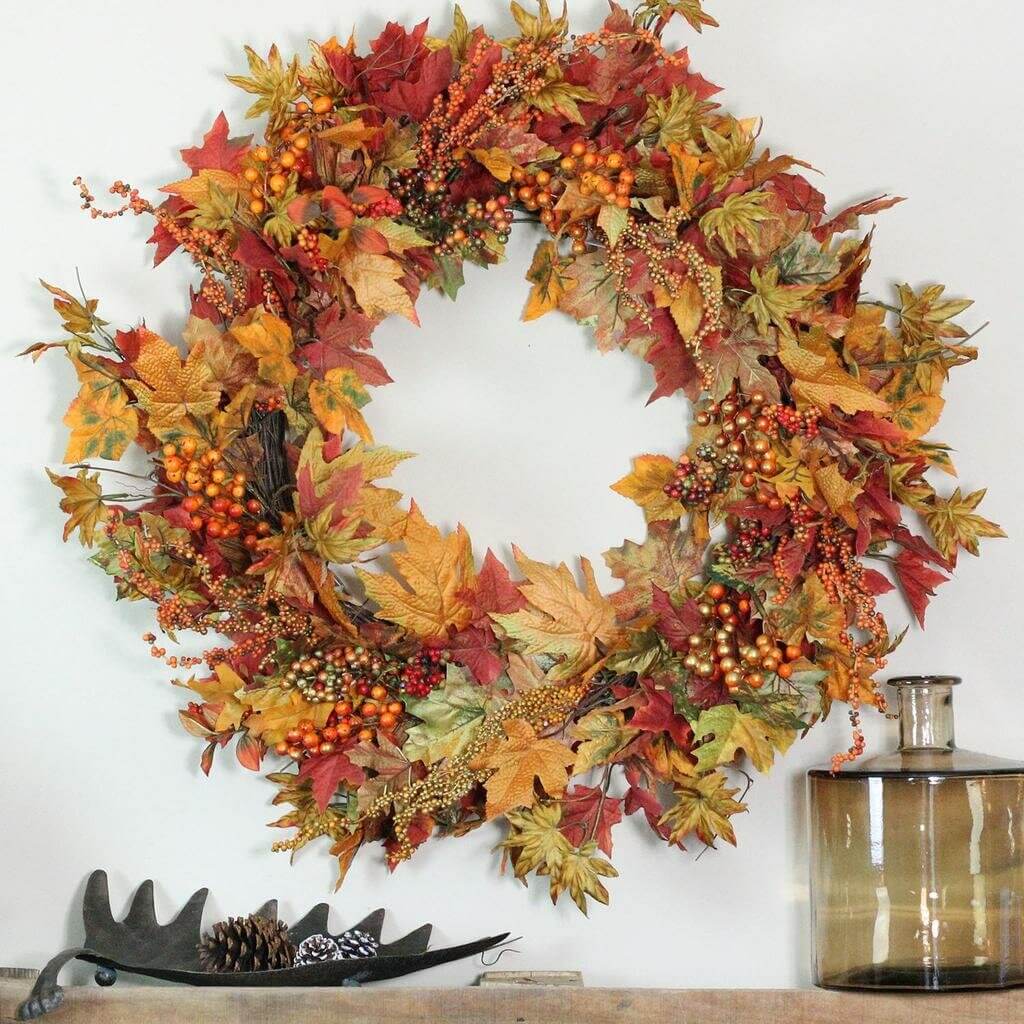 To get a burst of color in your home decorations, use various kinds of flowers. This twig autumn harvest wreath is perfect for thanksgiving. Complete the wreath by placing a bow on top of it.
16. Geranium Wreath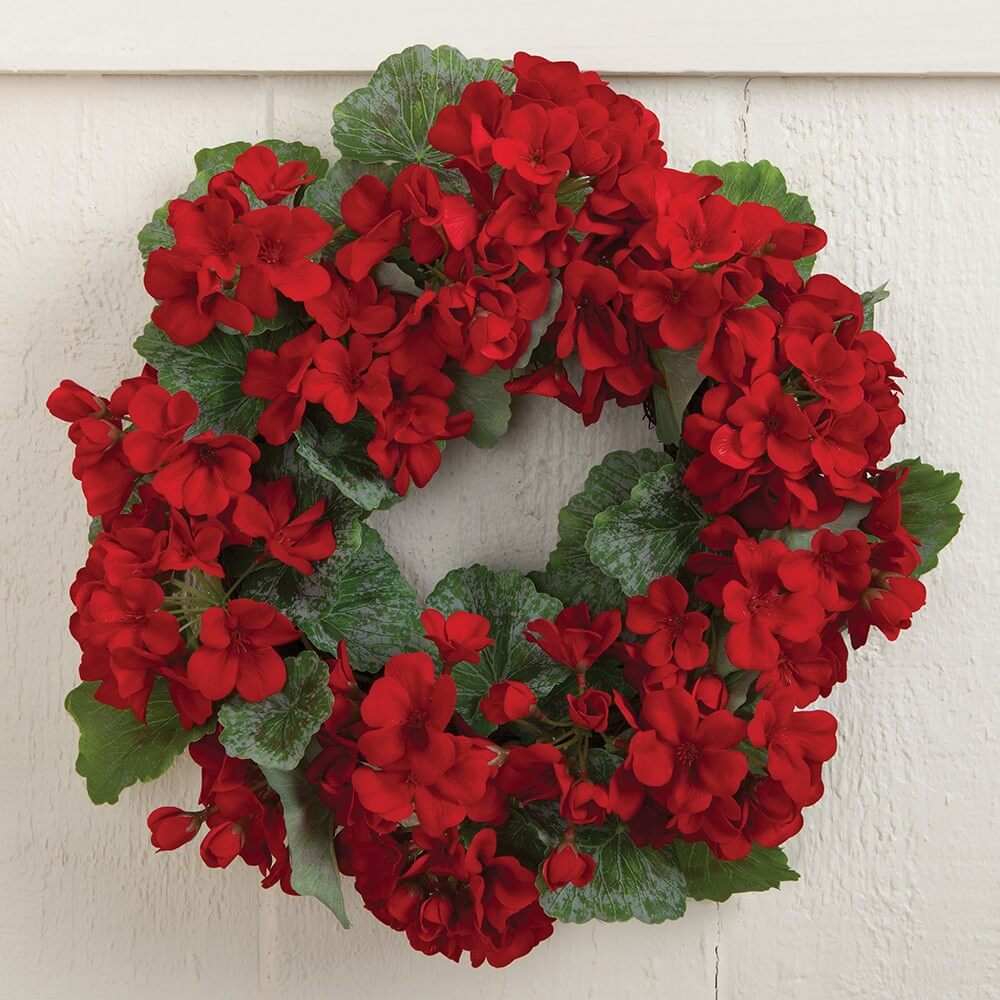 If you want a romantic fall decoration, then try out this wreath. It is made from Geranium flowers, which are the perfect definition of romance. Beautiful red will add more beauty to your outdoor decorations, and it is very easy to make. Just buy some geranium flowers from a local shop and start winding them around a thin tree branch. And your romantic wreath is ready, hang this onto your outdoor door.
Unusual Wreaths
So this holiday season ditches the traditional wreaths and makes the wreaths that are unique. Here are some cool and funky wreath ideas:
17. Vintage Bulb Wreath
We all embellish our houses from lights, but now it is an ordinary style. This season, accessorize your home by a fun glowing wreath. Yes.. you read it right !! you can also use your old bulbs, which are not working. Tie them with the help of wire and secure tightly on a wire loop. This DIY wreath hardly takes ten minutes.
18. Shiny Brites Ornament Wreath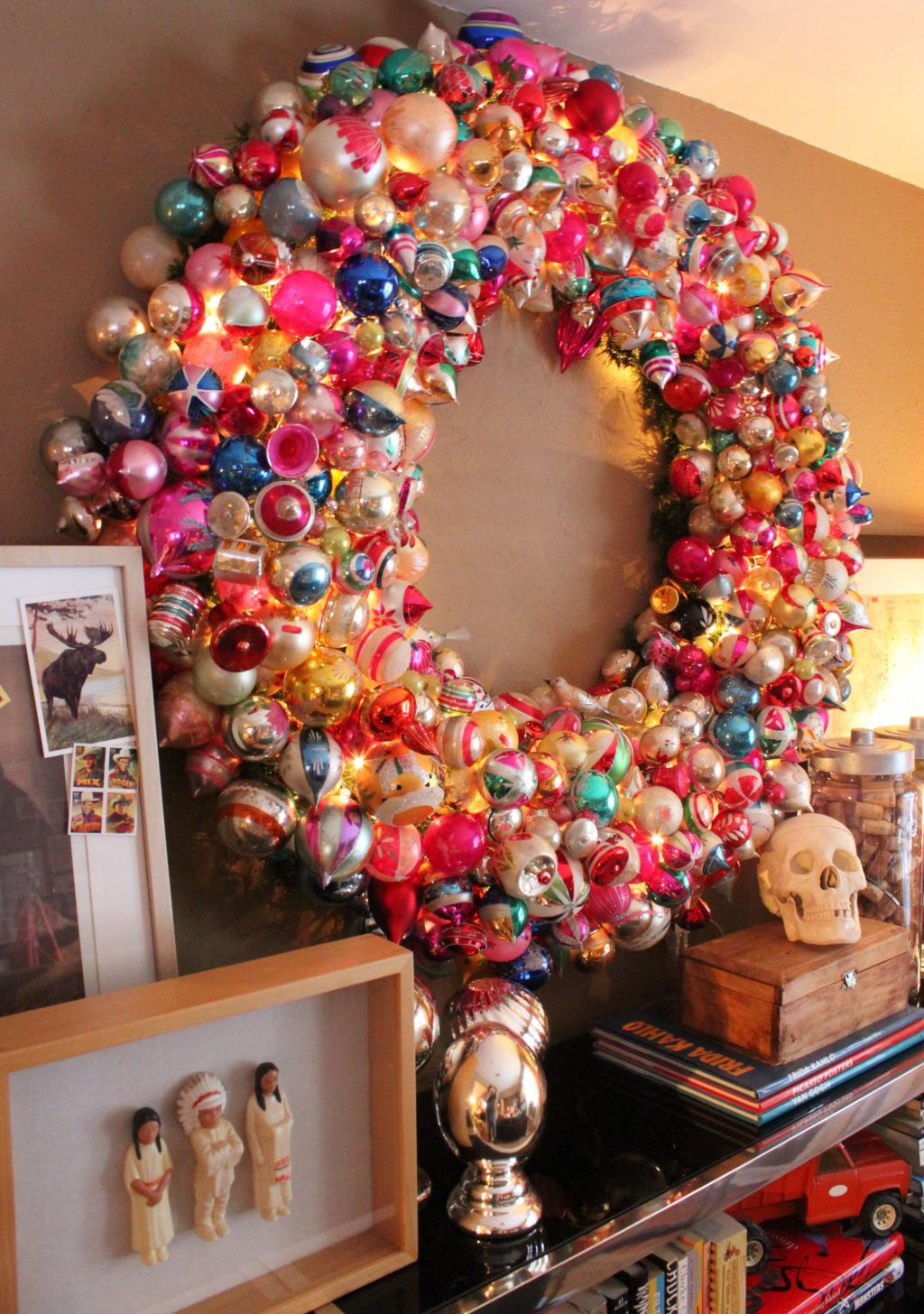 Don't think that ornaments are only for the Christmas tree; you can also make a beautiful wreath from them. Tie all the shiny and funky looking ornaments on a wire loop. You can also attach some ribbons.
19. Candy Wreath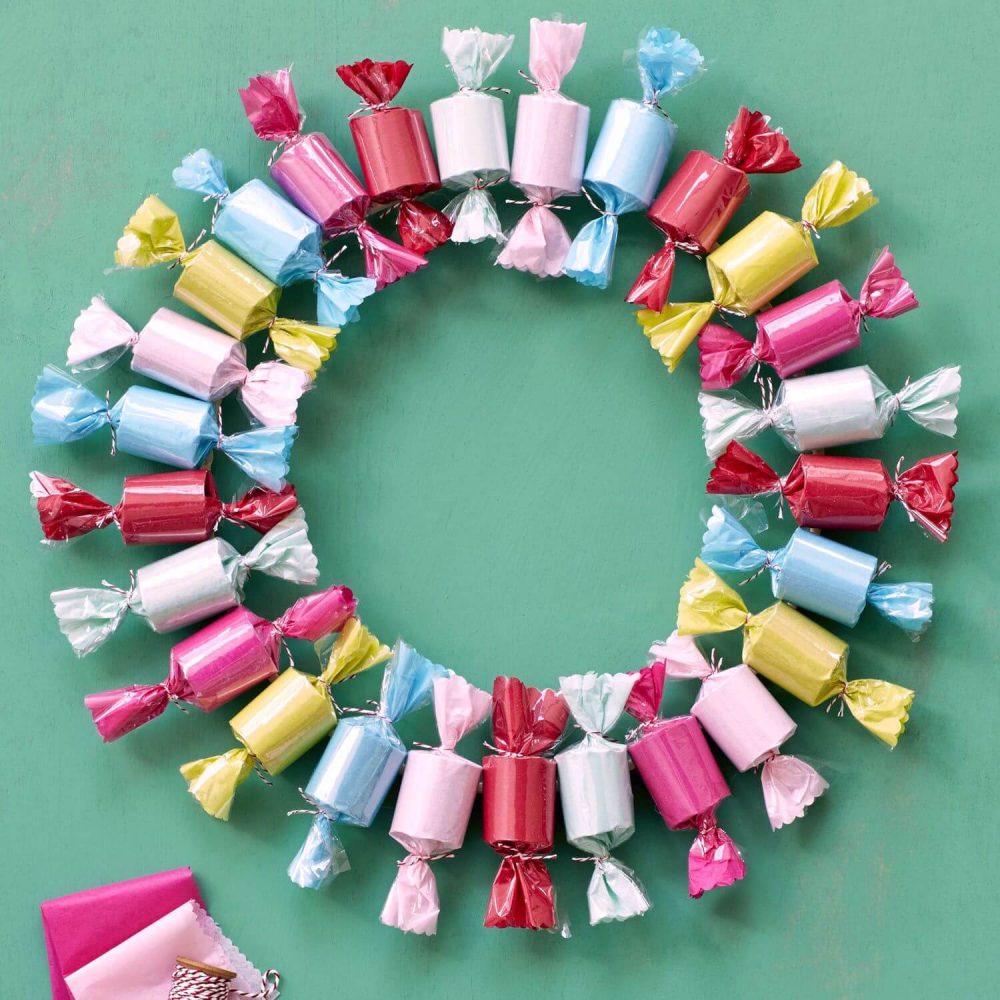 This holiday season, if you're planning to make candies, then think about a candy wreath. A candy wreath is perfect for thanksgiving. Wrap your homemade candies in colorful papers and then make a wreath from them. It looks fascinating and unique. Kids will love it, but make sure they don't steal all your candies from it.
20. Pom Pom Wreath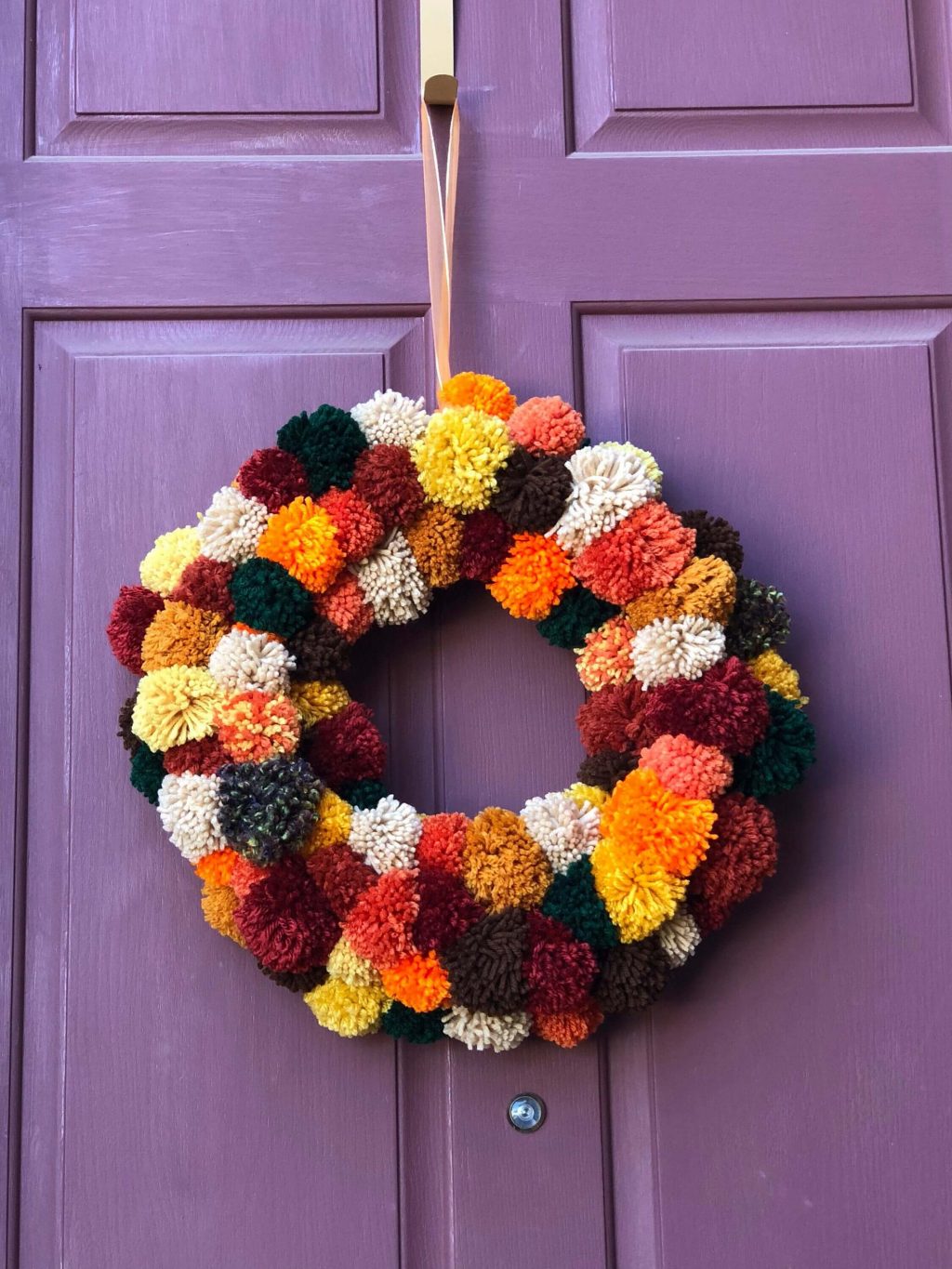 A Pom Pom wreath? We know it sounds a little weird… But we assure you that you'll love this after you make one. Just grab some pom-pom from a dollar store and a wooden loop. That's it. Now start placing pom-poms around the loop in a random manner. You can either go for colorful ones or neutral/basics ones; both will look amazing.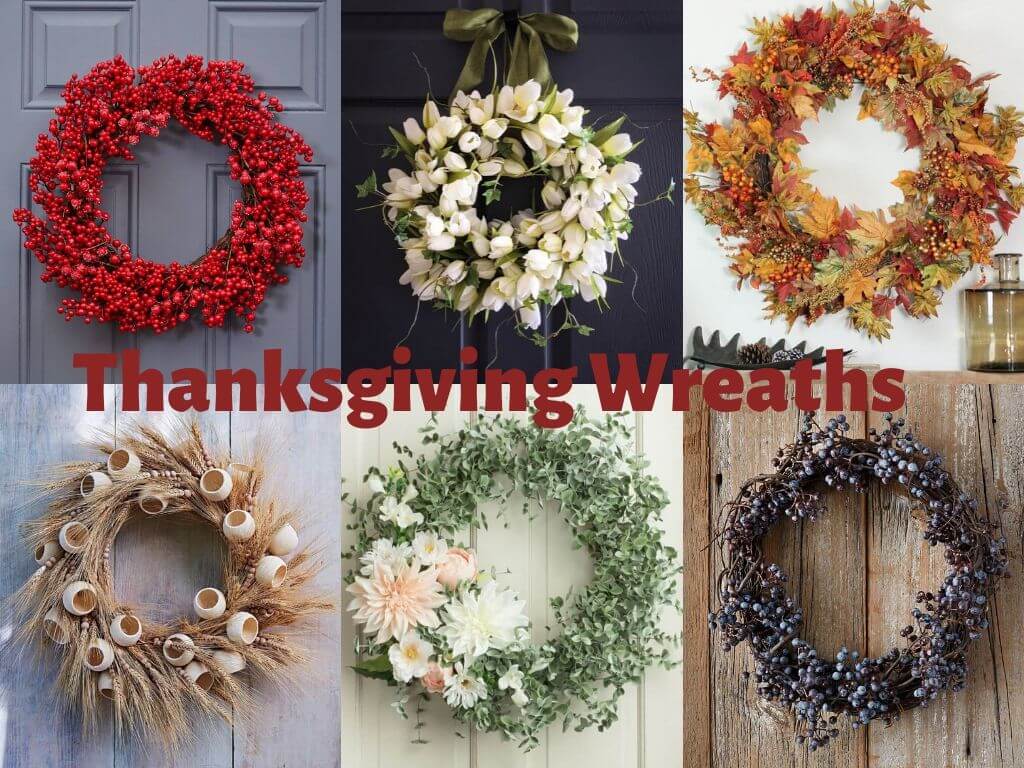 This holiday season, Feel the autumnal energy by these DIY wreaths. Just add a wreath along with some garlands and shows your festive spirit to your neighbors. Don't think that you can decorate wreath only for holiday season; they are evergreen beauty. So include them now in your house decor. You can place a wreath anywhere in your house from the main entryway door to place above your fireplace. For more holiday decor, visit Architecturesideas.
Read More:-