9 Interior Design Ideas for Your Kitchen
212 views
The kitchen is the most used room in the home. It's where people come together to eat, laugh, share stories about their days, and steal a cookie when no one is looking. It's also the area of the home that is most important to home buyers when they are looking for a new place to call home. The kitchen has a reputation of being the most expensive renovation you'll ever take on, but there are lots of ways to spruce up your kitchen without dropping major money, or without having to give it a complete overhaul. So here are some best kitchen design ideas for you.
Granite Sink
When a traditional stainless steel sink just won't do, get an upgrade with a granite sink. These are beautiful and come in a variety of styles and sizes. We like the farmhouse-sized sinks that give more space and more soaking room for those big meals you'll be cooking up in your kitchen.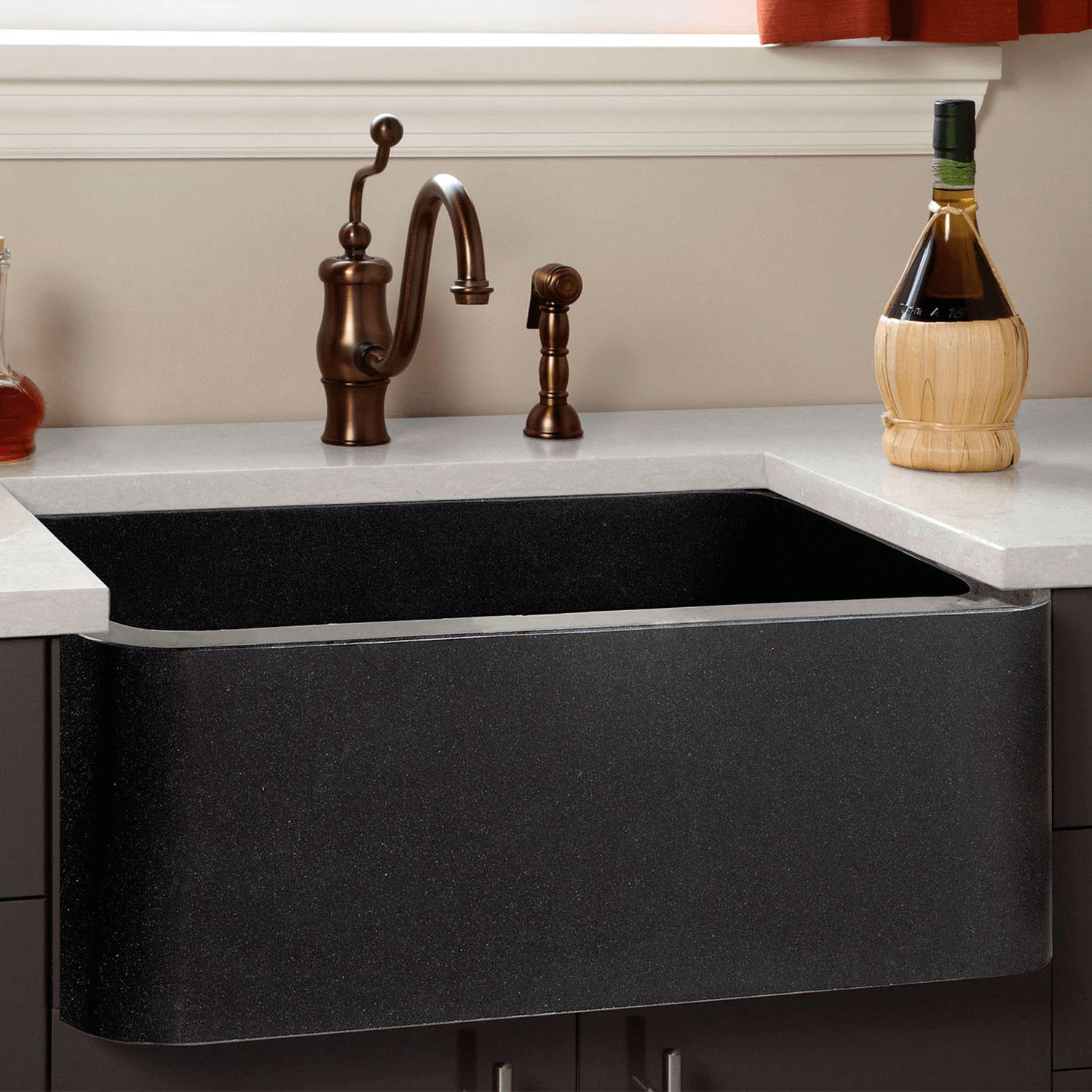 source: madlonsbigbear.com
Black Faucets
If you are tired of the brushed nickel that seems to be so popular, especially amongst cookie-cutter houses, then get yourself to the hardware store and get a black faucet. This is a rising trend in kitchen design and it pairs well with the granite sinks above. You can also use these Black Kitchen designs.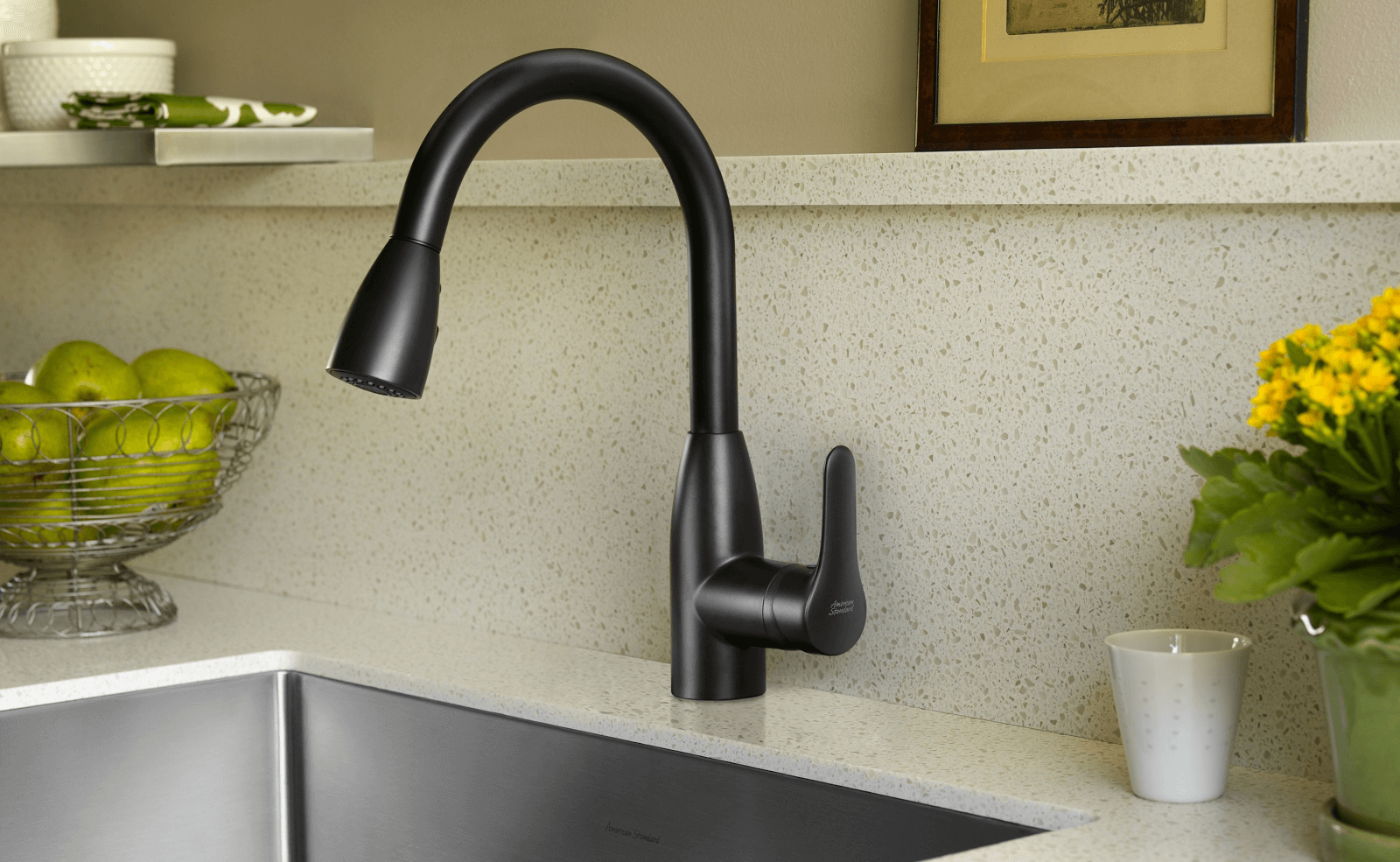 source: amazon.com
Dual Purpose Furniture
When it comes to getting the most out of your kitchen, you'll find that adding a piece of furniture that can have multiple uses is a great use of your money and space. Add a buffet table to the corner of your kitchen and by day it can be a homework station, but by night it can be a wine and cheese table.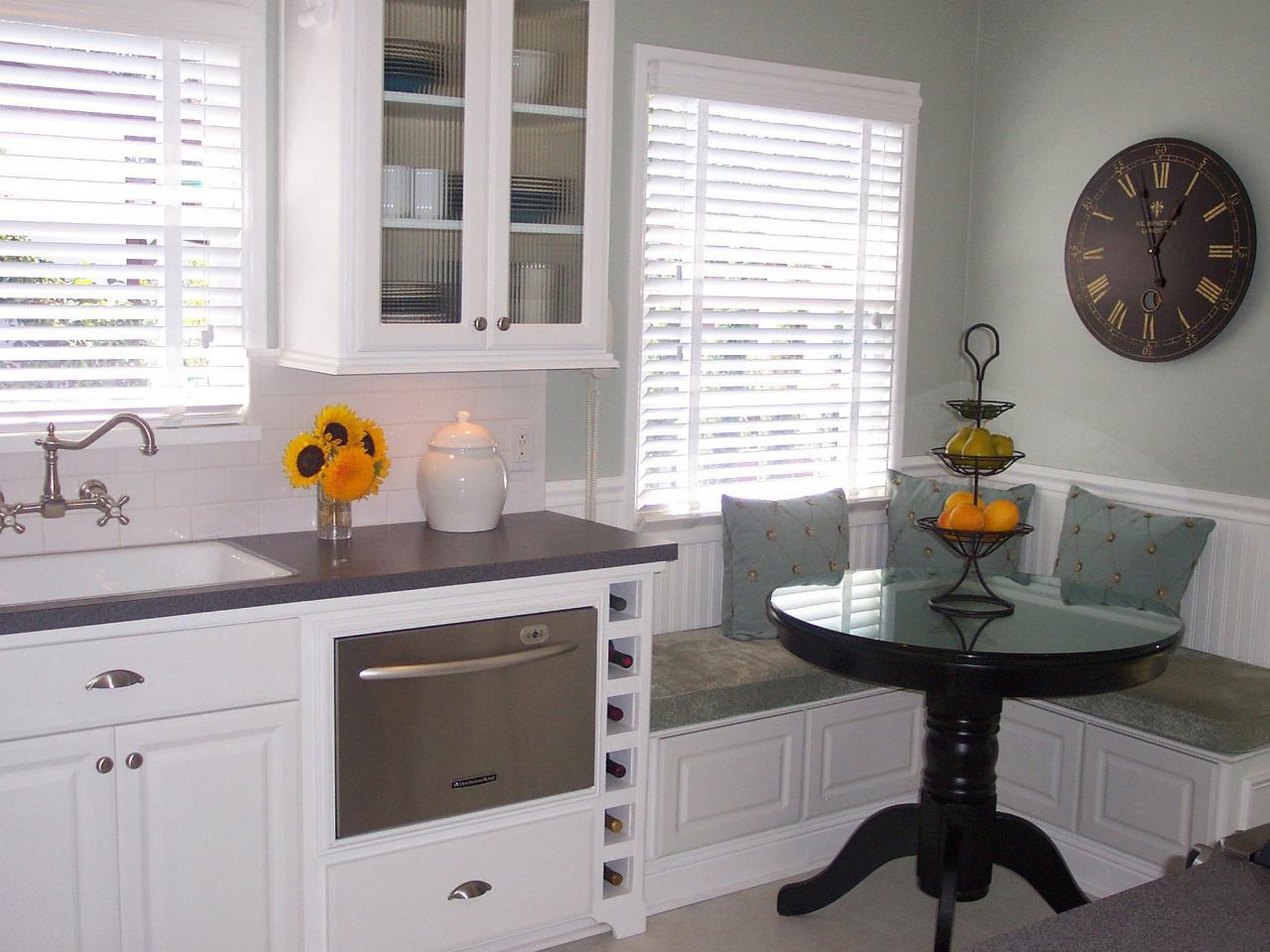 source: kevincredible.info
Put a Sofa in your Kitchen
Kitchens are so hard and sterile, so a cool and interesting trend that is on the rise is adding padded and soft furniture, such as a small sofa, to an area of your kitchen. This works best under a big bright window and really adds some interest to any kitchen.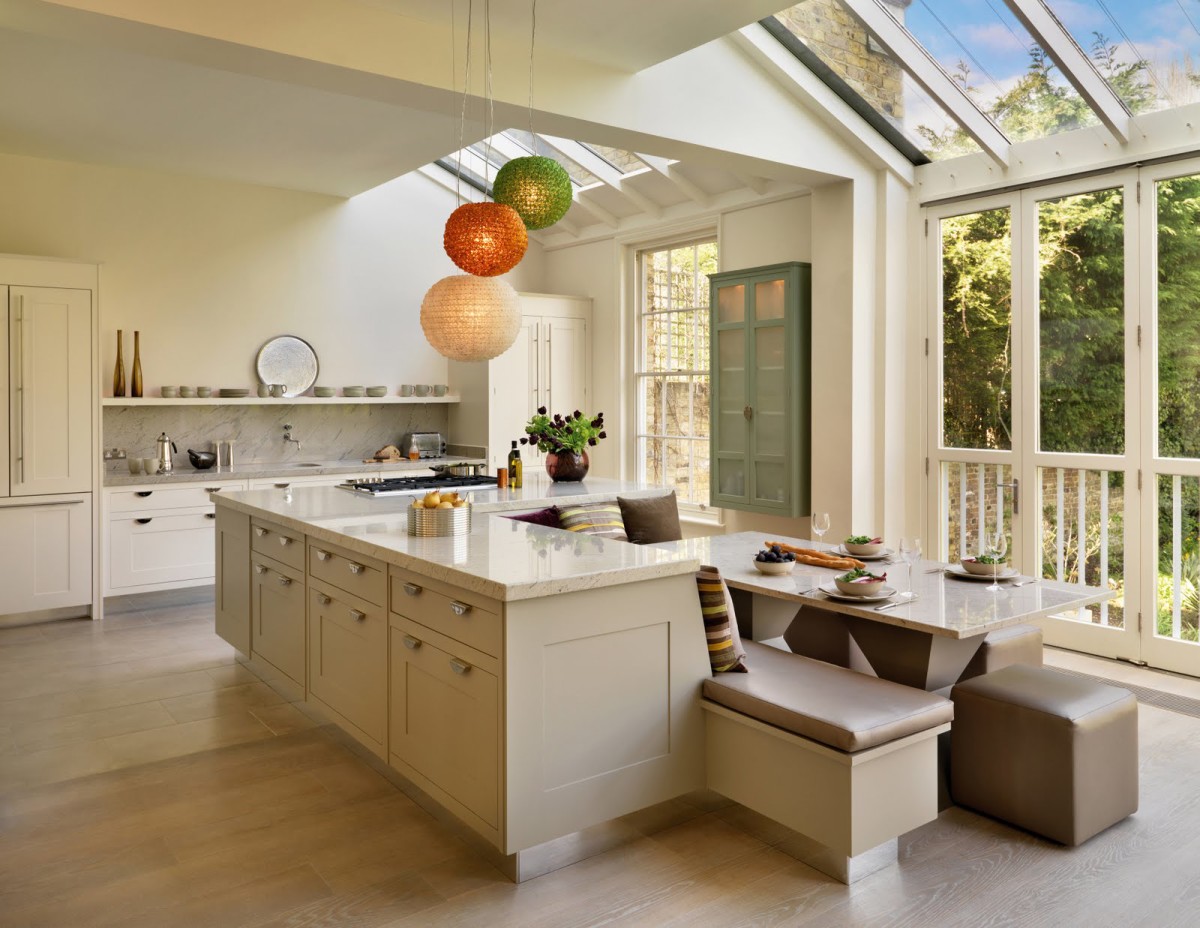 source: rayafurniture.com
Colored Cabinets
What started as a way to save money years ago has really blossomed into a fun trend: painting your cabinets. People tend to stick to the safer colors of white or off-white, but if you really want to make a bold statement, try red, blue, or green. You can always change it if you hate it so don't be afraid to try something exciting with your kitchen cabinetry.
source: hgtv.com
Wood and Metal
Stainless steel appliances and wooden butcher-block countertops, or wooden cabinetry, lend to the country style so many people are still after. The fresh and natural wood against the hard and cold stainless steel blends well together and creates a welcoming kitchen space that anyone would be happy to call home.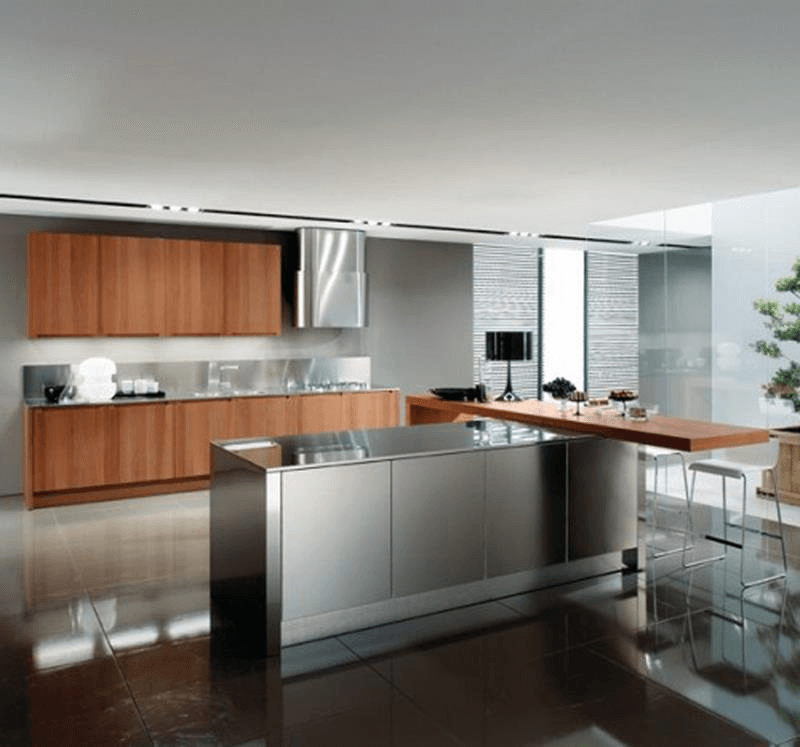 source: homeepiphany.com
Colored Appliances
A few years back appliance manufacturers introduced black stainless steel; but before that, appliances were all kinds of colors, and you can still get custom appliances in many colors including red, green, and blue. Smaller appliances such as kitchen counter appliances (toasters, blenders, panini makers) come in an array of color choices and can easily add a pop of color to your kitchen without a lot of investment.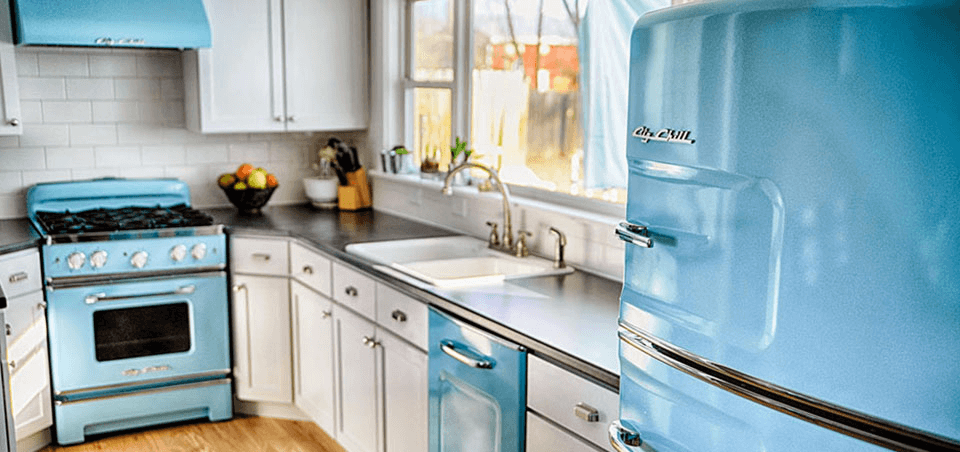 source: bigchill.com
Also Read: Italian Kitchen Design 2021: Get a Dreamy Kitchen With These Italian Interiors!
Lofty Ideas
Big ceilings are very popular right now and everyone loves how much bigger a room feels when it has a high ceiling. In the kitchen, add long lights to enhance the ceiling height, and don't be afraid to hang big art on walls that span 10', 12', or even 20' high.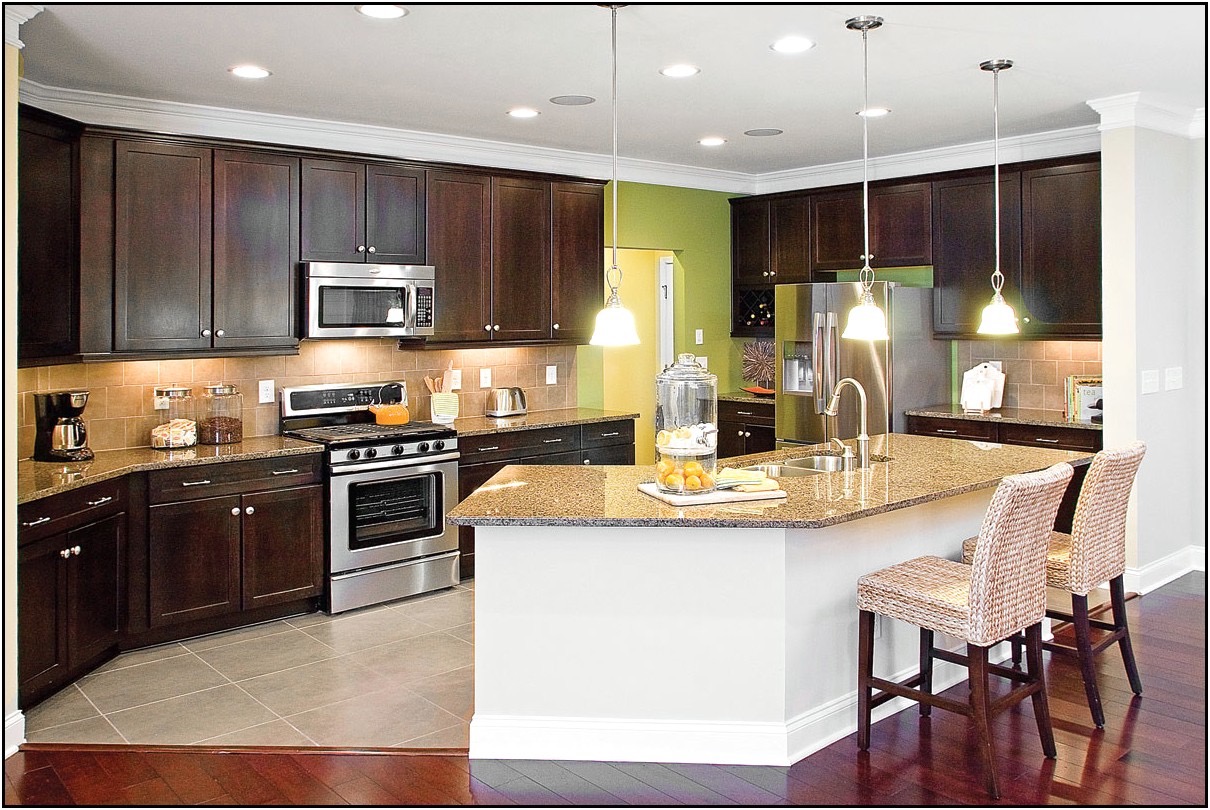 source: spiritbyc.com
Round Islands and Workspaces
While round cabinetry tends to be reserved for the bathroom spaces, adding around the island to your kitchen can really add a lot of impact and interest. Everyone expects to see a long, rectangular island when they walk into a kitchen, but if you add around one, your kitchen won't soon be forgotten.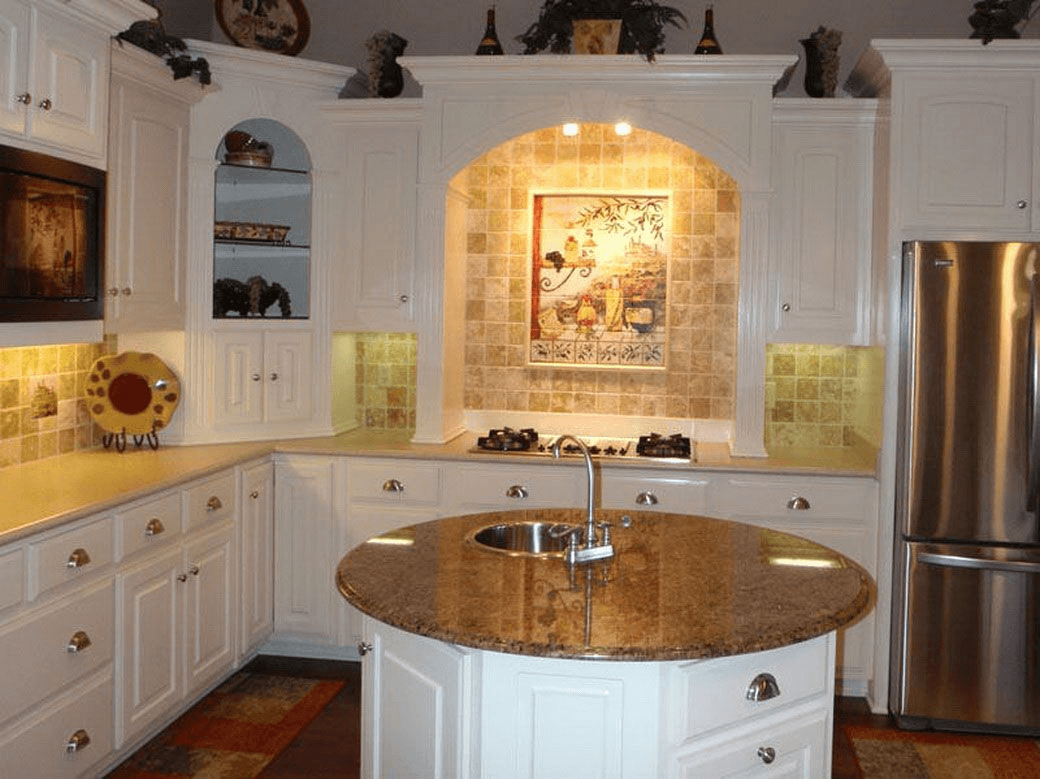 source: hfzgedu.com
Whatever design you decide to inject into your kitchen space, choose an overall theme with color and cabinetry style. The rest can be done over time to add more interest and impact to your kitchen. It doesn't have to be perfect; it has to be perfectly you. So pick your favorite Kitchen design ideas and get to work!
For more updates keep visiting Architecturesideas.