Brilliant Design Ideas For The Perfect Outdoor Oasis
214 views
As summer brings along longer days, warm sunshine and refreshing breezes, now it is the perfect opportunity to Transform your backyard patio into a dreamy oasis. There are a variety of ways homeowners can enhance the ambiance of their outdoor patios, with design ideas for outdoor ranging from cozy seating arrangements to vibrant landscapes to inviting fire pits.
Whether you've got a big budget and the plans to match, or whether you're looking for a more simple solution to a backyard patio makeover, this article highlights projects large and small. Read on for inspiring ways to create the backyard oasis perfect for summer and beyond!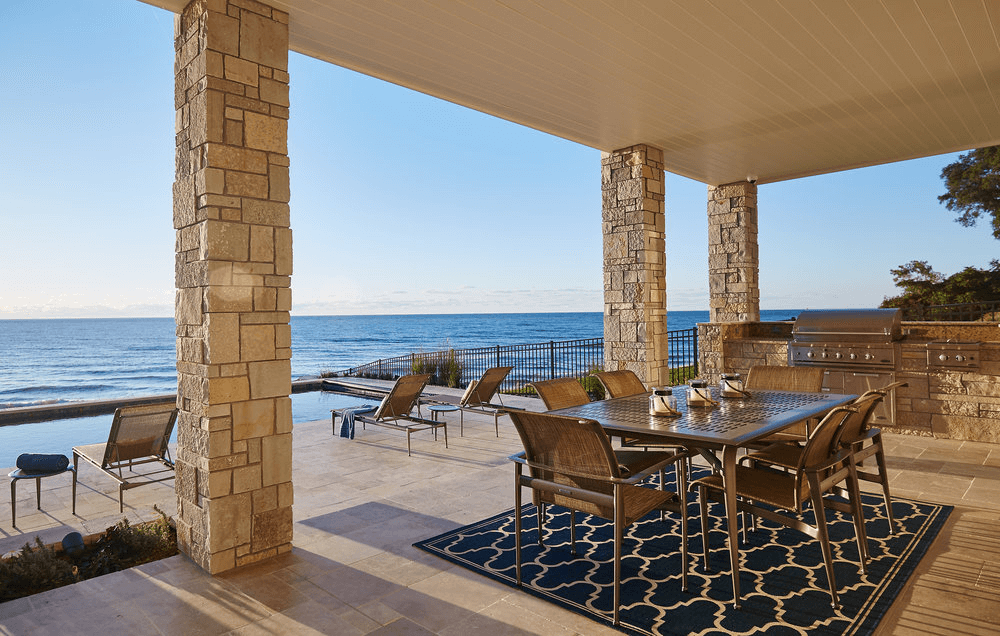 source : visbeen.com
Before You Begin, Reach Out to The Pros
Certain home projects are best left to the professionals. Many backyard designs include irrigation systems, fireplaces, and electrical hookups, which require an expert to ensure a job well done. If you're looking for a more complex outdoor design, it's important to hire a licensed contractor.
To find which contractor is best for your project, reach out to a variety of local outdoor renovation specialists. Discuss your design and budget goals with each, and find whose pricing, services and communication style best suits your needs. With some careful time and consideration in the hiring process, you'll help your project get started off properly.
Add a Fire Pit For Warmth
Fire pits are a special addition to any backyard patio, with styles and pricing to match a variety of outdoor designs. Fire pits can be wood burning, propane, gas fueled and natural gas fueled, each with its own benefits and drawbacks. Speak with your outdoor renovation contractor to find out more about each type, and which best suits your plans.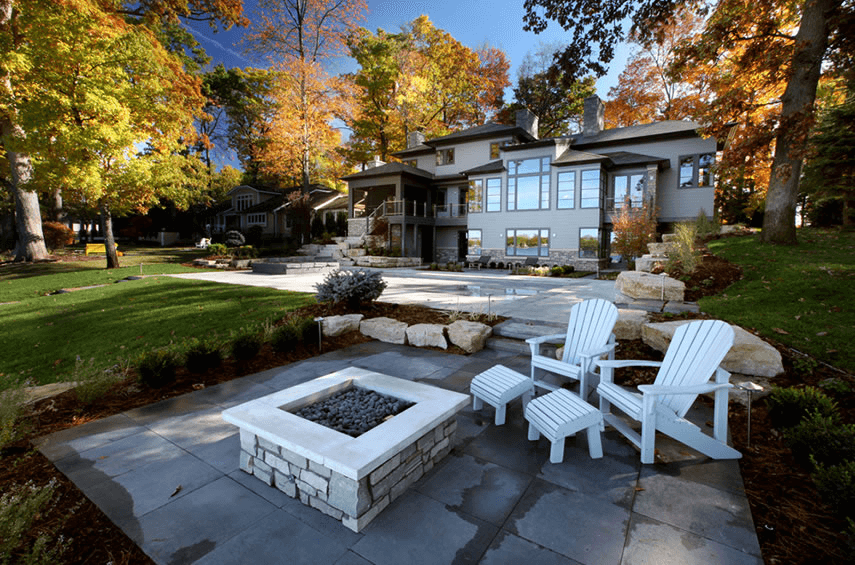 source : scottchristopherhomes.com
Shown in the above image is a simple but elegant fire pit design, with custom stonework. The seating area is an extension of the larger poolside space, providing a sweet retreat from splashes. The tile is a good choice considering both safety and aesthetics, and the crisp white Adirondack Chairs are the perfect touch.
source : sebringdesignbuild.com
The house pictured here offers an example of a modest but nonetheless cozy backyard lounge area, for quiet nights outdoors. A fire pit is a welcoming feature, along with a selection of fresh houseplants.
Sweet Seating Arrangements
A comfortable seating is elemental to a cozy and welcoming patio design. To make the most of your outdoor space, you'll need sufficient seating options both for when you are entertaining guests and when you're solo, curled up with a good book. Remember that textiles, like pillows, cushions and throw blankets, make seating all the more comfortable. It's a good idea to invest in items that have been specially designed to withstand the outdoor elements and thus last for many seasons to come.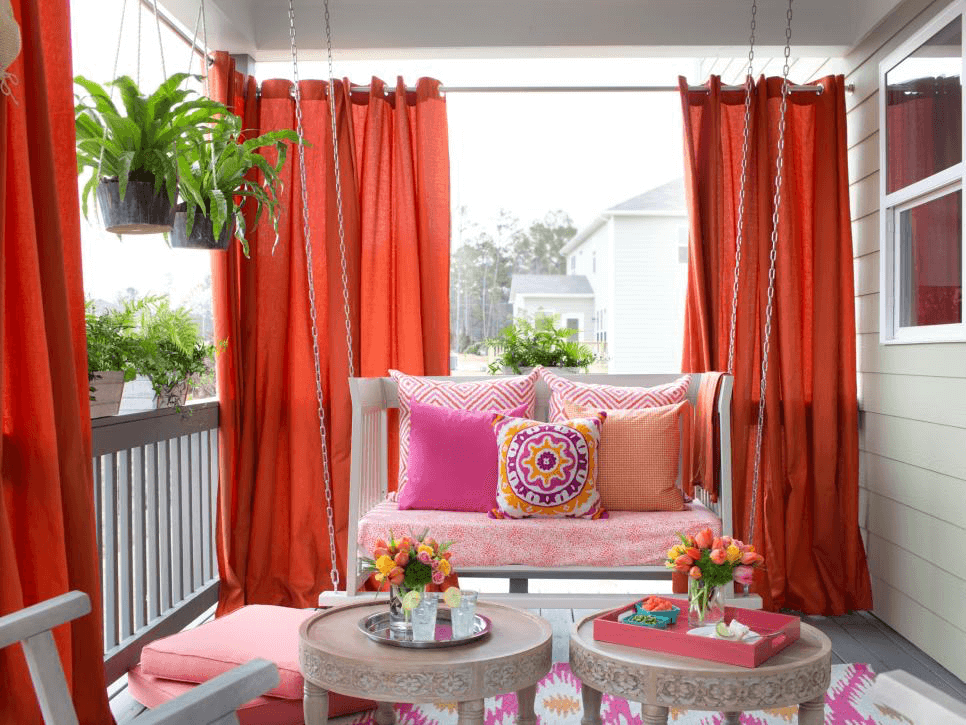 source : diynetwork.com
In the patio pictured above, brightly patterned pillows and cushions invite guests in to relax. Deep red fabric drapes lend a sense of privacy, along with a pop of vibrant color. The drapes can be opened to let in as much sunshine as desired and closed when the weather is gloomy or for when you want a quiet, cozy retreat.
Incorporate Hardscapes Into Your Outdoor Design
Hardscaping is another great design idea to incorporate into your overall backyard landscape. The term refers to the "hard", or manmade, elements of landscapes like stone, cement, and wood. Walkways, retaining walls, and chimneys can all be used to create a truly custom retreat.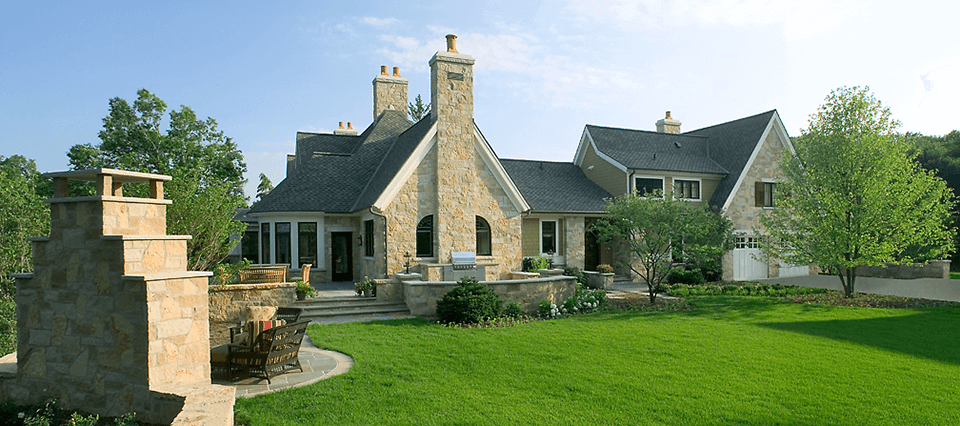 source : visbeen.com
This home boasts a meticulously manicured backyard, featuring stonework craftsmanship in the wall and open fireplace. The stone wall lining the kitchen and dining area echoes the exterior of the rest of the house. Stonework continues in the separate chimney and lounge space as an extra special design touch.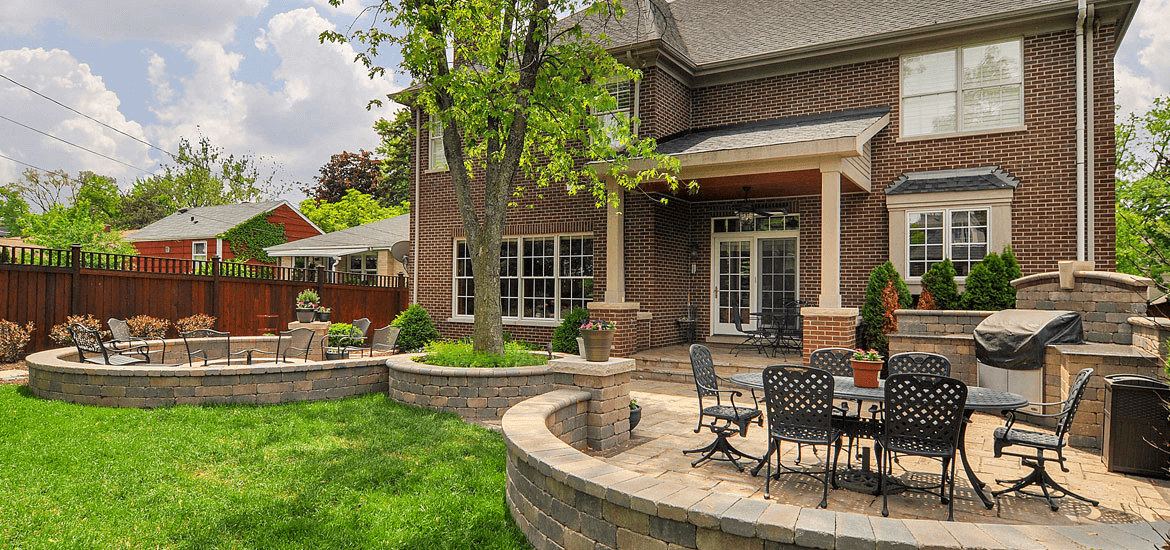 source : sebringdesignbuild.com
Extensive hardscaping can make for a stately backyard entertaining area. In the picture above, landscaping elements like trees and shrubs balance stone pavers with organic beauty. The dual lounge areas make this patio ideal for entertaining large parties.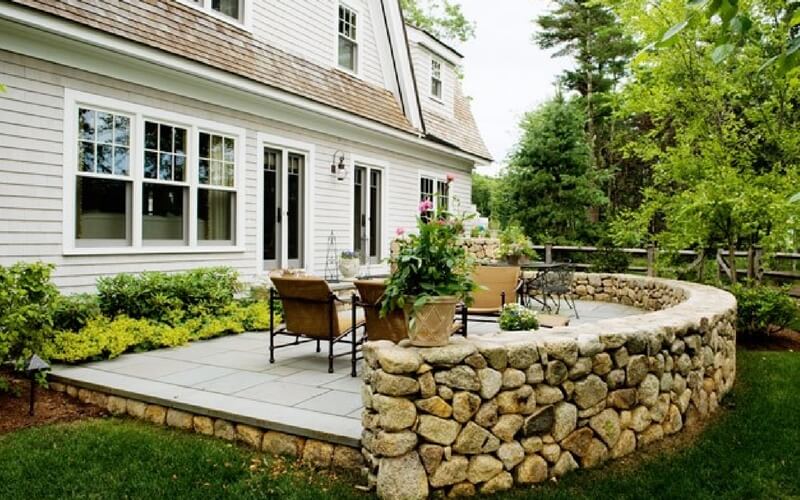 source : landscapingnetwork.com
This picture is a great example of smart landscape design: a stone wall both separates the lounge area from the rest of the yard, and allows for additional seating. A few pillows or large cushions on top of the wall make for plenty of extra seating when hosting a party alfresco. The stone craftsmanship looks absolutely elegant when contrasted with a lush green lawn.
Use Color for Impactful Design
Paint color, when incorporated judiciously in architectural elements, is a great way to add personality and vibrancy to your backyard space, without taking up any additional square footage – so for homeowners working with limited square footage, consider this design strategy.
Painting is a home improvement that many homeowners can take on themselves, which makes it a good outdoor design if you're up for a DIY project (give or take a weekend). Given that outdoor patios take a beating from the weather, you'll need to choose special paint developed for outdoor use.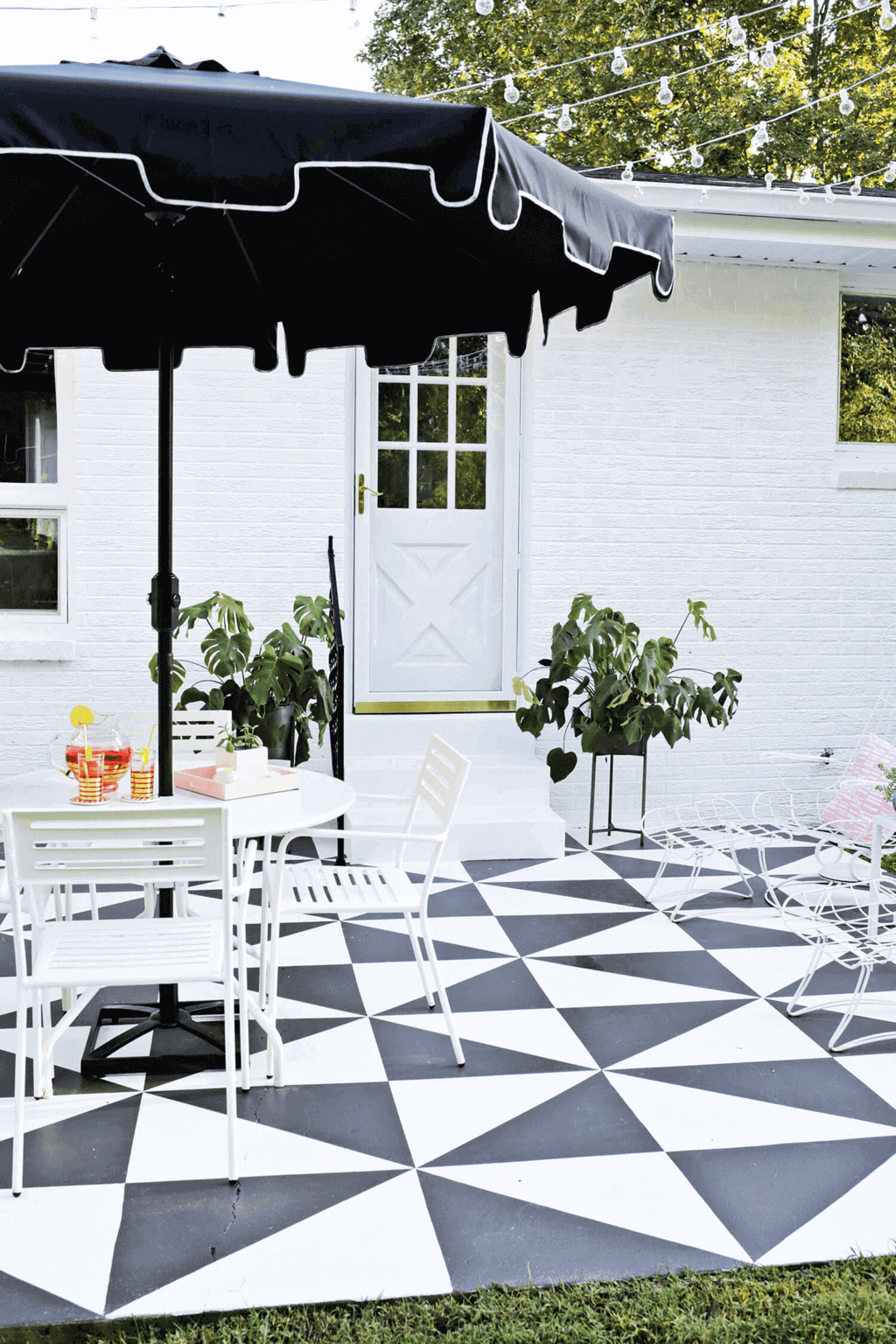 source : abeautifulmess.com
The picture above shows an inexpensive yet dramatic way to give your concrete patio floor a refresh. While this outdoor DIY project does take some time, it's a simple enough endeavor for even budding do-it-yourselfers. All you need to get this look in your own home is proper outdoor flooring paint, painter's tape and rollers, and a few days of sunshine. Obviously, this project is easily customizable, depending on your color preferences and design style.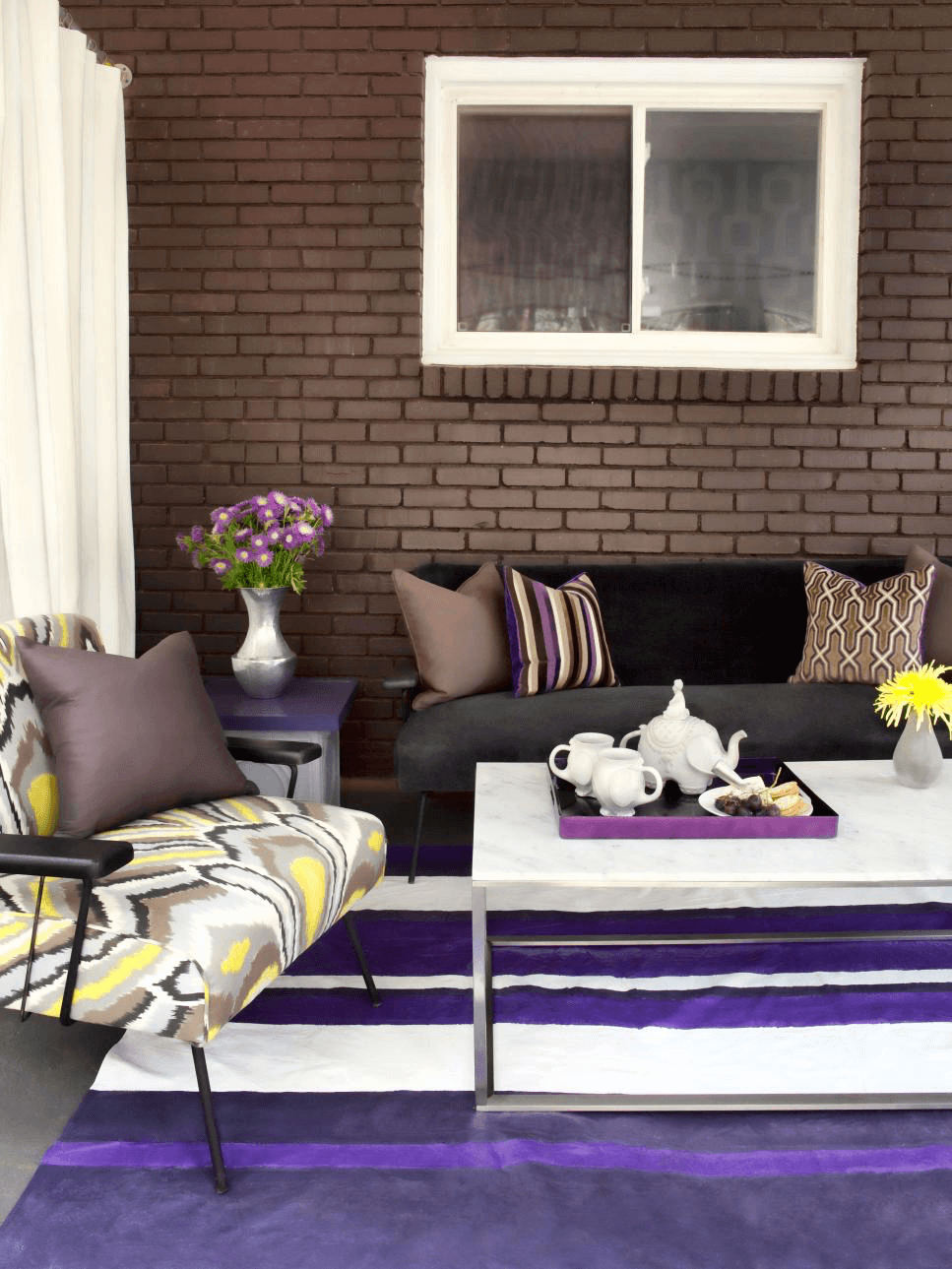 source : hgtv.com
If you want the look of a colorful floor without the commitment of painting it, then go with a large area rug. The dynamic textile pictured above is made from painter's canvas, perfectly suited for bold graphic lines. Rugs are easily switched out according to changes in the season and design trends.
Give Indoor Décor a Breath of Fresh Air
One of the simplest ways to make any outdoor space feel just as cozy as a spot inside is to bring traditional indoor décor into the mix. As long as your decorative pieces are weather resistant, they will hold up well and add a special, personalized feel to your backyard oasis.
A great aspect of this design approach is that many items can be found at thrift or vintage shops, or even laying around your own house – perfect for homeowners who are looking for budget-friendly solutions to backyard décor.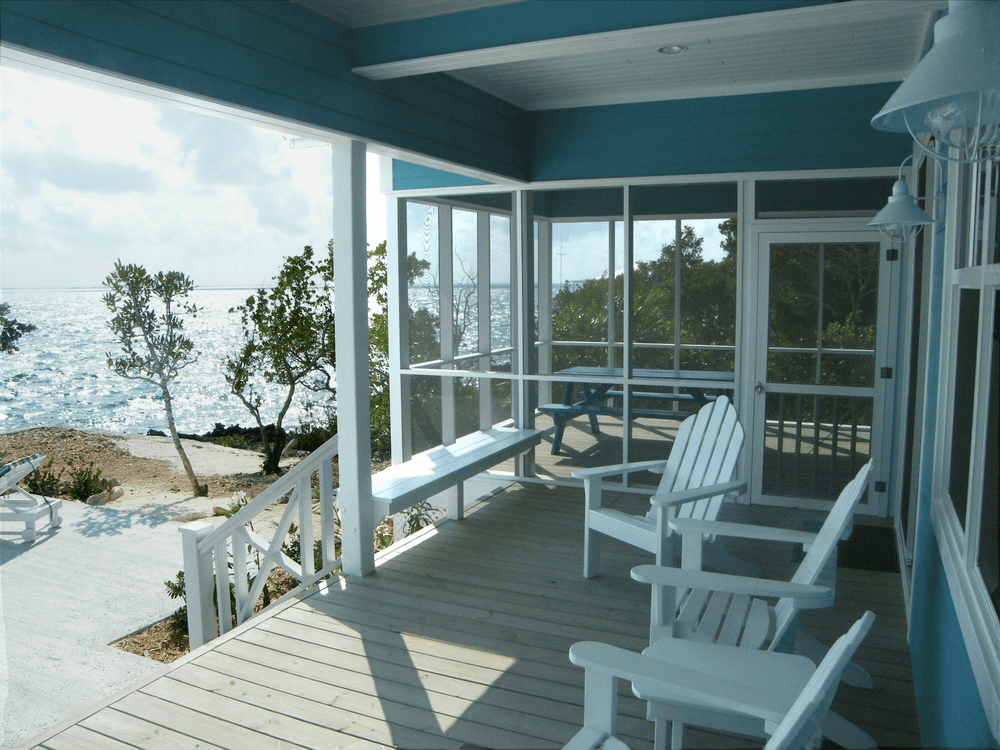 source : visbeen.com
This waterfront home includes a lovely back patio, whose simple décor reflects the refined nautical cottage theme. Wall sconces, fixtures often found in powder rooms and bedsides, here serve as a delightful decorative complement to the exterior blue and white color scheme.
Add Lighting for Ambiance
Lighting is an important design element that is easily overlooked in outdoor spaces. The sun, after all, provides natural lighting for much of the time we spend in our backyards. However, with multiple lighting fixtures, you can easily control the ambiance of your patio – and ensure your good times outdoors last well after the sun has set. There is a multitude of lighting options to choose from, including up lights, wall sconces, lanterns and pathway lights.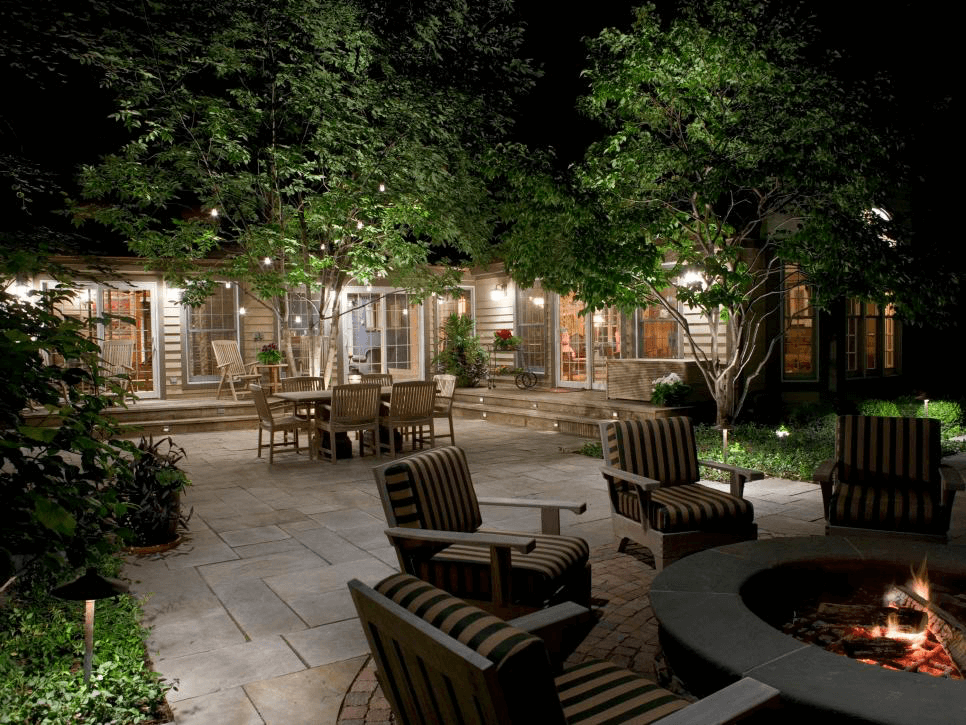 source : hgtv.com
Trees provide abundant opportunities for hanging lights. Here, string lights are strung throughout the tall trees, lending subtle warmth to the backyard lounge area. Note that wall sconces line the outdoor walls, another great way to incorporate lighting.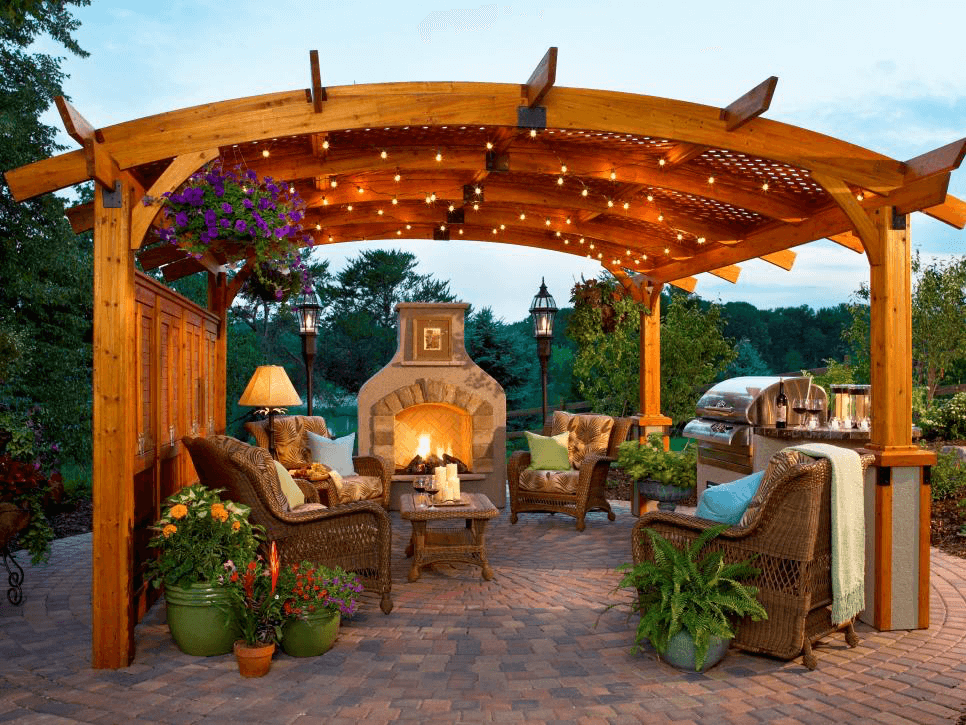 source : diynetwork.com
An overhead covering, like the rustic yet elegant pergola here, is a surefire way to make any outdoor seating space feel intimate and welcoming. String lights, tall lanterns, and a fireplace are warm additions. Note that the grill and fireplace flank the seating area, serving as natural dividers between the patio and the rest of the backyard and ensuring the ambiance is cozy despite being out in the open.
Peace and Quiet: From Pergolas to Privacy Drapes
A big part of designing the ultimate backyard oasis is ensuring you have enough privacy to feel completely at home, even when you're outdoors. While this doesn't mean you need to build a super secluded spot, you should incorporate some elements that lend a sense of calm and quiet. Options include pergolas, umbrellas, green living walls, and privacy drapes.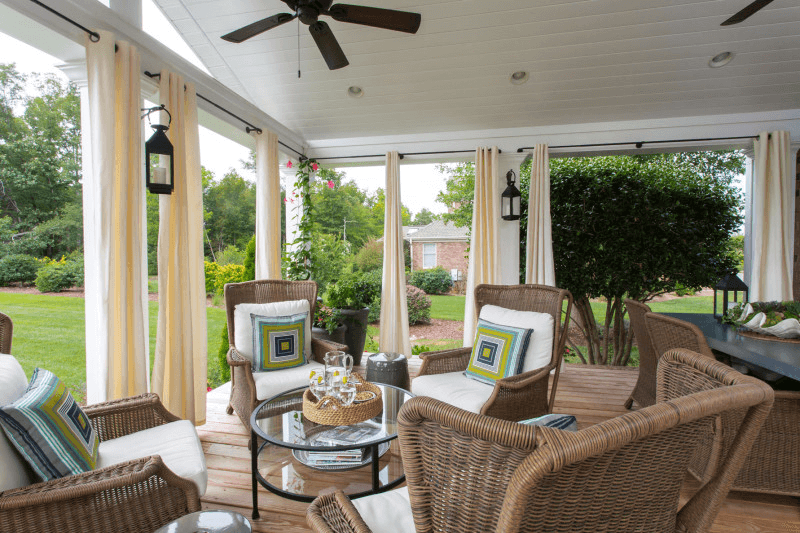 source : loftus-design.com
The dreamy patio pictured here features outdoor curtains, whose weatherproof panels can be opened and closed to accommodate sunlight and privacy preferences. Hanging lanterns make for a simple but beautiful décor choice, and along with the white shiplap ceiling and richly hued fans, give a sense of chic country house tranquility.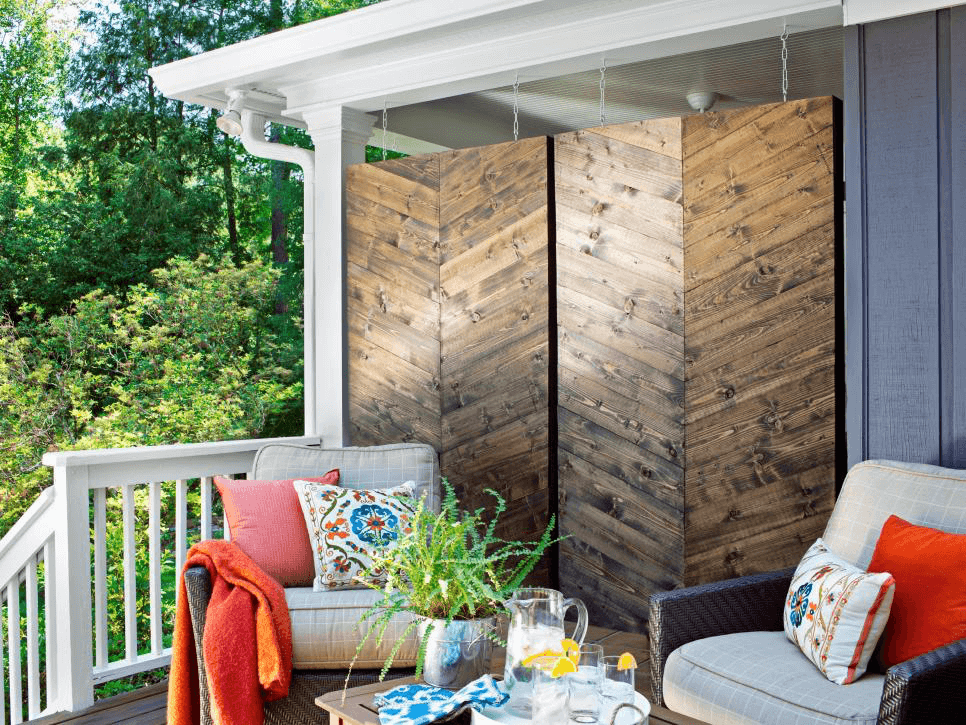 source : diynetwork.com
If curtains aren't your style, hanging walls are another way to add privacy to a backyard area. You can opt for something completely private, like the rustic yet elegant wooden panels pictured above, or for something more transparent, like hanging trellis or vintage windowpanes.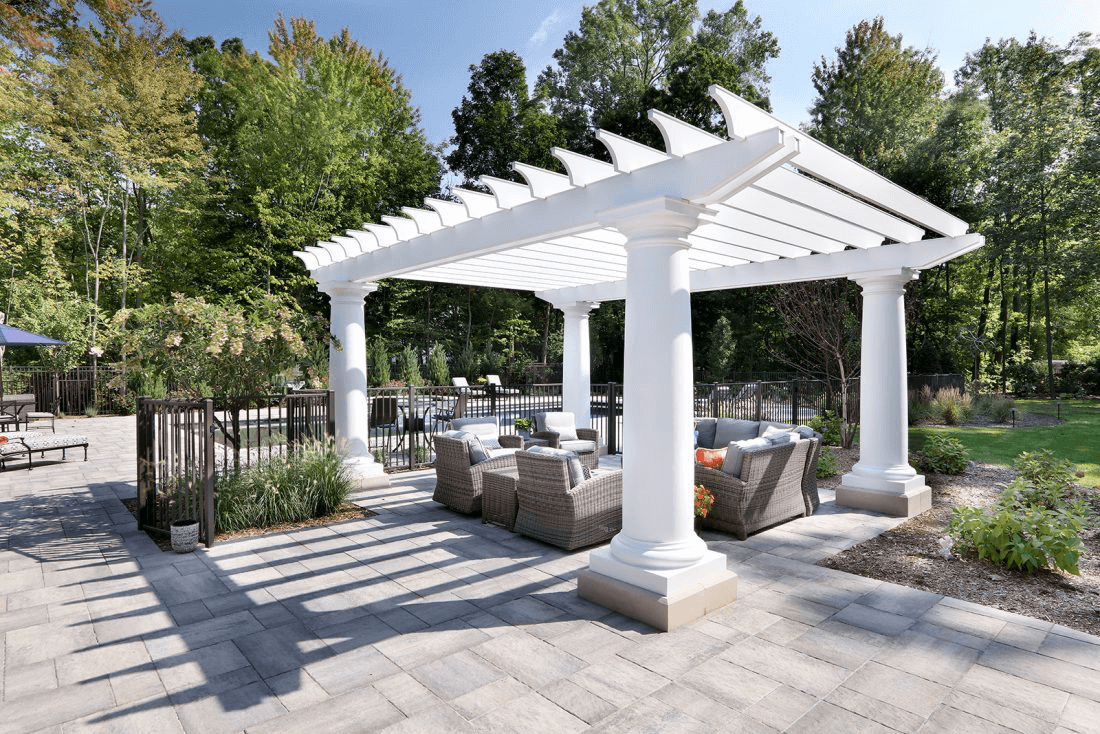 source : scottchristopherhomes.com
This stunning pergola was a custom design, which features stately white columns surrounding a lounge area. This backyard poolside retreat was also renovated using Oaks Rialto pavers, whose elegant design complements the luxurious outdoor landscape.
Beverages at The Ready
What's a backyard hang out without some delicious sipping? Adding a home bar to your patio is an easy way to give the space an extra festive feel. You can go as elaborate or as simple as your budget and floor space allow.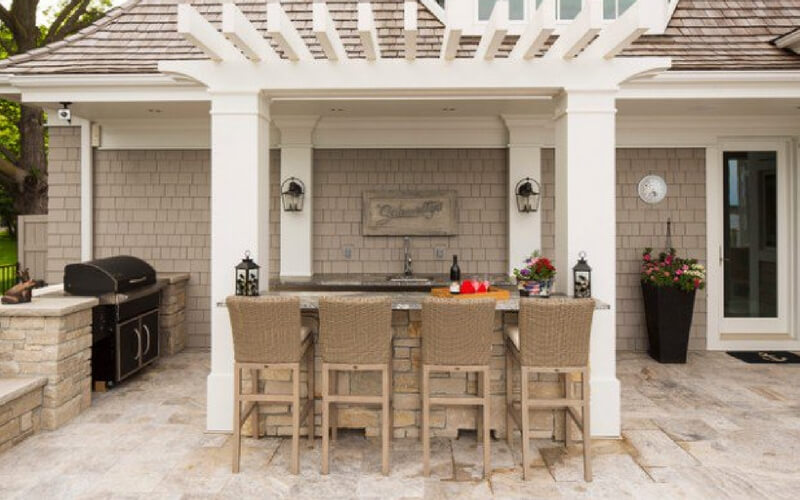 source : stylemotivation.com
For a definite upgrade, this luxurious outdoor bar and dining area is sure to be the envy of your neighborhood. The floor plan ensures that, while spacious, this gathering area is well suited for entertaining. Both hosts and guests can interact while cold cocktails are mixed and steaks sizzle on the grill.
Once you've got your bar built out, it's time to stock up! While your bar will ultimately be based on your personal preferences and storage capacity.
Use the following list as a guide to stocking up on the basics:
Liquor
It's always good to have a selection of the most popular liquors: vodka, whiskey, and rum all make a good start to a home bar collection. For those with more space (and a taste for more complex cocktails), consider adding gin, tequila, vermouth (both sweet and dry), and triple sec to the bar.
Non-alcoholic mixers
Mixers are essential to any refreshing cocktail, and also serve as beverage choices for younger folks and those who don't imbibe. Club soda, cola, ginger ale, and lemonade provide plenty of variation in mixing and are all refreshing on their own. Unless you're hosting larger parties on a regular basis, opt for smaller bottles so that the bubbles don't go flat.
Citrus
Lemons and limes keep for a long time and can make all the difference between a boring drink and one with proper zip. Store a small cutting board and paring knife in your bar, along with a few citrus fruits in a small bowl, and you'll never be without garnish.
Glassware
If space allows, having glassware stocked especially for your outdoor bar makes entertaining especially easy. Highball glasses are a simple go-to: they work well for a variety of drinks, without needing to resort to specialty glassware. If you have a backyard pool and plan on enjoying your beverage near the water, it's a good idea to opt for plastic cups.
Bowls, openers, and spoons. Keeping these miscellaneous, yet essential, items at the ready. Means you won't have to go hunting for them each time you decide to break out the beverages. Bowls or buckets are needed for ice. Fill up one to keep wine and beer chilly, and keep another dedicated for adding ice to drinks. A wine key opens both wine and beer. So you only need that one small tool handy. And a few long spoons (or straws) are essential for mixing cocktails before serving.
There you have it: an inspiring collection of different design elements. That will help transform any outdoor space into a welcoming retreat. Go forth and create your own backyard oasis, and enjoy the fruits of your labor. Throughout the rest of the summer season and beyond.
Author BIO:
I am a passionate blogger on home improvement services and interior design related topics. I write exclusively for Renowaze. Which is a rapidly growing home renovations website with a focus on DIY home renovations, contractor services, and interior design. I am always looking to promote fresh perspectives and unique ideas to help educate homeowners. Make more informed decisions and make their home renovation an enjoyable process.