QS Supplies Designer Bathroom Suites Are Awesome
147 views
Do you dream of a luxurious experience in your bathroom, which is one of the most personal spaces in your house? No matter what people say, your bathroom represents your personality – may it be bubbly, nature-inspired, fresh and flirty, feminine, elegant, cheerful or even refreshing. They are used as a space to relax and recharge after a tiring day as well as to prepare for the upcoming day.  As a result, colour schemes and patterns play an important role in determining our moods and emotions. If you're planning to give your bathroom a whole new look, it's time that you explore the various colour schemes and aesthetic designs to resonate the space with your personality.
On the other hand, simply choosing the perfect colour scheme isn't just enough for you can customise the furnishings according to your personal needs and desires. Modern bathroom designers possess the knowledge and experience to use design and colour in such a manner to give a spa-like experience touch to your experience. At QS Supplies, we promise luxury and elegance in our brand-new colour-coordinated collection, making your experience not just great, but awesome.
White – The Most Versatile Colour Of All!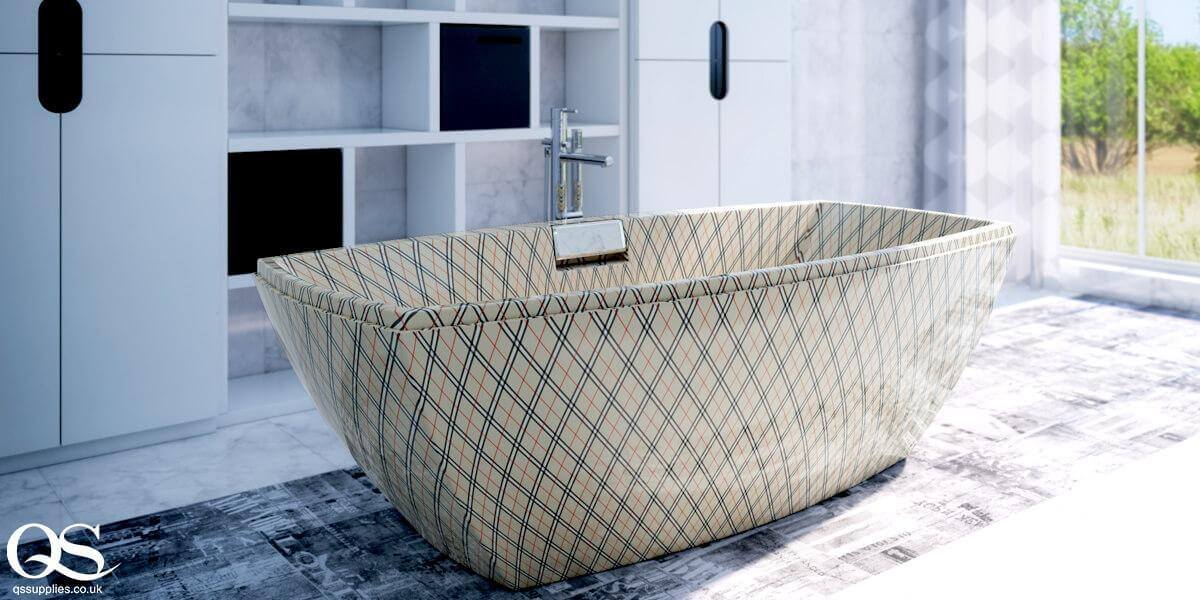 Source : lh3.googleusercontent.com
This is for all of those who have discarded white as a dull colour, while you can explore so much with this versatile shade. Reflecting natural light, white can declutter your mind and instantly relax your mind after a hectic day. Clean and calming, the shade soothes your nerves and gives a sleek and modern look to the entire space. For the best possible effect, go for silver-polished furnishings and keep the space minimalistic.
For example, our Cappuccino Bathroom suite combines white and pale brown to give the ultimate contemporary look to your bathroom. The entire setting is of silver-polished fittings.
Pastel Hues – To Work Out A Pattern With Their Darker Counterparts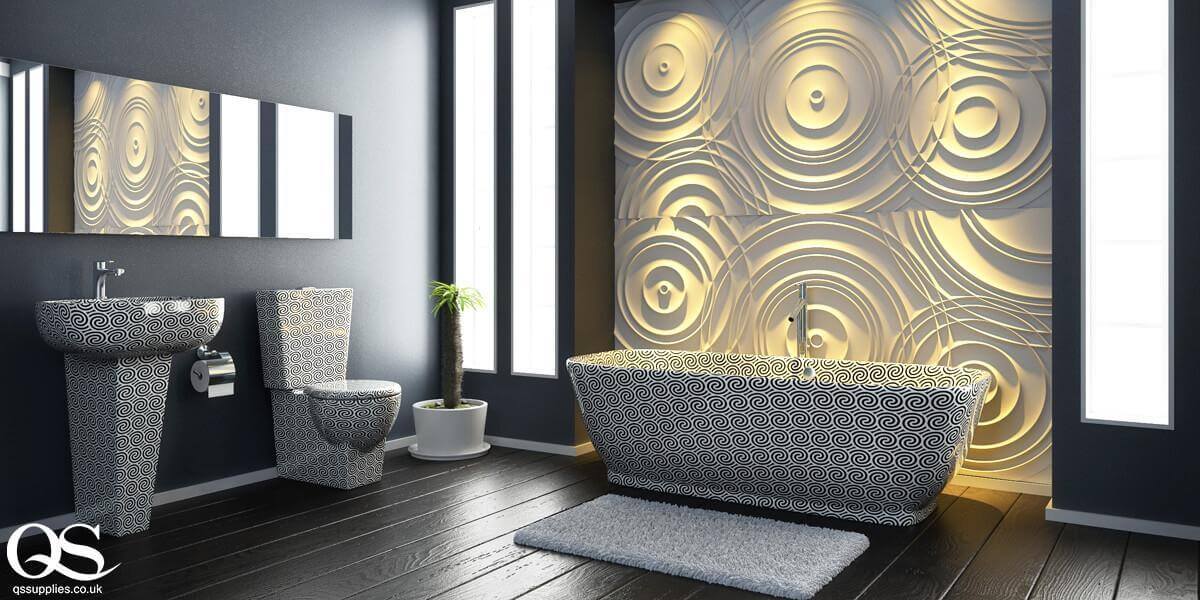 Source : lh3.googleusercontent.com
The combination of lighter colours patterned with darker shades needs to be designed with taste in mind. Neutral colours such as cream yellow, baby pink, blush and bluish tones have made an appearance once again, which give an ultra-modern look to your space. Not does it look pleasing to the eye, the sight of softer colour can automatically soothe your mind and rejuvenate your soul. You can contrast the lighter colours with darker shades such as silver-grey, browns and blues in deeper shades and sandalwood.
For example, the Luxor bathroom suite comes with a pale yellow with a geometric checked pattern in dark blue. The combination is set off with silver-polished brassware fittings, making for a perfect for a modern-day bathroom. On the other hand, the Brownie bathroom suite has a pale brown base with floral and square motifs in a darker shade which blends rustic and modern into one space.
Also Read : Small Bathroom Design Ideas For Any Home
The Evergreen Friendship Between Black And White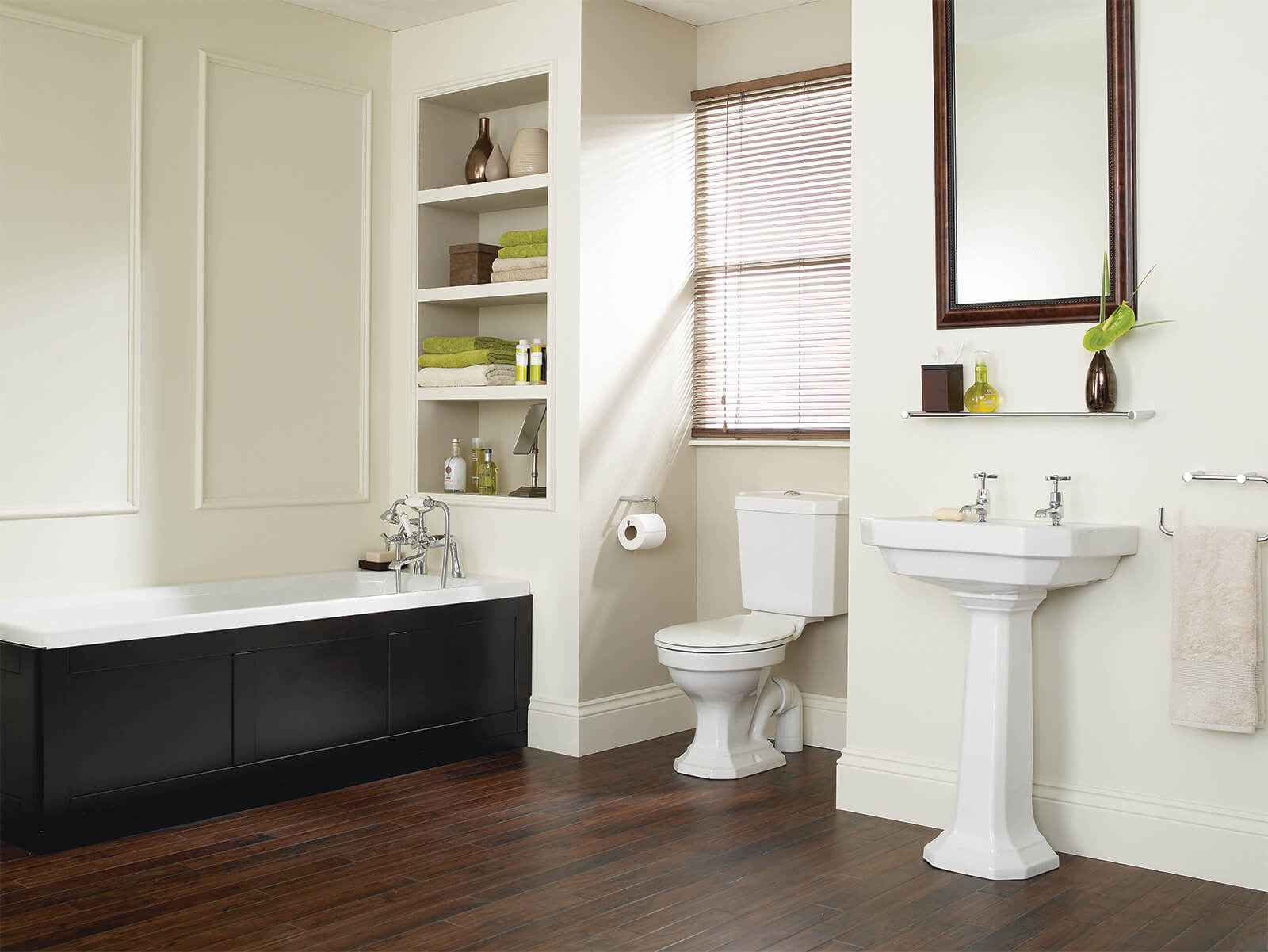 Source : assets-large.qssupplies.co.uk
One at each end of the colour spectrum, black and white make a classic combination. Not only does the mixture look extraordinarily sophisticated and chic, but the black-and-white pairing also fits in well with elegance, class, contemporary and modernity. Designs can range from horizontal, vertical or diagonal lines to geometric shapes and silver-polished fittings.
For example, the E-wave bathroom suite mixes contemporary and tradition in its classy colour scheme and pattern. With its unusual design and colour combination fitted with silver-polished fittings, sleek dark floors and walls add the perfect depth that it needs. The Zebrano bathroom suite follows the same style but has replaced the design with stark horizontal lines resembling the proud and majestic zebra. The combination works well with silver-polished fittings and a similar colour scheme for the remaining space.
Bright And Bold Colours That Brighten Up The Area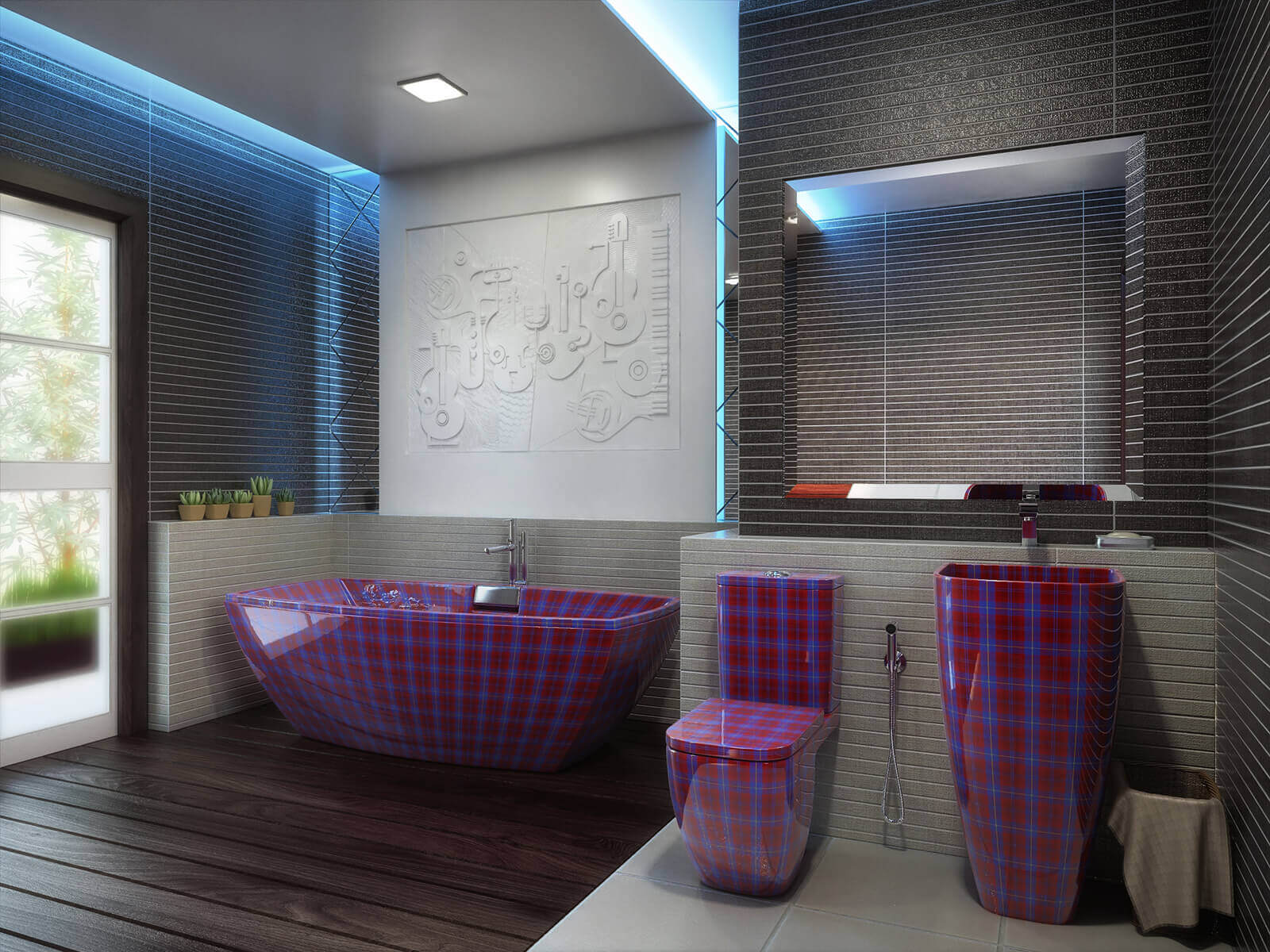 Source : qssupplies.co.uk
If subtle is not your style, bring out the colours to show the vibrant side of your personality. The world has moved on from whites and greys to bold pinks, acid greens, sunshine yellows and cobalt blues that give energy and sparkle to the entire space. If you're adventurous, choose a couple of contrasting but complimentary shades – if you're unsure about the idea, try teaming up two neutral shades with a bolder colour to create a better contrast. White and minimalist fittings neutralise the pops of colour and balance the space.
For example, the Candy Struck bathroom suite is a perfect mixture of bold and minimalistic with its bright hot pink colour balanced with white diagonal lines. The pale wooden floors further neutralise the original colour and emit a happy and vibrant ambience. On the other hand, the Fusion bathroom suite shows what's bold and passionate with a dark maroon combination-bright blue checkered pattern. Eye-catching and possible shocking, your bathroom will be a great conversation-starter.
Final Words:
With such fantastic colour schemes, combinations and patterns, bathrooms have evolved from a shameful space to a more personalised area of comfort. Choose your favourite from the list above, and get started on creating your relaxation bubble.