Installing Commercial Safety Equipment While Considering Architecture And Design
116 views
Any sort of commercial business is going to need the appropriate safety equipment to go along with it – for compliance and simply for making sure employees don't take an unexpected trip off the side of your building. If you're anything like us, when you hear "commercial safety equipment", the last thing that comes to mind is something aesthetically pleasing when it comes to compliant fall protection. There's no way around the need for safety, but who says it needs to be ugly to do the job?  
Rooftop safety railings come in all sorts of shapes and sizes, and the best one for you will depend on your particular situation. That being said, here are a few things to take into consideration when you're making your decision.
Permanent vs Temporary Roof Safety Systems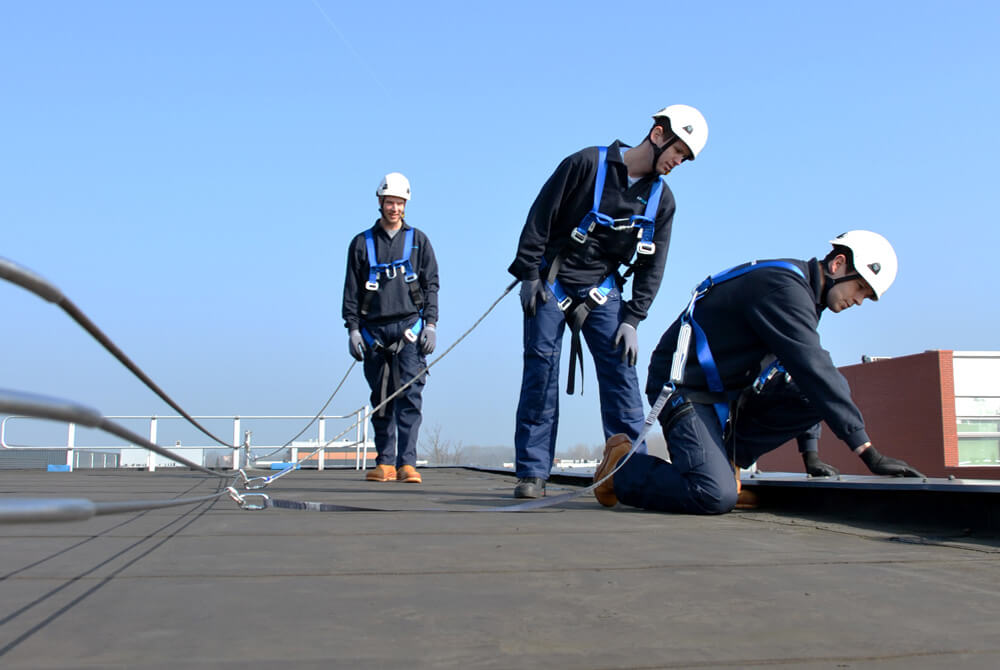 Source : roofingmagazine.com
Before you get started looking for something that won't make onlookers recoil in horror when they look at the top of your building, you'll need to figure out which direction you want to go in with your rooftop railings. Rail systems fall into two basic categories, temporary and permanent, each with their own advantages:
Temporary Roof Safety Systems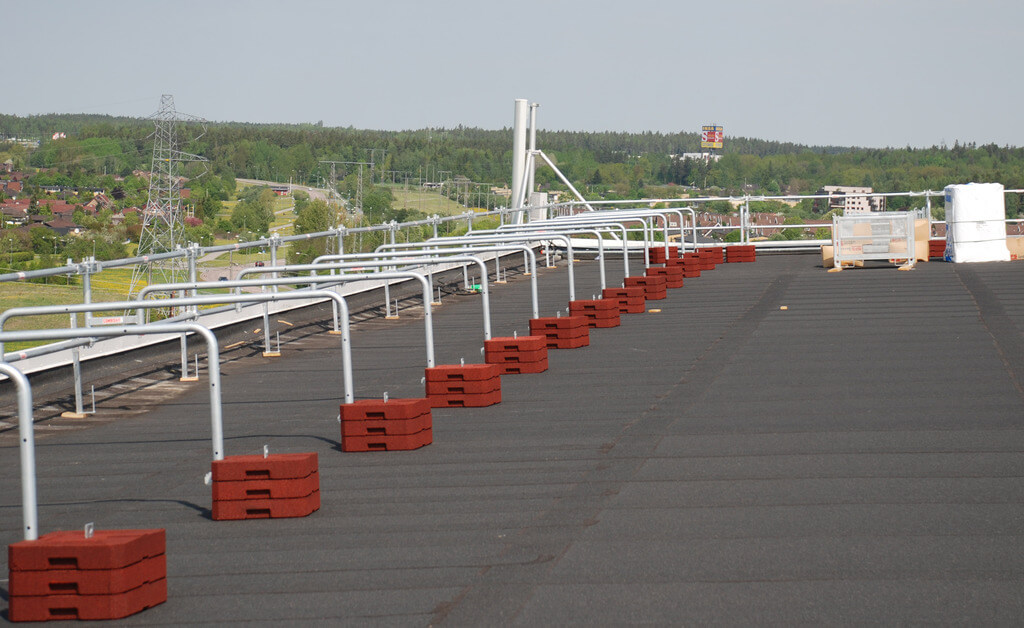 Source : resource2.ultdb.net
Advantages:
Usually non-penetrating

Fabricated for quick and easy setup

Can be torn down and saved for later use

Designed with convenience and modularity in mind

Functional for permanent structures as well as temporary construction sites
Permanent Roof Systems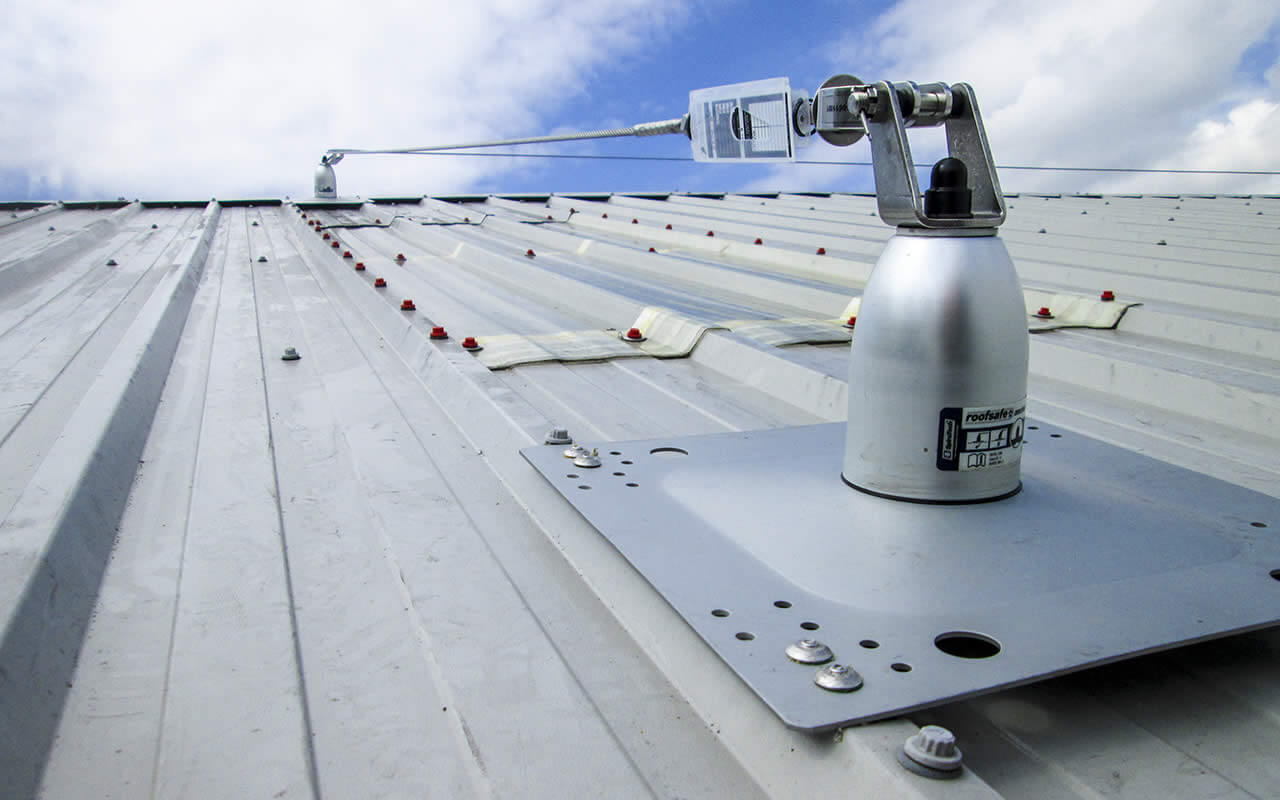 Source : highaccesssolutions.co.uk
Advantages:
Great for long-term protection against weather and environmental factors

Made of high quality material resilient to long periods of use

Setup and install once only

Distributes weight evenly throughout the roof

Ideal for permanent fixtures and buildings  
Factors to Consider
The ideal fit for rooftop safety will be a perfect blend of convenience, aesthetics, and functionality. You'll want something that's going to keep your employees safe, but at the same time doesn't look like a medieval defense system. Here's a couple of the most important things to look for when purchasing a rooftop safety system:
OSHA Compliance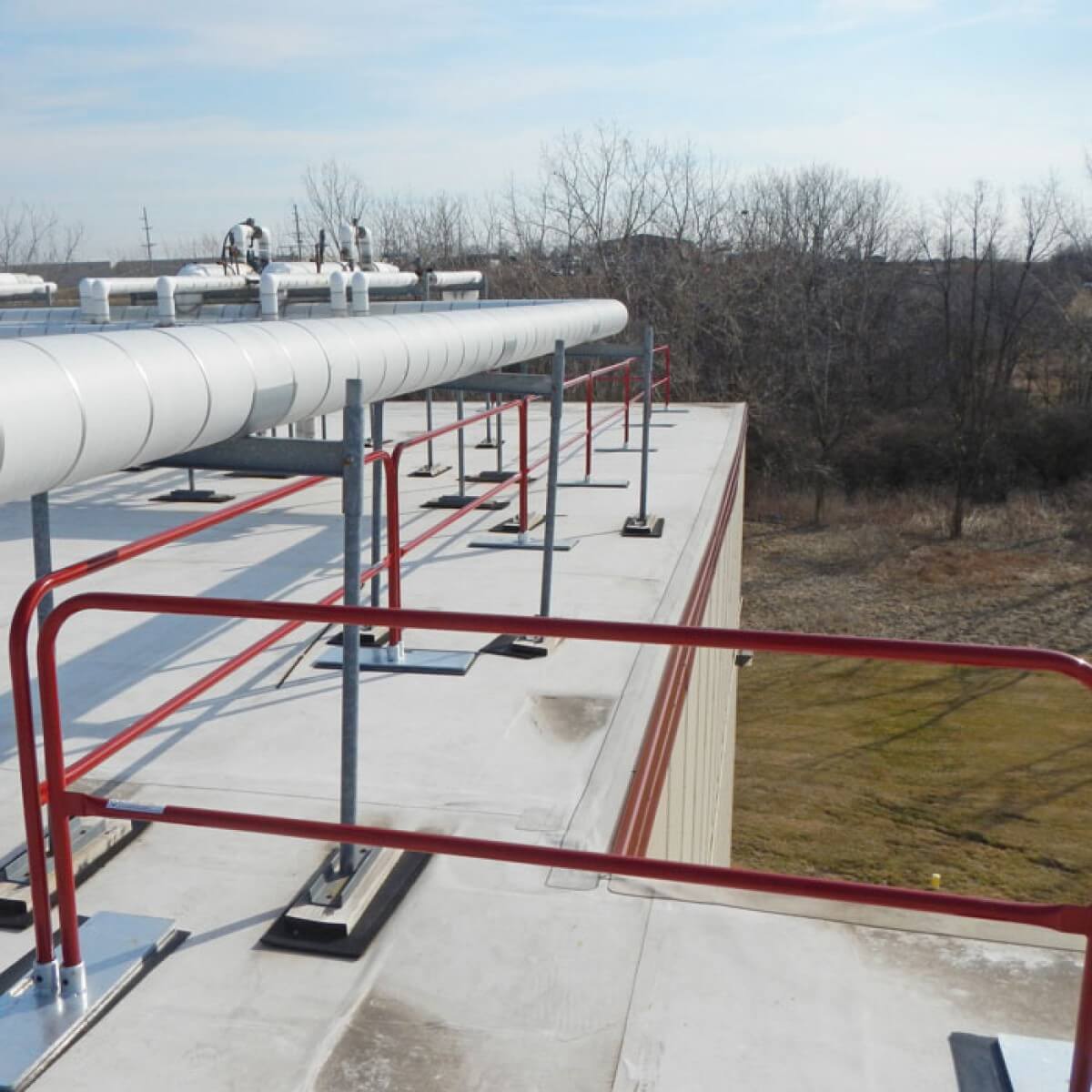 Source : portableguardrail.com
Whichever type of railing you're installing should be OSHA compliant. Without this, you may as well have nothing in place, as OSHA will never clear you on inspection and you'll be on the receiving end of citations. Here's what OSHA outlines for compliance, straight from their website:
The top edge height of top rails, or equivalent guardrail system members, are 42 inches (107 cm), plus or minus 3 inches (8 cm), above the walking-working surface.

Midrails are installed at a height midway between the top edge of the guardrail system and the walking-working surface.

Guardrail systems are capable of withstanding, without failure, a force of at least 200 pounds applied in a downward or outward direction within 2 inches (5 cm) of the top edge, at any point along the top rail.
Design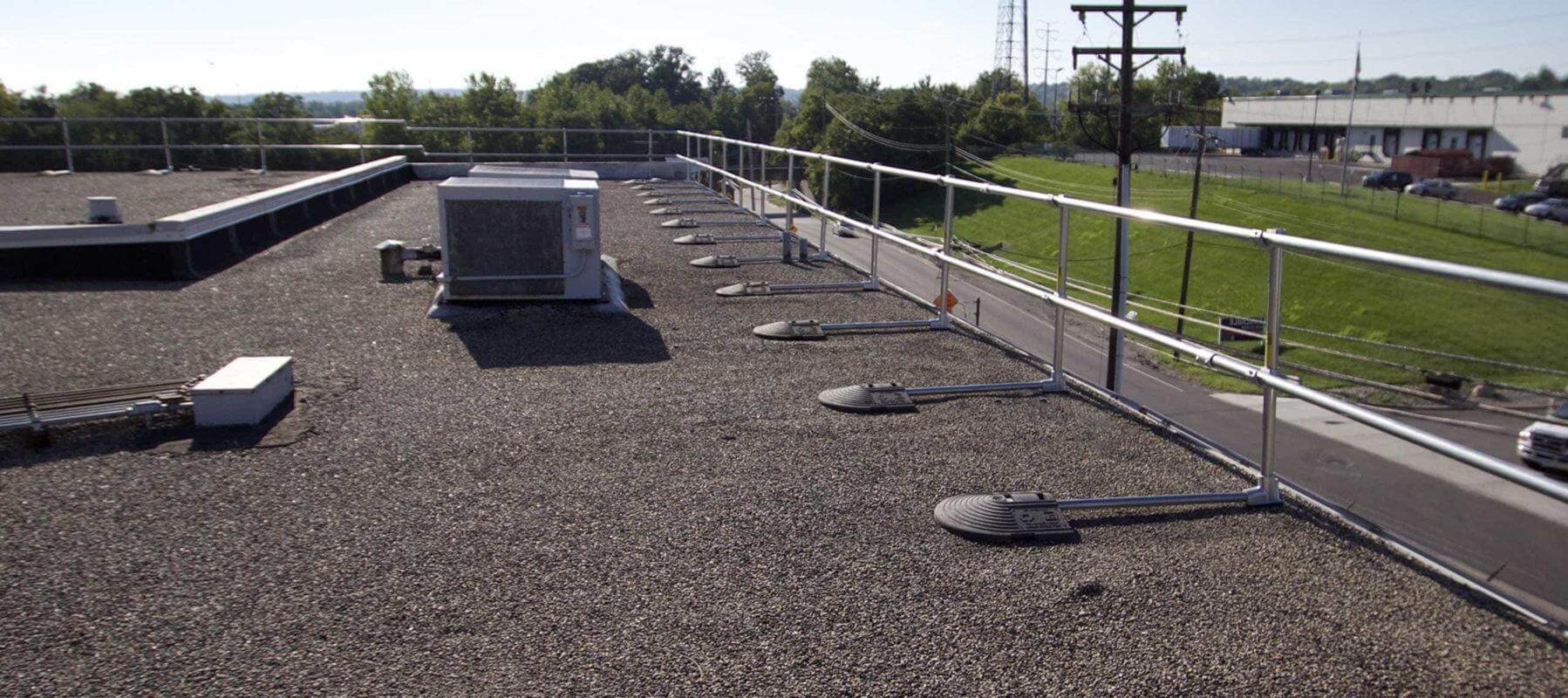 Source : simplifiedsafety.com
There's no need to sacrifice looks in order to have something that's functional and gets the job done. Many rooftop safety railings, like the AccuFit Safety Rail and the EDGE Metal Roof Guardrail come in multiple different finishes, even letting you choose a custom color to match your building. One of the best features of the AccuFit system is the architectural design that blends in with the roof edge from the ground.
Best Looking AND Gets the Job Done?
The BEST choice for a rooftop safety system that not only is functional but looks good in the process? The AccuFit Safety Railing from EDGE.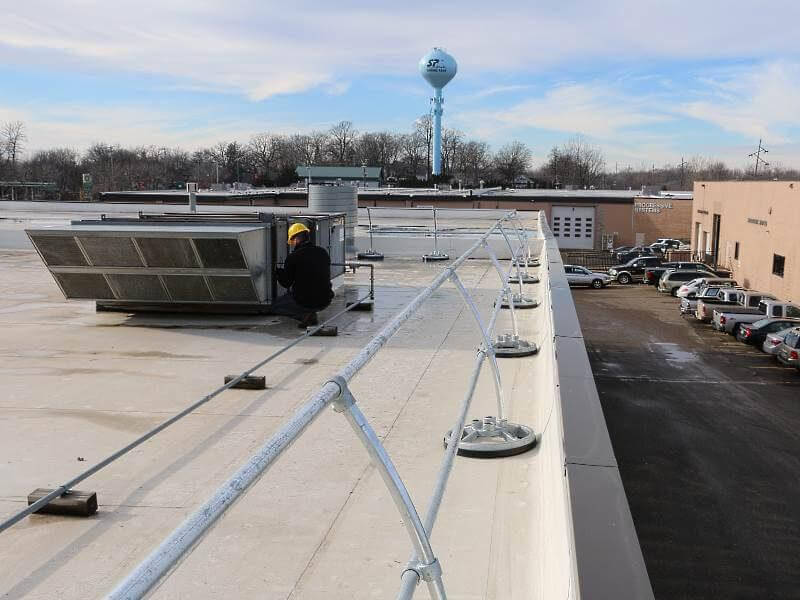 Source : edgefallprotection.com
The AccuFit Safety Railing gets top marks across the board for it's high level of safety blended with the perfect amount of architectural design. The curved stanchions on the AccuFit railing give the look of a swept back profile from the ground up – the railings themselves nearly blend in with the side of your building. Here's some of the highlighted features of the AccuFit system:
No penetrations needed into the rooftop during installation

Available with heavy duty powder coat, galvanized or custom color finish

OSHA compliant

Simple installation

Reduced visibility from the ground up

Customers have the option of straight, curved, or designer stanchions that allow railings  to maintain OSHA compliance while blending into the roof edge and keeping your building aesthetically pleasing.
American Welding Society Certified to ensure the best products and highest quality.