Some Of The Coolest Furniture To Have In Your Home – 2019 Edition
230 views
Like most parents, are you also facing it challenging to make your children go to sleep on time? Your children do not like to go to their beds? Then there is a solution to all of your problems which will make you and your children sleep comfortably and relaxed in the stylish most cooling beds. Furniture in Fashion has introduced a large number of cool furniture items which will make your place trendy, stylish and modern. One of the major new items added are Car Beds which are compact, sturdy as well as hip. Your children will love their new beds and will like to play and sleep on them. These beds are being made keeping in view the needs and interests of the whole family, especially young ones. These car beds will prove to be a different yet coolest addition in your home furniture. They are available in different colours, styles and materials to give your children a relaxed and contented sleep.
The salient features of these bed cars include 12V DC electronic system which will not harm children, front headlights, plywood remote control, sound system, plastic back with spoilers, with mattress placing space of 90*190cm. These all cool features are available in the best price meaning no burden on your pocket.
Following are some of the bed cars available in our collection.
1) BMW Children's Car Bed in Black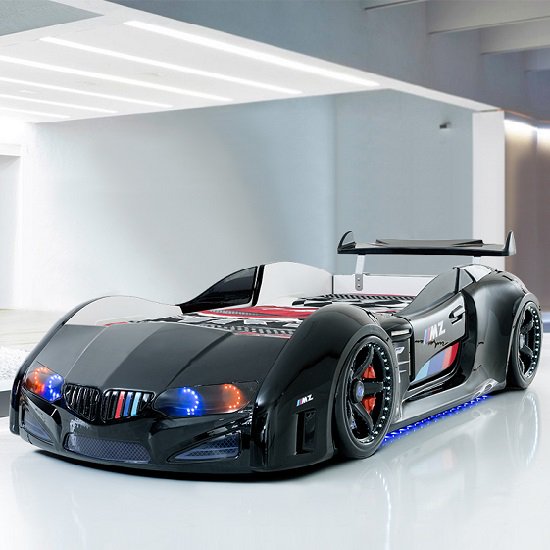 Source: furnitureinfashion.net
The BMW Children's Car Bed in Black is an item to keep in your children's bedroom because of its style, appeal and the fineness. The product is being made by well-trained designers keeping it sturdy as well as stylish. This will make your child's room cool and a place to play for him/her and their friends. The car has LED lights with front doors which open on both sides making it easy to climb up and climb down. The car bed is developed with a feel of real car-small in size though. This car bed has leather seats which are children friendly and will not be torn easily, so you don't need to worry. In a day, these leather seats will be a place to play and 'driving' for children and at night, just put a mattress in that space and voila, the bed is ready. The item is easy to move around, so cleanliness is not an issue at all.
Also Read:- Some Of The Coolest Girl Teenage Bedroom Decor Ideas
2) BMW Children's Car Bed In White With LED Lighting and Spoiler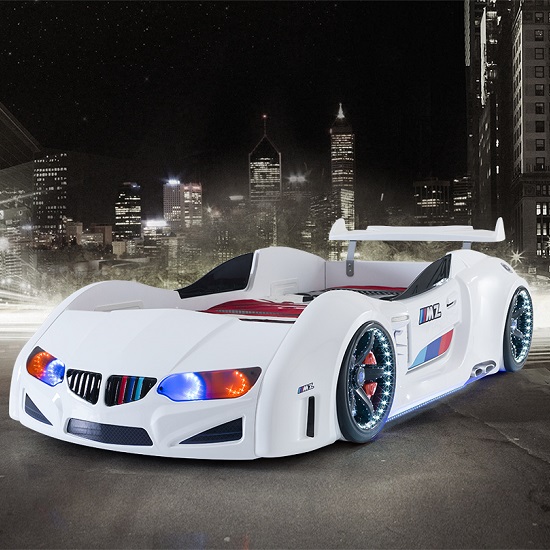 Source: furnitureinfashion.net
This white BMW Children's Car Bed-which is also available in black, red and blue-comes with an extra feature in it. The Spoiler in this product makes it more sharp and fashionable. This new style gives the whole product a new look and place for your children to play. The spoiler is made by the high-quality material, and the best part is that it not so costly. As a parent, you can afford it primarily due to the huge sale going on at all Furniture in Fashion items. So, rush, and get a car bed for your children and have a good sleep.